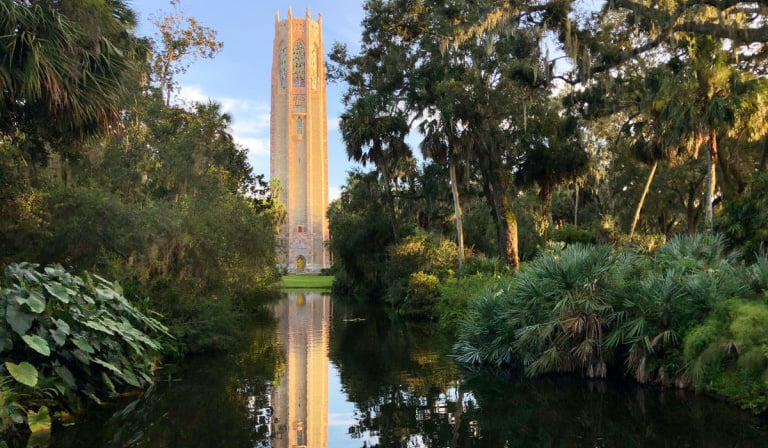 TEvery day is a chance to celebrate the special bond shared with your beloved, which makes now the perfect time to plan a romantic excursion for your sweetie. Fill up the car, toss your phones and tablets aside, and spend the day connecting with and deepening your affection for each other by visiting one of these places for a romantic day trip from Orlando.
Updated February 2023 by Dani Meyering
Day Trips from Orlando
There are the best day trips from Orlando, especially for romance.
Historic Downtown Clermont
Winter Haven Chain of Lakes
Three Sisters Springs, Crystal River
St. Augustine
Solomon's Castle, Ona
Keep reading to learn more about each of these great day trips. And if an adventure on the Atlantic side of Florida is more your speed check out our guides to the Space Coast, 8 Hours in Titusville, or the charming Historic Cocoa Village.
Historic Downtown Clermont
Distance from Orlando: 30 minutes
Just a short drive from downtown Orlando, Clermont offers a wealth of activities for a day well spent. Popular attractions outside of downtown include strawberry or blueberry picking at Southern Hill Farms (in season), exploring the trails at Lake Louisa State Park, and riding the elevator to the top of the Florida Citrus Tower.
Historic Downtown Clermont oozes with charm, bursting with local restaurants, food halls, breweries, and shops situated around a scenic lakefront park. The events calendar features monthly food truck rallies, wine walks, and a bustling weekend farmers market.
Plan your perfect day with our guide to date night on Montrose Street and explore more day trip options in our more broad day trip guide to Clermont.
Mount Dora
Distance from Orlando: 40 minutes
While you could easily spend the day meandering through Mount Dora's historic downtown shops and eateries, why not do something more adventurous? Perhaps one of the best experiences to partake in while in Mount Dora is a seaplane tour with Jones Brothers. Multiple options are available including a private sunset flight exploring multiple lakes.
Popular spots for a romantic dinner include Goblin Market and 1921 Mount Dora.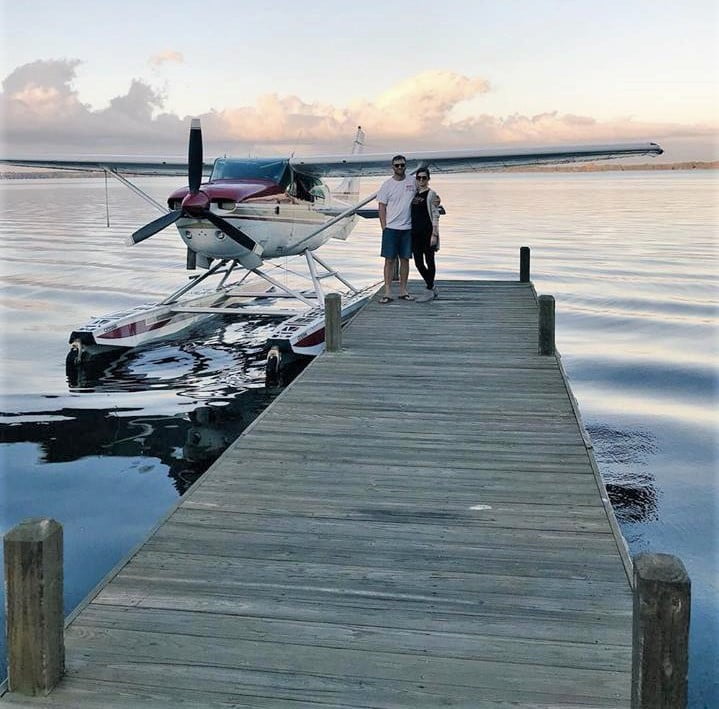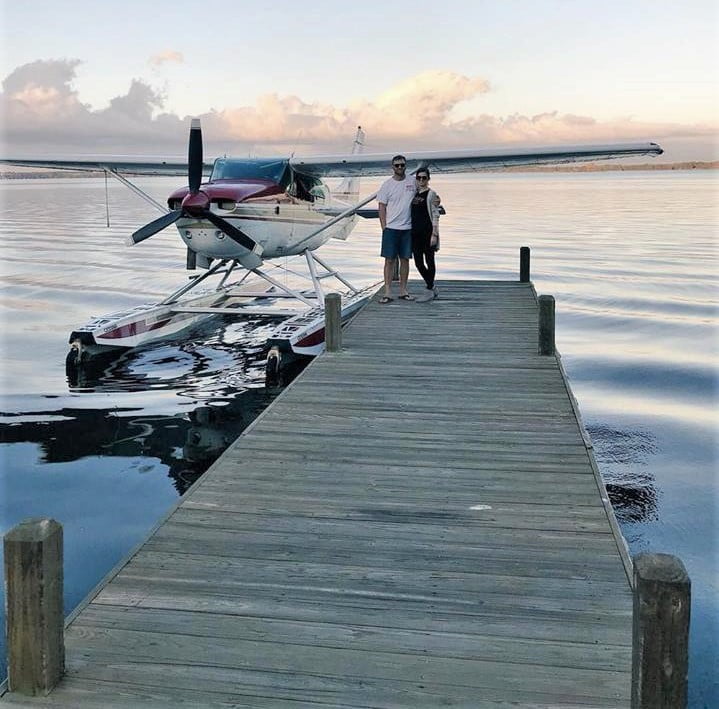 Distance from Orlando: 45 minutes
Spend the day discovering the deeper parts of your dearie's spirit by discussing the art on DeLand's Sculpture Walk. The artwork changes every one to two years and includes materials such as concrete, aluminum, stainless steel, PVC, bronze, and copper. All of that walking and talking is sure to strike up an appetite.
Quench your thirst and hunger by stopping in at one of the many restaurants located downtown. One of our favorites for date night is Cress Restaurant. And no visit to DeLand is complete with a stop for craft beers at Persimmon Hollow Brewing Company.
If your date happens to land on a Friday, be sure to cruise over to Artisan Alley from 6 – 9 pm to shop local produce, plants, baked goods, arts, and crafts at the Artisan Alley Farmers Market.
Events are happening each weekend; check the calendar to stay in the know. For more ideas, read our guide to a DeLand Date Day Trip.
Bountiful Farms Bistro, Okahumpka
Distance from Orlando: 45 minutes
For an out of the ordinary day trip, make the drive out to Bountiful Farms in Okahumpka to dine under an ancient live oak. Food served at the restaurant comes directly from the farm and other local farmers, offering a true farm to table dining experience at the source.
After your meal, pick up fresh produce from the onsite farm store. You can pick up even more goodies on Wednesdays, when the farm hosts its own small but mighty farmers market. The restaurant is open seasonally from October through May, and reservations are strongly recommended.
After filling up, head to Flat Island Preserve just 5 minutes away for a scenic hike featuring a small boardwalk, ample shade, and lush greenery. Admission is free. Or, make your way to Yalaha Bakery, a German bakery featuring fresh pastries and breads, plus live music on the weekends in the beirgarten.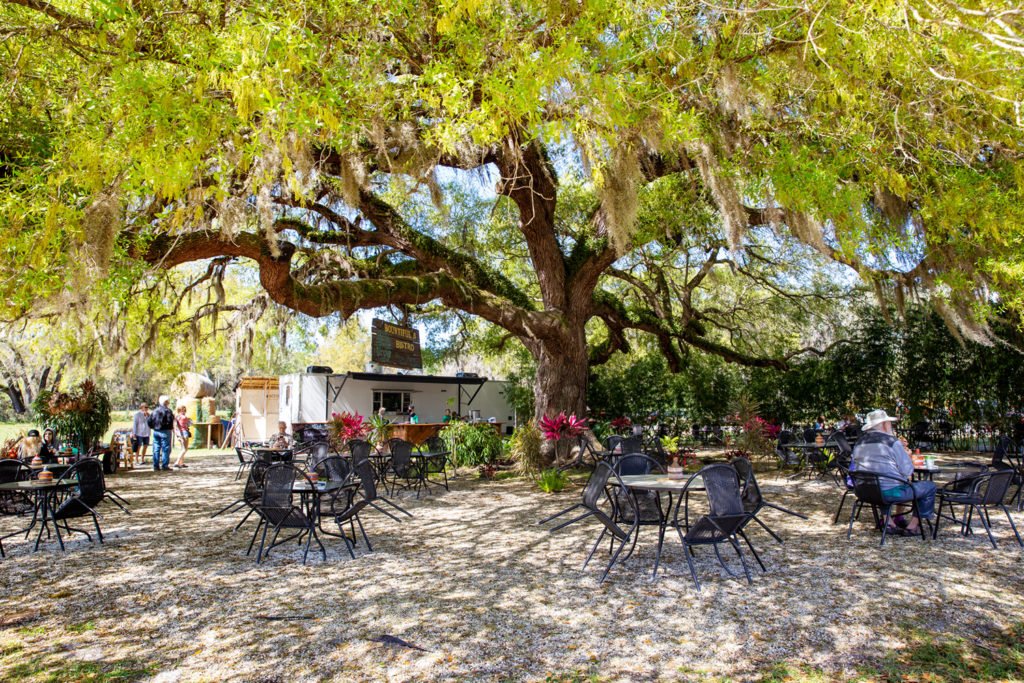 Winter Haven Chain of Lakes
Distance from Orlando: 1 hour
Rev up your (boat) engines and romance with a day exploring Winter Haven's Chain of Lakes. The famous chain (map) features 24 lakes connected by canals. The northern chain gives access to 8 lakes and the southern chain gives access to 16 lakes. There are 10+ public docks scattered along the chain allowing boaters to launch their boats, jet skis, canoes, or kayaks.
Pontoon boats can be rented from Marine Supply for half or full day rentals.
No doubt you are bound to need a refreshing beverage or tasty meal to refuel your energy. Some restaurants cater to those enjoying time on the chain with docks allowing boaters to cruise up and secure their craft.
Other spots to explore around town include Adler's for burgers and Grove Roots Brewing Company for craft brews.

Distance from Orlando: 1 hour 15 minutes
Downtown Lakeland is full of shops and restaurants to explore, including The Joinery, a lively food hall. Wander over to Lake Mirror as part of your explorations, walking around the lake to discover scenic spots like Hollis Gardens.
After a day spent perusing downtown, take a lesson in love from the olden days when couples drove to the movies, tuned in, and cuddled close to watch the latest releases as butterflies danced within. Silver Moon Drive-In presides in Lakeland and offers the nostalgic feel of an old drive-in with modern day amenities.
This gem has been in operation since the 40's and is one of the few still operating in Florida making it well worth the trip. Each of the two screens plays a double feature, and tickets are just $7 per person.
READ MORE: Where to Watch Outdoor Movies
Bok Tower Gardens, Lake Wales
Distance from Orlando: 1 hour 15 minutes
You'll find more than enough romantic recesses to woo your darling at Bok Tower Gardens in Lake Wales. The lavish plants, lovely horizons, and serene waters make for the perfect backdrop as you and your sweetheart exchange glances.
The singing tower, a 60-bell carillon, plays mini-music sessions throughout the day with full concerts throughout the day. Make sure to get off the beaten (paved) path, exploring the lesser-traveled mulched paths which lead to secret hideaways. When your gut starts grumbling, stop at the Blue Palmetto Cafe for fresh bites to enjoy. Beer and wine are available.
Alternatively, you can pack your own picnic to enjoy anywhere throughout the grounds.
Admission into the gardens is $17 per adult.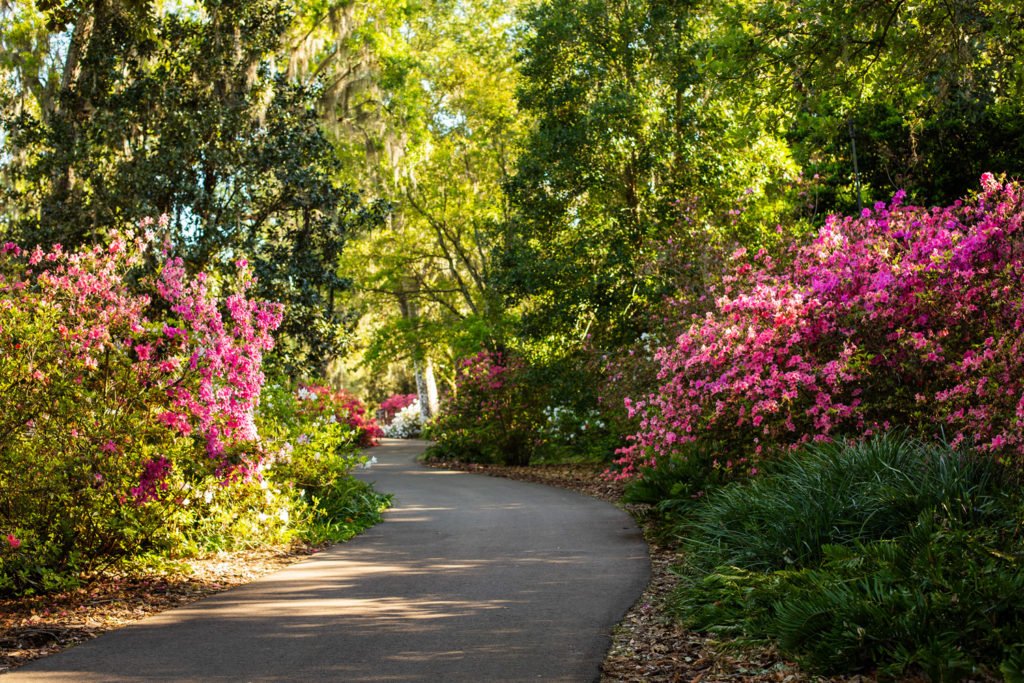 Plant City
Distance from Orlando: 1 hour 30 minutes
The annual Florida Strawberry Festival draws a big crowd to Plant City each year. This small town situated between Orlando and Tampa is worth visiting even once strawberry season has come and gone. Start your day laughing with weekend goat yoga on Saturdays at Grady Goat or getting in touch with your inner kid at Dinosaur World (you can bring your dog!).
After working up an appetite, head over to Keel Farms for craft beer, Florida wine, and lunch on the spacious outdoor patio. There is often live music. Seasonally, you can also pick strawberries and blueberries here.
For more information, refer to our insider's guide to Keel Farms. It's also worth dedicating some time to visiting Plant City's charming downtown area, full of cute shops and restaurants.
Three Sisters Springs, Crystal River
Distance from Orlando: 1 hour 35 minutes
Rejuvenate yourselves and your connection while floating with manatees in cool spring waters. Three Sisters Springs, a refuge for manatees, has an abundant supply of manatees year-round, although you will see a higher population during mid-November through late March.
Arrive at the Three Sisters Springs Center to begin your day with a trolley tour. The trolley will take guests to the quarter-mile boardwalk that allows the Springs and wildlife to be viewed from platforms. You may also like to explore the other 3 stops at Hunter Springs Park, South Citrus, and Heritage Village for shopping and dining.
For those who prefer a more interactive date outing allowing you to get up close and personal with the manatees, you can join guided kayaking and snorkeling tours to see the gentle giants up close.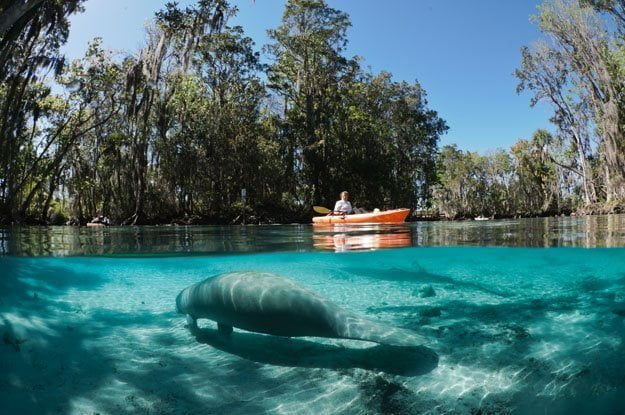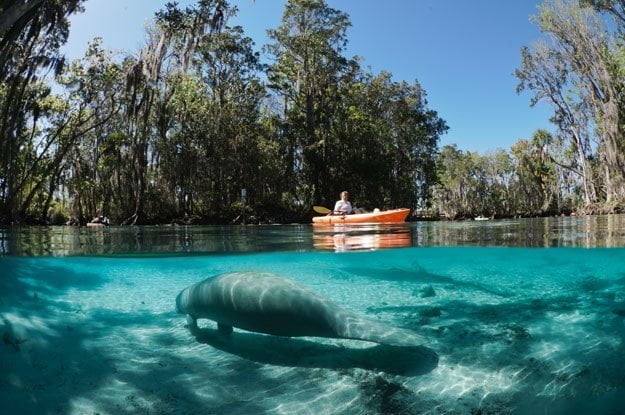 St. Augustine
Distance from Orlando: 1 hour 45 minutes
What could be more romantic than exploring the nation's oldest city by way of horse-drawn carriages?! Even if history is not your thing, St. Augustine's architectural beauty and quaint atmosphere are sure to lure you in.
Around every corner you will find charming courtyards, seducing sights, and desirable dining. Since the city is walkable and trolleys are available, you will be able to park your car and leave it for the day.
While walking through this captivating town, pause and think of the history here. Marvel at the wonder of the Castillo de San Marcos made from coquina.
Don't miss climbing over 200 steps to gain a bird's eye view at the top of the St. Augustine Lighthouse. Slide away from the crowds to grab lunch at Cafe Alcazar where all dishes are made from local and organic ingredients, or sip cocktails and dine while admiring the vintage digs at Ice Plant. The holidays are an especially romantic time to visit, when the entire city is aglow with millions of lights during the annual Nights of Lights.
Here's a detailed itinerary for how to spend your day.
Solomon's Castle, Ona
Distance from Orlando: 2 hours
After a short 2 hour drive to Ona, you can get whisked away in a fairytale (that's not Disney) with your true love at Solomon's Castle.
This unique experience was the private home of Howard Solomon and the dream he brought to life. Guided tours will give you a peek into the enchanted home, art gallery, and workshop. The first floor proudly displays his artwork, where every piece Howard made has a story, with the second and third floors housing the living quarters.
Lily Life House is the most recent addition to the attraction and is dressed with beautiful stained glass windows. The adventure is sure to cause your tummy to rumble. The onsite cafe is located next to the castle and offers up hot plates, sandwiches, salads, and sweet treats.
The Castle operates October 2 – August 1 Tuesday – Sunday. Admission and parking are free.
You'll need tickets ($15 – $35 per adult) to tour the castle, and only cash or check are accepted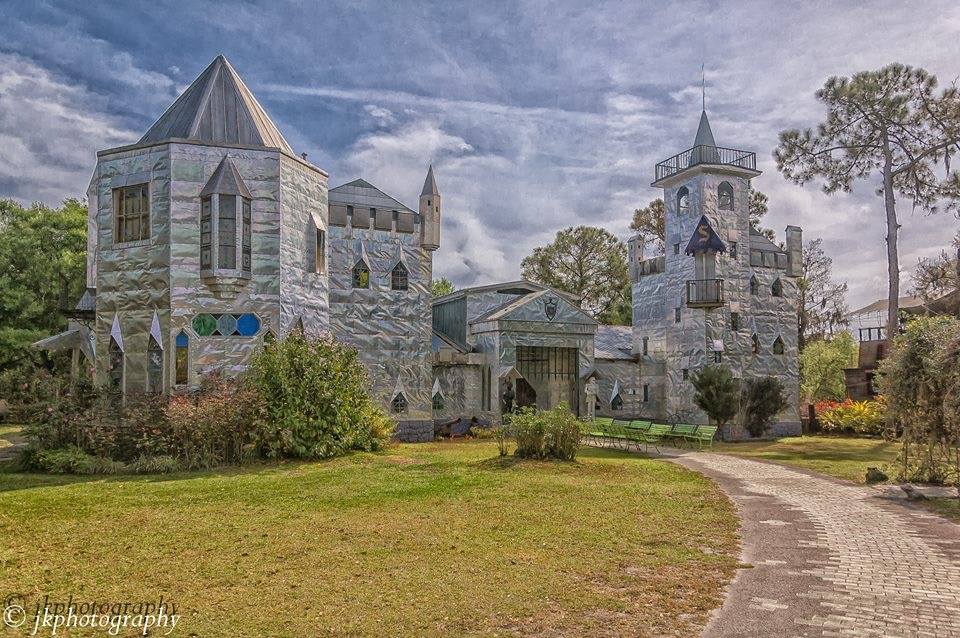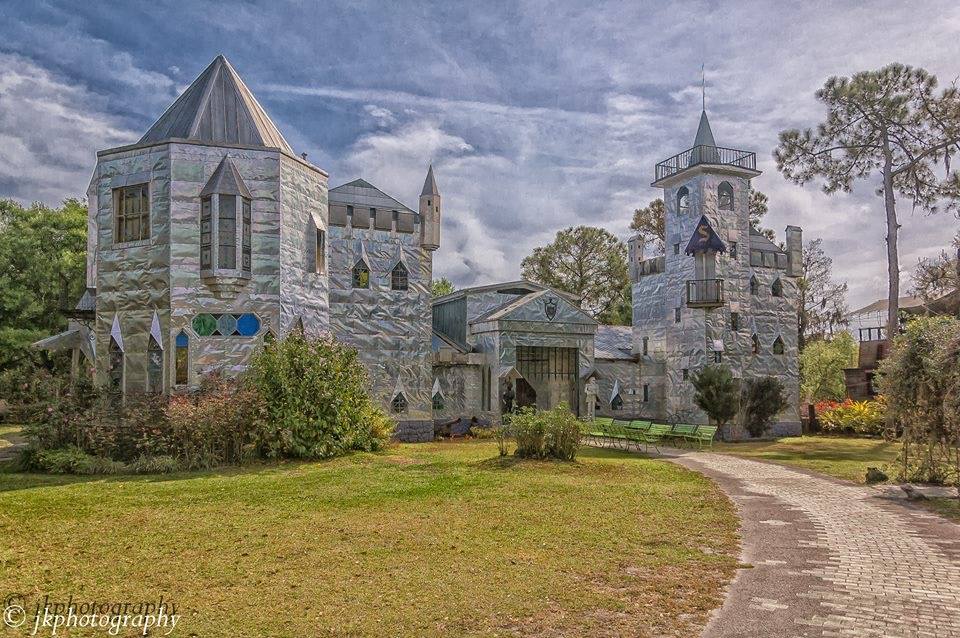 Anna Maria Island & Longboat Key
Distance from Orlando: 2 hours 30 minutes
Whisk your better half away to a secluded beach where you can put your toes in the water and bum in the sand. Walk barefoot hand-in-hand along the sandy beaches of Longboat Key as the breeze blows through your hair and waves lap against the shore.
Walk long enough and you may come across Beer Can Island, where you can relax almost privately while devouring your favorite fare.
Despite the fact that Longboat Key is mostly residential, there are 12 public beach access locations to spend the day wasting away. When you tire of your fun in the sun, take a drive to Lido Key where you will find St. Armands; a bustling beach locale full of class and sophistication.
Key Culinary Tours offer a guided food tour visiting multiple restaurants and shops. Whether you decide to spend your day on the sandy beaches or take in the local culinary scene, this romantic day trip wouldn't be complete without watching the breathtaking sunset over the ocean.
For a more upbeat beach experience, opt for Anna Maria Island which features funky beach town farm, stunning beaches with oodles of free parking, fantastic restaurants and more.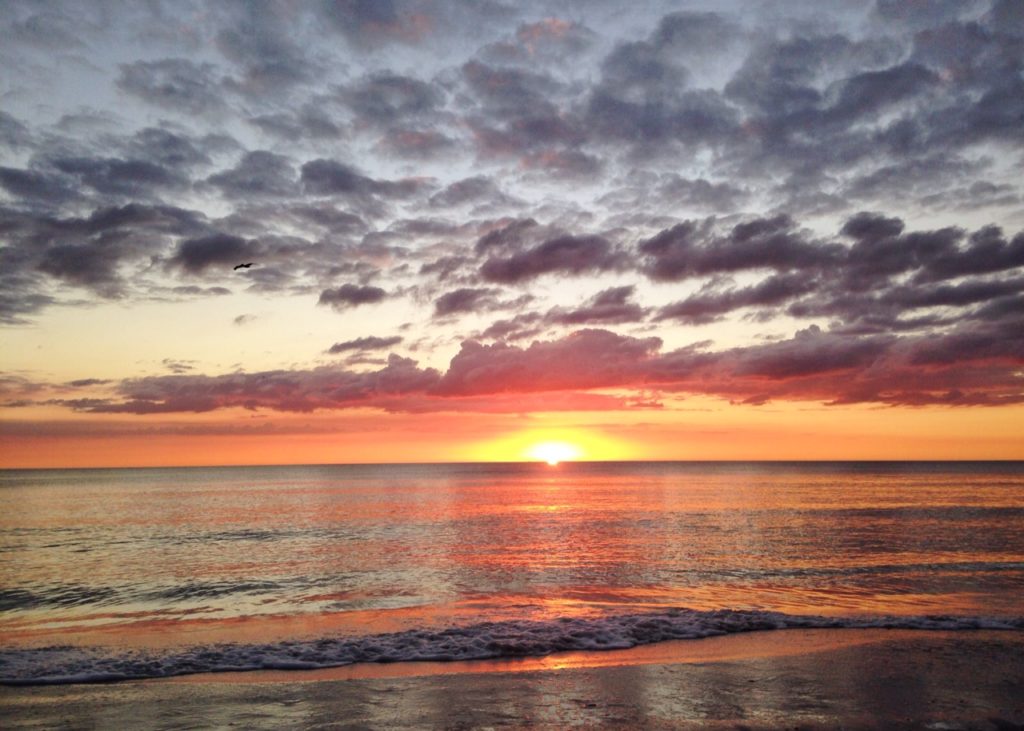 Even more day trip ideas to explore: