Did you know there is a Florida State Park that is an island, right here in Central Florida? Near DeLand you can escape to a massive state park that is only accessible by private boat or the park's ferry boat. Hontoon Island State Park is a blissful destination along the scenic St. Johns River where you can connect with nature, and each other. Best of all, it is free, easy to get to and it's just 10 minutes from historic downtown DeLand, which has won countless awards for its charming main street.
Getting There
It is easy to reach Hontoon Island State Park from anywhere in Central Florida. Its location near DeLand puts it about 30-40 minutes from downtown Orlando.
When my husband and I visited together I enjoyed the scenic views as we entered the DeLand area. The entrance to the parking area and ferry boat to Hontoon Island itself is on a neighborhood street. The homes along this street have access to a canal, which seems to have inspired so many of the homeowners to place adorable nautical decor outside.
As we approached the park's entrance I relaxed and smiled. The small town feel of the neighborhood put me at ease and prepared me for a relaxing visit with my husband.
Once we parked our car we walked over to the dock. Hontoon Island itself waited right across the water; I was surprised how close it is to the dock. We raised the flag at the top of the dock, per the instructions on the sign, to alert the ferry boat driver that we were ready for him to make the short journey from the island to the dock to pick us up.
FYI: There is no fee to park, nor to enter the park.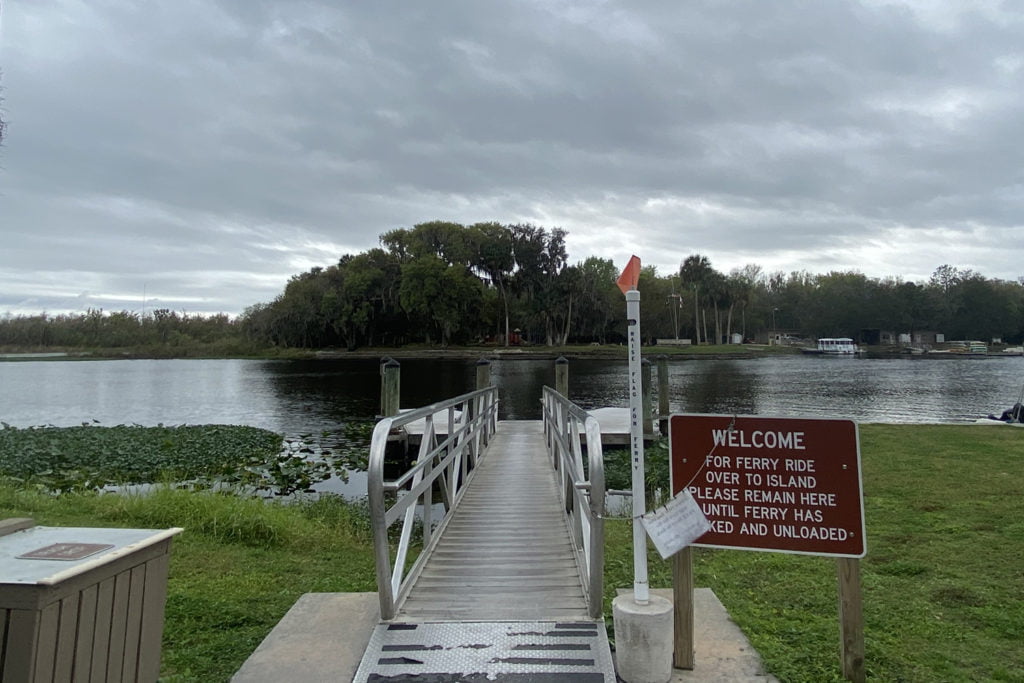 Hontoon Island State Park Activities and Facilities
A visit to Hontoon Island starts off with a short, relaxing ferry boat ride. The ferry ride itself is the perfect way to settle into the relaxing, but adventurous spirit of exploring this Florida State Park. My husband and I were the only ones aboard our ferry ride, around 10am on a weekday.
During the ride, which was less than five minutes, I took a moment to gaze at the river and at the island as we approached it. The captain explained a few features about the island including the playground, walking trails, and the camp store where we could rent bikes or purchase snacks.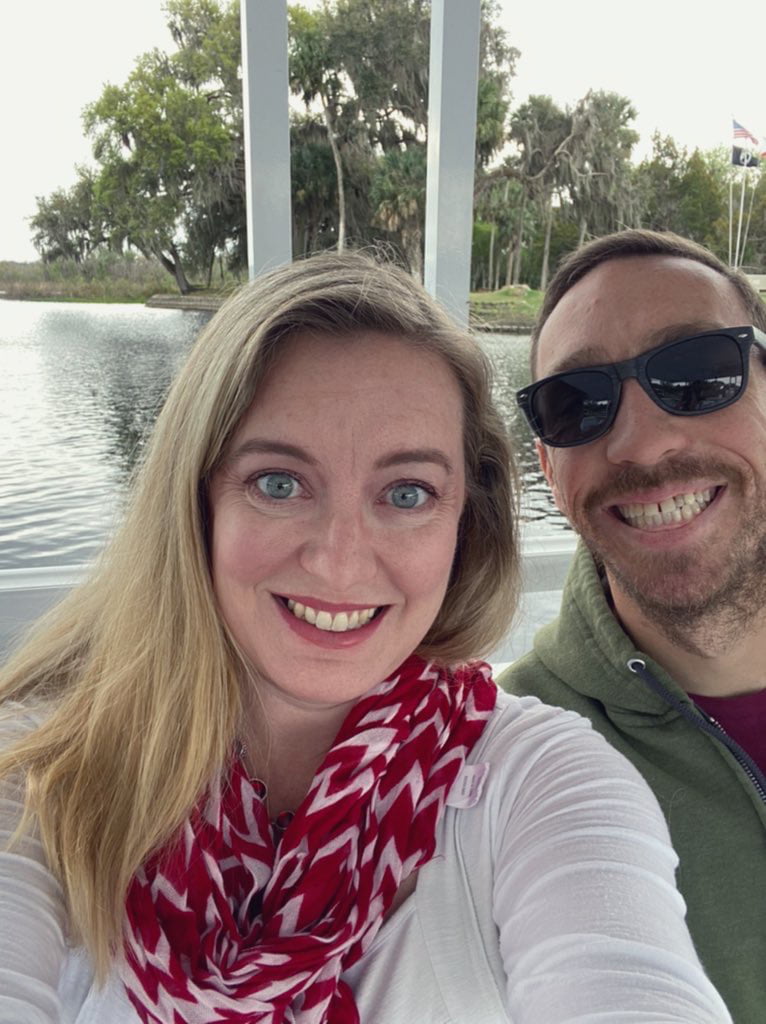 Upon docking at the island we walked around for a short bit. The stillness of the area allowed us to hear the sounds of nature undisturbed. Birds of many kinds called into the open air. The only interruption was the occasional boat going by or an airplane overhead.
RENT BIKES
Once my husband and I had a few moments to take in the serene atmosphere, we headed to the ranger station and camp store to rent some bicycles.
During our visit, we paid $12.00 to rent two bicycles for an hour.  The beach comber style bikes were in pretty good repair–a little old, but functional–and the price was right. The ranger reviewed the choices in trails that lay before us. And then, we were off!
Note: Have your own bikes? Bring them along instead of renting.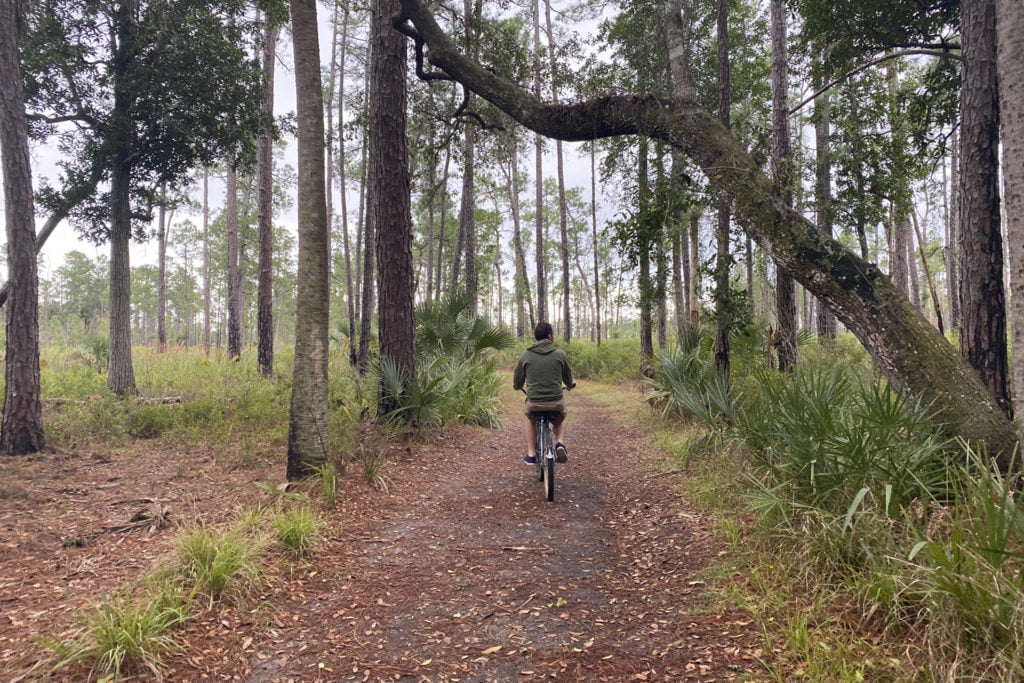 We opted to head for Bear Tree Landing, home of one of the largest oak trees on the entire 1,600 acre island. Initially, the hard-packed dirt trail proved easy to navigate on the rental bikes. We followed it past the impressive cabin sites.
Once we passed the camping area it took more effort to pedal through as we entered a large pine scrub area. The effort was worth it. There was no one else around, providing my husband and I some much needed quiet time, a relief from our normally chaotic lives as we raise a toddler together.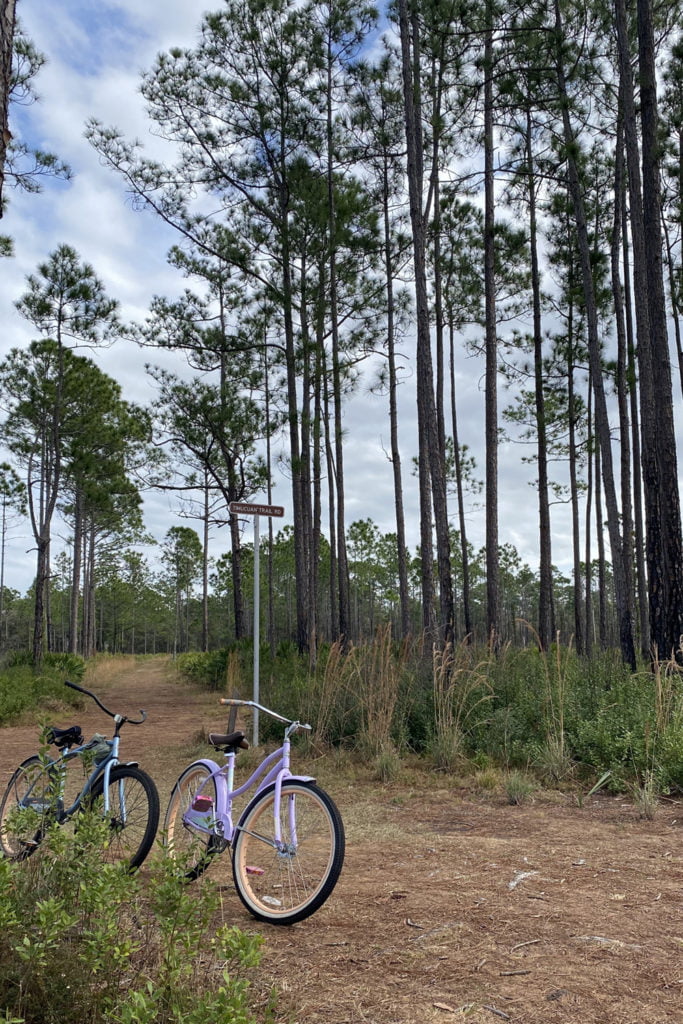 We took a few breaks before reaching Bear Tree Landing. Thankfully, there are nice benches, some with a shade covering overhead, along the way. I did regret not bringing water with us and not dressing in outdoor gear. As we got closer to Bear Tree, the scrub area gave way to a heavily wooded area, and the trail become easier to pedal through.
We rounded a bend and suddenly a small clearing surrounded a massive oak tree. My eyes grew wide. We parked our bikes and sat on a bench to gaze at the grand tree. I noticed the bird calls and the gentle sounds of the woods. As a couple, we really needed this quiet moment, surrounded by nature.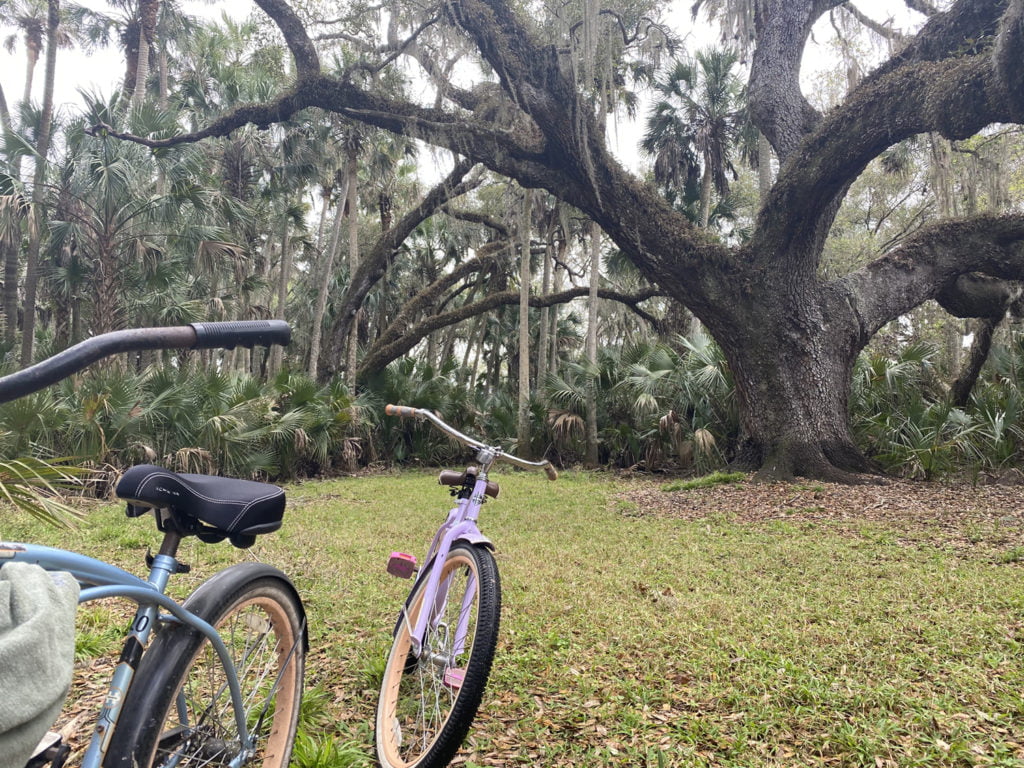 STAY IN A RUSTIC CABIN
If you want to immerse yourself in this serene environment, you can stay in a cabin at Hontoon Island State Park. Now, I do want to make it clear, this is not a glamping experience. These are true, rustic cabins. I have not stayed in one, yet, but when the weather is cooler it may be in the cards.
Toward the end of our bike ride we took a few minutes to walk around the camping area where the cabins are located. They are spread out to allow for privacy, but the area does feel like a nice little community. Each cabin has a small grill and picnic table just outside the cabin, and a lovely little screened-in porch.
You are required to bring your own linens, and cooking inside the cabins is prohibited. You can read more about the cabins on the Hontoon Island State Park website.
More activities
Besides bicycle rentals, you can rent a kayak or canoe to explore the river. You can bring your own fishing equipment, as well as your own picnic. There are picnic tables available near the dock on the island. Dogs are allowed to come too, they just need to be leashed throughout the entire visit.
You can also explore the island on foot, embarking on a 3-mile hike that will take you to a large Indian shell mound at the end of the island.
One activity we overlooked was the museum. The museum has exhibits about the island's history and former Native American inhabitants. Not like I need an excuse to go back, but I would definitely love to stroll through this museum and learn more about the island.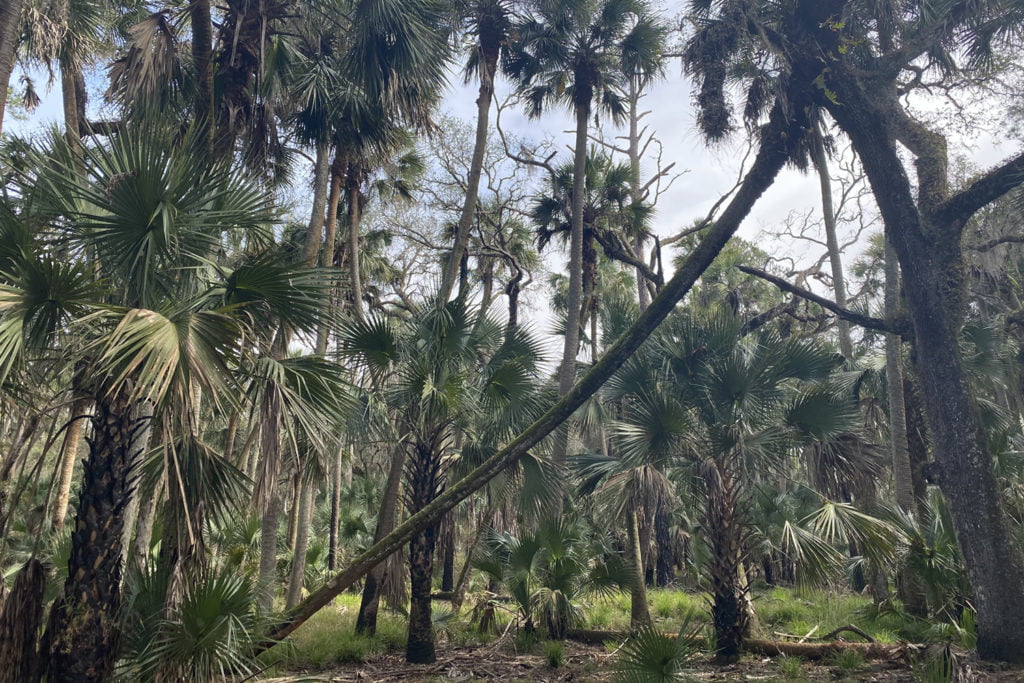 Dining near Hontoon Island State Park
While you're in the DeLand area, do not miss out on the opportunity to explore the charming historic downtown area. It is just about a 15-minute drive from Hontoon Island. There are so many great restaurants and cafes to enjoy here, plus great shopping too.
My husband and I have our favorite spots in downtown DeLand. Anytime we are lucky enough to visit this area we have to stop at Groovy Records to browse. A stroll into Pat & Toni's Sweet Things is also an absolute must. This cozy candy shop has a palpable small town feel, and the handmade sweets are worth every calorie.
We try to dine somewhere new each visit, but we do make a point to always stop at Persimmon Hollow for a delicious, cold draft beer.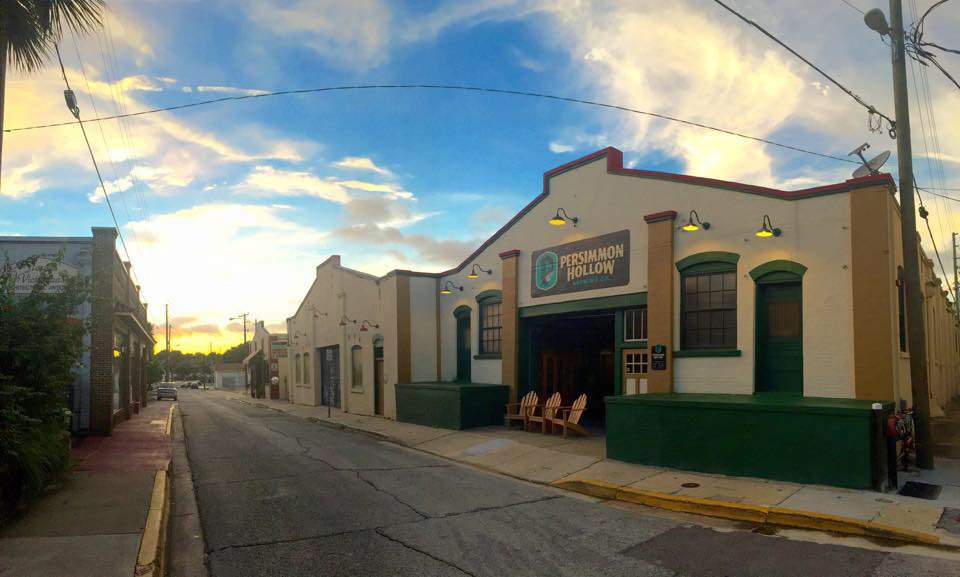 On this trip, after our morning at Hontoon Island, we decided to check out The Table. This corner restaurant bridges modern with classic, both in its decor and its menu. As we walked in, I immediately felt at home, and glad we selected The Table as our place to dine.
We started our experience with two craft cocktails. The Revolver is a feminine Bourbon cocktail, which I sipped with pleasure while taking turns gazing out the window and gazing at my husband. The Old Fashioned did not disappoint either and was my husband's choice.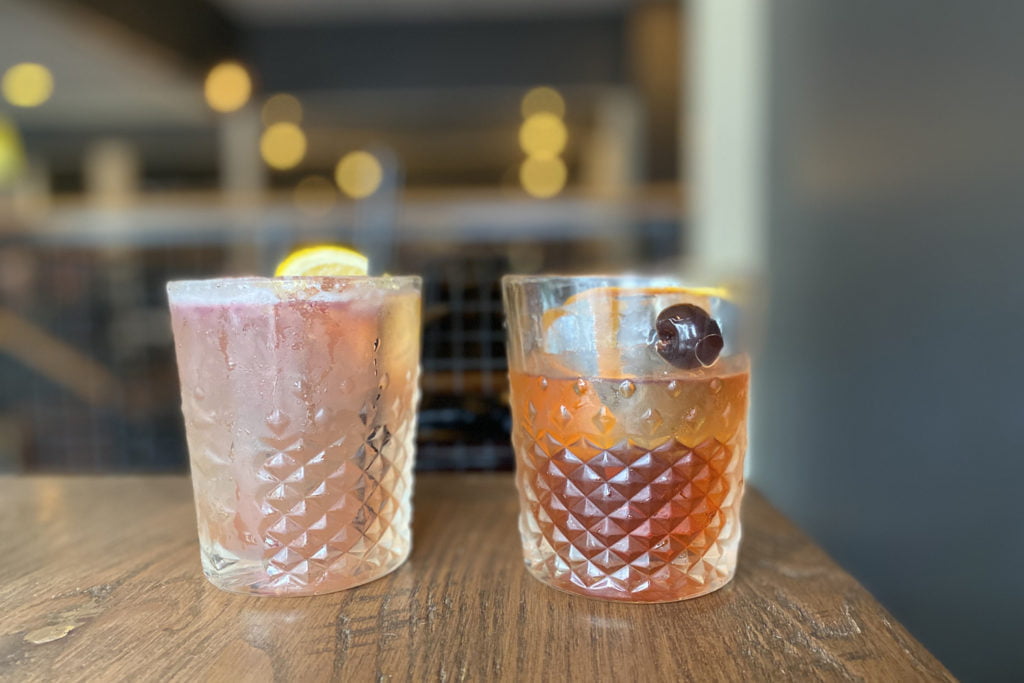 We opted to split an appetizer and an entree. The Fish Cakes appetizer was a light way to start our meal. It was flavorful and satisfied us for a bit as we waited for our entree. We split The Henry DeLand sandwich, which is a signature item, made with Shaved Prime Rib, Baby Swiss, Herbed Cheese Spread, Caramelized Onions served with Au Jus. In a way, I wish we hadn't shared it, because it was so delicious and savory.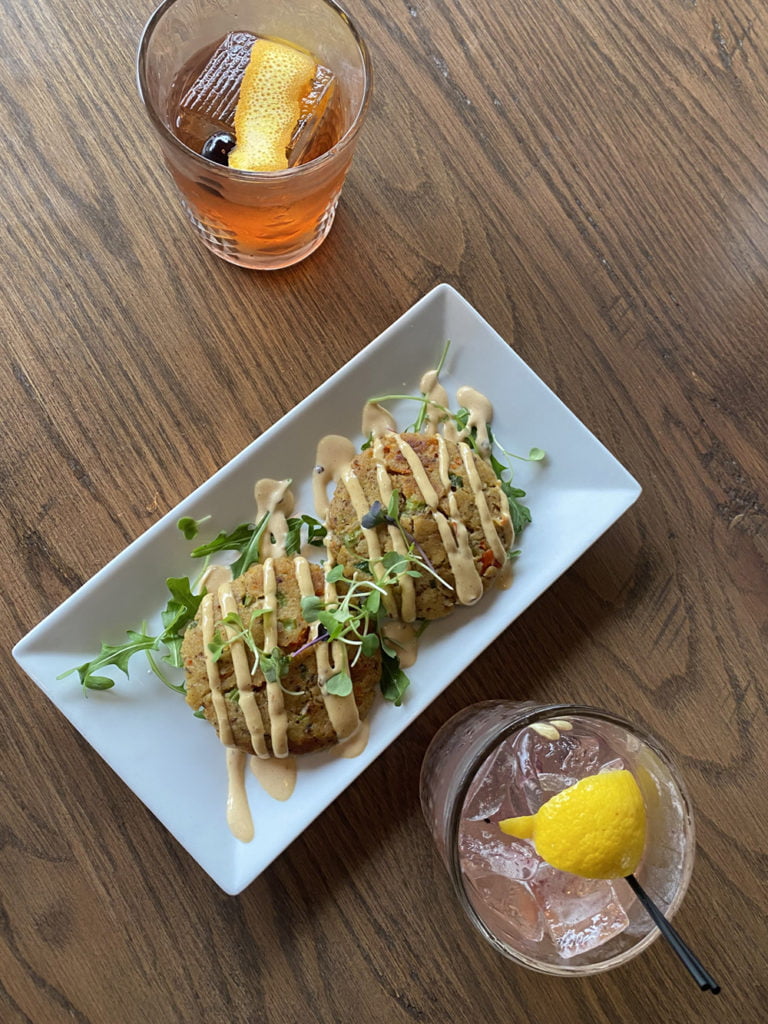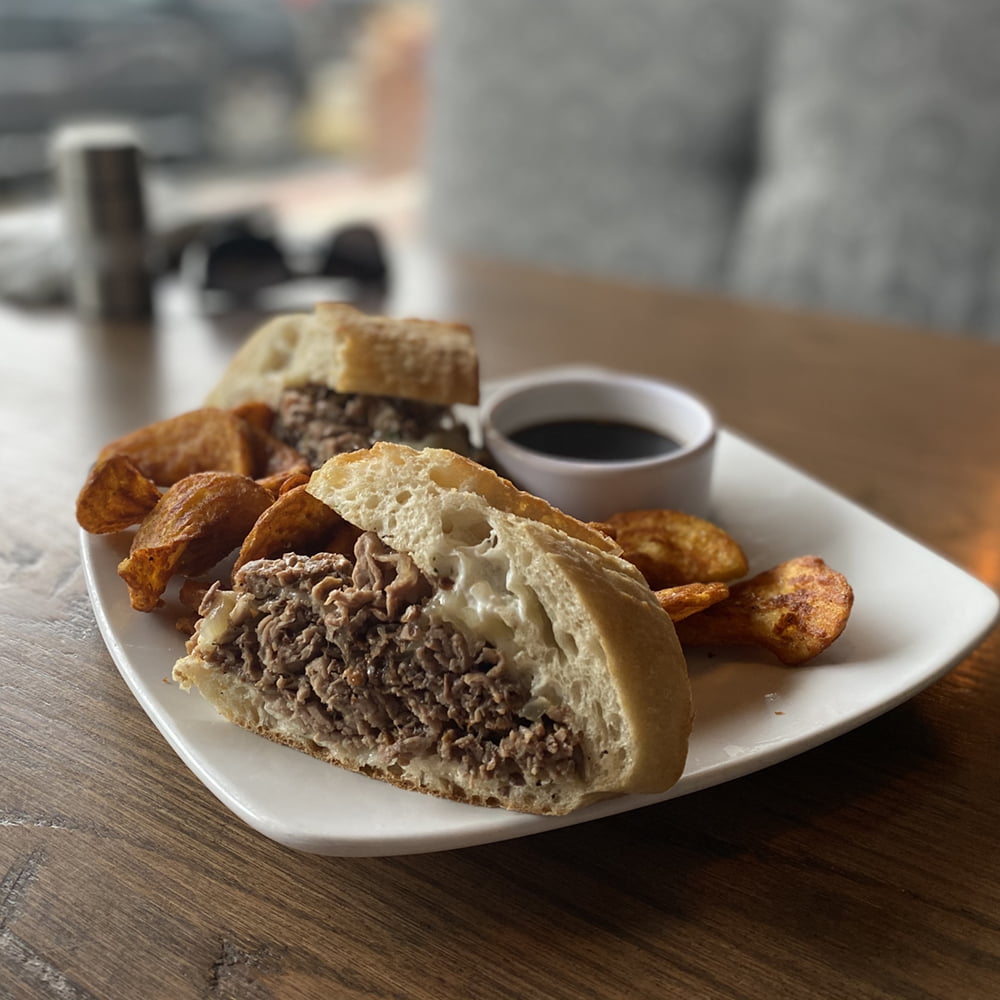 Since this visit, we have ordered take-out food at The Table and have loved every bite. The Table is a great example of why we love visiting downtown DeLand. And now that we've discovered the serenity of Hontoon Island State Park, we have solidified this destination as one of our date day favorites.
DETAILS
Hontoon Island State Park
2309 River Ridge Rd
DeLand FL 32720
Admission is free, and the park ferry runs daily from 8am to one hour before sunset. There is no fee to park.
Tip: Make sure to dress comfortably and pack plenty of water and sunscreen. Pack a picnic lunch if you plan on staying for awhile!
All images courtesy of Dani Meyering @thisfloridalife