We're lucky to have access to so many coastal towns and getaways from Central Florida. One of the closest beach towns to us is Titusville. With its interesting history and ties to the space program at Cape Canaveral, it is ideally situated for fantastic viewing of rocket launches. Here's how to spend a relaxing and fun day in this charming and waterfront historic town.
Updated April 2022 by Dani Meyering
11am-12pm: Brunch or Lunch at Playalinda Brewing Company Brix Project
The perfect way to get settled into Titusville's beach town vibe is to dine and have a round of drinks at Playalinda Brewing Company's Brix Project location. The brewery's original location, referred to as the Hardware Store since it is inside a former hardware store, is one of the best gems in historic downtown Titusville. But the Brix Project location is 10 minutes outside the historic downtown and offers some of the best dining in the area. Plus, there's a full bar menu in addition to amazing craft beers.
The Sunday Brunch is a must-do! I recommend ordering one sweet item and one savory item to share, though the food is so delicious you may have a hard time sharing. The one downside of visiting Titusville on a Sunday is that a lot of businesses and most of the museums are closed on Sundays. Otherwise, visit for lunch (Thursdays-Saturdays) as a good alternative.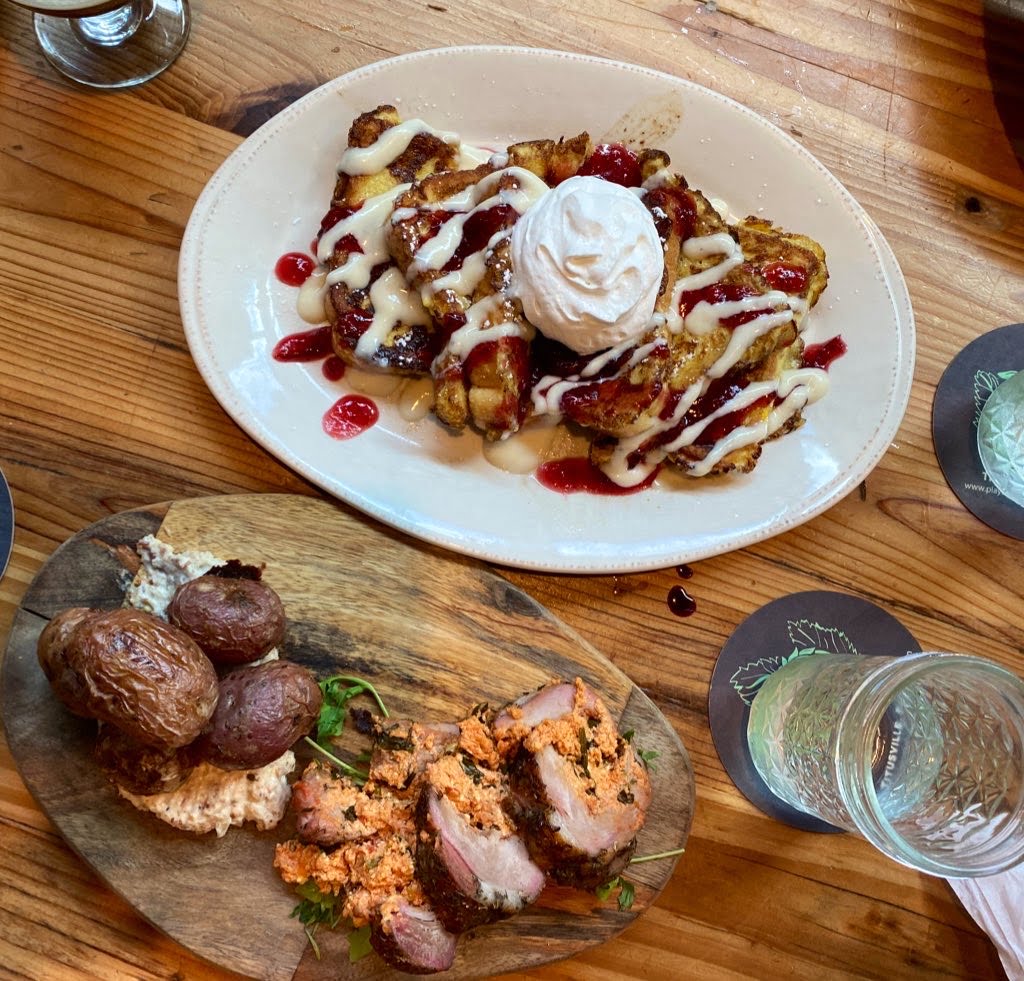 12:15-12:45pm: William J Manzo Park
Playalinda Brewing Brix Project is only 10 minutes from downtown Titusville by car. As you drive along US 1, the Indian River almost hugs the road. Take advantage of the waterfront drive and make a stop at William J Manzo Park. This park is just over two acres so it is large enough for a visit, but not so big that it takes a lot of time and energy to explore. Pines and palms provide shade and a paved walkway and riverfront boardwalk provide scenic views.
1-1:30pm Grab a Milkshake at MoonLight Drive-In
Step back in time to the 1960s and the advent of the Apollo space program, hence the name MoonLight Drive-In. Split a handspun milkshake; flavors include classics like strawberry and chocolate, as well as key lime and fluffernutter. You may want to dress in 1960s attire for a quick Instagram photoshoot at this cute place.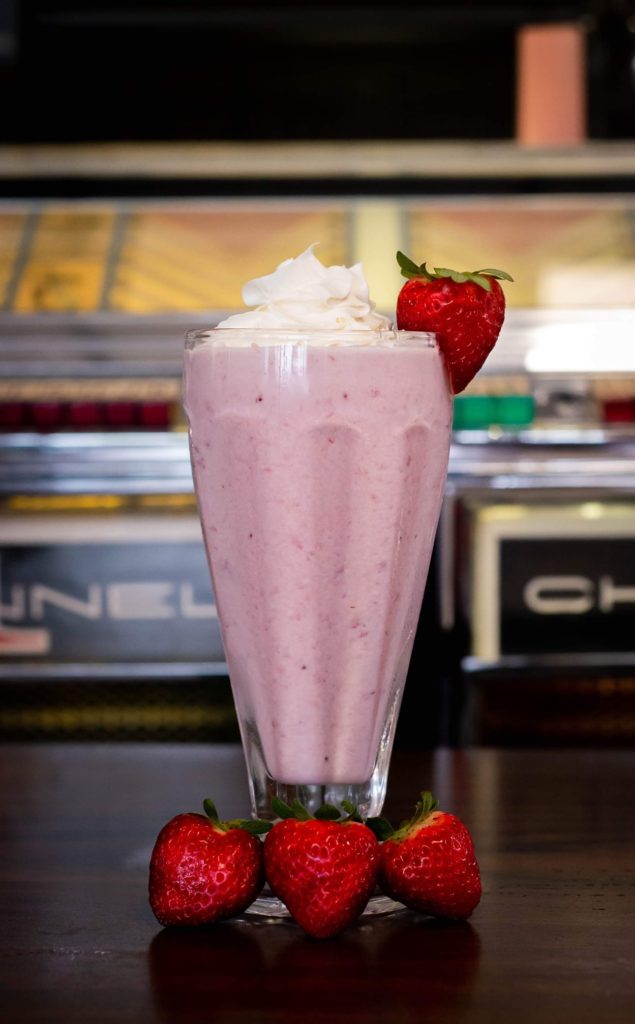 1:45-3pm Tour the Pritchard House
Our next stop is the perfect place to launch your exploration of historic downtown Titusville. At the historic Pritchard House there is a large free public parking lot as well as the Titusville Welcome Center. This is the perfect spot to park your car and head out on your exploration of this lovely historic downtown.
The Pritchard House belonged to Captain James Pritchard in 1891, making this home more than 100 years old. Tours are available any day of the year! However, tours are available by appointment only. Call 321-607-0203 or email thepritchardhouse@yahoo.com. Furnishings and decor are authentic to the period so you can get a true feeling of what life was like in Florida at the turn of the last century. Tours are $15 during the holidays (the house is fully decorated in period appropriate fashion) and $10 the rest of the year. If you're not up for a tour, you're free to walk around the grounds.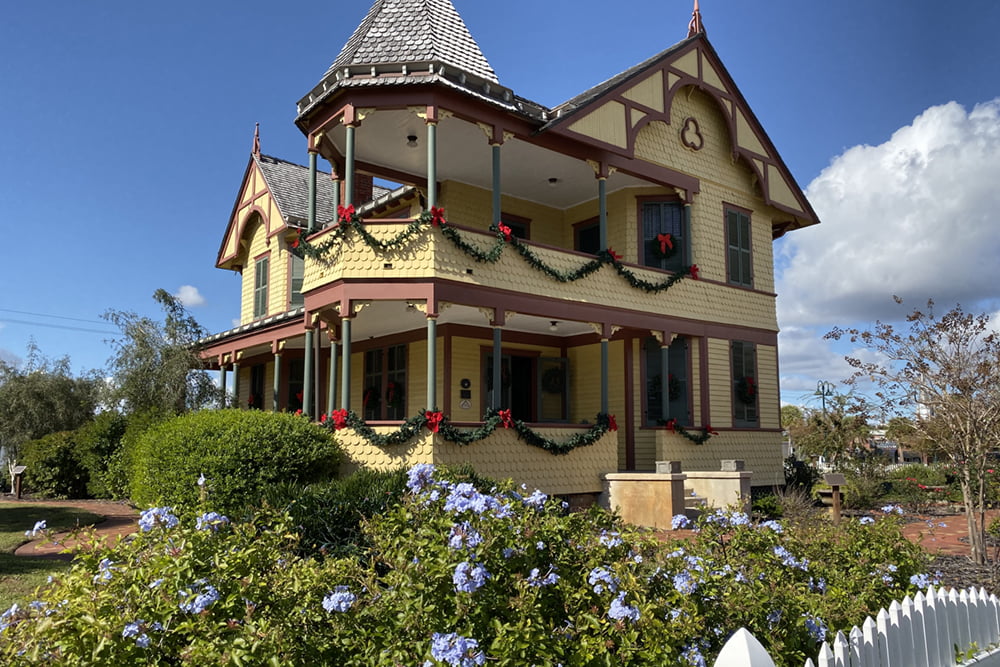 3-3:30pm Visit Some of Titusville's Best Murals
The most beautiful mural we saw while walking around downtown Titusville is located just around the corner from the Pritchard House. "Paddling Our Wildlife Paradise" at 410 S Hopkins Avenue made my jaw drop when I first saw it. Being a Florida Native, I believe it perfectly captures what I love about the natural world in this state. Keith Goodson is a gifted artist.
After viewing the first incredible mural, walk towards Washington Avenue, the main street of downtown Titusville. Behind Sunrise Bread Company is a pair of wings, one adult size, one child size. Then keep walking through Julia Court. Along the backside of the buildings that face Washington Avenue, namely the Olde Bank Tavern, is a fun Coca-Cola ad and a mural.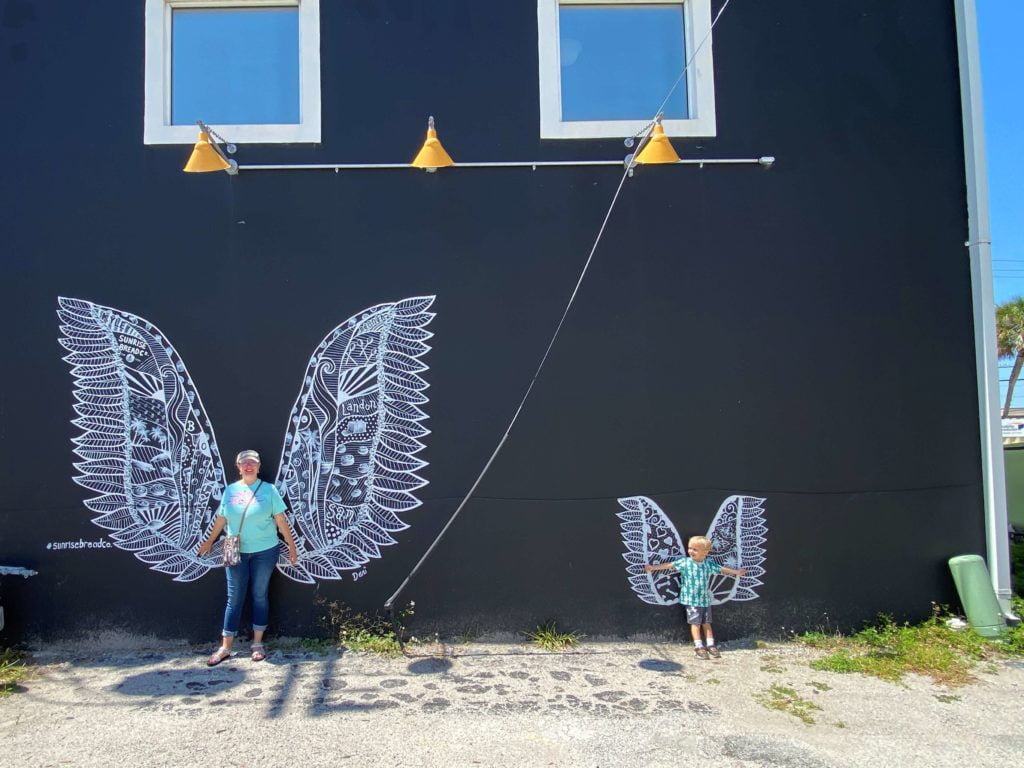 Finally, another mural by Keith Goodson that you can't miss is "Reflections of Our Past." This mural showcases Titsuville's historic side and its connection with the space program. I love the mix of black and white, sepia, and color. You can find this mural at 301 South Washington Ave, which is at the end of the strip of businesses and restaurants in historic downtown Titusville. Get more information about Titusville's murals here.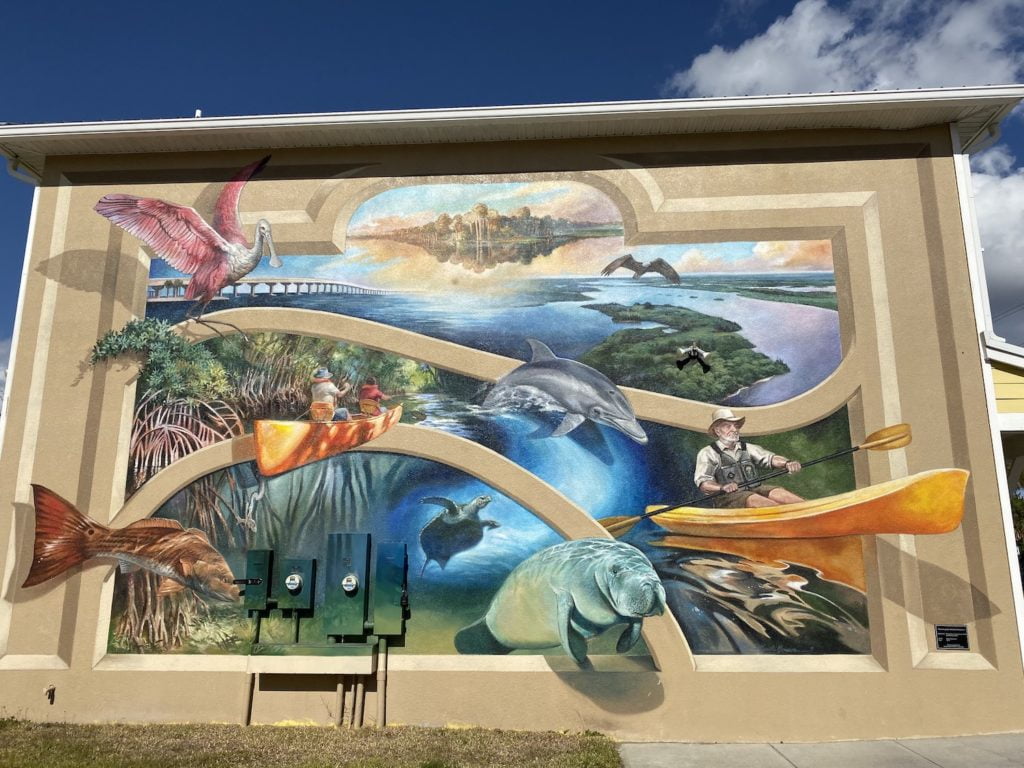 3:30-4pm: Playalinda Brewing Company – Hardware Store
Now that you've traversed some turf in Titusville you may be thirsty. Pop into Playalinda Brewing Company's original location, the historic hardware store. This location gets pretty busy on weekends, and especially packed on rocket launch days. A small amount of outdoor seating is also available, and it is dog friendly.  A nice selection of great food is available if you need a nibble. FYI: This location doesn't open until 4pm Monday-Thursday.
4-4:30pm: Have a treat or a glass of wine
Almost directly across the street from Playalinda Brewing's Hardware Store is Mad Utter Ice Cream. This cute ice cream shop feels welcoming, like a small town in days gone by. Get your sweet fix here in the afternoon, though they are closed on Mondays.
Alternatively, on the same side of the street as Playalinda Brewing, just a few doors down is Oh Vino Wine Shop. A wide array of wines, cheese, and other bites await. Slow down and enjoy the relaxing pace of Historic Downtown Titusville. Note, Oh Vino Wine shop is closed on Mondays and Tuesdays.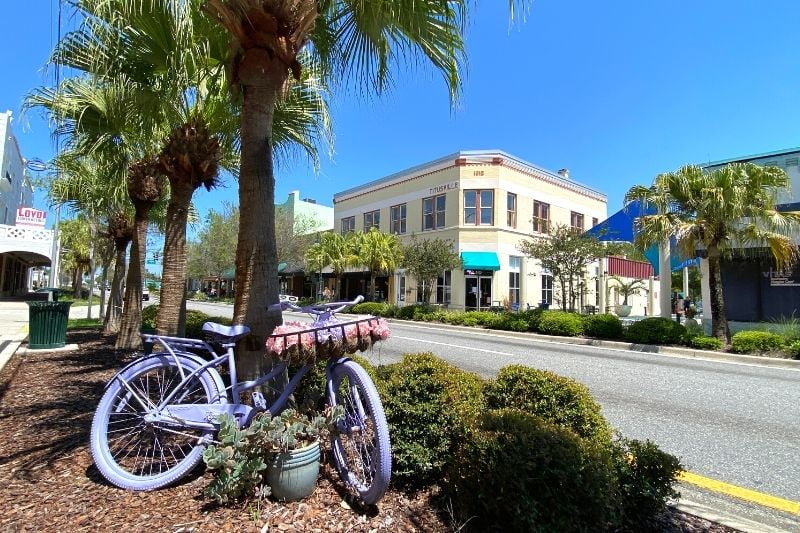 4:45-5:15pm: Space View Park
Complete your stroll through historic downtown Titusville by ending at Space View Park. As the name indicates, this park was established as a place to view rocket launches from nearby Cape Canaveral. But there is more to Space View Park than this. Here you can browse several inspiring monuments to the space program and the men and women who have been an integral part of its history. This park is a unique experience and a must-do when in Titusville.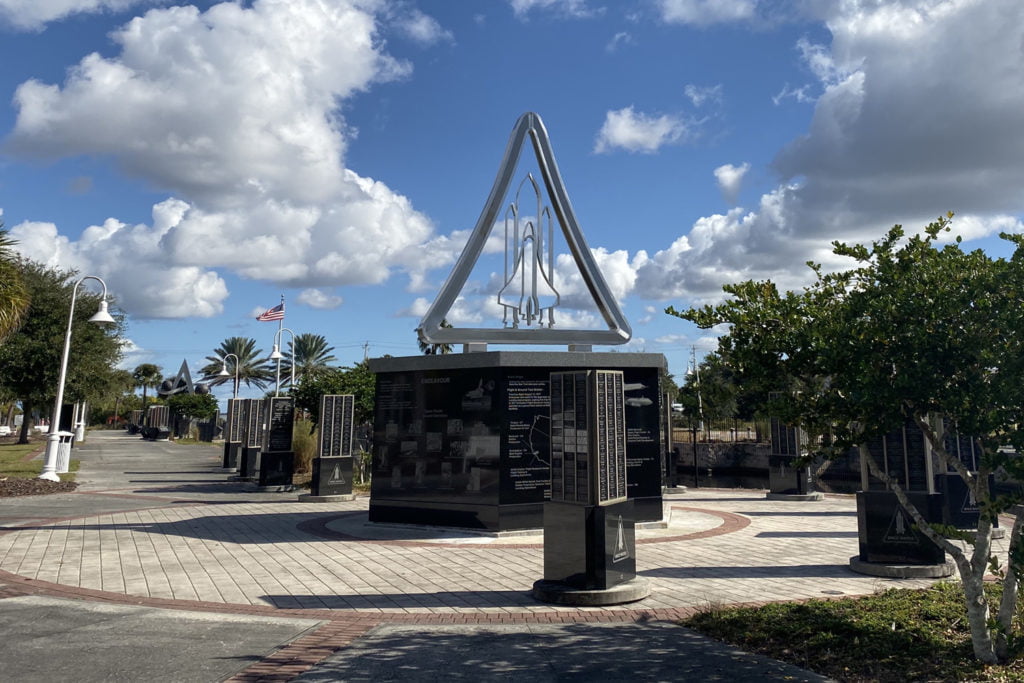 5:15-5:30pm Browse The Infinite Mushroom Comic Book Shop
On your way back to your car, stroll back down the main street, Washington Avenue, and stop in to The Infinite Mushroom Comic Book Shop. Named in honor of Super Mario Brothers video games, this family-owned shop is a fun spot to browse even if you're not a big comic book fan. As you look through the shelves you may discover your honey has a hidden comic book geek streak. Hours vary, please check their website.
6-7pm: Dinner at the World Famous Dixie Crossroads
Less than 10 minutes from historic downtown Titusville is a landmark of a different kind: Dixie Crossroads. Any local will tell you this is the place to get seafood in the area. I actually have fond memories of dining here as a child. The decor is old Florida and a little campy, but that's part of the charm. Florida rock shrimp are the specialty of the house and what this eatery is known for. The variety of fresh seafood is wonderful, but they have steak and chicken too. Save room for key lime pie.
Alternate idea: Dinner and Drinks at The Space Bar
The Space Bar is a hot spot to watch a rocket launch on the Space Coast, but the space themed cocktails and awesome food make it worth a visit anytime. The Space Bar is located at the Courtyard by Marriott Titusville. Parking is free and there is an elevator just before the lobby that takes you straight to the rooftop bar. You do not need to be a guest of the hotel to eat and drink at The Space Bar, and with it being less than an hour from Orlando, it is worth it!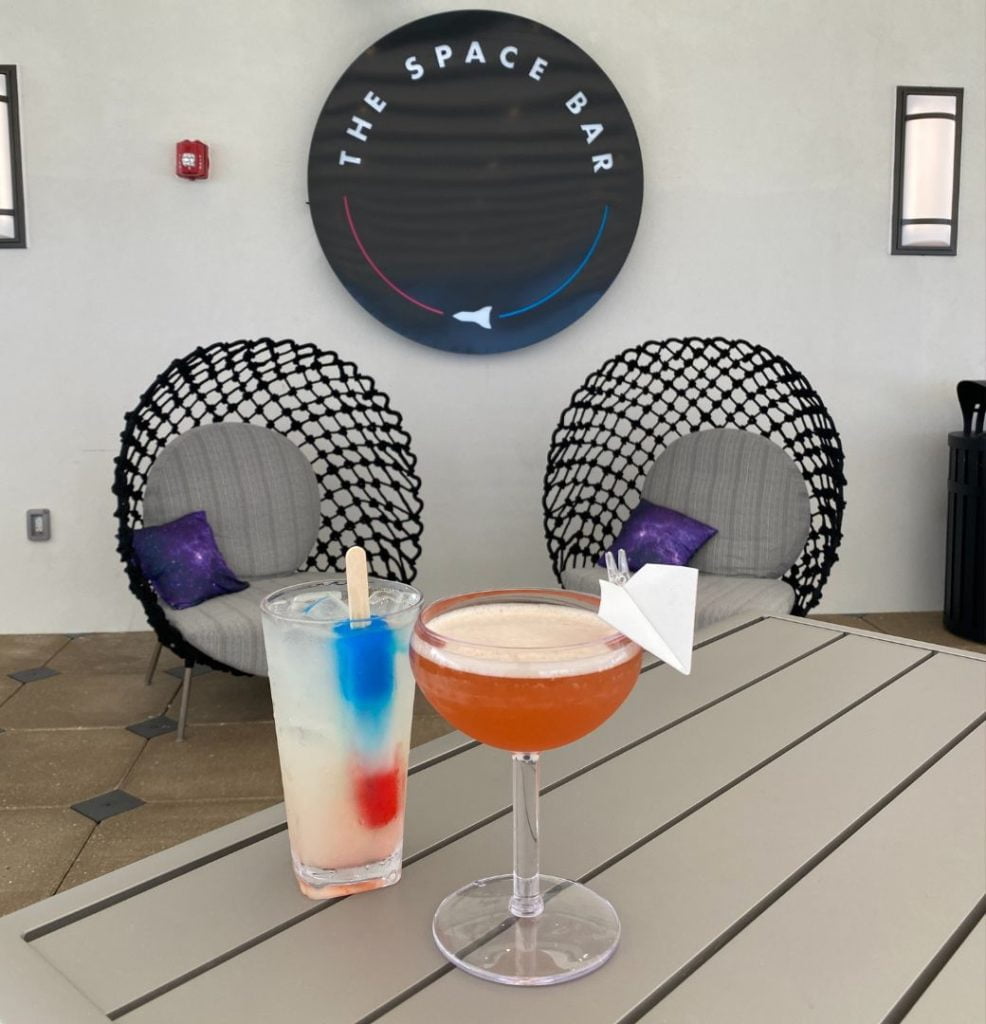 Near Titusville is the Merritt Island Wildlife Refuge and Indian River. These areas are known for bright bioluminescence in the summer months and during the colder months, comb jellyfish that glow. Your nighttime kayak tour will be a magical experience as you paddle above these glowing organisms that appear as though from another world. There are a few kayaking tours that offer bioluminescent tours in the evenings, including in clear kayaks so you can get the best views.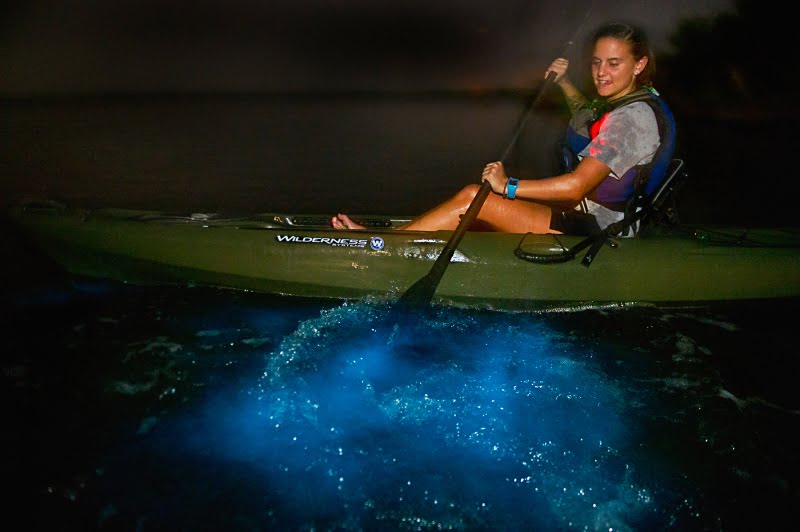 Other Places to Visit in Titusville
Other Places to Eat in Titusville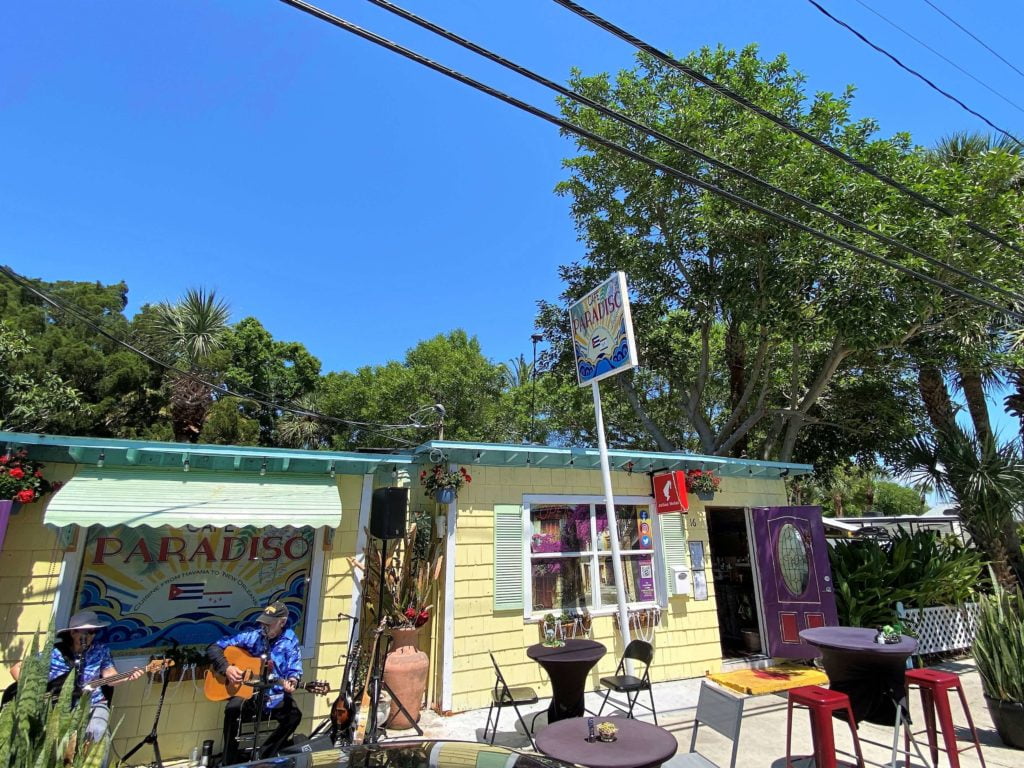 Rocket Launch Viewing Locations
Rotary Riverfront Park, 4141 S. Washington Avenue Titusville, FL 32780
Space View Park, 17 Orange St, Titusville, FL 32796
Playalinda Beach, Florida State Road 406/402 Titusville, FL 32796
All images by Dani Meyering, unless otherwise noted