A weekly trip to the farmers' market is one of life's simple pleasures. It was at the Winter Garden Farmers Market that I met Ginny, who runs the Bountiful Farms market stand each week. After she mentioned that the farm is open to the public and also boasts an outdoor farm bistro, I finally made the trek, and boy was it worth the 45-minute drive.
Bountiful Farms is a small family farm in Okahumpka (south of Leesburg), owned by Ginny's sister, Jessica, and her husband, Gareth. The pair met in culinary school and worked as chefs before deciding to pursue their shared vision of opening a restaurant where the food served was grown on their own farm. The bistro officially opened in 2018.
Today, the produce grown on the farm makes its way into the farm store, out to a few farmer's markets, and directly onto the table at the gorgeous outdoor bistro. It's a place you can meet your farmer, support small local farms and taste the delectable bounty for yourself.
If you're looking for a unique experience that'll impress your date, look no further. I've got the full scoop below.
Note: This article was originally published in March 2021 and has been updated.
Bountiful Farms Bistro Menu and Info
Much of the menu remains the same this year, with plenty of vegan/vegetarian options and some delicious classics with fish and chicken.
Menu items include:
Poppin Nannies (fried cheese appetizer)
Magic Caps (stuffed mushroom caps)
Southern Chick sandwich (fried chicken sandwich with a twist – a returning favorite)
Grilled Mahi sandwich – with citrus mint aioli
Vegan burger
Chick Chick Boom sandwich (Vegan sandwich made with chickpea and sun-dried tomato cakes)
The Gobbler sandwich (Thanksgiving inspired)
Fried Cod Stack sandwich
A covered waiting area and a standalone bathroom provide some comfort in this charming rustic setting. There is plenty of shade so regardless of whether cooler temperatures make a rare appearance, it is a pleasant visit.
The Bistro
There's nothing quite like the gorgeous setting of Bountiful's Bistro, set completely outdoors under the shade of a gigantic 300-year-old oak tree. Handmade signs and interesting details add a touch of whimsy as the resident farm dogs make the rounds to say hello.
Food produced on the farm and by other local producers is the star of the extensive menu, which features more than just bountiful salads.
Share an order of fried heirloom green tomatoes or heavenly roasted beet skins. Nosh on a hefty 1/2 lb. burger or dive into a hearty sandwich. Whatever you do, don't skip a side order of farm fries. They're some of the best damn potato wedge French fries you'll ever have (made with potatoes from the farm, of course).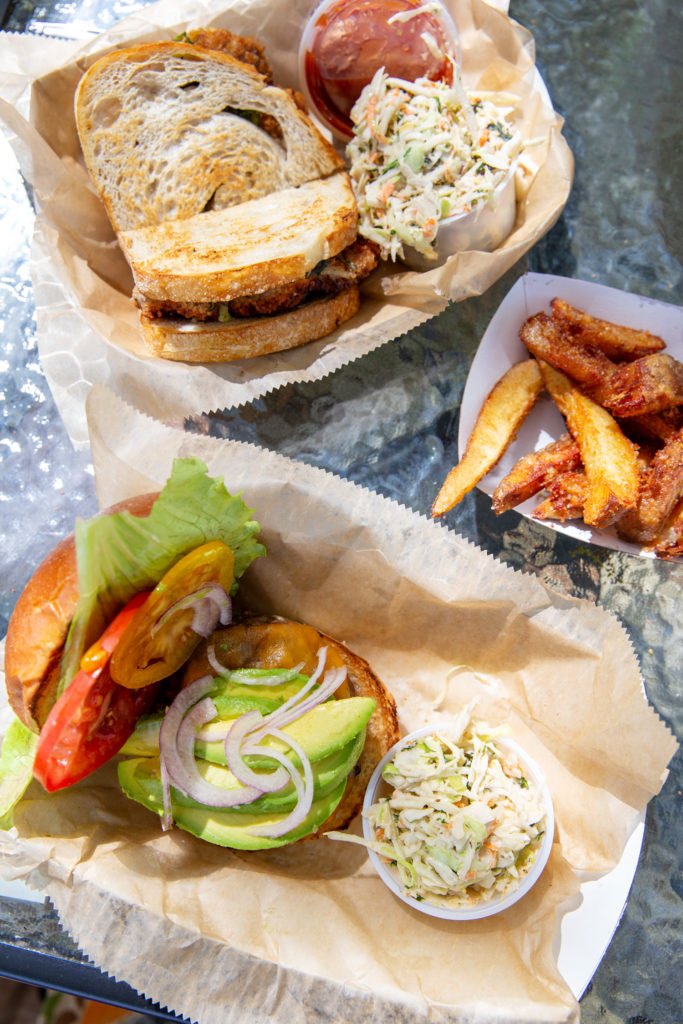 The people make the experience all the more special. Friendly service and smiling faces are par for the course, and you'll feel like you're visiting a friend's farm for lunch.
Bountiful's Bistro is only open from October through May and is closed during the summer months. Current hours are Wednesday – Saturday from 11am – 3pm. Reservations are highly recommended and can be made by calling 352-409-3204.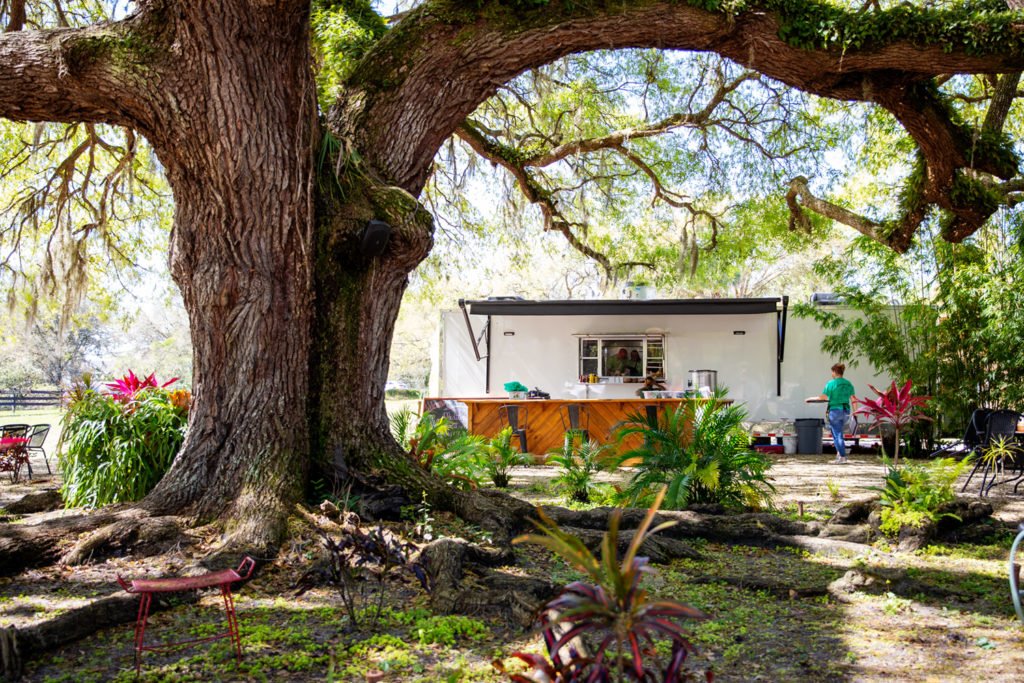 Farm Stand + Wednesday Market
After lunch, stock up on fresh picked veggies, fruits and other goodies from the adorable open air farm stand. Antique furniture and hand-painted signs are the backdrop to oodles of fresh produce from the farm and other surrounding small farms.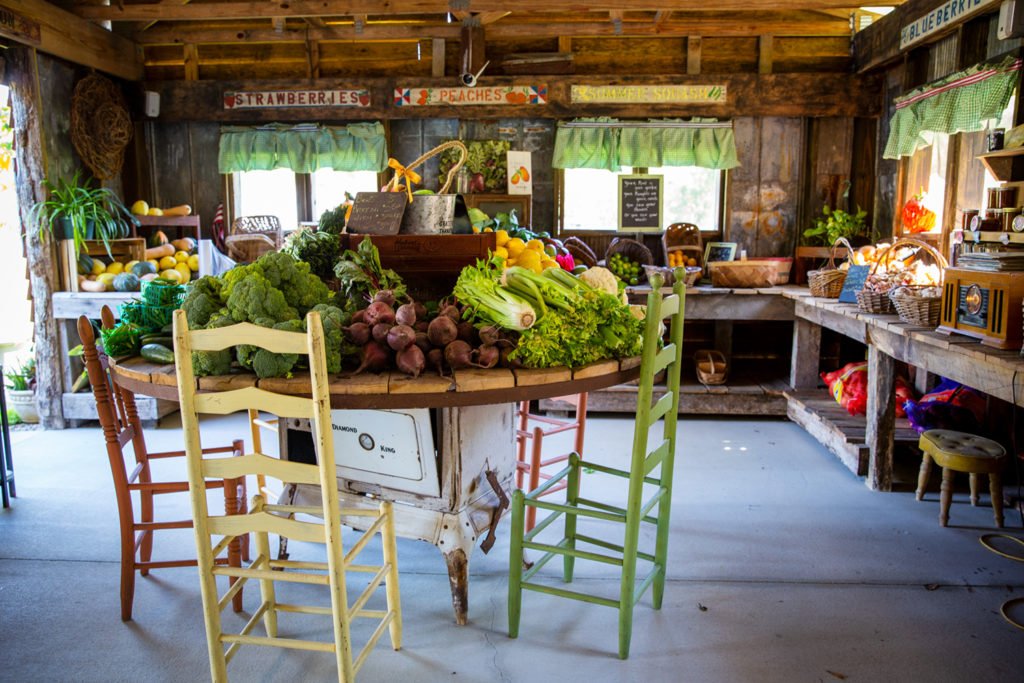 In addition to the farm stand, Bountiful Farms also hosts its own weekly farmer's market! Peruse goods from a variety of local vendors, including local meat, homemade spices, artisan goods, micro greens, plants and more. The market is held on Wednesdays from 9am-2pm.
Both options offer a great opportunity to support local farmers and connect with where your food comes from.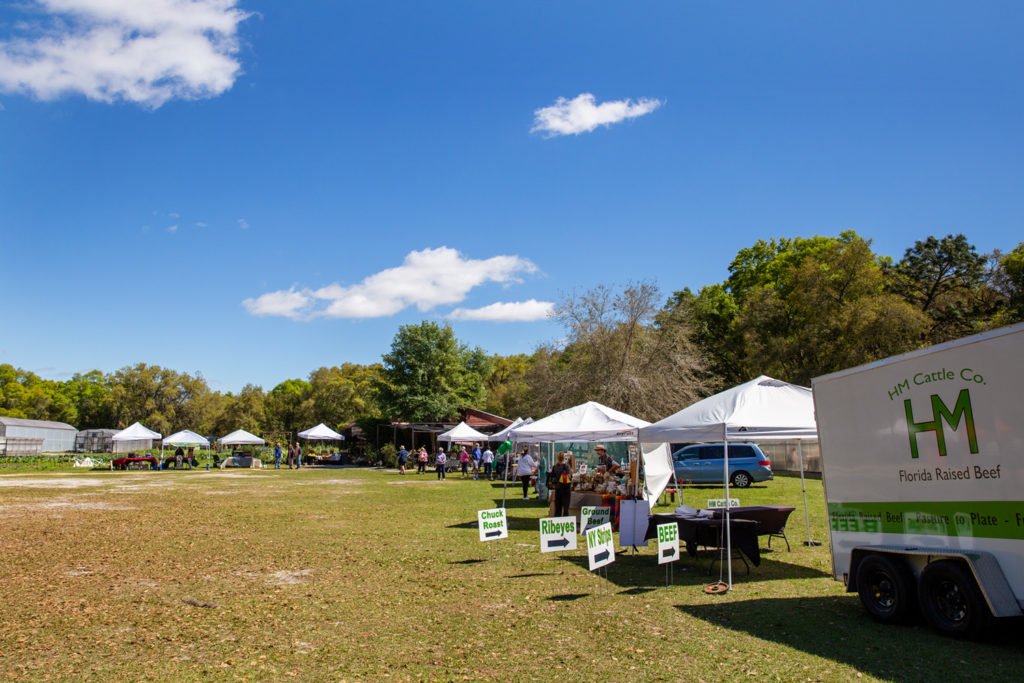 More Things to Do Nearby
October 2022 note – Some of the natural areas like Flat Island Preserve are experiencing high water levels due to Hurricane Ian. Please wear closed-toed shoes and be cautious about entering areas with extra debris and high water levels.
Flat Island Preserve
Work off lunch with a hike along the scenic loop trail at Flat Island Preserve, just a 7 minute drive away. The entire trail is shaded and lined with lush greenery including a variety of palms, ferns, and cypress trees. There's also a short boardwalk that leads out to a tranquil floating dock on the water. There's ample parking, clean restroom facilities and maps are available at the trailhead. We only saw a few other hikers during our visit on a weekend. Admission is free. FYI: pups aren't allowed.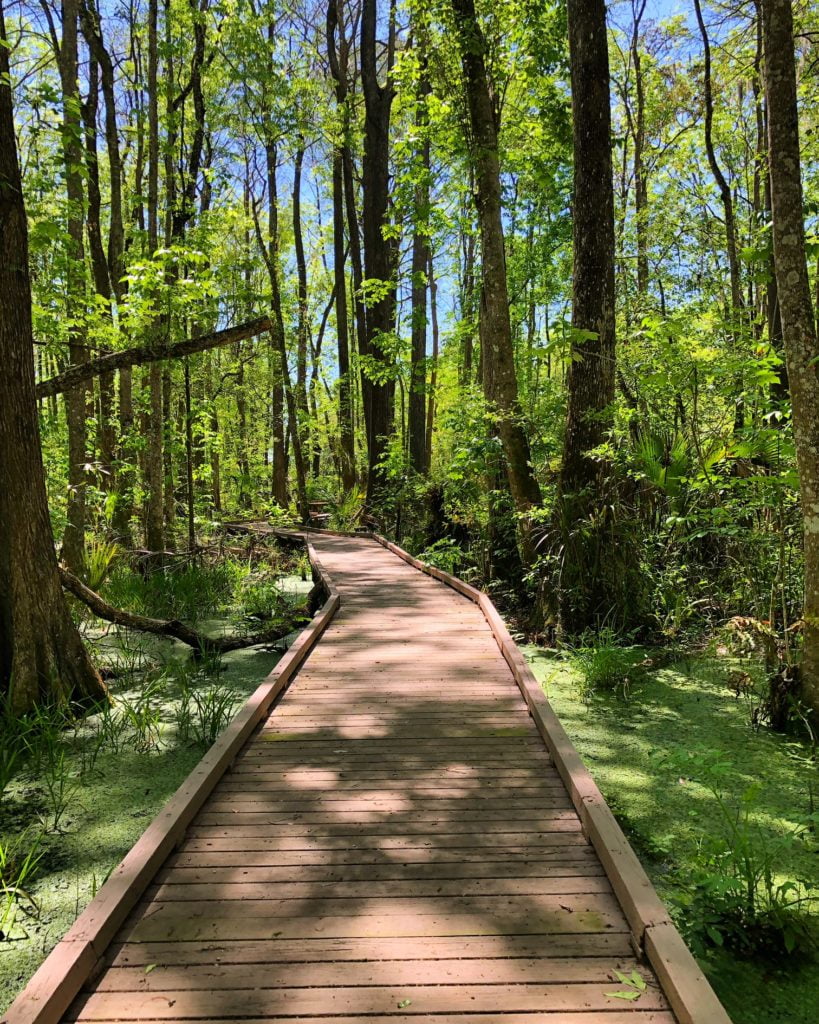 Yalaha Bakery
Located just 10 minutes from the farm, this German bakery features live music on the weekends from noon-3pm in the outdoor beer garden. You can also stock up on homemade breads and sweets. Check the website for current hours, music lineup and online ordering.
Green Mountain Scenic Overlook and Trailhead
If you're looking for a place to stop on the way back to Orlando, the Green Mountain Scenic Overlook and Trailhead is located just off the turnpike and will only add about 15 minutes to your overall travel time. Park and check out the overlook, then hit the trail below for a peaceful hike.
There are miles of well-marked paths to explore. Go far enough and you might even spot a few alligators (we saw three!). The trail is also popular for mountain biking. Admission is free. Parking is available onsite and there are also restrooms at the trailhead.
During our visit, we hiked for about 6 miles and then drove into Montverde for ice cream at Orange Blossom Candies and Cream.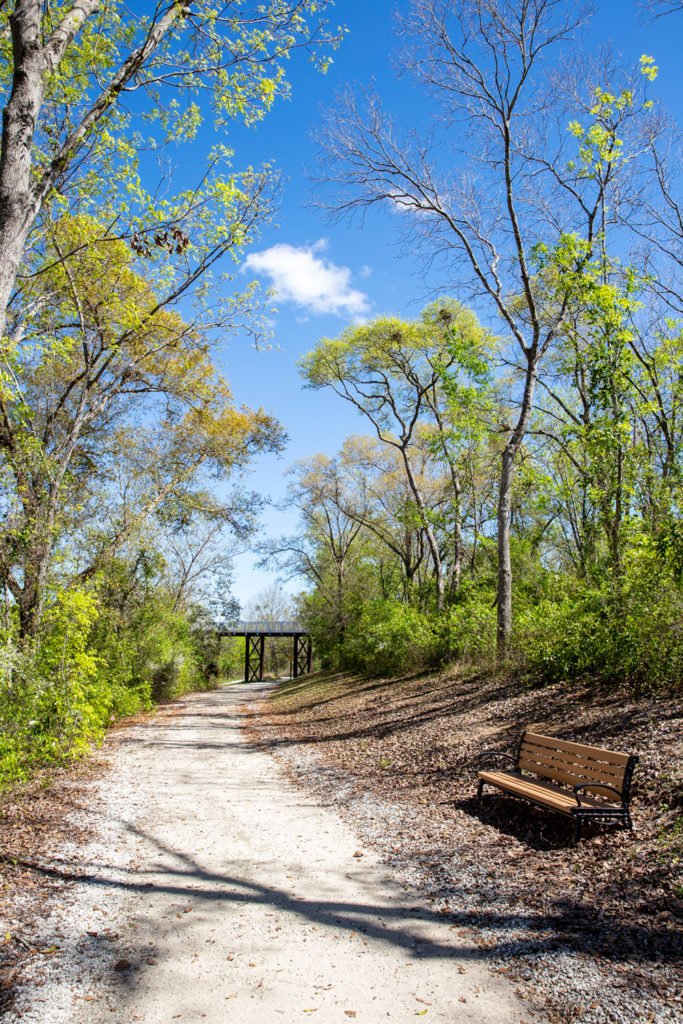 More ideas:
Details + Know Before You Go
Bountiful Farms Bistro is open Wednesday – Saturday from 11am-3pm in the winter months (October through May) and closed during the summer.
The farm stand is open September through early June, Tuesday – Friday from 9am-4pm and Saturday from 9am-3pm.
While reservations aren't required for the bistro, they're highly recommended. Check Facebook for frequent updates and call 352-409-3204 to make your reservation for lunch.
Bountiful Farms and Bistro
27314 County Rd 33
Okahumpka, FL 34762
Farm: 352-978-5904
Bistro: 352-409-3204
bountifulfarmsinc.com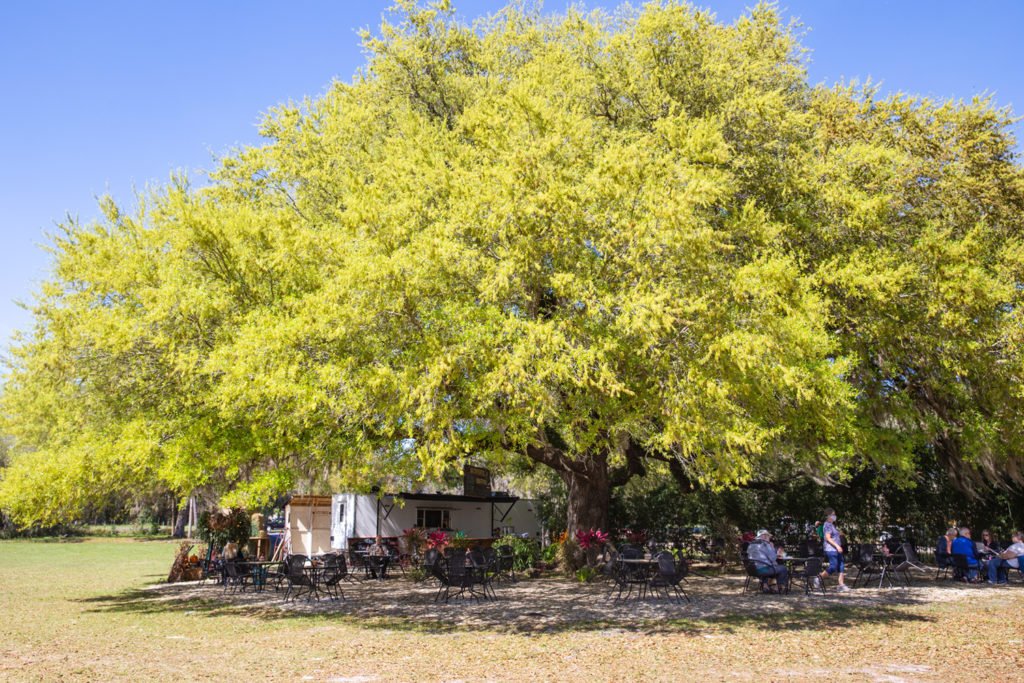 ---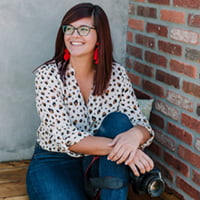 About the Author/Photographer:
Stephanie Patterson is a talented professional food and travel photographer and writer with a passion for creativity, the beach and great eats. When she's not taking photos or writing, you can find her exploring the state for her Florida travel blog, Travel Taste Click. Find her online at www.spattersonphotography.com.
All images by Stephanie Patterson