---
A local guide to the most romantic experiences in Orlando for couples
---
From leisurely boat tours to beautiful gardens and intimate dining, the City Beautiful is full of romantic escapades for couples. Need a little help planning an enchanting date? Here's our guide to the most romantic experiences in Orlando.
Updated September 2023 by Dani Meyering
Orlando's Most Romantic Experiences
In this local guide you'll discover…
Romantic things to do together
Orlando's most romantic spas
Romantic restaurants and lounges in Orlando
Blissful staycations and getaways
ROMANTIC THINGS TO DO TOGETHER
Sunset Sailing on Lake Fairview
Did you know you can go on a sunset sailing tour right here in Orlando? Husband and wife duo Kristen and Dan run Sailing Orlando (pictured above in feature image), inviting small groups of 2 of 4 people aboard their 25ft MacGregor sailboat for a sunset sail on Lake Fairview. You can even bring along adult beverages to enjoy.
Pair the experience with a waterfront dinner at Grills Lakeside afterward.
Private Trail Ride for Two
It's worth braving I-4 to head north to Sanford, especially when you include horseback riding at Hidden Palms Ranch in your day trip itinerary.
Located amidst the Lake Jesup Conservation Area, a prime example of Orlando North's natural beauty, owner Beki Herrbach's ranch provides couples with private trail rides in the area. Saddle up and let Beki guide you through her favorite places, including peaceful tree-canopied trails and waterfront expanses. Here's a review and video of our experience.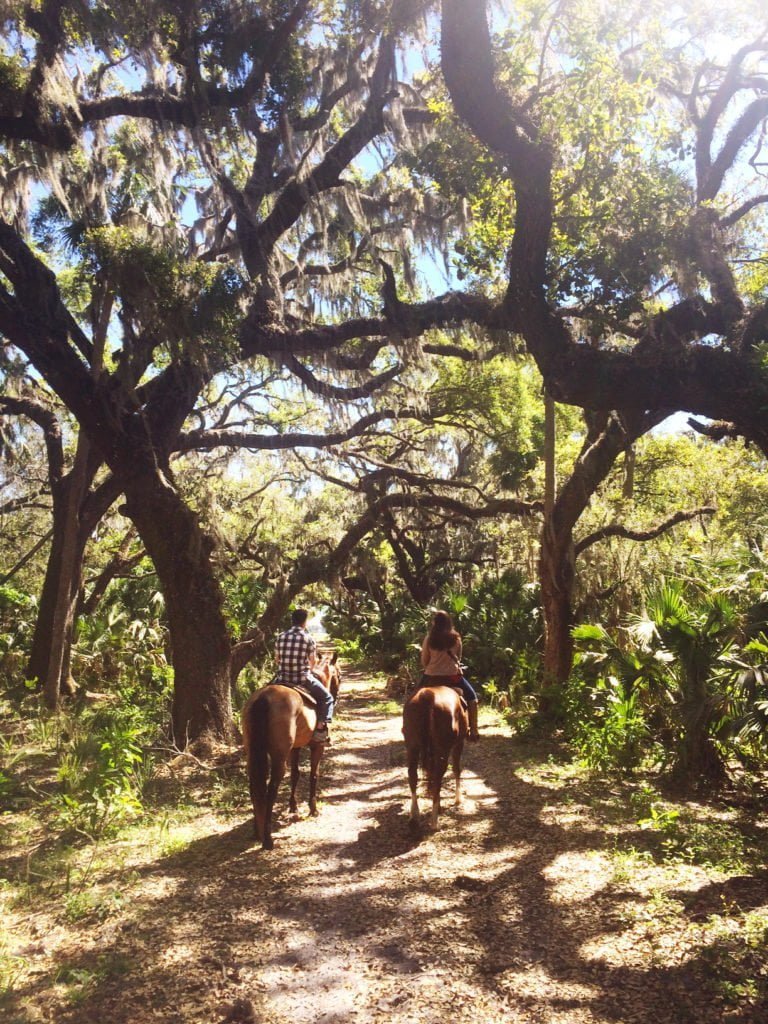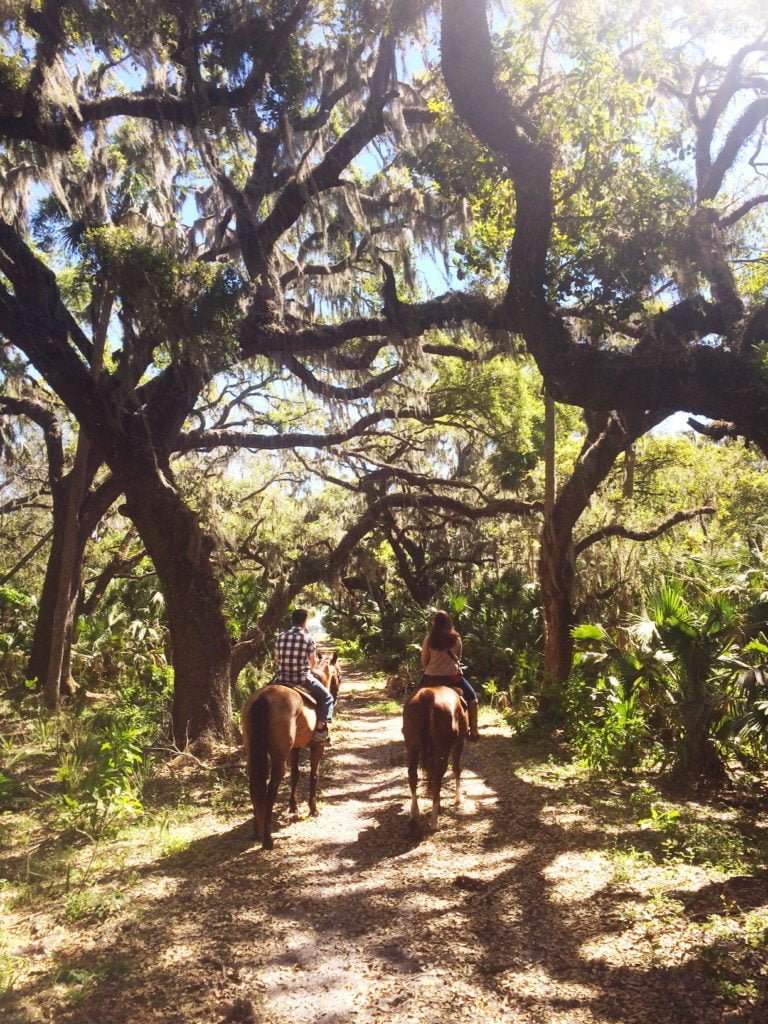 Live Jazz Music
Music-loving couples have no shortage of options for a musical night out, especially when it comes to live jazz. You can catch weekly jazz sessions Thursday nights at VINIA Wine & Kitchen in Winter Park, and Sunday nights at Pilars in Downtown Winter Garden, just to name a few.
Spice things up with the #1 home date night program. Date Night Dancing is an easy to follow program that will have any couple laughing, loving and most importantly dancing together in no time. All from the comfort of your own home!
**NO dance experience needed
**Perfect for anyone with "two left feet"
**Fun & entertaining lessons
**Universal moves taught: dance to any music
**Instant streaming access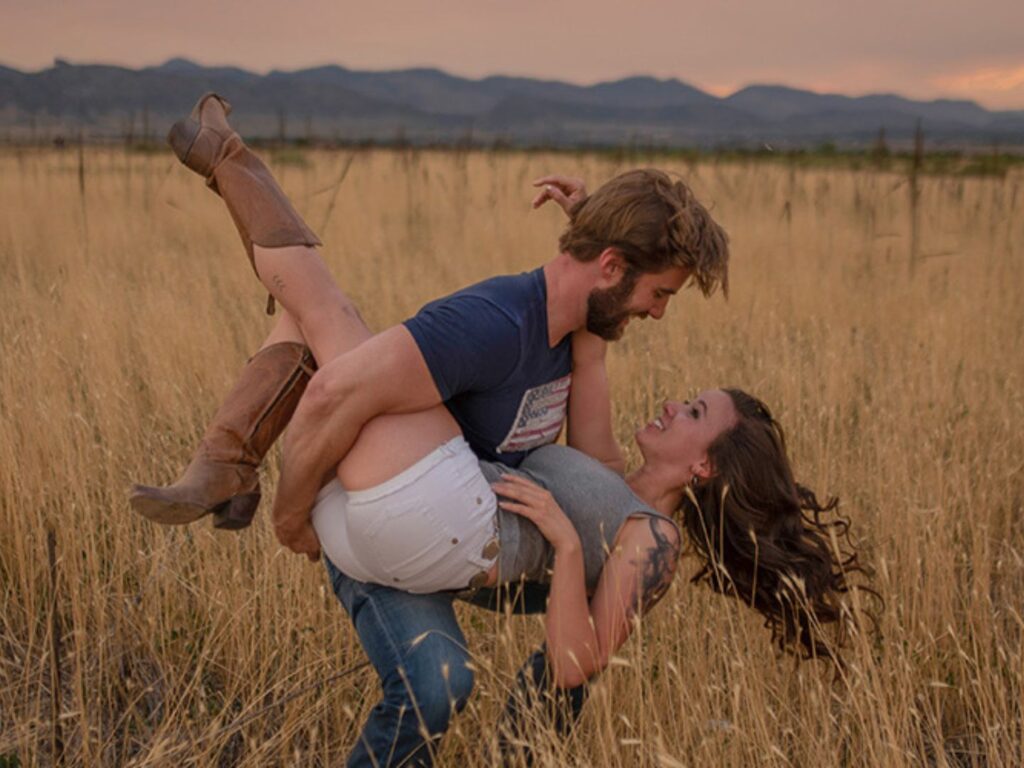 Morning Balloon Flight
One of my favorite and most memorable dates of all time was the sunrise hot air balloon ride my boyfriend John and I embarked on with Bob's Balloons. We're so lucky to have access to this amazing adventure right here in Central Florida. And it's totally worth the higher price tag.
Most local companies, including Bob's Balloons, will invite you to help set up the balloon before take off. Our flight lasted about an hour and was a serene cruise over Central Florida's diverse landscape. Landing is all part of the adventure, as the wind direction will determine your route. Private flights are available if you'd like to soak up the trip by yourselves.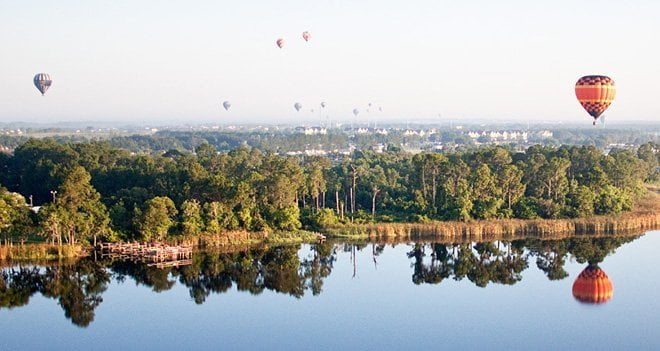 Leisurely Boat Tour
While we can't claim the Winter Park Scenic Boat Tour is a hidden gem (most locals already know of this awesome tour), embarking on the pontoon boat tour will make you feel as though you've stumbled upon something special. For locals and out-of-towners alike, this is one of those must-have Orlando experiences.
Chill out on the pontoon boat while gazing longingly at each other and the stunning Venetian-style canals, learn some history, and check out the waterfront mansions. When out-of-towners are here on vacation, I always recommend they enjoy this classic scenic boat toar.
Winter Park Sunset Kayaking
Watching a sunset is already quite romantic. Why not take it up a notch with a leisurely kayak tour in a clear kayak? After launching at Dinky Dock, a Get Up and Go Kayaking tour guide will lead you through the scenic canals linking Lake Virginia, Lake Osceola, and Lake Maitland, all part of the Winter Park Chain of Lakes.
This local company sets themselves apart with their fleet of clear tandem kayaks and small tour group sizes that keep the experience low-key. We also recommend the Rock Springs Run tour.
Romantic Gardens
Need to change things up from a night out in the city? Spend a day wandering a local garden. We're blessed to have Leu Gardens (and the awesome monthly BYOB-friendly outdoor movie night) right here in our backyard.
Another option that's totally worth the drive is Bok Tower Gardens in Lake Wales. Occasional carillon bell concerts originating from the Singing Tower provide the soundtrack for your romantic afternoon meanderings.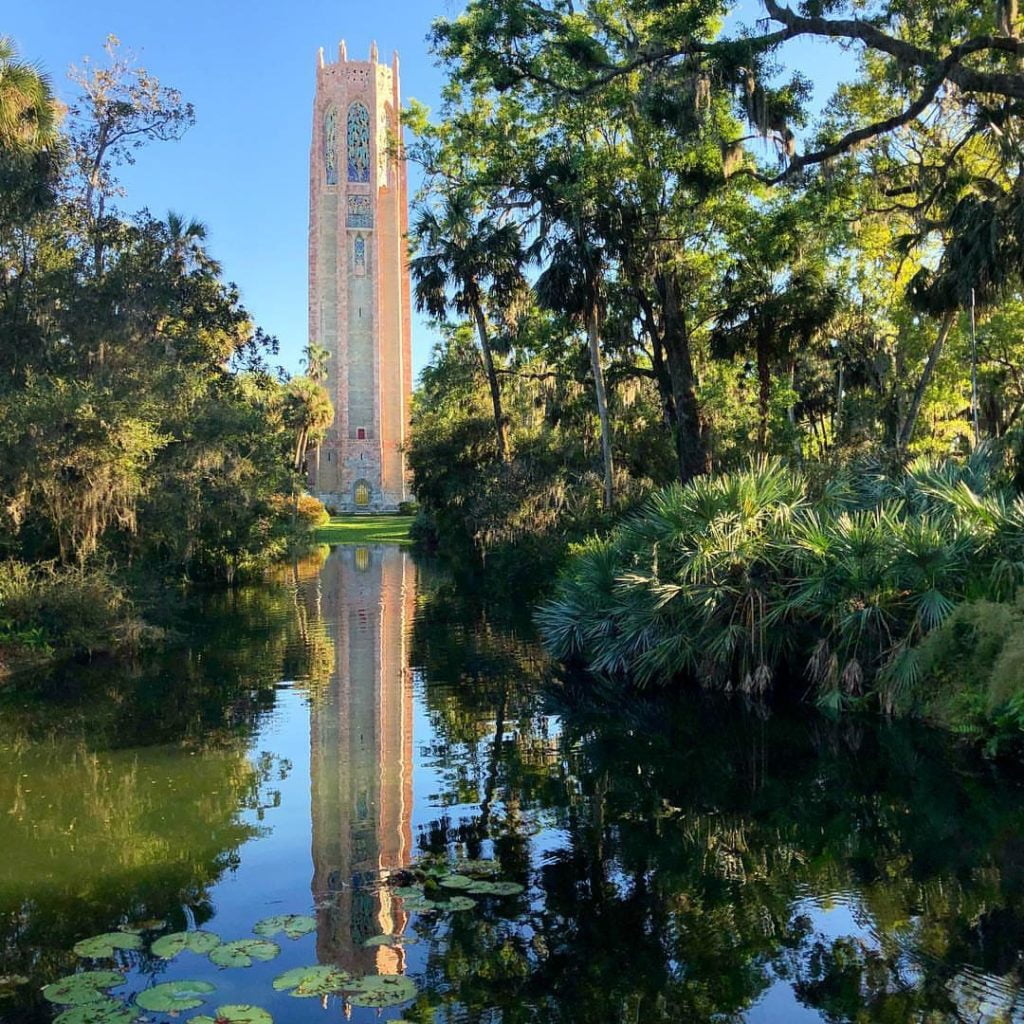 Dinner + a Movie Revisited
Another must-have Orlando experience: dinner and a movie at our resident independent theater, Enzian Theater and Eden Bar. This much-loved theater features screening of the latest indie favorites and 35mm cult classic films. Make it a complete date with drinks and dinner at Eden Bar before the show. The stunning oak trees dressed in twinkling lights make this one of Orlando's best outdoor dining spaces.
Bioluminescent Paddling
While bioluminescence doesn't occur in any Orlando waterways, it's only a short drive to the space coast to see this wondrous occurrence on a guided nighttime kayak tour. In the summer months, tiny bioluminescent organisms called dinoflagellates set the waters of the Merritt Island National Wildlife Refuge aglow with a greenish/blue hue.
The organisms do not glow constantly. Rather, they light up the water as they are disturbed by the wake of passing boats and kayaks. On a good night, you can dip your hand into the water and remove it to observe the organisms aglow on your hand. Some nights are much better than others and your best bet is to go as close to a new moon as possible. While paddling, don't forget to look up, as you can easily spot the Milky Way and shooting stars on a clear night.
Swan Boat Adventure
While most couples would argue that Lake Eola's swan boats are more workout than leisure, this activity still tops our list of romantic endeavors. Pair a swan boat rental with a progressive meal at the Orlando Farmer's Market for a local date that won't break the bank and still has a romantic, spontaneous feel.
Or, grab an early dinner in Thornton Park followed by a paddle around the lake at sunset. Swan boat rentals are currently available Fridays, Saturdays and Sundays for $15/half hour.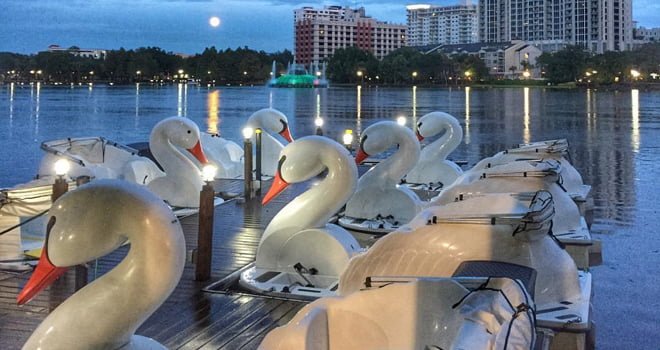 Broadway Show
A list of the most romantic experiences in Orlando just isn't complete without a mention of Dr. Phillips Center for the Performing Arts. Snag tickets to a Broadway show, see Orlando Ballet perform, attend a concert by the Orlando Philharmonic Orchestra or attend a variety of live performances. The acoustically-perfect Steinmetz Hall is the newest addition to this staple of our local arts scene.
Arrive early to relax with a glass of wine before the show. Nearby dinner options include Kres Chophouse and The Boheme, just to name a few.
Here are our tips for attending Broadway in Orlando at Dr. Phillips Center.
Champagne Flight on The Wheel at ICON Park
Taking flight on The Wheel at ICON Park, complete with two glasses of champagne, has a romantic proposal written all over it (take note). Partake in the ICON Park attraction's sky bar experience by picking up two drinks at the deck bar before your flight. You can make any ticket a sky bar experience by grabbing a drink of your choice before your ride, including wine and champagne.
Try timing your flight with the sunset, which makes the views from 400 feet in the air extra romantic. Regular tickets sans champagne begin at around $30/person, but there's almost always a Florida Resident promotion available.
More romantic date ideas:
---
MOST ROMANTIC ORLANDO SPAS
The Ritz-Carlton Spa – The Ritz-Carlton Orlando, Grande Lakes
Our founder, Kristen Manieri, has hailed a spa day at The Ritz-Carlton Spa as one of her go-to date day indulgences with her husband. Start with a couples massage to relax, ease tension, and set the tone for a special day together. You can even upgrade your experience with the couples bath. This add-on treatment in the private hydrotherapy tub is followed by champagne and chocolate-covered strawberries enjoyed in a private section of the spa.
Booking a spa appointment grants you access to the stunning outdoor spa pool for lazing the day away. Wash up before ending your day at one of the hotel's restaurants (we love Highball & Harvest and Knife & Spoon!)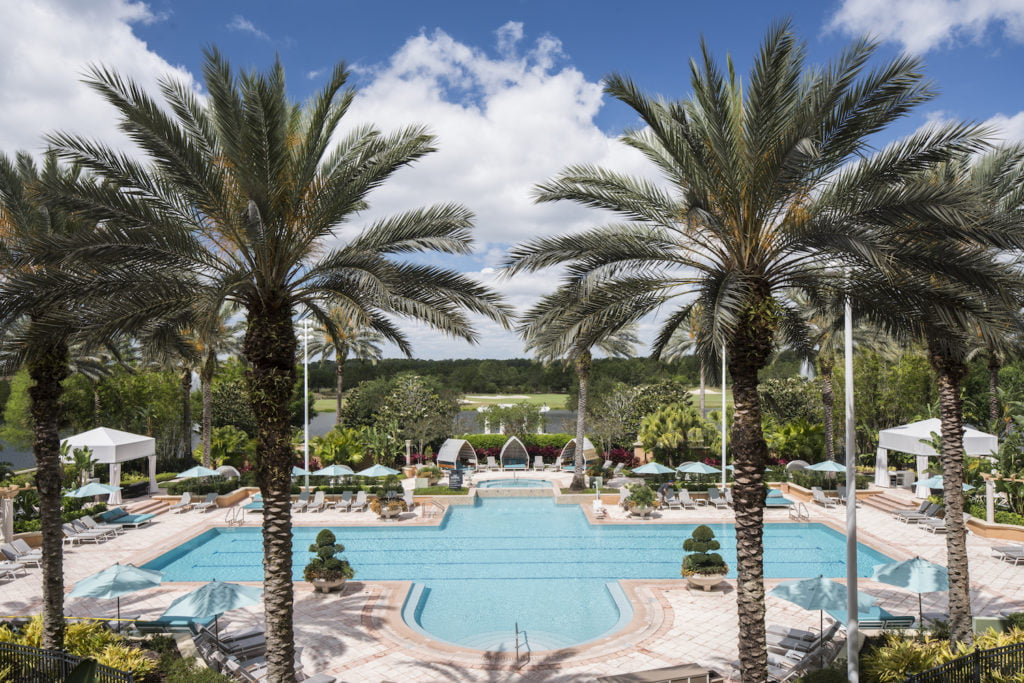 Orlando Beer Spa
Far from the traditional spa experience, My Beer Spa invites couples to soak in tubs full of a blend of hops and antioxidants while enjoying unlimited self-serve craft beer from the taps in the private treatment room. Each room also includes a sauna, private bathroom and relaxation area. The room is yours to enjoy for an entire hour. You can even enhance your experience with a selection of light bites available for purchase.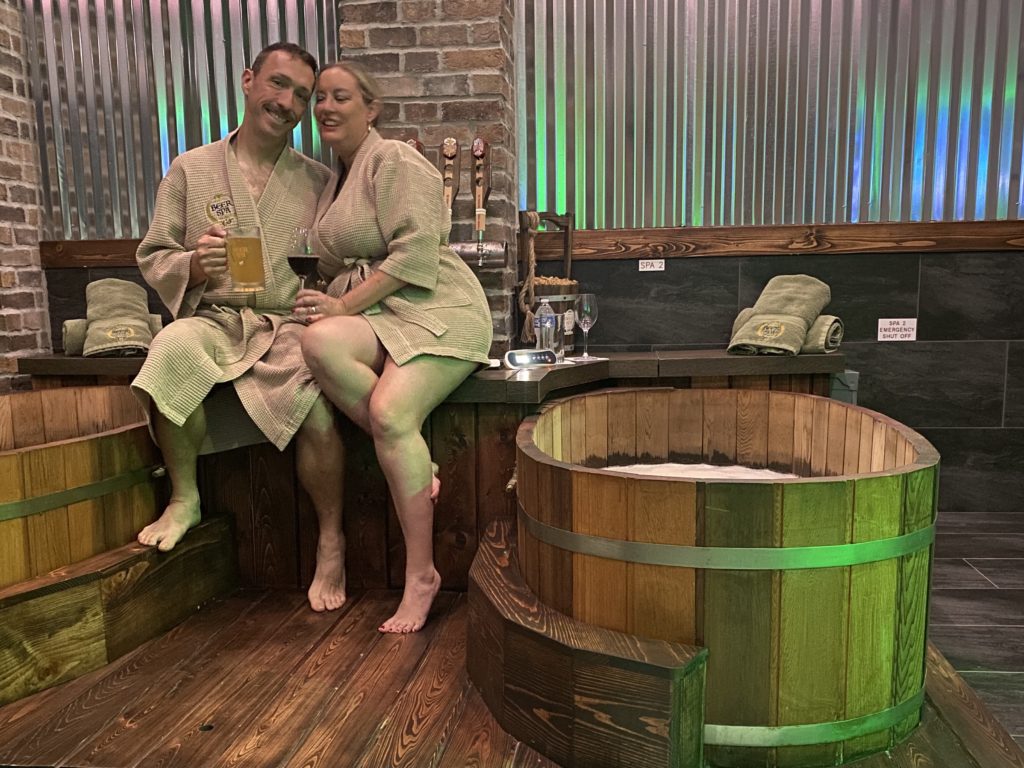 Blue Harmony Spa – Wyndham Grand Orlando Resort Bonnet Creek
Come to Blue Harmony Spa for the amazing couple's suite complete with soak tubs, and stay for the stunning outdoor spa garden and hot tub area. Plush outdoor furniture provides cozy seating for two in the secluded outdoor nook housing the bubbling hot tub.
You can even reserve the space to have it all to yourselves! Consider booking the Couples Package, which includes a 50-minute couples massage and aqua immersion bath soak, plus champagne and strawberries.
Refer to our guide to the Best Orlando Spas for Couples for more blissful ideas.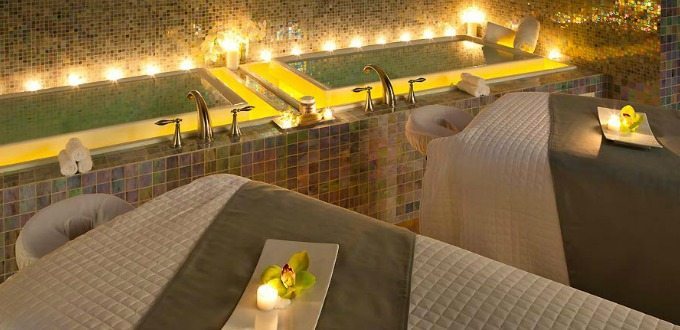 ---
ROMANTIC DINING
We've covered all of our top picks for Orlando's most romantic restaurants extensively, but here are some of our favorites in specific categories.
Fireworks Show
You don't need to step foot in the theme parks to catch a glimpse of the nightly fireworks displays. And one of our favorite ways to watch fireworks outside of the parks is while dining at a restaurant with stellar vantage points. Located on the 15th floor of Disney's Contemporary Resort, California Grill is an obvious choice. Cinderella Castle sits in plain view and you can watch the fireworks tableside or step outside on the spacious deck to catch the show.
Outdoor Dining
Dining al fresco is a possibility in Orlando nearly every month of the year. As such, you'll find patios and outdoor dining spaces at most local dining establishments. For a casual date, sit outside at Yellow Dog Eats in Gotha where multi-colored lights set the outdoor space aglow as you dig into the creative fare. Alternatively, share a Wine Lover's Board while dining al fresco at Maxine's on Shine.
Chef's Tables
Don't let the higher price point deter you from treating your date to the stellar Highball & Harvest chef's table. The dining experience includes a five-course meal, custom tailored to the couple based on dietary and flavor preferences. Chef's Table at the Edgewater in Downtown Winter Garden is another longtime favorite.
Omakase Dining is a truly memorable and romantic experience for adventurous diners.
Sunset Views
There's a reason Hillstone Restaurant in Winter Park is popular for proposals and special occasions. Besides fantastic food, the outdoor ambiance and coveted seating over the water provide stunning sunset views.
Another favorite, Enzo's on the Lake serves Italian cuisine in a waterfront setting, with gardens to explore before or after your meal. Canvas Restaurant & Market in Lake Nona is also situated waterfront, with a menu just as delightful as watching the sun dip below the horizon as you dine.
Get the scoop on all of our favorite sunset dining spots.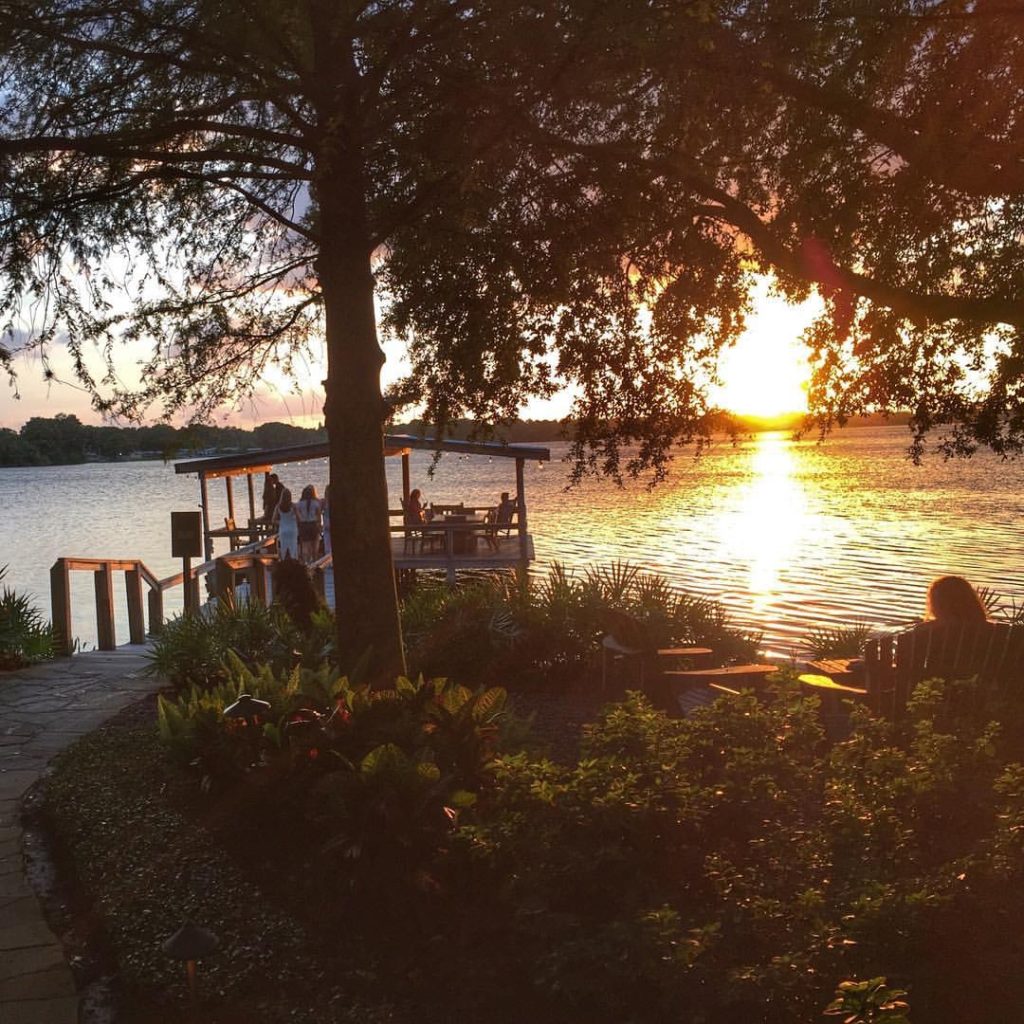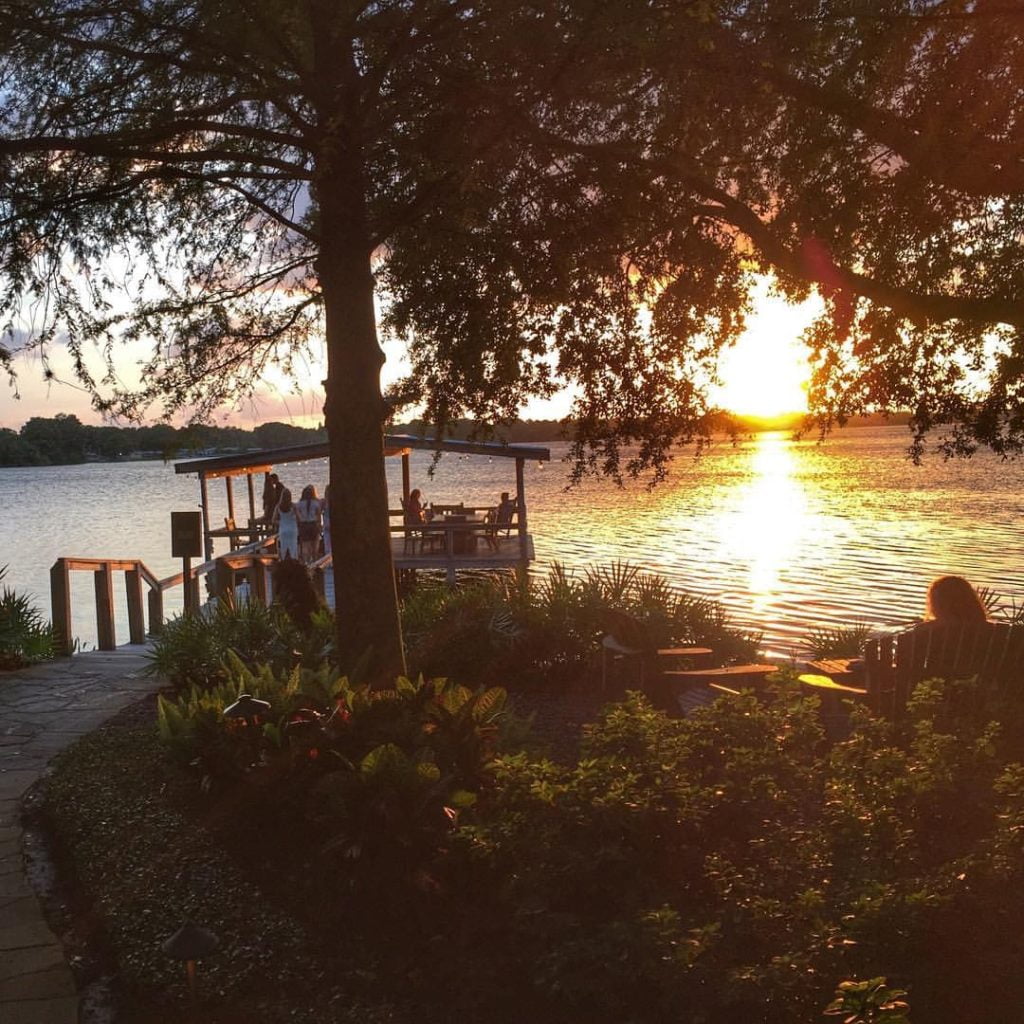 Private Dining
Why wait for a special occasion? Make your usual date night extraordinary just because. Many local restaurants are equipped with private dining spaces to help you set the stage for an intimate night out. A few of our favorites include Maxine's on Shine, Bull & Bear (Suite Life Experience available in-room) and Christner's.
Check out the full list here in our guide to private dining.
Around the Attractions and Theme Parks
Don't rule out the tourist and attraction areas when planning a romantic dinner; Disney Springs and Magic Kingdom have a good deal to offer theme park-going couples. Cheers to the sunset or feast on late-night bites at Paddlefish's stunning rooftop deck (there's often live music), wander through the tunnel leading to Enzo's Hideaway, a speakeasy-style restaurant and bar space serving Roman cuisine and craft cocktails, or dine waterside at The Boathouse, a Disney Springs go-to.
Inside the parks, Be Our Guest Restaurant is the ideal place to live out your Disney fairytale dreams, if only for the night.
Find all of our recommendations in our guide to the most romantic spots in Walt Disney World.
---
DRINKS & SWEETS
Sultry Desserts
Sinfully sweet dessert is the only thing on the menu at Better Than Sex, a romantic restaurant in Ivanhoe Village. From the racy art on the red walls to the playful names and presentation of each dessert on the menu, this restaurant has date night written all over it. We're willing to bet a visit here is just the beginning of a memorable evening.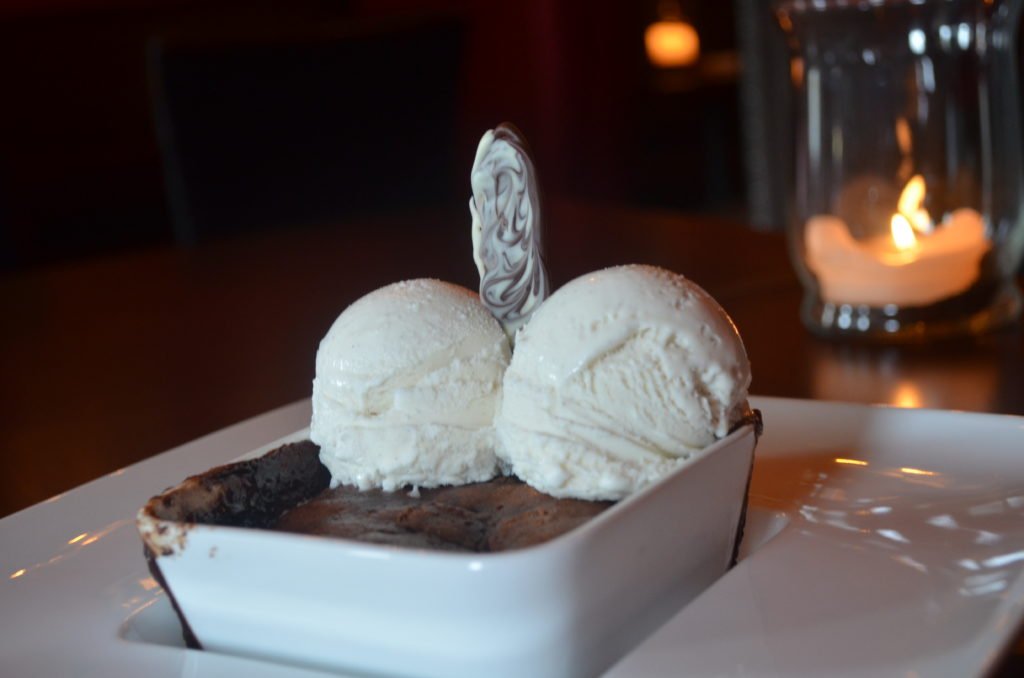 Classy Cocktails
Enter Mathers Social Gathering and you're transported into the past (after you've found the secret entrance, that is). Vintage photographs and books line the walls, Frank Sinatra croons in the background, and craft cocktails flow freely. Cozy up together on the swinging armchair. Or, snuggle up on the large, inviting leather sofas. For a low-key date night, visit on a weekday evening before or after happy hour.
Don't miss these 18 Unique Bars in Orlando.
Date Night Dessert Booth
One of the most coveted seats in the house, the date night booth at The Glass Knife in Winter Park is the perfect space to sit while you indulge in desserts. (We're partial to the doughnuts.) As of now, reservations aren't accepted for the date night booth, so best of luck scoring this plush seat.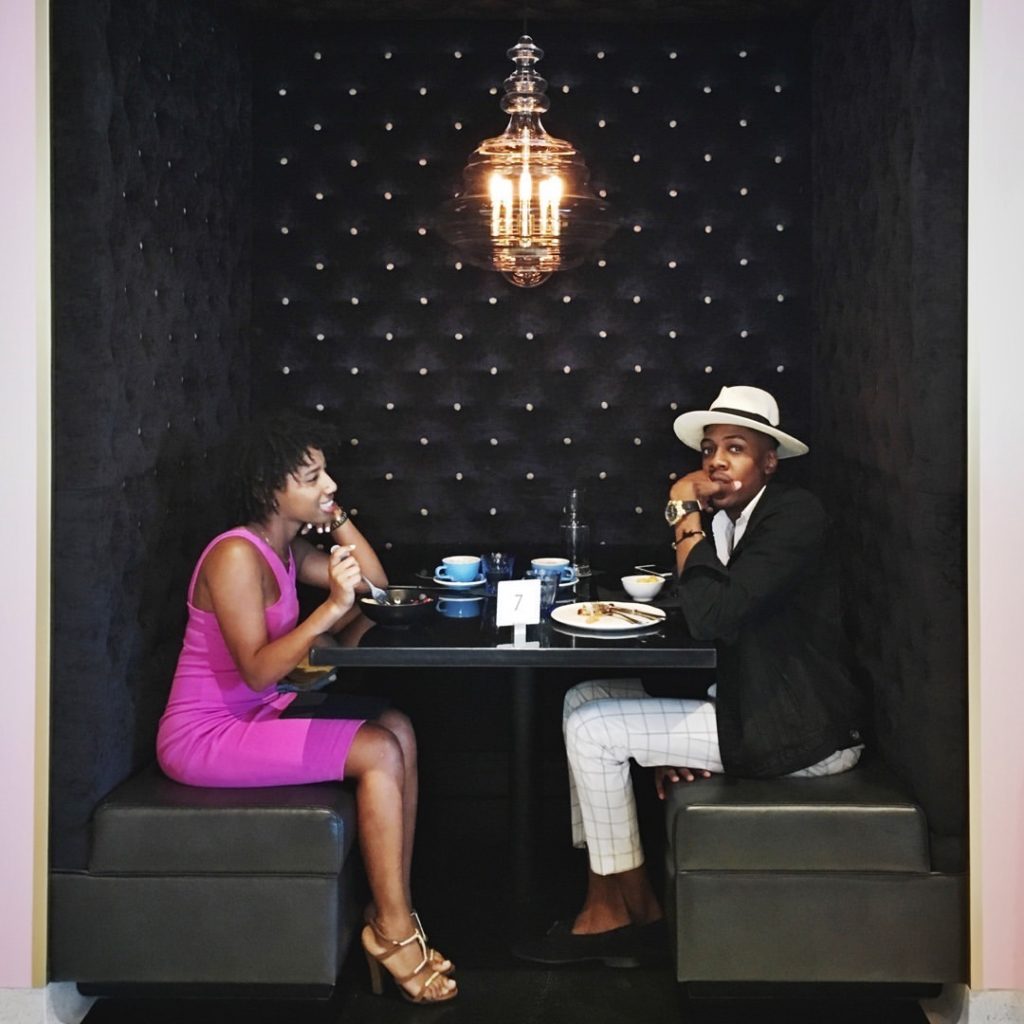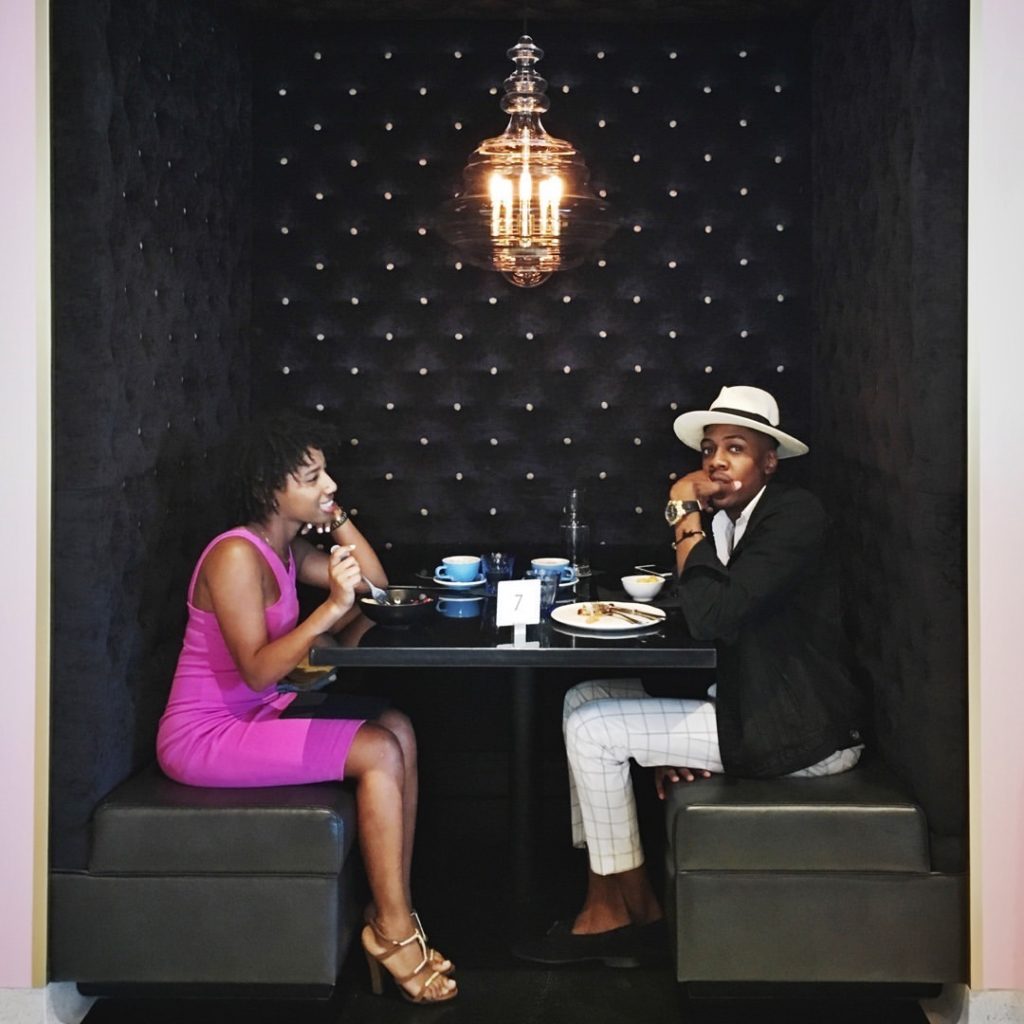 Coffee in the Courtyard
For a casual date without skimping on romance, head to Park Avenue in Winter Park. Here, quiet courtyards await around practically every corner. Greeneda Court offers plenty of seating and a picturesque fountain and serves as a dreamy location for a breakfast, coffee, or lunch date at Barnie's Coffee Kitchen. Step across the street afterward for a stroll through the Central Park Rose Garden.
Our guide to Unique Coffee Shops for a Low-Key Date has even more ideas.
Wine for Two
Sip vino while engaging in connective conservation at one of our local wine bars. The Parkview is an underrated Winter Park restaurant that doubles as a wine bar with boutique offerings. The Wine Room on Park Avenue and Imperial Wine Bar are additional recommendations.
We also love the European wine list and romantic vibes at VINIA Wine + Kitchen in Hannibal Square. If you'd prefer to sip locally-made wine, Quantum Leap Winery creates sustainable wines crafted with high-quality grapes sourced around the globe. We've also curated a guide to the best places for wine at Walt Disney World.
---
NEARBY OVERNIGHTS FOR A ROMANTIC GETAWAY
The Alfond Inn
Tucked away just off Park Avenue in Winter Park, The Alfond Inn is a boutique hotel where couples can relax and relish the local art scene during a culture-focused weekend staycation. Feast your eyes on delectable cuisine at Hamilton's Kitchen and explore the contemporary art collection. Packages include pet-friendly options as well as romance-centric offerings that bundle an overnight stay with dining and exploring.
Glamping at Lake Louisa State Park
If your idea of camping includes a luxurious tent complete with all the amenities of home, glamping at Lake Louisa State Park is your ideal getaway. Lake Louisa State Park's glamping tents include cooling units, a plush queen bed, outlets and more. Cozy details will make you feel right at home, while the temperature control units keep you comfortable, even in the summer months.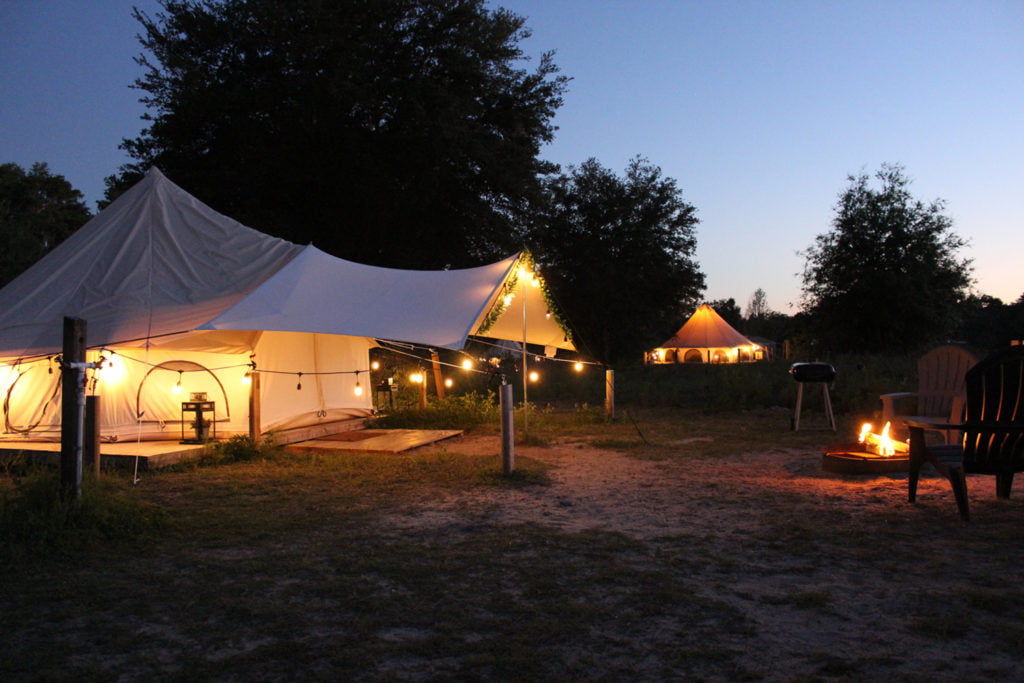 There are multiple places to go glamping in Orlando and nearby. We're especially fond of Timberline Tampa with their air-conditioned tents.
Grand Bohemian Hotel Orlando
For a stay in one of Downtown Orlando's swankiest hotels, book a room at the Grand Bohemian Hotel. Laze by the rooftop pool, book a treatment at the Poseidon Spa, peruse the art gallery, or take a seat at the sophisticated lobby bar, Bösendorfer Lounge, for cocktails, jazz (the lounge has a Grand Bösendorfer Piano), and charcuterie.
The hotel is within walking distance of the Dr. Phillips Center for the Performing Arts, as well as a handful of downtown Orlando eateries. Before you go, stop into The Boheme, the hotel's restaurant, for the popular Sunday jazz brunch.
More options we love:
Looking for a more intimate experience? Check out these unique Airbnb rentals around town.
Feature image credit: Sailing Orlando