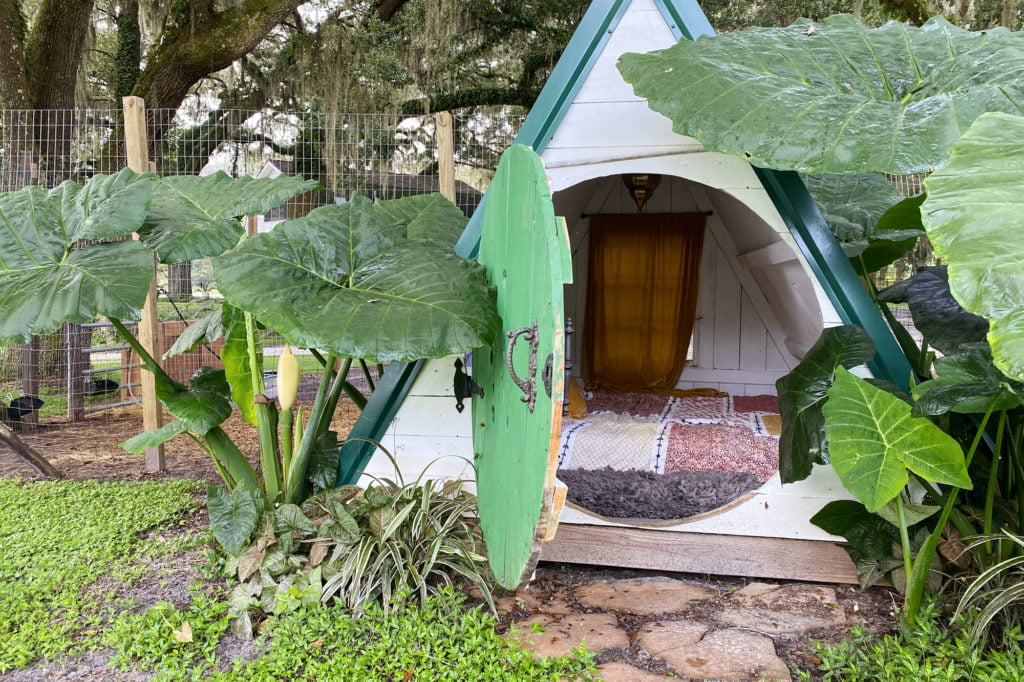 Living in Central Florida means being surrounded by endless destinations that offer the relaxation of a getaway, without having to go very far. One such destination is Enchanted Oaks Farm and Lakehouse in Ocala. This family-owned farm originated as a wedding venue and has grown to offer multiple Airbnbs for an Instagram-worthy getaway.
Enchanted Oaks is ideal for couples looking for a rustic and charming destination. In my case, it gave me exactly what I needed: a quiet, yet accessible place to escape for one night. And the ability to recharge in a place built around quiet comfort gave me the boost I needed to reconnect with myself and thus reconnect with my husband.
Here's what you need to know about booking a getaway at Enchanted Oaks Farm. I've also included nearby activities to lengthen your romantic escape.
Enchanted Oaks Farm Location
I first learned about Enchanted Oaks through Instagram; the photos looked like a dream. Soon I was spellbound as I scrolled through their Instagram feed. The word "enchanted" certainly matched what I saw.
Ocala is an area you have probably driven by before but perhaps not yet explored. But there's plenty to do in horse country, including the Ocala National Forest, and a charming, historic downtown area. Enchanted Oaks is a nice base for a weekend Ocala getaway.
I had imagined Enchanted Oaks to be located more in the heart of Ocala. Instead, it is just off I-75, about an hour and ten minutes from Orlando.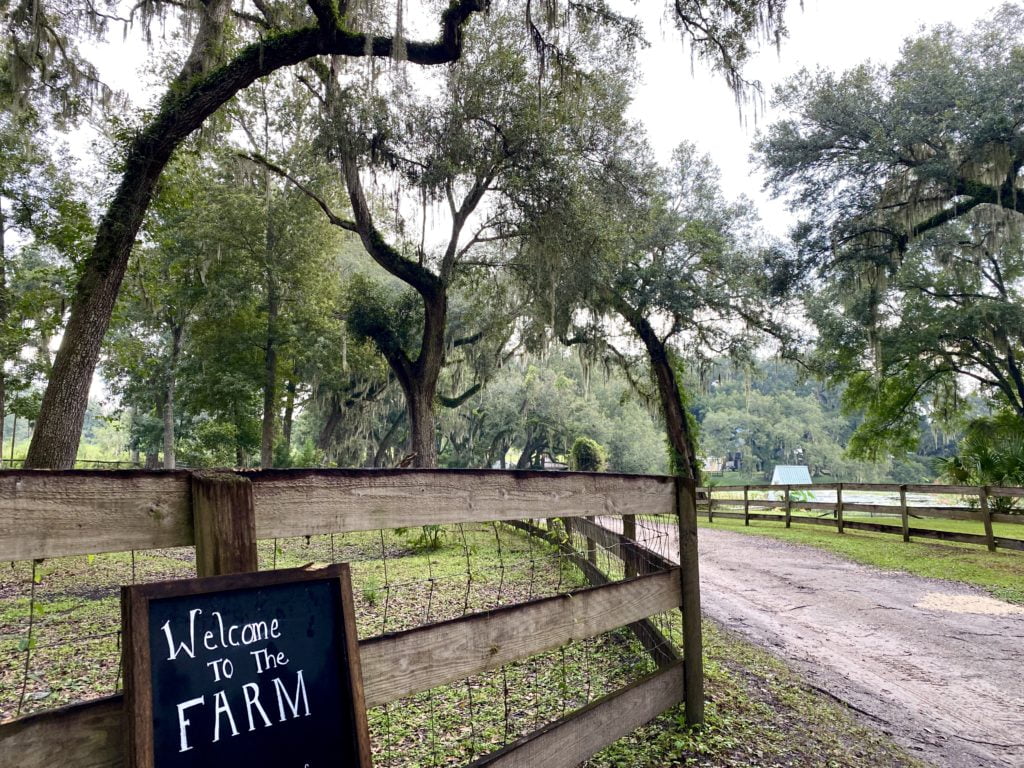 Accommodations at Enchanted Oaks Farm
Enchanted Oaks Farm is most well-known for its unique tiny accommodations. These tiny, triangular glamping units are adorable and immediately catch your eye.
At first, I thought these were like tiny homes, but they're even tinier. They are actually tent-like structures, made of wood and other material. They are study units, with adorable decorations, about the size of a large tent.
Each tiny unit has a comfortable bed, soft lighting, and some storage.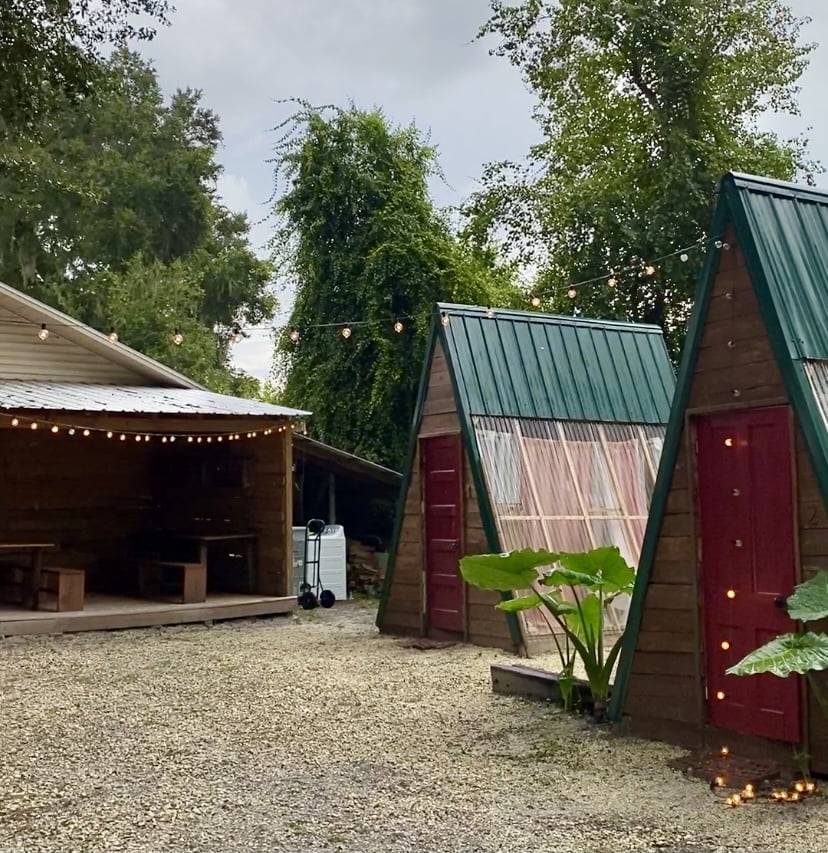 Besides the precious tiny units, there is a larger guesthouse with a one-bedroom apartment on the upper floor and a two-bedroom apartment on the ground floor. The other farmhouse on property is the owner's home.
Try as I might to book a tiny unit for my one-night escape, everything was booked every time I looked. Then out of the blue, a few nights at the one-bedroom, upper floor apartment became available. I went for it.
In the end, the upstairs apartment was the perfect space for my needs. It features a bedroom, private bathroom, a lovely open floor living room, kitchen and dining area. The best part of all? No television! I wanted one night to read and reflect, and without the television, I was able to avoid the distraction and focus on a quiet, restful night.
You can browse and book all accommodations via Airbnb.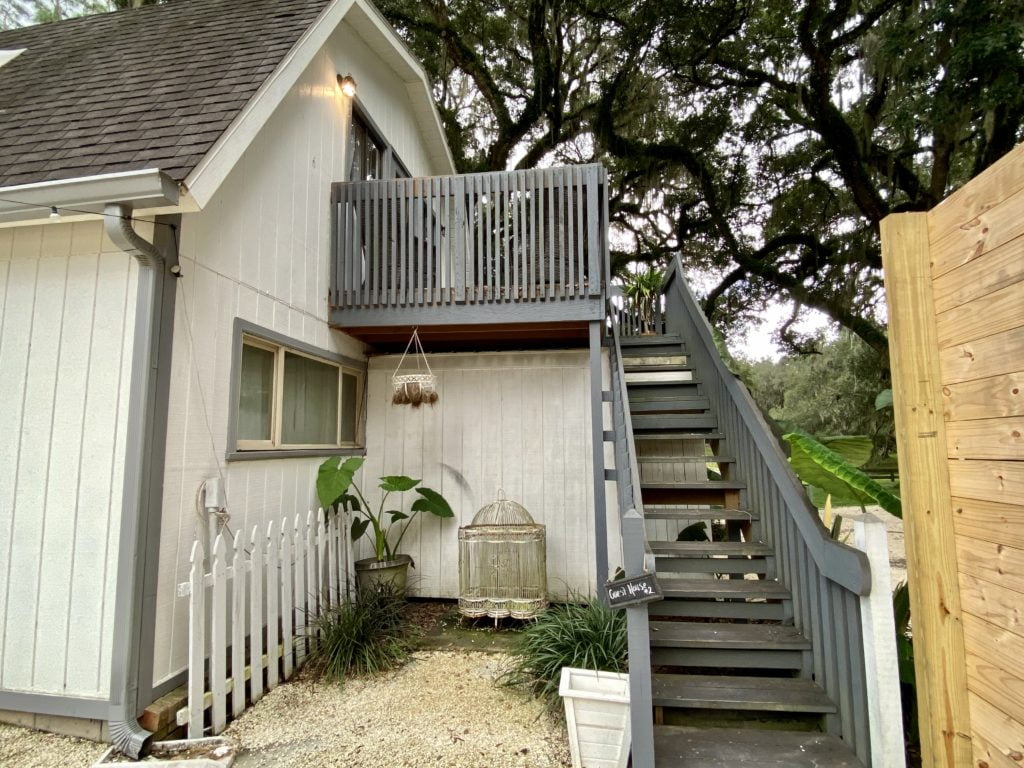 What to Expect During Your Stay
Staying at Enchanted Oaks is about getting away from the norm and enjoying a taste of rustic farm life. Arriving to Enchanted Oaks Farm I immediately realized the place is much more rustic than the impression given by Instagram. The grounds are not as pristine as I expected, however, it was every bit as charming as I hoped.
A winding dirt road winds through the 8.5-acre farm. The acreage is not that large for a farm, but it is just the right size to serve as a wedding venue and Airbnb location.
Almost immediately upon entering the farm grounds I noticed the tiny treehouse and tiny lakehouse, both the subject of many photos. These two tiny units are quite unique and make for incredible photo opportunities. They are both located at the front of the farm grounds, about a five-minute walk to showers and restrooms.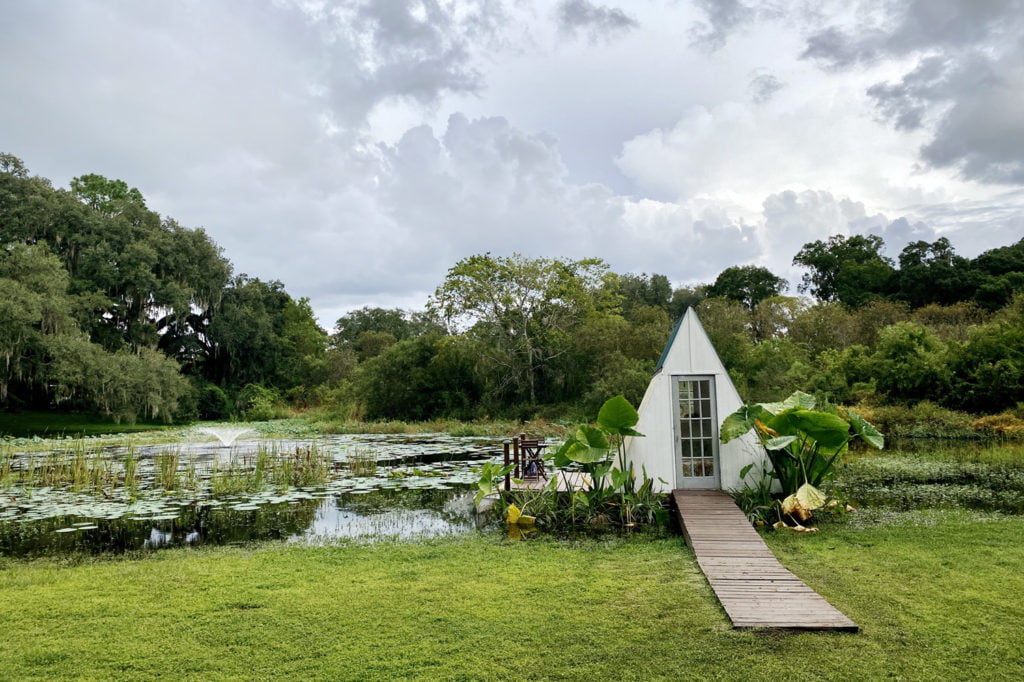 The tiny cabin units are indeed for camping, albeit glamping. There are two outdoor showers, with concealed doors for privacy, and restrooms that are used by anyone staying in any of the tiny units. Expect a similar experience to camping at a campground. Some of the tiny units have air conditioning, as well as one side that fully opens up allowing fresh air to come in. I would suggest staying here in the fall, through early spring.
The guest house is located right next to the wedding venue. When I arrived there was a casual wedding party taking place. And I could clearly hear the activity while in the apartment. I could also hear the activity of the guests in the downstairs unit. Still, I allowed myself to get absorbed in my reading and the relaxing atmosphere of the farm.
Things to do on the Farm
As I arrived, I stopped to take photos of the animal residents of the farm. A trio of small cows greeted me up front. Near the rear of the farm a small horse, a shetland pony, a few small goats, a zebra, and a wallaby (!) waited for hellos. The animals cannot be fed by the guests, but you can extend your hand, softly, for sniffs and gentle pets. Just know you assume any risk, animals do have their own behaviors after all.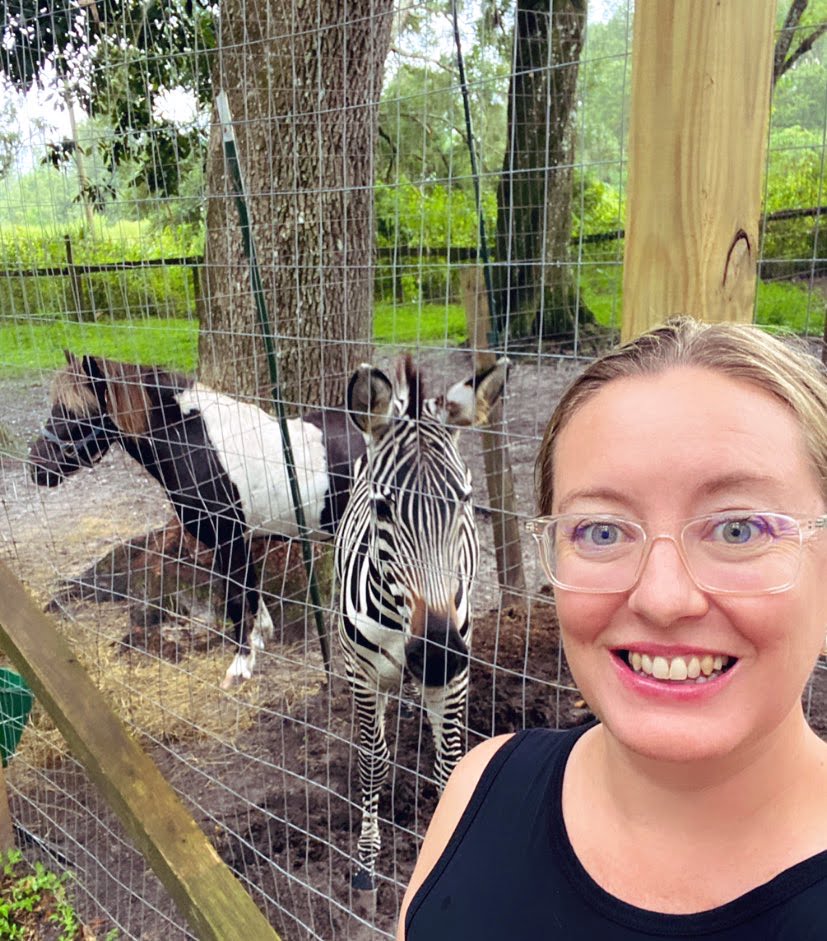 There are also multiple common areas around the farm with tables and chairs, a community grill, and a community firepit.
After walking around the grounds I settled in for the night. A soft rain began to pitter-patter on the lovely skylights that bring natural light into each room. I played some soft, meditative music as I nestled into the sectional couch. I could even catch a view of the resident zebra just about 300 feet away.
In the morning I made coffee as the three tiny goats greeted the day. Soon I headed onto the balcony, gazing at the farm grounds as the morning sun cast golden light. I decided to bid good morning to my neighbors, the zebra, goats, and wallaby. What a way to start the day.
Before packing up, I spent some more time enjoying the quiet living room, sitting and reading. I imagined what it would be like to spend a few more nights retreating in this space.
On the way home I opted to take the scenic route. It took two hours, rather than one, but brought me through some charming small towns and natural Florida beauty.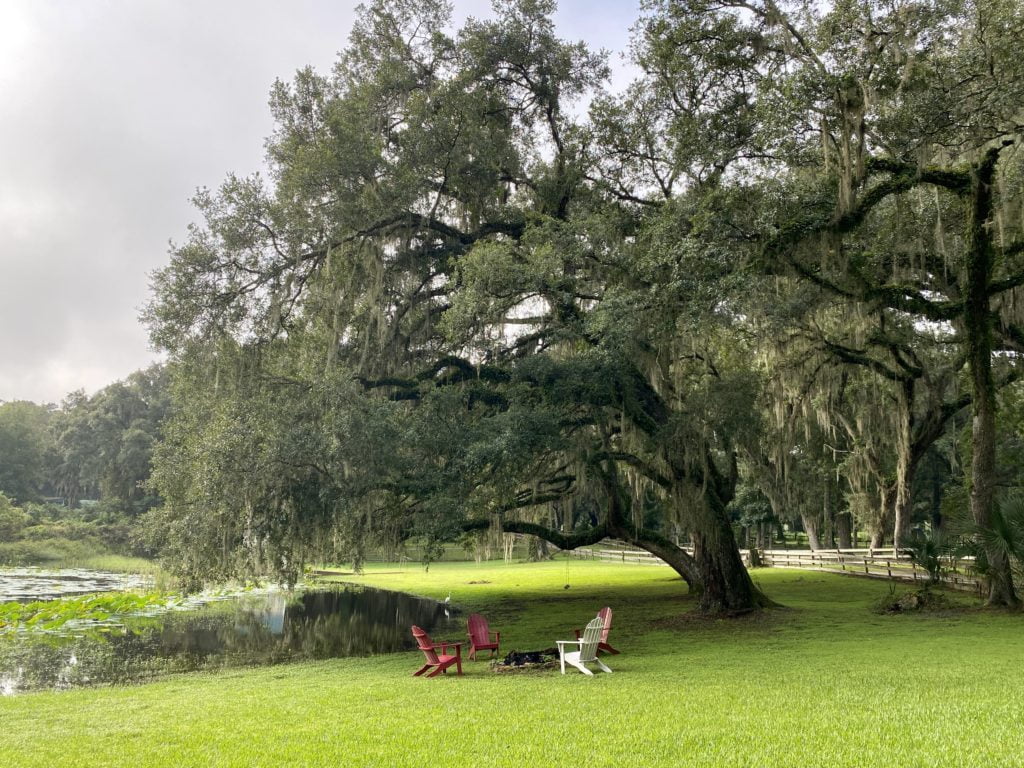 Things to do Nearby
Enchanted Oaks Farm is located just off of I-75 and SW Highway 484. It is easy to get to, but there aren't any attractions or activities in the immediate area. You come here to escape, without having to go too far from home.
Activities
Ocala is horse country. If you want to explore some horse farms, you'll have plenty from which to choose. I would also highly recommend at least driving through a portion of the Ocala National Forest.
More things to do:
Don Garlits Museum of Drag Racing (10 min)
Florida Horse Park (20 min)
Downtown Ocala (25 min)
The Canyons Zip Line and Adventure Park (30 min)
Ocala Drive In (30 min)
Ocala National Forest (30 min)
Paradise Springs (30 min)
World Equine Center (30 min)
Hitts Horse Races (40 min)
Our guide to unique ideas for an Ocala day trip has more ideas to explore.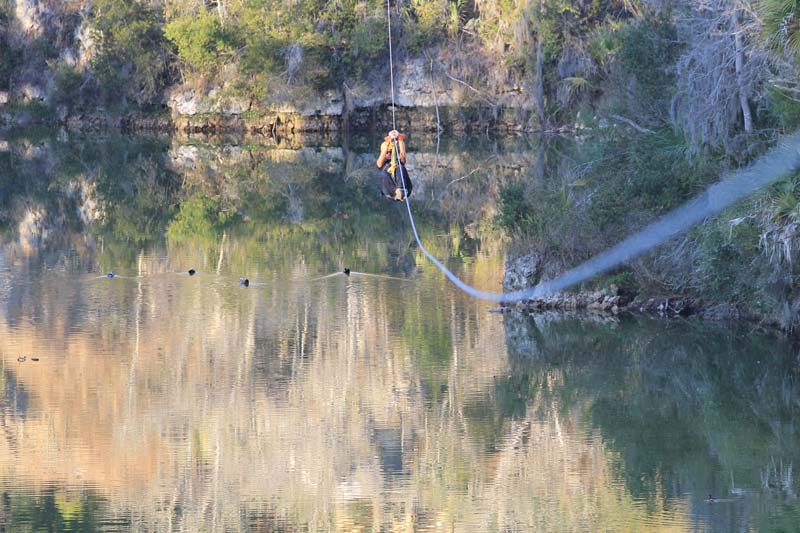 Natural Springs
These nearby springs (some offer tubing!) and natural wonders are worth adding to your getaway:
Rainbow Springs (40 min)
Silver Springs (40 min)
Silver Glen (50 min)
Devils Den (52 min)
Crystal River (54 min)
3 Sisters Spring (59 min)
Juniper Springs (1 hr)
Ginnie Springs (1 hr 23 min)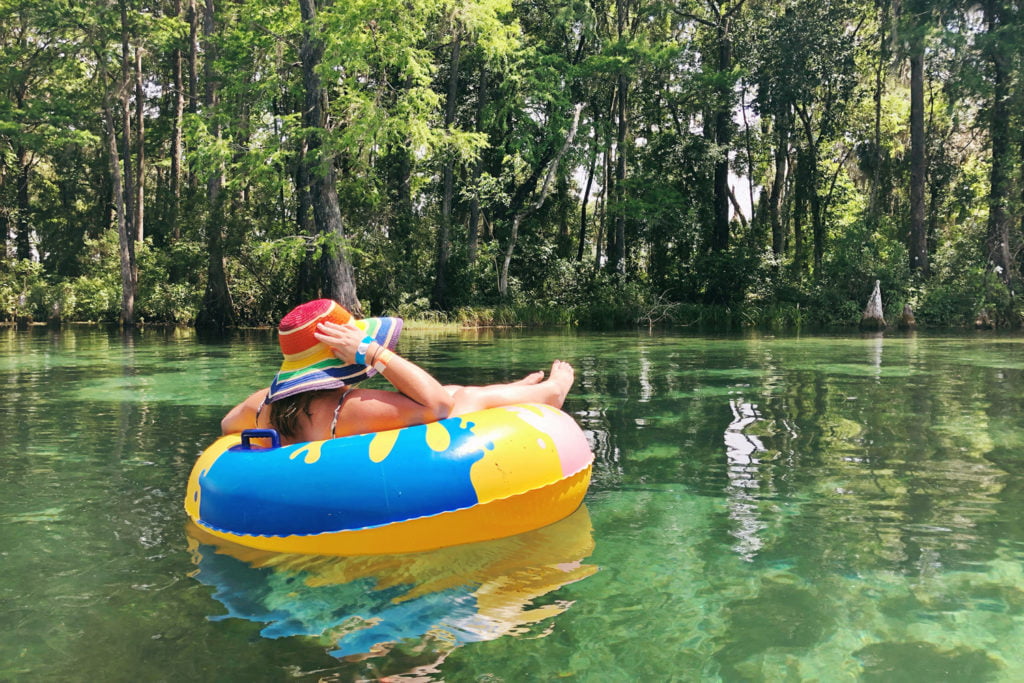 Restaurants
Most of the restaurants nearby are fast food and quick casual chains. If you're looking for a more authentic dining experience there are a few options within about 30 minutes drive.
I did not have a chance to try any of the restaurants nearby, but these are on my list to visit sometime: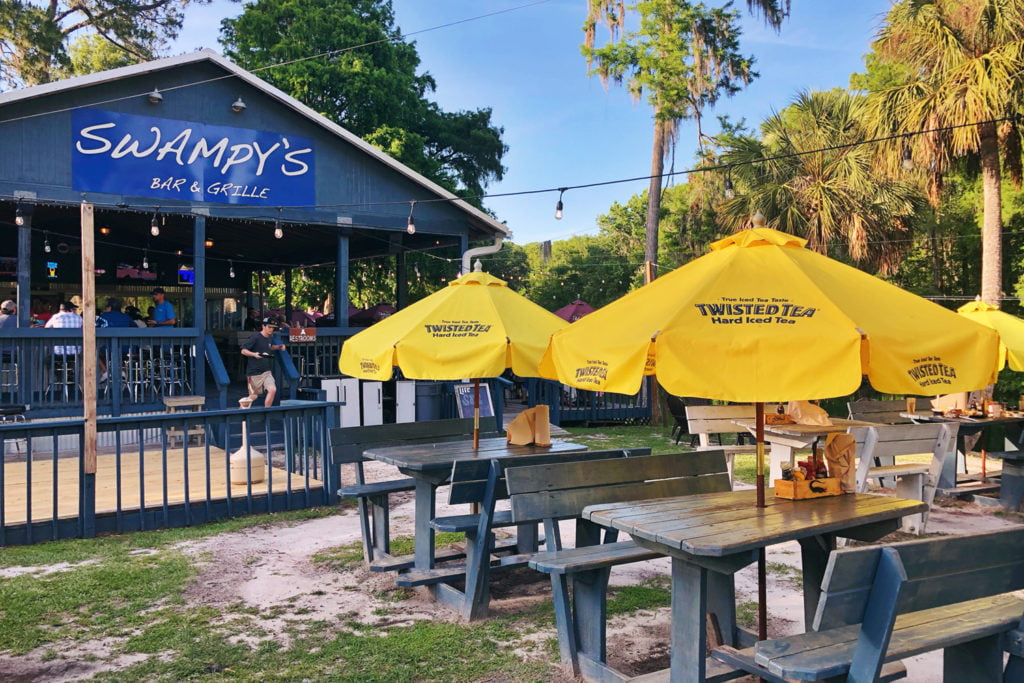 Know Before You Go
One or two nights at Enchanted Oaks Farm is plenty of time for you and your honey to relax for a little bit and unwind.
The road leading into the farm is a little rough. Be on the lookout for potholes and go a little slow.
If you do book a tiny unit, keep in mind you are essentially camping. There are no food prep or storage facilities in your tiny unit. If you need to bring any perishable food you'll need to pack a cooler. There is a community grill available and a firepit area.
The guest house I stayed in was lovely but could do with a cleaning of the exterior. The inside was very clean and comfortable.
Much of the dreamlike photos you'll find on the farm's Instagram feed are the result of guests booking a local photographer. You can find these photographers through Enchanted Oaks' Instagram feed, or contact the hosts to get connected.
Enchanted Oaks Farm and Lakehouse is located at 889 SW 165th St, Ocala, FL 34473.
All photos by Dani Meyering unless otherwise noted