Getting away from it all as a couple is so important and beneficial. But getting away from it all doesn't have to mean roughing it. Timberline Tampa makes it possible to enjoy comfortable and thoughtful glamping in the middle of a glorious state park. Here's what you need to know before you book, what you need to pack, and must-do activities in the state park.
Editor's note – Our accommodations were free, and a handful of enhancements were provided as well. Meals and activities were not part of the offer.
Timberline Tampa operates glamping sites at Hillsborough State Park which is 30 minutes away from Tampa, and about an hour and a half from Orlando. It is named for the Hillsborough River which is the main attraction of the park. At a whopping 3,383 acres, you'll have plenty of space to enjoy nature, without having to travel very far. The agricultural centers of Plant City and Zephyrhills are 15 minutes away.
What is Timberline Tampa?
Timberline Glamping Company manages a handful of glamping sites, mostly in Georgia. Timberline Tampa marks the first settlement in Florida. And, after our two-night stay, I certainly hope they expand to more Florida locations.
Timberline Tampa is a section of the Hillsborough River State Park campground. There are five glamping tents all on a quiet loop in the campground. It feels like an enchanted encampment.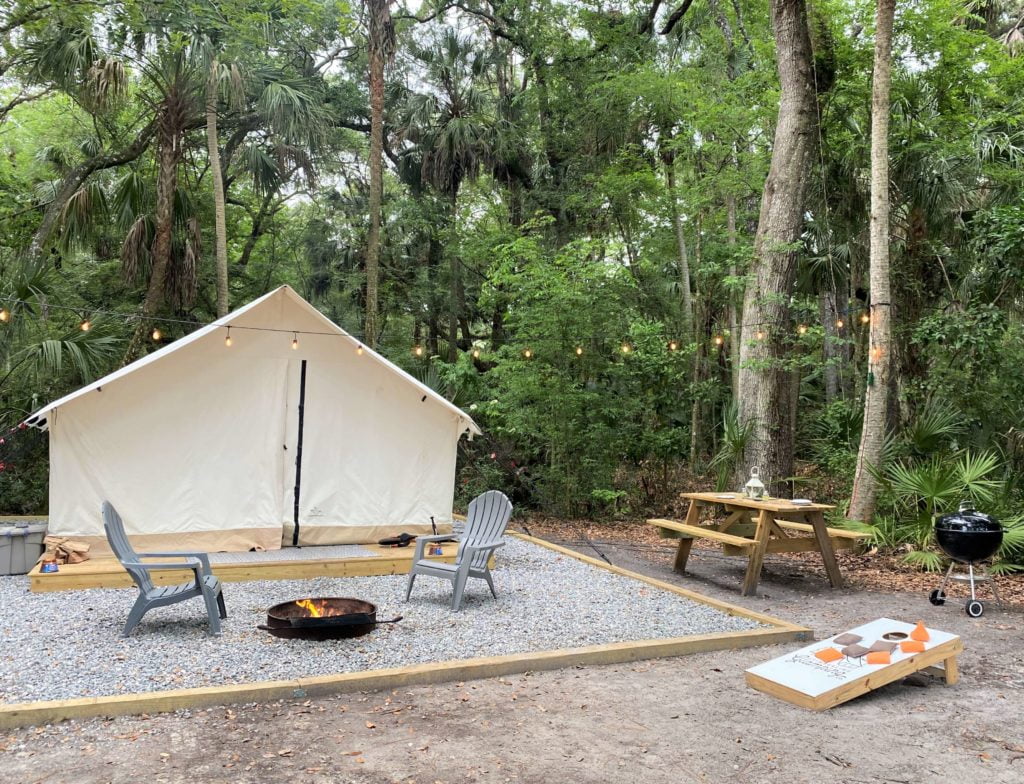 Glamping Tents of Timberline Tampa
The moment I saw the Timberline Tampa tents on Instagram I just knew I had to book one. I'm so glad we had the opportunity to stay in one ourselves. Each of the five sites has one large and comfortable glamping tent. There are three Safari style tents (rectangular shaped) and two bell style tents (circular shaped).
Each tent comes equipped with:
Keurig Coffee Maker
Mini refrigerator
Air conditioning
Hotel style bed
Small bedside tables
Extra outlets
Some tents have bunk beds for kids
Small trash can
Each site has:
Charcoal grill
Circle for firewood
Two Adirondack chairs
Two hammocks
Picnic table
Outside water spicket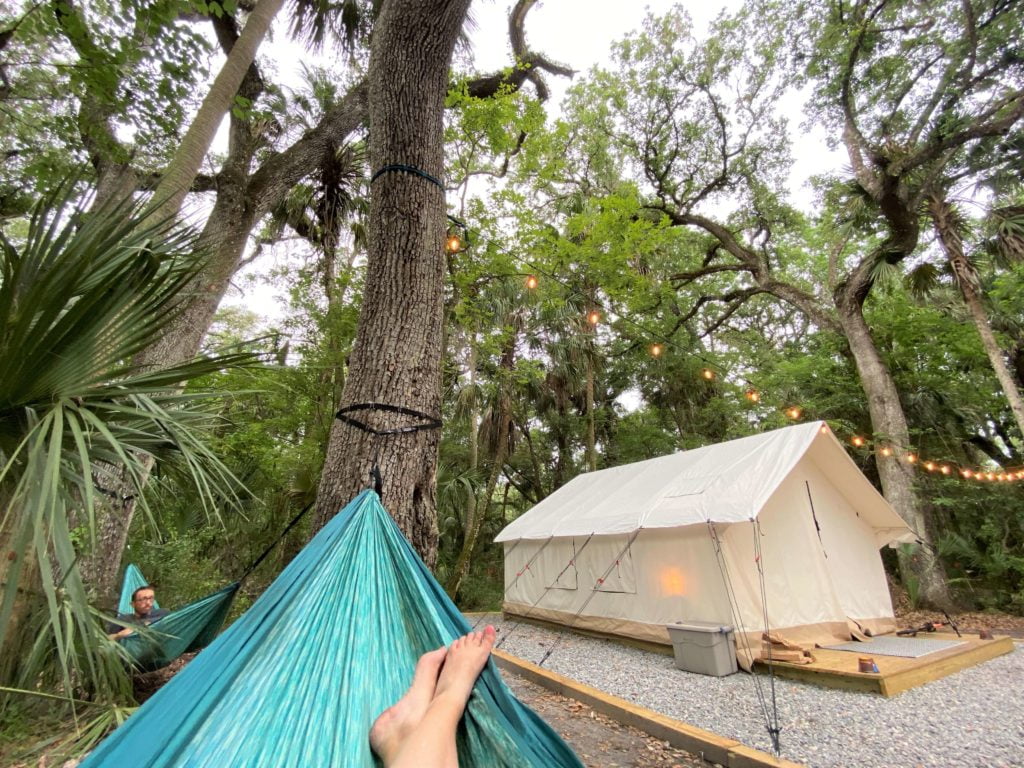 As we pulled into our site I immediately grinned. Besides being adorable, I loved how the site put us in the heart of nature, while still offering modern comfort. Walking into the tent made us both exclaim "wow."
I did get worried that the air conditioning wouldn't make much of an impact on the oppressive summer heat. Then we closed the front flaps, zip them closed, and within minutes we felt much relief.
The glamping tents loop is located near the common restrooms which have two shower stalls with hot water (thank goodness) as well as a dishwashing station. A dumpster and recycling center are at the front of the loop.
How big is the tent?
One of the reasons traditional camping in a traditional tent is not my style is the lack of space. As much as I love my husband, getting closer together doesn't necessarily mean being super duper close, especially in a tent, in the Florida heat.
I breathed a sigh of relief as we stepped into our glamping tent and realized it was about the size of our bedroom at home. The actual size of the tent varies a little. Our tent at site #25 came in at 224 square feet and included a bed and a bunk bed set. The two bell tents are 314 square feet and deluxe safari tents are 320 square feet.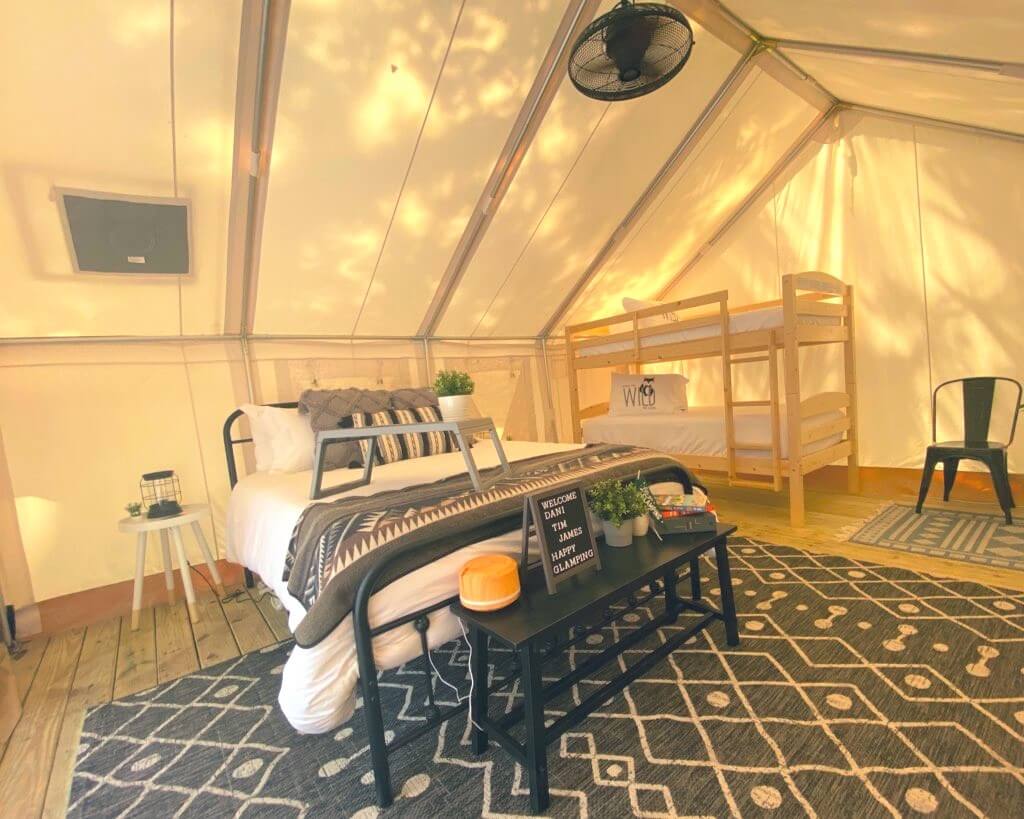 Dining
As nice as the hotel style bed and the air conditioning are, it's still camping. So you'll need to think ahead, especially about meals and practical clothing.
Zephyrhills has plenty of fast food and chain restaurants which are about 15 minutes away. But, I wanted to really enjoy being in Hillsborough State Park as much as possible. So I packed food for breakfast both mornings, and dinner both nights. We grilled our dinners – one night on the fire pit which has a rustic grill attachment, and the other night on the Weber charcoal grill.
We brought paper plates and not enough utensils so we might have gone a little caveman during dinner time. It's all part of the bonding experience!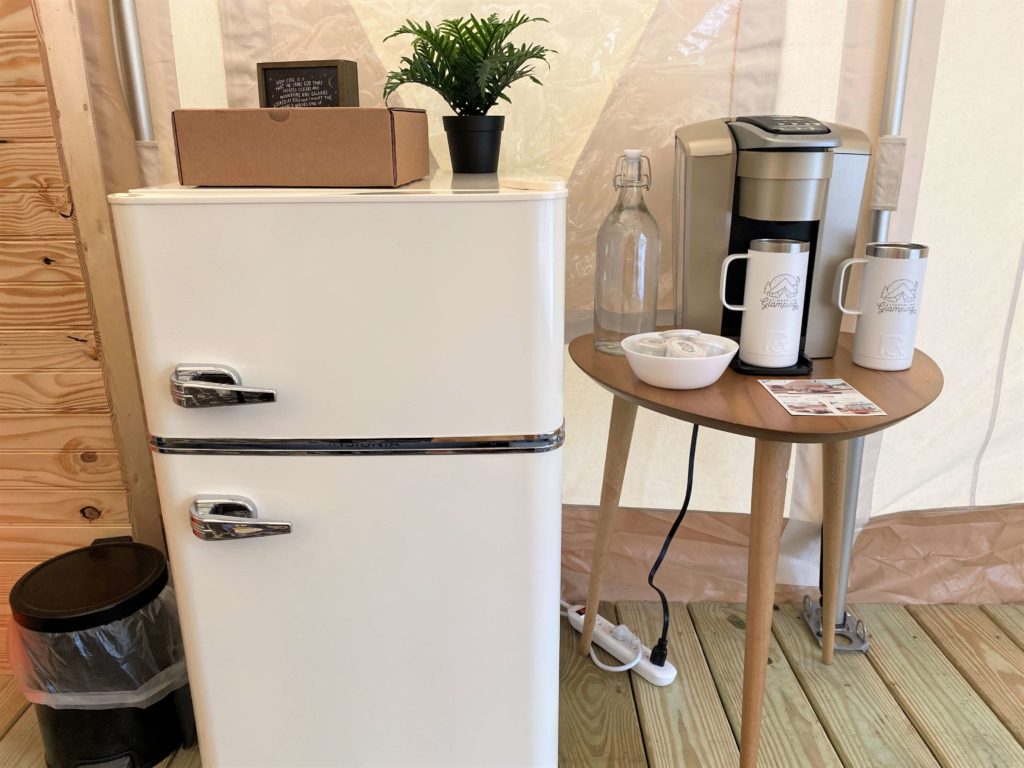 There is no cafe or concession stand at Hillsborough State Park. Though there is a small stand near the center of the park near the kayak and canoe rental, but they only sell snacks and it is only open for 3 hours in Fridays and Saturdays as it is run by volunteers.
For lunch on our second day, we drove into Zephyrhills. Prior to our trip, I scoped out Google Maps and Apple Maps to get an idea of what is nearby. Being a big fan of seafood, The Chowder House caught my eye. The location inside a shopping plaza and the decor leave something to be desired, but the seafood is very fresh!
Related: A Date Day at Keel Farms in Plant City
What to Pack
Once you've planned any meals that you're going to make at the glamping site, you'll have an idea of what to pack.
Here's what we packed, and a few things we wish we had thought to pack:
Paper plates and travel-friendly utensils
Dish towels or paper towels
Towels for showering or in case you get wet in the river
Grilling or cooking utensils
Water
Cups
Coffee mugs and a few coffee pods are provided, cream and sugar are not
Table cloth for picnic table
Citronella candles
Flashlight
Rain jackets
Walking or hiking shoes
Slip-on shoes to put easily when you need to walk to the restroom
Firewood (though you can purchase some at the ranger station)
Charcoal
Matches or lighter
Small trash bags or grocery bags
The campground at Hillsborough River State Park and Timberline Tampa are dog friendly, so if your pup is coming along don't forget their supplies.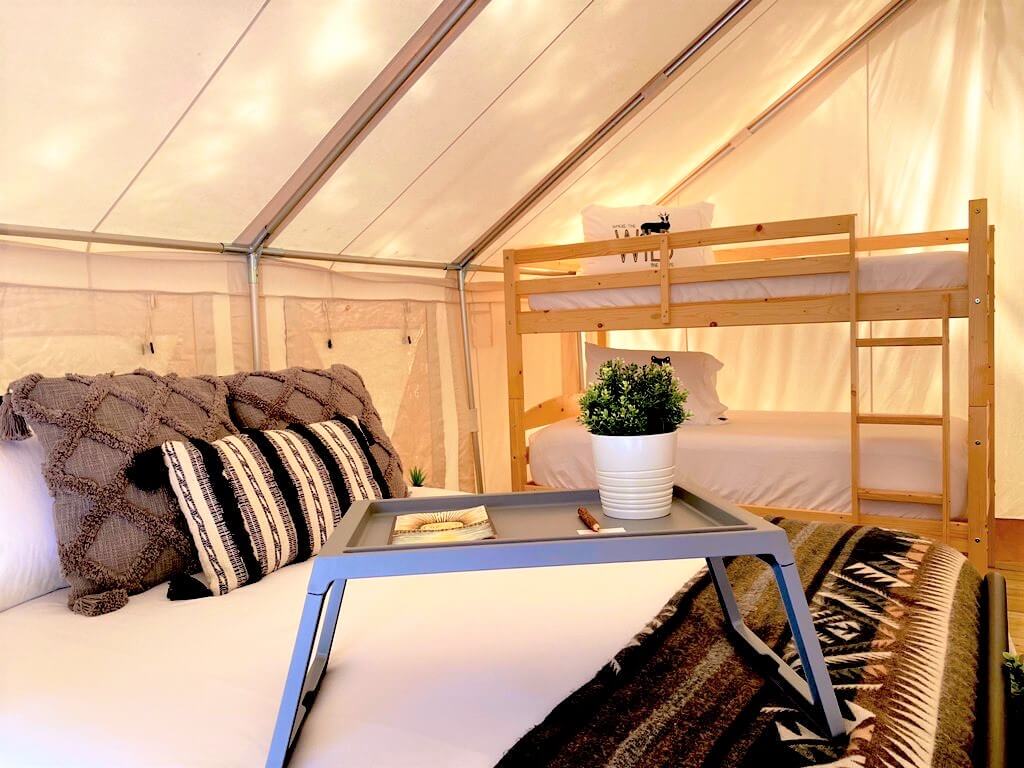 What is there to do at Timberline Tampa?
The five glamping sites of Timberline Tampa are in one loop together at the campground section of Hillsborough River State Park. One single road runs through the state park and it is one way. There are three parking lots on the road, each one bringing you close to a main attraction of the park.
Parking lot #1 is closest to the river rapids
Parking lot # 2 is closest to the Suspension Bridge
Parking lot # 3 is close to the canoe / kayak / bike rental, which is near a launch for the kayaks and canoes
There are restrooms at each of these sections, as well as walking trails. One playground is near the section for the suspension bridge and another is near the canoe launch.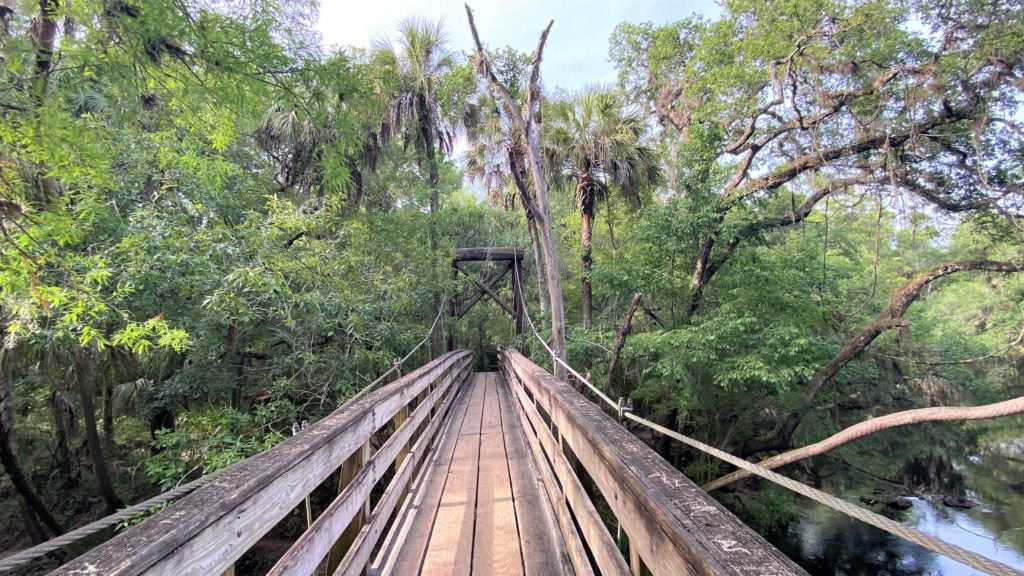 The glamping tents by Timberline Tampa are ideally located near a rustic canoe and kayak launch, which doubles as a decent fish spot. Our son was actually along for the trip with us and we packed our fishing poles. What a great spot for our son's first time fishing. This rustic launch and fishing spot is in between sites 33 and 31 — just a five-minute walk from the glamping tents. This launch is different than the rental launch and is for use if you have your own kayak or canoe.
There is also a pedestrian path between sites 17 and 18 to take you to one of the playgrounds and the kayak/canoe rental. It took us about ten minutes from our site to reach the playground and rental site.
Important note – Hillsborough State Park usually offers a large pool. It is located near Parking lot #3 where the rental stand is, however, the pool is closed until at least summer 2023. Admittedly, we really wish the pool had been opened, it would've been lots of fun on this glamping trip. The pool normally supplies a swimming location since swimming in the river is not allowed.
Kayak and Canoe Rental at Hillsborough River State Park
The main reason Hillsborough State Park came into existence is the Hillsborough River itself. And so, it is for this reason, I highly recommend you get out on the water and enjoy the river itself. I would suggest that you be comfortable with the wilderness of Florida, and this includes alligators.
Kayak and canoe rental at Hillsborough River State Park is offered through FloVibez Adventure Tours. Rental is for two hours which is plenty of time to enjoy the river. Single kayaks are $30, tandem kayaks are $40, and canoes that seat three persons (weight limit applies) are $40.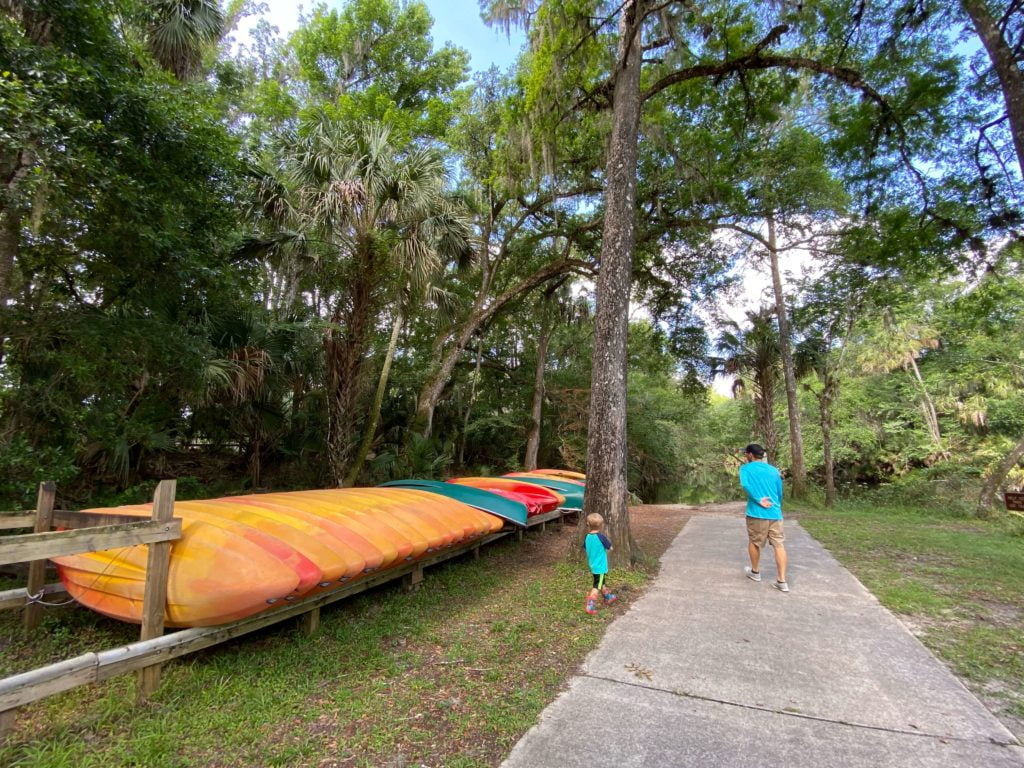 Since our son traveled with us we opted for a canoe. This marked our first canoe trip as a family and we made it about an hour and a half. We spent most of the time on the part of the river without the rapids. We turned around after about 45 minutes and once we made it back towards the canoe launch we decided to keep paddling the other way towards the rapids and the suspension bridge.
The rapids are Class II rapids — a rare thing to find in Florida. We dared not attempt to challenge these rapids and so we turned around after getting a view of the suspension bridge.
We did see about ten or so alligators during the course of our hour and a half canoe trip. Most of them stayed on the banks, and a handful lurked in the water. We kept our distance. I highly recommend you familiarize yourself with alligator safety tips to stay safe.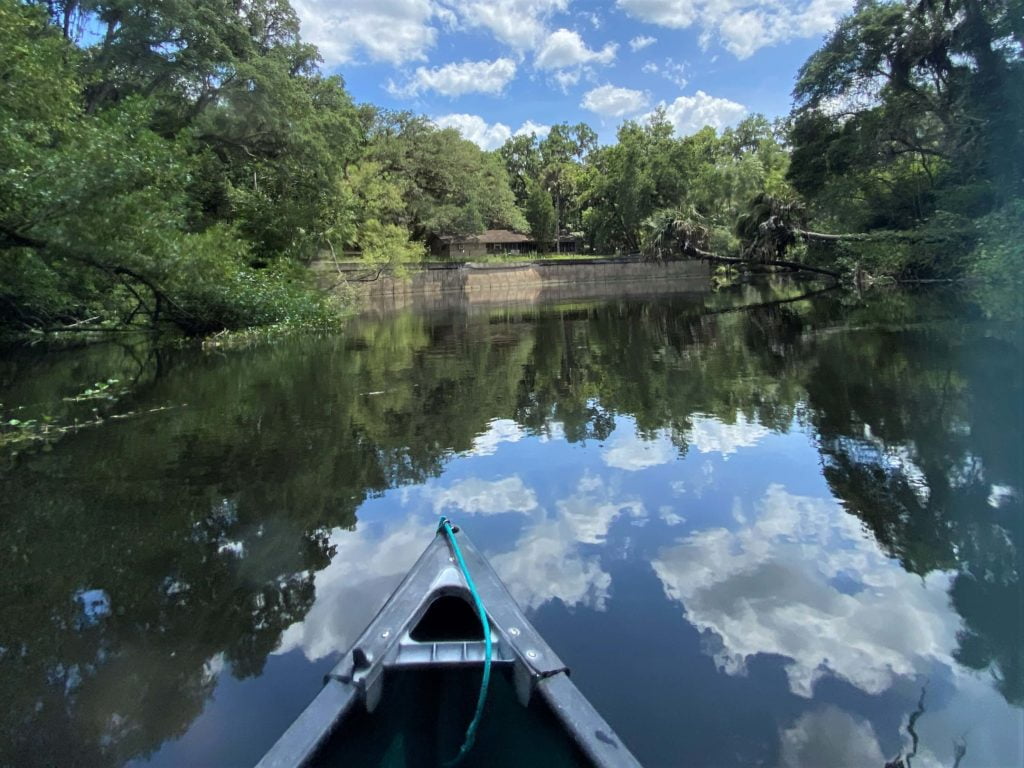 What we loved most about this canoe trip is that all we had to do was put the canoe back on the shore and walk back to our glamping site where glorious air conditioning and refrigerated drinks waited. No hot and sticky car ride for us, instead we walked back to our site and enjoyed resting in our comfortable glamping tent.
Related: 5 Central Florida Kayaking Experiences Every Orlandoan Needs to Have
Timberline Tampa Glamping Pricing
Glamping does cost more than regular tent and RV camping sites. After all, the glamping tent is all set up for you and offers lots of amenities. I much prefer pulling into the site and all I have to do is unpack the car rather than wrestling with a tent to get it set up.
Rates start at $144/ night + taxes & fees ($55 cleaning fee per site), which adds up to about $300 total for two nights. Admission into the state park is included (which is normally just $6), you'll need to let the park ranger know of your reservation when you pull in. And you can come and go into the state park as you wish during your stay.
Considering the quality of the tent, the thoughtful decor, and the overall experience I feel this is a fair price and still relatively budget-friendly. The memories we made are priceless.
Want more glamping ideas?
All photos by Dani Meyering