Spending time with your plus one is romantic and relaxing with a blanket, a basket, fresh bites, and a beautiful view. Create a DIY picnic adventure or hire the pros to bring the picnic to you. Check out these local options to plan your Orlando picnic date!
Updated August 2023 by Brie Gorecki
Bring the Picnic to You
We love these concepts for birthdays, anniversaries, bridal showers, or just a special date night. These Orlando picnic companies put together delightful experiences.
Dine out in the park with an all-in-one picnic package from Orlando Picnic. This family-owned business provides full picnic setups with pillows, a pallet table, a personalized chalkboard and letter board, plates, flowers, a banner, an ice bucket, and a sanitizing kit.
Bring your own food and Orlando Picnic will take care of the rest in setting up your on-location picnic and cleaning up after the feast.
Here are Orlando Picnic's recommended public park locations for your picnic setup:
Lake Eola Park
Lake Baldwin Park
Winter Park
Oviedo on the Park
Moss Park
Dickson Azalea Park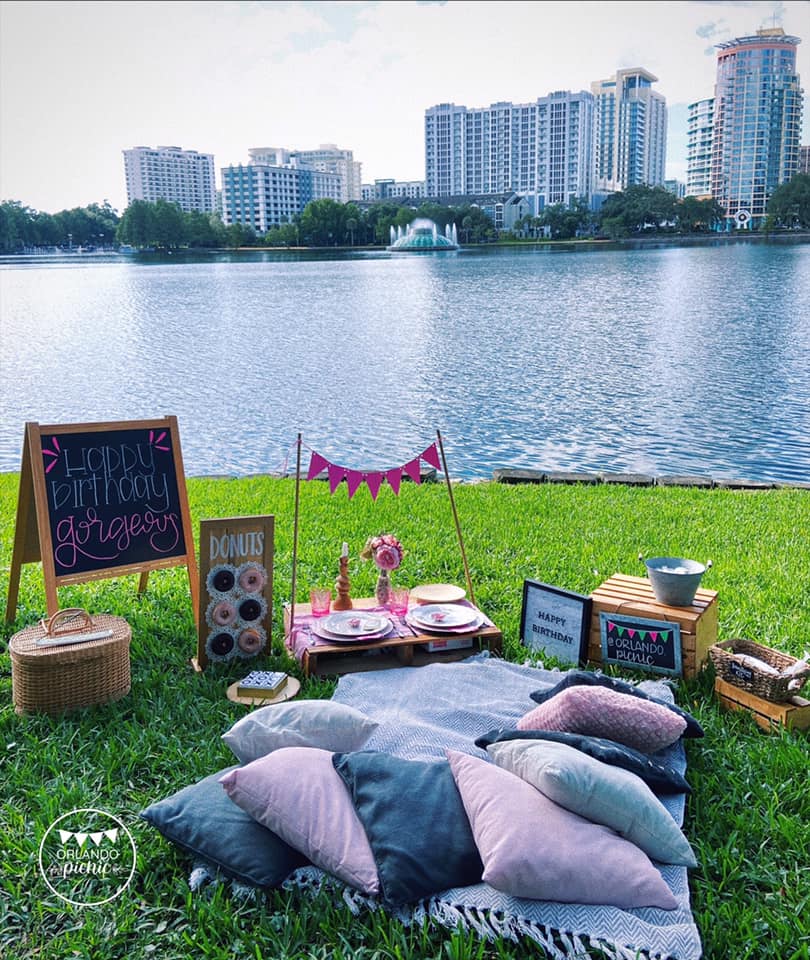 You can also add games and eats to your picnic for an additional charge. Options include corn hole and a hammock; a donut wall and garnished water; a juice bar, charcuterie, and local pastries; or a grazing board.
Email Orlando Picnic at orlandopicnic@outlook.com or call them directly at 407-692-2984 to book your picnic. A refundable holding fee will be required upon booking.
You'll find the ultimate picnic experience with Our Dream Date Greater Orlando. You can choose a theme, from Whiskey and Flannel to Bohemian Chic to Wine and Roses, pick your location, and book your picnic date. Our Dream Date will set up a two-hour experience for you with a picnic blanket, basket, grazing board, drinks, dessert, pillows, and of course, themed decor on-location.
"My personal favorite about Our Dream Date Orlando is the lifelong, lasting memories we create for people," Kara from Our Dream Date Greater Orlando said. "It's a unique, one-of-a-kind experience, and especially given our current circumstances happening in the world, we are beyond grateful to still be able to provide that for people!"
One of the most unique aspects of Our Dream Date is they will bring a gourmet picnic to you anywhere, even your backyard! They'll take care of both the picnic set up and clean up, so you can sit back and relax.
Book your picnic package through the Our Dream Date website, or email Kara directly.
Where to Get Picnic Provisions
1610 East Buena Vista Dr Lake Buena Vista, FL 32830
Build your own basket at the only Master Sommelier-owned wine bar in Florida. The Basket at Disney Springs' Wine Bar George is a quick-service option offering picnic-friendly eats to go.
For a sweet and salty pairing, try some of the specialty meats and cheeses to go paired with Freaujolais. Or, go for a classic frozen drink like the Friezling (made with Dole Whip® Lime) or Frozcato (made with Dole Whip® Pineapple).
On top of great pairings and bites, you'll find more than 160 wines that can be enjoyed to-go, all available by the glass, the bottle, and the ounce.
"Guests can enjoy wines from acclaimed and well-known wineries as well as growing regions that are up-and-coming" George said. "Whether you are looking for a glass of wine on tap or an ounce of some of the finest wine in the world, we have something for everyone to enjoy."
We revisited The Basket at Wine Bar George not too long ago. Just know the baskets they used to provide are no longer available, so bring your own.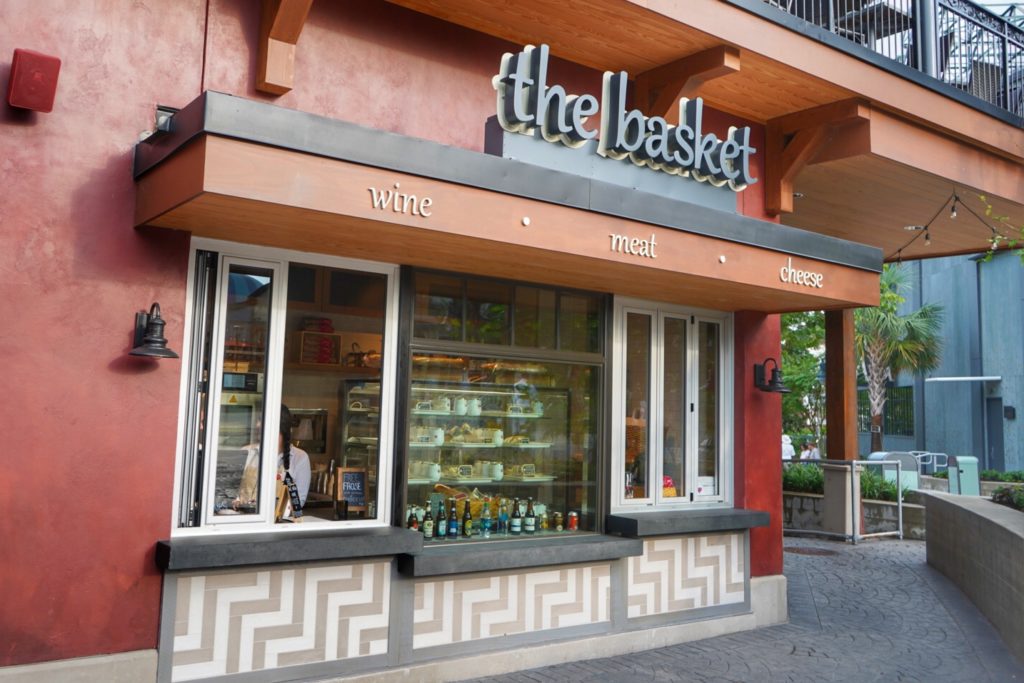 1151 Tower Blvd, Lake Wales, FL 33853
BYOB for your Bok Tower Gardens picnic (bring your own basket and blanket, that is!). You'll find beautiful flowers, birds, and more in this garden and bird sanctuary.
Order soup, salad, sandwiches, and sweets from the Blue Palmetto Café online or in person and they'll box up your meal to-go.
For a picnic-ready brunch, visit the cafe from 8am – 1pm on Saturdays and Sundays.
Bring your basket to a picnic table in the shade. Explore one of the rain shelters complete with handcrafted wooden chairs. Venture a bit further past the singing tower to relax at one of the benches overlooking beautiful fields or set up your blanket anywhere in the gardens. Just make sure to be respectful and clean up your trash once you're done.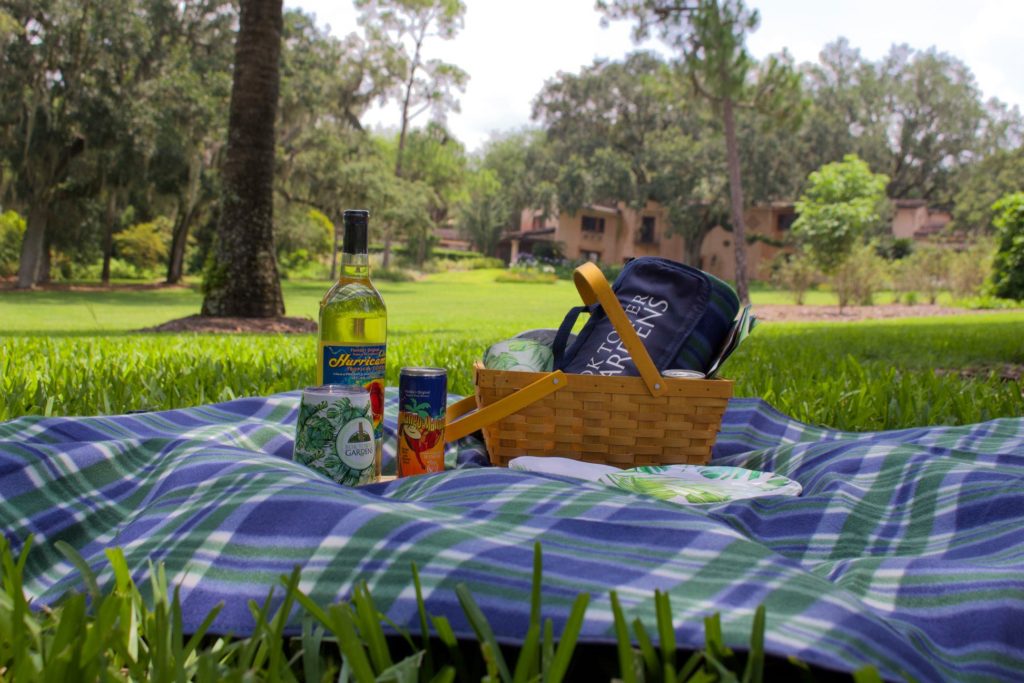 522 E. Amelia Street Orlando, FL 32803
Stop by this market for a delightful selection of wraps, salads, snacks, and natural wines to add to your picnic basket. Pick up bagel sandwiches, fresh hummus, a deli side dish with potato salad or pasta, and vegan pastries. This is the perfect spot to pick up provisions for a picnic at nearby Lake Eola Park.
Keep an eye out for Eola General's pop-ups on their Instagram – you never know what you might find!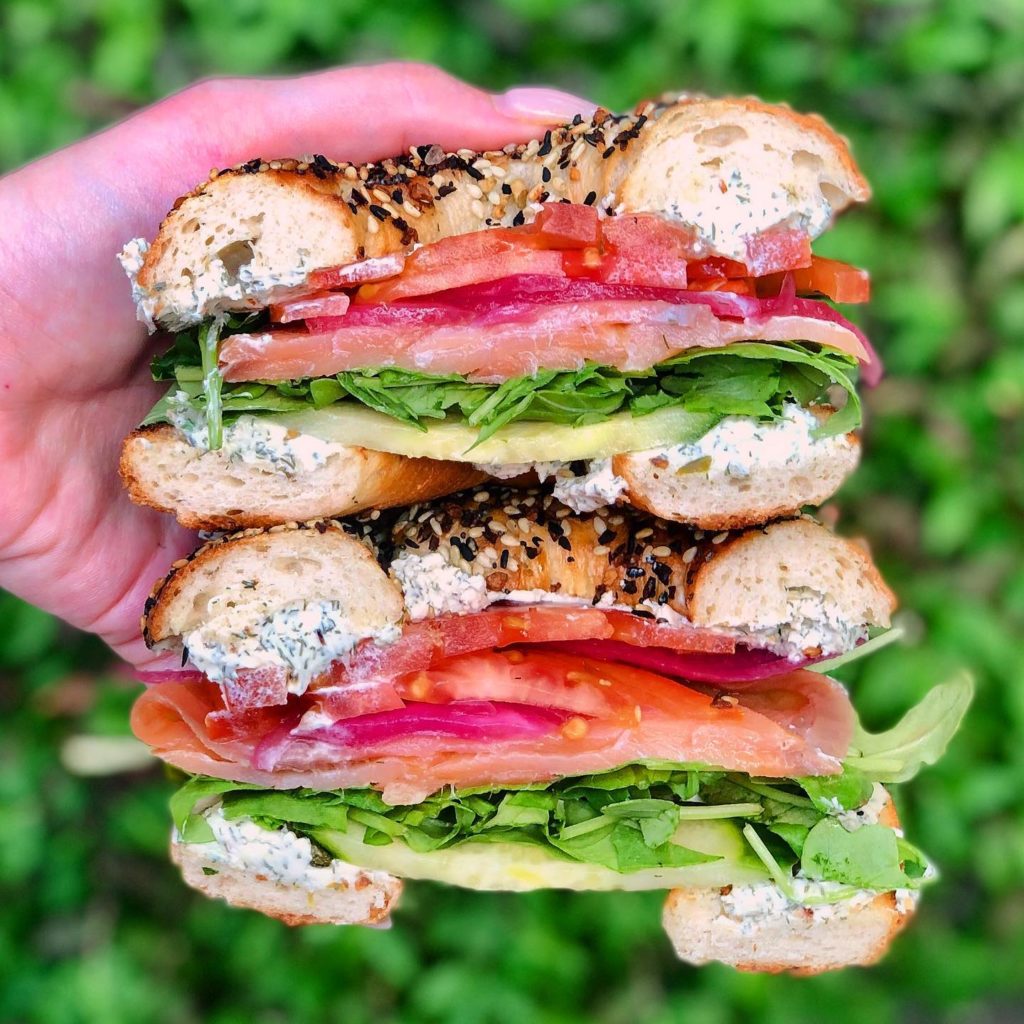 3201 Corrine Drive Orlando, FL 32803
Another great spot to pick up your picnic supplies, East End Market houses a variety of vendors at their neighborhood market, including farm-to-table briskets from Hinckley's Fancy Meats, and ginormous, too sweet to handle cookies from Gideon's Bakehouse.
You'll also find Florida's best spot for grilled cheese, as voted by USA Today, at La Femme du Fromage. The shop features flatbreads, house salads, an elaborate wine list, and a selection of grilled cheese sandwiches. You can also pick up cheese and charcuterie boards at the shop filled with handcrafted cheese, fruit, and other delectables, the perfect addition to your picnic.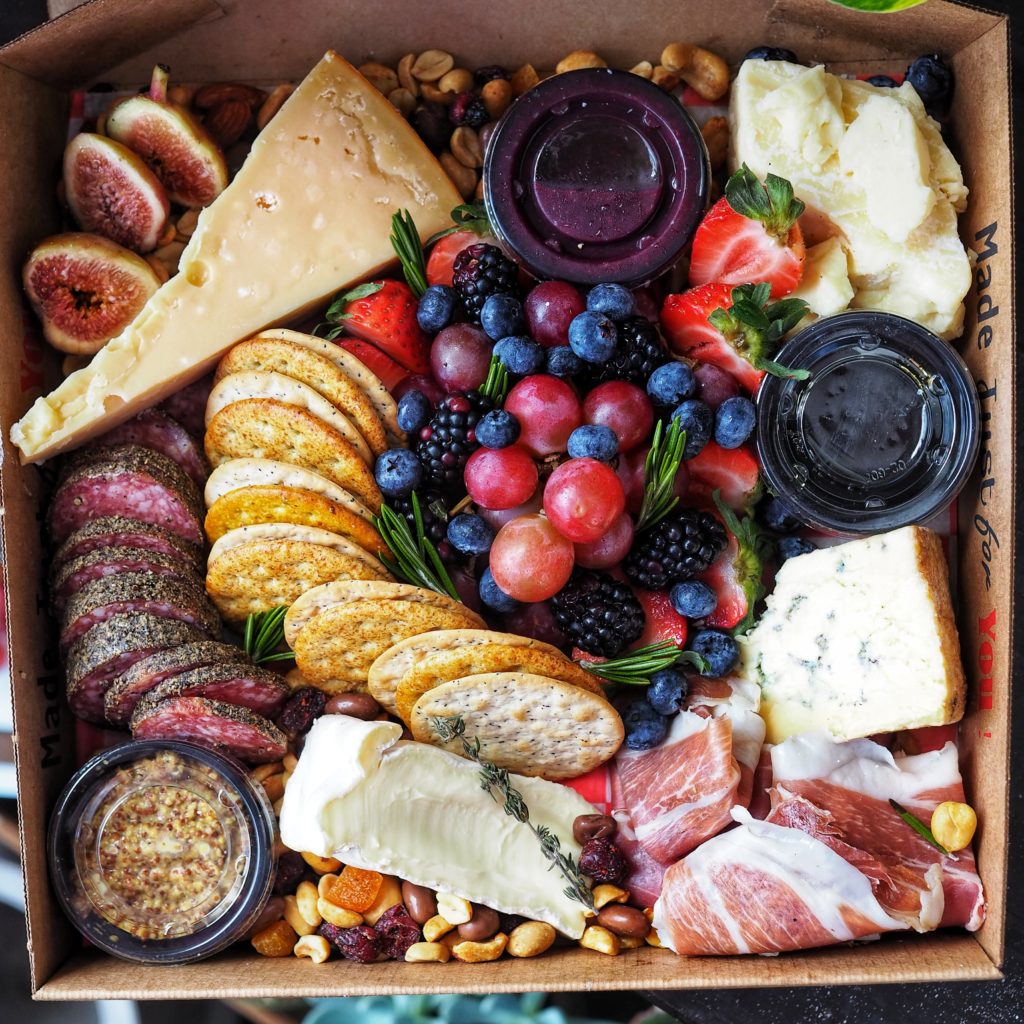 READ MORE: Orlando Gourmet Markets for Picnics or Date Night at Home
633 Osceola Avenue, Winter Park, FL 32789
Picnics are encouraged at this three-acre garden overlooking Lake Osceola. The gardens date back to 1949, and you can get in on the fun by joining hands-on gardening before your picnic (9am – 12pm on Tuesdays and Thursdays).
The Albin Polasek Museum and Sculpture Gardens features a permanent collection of sculptures, as well as rotating exhibitions of paintings and mixed media. Be sure to also get a glimpse of the Capen-Showalter House while you're there. The house originally sat in a different location and was set to be demolished in 2013. After local supporters and organizations raised $450,000 to save the house, it was cut into two, floated across the lake, reattached, and renovated where it now sits at the museum and gardens.
Pay for admission to the museum and gardens ($12 per person) and picnic away!
Lake Millenia
4700 Millenia Blvd, Orlando, FL 32839
One of Orlando's best-kept secrets is quiet with a beautiful view of Lake Millenia and its surrounding nature. Bring a blanket or chow down at a nearby picnic table. You'll find turtles, ducks, cormorants, and other wildlife at this secluded getaway.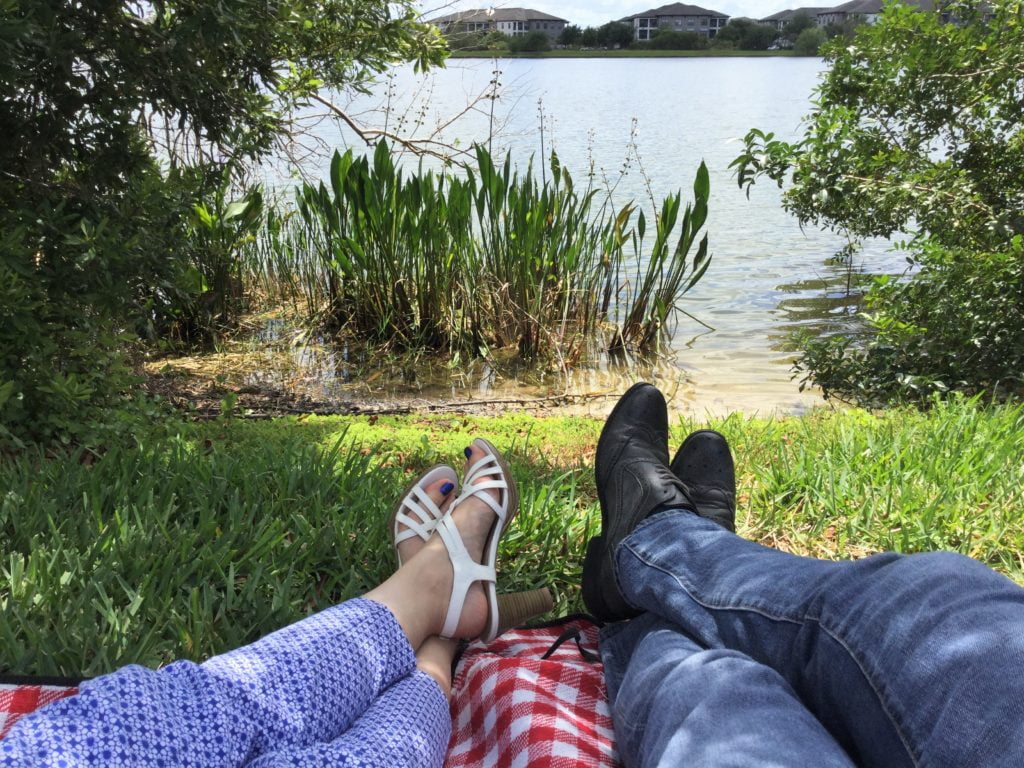 Want a quick list? Here are 10 Perfect Picnic Spots in Orlando
Kissimmee Lakefront Park
201 Lakeview Drive, Kissimmee, FL 34741
Warren Park
3406 Warren Park Rd, Belle Isle, FL 32812
Langford Park
1808 E Central Blvd, Orlando, FL 32803
Lake Eola Park
512 E Washington St, Orlando, FL 32801
Gaston Edwards Park
1236 N Orange Ave, Orlando, FL 32804
Blue Jacket Park
2501 General Rees Ave, Orlando, FL 32814
Lake Baldwin Park
2000 S. Lakemont Ave, Winter Park, Florida 32789
Rollins College Campus
1000 Holt Ave, Winter Park, FL 32789
Dinky Dock Park
Ollie Ave, Winter Park, FL 32789
Kraft Azalea Garden
1365 Alabama Dr, Winter Park, FL 32789
Lake Lily Park
701 Lake Lily Dr, Maitland, FL 32751
Cranes Roost Park
274 Cranes Roost Blvd, Altamonte Springs, FL 32701
CREATIVE IDEA: Want to impress your date? Get creative and head to the Central Florida Zoo and Botanical Gardens. Whether you actually visit the zoo or not, there is a large picnic area that offers a ton of shade. Plus, you can people watch as folks climb the ropes course and zipline right above you. Parking is free and the large picnic area sits before the actual entrance into the zoo. The picnic area can be accessed without a ticket to the zoo, but consider making a donation as a token of appreciation.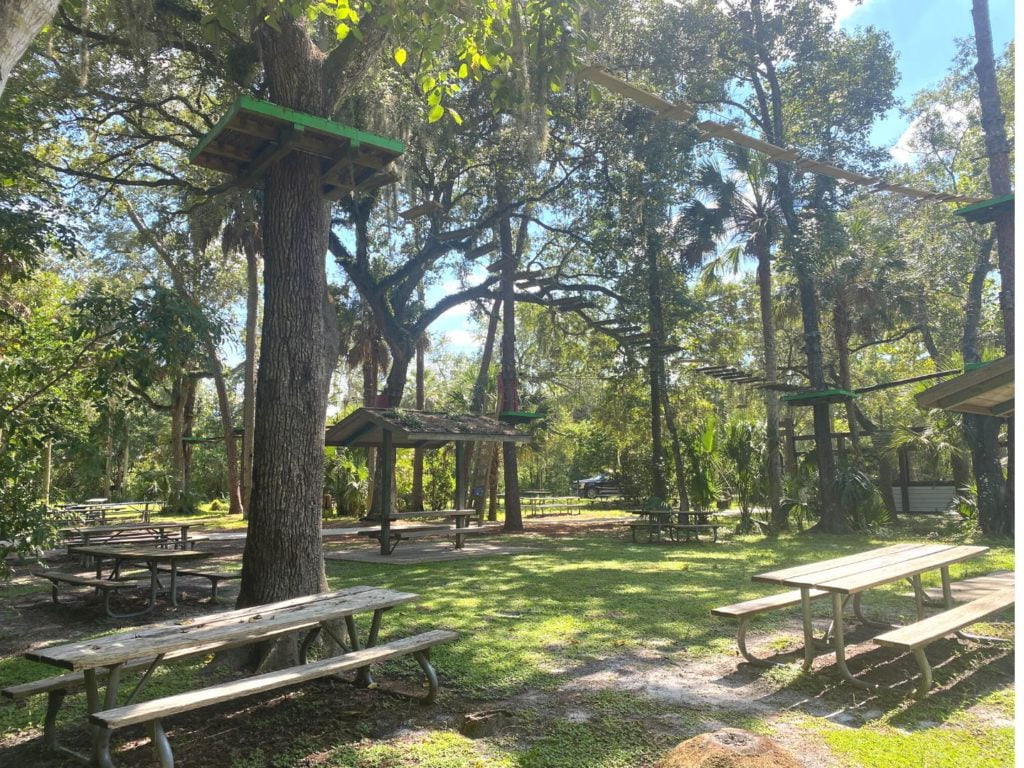 Whether you build your own basket or explore an elaborate picnic setup, you're bound to have a great date outdoors!
"There's no right or wrong way to picnic," Jessica from the Orlando Duo said. "Sometimes it's just grabbing a Publix sub and heading outside to sit on the grass and enjoy the outdoors. The most important thing about a picnic is to pick a place where you are relaxed and happy. Whether that's under the shade of a tree or by the water, the ambiance really sets the tone."
Feature image credit: Orlando Picnic