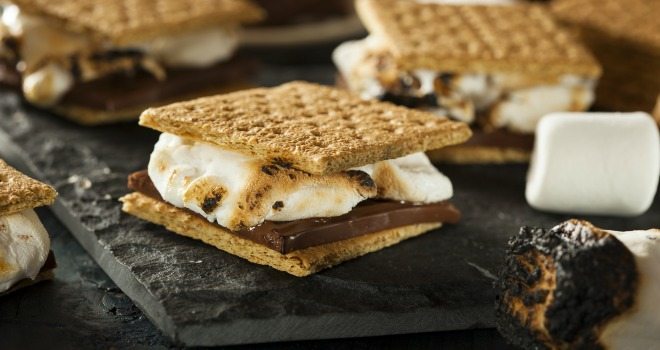 The dog days of summer bring back youthful memories of summer camp and roasting marshmallows to create sweet, sticky s'mores. In honor of National S'mores Day on August 10, forgo the camp out – because less is s'more – and, instead, date night at one of these hot spots for luscious variations of the classic campfire treat! These yummy s'mores in Orlando will make for a sweet date night.
Yummy S'mores in Orlando
UNIVERSAL CITYWALK ORLANDO
If your goal is to pucker up on date night, head to BigFire where cuisine is "fire kissed." Translation: American fare is delicately cooked on open fire grills to achieve mouth-watering flavor. Well with 'fire' in its name and as its cooking technique, it is no surprise that Tableside S'mores are a featured item.
BigFire's version of the DIY dessert dish comes with the standard ingredients of marshmallows, graham crackers and chocolate, plus a little something extra — peanut butter cups. This interactive course is sure to ignite date night memories like none other at Universal CityWalk Orlando.
Related: Best Restaurants at Universal Orlando for Date Night 
BAR LOUIE

3 ORLANDO LOCATIONS – ALAFYA, SEMORAN & WINTER PARK 
This restaurant offers a robust food menu so, if desired, hungry patrons can absolutely please their palates with three tasty courses. Bar Louie recently added new starters, like Lemon Pepper Wings, Fried Cheese Curds, and BLT&A Chopped Salad. Burgers are the main dish go-to, with favorites like the Bourbon BBQ, stacked with applewood smoked bacon, cream cheese, white cheddar, crispy onion straws and house-made bourbon BBQ.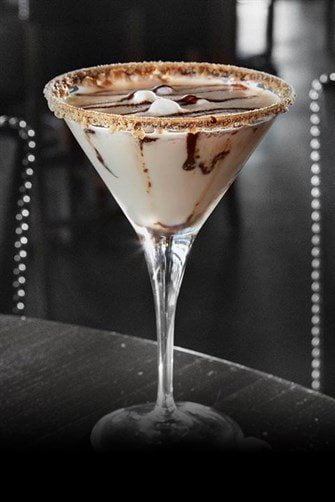 However, we suggest ordering dessert in liquid form because the S'mores Martini is wonderful. It is a blend of Absolut Vanilla, Mozart Cream Chocolate, toasted marshmallow, even more cream, chocolate sauce and a rim of graham cracker. Pssst… plan to date night at Bar Louie on Mondays when signature martinis are half off. 
CANVAS RESTAURANT & MARKET
LAKE NONA
Situated in the Laureate Park Village Center of Lake Nona, the funky interior of Canvas includes floor-to-ceiling windows to present picturesque waterfront views, in addition to patio seating. Whether you dine here for breakfast, lunch, dinner or weekend brunch, do not skip dessert.
You see, the S'more Tart is simply a masterpiece, beautifully constructed with cookie cream, Itakuja chocolate custard and flambéed marshmallow.
2 ORLANDO LOCATIONS – INTERNATIONAL DRIVE & WATERFORD LAKES
This modern-casual restaurant offers seasonally inspired dishes and an impressive catalog of award-winning, handcrafted wines. Those with an eagle-eye will quickly spot the most scrumptious choice on the dessert menu: S'more Budino. This gluten-free goodie features caramel custard, Valrhona chocolate mousse and brown-butter toasted graham cracker. It pairs well with either dessert vino (or sweet wine flight) or a chocolate martini. 
2 ORLANDO LOCATIONS – MALL AT MILLENIA & WINTER PARK VILLAGE
It would be a sin not to order dessert at this restaurant! So, sinfully indulge with the Toasted Marshmallow S'mores Galore, a heaping slice of Hershey's cheesecake topped with chocolate ganache, toasted house-made marshmallow and Honey Maid graham crackers. If you cannot get enough of this dessert, preorder a whole cheesecake for sweet at-home date nights. 
THORNTON PARK 
If brunch is your favorite meal of the day, then this intimate eatery and dessert bar needs to be on your restaurant radar. The menu includes assorted crepes, pancakes, waffles, bagels, bowls and breakfast burritos and sammies. If you want to magically transport your taste buds to France, order the S'more Crepe, stuffed with graham crackers, toasted marshmallow and Nutella. Oui, oui!
2 ORLANDO LOCATIONS – MILLS DISTRICT & AUDUBON PARK
Central Florida has its fair share of artisan donuts shops but Dochi offers a must-try fusion of flavors. A "dochi" is a cross between a Japanese rice cake (aka "mocha") and a standard American fried donut, achieving a perfectly chewy yet crispy bite. Thanks to its bubble-like ring shape, these unique treats can be easily teared and shared with your darling donut date.
There are two s'more inspired choices so plan to sample both. The Chocolate S'mores donut is dipped in rich chocolate and topped with mini marshmallows and Teddy Grahams. The Matcha S'mores donut similarly features mini marshmallows and Teddy Graham but is dipped in Dochi's smooth matcha chocolate dip.
WALT DISNEY WORLD RESORT
One of Orlando's most jaw-dropping luxury resorts, the Four Seasons isn't afraid to flaunt its casual side at Pool Bar & Grill (PB&G), the resort's lakeside restaurant. Enjoy tons of small bites, from ahi tuna poke to lobster rolls, then finish your culinary adventure with Tabletop S'mores, presented with all the chocolate fixings you desire.
2 ORLANDO LOCATIONS – INTERNATIONAL DRIVE & WINTER GARDEN
When treating yourself and your sweetie to over-sized breakfasts, opt for over-sized coffees too. Specializing in "twisted farm food," from buttermilk pancakes to meatloaf and more,  the S'mores Mocha is the sweetest way to get your caffeine fix. Hash Hash A Go Go must really like the 'eat dessert first' foodie philosophy because this mug filled with all things chocolate, graham cracker and toasted marshmallow.
Not a bad way to wash down those chicken n' waffles, huh?!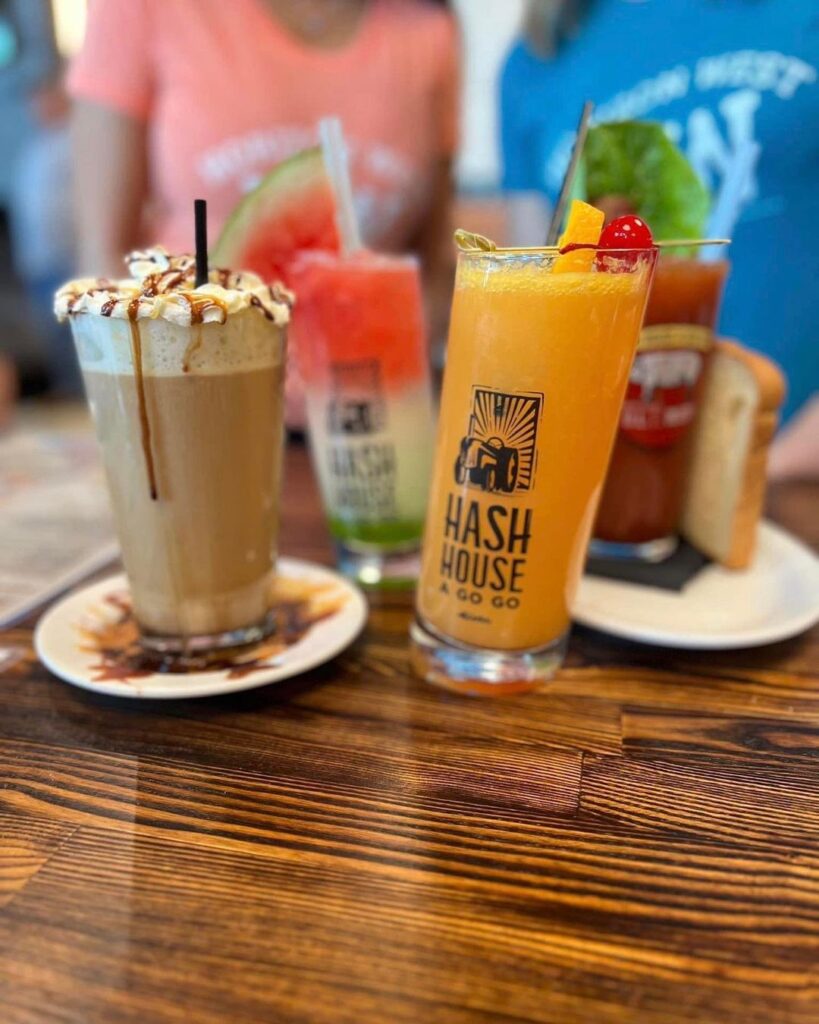 COLLEGE PARK
This neighborhood staple boasts live music, a bar and a massive jar of dill pickles. Nibble on smoked fish dip, pita pizzas, an array of sandwiches and fun DIY S'mores. Complete with all s'more ingredients, use the roasting sticks to perfectly toast marshmallows over a small hibachi-style flame.
2 ORLANDO LOCATIONS – ALTAMONTE SPRINGS & RESTAURANT ROW 
At this beloved date night location, savor fresh seasonally inspired menus prepared with rustic cooking techniques like brick oven roasting and open fire grilling which maximize natural flavors. Since chocolate is always in season, enjoy the Belgian Chocolate S'more, a mini-chocolate cake with chocolate mousse, chocolate chips, toasted marshmallow and chocolate-dipped graham cracker.
2 KISSIMMEE LOCATIONS
Far beyond the much debated pineapple and ham, this pizzeria rounds out a huge menu of one-of-a-kind creations. Just cheese just isn't the norm here! Aside from unusual, savory pizza pies, wings, pasta dishes and salads, the "Sweet Pizza" menu features more than a dozen choices, including the S'mores Pizza. Sink your sweet tooth into a pie piled with mozzarella, condensed milk, Ghirardelli chocolate, marshmallows and graham crackers.
ICON PARK
On a hot date night on International Drive, chill out with out-of-this-world milkshakes at Sugar Factory. While you can opt for a non-alcoholic version, the Campfire Spiked S'mores Milkshake is a boozy delight. Served in a tall, confection covered glass, the shake features coffee and chocolate ice cream blended with espresso, toasted marshmallow and a shot of whiskey, plus tons of chocolate and graham cracker bits.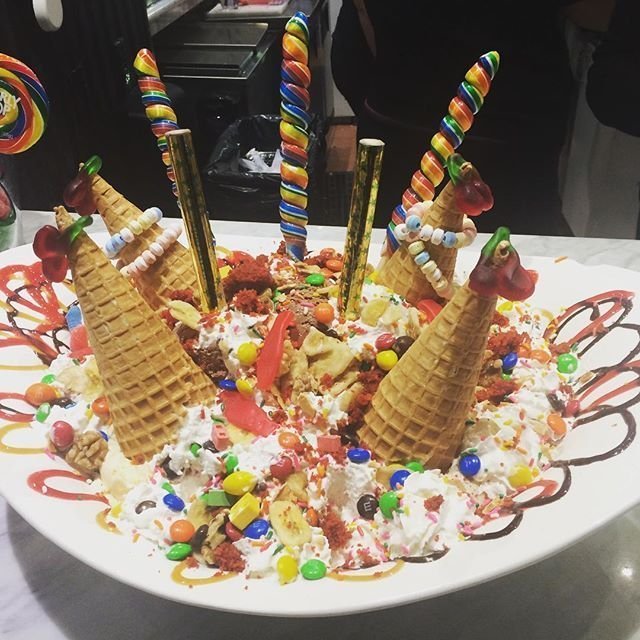 When you think about Nashville-style desserts, perhaps Goo Goo Candy Clusters, peach cobbler and sweet potato pie come to mind. But this music-lovin' venue and restaurant perfectly tunes into the campfire classic with its Southern S'more Pie. Tin Roof elevates the flavor with a pinch of cayenne pepper add to its chocolate ganache, with a brûléed marshmallow topping to boot!
DOWNTOWN WINTER GARDEN
For that delicious happy high with your honey, do hurry down to Sugar Rush Marshmallows, which offers both stand-alone marshmallows and s'mores. Run by wife and wife team, Julie and Jean Summers, this yummy company started at farmer's markets, progressed to the East End Market and, now, has both a storefront and a S'moresmobile (food truck). Since we eat with our eyes first, know that these gorgeous treats will have you drooling way before the "gentle clouds of soft puffiness" touch your lips.
You see, designed as vibrant multi-colored squares, there is nothing basic about the vanilla-flavored Rainbow S'mores. Explore more with the Churros in the Heart S'more, Caramel Macchiato S'more and Coconut Caramel S'more (aka Samoa).
WINTER PARK
If you want to shake date night up for National S'mores Day, head to Twisted Root Burger Co. This joint offers a plethora of signature toppings on traditional beef patties, as well as chicken, buffalo and Wagyu beef, plus exotic burger specials, like boar, camel, duck, elk, lamb, ostrich and rabbit. Whichever you choose, the homemade custard shakes are a must order. Try the Campfire S'mores Shake. 
RIVER RANCH
To fully savor the flavor of National S'mores Day, book a themed staycation at Westgate River Ranch and Rodeo, just about an hour and a half south of Downtown Orlando. It's one of the best places to go glamping or camping in Orlando (and nearby). The S'mores 'n Pours package includes two deluxe s'more kits and a bottle of Buffalo Trace bourbon, plus other resort amenities.
And even if you don't go for the package, you can usually find the makings you need for s'mores at the general store onsite. Each cluster of glamping tents, cabins, teepees, or covered wagons has its own communal campfire.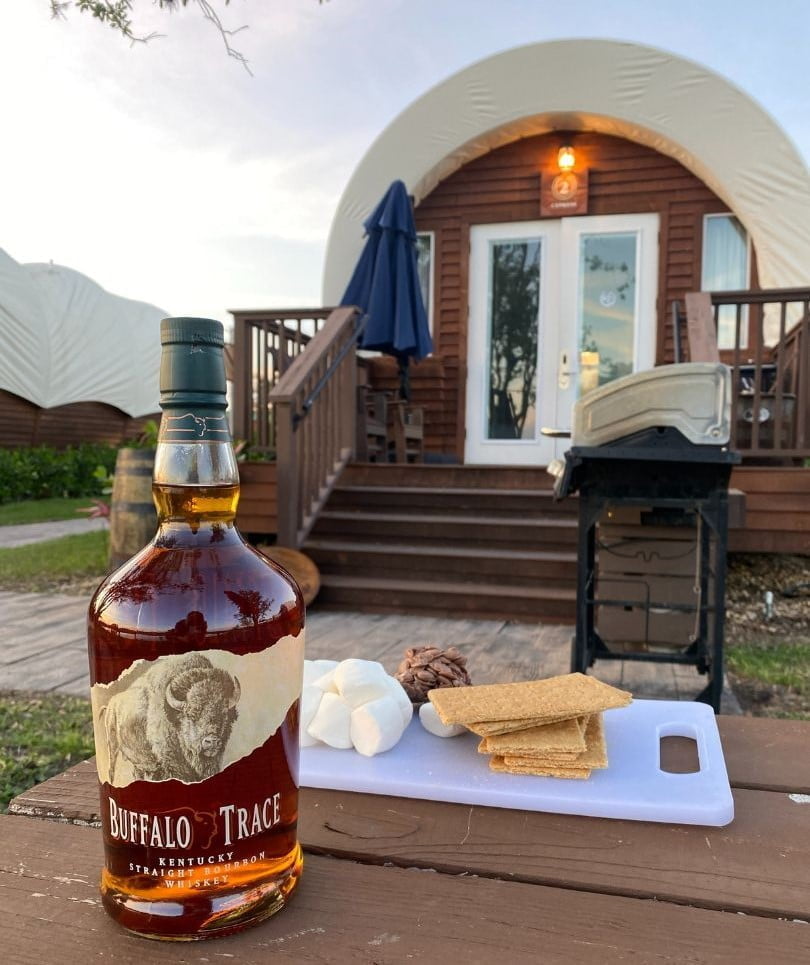 2 ORLANDO LOCATIONS – WATERFORD LAKES AND (SOON) WINTER GARDEN
I scream, you scream, we all scream for ice cream… (and crepes and waffles). That's right, White Rabbit Dessert Experience offers a really cool take on ice cream desserts. Try the I Want S'more, either served in a crepe or atop a waffle. It has white chocolate ice cream, graham cracker pieces, Belgium chocolates buttons, and chocolate and marshmallow sauces. 
SANFORD
Nathan and Jenn Clark, a confectionary cute couple, made a name for themselves by hosting Wondermade Marshmallow Workshops. Now, Wondermade has a storefront displaying its handcrafted marshmallows, ice creams and hot chocolates.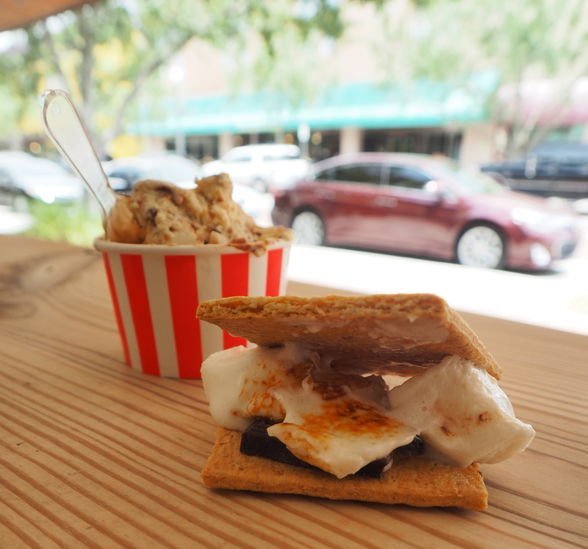 Pop into the shop or order a box of S'mores Marshmallows online. This dairy-free creation of superb chocolate, vanilla and graham cracker will melt in your mouth without the fuss of a campfire. Wondermade's storefront also sells an assortment of s'more related treats, like their signature S'mores Popsicle.
Also Try…