Few places in Orlando are as exciting as Universal Orlando. Two thrilling theme parks, an unbelievable water park, multiple resort hotels, and energetic CityWalk all add up to a great date night destination. So how do you choose the best restaurants at Universal Orlando for date night? It's all right here.
Updated May 2023 by Zoë Joiner.
Best Universal Orlando Restaurants for Romance
Vivo 
If you're looking for ambiance, Vivo Italian Kitchen has just that. Located in CityWalk, Vivo is the date night place for Italian food lovers of all kinds. They house traditional Italian dishes as well as more creative dishes like Black Truffle Risotto, Squid Ink Pasta or Lamb Ragu. 
An extensive wine list awaits to be explored, whether you're a wine connoisseur, or not. The restaurant is set up so you have views of the kitchen and chefs creating all the scratch-made pasta you could ask for. Between the lighting, decor, and top-notch service you can't really beat this location. It's the perfect escape from a theme park atmosphere for a date night with your beau. 
Bigfire
Bigfire is one of the best date night places in CityWalk for romance. Savor creative cocktails and cuisine in a comfy, cuddled-up-by-the-fire atmosphere. 
Their menu consists of a wide array of American dishes with a fun spin – fire! You can see the wood-fire grill as you walk into the restaurant. It was designed specifically for Bigfire and allows the guests to see the food being cooked. 
Even some of their cocktails are smoked! The Smoked PB&J Old Fashioned is highly recommended. The cozy bar area often has walk-up seating available and you can order the full menu. They also have seats outside and a firepit to hang around if you want to grab a drink to-go. Don't forget to end your date night with make-your-own Campfire S'mores.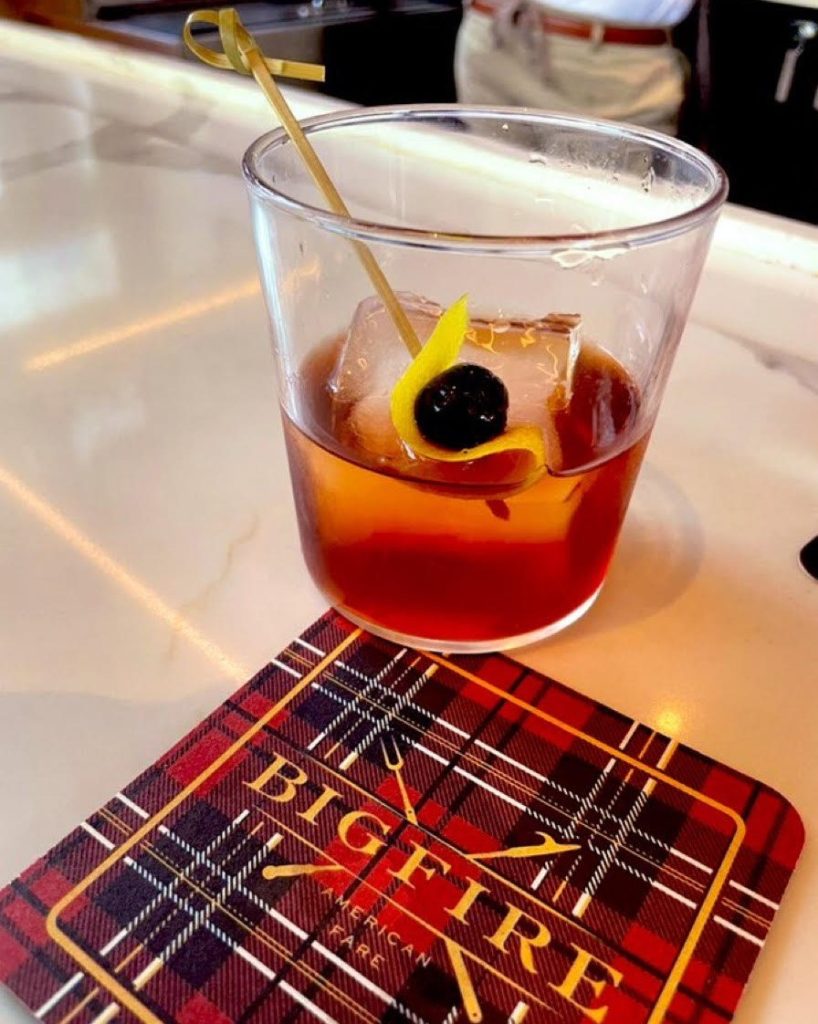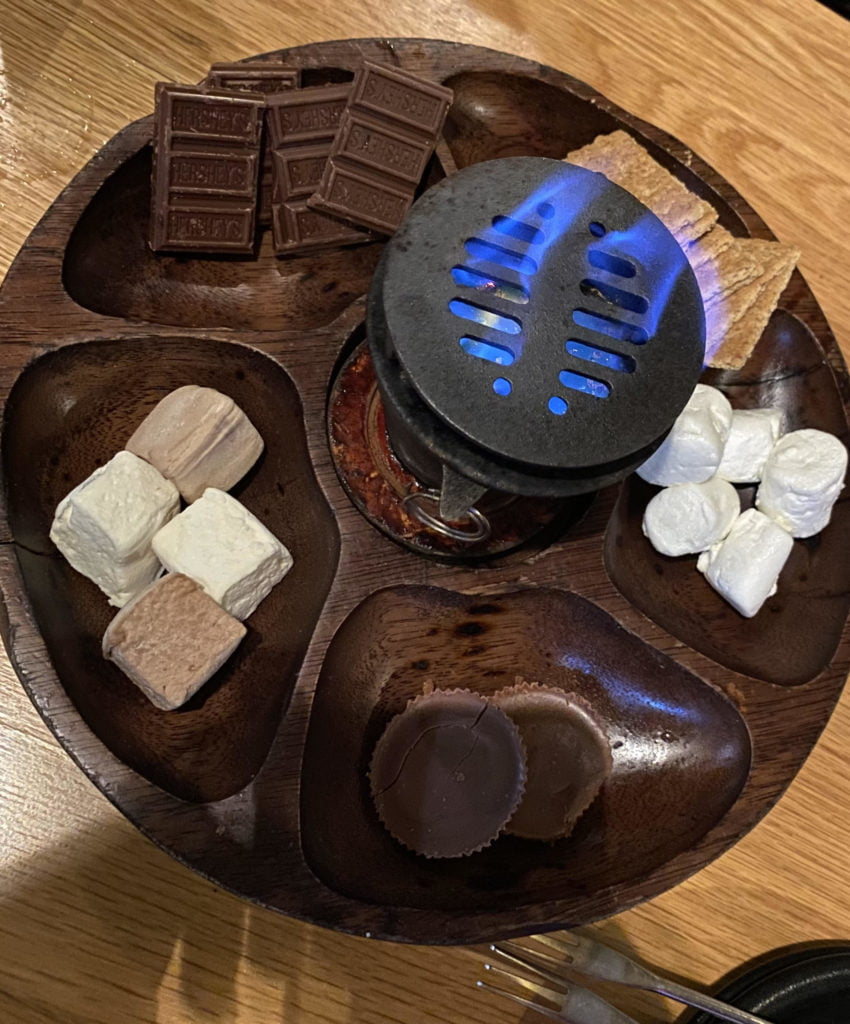 By the way, if you're looking to have the ultimate date night, book a reservation for a fun experience at Universal's Great Movie Escape – which is also at CityWalk.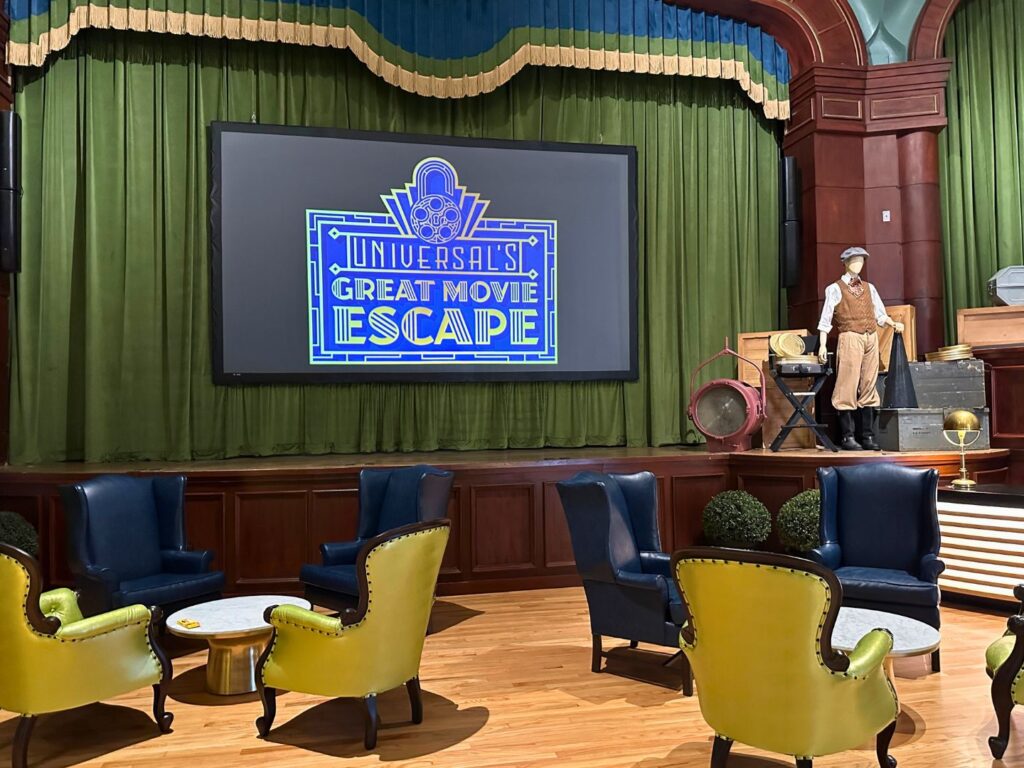 The Palm at Hard Rock Hotel
Located in the famous Hard Rock Hotel is The Palm. This fine dining restaurant is known for its caricature covered walls, which are based on the original location in New York. The Palm is also widely well known for its Nova Scotia Lobsters and prime meat selection — but has something for everyone. 
The sophisticated atmosphere, with dark wood throughout the restaurant, white linen tablecloths, and exceptional wine list all exude romance. The service is impeccable and you'll likely leave full and delighted. It is on the pricier side of this list, but most would say it's well worth the experience. Also, you can't go wrong ending your evening with the 7-layer chocolate cake! 
Bar 17 Bistro at Universal's Aventura Hotel
Alternatively, Bar 17 Bistro at Universal's Aventura Hotel is a marvelous date night experience. This rooftop restaurant at Universal Orlando offers views that will leave you breathless as you overlook all of Universal as well as parts of International Drive. If you time it right, you can catch glimpses of fireworks. 
Bar 17 Bistro does not have online reservations. It opens at 5pm daily. (407) 503-6000
The Thirsty Fish at Loews Portofino Bay Hotel
Embark on a romantic evening at Loews Portofino Bay Hotel, where you'll feel like you've been whisked away to the romance of Italy. The Thirsty Fish is a great pick for drinks including champagne, wine, beer, and craft cocktails. Nibble on delicious appetizers and shared plates as you soak up the romantic atmosphere at this casual and inviting bar. If the weather is right, sit outside and enjoy the view of the water.
Seasonal Food & Beverage Specials! Loews Portofino Bay Hotel has rotating, seasonal specialty menu items and cocktails. Their current, Spring 2023 specials are sure to Laissez les bon temps rouler, as they say in New Orleans, "let the good times roll!". Featuring NOLA's signature Boulevardier cocktail and Cajun jambalaya pasta in celebration of Mardi Gras.
The Thirsty Fish does not have online reservations. It opens at 5pm during the week and 1pm on the weekends. (407) 503-1200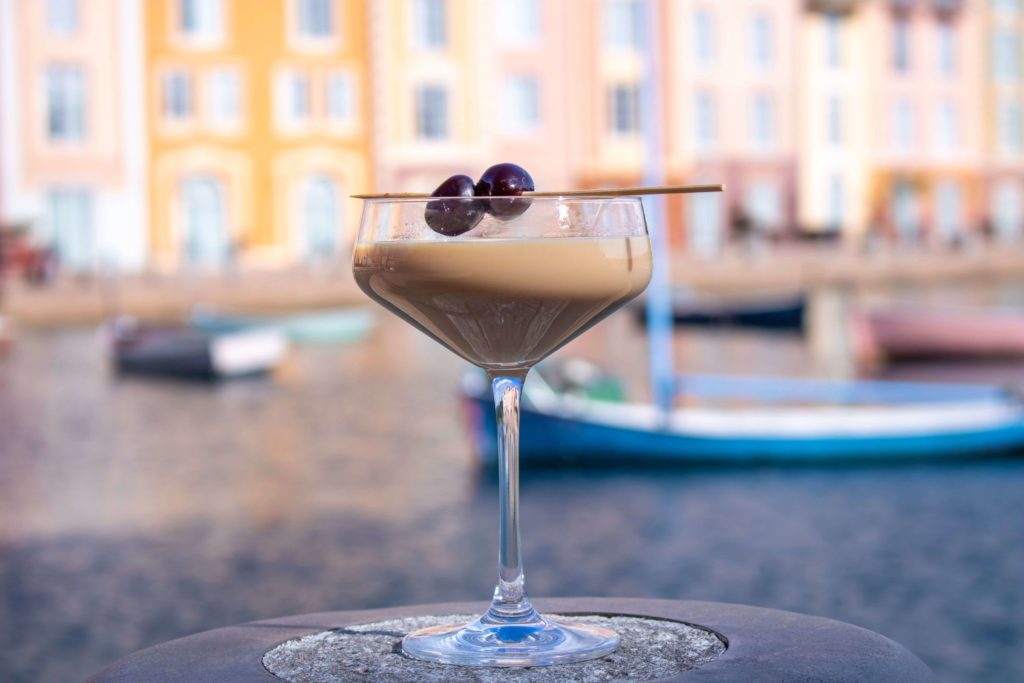 Related: Plan a Getaway with Your Pup at These Dog-Friendly Hotels
Best Restaurants at Universal Orlando for Drinks
The Cowfish Sushi Burger Bar
 As you walk into CityWalk one of the first places you'll notice is  The Cowfish Sushi Burger Bar, it stands out with its colorful mural on the exterior. Its artistic, eclectic style makes it a great addition to the CityWalk skyline. 
The restaurant is actually on the top floors of the building and has a great patio area that overlooks all of CityWalk. The Cowfish offers a creative, albeit lengthy, menu that is sure to have something for everyone. Like the name, the menu has gourmet burgers, sushi, and a Cowfish one-of-kind Burgushi, a burger sushi hybrid. The wine list is good, there is a nice selection of draft beers, but the star is the list of yummy cocktails. Cocktails range from Old Fashioneds to sweeter choices like the Grapefruit Smash. Its namesake cocktail is a fishbowl drink, perfect for sharing. 
Toothsome Chocolate Emporium
If you've ever done any research or internet searches of CityWalk, you probably have seen the incredible, kooky, milkshakes and drinks served at  Toothsome Chocolate Emporium. It's smack-dab in between Islands of Adventure and Universal Studios. It is Orlando's own gorgeous, industrial, steampunk-esque chocolate factory. 
Home to incredible milkshakes, creative cocktails and food dishes that are perfectly photo friendly for the "gram." Toothsome has quite an expansive menu so it is easy for even the pickiest of eaters to find something. Most of the entrees are American cuisine with its own Toothsome twist. 
While they do have a creative cocktail menu (see the Old Chocolate Fashioned and Chocolate Cherry Mule), you must order one of the milkshakes. The flavors are imaginative, like Espresso Buzzz and Cookie Jar. Ask for two straws and sip away.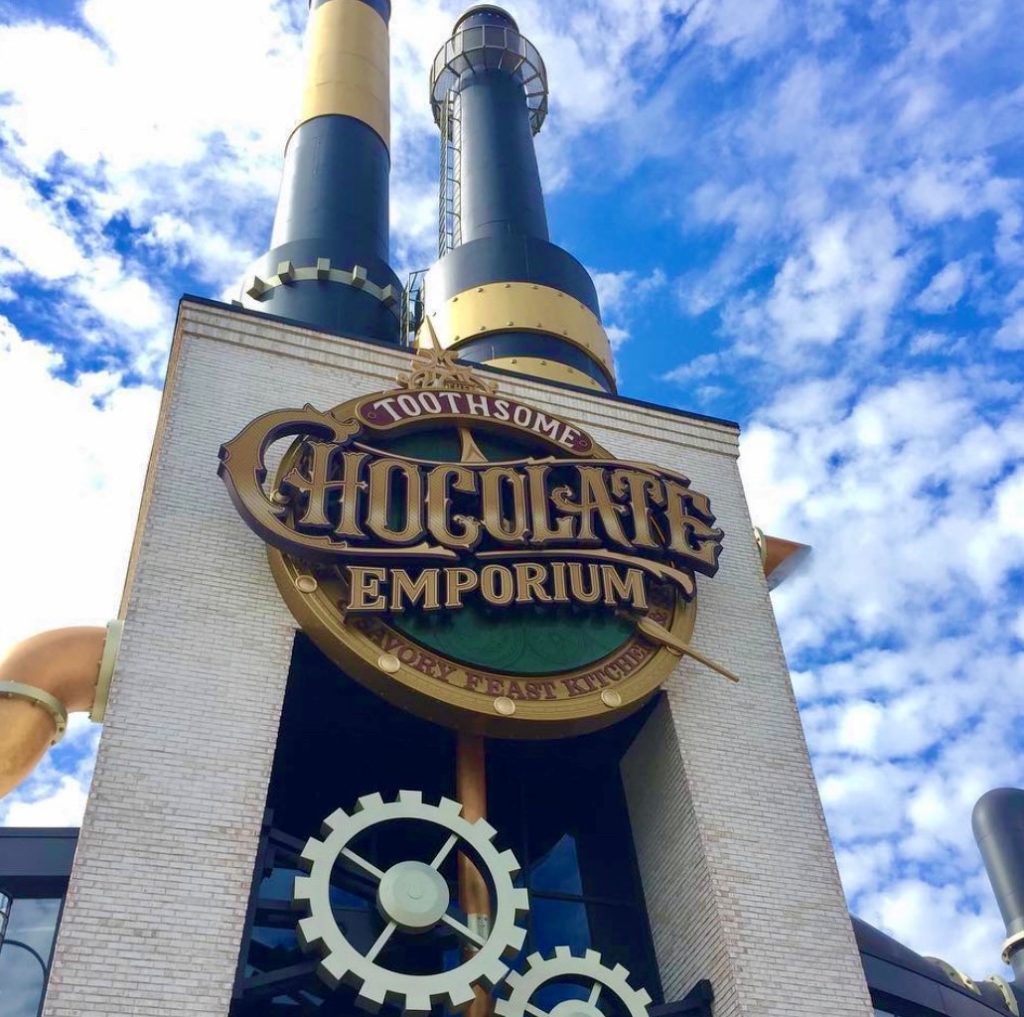 Jimmy Buffett's Margaritaville
While you're visiting Universal, you may as well fly into the Lone Palm Airport Bar and drop into Jimmy Buffett's Margaritaville, also located in CityWalk. 
If there's any place to grab a drink, why not a margarita at Margaritaville? As you can imagine, the drink menu has a lot to choose from, they have plenty of types of margaritas, mixed drinks, and beers. If you belly up to the bar you can hear the music, and see the giant margarita volcano that erupts to fill the blender. 
You can get a Margarita flight which is a great move for the indecisive. Margaritaville is quite a large restaurant and it's usually one of the easiest to get seating at, especially on the outside patio area (Porch of Indecision). The food is island-inspired cuisine and great to grab a few different appetizers or entrees to share! 
Best Casual Restaurants at Universal Orlando
Antojitos Authentic Mexican Food 
If you're looking for a casual spot to grab some pretty fantastic Mexican cuisine, Antojitos Authentic Mexican Food is the place. The restaurant is so vibrant and stands out perfectly in CityWalk. It is a tapas-style, Mexican street food restaurant. You can order a variety of food to share. The food is all freshly made, they have table-side-made guacamole that is worth the visit alone. 
Additionally, the bartenders are all tequila-trained mixologists that you can visit at the gorgeous bar. They also often have live music or entertainment. Don't forget to save room for Café Con Leché and the Spicy Chocolate Crunch Ice Cream! 
Bend the Bao
Also located in CityWalk is Bend the Bao. This quick service spot is located on the upper part of CityWalk and has great views, and a good breeze. It's a nice respite when all the sit-down areas are crowded. It has some umbrella-covered high-tops and some counter seats so you can view the team making your food. 
This outdoor corner is great to sit and chat on a lunch date or grab something delicious before heading into a movie night. We tried the Kimchi Chicken and Beef Brisket. You can get two for around 12 dollars, they are small portion sizes, though. A small selection of beer, wine, and saki is also available.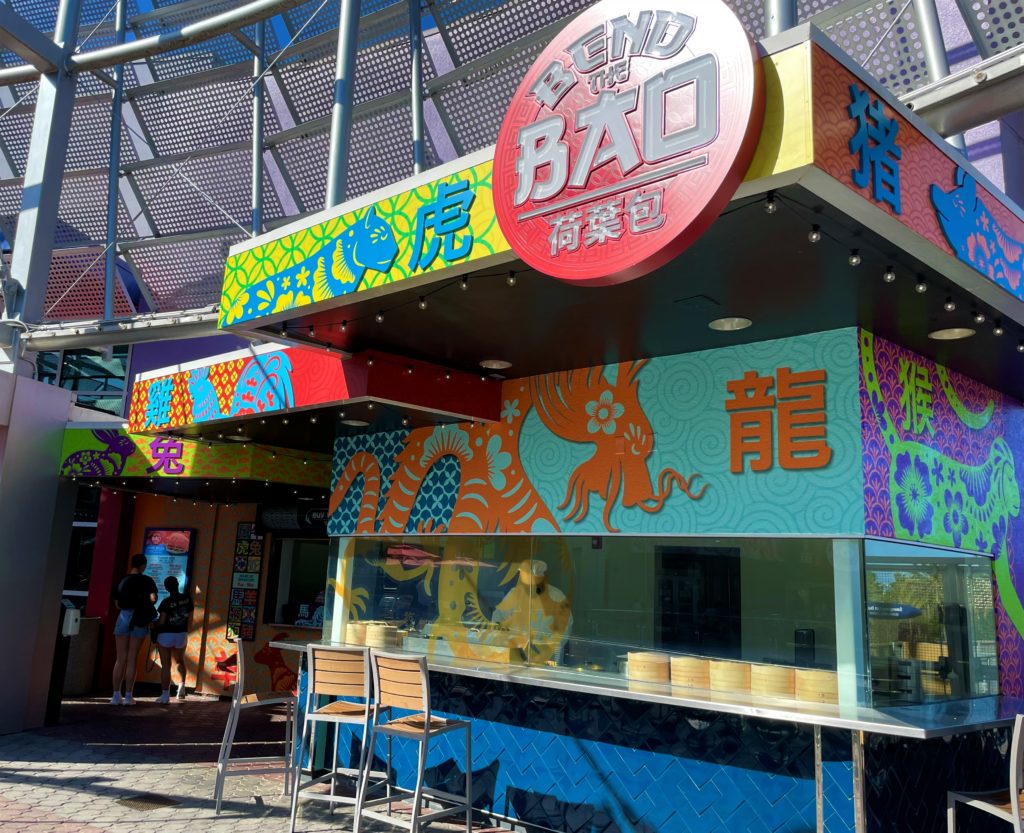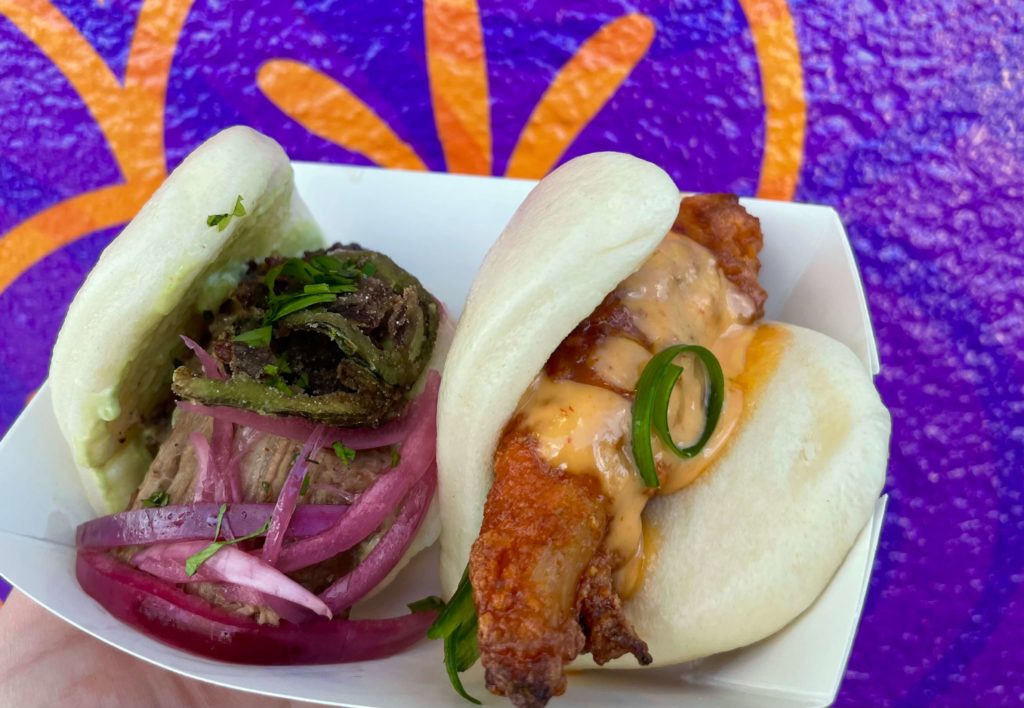 Are reservations needed for restaurants at Universal Orlando?
Yes. The ability to walk-up and dine at Universal Orlando restaurants is becoming extremely limited. If you want to enjoy dinner at Universal CityWalk you might be able to squeeze in as a walk-up, but it is less likely than it used to be. Instead, make a dining reservation well in advance.
No deposit is necessary to book a Universal restaurant reservation. The restaurants inside the two Universal Orlando theme parks only take reservations 30 days in advance. Most of the CityWalk and hotel restaurants accept reservations 90 days out.
Related: How to Have an Epic Date at Universal Orlando Mardi Gras 2023
Know Before You Go
You can sneak up walk-ins, especially in the bar areas, however, the wait times can be lengthy at park close and peak times

Make sure to double-check all the hours for the locations you want to visit

Parking at Universal/CityWalk parking garage is free after 6pm, otherwise is approximately $27/car

If you park at a resort to try one of the many restaurants, you can get your parking validated in most signature restaurants

Don't forget to use your Universal Annual Pass for discounts, just ask
All images by Jodi Caballero. Feature image of Bar 17 Bistro provided by Universal Orlando Resort