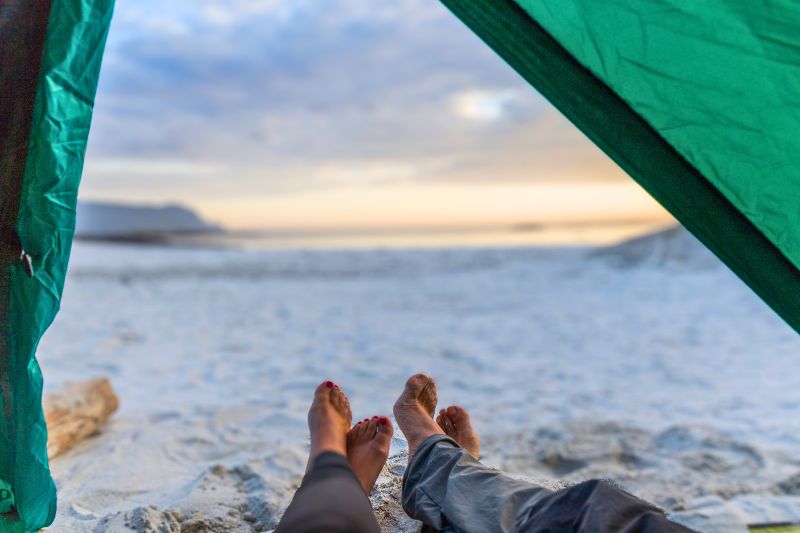 Nothing beats a day at the beach; except, maybe, a night at the beach! There are many beautiful campgrounds along the coast of Florida… so you can keep those beach vibes going strong alongside your favorite beach bum. Each seaside site has its own unique personality to soak up.
Depending on the campground's rules and regulations, your coastal escape may include bonfires, sunrises, the calming sound of crashing waves and more. Explore our date night advice to choose the best beach campground for your romantic and rustic rendezvous.
These beachy spots are just some of our favorite romantic weekend getaways near Orlando. And if you can't get enough of nature, then visit our glamping and camping near Orlando guide.
Florida Campgrounds on the Beach
Beach Camping Basics
Camping couples that plan ahead are happy campers. Most campgrounds on the beach are located in semi-sheltered areas behind the dunes rather than directly on the open shoreline — for both your safety and that of the wildlife. Yup, sea turtles get first dibs for sand slumber. Although some sites do allow you to pitch a tent right where you spent the day sunbathing on the sand. To start planning:
Decide on your shelter preference – from primitive tents to luxurious glamping cabins.
Making reservations. State and national parks are a good place to start. Many campgrounds have a reservation system similar to that of a hotel — just click and book.
Study up on the onsite amenities so you know what to expect.
Toss your beach gear into your camping bag (see checklist below).
Nearby Campgrounds on the Beach
Beach Campgrounds in Central Florida
7611 S. Atlantic Ave., New Smyrna Beach | (386) 428-3384
If you want to get off the grid – well, within an hour or so drive – Canaveral National Seashore is a sure way. More than a dozen primitive island camping sites can be reserved by Mosquito Lagoon, However, you'll need to take your own boat, canoe or kayak. Note that, in addition to reservations, a permit is also required.
Jetty Park Campground
9035 Campground Circle, Cape Canaveral  | (321) 783-7111
This small campground is situated beside the Port Canaveral Inlet. Each campsite is within a block of the shore, so definitely plan to bring (or rent) fat-tire bikes to cruise along. Speaking of cruise… yes, most people flock to Port Canaveral to set sail on a cruise ship; but you can drop anchor at Jetty Park in a tent, RV or tiny cabin.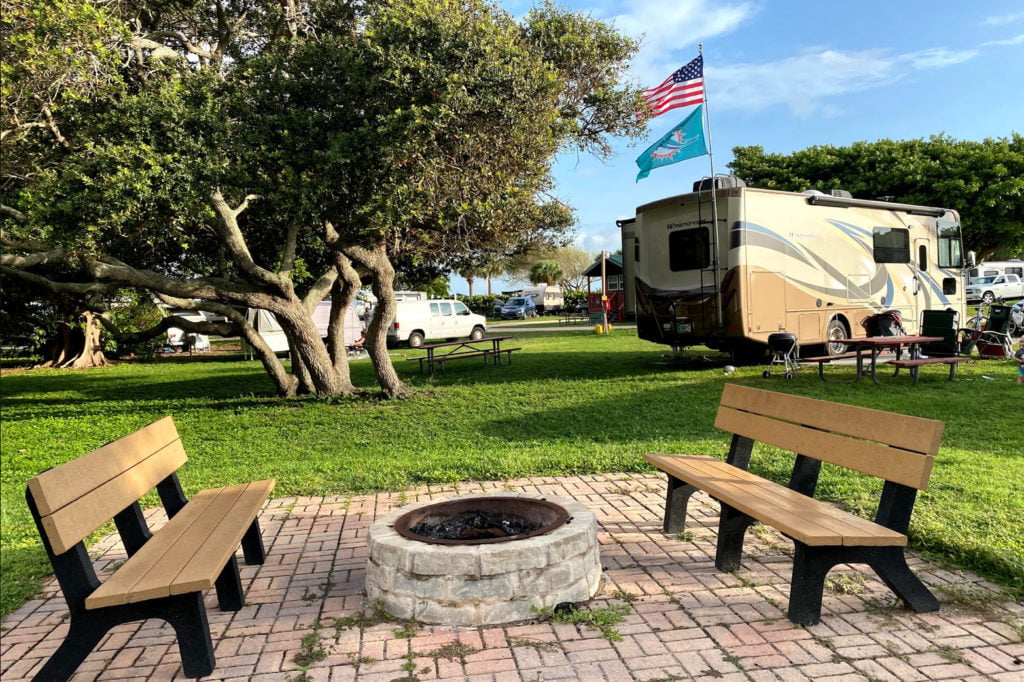 We love camping near the beach at Jetty Park. The beach campground is very popular so you'll need to plan way ahead and cross your fingers you can get a reservation. You may also want to check to see if any last minute cancelations lead to last minute openings.
Pass the time together playing shuffleboard, horseshoes, fishing and, then, grilling your fresh catch. There is an onsite bathhouse to freshen up. Be sure to read our firsthand experience camping at Jetty Park before you show up.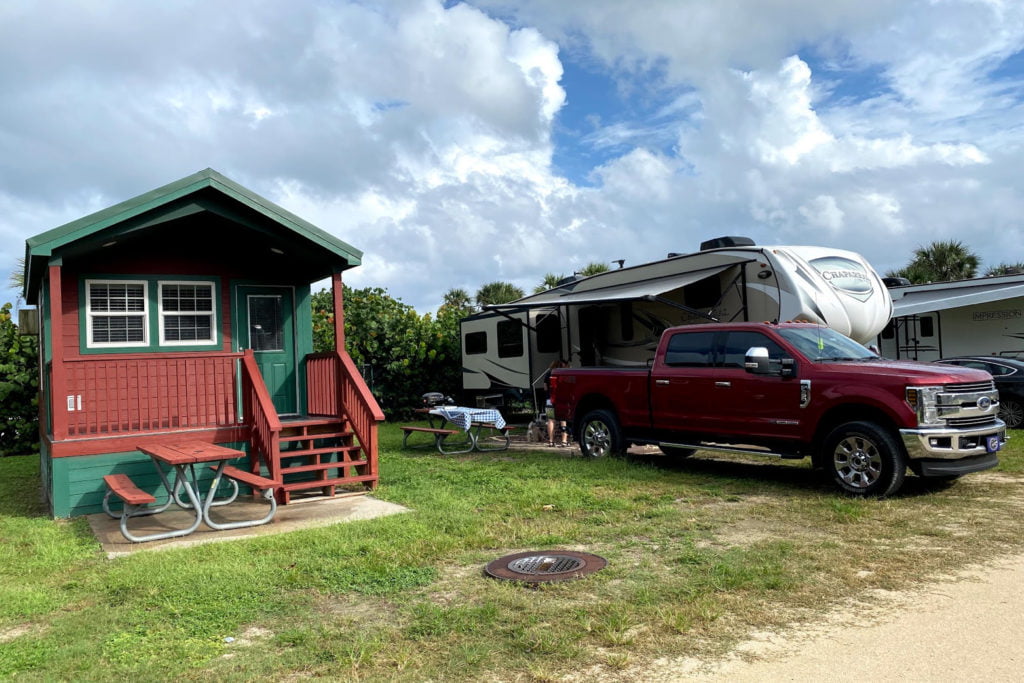 Makinson Island Conservation Area
Lake Tohopekaliga, Kissimmee | (407) 742-0200
Who knew island time was within the same time zone of our hometown of Orlando?! Makinson Island, managed by Osceola County, is one of three islands in Lake Tohopekaliga. While it's not far from the tourist district surrounding Walt Disney World, there definitely are much smaller crowds. It's only about one mile from the mouth of Shingle Creek so paddling there is totally doable. It's also a permit-only primitive camping site, so leisure hiking likely will top your island itinerary. If you want to surprise your lovely camper with a unique staycation, absolutely pack your bags for Makinson Island.
Also Try:
DISCOVER: Plan a Visit to the Space Coast
Beach Campgrounds in Jacksonville Area & North Florida
Little Talbot Island State Park
12157 Heckscher Dr., Jacksonville | (904) 251-2320
Little Talbot Island State Park has scaled back its camping opportunities because this undeveloped barrier island has experienced significant erosion. Thus, it's best to book a beach camping getaway (tent or RV) here before it's too late. Plan to bike, walk along boardwalks, marvel at driftwood, swing in hammocks and, most importantly, hunt for seashells. Leashed dogs are allowed and, for families, there is a playground. Showers are available.
4125 Coastal Hwy. (A1A), St. Augustine | (904) 824-1806
When visiting the historic city of St. Augustine, couples often choose romantic bed-and-breakfast accommodations. But, to get really close to the Atlantic Ocean, couples can stay at North Beach Camp Resort. This place invites guests to just dip their toes into the camping experience – with the opportunity to fully plunge into blue waters. For those seeking more than a sleeping bag, note that comfy cabins include beds, kitchen basics, a bathroom, porch and… here's a game changer… AIR CONDITIONING.
Also Try: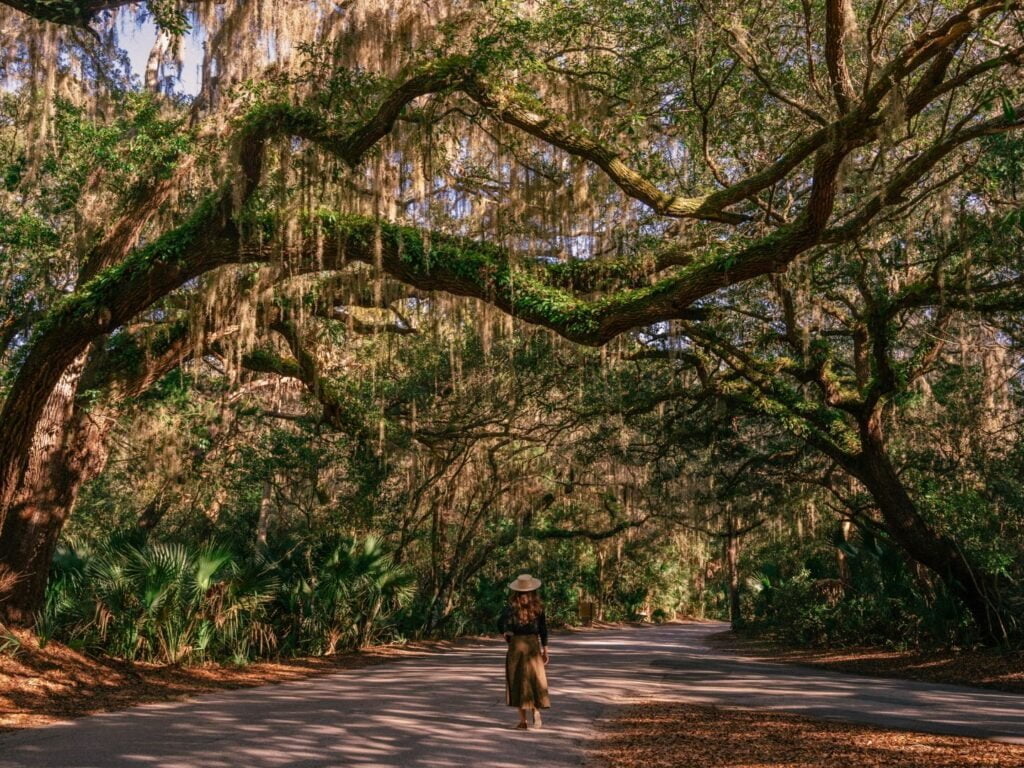 DISCOVER: Romantic Weekend Getaway to Amelia Island and Fernandina Beach
Beach Campgrounds in Tampa Bay & Southwest Florida
3500 Pinellas Bayway S., Tierra Verde | (727) 582-2100
The campground at this award-winning beach is in high demand with options for tents, vans, pop-up campers and trailers. So, while you may have to wait for a reservation slot, it's worth it. Fort DeSoto Park has a couple of hundred campsites, each of which has picnic tables, grills, water and electricity. Plus, the grounds have updated restrooms with showers, laundry facilities and a camp store. The East Beach and North Beach both have water access for swimming, with lifeguards present during certain times. Minimalist couples may prefer the permit-only primitive camping on Shell Key Preserve.
Offshore island, Dunedin | (727) 469-5918
With turquoise water gently hitting the pristine white sand, Caladesi Island State Park is a gulf coast gem that's accessible by boat only. And the same rule applies to campers. Meaning, sorry tent campers, overnight boat camping is the sole option at the marina docks. Island amenities include restrooms, a picnic pavilion with grills, shower stations and the Caladesi Café for simple snacks and gifts.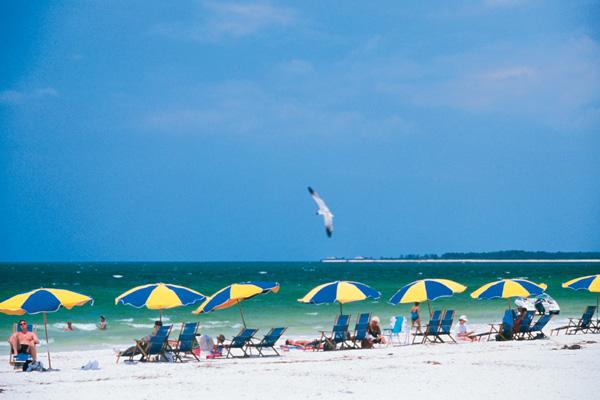 Anclote Key Preserve State Park 
Offshore, Tarpon Springs | (727) 241-6106
Book a boat to reach Anclote Key, an 11,000+ acre island paradise just a few miles off the coast of Tarpon Springs. The biggest draw is its picturesque lighthouse, constructed in 1887. For a quiet night under the stars, camping couples can pitch a tent on the north end of the island. It's important to note that there is no running water so you have to bring in (and out) everything that you need. If a day trip sounds like a better fit, opt for the ferry service.
Also Try:
DISCOVER: We went Glamping at Timberline Tampa!
Road Tripping to Campgrounds on the Beach 
Beach Camping in South Florida
Biscayne National Park, Homestead: Just beyond the hustle and bustle of Miami, retreat to Elliot Key and Boca Chita Key, two peaceful islands where experienced campers can immerse themselves in the subtropics of the Sunshine State. It's accessible via boat only but, once you arrive, you'll be at a perfect beach haven for fishing, snorkeling and all day dating with your love.
Flamingo Campground, Homestead: If you're ready to say 'See ya later, alligator' to city living for a moment, try camping here at the southernmost tip of Everglades National Park.
Peanut Island, Riviera Beach: If you're nuts about camping with your partner, this little nugget of an land near Palm Beach is delish. You can take the island shuttle there but note that there's no electricity once there.
Beach Campgrounds in the Florida Keys
Dry Tortugas National Park, Key West: If the southern-most point isn't far enough, go another 70 miles away from civilization to camp at the coveted Dry Tortugas National Park, best known for Fort Jefferson.
Curry Hammock State Park, Marathon: You don't need to travel all the way to Key West for epic beach camping. Located in the middle of the keys, this park boasts firepits, ranger-led tours and tons of water sport fun.
Bahia Honda State Park, Big Pine Key: Bahia Honda actually has three different campgrounds so you can pick tents, RV or cabin camping. No matter what, the scenic sights of these sites are spectacular. 
Beach Campgrounds in the Florida Panhandle
Topsail Hill Preserve State Park, Santa Rosa Beach: Fancy Camps is a glamping company that handles everything for couples! When you're ready to go on a road trip to the Panhandle, Fancy Camps is the most romantic way for beach camping. A booking includes a quality tent, bed with linens, rugs, end tables, lamps, seating area with table, heating/cooling unit, picnic table, fire ring with attached grill grate, firewood and more. So good!
Also Try:
Packing Essentials for Beach Camping
A camping trip can be as romantic as any other type of couples' getaway. A lack of preparation, however, could turn your wild excursion into a relationship survival scenario. So, don't get hangry, cold or lost without a campsite map. Make sure you pack all essentials to remain happy campers without wild mishaps. Essential items may include sunscreen, lightweight clothing, swimsuits, bug repellent, beach chairs, a stocked cooler, campfire food, lanterns, hand-iwipes, etc.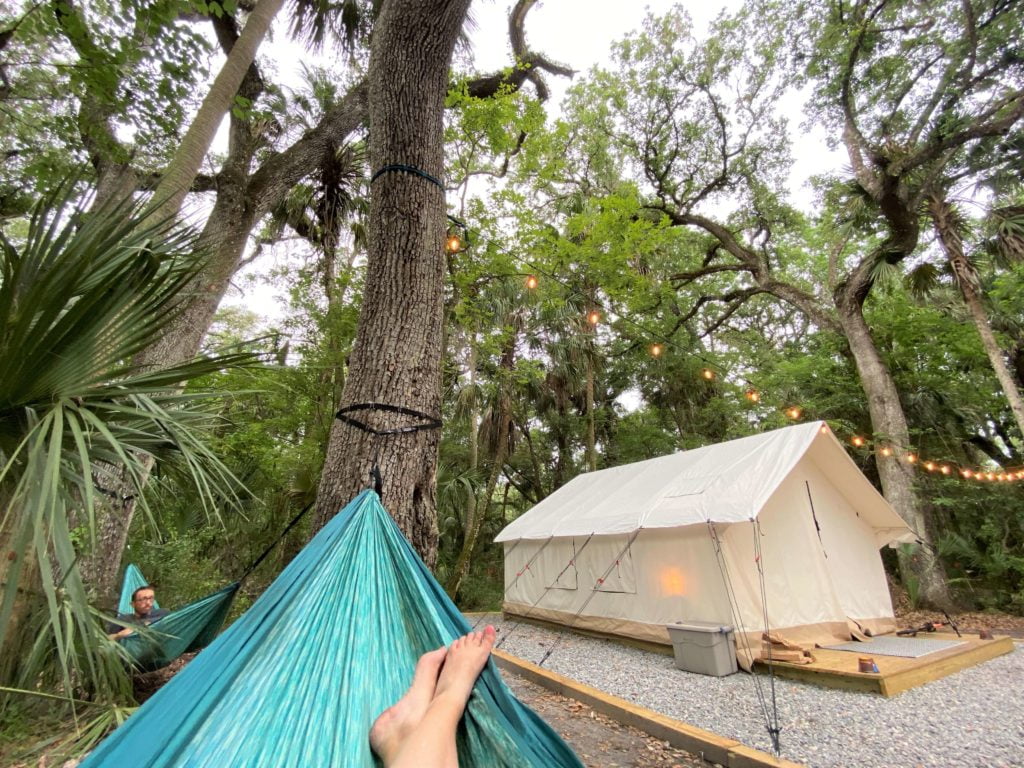 Additionally, the following list is by no means a complete camping checklist, but rather some more fun couples' camping gear to consider packing:
Tell us where you like to beach camp on Twitter, Instagram and Facebook. And discover more campgrounds at Reserve America, Kampgrounds of America, Camping USA, Recreation.gov and other camping websites. Happy camping, ya'll!