Greater Orlando has more than 40 bike trail options that collectively total over 250 miles of paved, off-street biking. Bicycle tours can pave the way to adventurous dates for couples! Freshen up your standard go-to date with a two-wheeled tryst in the seasonally fresh air. Our guide to Orlando's Best Bike-Friendly Dates covers everything from easy-breezy leisure trips to challenging tours that might just leave you out of breath.
Orlando's Best Bike-Friendly Dates
1. LIMO CYCLE – A BICYCLE BUILT FOR 15
Limo Cycle offers an 8- to 15-passenger, pedal-powered party bus (led by a designated tour driver) to explore beautiful Downtown Sanford. This is definitely one of Orlando's best group date experiences! The Limo Cycle is equipped with a stereo system, personal cup holders, large ice chests, misting fans and pedal assistance (for when you get too tipsy – um, I mean tired).
Choose from a variety of tour options, with add-ons like brewery tours, trivia, scavenger hunts and more.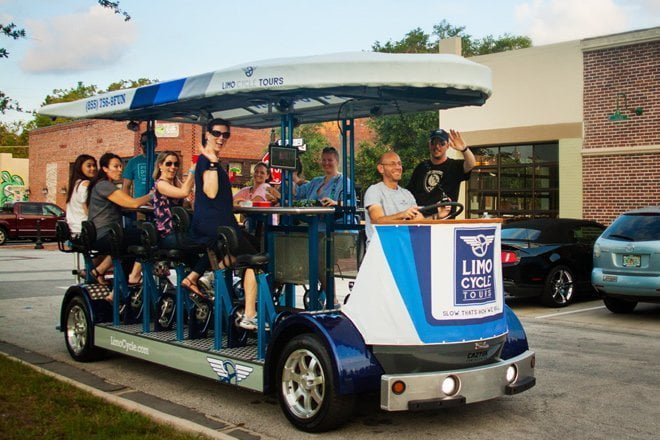 2. Magical Bike Tours with Regino Bike & Co
Regino Bike & Co. offers four different bike tour choices. The Winter Garden to Clermont (SugarLoaf Mountain) tour is a phenomenal way to explore Winter Garden and Clermont – two local favorites. 
A bike tour at Disney? Take the apple of your eye on the sweet Tour de Pineapple. This ride wanders around Walt Disney World with a Disney expert. You'll discover that the magic absolutely extends past the park gates and onto this bike route which winds around the back roads near the resorts and passes the entries of the parks.
The best part of this tour, however, is the mid-ride stop at the Polynesian Resort to indulge in a famous Duo Pineapple Float. So flavorful and refreshing! This ride (a minimum of 35 miles) is geared toward intermediate fitness cyclists with road traffic experience. 
IMPORTANT NOTE – This tour does take place on busy roads and should only be requested by highly experienced bikers.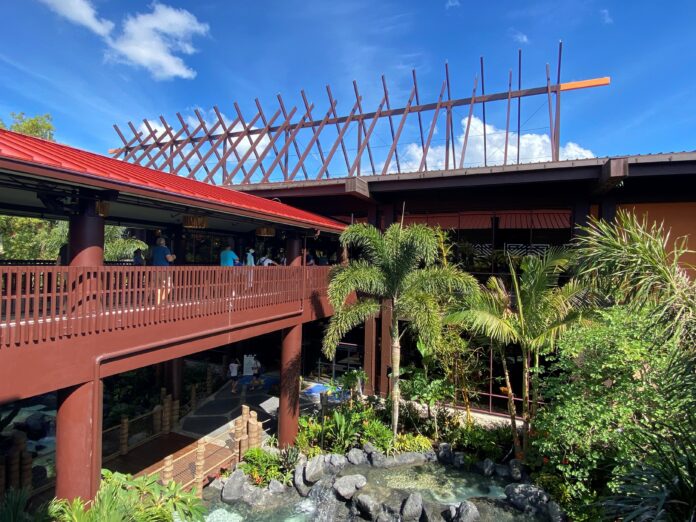 3. West Orange Trail Bikes
West Orange Trail Bikes & Blades offers tours of multiple trails in the area, including the 24-mile West Orange Trail, which is Orlando's longest paved rail-trail. On the trail, explore quintessential southwest Orange County as you ride past orange groves, a butterfly garden and a historic train depot. Perhaps take a pit stop on Plant Street in Winter Garden to visit charming boutiques and restaurants.
On the company's Celebration Tour, discover the charm of the pristine Disney-inspired town that boasts a quaint, brick-paved community center with adorable shops and eateries beside a relaxing lake. Or, opt for the Historic Downtown Orlando Tour, where you'll take to the City Beautiful's tree-lined, brick streets alongside a Historic Preservation Board expert to get a unique inside perspective on your hometown.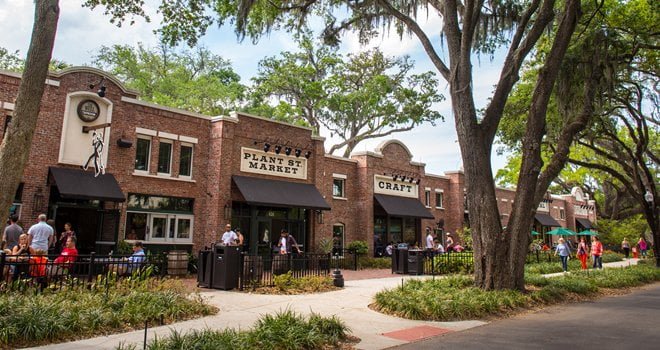 4. ORANGE YOU GONNA SHARE? Bike Share
Orlando's bike (and scooter) share program allows leisure cyclists to easily hop on a bike or scooter with a simple mobile app rental reservation. On your Sunday Funday, cruise around Lake Eola, hit the farmer's market and brunch in Thornton Park. Lime is another bike share option.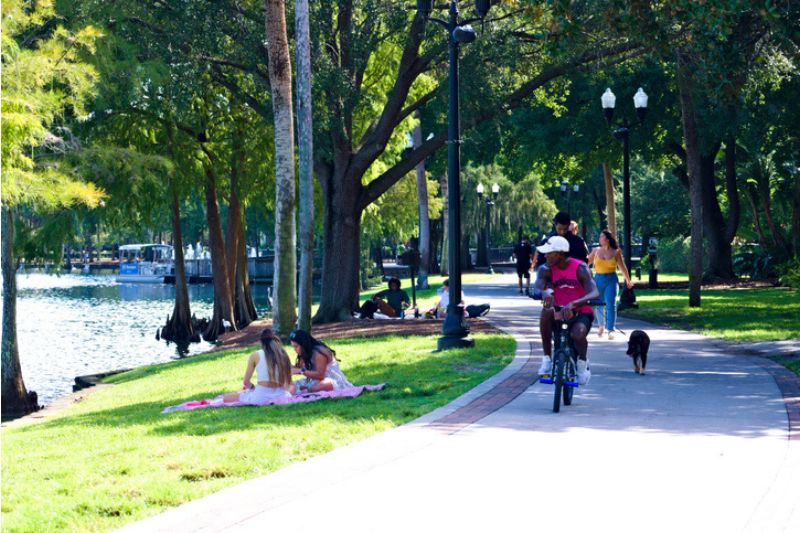 5. SLOW AND STEADY in CELEBRATION
Prefer to take things slow with your love? Head to the whimsical town of Celebration, just south of Orlando. Tour Celebration offers rentals for DIY bike-friendly dates. These self-guided tours are slow-paced and hill-free with seven sensational miles to explore. Bikers often spot deer and other beautiful creatures.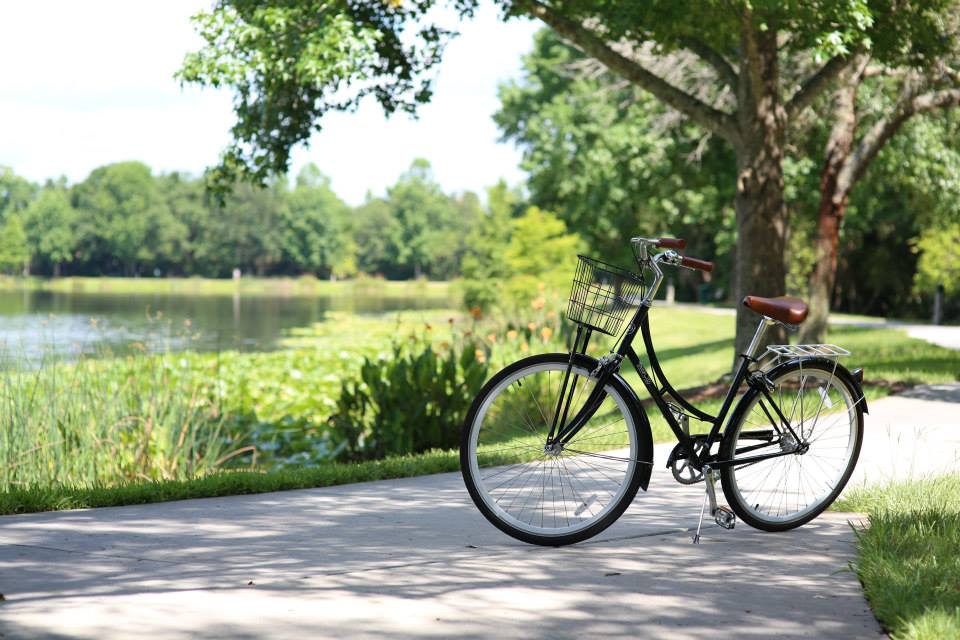 6. Orlando Critical Mass
Orlando Critical Mass is the "world's largest monthly bike ride" that helps to promote awareness of alternative forms of transportation in the Downtown Orlando area. The gathering occurs at Loch Haven Park on the last Friday of the month and aims to "promote peace and harmony between bikes and cars to share the road."
This fun, casual ride helps riders gain confidence traveling with traffic and also coordinates special-themed rides. After ringing the bike bell, cyclists typically ring in the night with a post-ride celebratory beverage at a local hot spot.
Bonus idea: If you're in Seminole County, Longwood Critical Mass is a great idea, and they finish up at Alestone Brewing!
7. Rent Bikes at Hontoon Island State Park
Head to an island that's also a Florida state park, and it is free to visit! Rent bikes or bring your own, as long as you can manage to get them on and off the free ferry to Hontoon Island State Park (it's a short five minute ride). Bikes are available for rent at the park, though they can be a little rustic.
Once on the island, head for Bear Tree Landing, home of one of the largest oak trees on the entire 1,600 acre island. Initially, the hard-packed dirt trail will prove easy to navigate. Once you pass the camping area it may take more effort to pedal through the large pine scrub area. The effort is worth it.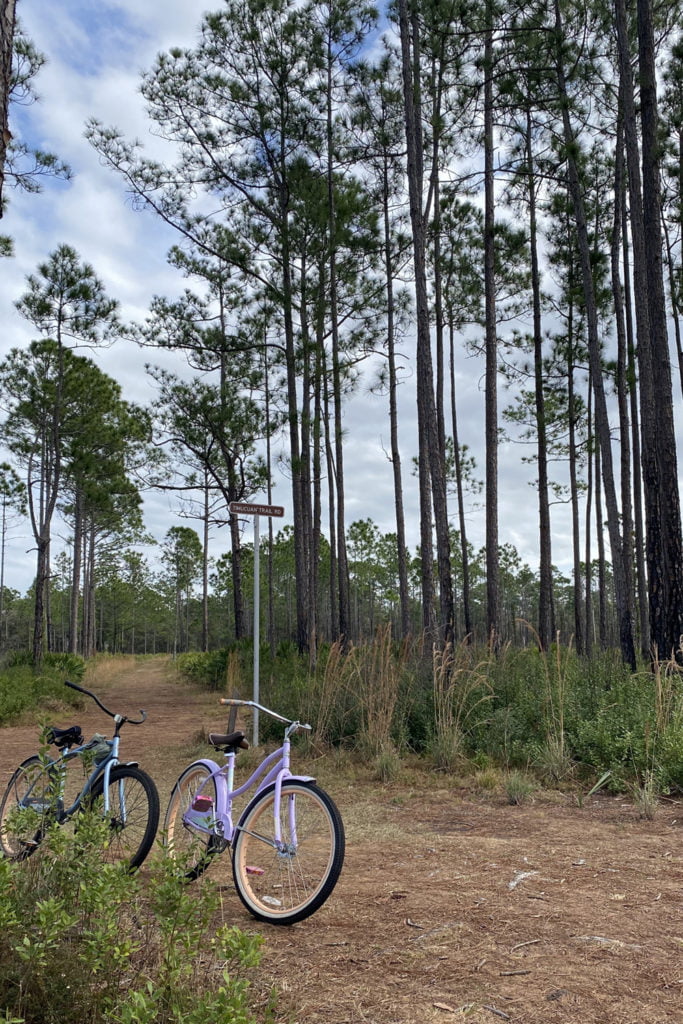 8. Bike-friendly Dates for BEACH DAYS
Trade in your go-to beach flip flops for comfy sneakers because Florida's only Fat Tire Bike Tour on the Canaveral National Seashore is a must-do. This guided trek, operated by BK Adventure, journeys through the Merritt Island Wildlife Refuge, one of America's largest wildlife sanctuaries full of native animals and out-of-this-world views of Kennedy Space Center and the Space-X launch pads.
You'll savor a breathtaking beach picnic and, if needed, be able to take a quick dip in the Atlantic Ocean before biking back. Such a fun way to enjoy the Space Coast.
BK Adventure also offers a two-part experience pairing mountain biking and kayaking in one day. Definitely plan to carb up for this one!
9. Mountain Biking – Florida Style
Cycle More Tours offers half and full-day mountain bike tours for all comfort levels. Tours include shuttle service to tour locations, mountain bikes with full suspension, safety equipment, and drinks and snacks. Have a group that wants to ride? Cycle More Tours offers discounts for groups of 4 or more and for all active military/veterans, first responders, healthcare workers, and teachers.
Also try these bike-friendly dates: