For many. visiting Italy is a lifelong dream. When I experienced life in Italy it felt surreal. As soon as I returned home, I immediately began searching for traces of Italy that exist right here in Orlando. From Italian-inspired locales and attractions to authentic Italian restaurants and, of course, mouth-watering gelato, I hope you enjoy this list of Italian delights for planning your very own Italian date night in Orlando.
Note: This post was originally published in January of 2020 and has been updated most recently July 2023 by Dani Meyering
ITALIAN RESTAURANTS FOR PIZZA, PASTA & GELATO
Seafood and pesto in Cinque Terre, bistecca alla fiorentina in Tuscany, cacio e pepe in Rome, tagliatelle al ragú and tortellini en brodo in Bologna…every region throughout Italy has specialty dishes best eaten at the source. But pizza, pasta and gelato are universal, and we have some impressive local spots to indulge. Here are a few favorite Italian restaurants in Orlando for each.
PIZZA
If pizza is your number 1 Italian craving, explore our favorite local Orlando pizza, and keep reading for authentic Italian options.
Satisfy your appetite for Neapolitan-style pizza at Prato and Pizza Bruno. Prato is a stylish Italian-inspired eatery on Park Avenue where you can dine al fresco, sip wine, and have a traditional multi-course Italian meal. Cacio e pepe, gnocchi, and gelato are all on the menu, as is a lineup of drool-worthy pizzas from the piping hot pizza oven.
Pizza Bruno is another favorite for Neapolitan pies crafted by chef/owner Bruno Zacchini. Of the 10+ varieties, try the white KBAR pizza (fresh mozzarella, Italian sausage, garlic, mushrooms, rosemary, black pepper and sauce swirl) or classic Margarita (red sauce, basil, fresh mozzarella, pecorino and olive oil). Don't forget an order of garlic knots.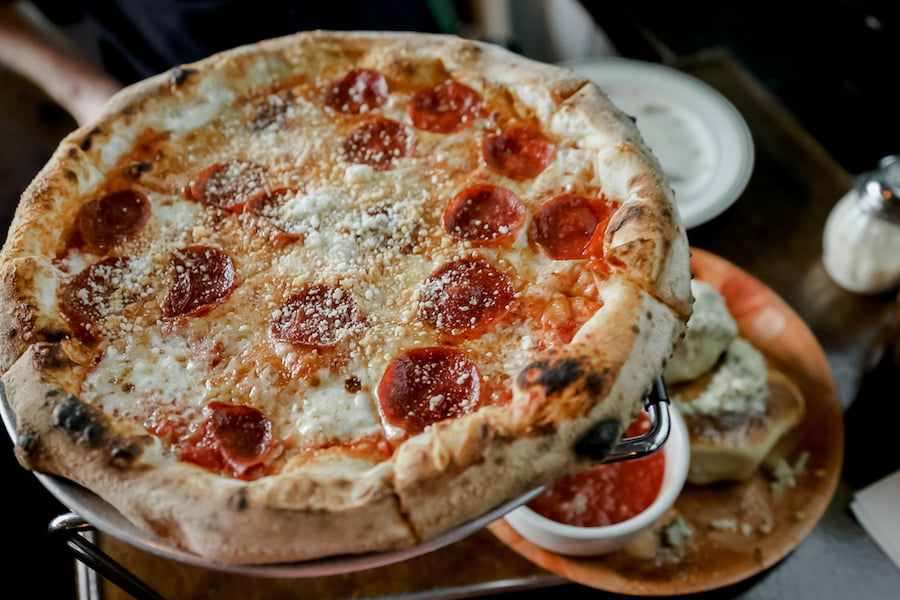 For thick, hearty Roman-style pizza you can't beat Rome's Flavours. This cozy Italian-owned eatery in Winter Park features just a handful of seats inside as well as al fresco tables outside.
The menu includes many Italian favorites, but the pizzas are next level. The dough is made in house with imported Italian ingredients and there are about 10 varieties to choose from. I love the Villa Borghese, topped with plum tomatoes, mozzarella, mushrooms, sausage and truffle oil. End your meal with homemade gelato and an espresso.
For pizza al taglio on the go, Pizza Ponte at Disney Springs has an assortment of Roman-style pizza options available by the (gigantic) slice.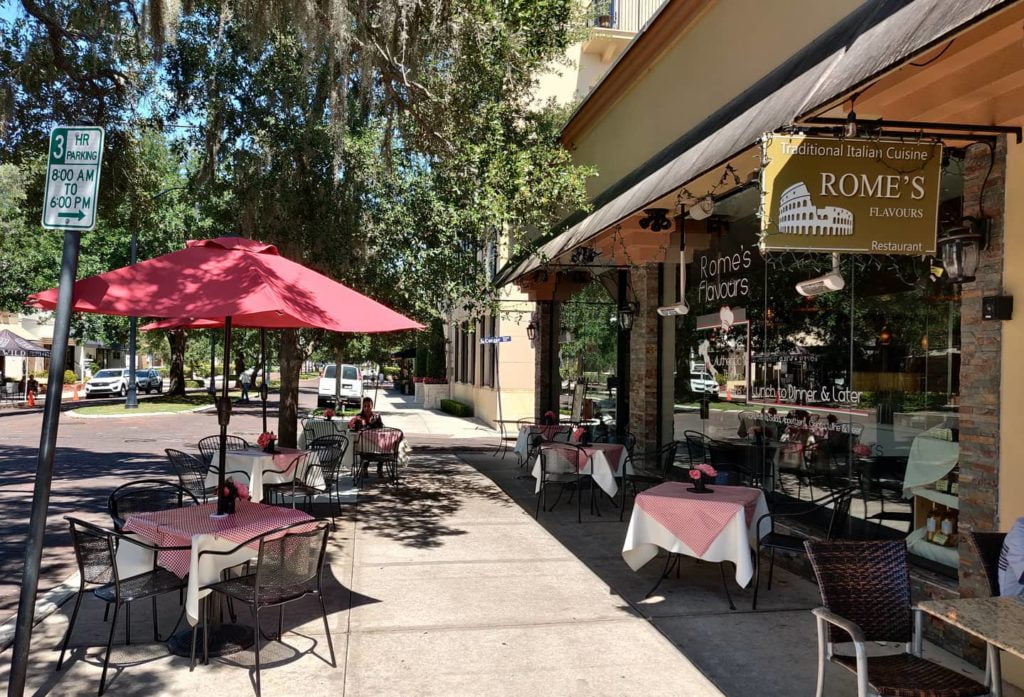 PASTA
Nothing compares to fresh, homemade pasta. In College Park, Adriatico Trattoria Italiana specializes in fresh seafood dishes and fresh pasta paired perfectly with Italian wines. The eatery oozes Italian charm and is owned by husband and wife team Marco and Rosetta Cudazzo. Marco prepares the fresh pasta (they're only open for dinner to allow for fresh prep daily) and it was the tagliatelle Bolognese that drew me in, as it was a favorite dish I had while in Bologna. You'll instantly be transported to the warm atmosphere of a traditional Italian trattoria as soon as you enter, and you can linger at your table as long as you'd like. Make a reservation as this spot fills up fast!
Also located in College Park, Trevi Pasta is a notable alternative that also specializes in fresh, homemade pastas. Pasta options change daily. They serve delicious gelato, too!
Outside of College Park, Mia's Italian Kitchen is a drop-dead gorgeous restaurant with an impressive menu to match. Feast on the Roman pasta dish of cacio e pepe, craft your own Italian cheese board to share, try pizza by the slice, treat yourself to bistecca alla fiorentina (Florentine-style steak), and end your meal with an affogato (espresso poured over a scoop of gelato). The pastas are made fresh in house and cooked al dente.
Want some meatballs with your pasta? The Meatball Stoppe (featured on Diners, Drive-Ins & Dives) has the best in town, and you can pair them with fresh pastas supplied by Trevi Pasta.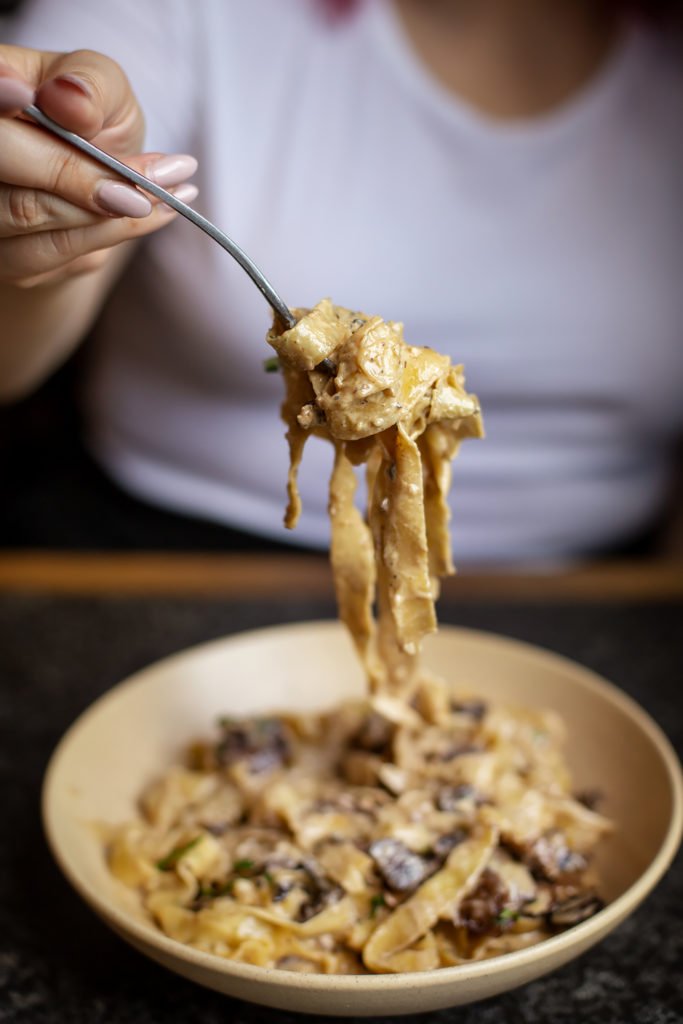 GELATO
Gelato became a daily routine during my time in Italy. My daily Facebook update for friends and family back home was a photo captioned with the flavor and gelateria of the day. I made a game of it, visiting a new gelato shop and trying new flavor combinations daily. Eventually, I succumbed to my undying love for pistachio and put my favorite flavor on repeat.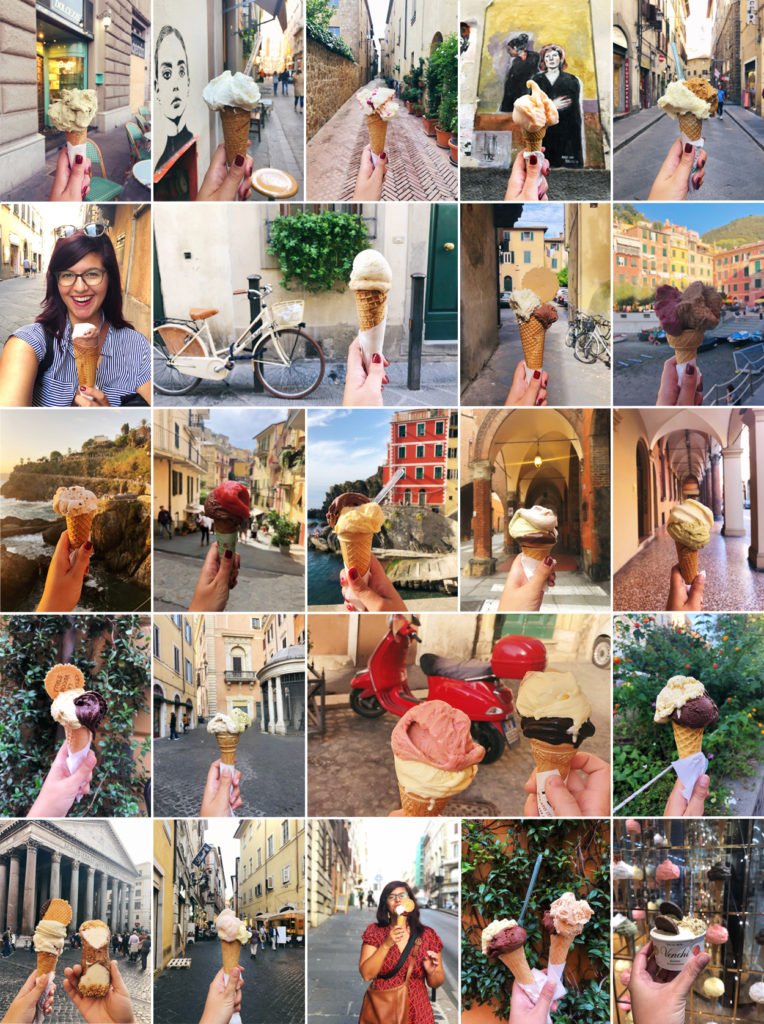 For gelato in Orlando, I felt like I was back in Italy the second I tasted the pistachio gelato from Gelato-go in Winter Park. All flavors are made fresh in house, and the shop was awarded Best Dessert in the Best of Winter Park 2019 awards. Pair your cup or cone with an espresso and then stroll Park Avenue to awaken each of your senses.
Florence-based La Carraia also has an outpost in Dr. Phillips serving decadent rotating flavors and Italian espresso.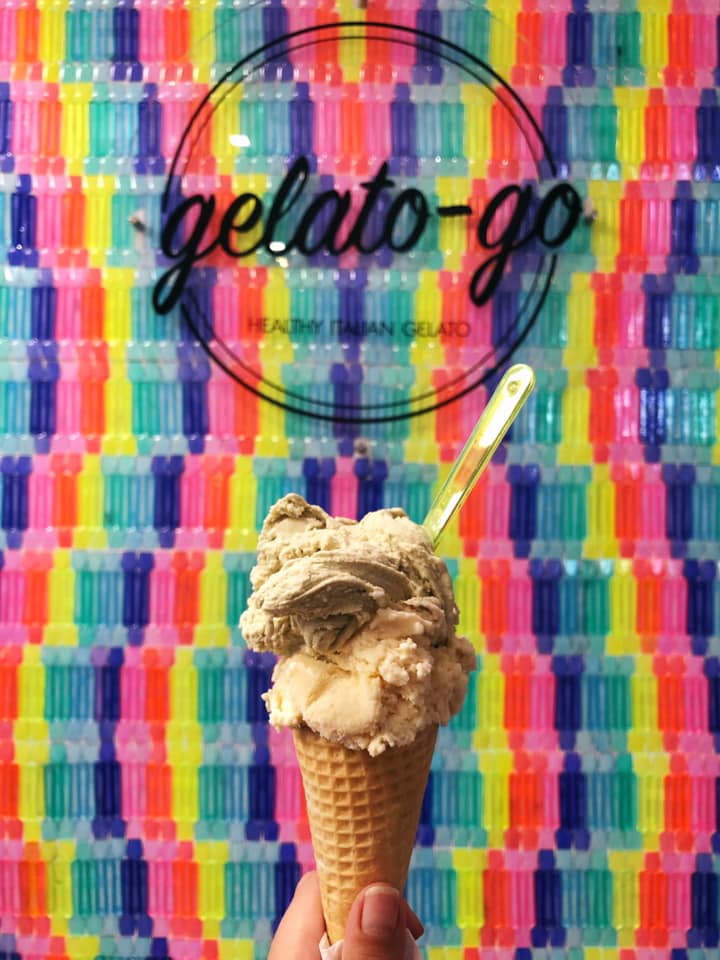 More Italian restaurants in Orlando:
MAKE YOUR OWN SEASONAL ITALIAN FEAST
Regional, seasonal fare is a staple of eating the Italian way. This is a concept that translates easily to Orlando thanks to our awesome local farmer's markets. Hitting up a local market is perfect for an Italian date night at home! My personal favorite is the Winter Garden Farmer's Market on Saturdays from 8am-1pm. I visit every week to stock up on oodles of organic fruits and veggies, fresh pasta, burrata and more. You can pick up fresh pasta and homemade sauce from Orlando City Pasta (I love the bucatini and tagliatelle; options tend to rotate weekly), fresh burrata from Burrata Dicuru, and fresh bread (they usually have focaccia!).
Sprout Up Urban Farm sells lemon and Genovese basil sprouts which are an excellent garnish for bruschetta. Savor the experience by talking with vendors and shopping in season while supporting local.
For an assortment of Italian goodies (and an out-of-this-world meatball parmigiana sandwich), Stasio's Italian Deli & Market in The Milk District is a family-owned market full of authentic Italian goods. Pick up a bottle of Italian wine, queue up Lucio Dalla or Andrea Bocelli on your playlist and get lost in the experience of preparing a meal with love.
GO FOR A STROLL + HANG AT A PIAZZA
Besides scooters, bikes and trains, walking is the most popular mode of transportation in most Italian cities. And who wouldn't want to walk when such picturesque scenery surrounds you at every turn?
Around Orlando, Winter Park is walkable and full of European charm as well as a few notable Italian eateries for dining al fresco. Let your stroll lead you to a gelato shop, the quieter Hannibal Square area (VINIA Wine & Kitchen is my go-to eatery!), or to the Winter Park Scenic Boat Tour where you can cruise the Venetian-style canals while dreaming of Venice.
Or, hang out in Central Park, a public gathering space somewhat reminiscent of the vibe of Italy's abundant piazzas. You can also mimic the piazza feel in Dr. Phillips, mainly in the Dellagio plaza area.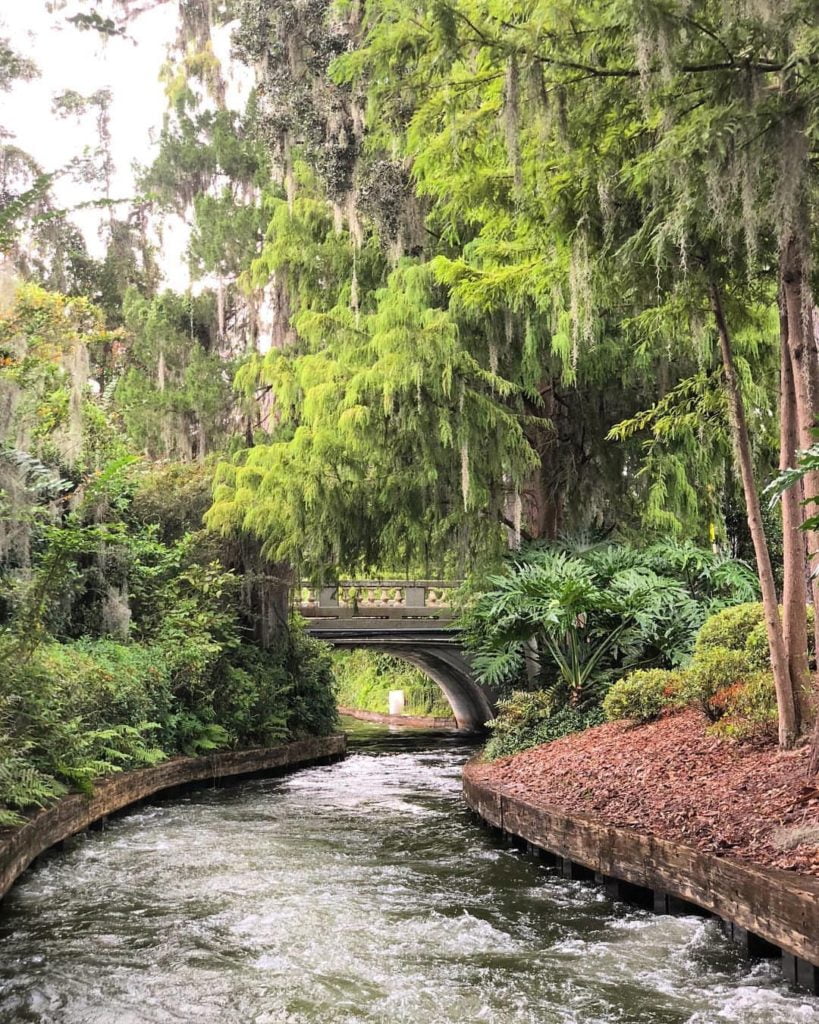 If busy streets aren't your thing, head to Harry P. Leu Gardens, Orlando's urban oasis. The manicured rose garden reminds me of the Giardino delle Rose in Florence.
For the ultimate immersive Italian experience though, visit Loews Portofino Bay Hotel. The highlight of this Universal hotel property is the main piazza and harbor, modeled after the real Portofino Bay in Italy. There are Vespa photo ops, Italian restaurants, a gelato shop and more.
One of the best times to visit is during Harbor Nights, seasonal events with wine, unlimited eats and live music (there are usually opera singers) under the stars.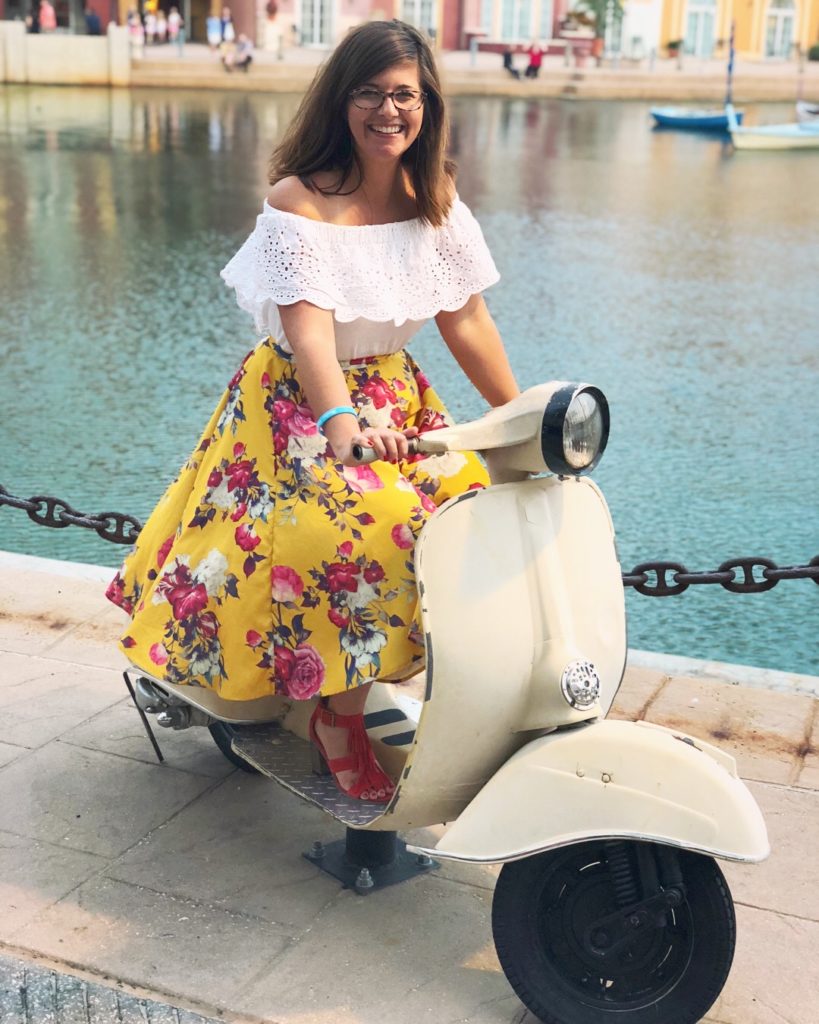 SOCCER
Soccer is the beloved sport of Italy and it's quickly becoming one of our most beloved sports here in Orlando, too. Surprise your date with tickets to an Orlando City or Orlando Pride match at Exploria Stadium.
HAVE AN ITALIAN BREAKFAST
I fully embraced the Italian breakfast of a cappuccino and pastry at a pasticceria (pastry shop) while standing up at the bar. While I haven't been able to fully replicate the experience here in Orlando just yet, we do have an abundance of quality coffee shops and European cafes that come close.
Try Rosallie Le French Café, Financier Bistro & Bar a Vin, Axum Coffee, Buttermilk Bakery, and The French Café for coffee paired with a croissant or sweet pastry. Each have pastry display cases that will make you drool.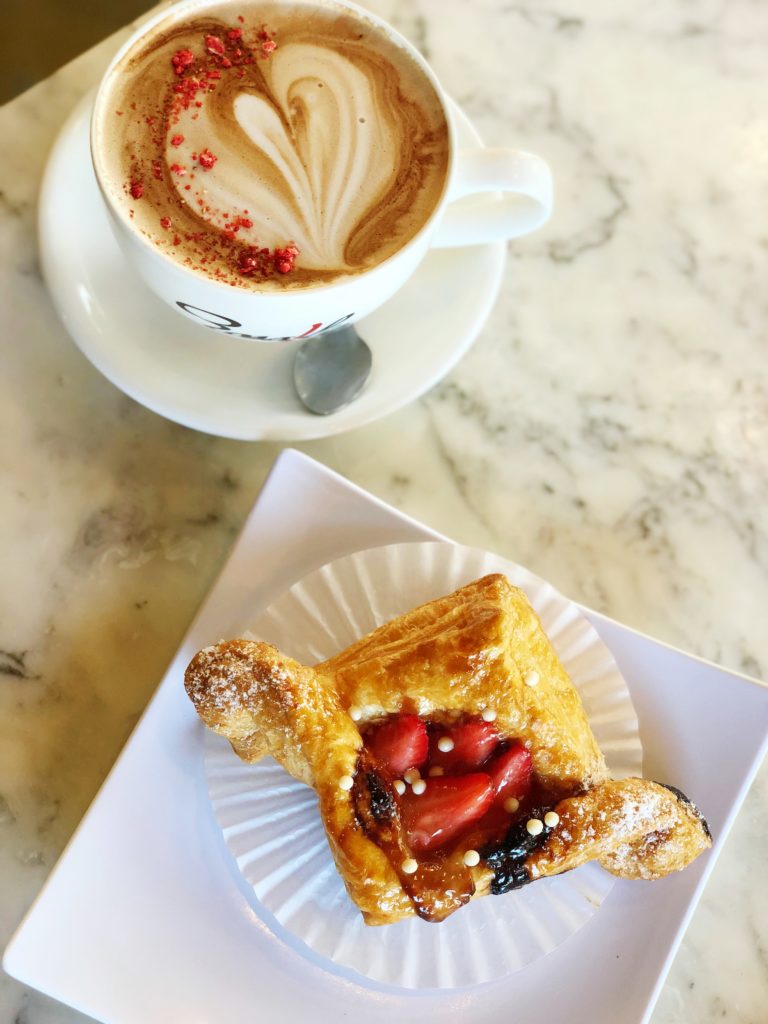 MAKE PASTA
Making pasta is an integral part of Italian life. After a four hour cooking class in Bologna making tagliatelle al ragú and tortellini en brodo from scratch, I left with a deeper understanding of how to transform cooking into a joyful experience worth investing time into, not just something on my to-do list. Endless wine is of course part of the secret…
Cooking schools like Publix Aprons Cooking School and Truffles & Trifles regularly host pasta-making classes both in hands-on and demonstration-style formats. But if you'd rather learn in a restaurant setting, Terralina Crafted Italian is known to host periodic adults-only pasta making classes.
Did I miss one of your favorite spots for an Italian date night in Orlando? I will be forever on a quest for authentic Italian eats and experiences around Central Florida so please share your favorites with me.
---
ITALIAN DATE NIGHT IN TAMPA
Now that you know how to have the perfect Italian-inspired date night in Orlando, take your next date night on the road to experience the tastes of Italy in Tampa Bay.