A local's guide to the best things to do in Orlando for date night
A date night oasis awaits discovery just outside theme park gates. In Orlando, couples can experience culinary adventures, play in the great outdoors, revel in exciting activities geared towards grown ups, be endlessly entertained and immerse themselves in local culture. For locals and visitors alike, here's our guide to the very best things to do in Orlando for couples.
EATS & DRINKS
1. Dine at a dessert-centric restaurant
Several restaurants in Orlando hone in on dessert's decadent allure by crafting most, if not all, of their menus around sweet treats. At Better Than Sex in Ivanhoe Village (Orlando's most romantic Main Street district), you can sip on wine in a chocolate-rimmed glass while sharing suggestively named desserts. The curtains are drawn, racy photos line the walls and rich red hues contribute to the sultry, sexy atmosphere.
Alternatively, enjoy an evening stroll around Winter Park before heading to The Glass Knife, a dessert-centric restaurant specializing in everything from inventive pastries and cakes to sinfully good doughnuts. Score a seat in the plush, velvety date night booth for extra romance.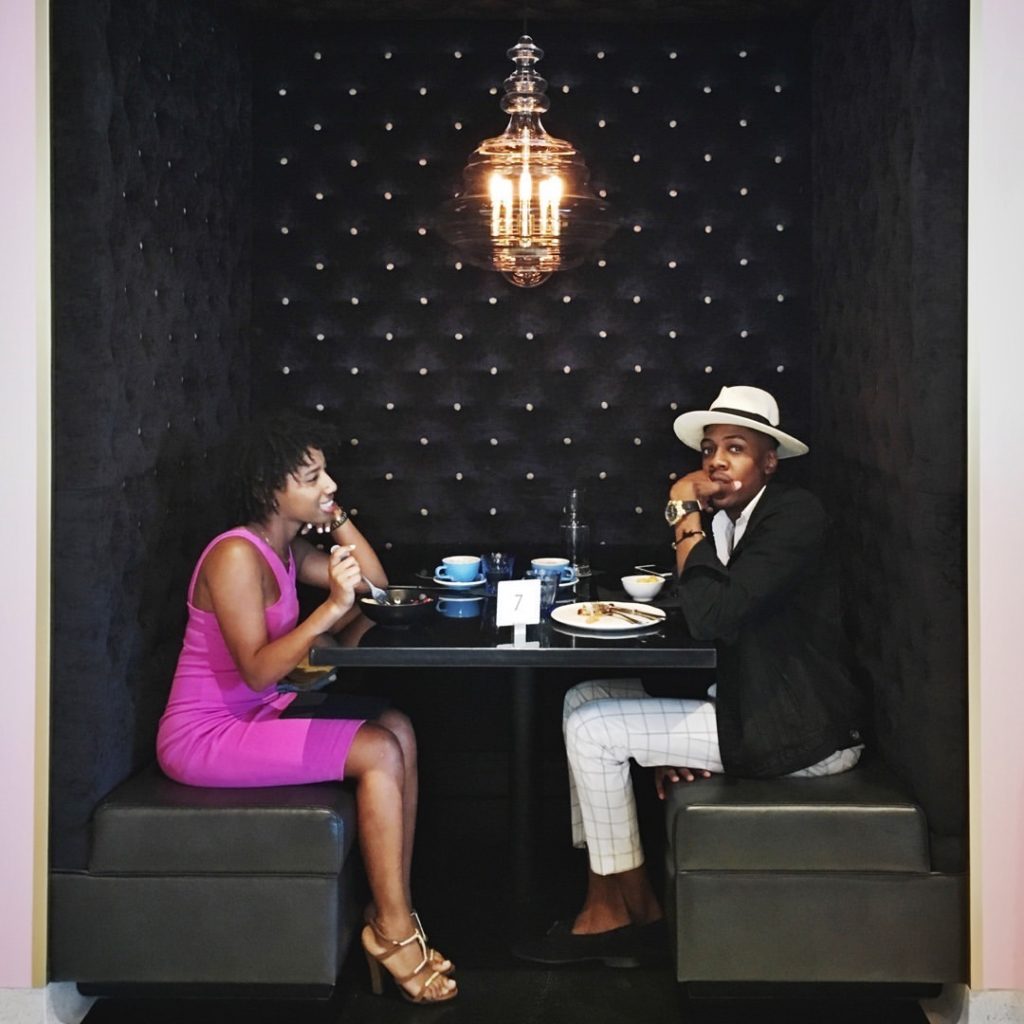 2. Book a Chef's Table
Orlando is on its way to becoming a food destination with an increasing number of talented chefs putting down roots in the city. For a vacation splurge that will delight your taste buds, go over the top by booking the chef's table at a local restaurant. You'll enjoy dinner, a show and one-on-one chef interaction while feasting on a meal customized to your preferences. A few of our favorites include Chef's Table at the Edgewater and Highball & Harvest (located inside The Ritz-Carlton).
3. Make your own chocolate at Farris & Fosters
Souvenirs are great and all, but we're partial to experiences, especially ones that involve a take-home treat. At Farris & Fosters Chocolate Factory in Baldwin Park, every Friday is date night. Couples pour in with bottles of wine (you can bring your own to enjoy) to sip while they make their own chocolate confections. The workshop is offered every Friday at 7 and 9pm and you'll make a pound of chocolate to take with you. Reservations strongly encouraged.
4. Dine or drink on a rooftop
New York City isn't the only place boasting rooftop restaurants and bars; Orlando has a few swanky options of its own! For cocktails paired with a peek-a-boo view of the city skyline at sunset, make your way to M Lounge.
Our picks for rooftop eats include The Whole Enchilada in Winter Garden, Eleven at Reunion Resort and California Grill at Disney's Contemporary Resort (for the best view of Cinderella's Castle ever). Tip for California Grill: reservations aren't required to sit in the lounge/bar area, and the full menu is available.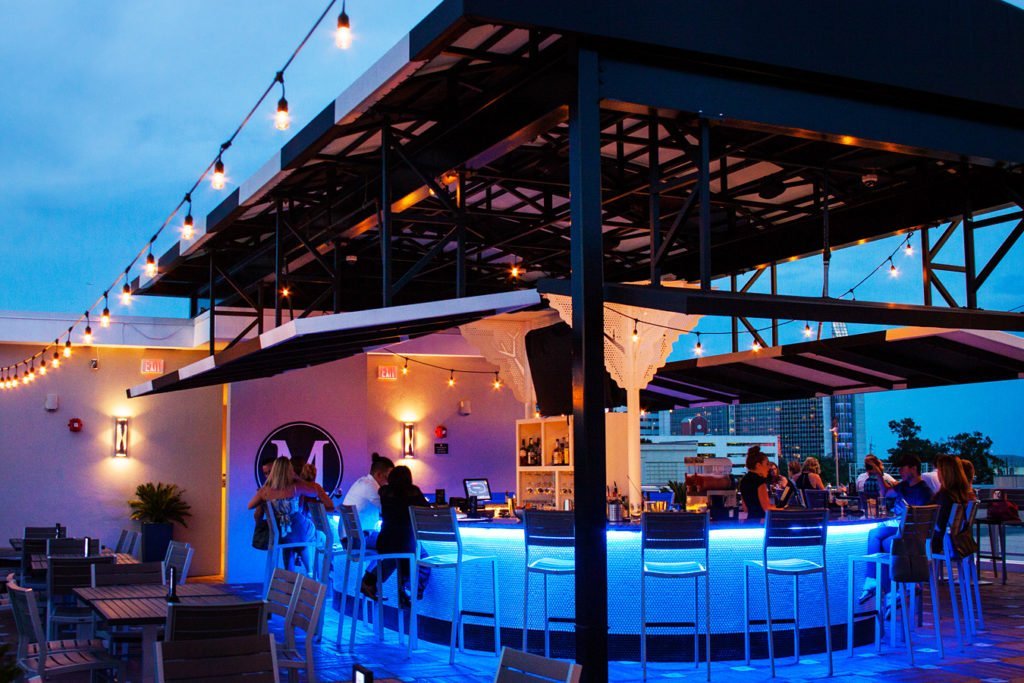 5. Imbibe at a craft cocktail bar
Heading to a cocktail bar is sure to give you a pulse on Orlando's culture and lively bar scene. Mathers Social Gathering, Hanson's Shoe Repair (a true password-required for speakeasy entry), The Guesthouse and The Courtesy are our favorites for crafty sips.
6. Take a cocktail class
Speaking of The Courtesy, you can take your craft cocktail obsession one step further by learning to make signature concoctions for yourself. The bar offers a craft cocktail class on the 1st and 3rd Saturday of each month (reservations required in advance). For a more intimate setting, book a private class for two at The Woods (contact thewoodso[email protected] for details and booking). Here are a few other places to take a cocktail class in Orlando.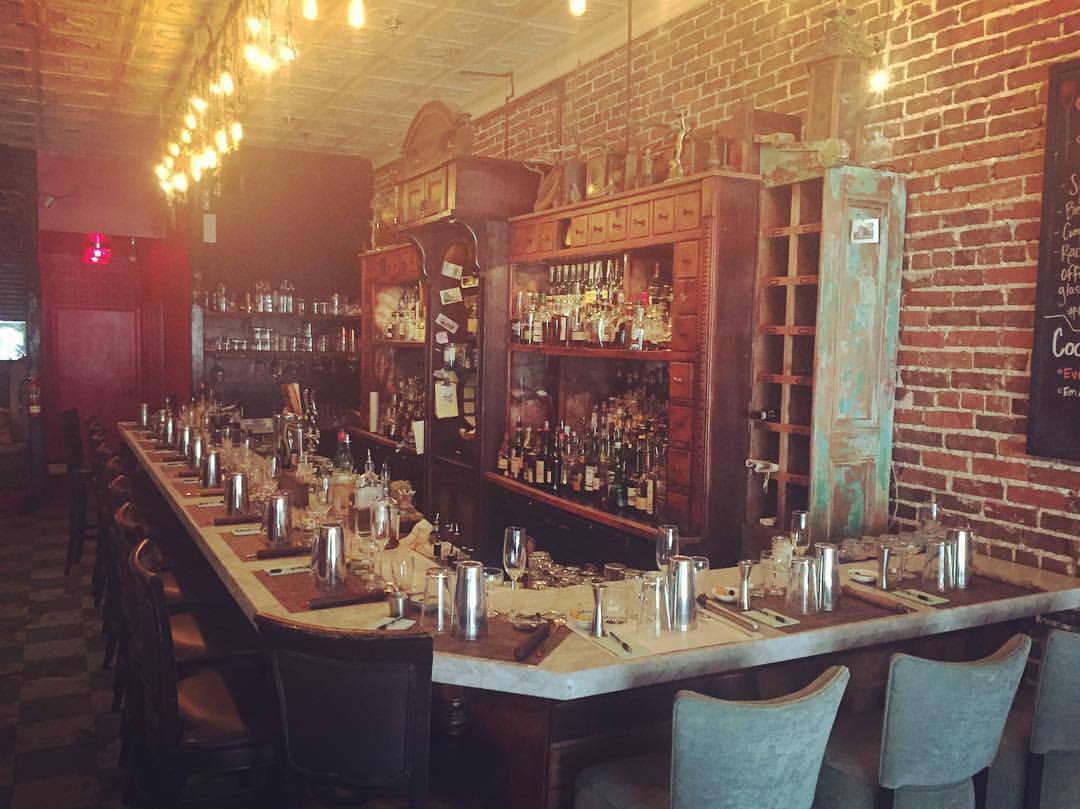 7. Visit Orlando's winery
Sip expertly blended, sustainable wines at Quantum Leap Winery, located in Orlando's funky Mills 50 district. This sustainable operation sources raw, unrefined wines from all over the world and then blends, finishes and bottles them on site. Stick around for a complimentary tour (available upon request during normal hours).
8. Dine at East End Market
Where can you find ramen, gigantic gooey cookies, cheese boards, fresh juices, and locally grown fare all under one roof? East End Market, packed with a handful of local vendors and artisans, is the ultimate foodie destination. A few can't-miss eats include a gigantic cookie from Gideon's Bakehouse, ramen and cocktails from Domu, and a cheese board and wine from La Femme du Fromage (if you're visiting on a Friday, they offer grilled cheese and craft beer flights from 4-8pm). There's live music outside on the patio most Saturday afternoons.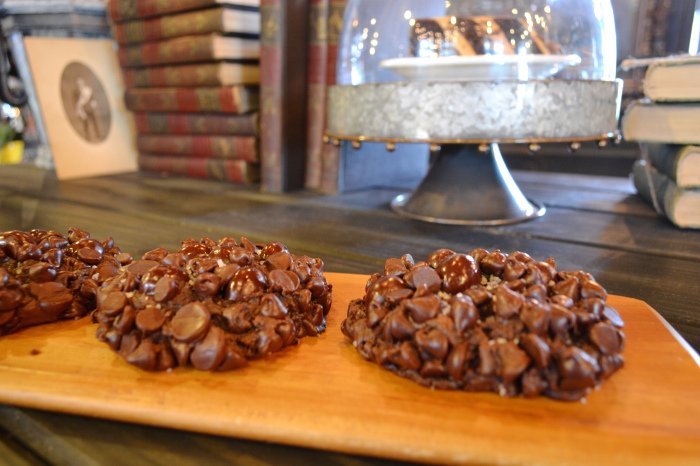 9. Check out a local farmer's market
Nosh your way through multiple food vendors by visiting one of Orlando's best farmer's markets. While you'll find the ever-present produce stands, you'll also find food trucks, specialty food vendors and funky drinks. Two of our favorite markets include the Saturday Winter Garden Farmer's Market and the Sunday Orlando Farmer's Market at Lake Eola Park.
10. Embark on a self-guided SunRail crawl
The SunRail may operate primarily as a commuter train, but it's also a budget-conscious (and totally fun) way to get around while conducting your own pub or dinner crawl. Your best bet is to disembark at a walkable station like Church Street station or Winter Park station. For happy hour fun, follow our upscale happy hour SunRail crawl itinerary. The SunRail only operates on weekdays, so plan accordingly. Visit the website for train departure and arrival times.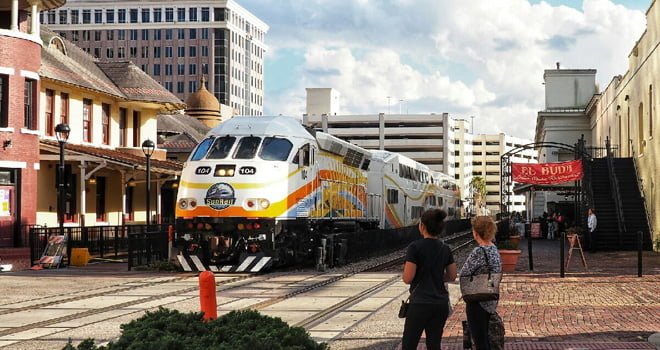 11. Make your own Marshmallows
Owned and operated by husband and wife team Nathan and Jenn Clark, Wondermade is a sweet shop in Sanford known for their creative marshmallow flavors and luscious ice cream. Take a behind the scenes tour and craft some marshmallows to take home at one of their monthly hands-on date night workshops. The $20/person ticket includes a tour, DIY marshmallow treats and a hot chocolate. Each workshop lasts about an hour.
12. Stroll through Plant Street Market
Another favorite indoor/outdoor food market, Plant Street Market is a sprawling complex where you'll find everything from pizza to sushi and artisan tea to a craft brewery. The real draw is the spacious outdoor patio, which stretches the entire length of the brick building.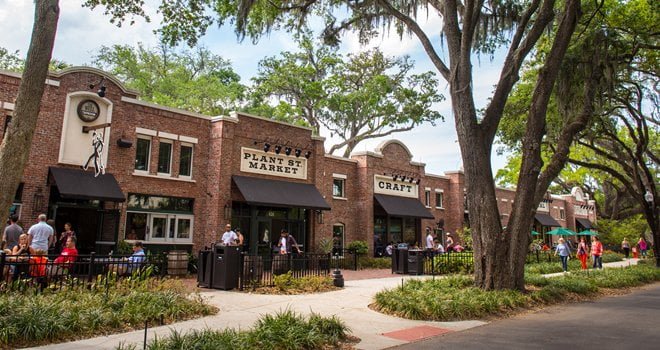 13. Make your own Pancakes at De Leon Springs
Fancy a short road trip? De Leon Springs lies just an hour north of Orlando and it's here that you can hike, take a boat tour and visit the Old Spanish Sugar Mill to make DIY pancakes. After forking over a little over $5 each, you'll be supplied with pancake batter and all the tools to make your meal. Special toppings are available for $1.95 each.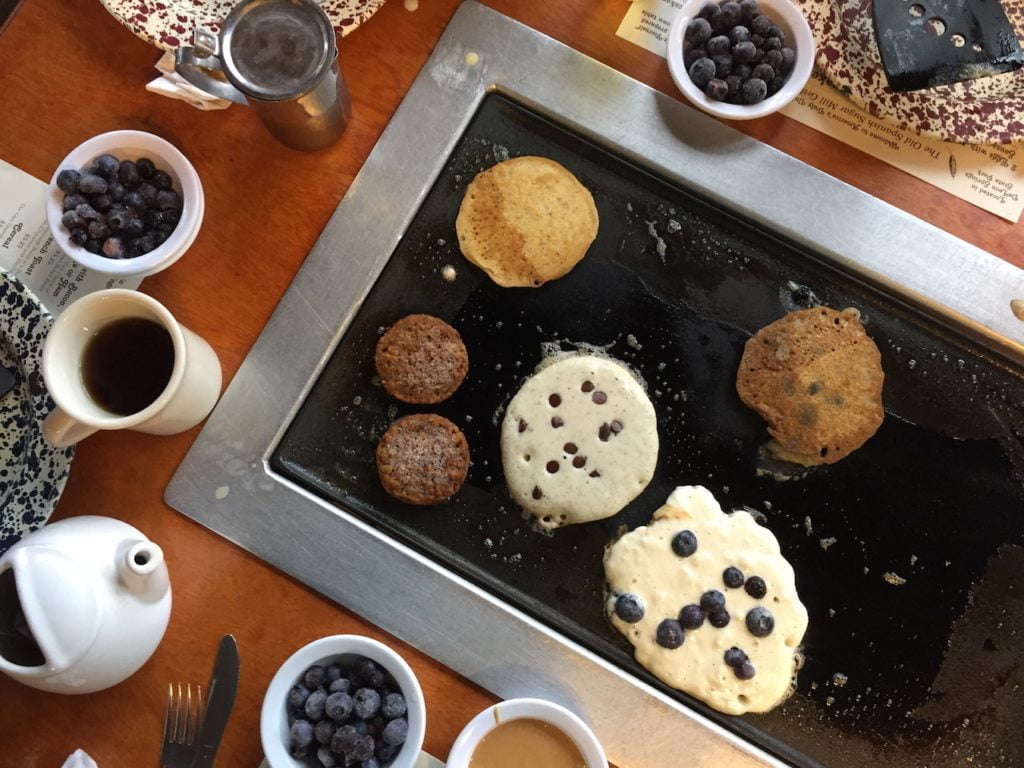 14. Listen to live jazz while you dine
No matter the time of day, set the mood with some smooth jazz while you savor a date night meal. At Jazz Tastings in Maitland, enjoy live jazz every Tuesday-Saturday alongside shareable tapas and a few glasses of wine. For brunch, head to the Grand Bohemian in downtown Orlando for the legendary Sunday jazz brunch. Check out our full guide to where to listen to live jazz in Orlando for more ideas.
15. Plan a DIY Disney Springs food and bar crawl
Don't settle for just one Disney Springs restaurant or bar; conduct your own self-guided crawl to try multiple spots! A few of our favorite date night spots include Jock Lindsay's Hangar Bar, Wine Bar George, The Edison, Enzo's Hideaway and Raglan Road.
16. Hop On Orlando's Brew Tour
Ambitious couples could complete the Central Florida Ale Trail in the span of a long weekend, but you two will have just as much fun (and stay hangover-free) by visiting just a few breweries on a guided tour. Besides the obvious perks of not having to coordinate your own transportation, the Hop On! brewery tour pairs you with an expert guide and a varied itinerary stopping at some of Orlando's best breweries. Tour options range from all-day escapades to tailgating tours and more.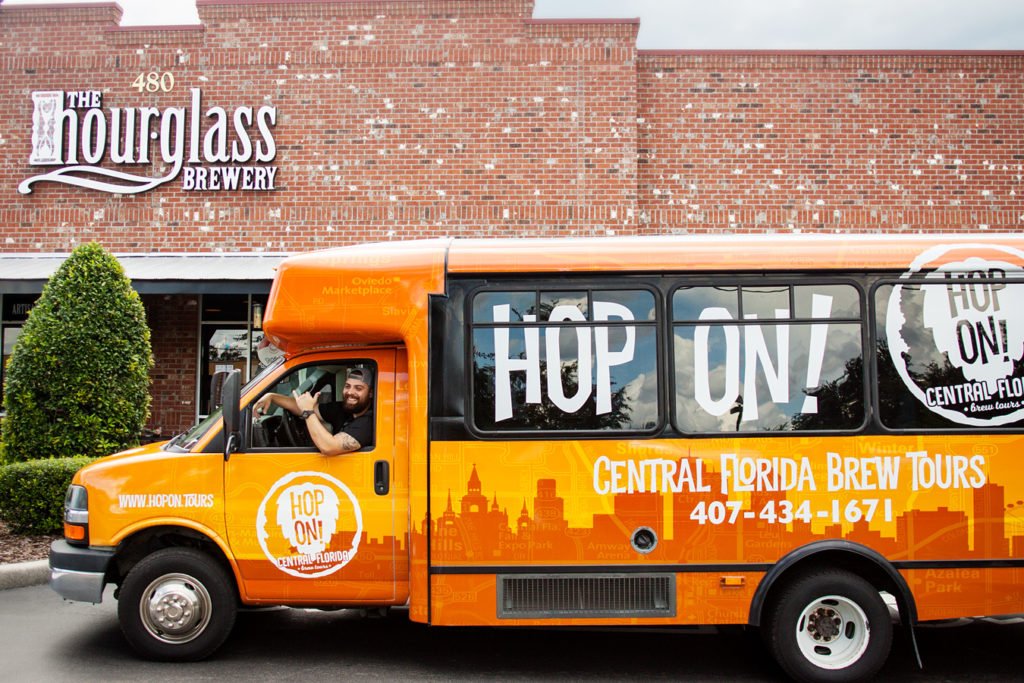 OUTDOORS
17. Paddle around Lake Eola in a Swan Boat
Earn local cred by partaking in the ultimate Orlando resident rite of passage: paddling around Lake Eola in a swan paddleboat. You'll get up close and personal with the lake's resident swans, see the picturesque fountain up close, and yes, get a bit of a workout. And hello, how perfect are the swan paddleboats for date night selfies? Bonus points for snapping a pic while you smooch. Rentals are available beginning at 10am daily for $15 per half hour.
18. Stay Overnight at the Danville B & B yurts
Make your overnight accommodations an adventure in itself by heading off the beaten path to Danville Bed & Breakfast. This quaint B&B in Geneva boasts two over the top romantic yurts, one of them a treehouse-style yurt with its own hot tub. Both have air conditioning for beating the Florida heat. Fun things to do on property include riding Segways, saying hello to the resident alpacas, taking a plane ride and more. For daytime fun, Sanford is just a short drive away.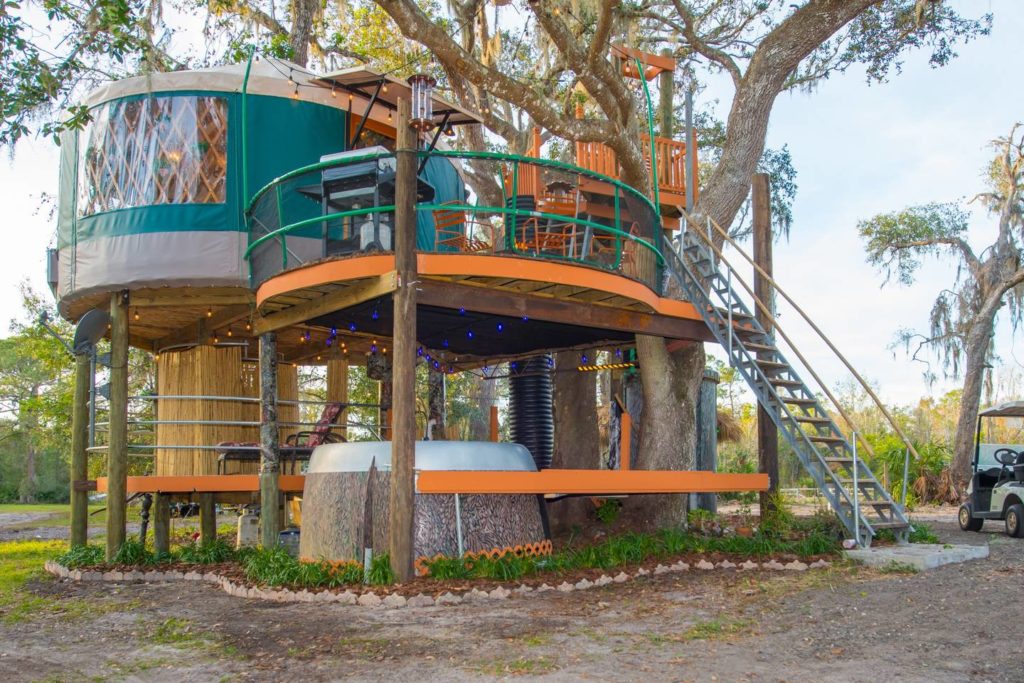 19. Cruise on the Winter Park Scenic Boat Tour
After strolling the brick-lined streets full of European flare along Park Avenue, wander off the main drag and you'll find yourself at a small boat dock. It's here that pontoon boats depart daily for the Winter Park Scenic Boat Tour. Enjoy a one-hour guided tour through Winter Park's scenic chain of lakes, navigating through stunning Venetian-style canals to hop from lake to lake. Your guide will point out luxurious lakefront homes and provide an entertaining dose of local history.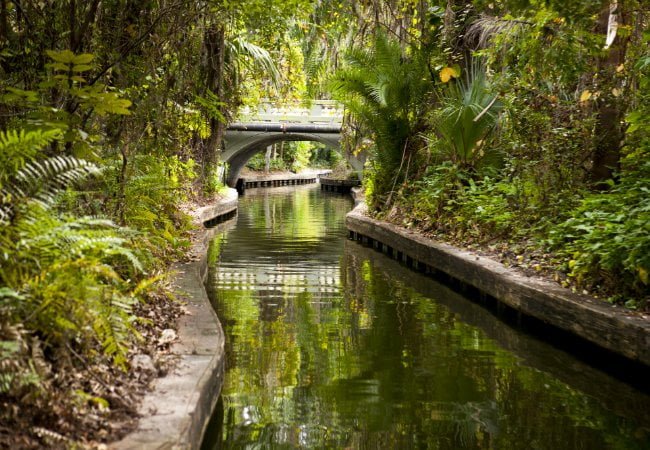 20. Rise early for a morning canoe or kayak trip
Your mind likely wanders straight to theme parks and tourist attractions when you think of Orlando, but there's rich natural beauty to savor here, too. Rise early and make the brief drive to Wekiwa Springs State Park or King's Landing at Rock Springs Run for an early morning paddle amongst unspoiled Central Florida wilderness. Canoes and kayaks are available for rent at both locations. At Wekiwa, you can also rent your vessel from Wekiva Island, located outside of the state park. Arrive early to beat the crowds for the most peaceful experience.
21. Float above ground on a sunrise hot air balloon flight
For an experience you'll talk about for years and years, splurge on a morning hot air balloon flight. You'll glide over the Central Florida landscape while watching the sunrise, spotting wildlife, and maybe even passing by some notable attractions. Our favorite local balloon company is Bob's Balloons. Private flights are available for extra special occasions (did someone say proposal??).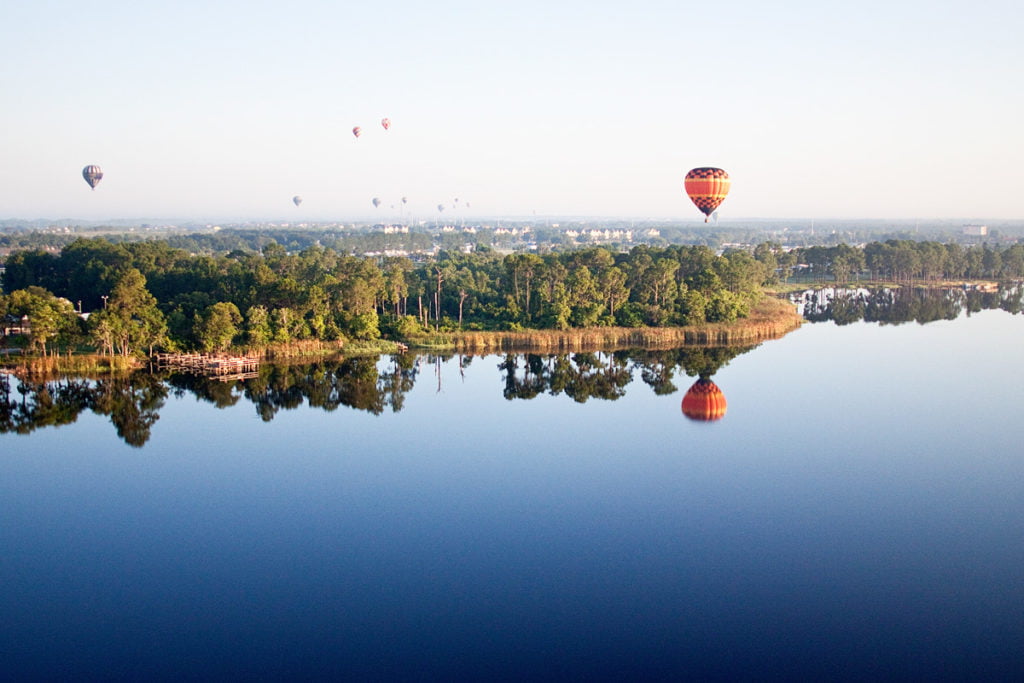 22. Stroll Leu Gardens
Step away from the concrete jungle and into beautifully maintained gardens without leaving the city. Harry P. Leu Gardens is home to 50 acres of lush natural beauty with themed areas like the white garden, a rose garden and a butterfly garden. Regular admission is $10, although the first Monday of most months is free.
23. Go bioluminescent kayaking and stargazing
Make your way to the space coast for a once in a lifetime kayaking experience you won't soon forget. The Merritt Island Wildlife Refuge is home to a phenomenon known as bioluminescence, tiny organisms in the water that emit a bright blue glow when disturbed. This seasonal occurrence is viewable in the summer months and several local companies offer guided nighttime tours. Plan your visit as close to a new moon as possible for the best experience. We recommend booking with Get Up and Go Kayaking (clear kayaks) or A Day Away Kayak Tours. Bonus perk: the refuge is so dark you may be able to spot shooting stars and The Milky Way on a clear night. Hello, romance!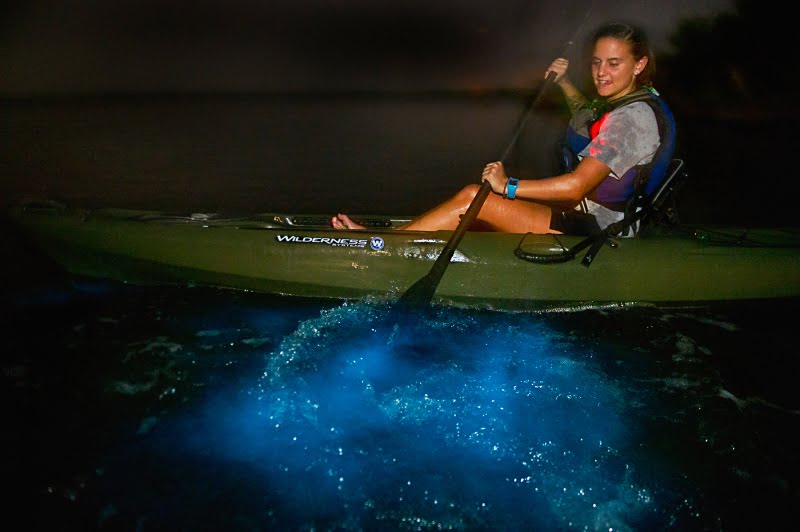 24. Give paddleboarding a try
Up for trying something new? Paddleboarding is a tranquil water sport that will help you improve your balance while enjoying nature. Paddleboard Orlando offers rentals from their shop by Lake Killarney in Winter Park, beginner lessons, and guided paddles at nearby waterways like Wekiwa Springs. For the ultimate date night experience, attend one of the weeknight Wednesday sunset paddles (seasonal) to watch Mother Nature's nightly show from the water. If you're an experienced paddler, try one of the SUP Yoga classes.
25. Road Trip to Bok Tower Gardens
You'll feel like you've stepped into your own personal secret garden as you meander through Bok Tower Gardens. But the property's most enchanting element is the towering 205-foot Singing Tower, which comes alive with the chime of haunting carillon bell concerts heard daily no matter where you are in the gardens. The tower sits on one of Central Florida's highest points, so expect sweeping views of the surrounding area. Don't miss secluded hideouts like the Window by the Pond and the boardwalk through the Wild Garden. Tour the onsite Pinewood Estate for an extra fee.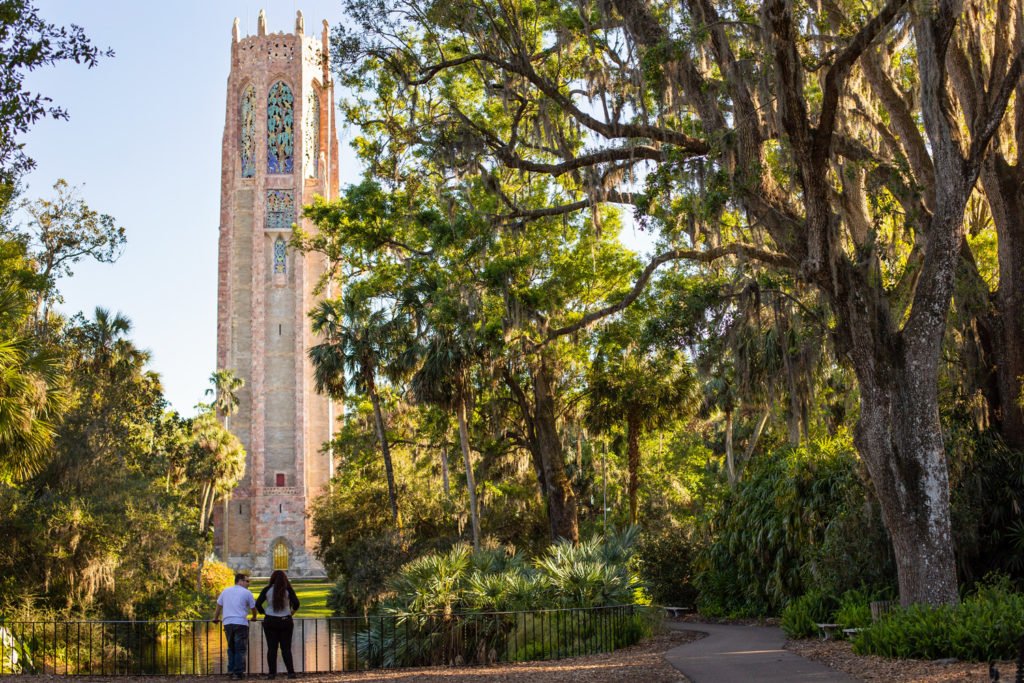 26. Manatee spotting at Blue Spring State Park (seasonal)
In the winter months, manatees flock to several Central Florida hideouts in search of warmer waters. You can spot these gentle giants for yourself at Blue Spring State Park after less than an hour drive from Orlando. But be warned, the park gets crowded on weekends, so weekdays are your best bet.
27. Go zip lining after the sun goes down
What do you do when you want to experience zip lining but the daytime temperatures are sweltering? Zip amongst the trees by the light of the moon instead of the sun. Several zip lining destinations host special nighttime zip line adventures, including Forever Florida and ZOOm Air at the Central Florida Zoo. Glide over the treetops while keeping your eyes out for nocturnal wildlife and starlit skies during your two-hour adventure.
28. Visit a U-Pick Farm (seasonal)
From fresh citrus to strawberries and blueberries, u-pick farms are open for business from December to July. Head to a nearby local farm like Oak Haven Farms and Winery for strawberries (December to mid-March), A Patch of Blue or Tom West Blueberries for blueberries (beginning in April) or go citrus picking at Showcase of Citrus, which doubles as a u-pick destination and roadside attraction.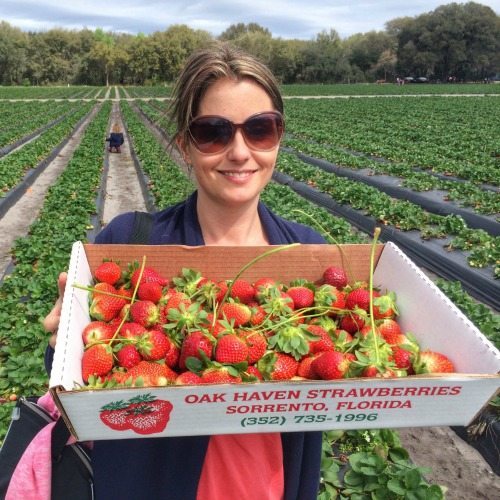 29. Get your flow on at an outdoor yoga class
Get lost in the flow together while taking advantage of the sunny weather during a community outdoor yoga class. A few of our favorites include the weekly Yoga in Lake Eola Park (Sundays at 11am; $5 cash), baby goat yoga at Grady Goat Yoga in Plant City (Saturdays and Sundays; $30), Yoga Under the Stars at Orlando Brewing (monthly; $12) and paddleboard yoga with Paddleboard Orlando (Saturdays and Sundays; $25).
30. Bike along the West Orange Trail
Spanning from Winter Garden to Apopka, the West Orange Trail is a 22-mile long paved rail-trail. After renting bikes from West Orange Bikes and Blades ($7/hour or $30/day), head out to explore the trail stopping at several points of interest. We recommend the Oakland Nature Preserve and boardwalk (free!), the Butterfly Garden at Tildenville Outpost, and a few hours at Plant Street Market and downtown Winter Garden.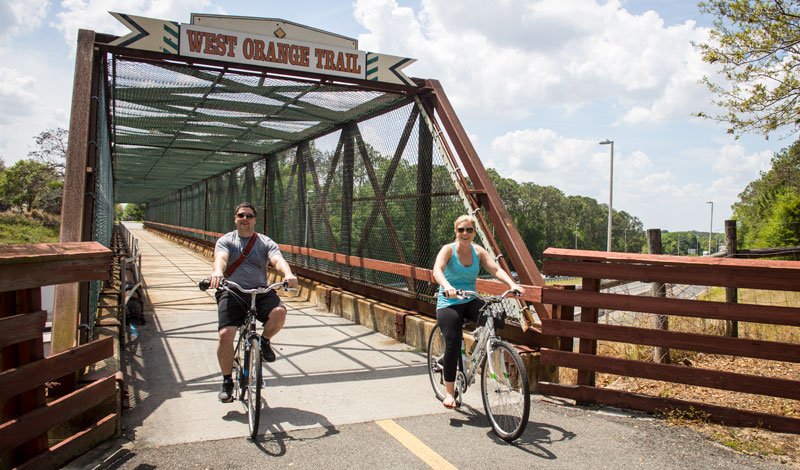 31. Go on a full moon kayak tour
Ever wonder what it's like to kayak in darkness with the moon as your only beacon of light? Adventures in Florida guides a monthly full moon paddle in which you'll watch the sunset and the moon rise while exploring the scenic Winter Park Chain of Lakes. There may even be a ghost story or two. The cost is $100/couple and light snacks are included.
32. Paddle Central Florida waterways in a clear kayak
Experience nature in a whole new way by hopping into a 100% clear kayak. Local company Get Up and Go Kayaking offers guided tours of some of the area's most picturesque locales. Head out for sunset on the Winter Park Chain of Lakes, make your way to the space coast for a bioluminescent adventure or visit Rock Spring Runs to observe nature above, around and below you in the crystal clear water.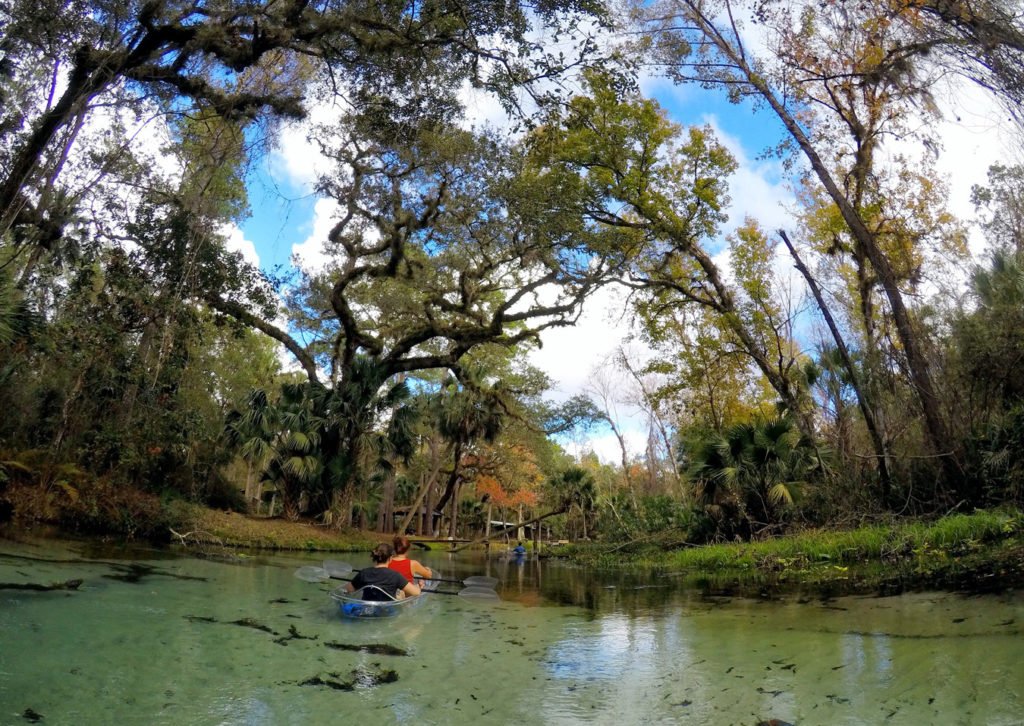 33. Go tubing
In the hot spring and summer months, do as the locals do and visit a nearby cold spring to go tubing! Popular tubing hotspots include Kelly Park at Rock Springs Run and Blue Spring State Park. If you're up for a drive, Ichetucknee Springs State Park (about 3.5 hours from Orlando) is one of the state's best tubing destinations.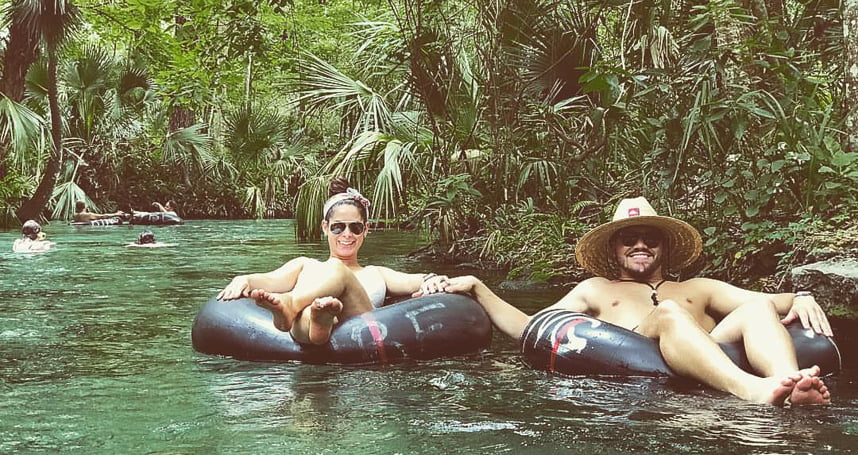 ATTRACTIONS/ACTIVITIES
34. Go Horseback riding at Hidden Palms Ranch
Most guided horseback tours will pair you up with a handful of other tourists. Large crowds are not the case at Hidden Palms Ranch in Sanford, where every tour is a private tour. After saddling up, owner Beki Herrbach will lead you on a peaceful trail ride through the scenic Lake Jesup Conservation Area, a diverse landscape dotted with palm trees, floodplains, and live oak tree-covered trails. For a special occasion, try booking the new picnic package, which includes a full picnic setup, drinks and snacks for two after your ride.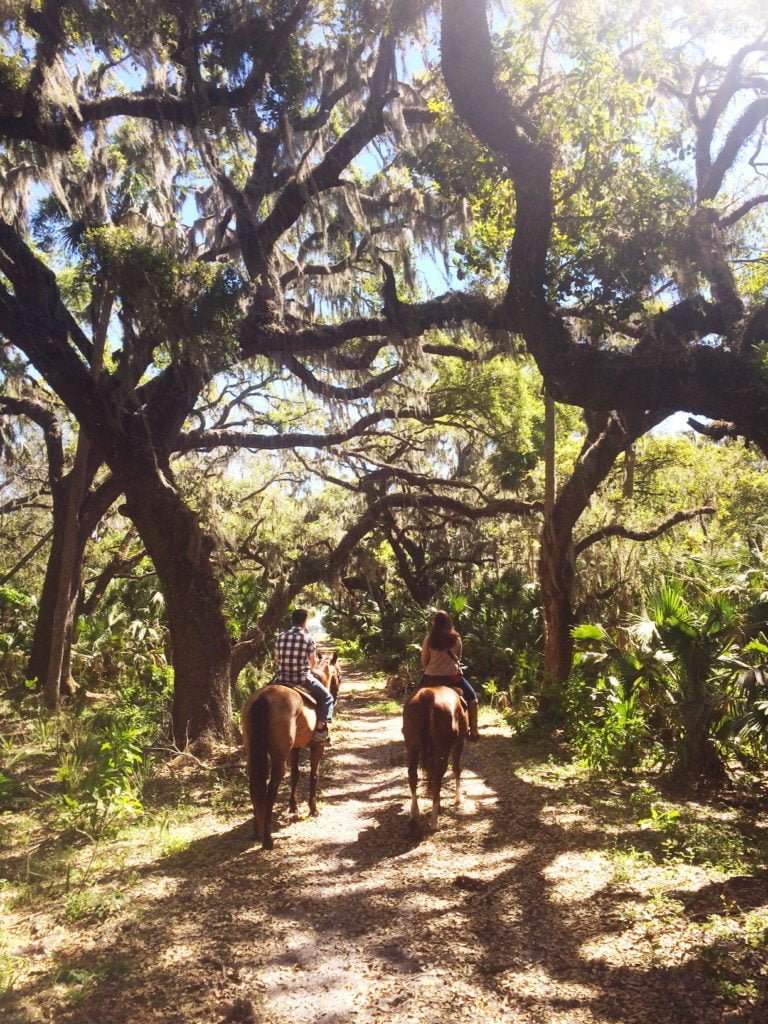 35. Take a Seaplane ride in Mt Dora
Go "flightseeing" in Central Florida by hopping into a seaplane! Jones Brothers Air and Seaplane Adventures operates several Mount Dora tours by air, but the most adventurous package is the Lake Dora Air, Land and Sea Package. For $93/person, you'll enjoy a 1.5-hour boat ride through the Dora Canal, board the seaplane for a 15-minute flight, stop for lunch and then head back to Mount Dora by train on the Royal Palm Railway Experience.
36. Ride the ICON Orlando at sunset
You can't miss the gigantic ICON Orlando Ferris wheel as you travel along I-4. The 400+ foot tall structure includes air-conditioned capsules and stunning views of the Orlando skyline and local theme parks. Upgrade your experience with an optional glass of champagne, or try to line your flight up with the evening sunset or nightly theme park fireworks.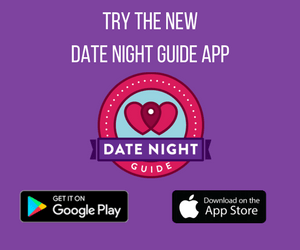 37. Zip line over alligators
One of Orlando's coolest kitschy attractions is also home to the most over-the-top zip lining experience. Gatorland features free daily gator wrestling and wrangling shows plus picturesque boardwalks over the densely-populated breeding marsh where you can get an up close view at Florida's famed wildlife. But the real adrenaline-pumping action happens on the zip line course, where you'll soar over gator enclosures and race your partner to the finish line on a side-by-side stretch of the course.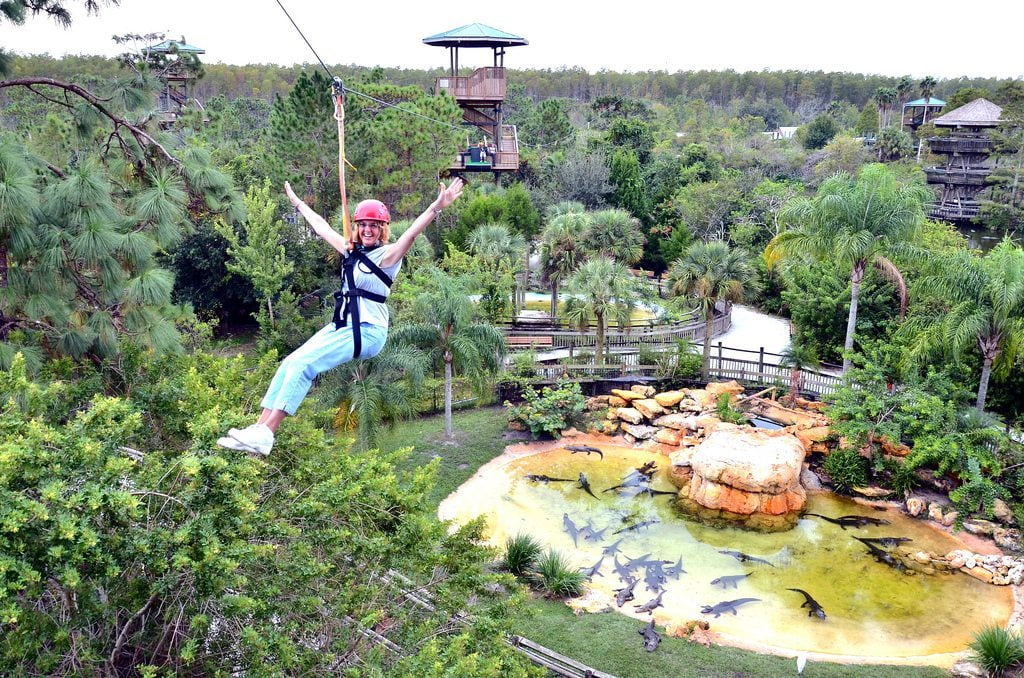 38. Rise to the escape room game challenge
Flex those teamwork muscles while solving puzzles to see if you can escape from one of Orlando's best escape room games. International Drive is one of the best places to plan your "escape" as there are multiple locations to choose from. Try one of seven challenges at Escapology, attempt to escape the "hardest escape room in the USA" at America's Escape Game, or immerse yourself in the games at Lockbusters.
39. Watch the Disney Fireworks
Regardless of whether or not you've got a park ticket, the Disney fireworks are a magical nighttime display you've got to see at least once. If you're not visiting the parks, head to a romantic spot like California Grill (get to the lounge early for first come, first serve seating without a reservation) or the beach at Disney's Polynesian Resort to see the Magic Kingdom fireworks. Epcot fireworks can be viewed from Disney's BoardWalk.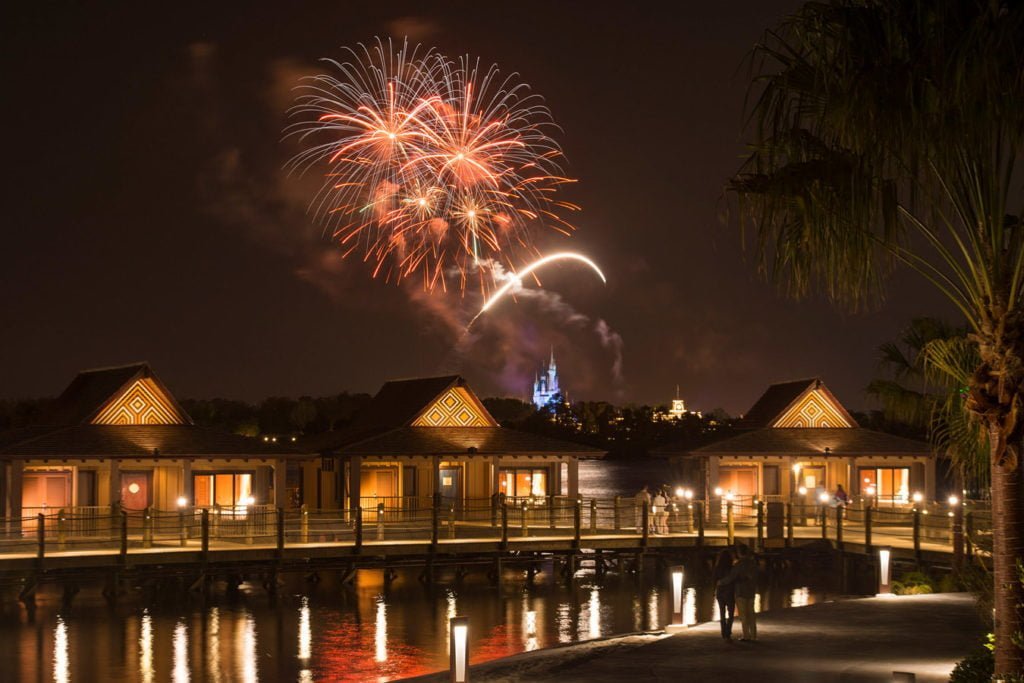 40. Make your own masterpiece with the Dirty Pour Project
If you always leave paint night events wondering why your creation looks nothing like what your instructor demonstrated, try a more abstract approach to paint night. The Dirty Pour Project is a locally owned and operated paint night event held at select breweries and outdoor locations in Orlando, typically on a monthly basis. You'll learn the art of fluid painting, in which you layer paint colors and use additives to create a one-of-a-kind (and somewhat unpredictable) painting. Coordinate colors to create two complimentary canvases for your home.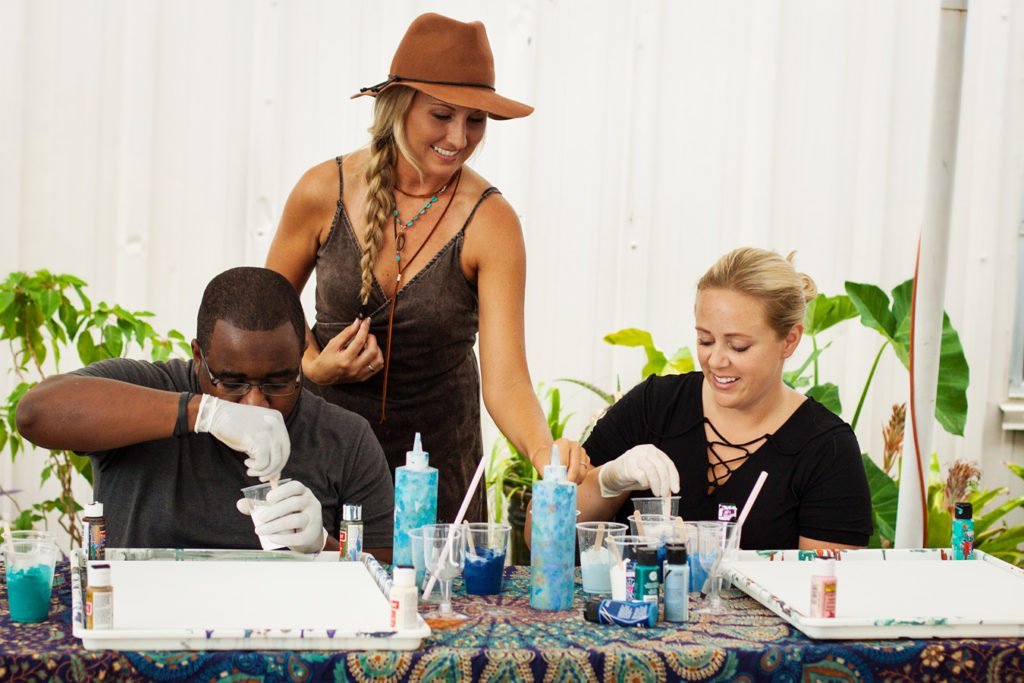 41. Embark on the Chocolate tour at the World of Chocolate museum
Go behind the scenes to learn the history of chocolate, explore a gallery of sculptures made of chocolate and then head to the tasting room to taste a few treats for yourselves! The World of Chocolate Museum and Café on International Drive offers daily museum tours as well as optional chocolate pairings. Choose from options like a wine and chocolate pairing or a fondue tour for two.
42. Dance the night away
Exciting nightlife awaits in multiple Orlando hotspots from Universal's CityWalk to Disney Springs, International Drive and downtown Orlando. At CityWalk, belt out your favorite tune with the help of a live band at Rising Star, an epic karaoke bar, before club hopping to dance for the rest of the evening. At Disney Springs, restaurant and entertainment meet at The Edison, which becomes 21+ after 10pm and features live music and performers. On International Drive, dance to Latin beats at Cuba Libre.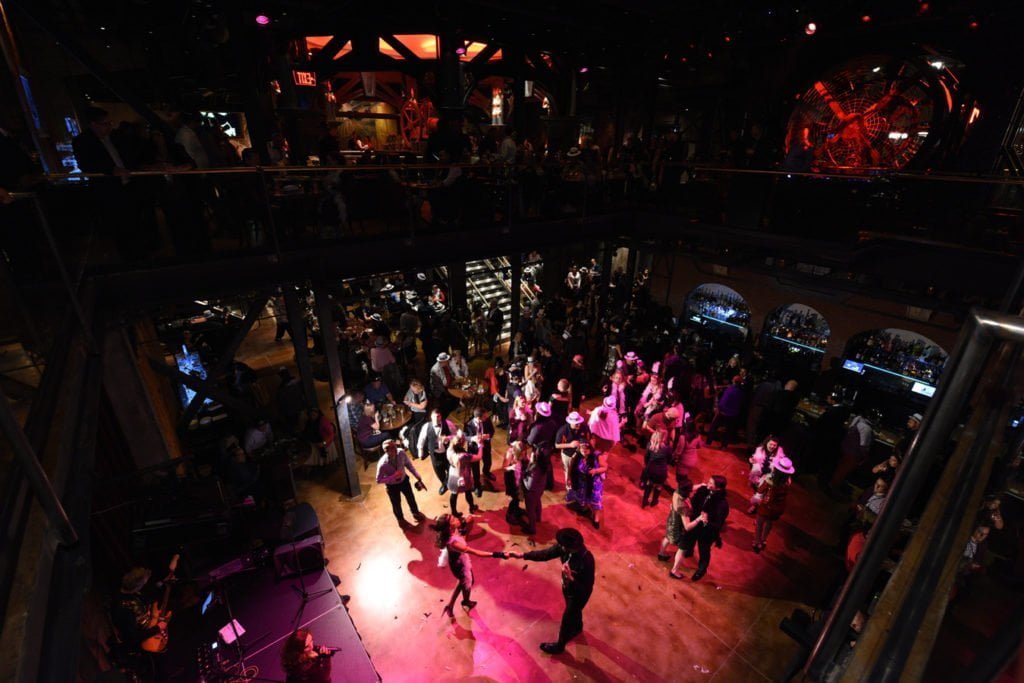 SHOWS & SPORTS
43. Perfect your swing at a golf entertainment complex
Orlando is now home to two premier golf entertainment complexes: Topgolf and Drive Shack. Both feature air-conditioned hitting bays, top of the line technology, immersive game experiences, multiple bars and lounges, full food menus and guaranteed fun whether you consider yourself a novice or expert golfer.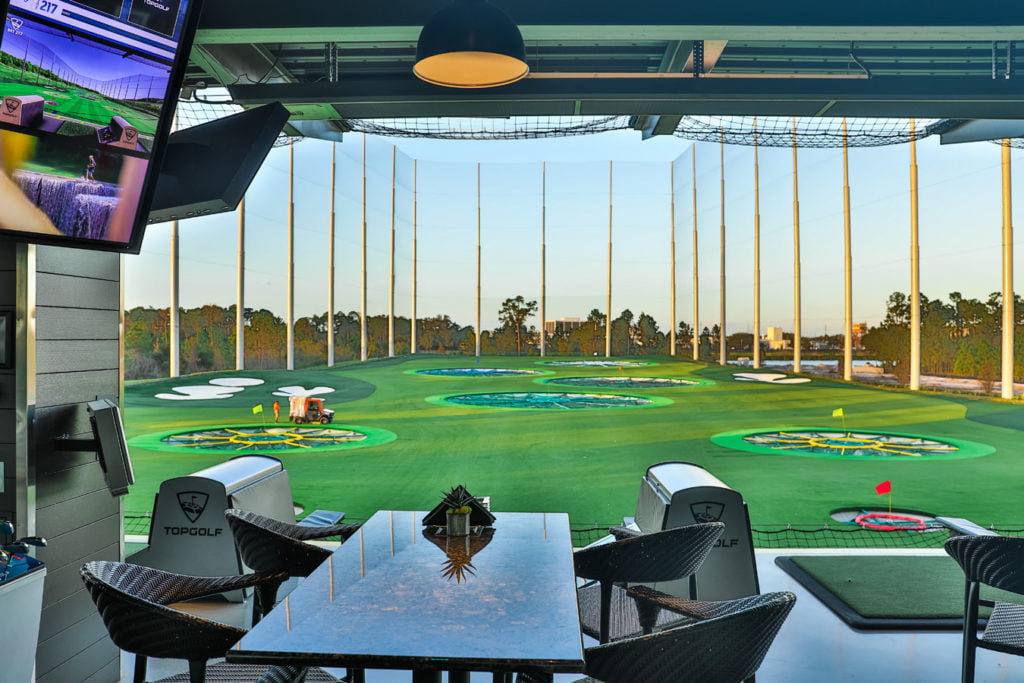 44. Chill out at an Orlando Solar Bears hockey game
Cheer on a local sports team without busting your budget! The Orlando Solar Bears are our local ECHL hockey team, and you can see them play at the Amway Center, conveniently located within walking distance of the bustling Church Street district. Tickets are typically around $17/person and there really isn't a bad seat in the house. Try section 117 for a good vantage point on the goal.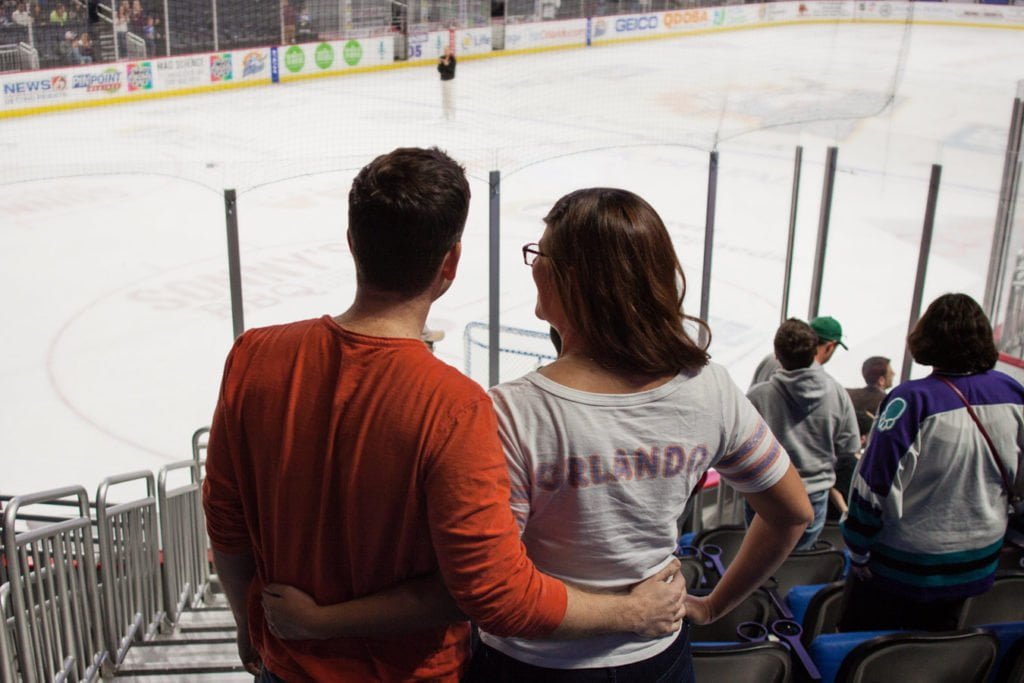 45. Cheer with the locals at an Orlando City SC game
Soccer has taken Orlando by storm with the success of two local teams, Orlando City (men's team) and the Orlando Pride (women's team). The state of the art Orlando City Stadium is a sparkling new facility decked out with North America's only all-standing supporter section, named "The Wall." Don't forget to wear purple! Here are a few more tips for your first game.
46. Do Dinner and a movie at Enzian Theater
Enzian Theater is one of Orlando's best destinations for dinner and a movie, boasting romantic charm thanks to the cozy outdoor bar and restaurant, Eden Bar. Sip cocktails under ancient live oaks and twinkling lights before heading indoors to catch the latest indie film or cult classic. Romantic programming includes Saturday matinee screenings of classic movies and late-night screenings of cult films. Bonus: Enzian is a dine-in theater, so a full food menu is available from the comfort of your plush, retro-inspired seats!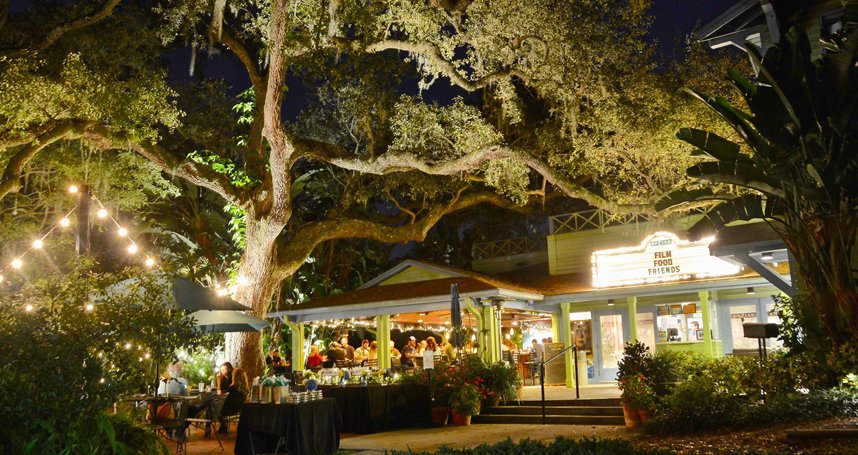 47. Watch live Improv at SAK Comedy Lab
You'll be laughing until your sides hurt at SAK Comedy Lab in downtown Orlando. There's a live improv performance almost every night of the week, and audience participation ensures no two shows will ever be the same. While all shows are considered family-friendly, the monthly Pepe's Truth or Dare Improv show is adults-only.
48. Catch a Dinner show
Why not be entertained while you eat? On International Drive, Mango's Tropical Café brings the excitement of Miami's South Beach to Central Florida with a nightly dinner show. Feast on Caribbean and Latin cuisine while watching dancers and celebrity tributes and listening to the live band perform everything from bachata to reggae. While it's just a tad cheesy, we also totally love Medieval Times.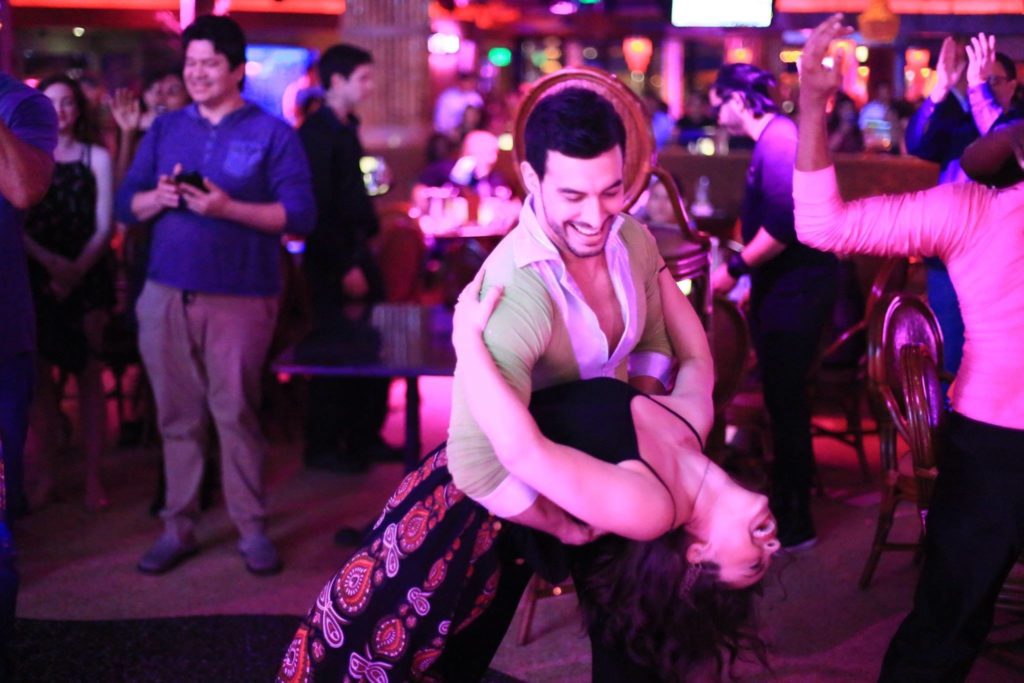 49. Watch one of many FREE shows at Disney Springs
Enjoy a totally free date night spent strolling Disney Springs watching entertainers and live music performances. Multiple stages and squares throughout the sprawling dining and entertainment complex host free performances every day of the week. Listen to live musicians play funky instruments like the didgeridoo at Sunshine Highline (by Starbucks). Or, check out the Marketplace Stage for live concerts and dance parties.
50. Experience the zany magic of Blue Man Group
Watch one of Orlando's funkiest live shows at Universal Orlando when you buy tickets to Blue Man Group. This off the wall performance is a fun blend of music, technology, comedy and entertainment.
51. See a Concert at House of Blues
A restaurant, bar and live music venue in one, House of Blues at Disney Springs is a must for music-loving couples. Attend a concert or sit outside on the patio to listen to live music while you dine. For a spin on classic Sunday brunch, make reservations for the weekly Gospel Brunch. Local musicians will perform Gospel songs while you nosh on brunch fare from the buffet including carving stations and favorites like chicken and waffles.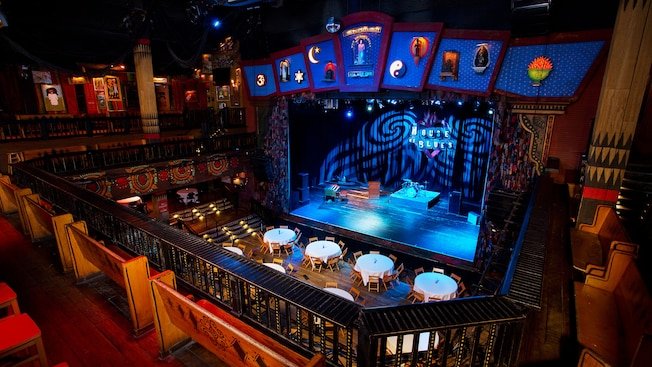 52. Do date night at a local entertainment venue
Intimate entertainment and small live music venues are sprinkled throughout the city hosting music and theater performances and everything in between. A few of our go-tos include The Plaza Live, The Abbey, The Social and The Beacham.
53. Rock out at Hard Rock Orlando
You don't have to be an overnight guest to enjoy a night out at the Hard Rock Hotel at Universal Orlando. This music-themed resort hosts some of Orlando's coolest nightlife and dinner events. For a multi-course meal paired with wine, try Wine Riffs, a wine dinner that happens several times per year. The pairing doesn't stop at food and wine; there's also a carefully curated playlist that accompanies each course. Music lovers won't want to miss Velvet Sessions. This periodic event is a cocktail party complete with cocktails, light bites and a live concert with a famous musician. You can also explore the on site restaurants and the swanky Velvet Bar.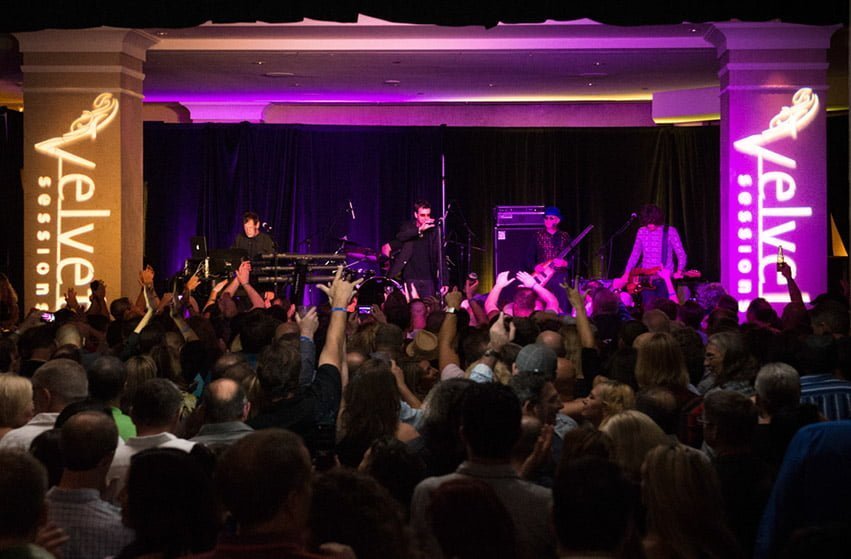 EVENTS
54. Thornton Park Wine Walk
The Thornton Park Wine Walk is one of our absolute favorite monthly events. All you need is $15 cash to participate. You'll receive a glass and a map, the latter of which will let you know which local businesses are offering tasty samples. You'll also find local artists creating, displaying and selling their work along the way. The wine walk is held on the second Thursday of each month in the Thornton Park district.
55. Science Night Live at Orlando Science Center
After the kiddos have left for the day, head to the Orlando Science Center for a special adults-only night out. Science Night Live invites you to explore the exhibits plus attend guest speaker presentations, play trivia, watch films in the CineDome, all while sipping on an adult beverage and sharing light bites. Check the website for upcoming dates and tickets.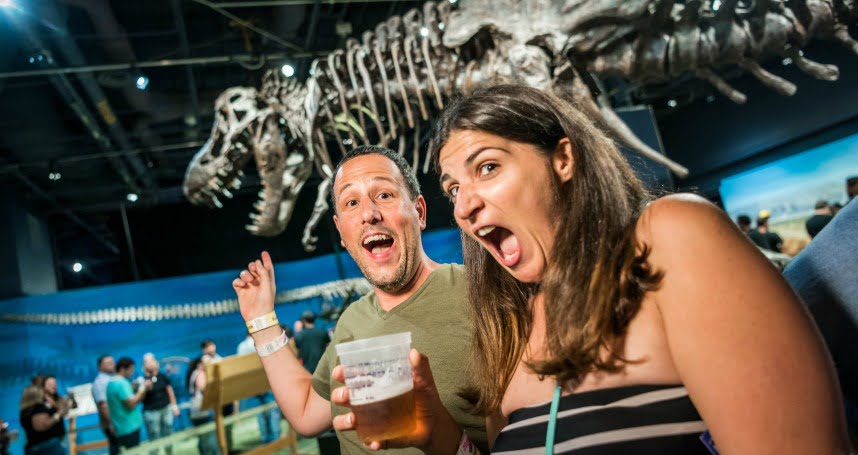 56. Seminole State Planetarium Shows
The Emil Buehler Trust Planetarium at Seminole State College is your ticket to the stars for the evening. The planetarium hosts regular public events and shows, including the popular Central Florida Nights on select Friday evenings. You'll locate a handful of constellations viewable in the night sky plus visible planets and other celestial events. After the show, head outdoors to peer at the night sky through a telescope. Special features are offered on most Saturdays. Check the calendar for upcoming shows.
57. Adults-Only fun at the Central Florida Zoo
The Central Florida Zoo isn't just for kids; there's plenty of fun to be had for adults, too. The seasonal 21+ Sunset at the Zoo series is Orlando's most unique happy hour experience. Sip beer and wine while listening to live music and wandering through the zoo to visit your favorite animals. Bonus: admission is only $5 per adult. Sunset at the Zoo is held on the third Thursday of each month from March to October. Other fun periodic events include the annual Brews Around the Zoo and Wild Art and Wine. The latter is a paint night complete with animal encounters.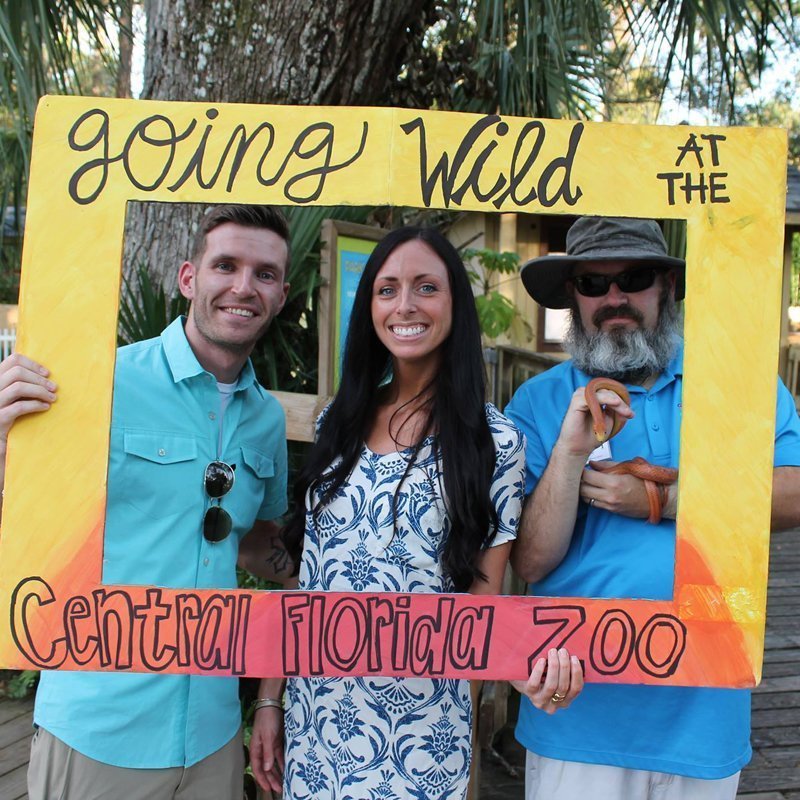 58. 1st Thursdays at Orlando Museum of Art
Described as "Orlando's Original Art Party", 1st Thursdays at the Orlando Museum of Art is a chance to step into the gallery after hours for an evening of art, food, wine and beer. Each month features a new theme, and artwork created around that theme is the featured gallery show of the evening. You'll also enjoy live entertainment and access to the permanent galleries. Admission is $15.
59. Orlando Museum of Art classes
Continue your adventure at the Orlando Museum of Art by signing up for a monthly workshop. Art Night Out is a monthly event perfect for date night. This adults-only hands-on workshop is your chance to create a work of art under the guidance of a talented instructor. The theme changes each month with past workshops including a drag makeup demonstration, mandalas and wire sculpture. Tickets are $30/person.
60. Leu Gardens movie night
Fantastic weather year-round means outdoor movie nights in Orlando happen every month of the year. One of our favorites is Leu Gardens' monthly outdoor movie night. Arrive early to stroll the gardens before the movie starts around dusk. The best part: you're allowed and encouraged to bring your own picnic basket, complete with a bottle of wine or beers. Stop by East End Market just up the street for picnic provisions. There are also food vendors on site serving up food truck fare and popcorn.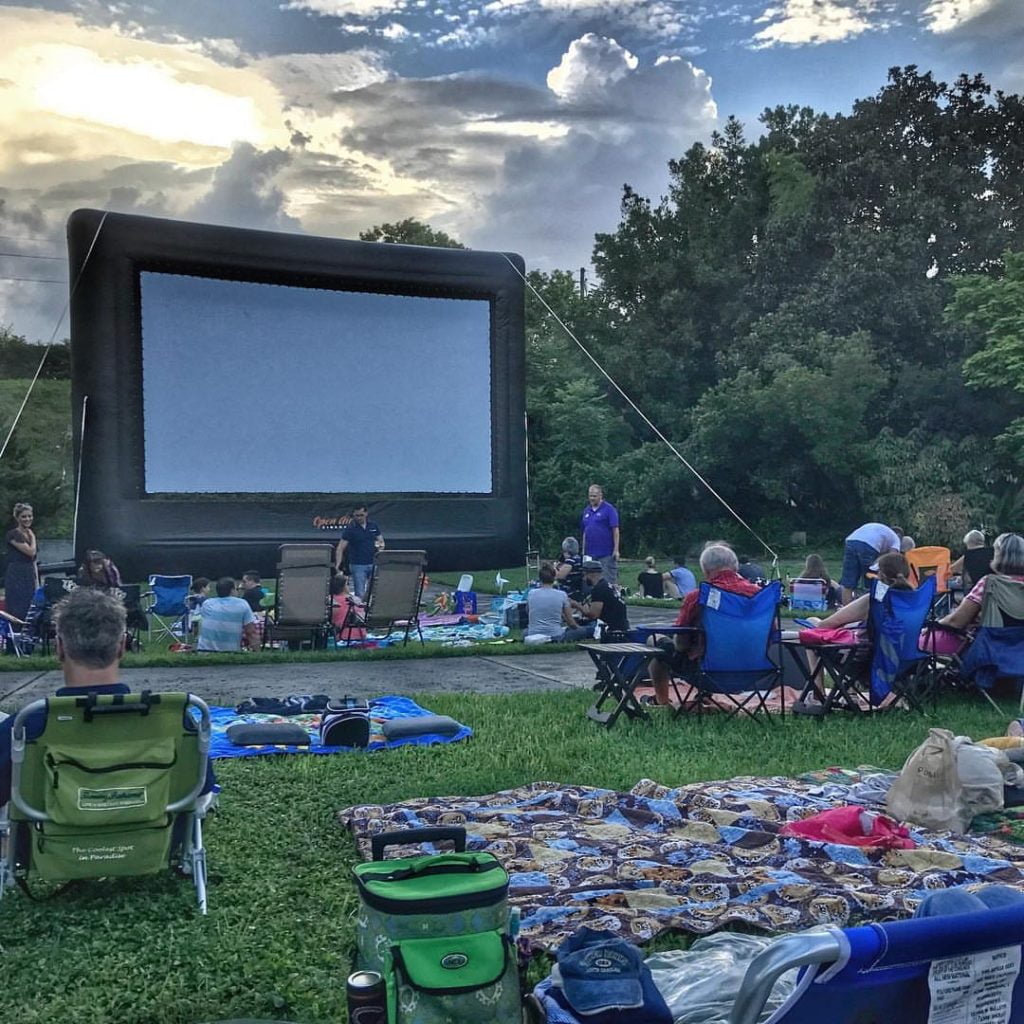 61. 3rd Thursday Gallery Hop
Check out local art while perusing 10+ galleries in downtown Orlando during the free 3rd Thursday Gallery Hop. Participating galleries include Aloft Orlando Downtown, CityArts Factory, Orange County Regional History Center, Gallery Eola and more. This event occurs on the third Thursday of every month from 6-9pm.
62. Nerd Nite Orlando
Held on the second Thursday of each month, Nerd Nite Orlando invites attendees to a local bar for a night of drinking and thinking. The evening includes three 15-20 minute presentations from a variety of local speakers. Topics aren't limited to traditionally nerdy interests; speakers are invited to present about anything they nerd out about.
63. Greenwood Cemetery tour
Learn about Orlando history after dark on the free Greenwood Cemetery tour. This totally free tour is led by Don Price, the sexton of Greenwood Cemetery. During the two-hour walking tour you'll meander through the historic cemetery to visit the graves of famous Orlandoans. Leave armed with a new appreciation for the city and fascinating historical insight. Tours take place once a month during a full moon. FYI, this tour is very popular and books up fast. Registration opens on Eventbrite one week prior to the tour so plan accordingly.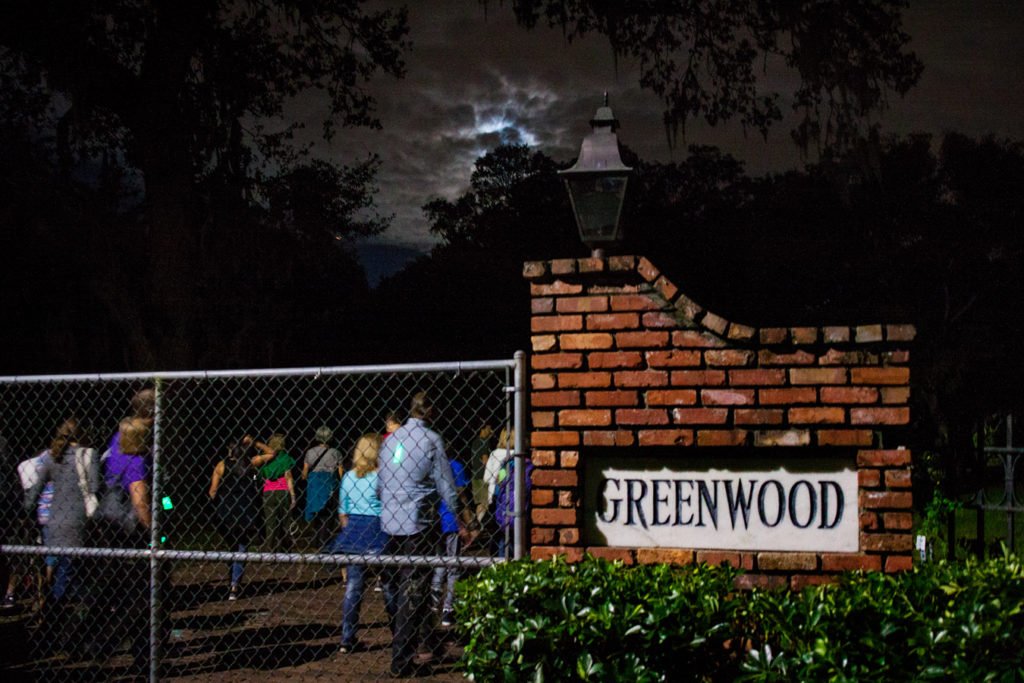 64. Baldwin Park First Friday festival
Baldwin Park is a no-brainer for date night thanks to its lakefront setting, paved trails and fabulous restaurants. One of the best ways to explore this locale is during the monthly First Friday Festival, a free sidewalk festival. More than 70 artisans display their work. The event is held on the first Friday of each month from 5:30-9:30pm. Stay for dinner at The Osprey Tavern or Seito Sushi, two of our favorite dinner dates in Baldwin Park.
65. Clermont Wine Walk
Similar to the Thornton Park Wine Walk, the Clermont Wine Walk is a monthly wine-centric walking event in which you'll sample wine and visit local shops in downtown Clermont. Tickets are $15 and include a glass and map for the evening.
Feature image credit: ICON Orlando