Let patriotic love explode this 4th of July in Orlando while celebrating our nation's freedom and independence. What better way to commemorate the festive holiday than in grand fashion? We've brought you a smorgasbord of events from well-loved fireworks shows to ticketed events. Choosing just one is the hard part.
Whether you splurge on a grandiose evening or keep it simple, all things 4th of July are right here.
And if you've got your own little firecrackers along for the ride, jump over to Top 5 Kid Friendly July 4th Fireworks in Orlando.
Orlando 4th of July Fireworks and Events Happening Tuesday, July 4, 2023
When: Tuesday, July 4, 2023 from 5-10pm
Where: Lake Eola Park
Cost: FREE
This year marks the 46th Annual Fireworks at the Fountain celebration in downtown Orlando at our city's iconic Lake Eola Park. The fun kicks off at 5pm with live entertainment, family-friendly activities, and food/drinks available for purchase from on-site vendors. You're allowed to bring picnic blankets, chairs, and a cooler filled with your favorite snacks and nonalcoholic drinks to enjoy. Dogs are welcome, too.
The epic fireworks display will begin at 9:15pm. The finale will include a dazzling display set to a patriotic performance from the Orlando Concert Band.
This event is FREE and open to the public.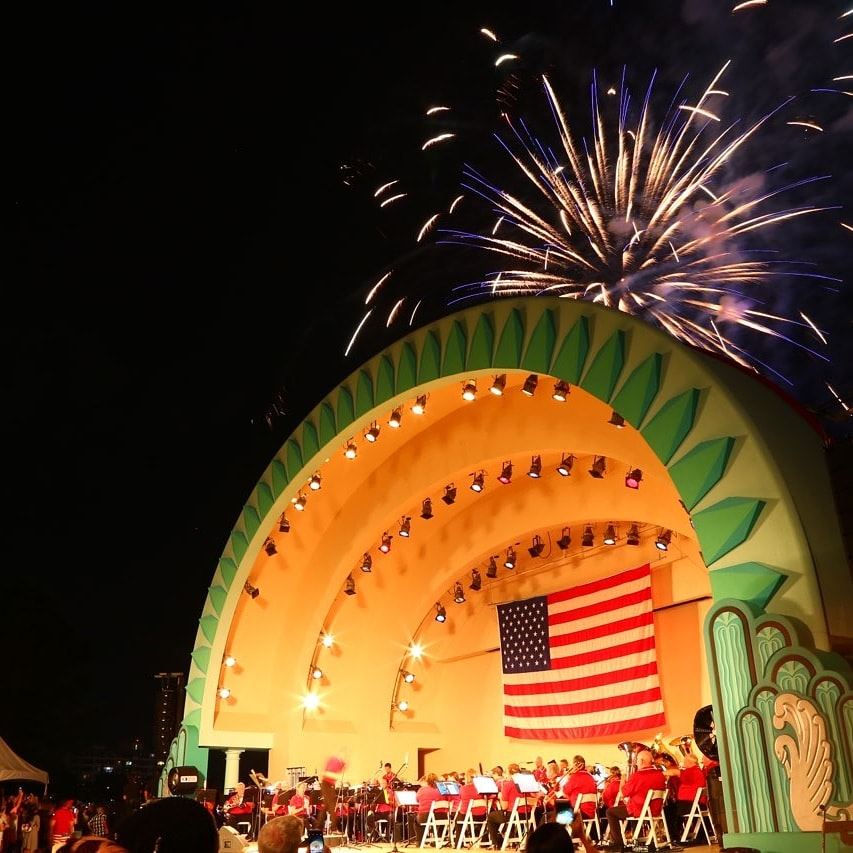 2. Disney Fireworks
When: July 3 and July 4
Where: Magic Kingdom and Epcot
Cost: Included with theme park admission
Nightly fireworks displays at Magic Kingdom and Epcot are magical any time of year. But during 4th of July weekend, patriotic magic is added! You can catch the display at Magic Kingdom each night, or head to Epcot for the nightly show including fireworks, music and special lighting effects.
Make 4th of July in Orlando unforgettable with a Disney Fireworks Cruise. Cruises leave from Disney's Yacht and Beach Club Resort and chart a course to the International Gateway near World Showcase Lagoon for a celebration including fireworks, lasers and synchronized audio. There are also a few options in the Magic Kingdom resorts area.
If you're on a budget, check out one of these spots for viewing Disney fireworks outside the parks.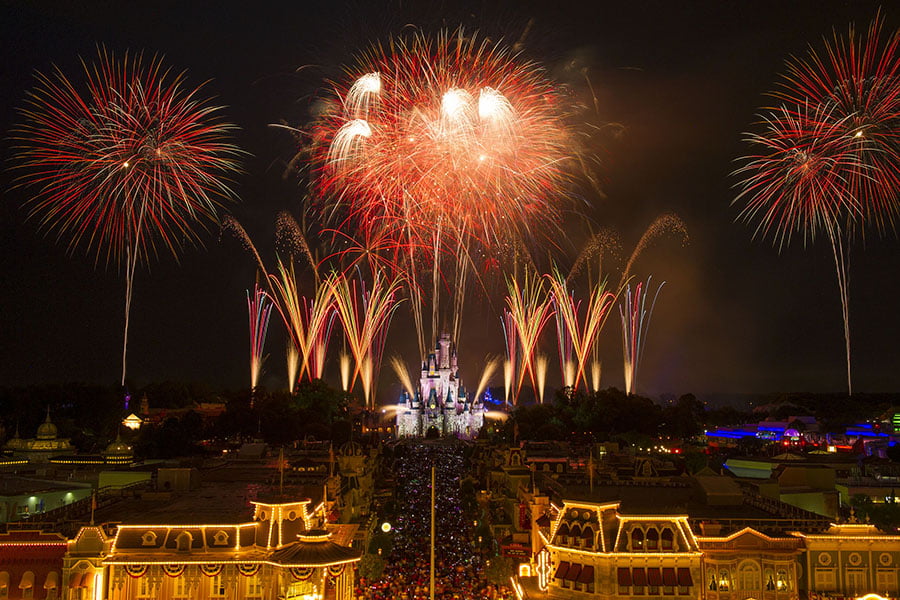 3. Promenade at Sunset Walk Star Spangled Weekend Celebration
When: July 1 – 4, 2023
Where: Promenade at Sunset Walk (Margaritaville Resort Orlando)
Cost: FREE
Head to this walkable entertainment and shopping hub for a full weekend of Independence Day celebrations. Sunset Walk's Star Spangled Weekend Celebration takes place Friday to Monday. Activities include live musical performances at the Promenade Plaza, an evening car show, street performers, and an artisan market.
On Tuesday, July 4, enjoy more free entertainment at Promenade Plaza followed by a fireworks display at 9:45 pm.
Margaritaville Resort Orlando will also have free entertainment Saturday and Sunday, plus fireworks viewing.
Related: Plan a live music and pub crawl at Sunset Walk
4. Monumental 4th of July in Kissimmee
When: Tuesday, July 4, 2023, 5pm – 9:30pm
Where: Kissimmee Lakefront Park
Cost: FREE
For those living on the southern side of Orlando, take a short jaunt to Kissimmee Lakefront Park. The City of Kissimmee is hosting Monumental 4th of July, a booming firework spectacular on July 4 at 9:00pm.
5. Red, White and Blue Americana in Downtown Winter Garden
When: July 1 and 4, 2023
Where: Downtown Winter Garden
Cost: FREE
Celebrate all weekend long, small town style, at Downtown Winter Garden's Red, White and Blue Americana event. The full lineup includes:
WINTER GARDEN FARMERS MARKET INDEPENDENCE DAY CELEBRATION, Saturday, July 1, 8:00 a.m.-1:00 p.m.
19th ANNUAL ALL AMERICAN KIDS PARADE & BREAKFAST, Tuesday, July 4, 8-10:30 a.m. (Pancake Breakfast: 8:00 – 9:45 am and Parade: 10:00 Kickoff)
PARTY IN THE PARK, Tuesday, July 4, 6:00-10:00 p.m.
Fireworks display on Lake Apopka at Newton Park on July 4 at 9:15pm
Downtown Winter Garden is also decked out in patriotic decor. Parking is available at several locations on N. Dillard Street. No personal fireworks nor alcohol is permitted. Bring a chair or blanket.
6. City of Clermont Red, White and Boom
When: Tuesday, July 4, 2023 from 6-9pm
Where: Waterfront Park in Historic Downtown Clermont
Cost: FREE
Clermont's all-American waterfront fireworks celebration is a local favorite. This year's Red, White and Boom 4th of July event includes food trucks, live music, and ending with fireworks. The fireworks are a dazzling display over Lake Minneola. Additional viewing is available at Victory Pointe.
Pack a blanket to enjoy this free fireworks display. Consider arriving early to explore downtown Clermont, including new hotspots along Montrose Street.
Alternatively, Winter Garden is nearby with its own fireworks over Lake Apopka.
7. Star Spangled Sanford
When: Tuesday, July 4, 6pm – 9pm
Where: Riverwalk / Fort Mellon Park area
Cost: FREE
Plan a full day in Sanford strolling the streets to visit your favorite local restaurants and breweries followed by evening fireworks. The sparks will fly over Lake Monroe just after sunset. The show will be set to music and will last for about 20 minutes. Make sure to pack blankets and chairs for comfy viewing along the water. There's a Star Spangled Sanford Kids' Zone too!
8. 4th of July Fireworks at Orlando Resorts
Want to go all out with a long weekend getaway? Several Orlando resorts host fabulous 4th of July fireworks displays that are exclusive to resort guests.
Celebrate Independence Day in style with Westgate's exciting lineup of holiday festivities! On Saturday, July 1, 2023, head over to Treasure Cove Water Park at Westgate Lakes Resort or Shipwreck Island Water Park at Westgate Vacation Villas Resort for a day of celebrating. Enjoy holiday-themed activities and a spectacular complimentary firework show. Bring the entire family and enjoy a Red, White & Blue Buffet, Live DJ, 4th of July swag, stilt walkers, access to waterpark pools, and so much more with your event admission. Events start at 7 p.m. and complementary fireworks start at 9 p.m.
At Orlando World Center Marriott, Explore the River Falls Water Park with Falls Lagoon Pool, 7 thrilling waterslides, kids splash zone, 575ft. lazy river and daily activities. Join them every evening at 9pm and watch the laser light show from Falls Lagoon pool deck or from your private pool view balconies.
End the weekend with a literal bang by watching a fireworks display on Tuesday, July 4. Upgrade to the special fireworks package for extra perks like a $50 resort credit and late checkout at 2pm.
Or, book a swanky weekend staycation at Grande Lakes Orlando, home to JW Marriott Orlando and The Ritz-Carlton Orlando, Grande Lakes. The weekend culminates in a fireworks display for overnight guests on Tuesday, July 4 at 9pm. And there are fireworks every Saturday Memorial Day through Labor Day.
For a double dose of fireworks, head to Omni Orlando Resort at ChampionsGate.
9. SeaWorld Orlando
When: July 1 – 4, 2023
Where: SeaWorld Orlando
Cost: Included with theme park admission; reserved seating for fireworks and parking additional
Dive into ocean depths this Independence Day at SeaWorld Orlando, which was voted #1 Best Theme Park in North America by USA Today 10Best. Celebrate Independence Day with four nights of fireworks this Fourth of July weekend with festivities, weather permitting. All nights will feature fireworks.
Reserve your seating to witness this one-of-a-kind display and engage in Electric Ocean, a nighttime event full of lights, music, sea creatures and DJ entertainment. The fireworks display is included with regular park admission.
The nightly fireworks showtime is usually 9:30pm, but exact showtimes for 4th of July have not been published. Fireworks can be viewed from the Orca Encounter Pathway, The Waterfront, and Bayside Stadium. The latter provides the best view, and reserved seating can be purchased at the park for $39, or a viewing experience on the SkyTower is also available. Park admission and parking are additional.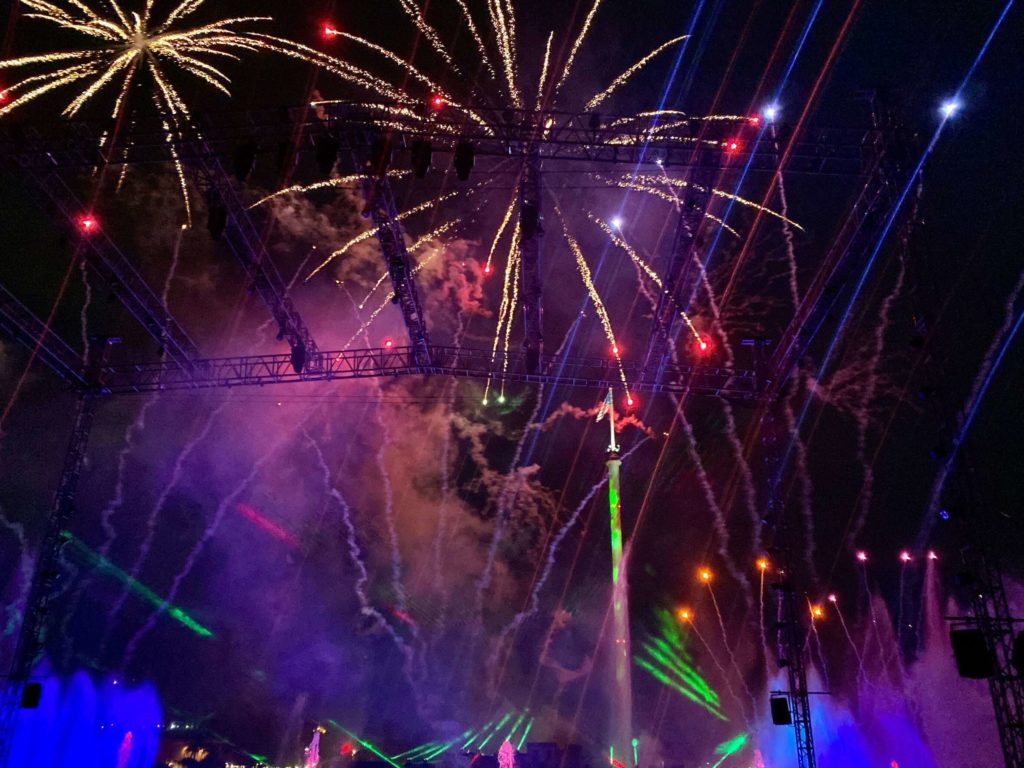 ALSO TRY:
10. Red Hot & Boom at Cranes Roost Park (happened Monday)
This infamous celebration takes place on Monday July 3, 2023 in Uptown Altamonte's Cranes Roost Park. The City partners with XL106.7 to bring a groovin' good time during this legendary event. Food vendors are scattered around Cranes Roost Lake to keep grumbling bellies at bay.
The event kicks kicks off at 4pm and ends with a 25-minute firework feast for the eyes. The event will go on rain or shine! Parking can be tough so consider a rideshare service or taxi. Dress comfortable, and remember to hydrate.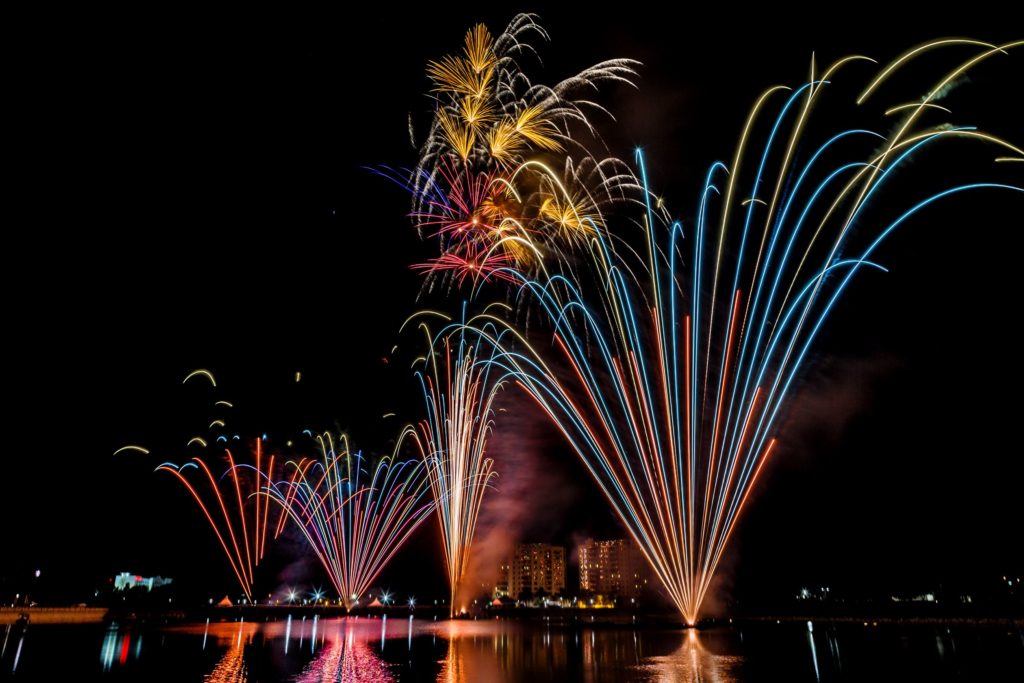 Put on your calendar for next year: Rock Freedom & Fireworks Longwood July 1, 2023
4th of July Events in Orlando
AdventHealth July 4th Watermelon 5k
Tuesday, July 4, 7:30am
Park Avenue, Winter Park
Join friends, family and neighbors for a morning celebration with ice cold watermelon and American pride.
$33 – $43
4th of July Party
Tuesday, July 4, 5pm – 9pm
Veranda Thornton Park
July 4th Bike Parade
Lake Avalon – Avalon Park
Tuesday, July 4, 5:30pm
Line up at YMCA at 5pm with decorated bikes, strollers, and wagons. Line up at 5pm, parade at 5:30pm. Preregister if you want to participate
City of Winter Park 4th of July Celebration
Tuesday, July 4, 9am – 11am
Central Park, Winter Park
Bring the family over to enjoy a Kids Zone with carnival games, balloon artist and bounce slides provided by our Parks & Recreation Family Fun Program.
9 a.m. – Welcome by Mayor Phil Anderson
9:15 a.m. – Madison Zavitz performs
9:30 a.m. – Bach Festival Brass Ensemble & Choir performs
10:45 a.m. – Bike Parade
Independence Day Open House
Tuesday, July 4, 9:30am-4pm
The Charles Hosmer Morse Museum of American Art
The Museum is open for free on Independence Day in conjunction with the City of Winter Park's Annual 4th of July Celebration.
FREE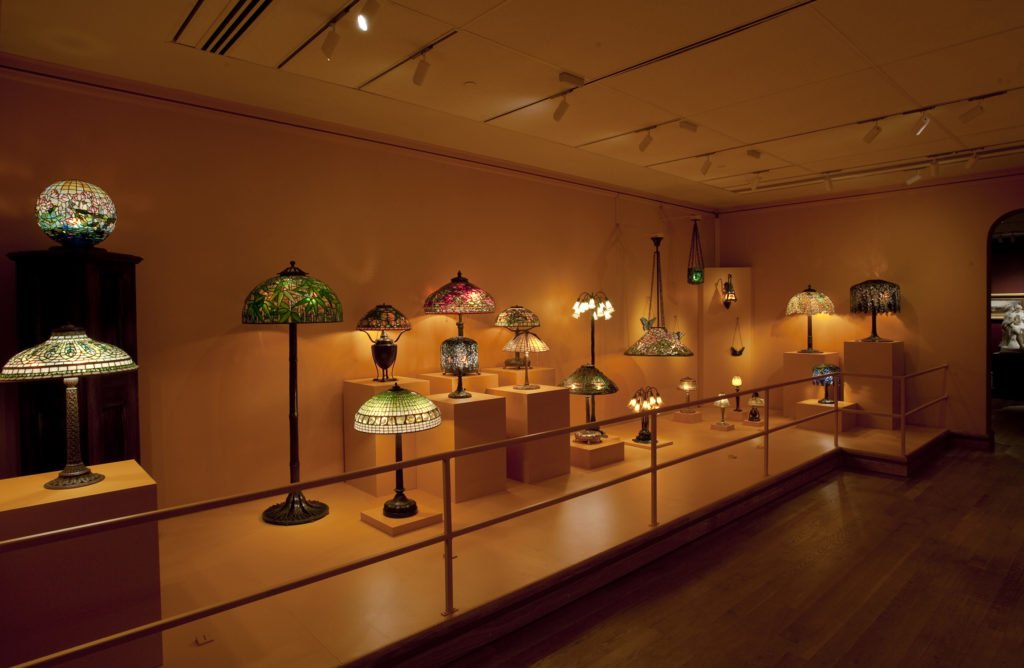 4th of July Sunset and Fireworks Paddle
Tuesday, July 4, 7:30pm
Lake Ivanhoe Boat Ramp
Watch downtown Orlando's awesome fireworks show while paddling on Lake Ivanhoe. Start at 7:00pm from the boat ramp, watch the sunset and stay on the water to see the fireworks at 9:15pm.
Beginner and kid friendly
$10
Plan for next year…
Liberty Weekend Concert with Orlando Philharmonic Orchestra
Saturday, June 24 at 8pm
Orlando International Airport
Themed "A Red, White and Blue American Celebration," the complimentary annual concert will include patriotic favorites and American classics. Prior to the concert at 7:45 p.m., the Colonel Joe Kittinger Award will be presented to a distinguished local veteran for their service and contributions to aviation, the country and the Central Florida community. The music begins at 8 p.m. and takes place in the atrium of the Hyatt Regency Hotel on Level 3 of the Main Terminal at Orlando International Airport. The concert is open to the public and those attending the event will receive three hours of complimentary garage parking.
Great American Block Party
Saturday, July 1, 2pm – 10pm
Lake Nona and Boxi Park
Block party with live entertainment, carnival games, and more!
FREE
Red, White, and Blue Americana Events
July 1 and July 4, 2023
Downtown Winter Garden
Events include:
WINTER GARDEN FARMERS MARKET INDEPENDENCE DAY CELEBRATION, Saturday, July 1, 8:00 am – 1:00 pm (Kids Crafts, 9:00 am – 12:00 pm)
19th ANNUAL ALL AMERICAN KIDS PARADE & BREAKFAST, Tuesday, July 4, 8:00 – 10:30 am, Pancake Breakfast: 8:00 – 9:45 am, Parade: 10:00 Kickoff
PARTY IN THE PARK, Tuesday, July 4, 6:00 – 10:00 pm, Newton Park, 29 W. Garden Avenue. Festivities begin at 6:00 pm and the Fireworks Show starts at 9:15 pm.
Freedom on the Waterfront – with fireworks
Monday, July 3, 5:00pm
Mount Dora
Festivities begin at 5 PM with live music, featuring Kid's Zone with lots of fun activities, food trucks, beverages, and plenty of fun for everyone. The festivities at Elizabeth Evans Park will end with fireworks over Lake Dora.
FREE
---
Besides 4th of July fireworks and events, there are plenty of ways to celebrate the holiday weekend together. From the best natural parks to explore together to our favorite spas and resorts.
Thirsty? Check out these breweries in Orlando to visit this 4th of July.
Wanna get away? Plan a trip to one of these amazing 4th of July getaways.
Need to cool off? Check out these Springs Near Orlando to visit this 4th of July and the best beaches for 4th of July.
---
Heading to Tampa for the 4th of July? Check out Tampa Bay Date Night Guide's Fourth of July Fireworks and Events!
Also check out 75 Free Things to do in Orlando.
Bonus – Universal Orlando 4th of July
(2022 info, we will update for 2023 when announcements are made) Universal Orlando Resort will feature special entertainment at Universal Studios Florida on July 4 to celebrate Independence Day, including a high-energy band, live DJ, meet & greets with Universal's most popular characters, and patriotic-themed performers and stilt walkers.
The festivities will kick off on Monday, July 4 at 5 p.m. and run through park close at the Music Plaza, which will be decked out in festive décor and all things red, white and blue. The celebration will culminate with a special pyrotechnics display at 9 p.m. which guests can view throughout the theme park.
Plan ahead with our Universal Orlando fireworks viewing tips
The activities are included with admission to Universal Studios Florida. If you're not heading into the parks, but want to check the fireworks, get your spot early at Bar 17 Bistro at Universal's Aventura Hotel, one of our picks for the best restaurants at Universal Orlando for date night.
Feature image credit: City of Orlando