As it does each year, our Ancient City will transform into a twinkling town during the 30th Annual Nights of Lights. Shining brightly every night from Saturday, November 18, 2023, through Sunday, January 28, 2024, the historic district is illuminated with over three million dazzling lights! There are many ways for locals to enjoy this world-famous holiday event.
Here are more than a dozen St. Augustine Nights of Lights tours for locals (and visitors) to book this season. 
There are tons of festive events to take part in during the holidays. But St. Augustine Nights of Lights is among the most beloved annual traditions. Nights of Lights was recognized as one of the top ten Holiday Lights Displays in the world by National Geographic. And locals take pride in that our historic hometown boasts this seasonal treasure.  
The symbolic white lights connect back to the practice of Spanish homes lighting candles in honor of Christmas and other celebrations. But here's a fun fact and challenge… According to an editorial published by the St. Augustine Record, "one of the men who placed the lights inserted one red light for his daughter to find. After he retired, the tradition continued." Will you try to find it? Pssst… the red light is always positioned somewhere in the Plaza de la Constitucion.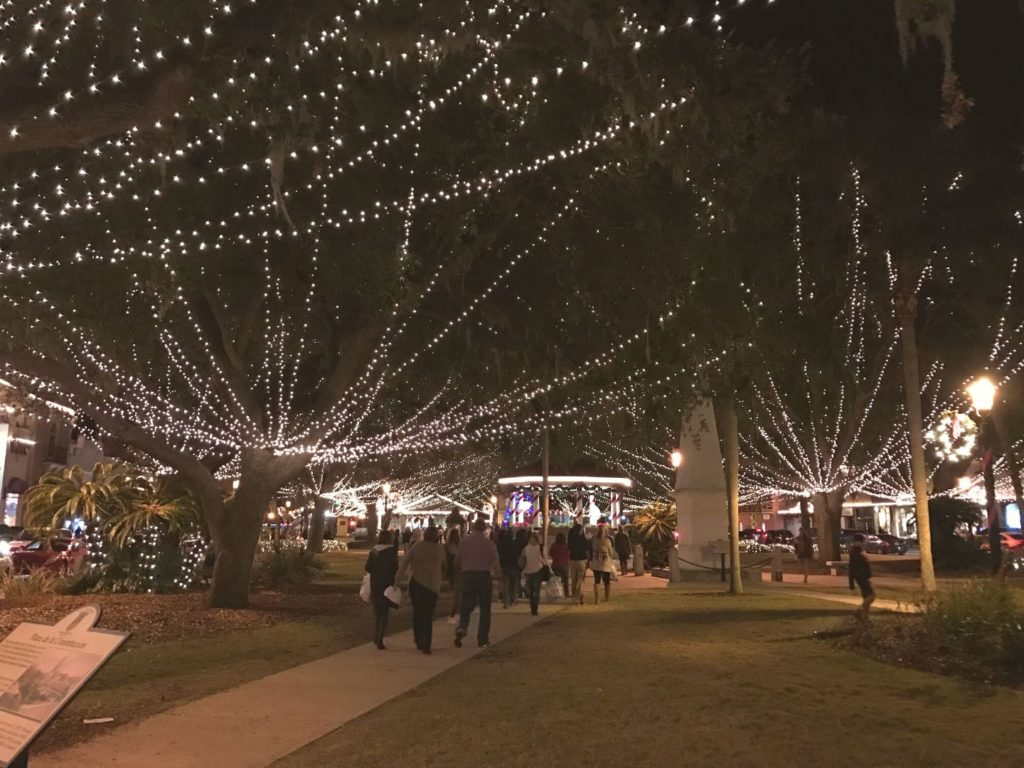 Local Insight for St. Augustine Nights of Lights
Because of its well-deserved popularity, Nights of Lights gets busy and, thus, logistical planning is in your best interest – whether you do Nights of Lights on foot or via a tour. Here's some pointers:
Park it:

Take advantage of the free

City of St. Augustine Park & Ride Shuttle

on select nights. Alternative options are also outlined on the

City's website

.

Eat it up:

Do book dining reservations well in advance. Because of the higher-than-usual demand for tables, walk-in options aren't favorable.

Get lit:

You may be surrounded by lights but consider wearing glow sticks or, if you dare, a Christmas sweater that lights up. With heavy road and pedestrian traffic, wearable lights are not only fun but also useful for safety.

Pack your patience:

While magical, the crowded setting can be overwhelming. Remember to stay merry and bright! As a local, opt for a weeknight which may not be as busy compared to the influx of visitors attending on weekends.
Best St. Augustine Nights of Lights Tours for Locals
Odds are you've previously experienced Nights of Lights by foot. Walking around our historic city never gets old but, to experience it like never before, book one of these St. Augustine Nights of Lights tours.
Carriage Ride via Country Carriages
Led by a horse rather than a reindeer, Country Carriages offers festive rides during Nights of Lights. You can book a typical wagon or, better yet, opt for the Santa-approved sleigh carriage.
Cost: $45/person and up
If you'd like to operate on island time during Nights of Lights, plan to have the time of your life on the Cruisin' Tiki. This floating hut provides a captain, Bluetooth sound system, and a cooler so you can stock it with your favorite snacks and drinks.
Cost: $65/person
A moke is sort of a retro vehicle that looks like a cross between a beachy jeep and a cool, open golf cart. While it's a slower vehicle, the fun factor of Nights Of Lights goes from zero to sixty pretty quickly when riding in a moke.
Cost: $150 (for up to four people)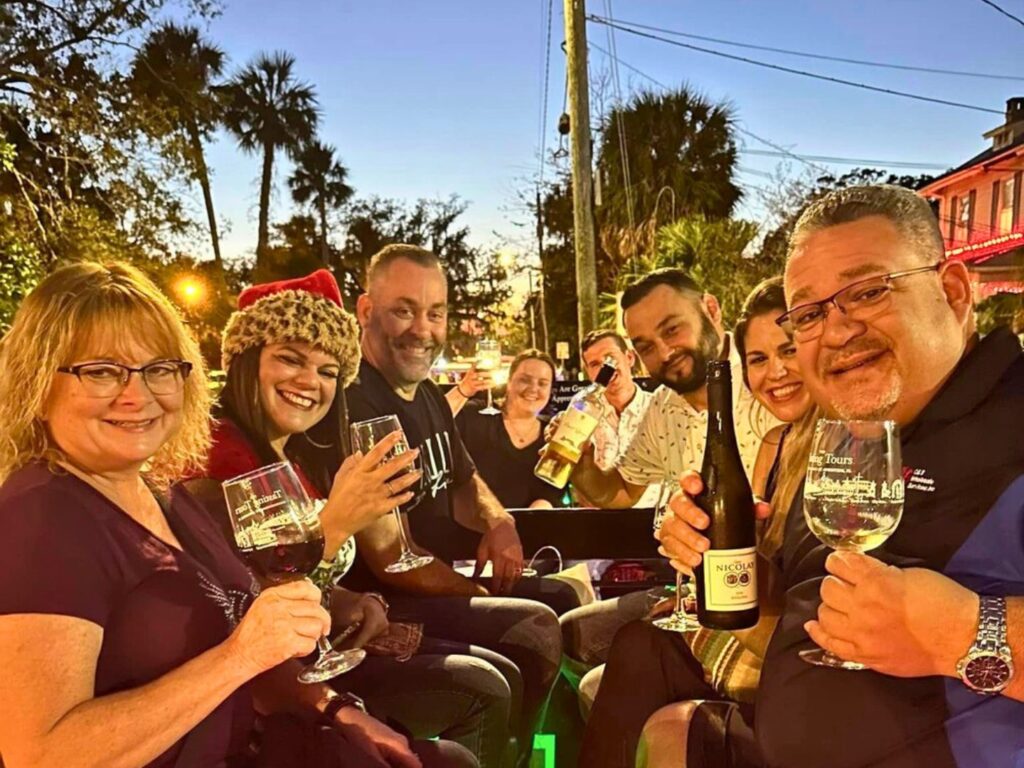 Several companies led Nights of Lights tours using electric vehicles. You can book one of these long, open-air golf carts with Explore Tours, Pineapple Ride and Tour, St. Augustine Gold Tours, St. Augustine Land and Boat Tours, and Ghost St. Augustine. But, for fans of Dr. Seuss, you'll eat up the experience led by Tasting Tours because the Grinch is behind the wheel! His road rage is oddly welcomed and entertaining.
Cost: $35+/person
A bit of a splurge, adrenaline junkies can take to the skies for a bird's eye view of St. Augustine Nights of Lights. Circling our luminous Ancient City may just make your heart skip a beat.
Cost: $295-$445/flight
Plunge into the holiday season aboard a 45′ pontoon boat for a 75-minute ride. Cheers to the city's light display with beverages served from the boat's bar. Florida Water Tour Cruise offers several ride options.
Cost: $39/person and up
Departing from the Visitor Information Center for a 30–45-minute ride, the Trolley is the most popular way to do Nights of Lights (aside from walking). Passengers are outfitted with magical 3D glasses for an elevated light experience, encouraged to participate in onboard Christmas caroling, and treated to sugar cookies and apple cider.
Cost: $69.99 per row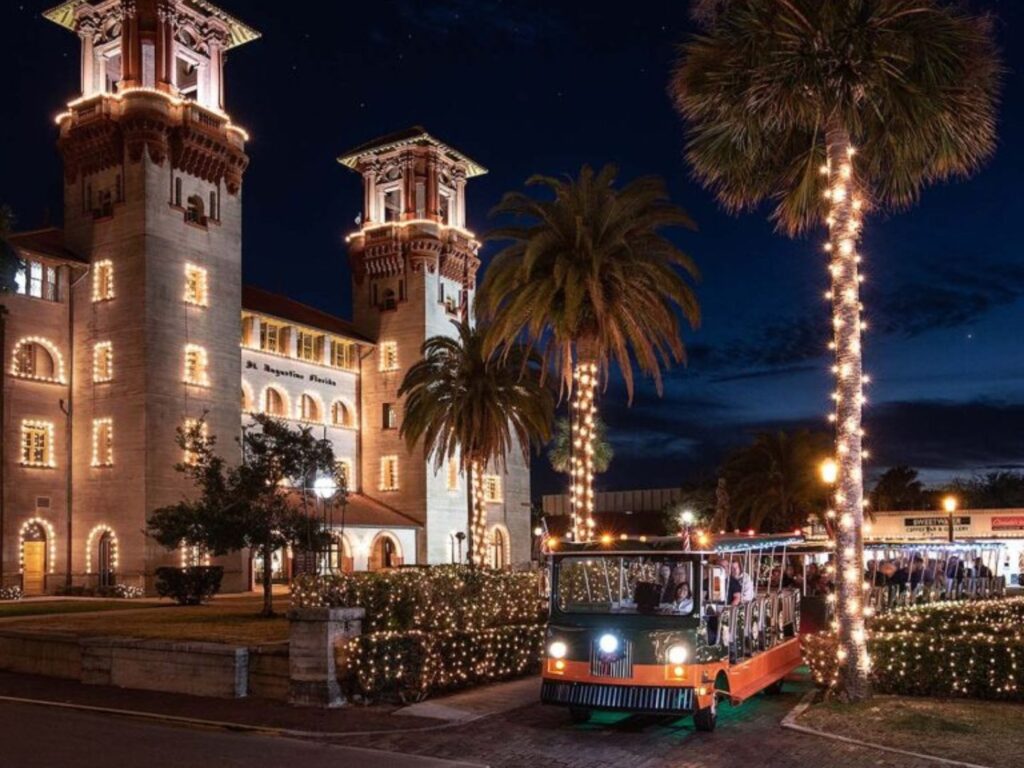 Featured image of this blog post is from @oldtowntrolley
Pedicab via Pineapple Ride and Tours
There is something playfully fun about riding on a cycle rickshaw. This Nights of Lights tour grants front-row seating for friendly banter with a local, knowledgeable guide who'll aim to show you a 'wheely' great time.
Cost: $60 per row
Departing from Ripley's Believe It or Not! museum, this 30-minute adventure is comparable to the Old Town Trolley tour – inclusive of magic 3D glasses and holiday music. Additionally, Ripley's Believe It or Not! is set to show free holiday movies for Nights of Lights tour guests.
Cost: $65.99 per row
Another way to make a splash this holiday season, the Schooner Freedom is a popular on-the-water tour choice. The majestic sailboat is lined with holiday lights to magically mirror the lights on land.
Cost: $70/person
Say 'Ahoy' to Nights of Lights joy aboard a luxury sailing yacht. Watch the skyline fade from colorful sunset hues to sparkly white lights.
Cost: $89/person and up
This scavenger hunt experience is an entertaining way to immerse yourself in Nights of Lights. The interactive game creates opportunities to play and problem-solve in the brightest setting.
Cost: $25/adult and $15/child
Other St. Augustine Nights Of Lights Tours
Which St. Augustine Nights of Lights tour will you try? Enjoy!