Holiday spending is expected to reach record levels this year, according to the National Retail Federation, with the average American spending roughly $620 on gifts alone. And while there's no denying the simplicity of scrolling and adding to your digital cart, do strive to shop locally as well. Supporting small businesses and area craft makers at holiday markets in St. Augustine puts dollars right back into our local economy. Perhaps it may get you onto Santa's "nice" list too!
These holiday markets in St. Augustine are a perfect pairing with a stroll among Nights of Lights, or even a Nights of Lights tour.
Holiday Markets in St. Augustine
3rd Annual Holiday Night Market
When: Friday, November 17, 2023 | 6:30-9:30pm
Where: St. Augustine Distillery, 112 Riberia St., St Augustine
As part of the city's Nights of Lights kick-off, the St. Augustine Distillery will host its third annual holiday night market. This can't miss event will feature an early release of a limited-edition spirit, live music, exclusive holiday merchandise and more. Come cheers to the season.
When: Sunday, November 19, 2023 | 10am-3pm
Where: World Golf Village Renaissance, 500 S. Legacy Trail, St. Augustine
Backed by Jacksonville Business Connections, this huge event features 150+ local creatives and retailers. The first 30 guests will receive a swag bag; plus, $35 market bucks will be given away every hour. As another incentive, those who shop at least five vendors will be entered to win $50 market bucks to spend with a vendor after the event. Santa will be on-site too.
When: Saturday, December 2, 2023 | 10am-3pm
Where: Coconut Barrel, 2121 US 1 South, #10, St. Augustine
Coconut Barrel, Northeast Florida's largest artisan market, invites seasonal shoppers to visit tons of artsy vendors both outside and inside the venue. To help spark a festive feeling, enjoy a complimentary hot cocoa from Coconut Barrel's chocolate bar.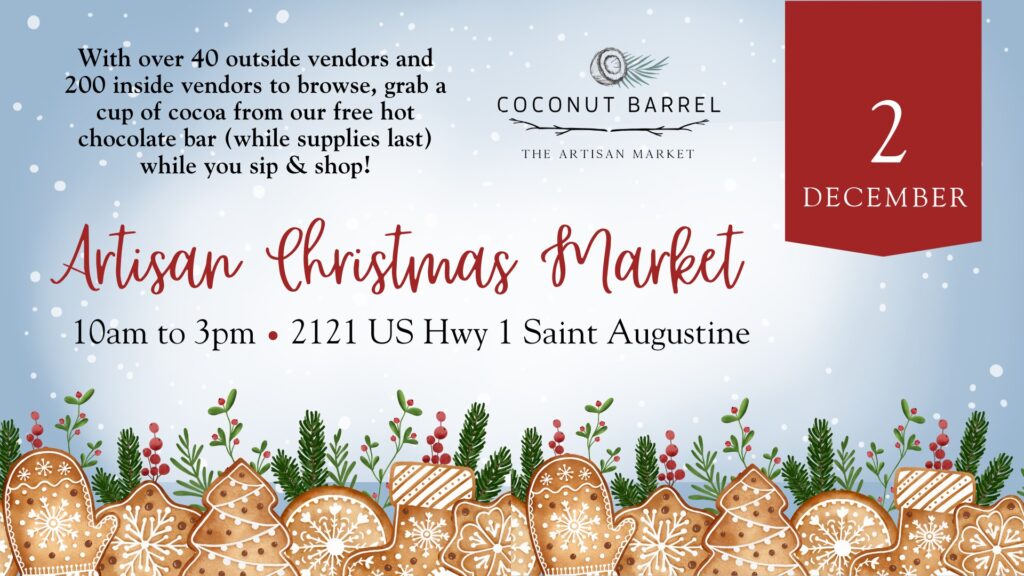 When: Thursday, December 7, 2023 | 5-8pm
Where: Lightner Museum, 75 King St., St. Augustine | (904) 824-2874
To really dive into holiday shopping, head to the pool. You see, the Lightner Museum's holiday market is held in the former grand swimming hall of the original Hotel Alcaza, a Gilded Age resort hotel commissioned by Henry Flagler. Surrounded by gorgeous architecture, explore treasures presented by 30+ artisans and small businesses.
When: Saturday, December 16, 2023 | Time TBA (likely 4-8pm)
Where: Main St., Vilano Road, St. Augustine
Vilano Beach has several holiday events planned this season, including a book fair featuring Carol Aebersold, author of Elf on the Shelf, a live Santa's Elf Circus Show performance and, yes, a holiday market. This market will feature an array of local vendors; plus, live music will be performed by Jeremy Weinglass, a classical pianist.
Also Try These 2023 Holiday Markets in St. Augustine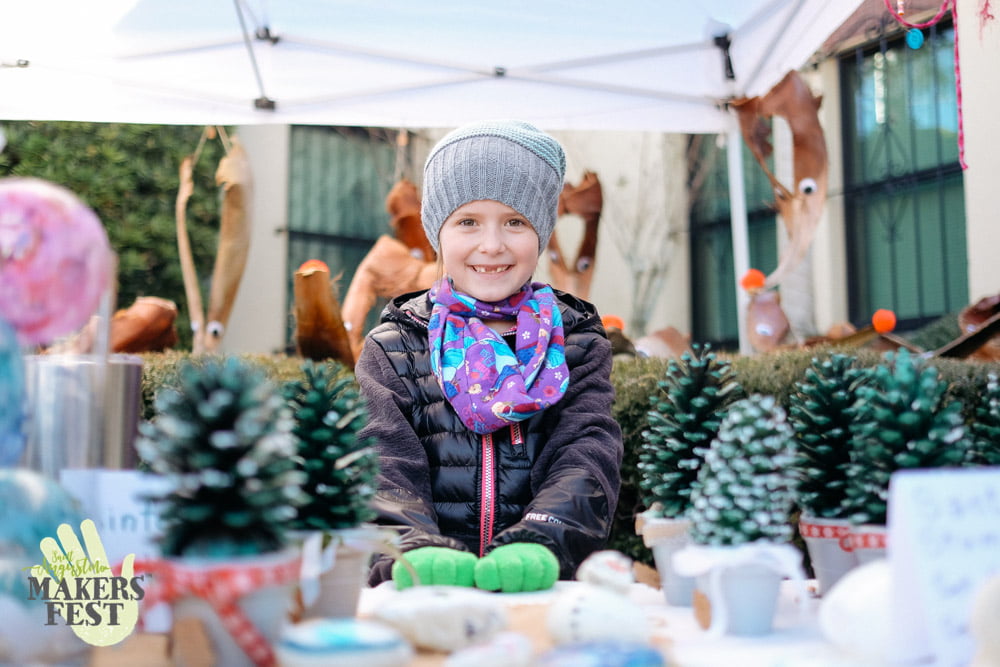 Holiday Markets in Jacksonville
When: Wednesday, November 15, 2023 | 4-8pm
Where: 9849 Crosshill Blvd, Jacksonville
This third annual event will gather approximately 30 vendors to allow locals to get a head-start on holiday shopping before the December rush. So, make your list and check it twice… and know that this holiday market has gifts for everyone on your list.
When: Saturday, November 18, 2023 | 11am-3pm
Where: Adam W. Herbert-University Center, 12000 Alumni Dr., Jacksonville
Backed by Jacksonville Business Connections, this event will feature 65+ local creatives and retailers. Proactively reserve a free ticket online for a chance to win $25 market bucks to spend on your holiday finds.
When: Friday, November 24, 2023 at 10am to Sunday, November 26, 2023 at 5pm
Where: Prime F. Osborn III Convention Center, 1000 Water St., Jacksonville
Kicking off on Black Friday with sales continuing throughout the weekend, this large-scale event is ticketed ($8/adult; children are free). Celebrating its 34th annual event, Christmas Made in the South is a nationally-acclaimed holiday market featuring amazing makers, outstanding art, unique gourmet food and diverse entertainment. It's a longstanding event for a reason…
When: Saturday, November 25-November 26, 2023
Where: Aloft Jacksonville Tapestry Park, 4812 Deer Lake Dr. W., Jacksonville
If eclectic is your style, add this fun and funky holiday market to your shopping agenda.
When: Saturday, December 9, 2023 | 3-9pm
Where: San Marco Community Center, 1936 Hendricks Ave., Jacksonville
With 60 local vendors, you can holiday shop until you drop! And then recharge with a sugar boost sipping hot cocoa and nibbling Christmas. This free event is family-friendly and dog-friendly.
When: Saturday, December 9, 2023 | 9am-3pm
Where: Historic Stanton Ford Building, 301 N. Main St., Jacksonville
This holiday market will showcase vintage antiques, handcrafted goods, soaps, art, photography and more. Additionally, at 10am, the Hastings Hometown Christmas Parade will begin. It'll feature bands, floats, classic cars, majestic horses and all things holiday spirited.
When: Sunday, December 10, 2023 | 12-4pm
Where: James Weldon Johnson Park, 135 Monroe St. W., Jacksonville
Sponsored in part by the State of Florida, Department of State, Division of Arts and Culture, the Florida Council on Arts and Culture, and the National Endowment for the Arts, this festive community event will showcase incredible vendors, musical entertainment and include visits from Santa Claus and the Grinch.
Also Try These 2023 Holiday Markets in Jacksonville
Other Holiday Markets in Surrounding Areas
Happy Holidays!