Looking for a date night experience that's the perfect marriage of food and fun? Orlando's delicious food truck scene has it all. Weekly and monthly meet-ups throughout Central Florida make for an easy breezy evening, and you'll never have to argue over which restaurant to visit again. Briefly part ways to grab fare from your individual favorite trucks, and then reconvene to enjoy your foodie finds together.
Whether you're a seasoned food truck pro or embarking on your first food truck extravaganza, we've got some tips and information on how to plan the best Orlando food truck date night, and where to find food trucks throughout the city.
Orlando Food Truck Events
Leave it to the wacky and wonderful world of Kissimmee to have a daily food truck spot, with over 50 food trucks!! If you and your date want to truly explore the Orlando food truck scene, you can venture to Food Truck Heaven any day of the week!
Plus there is plenty of seating including outdoors and indoors with air conditioning!
12pm to 10:30pm Sunday – Thursday
12pm to 11:30pm Friday – Saturday
Where to park: plenty of parking, this Orlando food truck event happens daily at the Maingate Flea Market
This weekly food truck meet-up takes place in Orlando's hip Milk District behind a string of hole-in-the-wall bars and shops. You're free to bring food into any of the bars, or bring your drink outside. Follow Tasty Takeover on Facebook for up to date news on events and participating food trucks from week to week.
Typical number of food trucks: 10+
Frequency: Weekly on Tuesdays from 6:30-10pm
Where to park: Street parking is available on surrounding side streets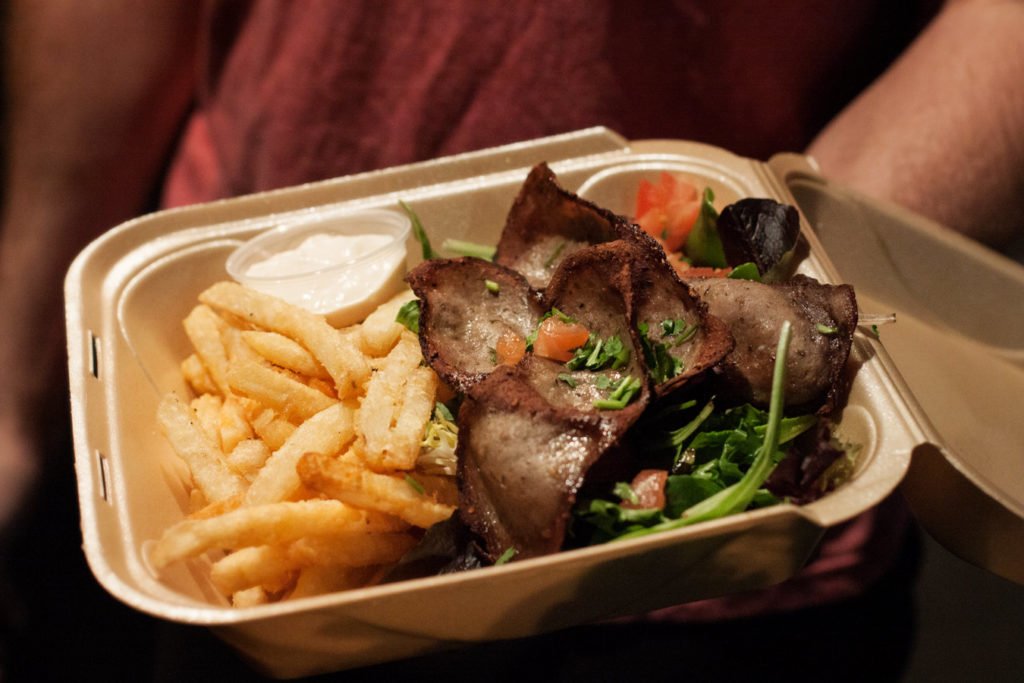 NEW EVENT – Trucks Stop
Your favorite weekly food truck event, Tasty Takeover, has teamed up with The Milk District Main Street organization to bring you "The Milk District TRUCK STOP" at Hoods Up. This property has been vacant for quite a while and will now have a weekly event – at least until the Hoods Up property has new owners.
Starting Aug 19th, 2023 this event will take place on Saturday nights from 8pm-Midnight. So, come grab some grub and then get some drinks from neighborhood spots like Sideward Brewing, Sportstown, The Nook on Robinson and more.
Frequency: Weekly on Saturdays from 8pm – 12am
Where to park: Street parking is available on surrounding side streets
Located in the Milk District, À La Cart is open daily and offers a number of resident food vendors including PokeKai, Ceylon Roti Hut, Steak it Easy, Fly Guy Pizza Pie and more. Enjoy a selection of craft beer, wine, cider, and cold brew coffee along with your meal, and keep an eye on their calendar for frequent special events and beer dinner announcements.
Typical number of food trucks: 5 resident trucks
Frequency: Daily
Where to park: Parking lot on site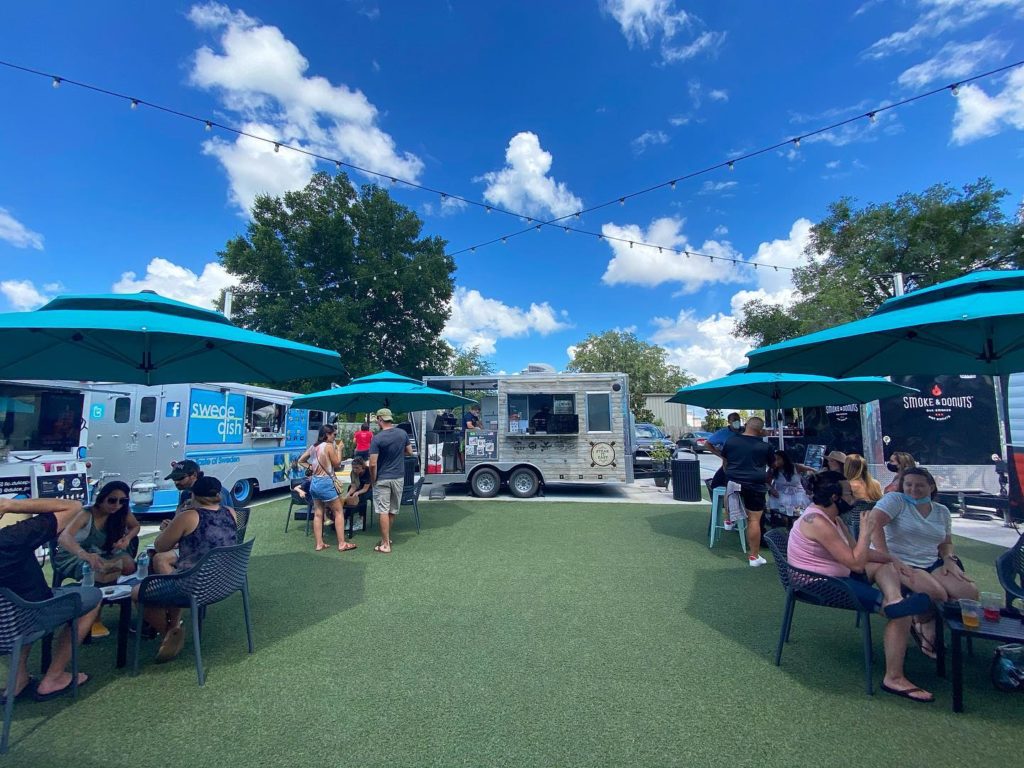 Taking over downtown Sanford on the 3rd Saturday of the month, this family and pet friendly event takes place between West End Trading Co. and Celery City Craft. Grab a drink from one of the nearby bars to enjoy with your food while listening to live music. Keep an eye on their Facebook page for updated food truck list.
Typical number of food trucks: 40+
Frequency: 3rd Saturday of each month
Where to park: Free parking is available close to the event
The City of Casselberry hosts Food Truck Friday on the second Friday of each month. This monthly food truck event is one of our favorites for date night thanks to it's picturesque location inside Lake Concern Park. This charming park offers plenty of green space for a picnic overlooking the lake and live music.
Attendees are encouraged to bring their own chairs, tables, blankets and enjoy an incredible evening with free entertainment with food and drink. There is usually one beer and wine vendor.
Typical number of food trucks: 10+
Frequency: Second Friday of the month 6-9pm
Where to park: lots near Lake Concord Park, and businesses across the street (please use crosswalk)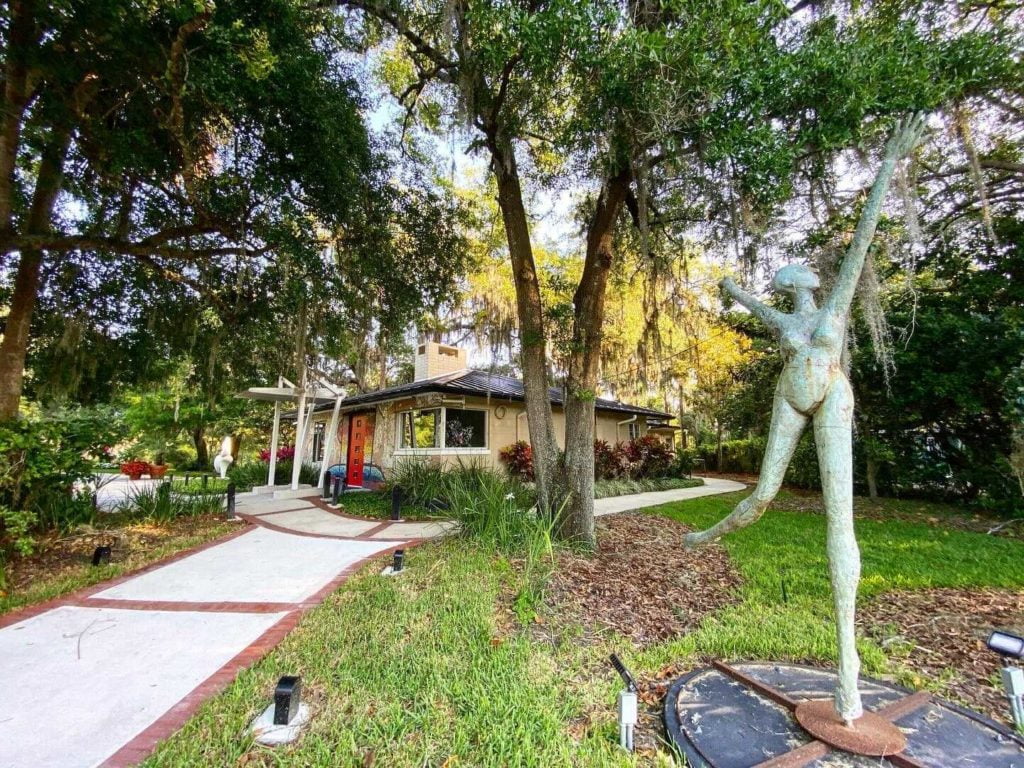 Downtown Clermont comes alive every first Friday with at least 15 food trucks, numerous vendors, and drinks available at nearby shops and breweries. You'll also find activities such as a rock climbing wall and a bounce house, so bring the kiddos!
Typical number of food trucks: 15+
Frequency: First Friday of the month 5:30-9pm
Where to park: Free parking is available close to the event
Though not food trucks, Lake Nona's Boxi Park has brought a new way to enjoy a number of food vendors in one spot. A small outdoor food hall using repurposed shipping containers features permanent vendors including Cañonita Street Tacqueria, Claw and Order, and Before it Melts.
Full vendor list and menus can be found here. The lively atmosphere is completed with live music regularly, and adult-beverages available at Bar Nona, Hops & Vine, and La Cajita.
Typical number of food containers: 5
Frequency: Thursday & Friday starting at 5pm, Saturday & Sunday starting at noon
Where to park: Free parking is available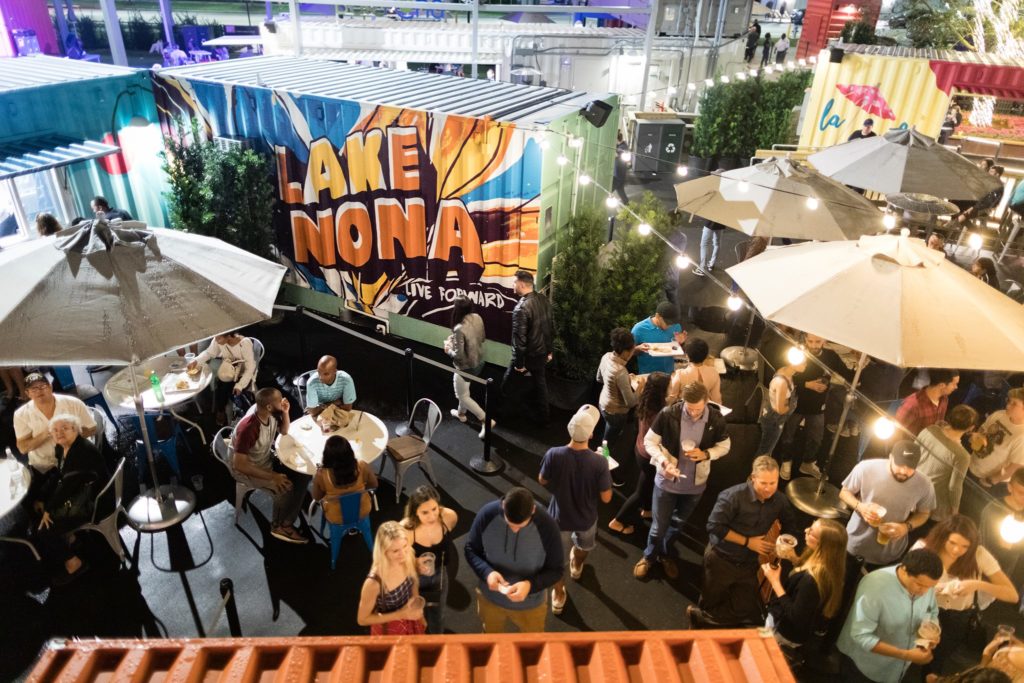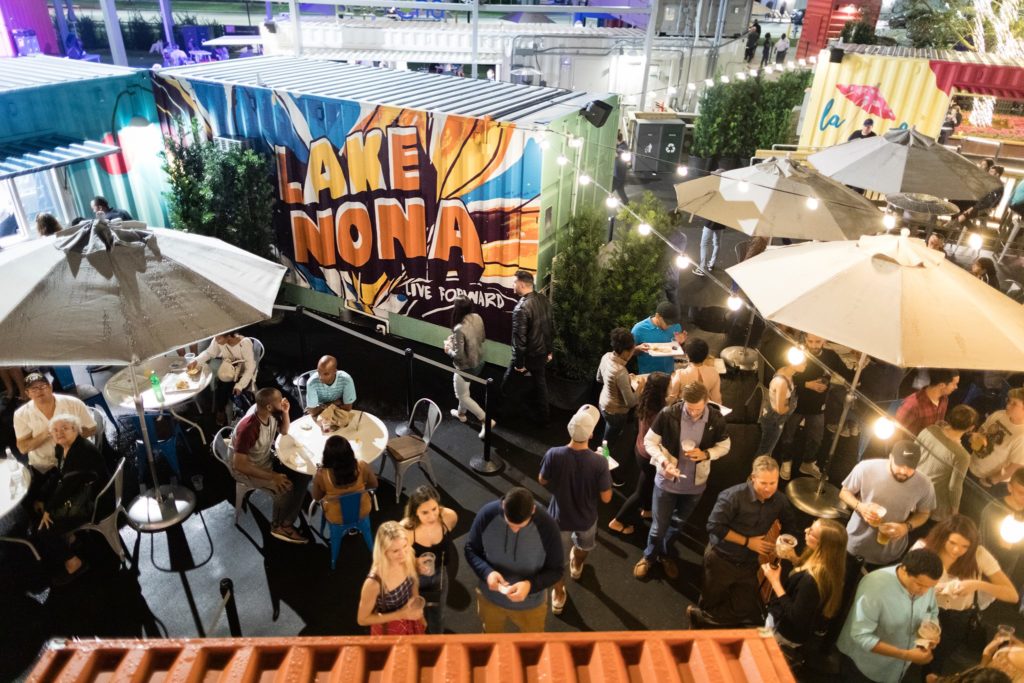 Gather with the community at MetroWest Golf Club each month for a celebration of food with more than 10 attending food trucks.
Typical number of food trucks: 10+
Frequency: Fourth Thursday of each month from 5:30-8pm
Where to park: Free parking is available nearby
Taking place at Lakeside Park in beautiful Celebration, this event has date night written all over it. Stick around after getting your food truck fix for a romantic walk around the lake, or pull up a seat in a rocking chair at the water's edge.
Typical number of food trucks: 10+
Frequency: Second Friday of each month from 5-9pm
Where to park: Free street parking is available throughout Celebration
Brave I-4 and make the trek to downtown Lakeland for the monthly food truck rally. More than 20 food trucks park around quaint Munn Park. Grab a bite to eat then enjoy the park and wander around the historic downtown area.
Typical number of food trucks: 15+
Frequency: Second Thursday of each month from 6-9pm
Where to park: City Garage near Oak or BB&T lot off of Florida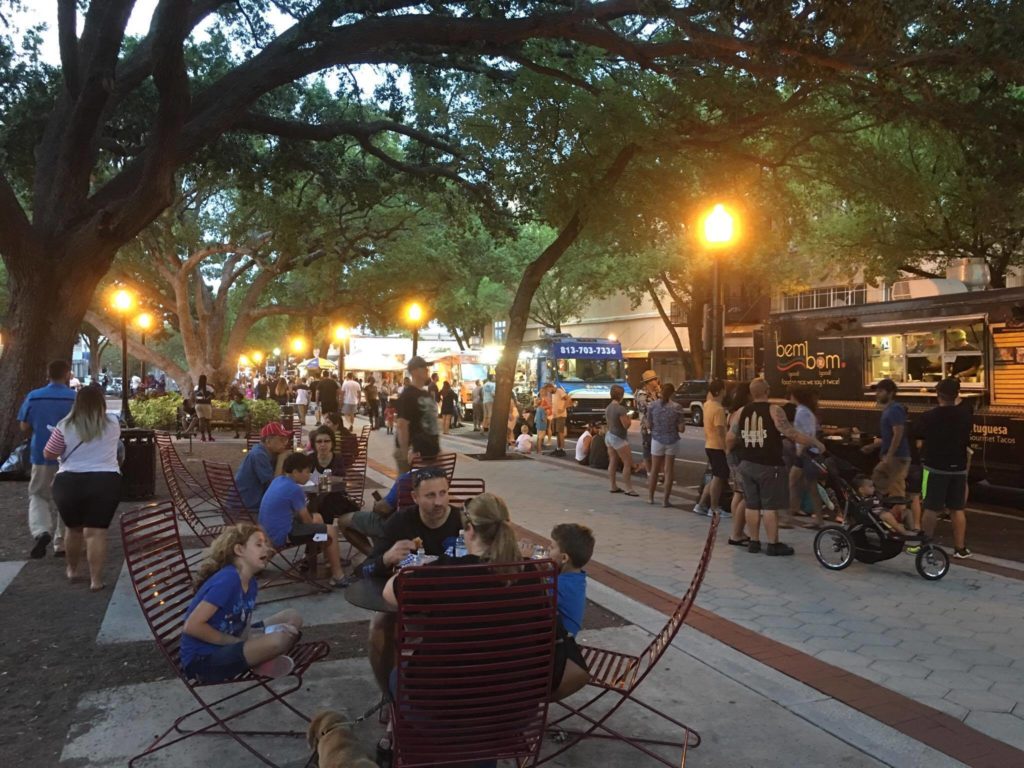 More Food Truck Events
Tips for Success
Arrive early. Food truck events can get busy, and lines can get long. And, you'll have a better chance at finding a prime parking spot.
Scan the food truck list and menus ahead of time. If this is your first food truck rodeo, you're going to need a game plan. Check Facebook event pages for details and create a plan of attack for what you'd like to eat.
Plan extra time for parking. Some meet-ups present more parking challenges than others, so plan ahead and stay calm.
Bring extra cash. Most food trucks accept credit cards, but having some cash on hand is always a good idea.
BYOB (non-alcoholic, that is). Some food trucks have drinks for sale or are in close proximity to bars, but bring water or soda just in case.
You can also typically find food trucks at outdoor movie night events, local farmer's markets, special community events, and bars around town. Happy eating!
Feature image credit: City of Ocoee
---