Experiencing immersive atmospheres is easy in Orlando, and enjoying a themed bar is elevated when such a place is hidden. Impress your date with our quick list of six hidden bars in Orlando.
More than a speakeasy, a hidden bar is one that is not in plain sight. You have to be in the know to hear about it or find it. But the good news is you don't have to stress about a password or puzzle to solve in order to get into these hidden bars.
And if you're looking for more nightlife spots, jump over to our list of 18 Unique Bars in Orlando.
Permanent Vacation
Suffering Bastard
Vault 5421
High T
The Craft Speak Easy
Argonaut Bar
Bonus idea: Überkeller Geselligkeit Bar Sanford Geselligkeit – the new bar within a bar concept at Hollerbach's in Sanford
106 LAKE AVENUE, MAITLAND, FL 32751
Highlights: Breathtaking tiki bar, food menu, mocktails available
Permanent Vacation is the Orlando Area's newest tiki hidden bar, located inside Maitland's own Copper Rocket. Permanent Vacation is a step above the rest. Date night is awesome in this immersive atmosphere with special details in every corner.
The owners really put a lot of work and thought into the experience, and it is stunning. Also, as a treat there are different drinks on the menu that trigger lights, fog sounds and music, it's so fun!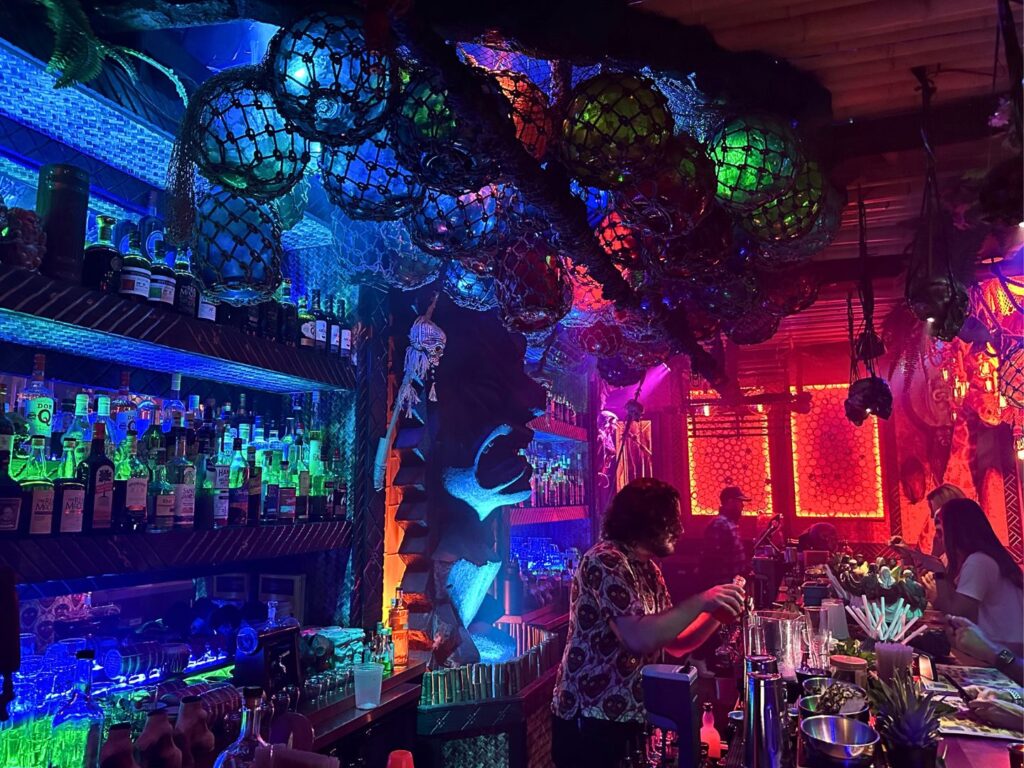 The Powder Keg is a great drink and a fun activation! Each drink comes in a thoroughly designed mug or glass (that will soon be available for sale).
Permanent Vacation offers a wide range of hand created tiki drinks, the menu is a map through your vacation, and your bartender will be your guide. Mocktail options are perfect for those who are looking for a fun drink without the tiki libations included.
If you like lighter options, try the Toucan Stan pictured here!
Get even more info and menu recommendation by jumping over to our Review of Permanent Vacation Tiki Bar.
200 SOUTH MYRTLE AVE., SANFORD, FL 32771
Highlights: Tiki bar, atmosphere, drinks and light snacks
Another great Tiki Bar is the Suffering Bastard in Sanford, Florida, located just outside of Downtown Orlando. Suffering Bastard is located inside Tuffy's Bottle Shop. It's one of the most loved hidden bars in Orlando.
Opening in 2019, Suffering Bastard is a quaint little bar, that has a quiet and chill tiki vibe.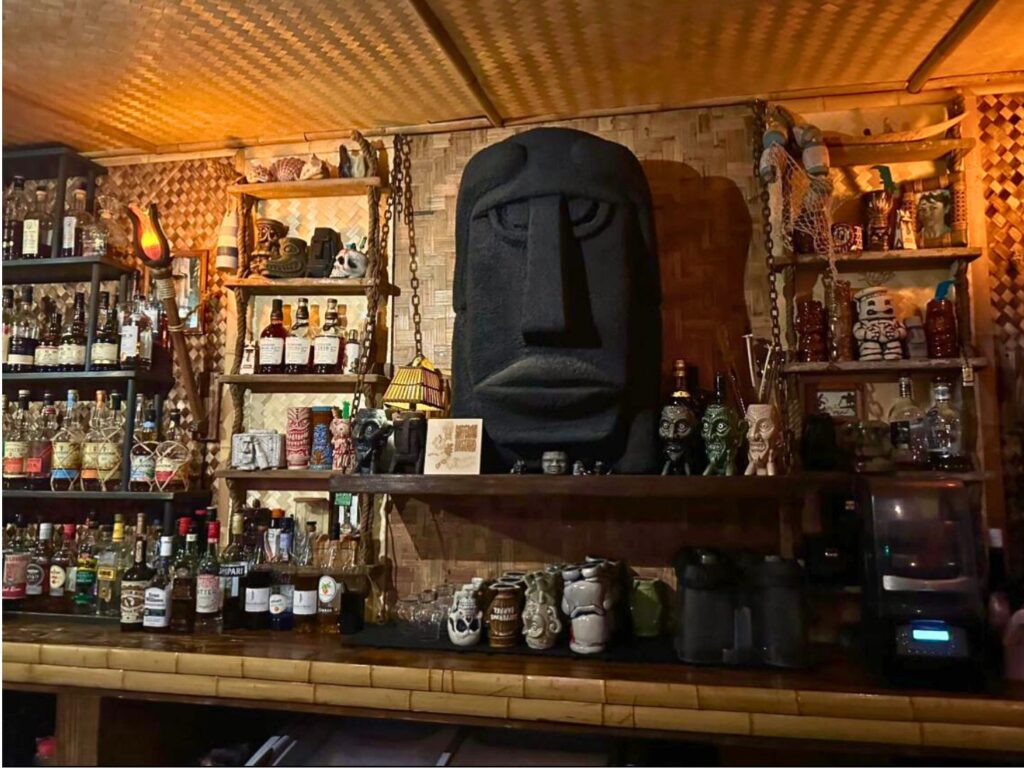 Of course, it is decorated like your traditional tiki bar with an iconic tiki figure as the centerpiece behind the bar. Authentic tiki music sets the tone and the bartenders are welcoming.
Suffering Bastard menu is extensive and chock full of handmade cocktails for the patron's liking. They offer different levels of drinks that are one bastard, two bastard, or three bastards strong. They have some off menu creations like a Stay Puft Marshmallow Man drink and it comes in a large mug as pictured here, with burning marshmallows, it's great!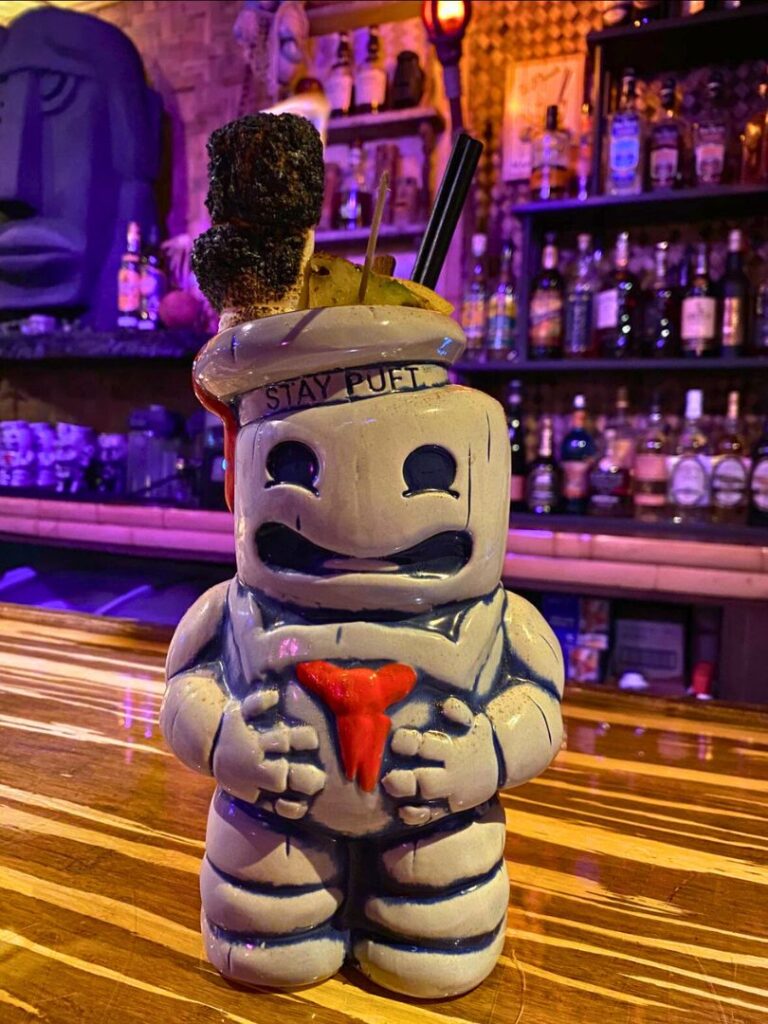 Light snacks and a good atmosphere make it perfect for friends to escape some of the louder bars in the area.
A reservation system makes it easy to plan a date night, however, you can also walk up and get your name on a waiting list. It's one of our favorite Sanford date night ideas.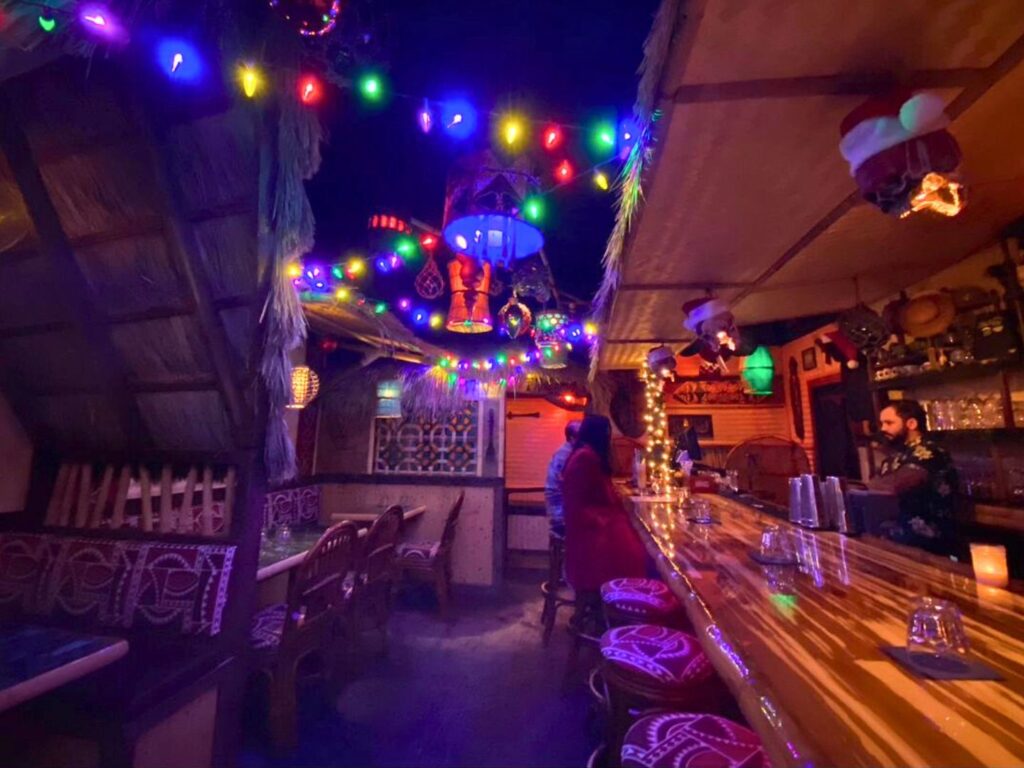 5421 INTERNATIONAL DR., ORLANDO, FL 32819
Highlights: Sci-fi, Video Games, Craft Beer, Mead and Sake
Located inside the comic book shop Gods & Monsters on International Drive is a true hidden bar called Vault 5421. This one is one of the most creative hidden bars in Orlando.
You get a real speakeasy vibe when you visit this bar, it is located in the very back of the store through a door that looks like a Vault!
Vault 5421 has a spooky, post apocalyptic feel and it's decorated with sci-fi, skeletons, creepy dolls, televisions playing old-school movies plus video games. The Bartenders dressed up to fit in too!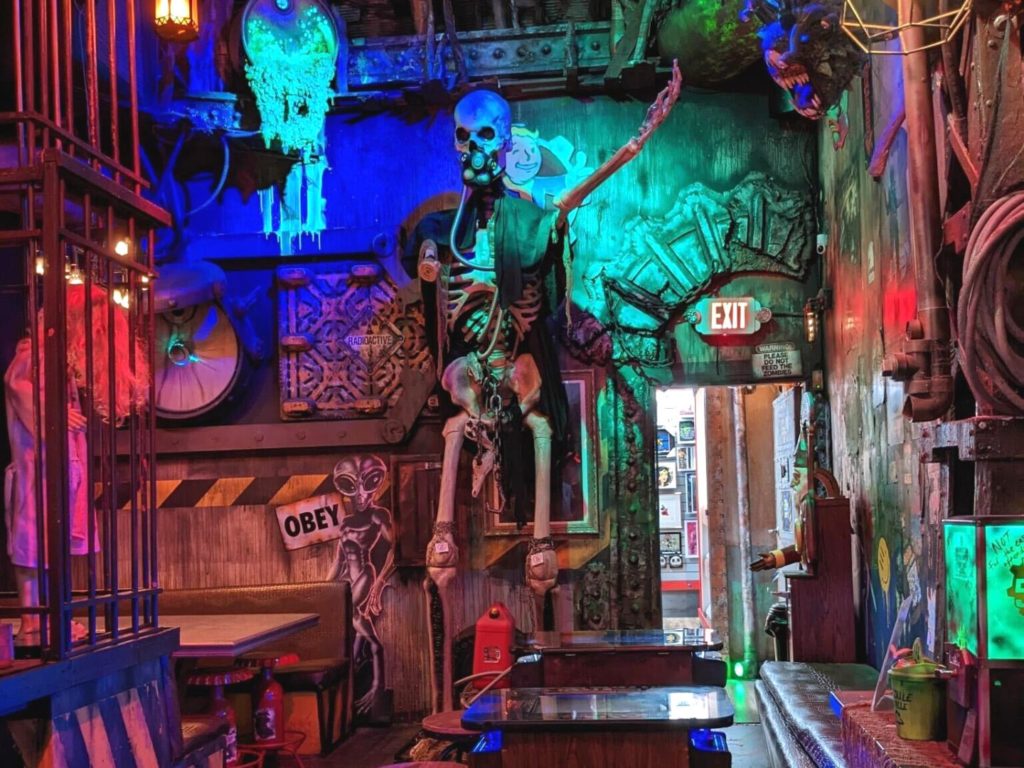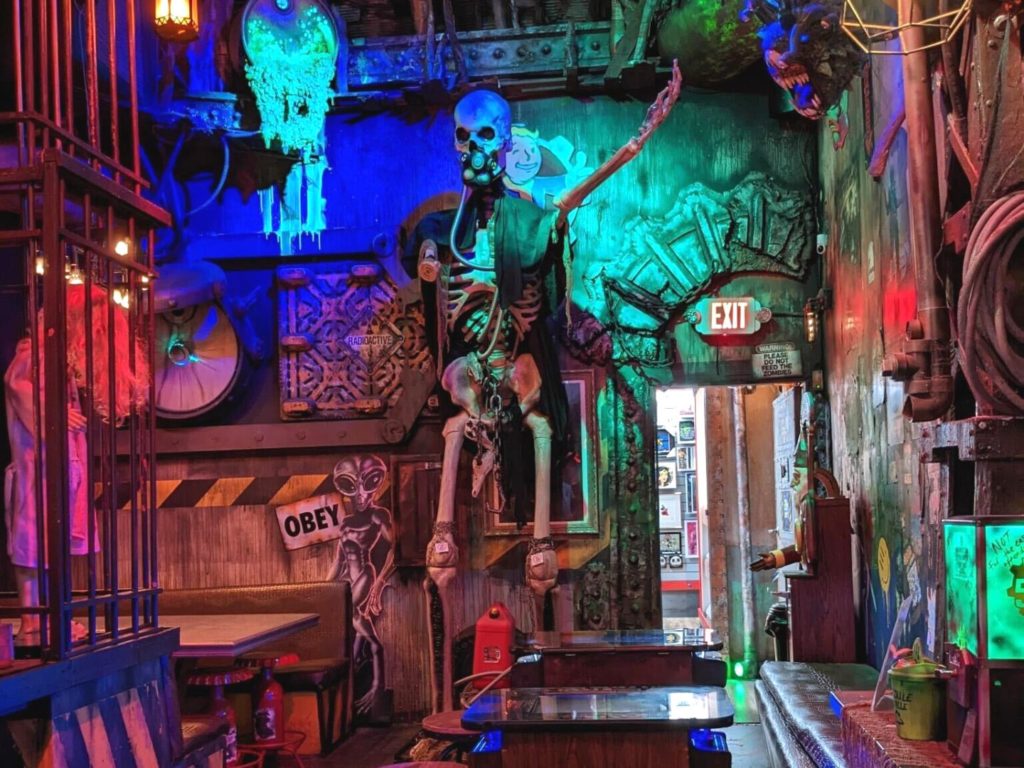 Vault 5421 has an extensive menu of roughly 90+ craft beers, meads, wines and sakes. The menu is very creative and they have a lot of different cocktails like lemon drops, saketinis, kombucha and wine based cocktails that you wouldn't believe. The bartenders are eager to help you find what you're looking for and make sure you have a great experience.
If you're looking for a cool place to check out in the area, make sure to stop in spend some time pursuing the comic book store, and venture to this spooky speakeasy! It is open year round but we especially love it as a Halloween date idea.
23 West Church Street
Orlando, FL 32801
Finding High T can be like falling down the rabbit hole. There is a door on Church Street for High T, but the experience is actually all on the second floor of the building.
The themed environment inside High-T is incredible. You'll be amazed by the beautiful Alice in Wonderland environment. The cocktails are expensive, but they are hand-crafted and each one has its own special drinkware and presentation.
Take a look inside with our Reel featuring High T.
High-T is so special, in fact, it is one of our favorite ideas to celebrate a birthday in Orlando.
Please be aware the staff is very discerning when it comes to the dress code, and the policy is not always consistent from one person to the next. So to be on the safe side it is highly encouraged to dress up.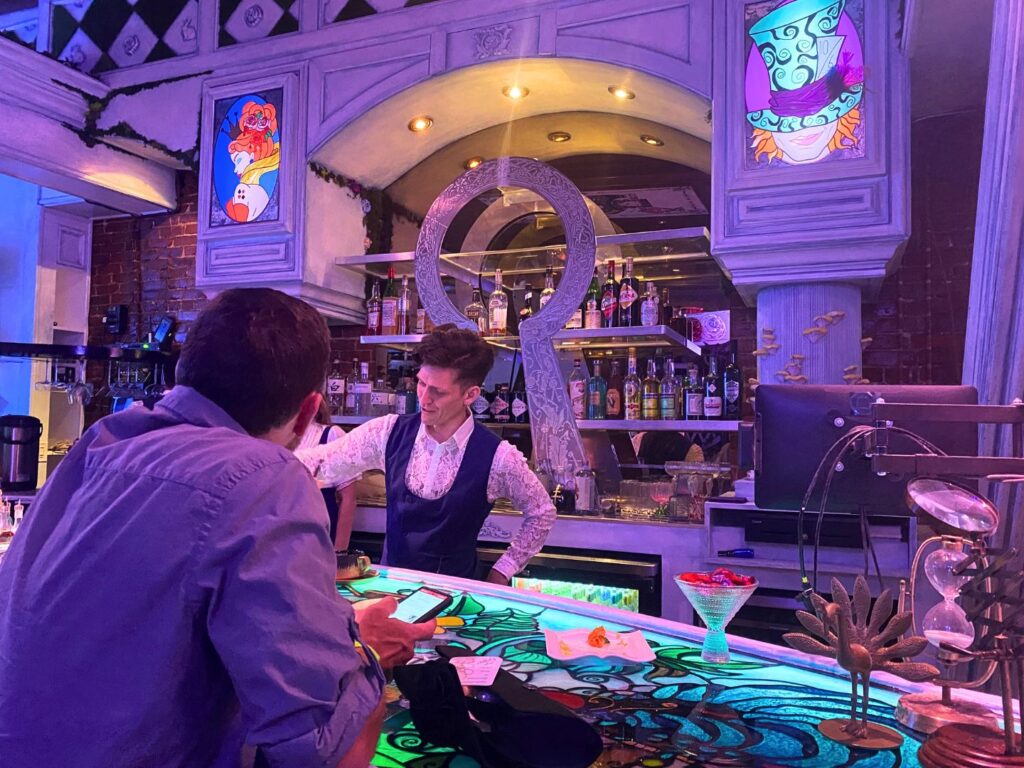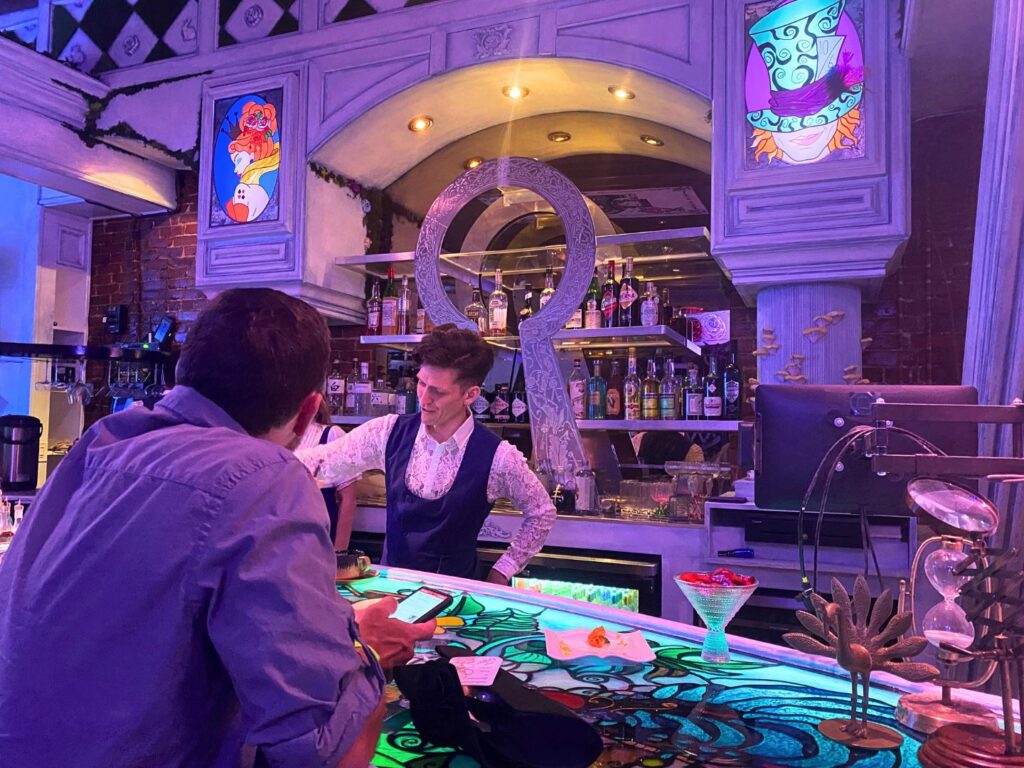 39 WEST PINE ST., ORLANDO, FL 32801
Highlights: Craft Cocktails, spooky decor, great for horror/Halloween fans
Located inside Orlando's own horror themed bar Cocktails & Screams is The Craft Speak Easy. The Craft has a witchy theme full of craft cocktails and magical potions. To get into this speakeasy you have to answer a riddle, but once inside you'll be whisked away on a fun little journey.
Once the voodoo witch lets you in, The bartender will mix you up cocktail concoction with their potions for your magical witchy experience. It is a very immersive experience and feels like you've been transported to a different land, however, there are some rules like no photography so make sure you don't get cursed!
6. The Argonaut Bar and Lounge
122 W RUBY ST., TAVARES, FL 32778
Highlights: Submarine Lounge, craft cocktails, small bites
Located outside of Orlando in Tavares, is a newer hidden bar called the Argonaut Bar and Lounge. The Argonaut is an unsuspecting bar that looks like like an intriguing venue on the outside. Once you step through the doors you are transported to a vintage submarine lounge that is filled with metal fabricated submarine-like decor, velvet tuft seats, and submarine windows.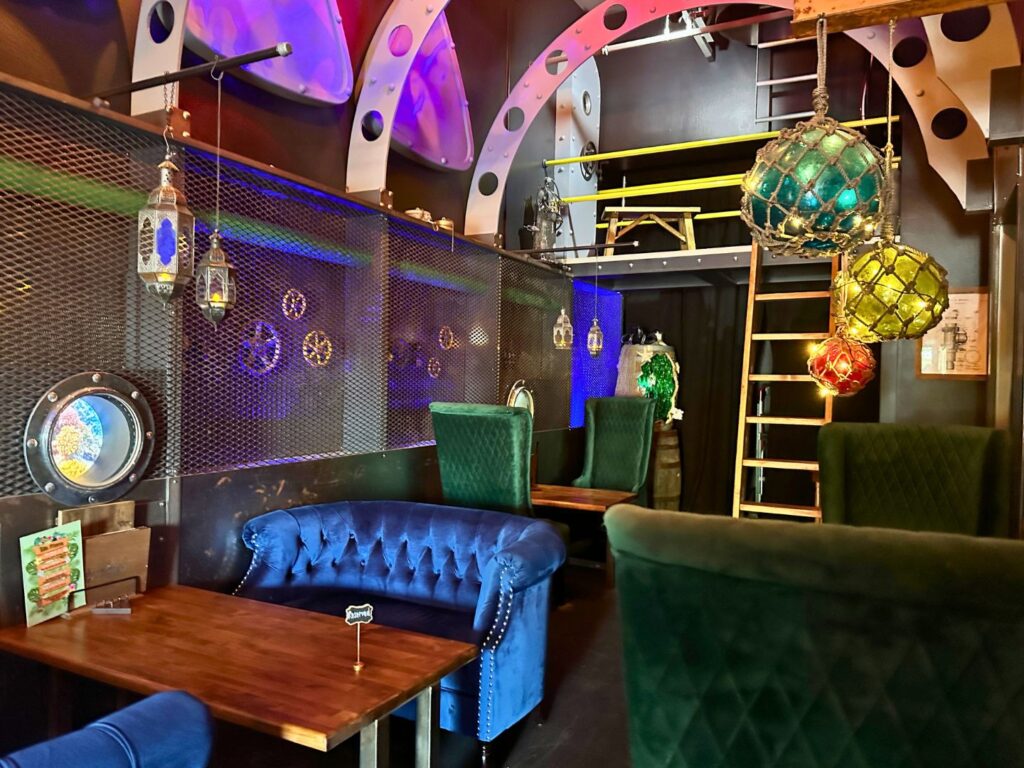 The menu is smaller but well thought out, including wine based cocktails, craft beer, wines, and just recently added a tiki menu. Three signature cocktails that have a backstory to the bar and as always, your bartender will be your guide on this adventure.
The Bombs Away and White Sangria each have the most impressive presentation. If you like dry wines or cocktails consider the Moulin Blanc, based on a 1920's recipe.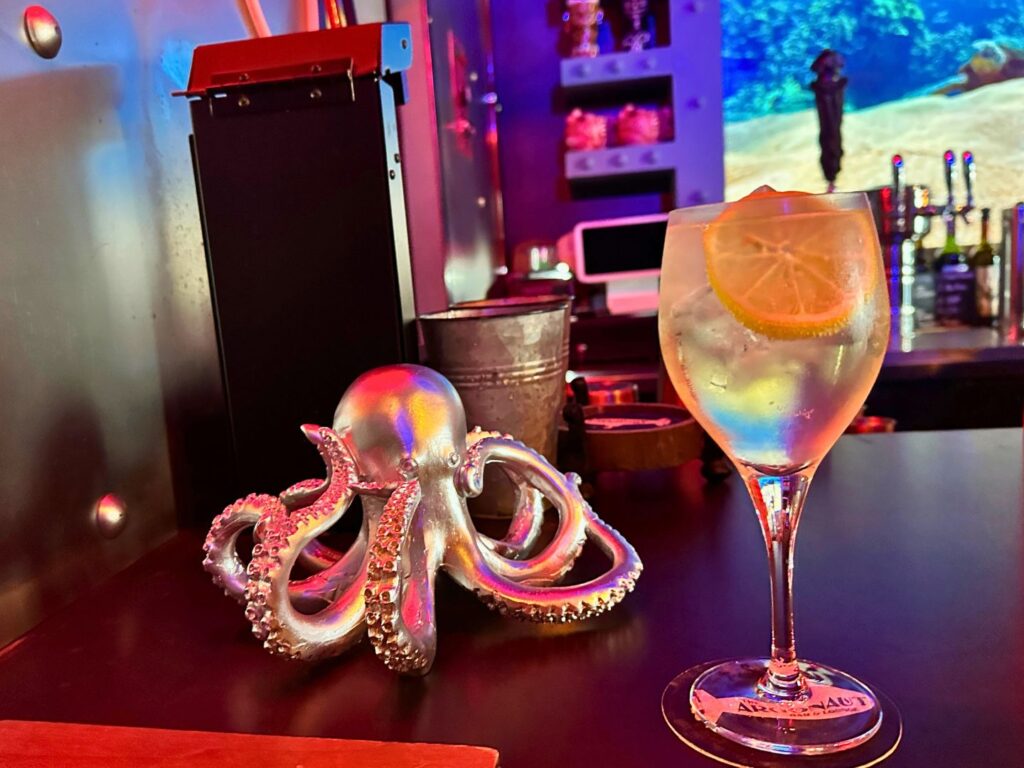 There is a food menu with some delicious shareable options and a good charcuterie board! The beer cheese can be addictive, so be warned. And be sure to ask if any special desserts are available.
If you live near Lake County it is an easy must-do, and if you aren't on this side of town it is worth it if you're into themed bars.
The owners also have an argonaut-themed coffee shop, go take a dive!
Bonus idea: Überkeller
Anyone who has been to Sanford, Florida for date night knows about the legendary Hollerbach's restaurant. Getting into Hollerbach's on a Friday or Saturday night is a game of patience and endurance. There are two solutions: The Lodge is a cozy Bavarian style bar downstairs and now there is Überkeller Geselligkeit on the 2nd floor.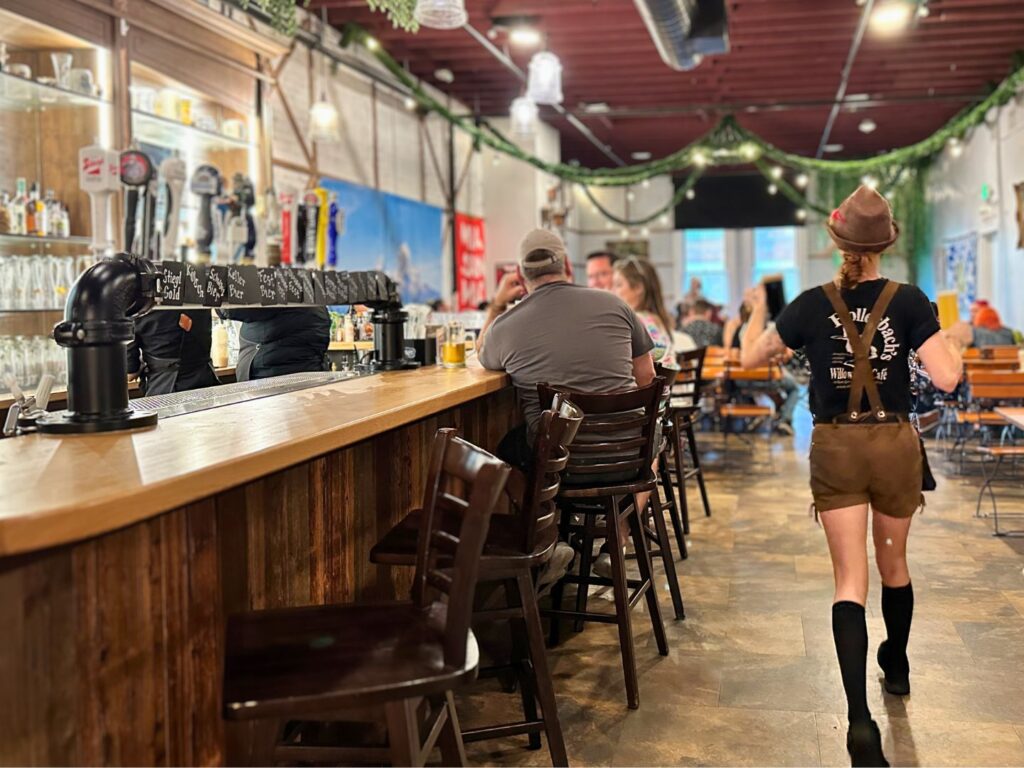 No worries about a wait for a table or food here! At Überkeller you order and pay from your table using your phone. You can even do so from the tables out on the rooftop!
During our visit on a Saturday night, we ordered and paid for our food and German beer, and received our beverages and first small plates within 5 minutes. The small plates are similar to tapas, but German style. The small plates are delivered to each table as they are ready, rather than all at once.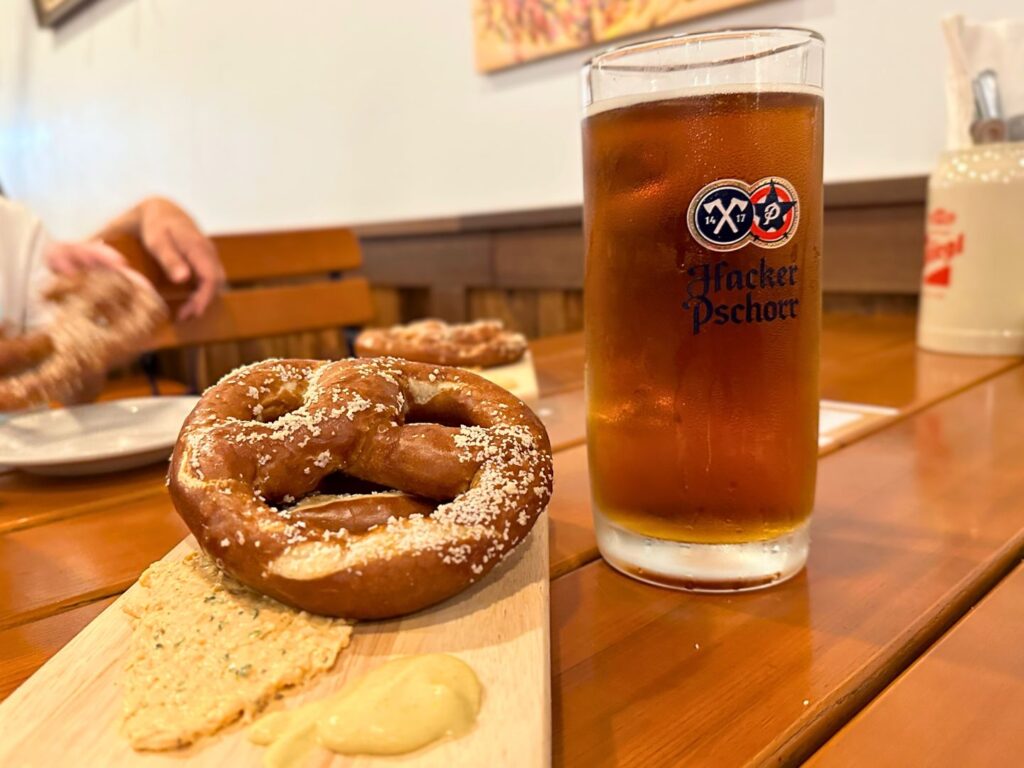 We enjoyed the pretzels, Bratwurst sliders, and charcuterie plate. Geselligkeit is a German word referring to sociability, and that's exactly what this new concept offers.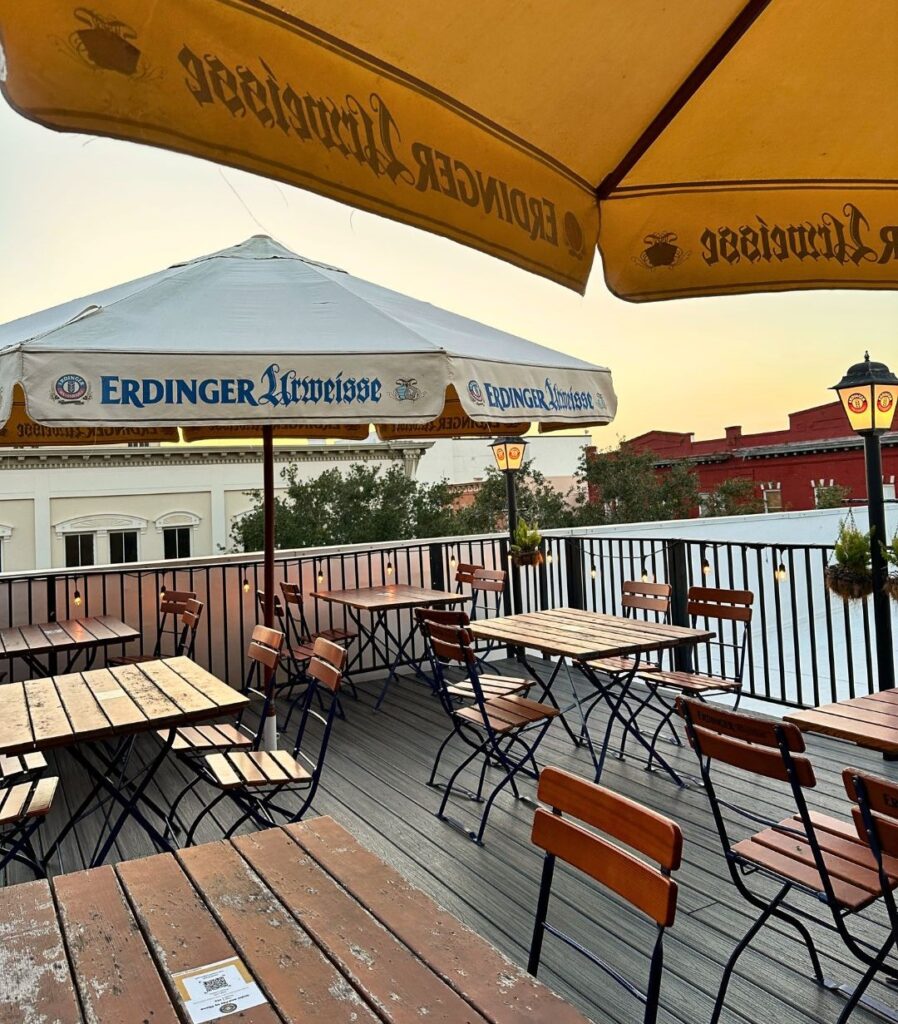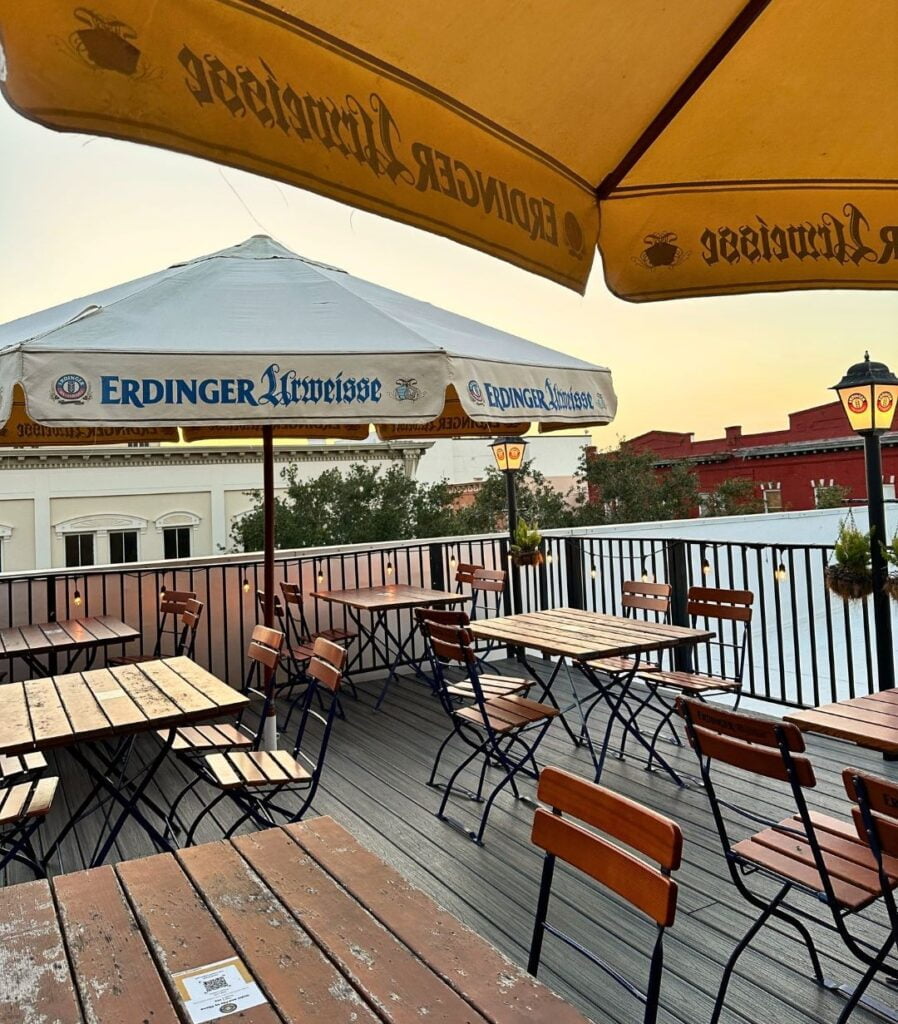 Other hidden bars in Orlando to check out:
Mather's Social Gathering
Hanson's Shoe Repair
Jewel Orlando
TacoKat
The Treehouse
The Vintage Speakeasy Bistro