Orlando's nightlife continues to impress. And we are fortunate enough to have a new tiki bar that you've got to see to believe. Located inside Copper Rocket Pub in Maitland, Florida, Permanent Vacation is a serious tiki bar that enthusiasts are already worshipping at the altar.
After securing a reservation for 11:45pm on its third night of operation, my husband and I are already making plans to visit again, and again, and again. Here are a few quick things to know before you go. Keep reading for reservation info too.
You can also browse 18 Unique Bars in Orlando.
Permanent Vacation Tiki Bar in Maitland
This immersive tiki bar is located in Maitland, Florida which is one of the closest suburbs of Orlando. Years of labor went into crafting this place. There are details, decorations, artifacts, and even special effects. And the drinks are the real deal.
Patrons are encouraged to arrive 5-10 minutes prior to their reservation. Any earlier than that and you may find yourself waiting at Copper Rocket Pub. This is not a bad thing necessarily, but the vibes could not be more different. Copper Rocket is a beloved neighborhood watering hole with a great pub grub menu.
The night of our reservation we did in fact arrive too early and endured the dueling pianos at Copper Rocket at 11:30pm on a Saturday night. Not awful, but not the mood we had settled ourselves in as we anticipated an evening at an enchanted tiki bar.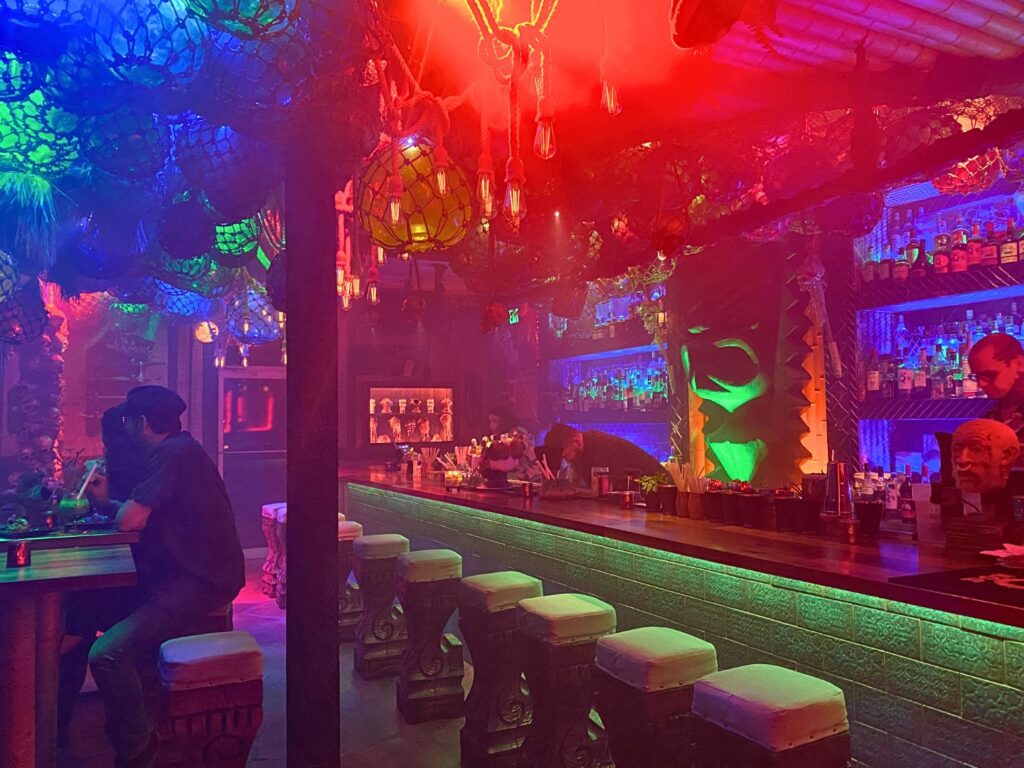 Drinks
The cocktails at Permanent Vacation are legit. Handcrafted ingredients elevate the quality of each cocktail. And there are three mocktails too.
Like other traditional tiki bars, the menu indicates the potency of each drink. Symbols on the menu show the strength and alcohol level. Plus your bartender or server will gladly steer your ship in the right direction based on what you're looking for.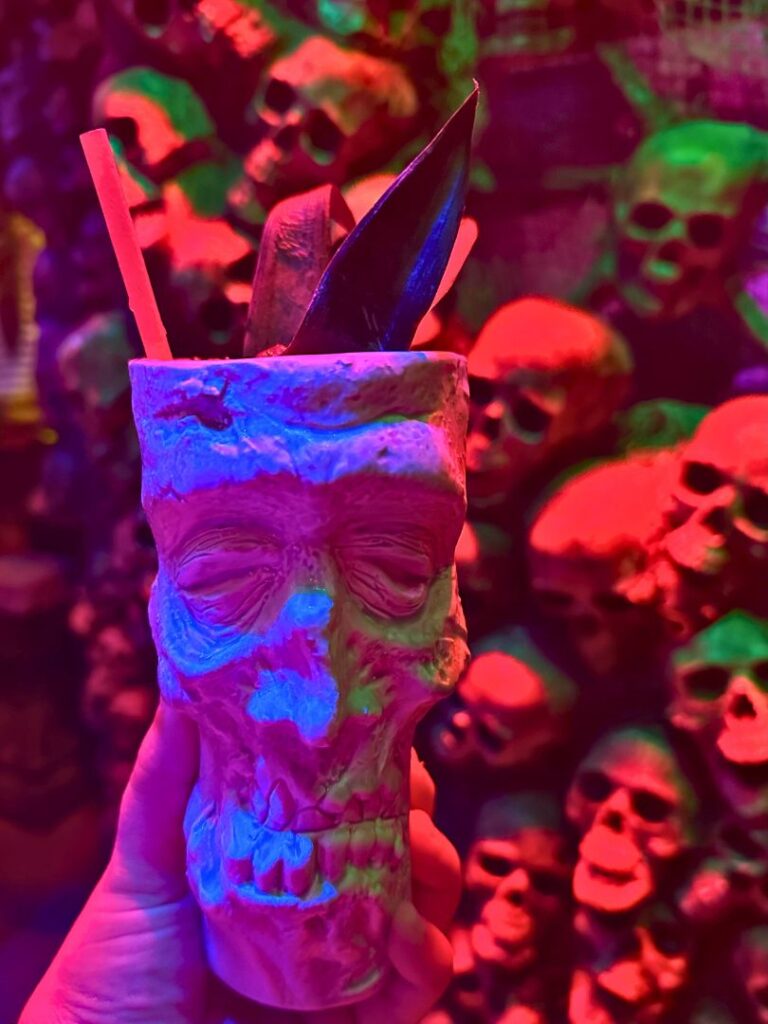 My husband started with the Mai Tai, of course. This classic tiki drink is generally a good indicator as to if a tiki bar knows their stuff, or not. We're happy to report the Mai Tai is strong and satisfactory. Other classics include the Painkiller and Zombie of course. And there are plenty of original concoctions if you're ready to swim in adventurous waters.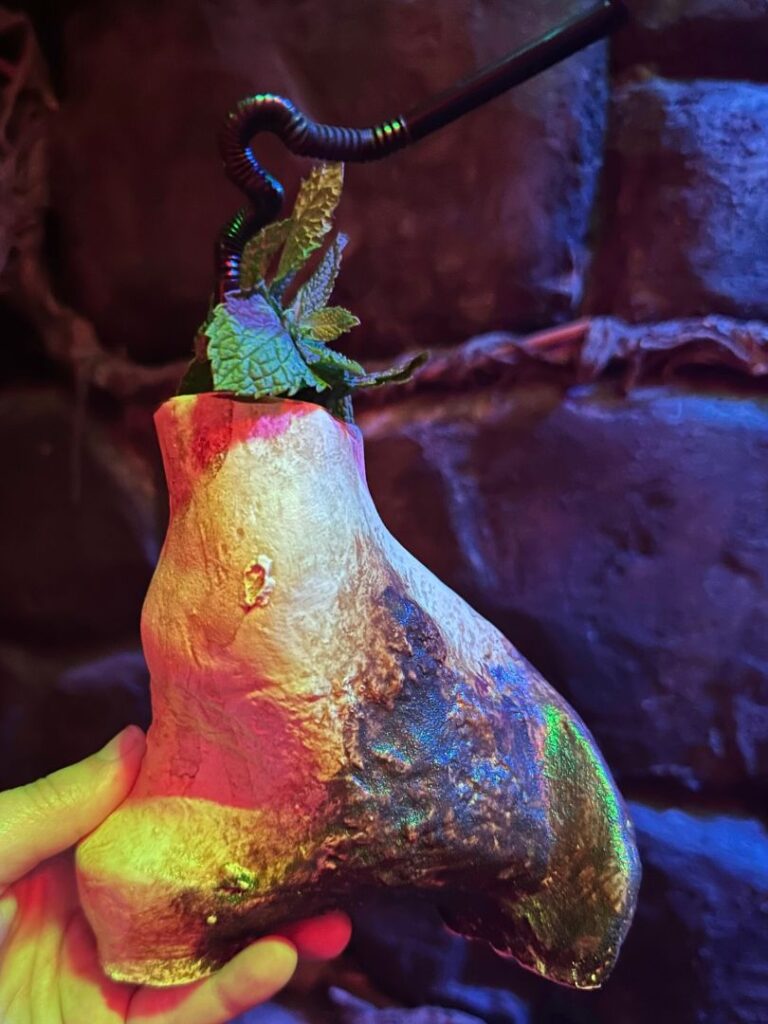 If you're not up for strong concoctions with flavors you may not be used to, then be sure to let your bartender know. It's totally okay, and the staff want you to have a good time. If something fruity and tropical, like you're on a cruise ship, is the drink you're after you may not find it on the menu, but there are plenty of options.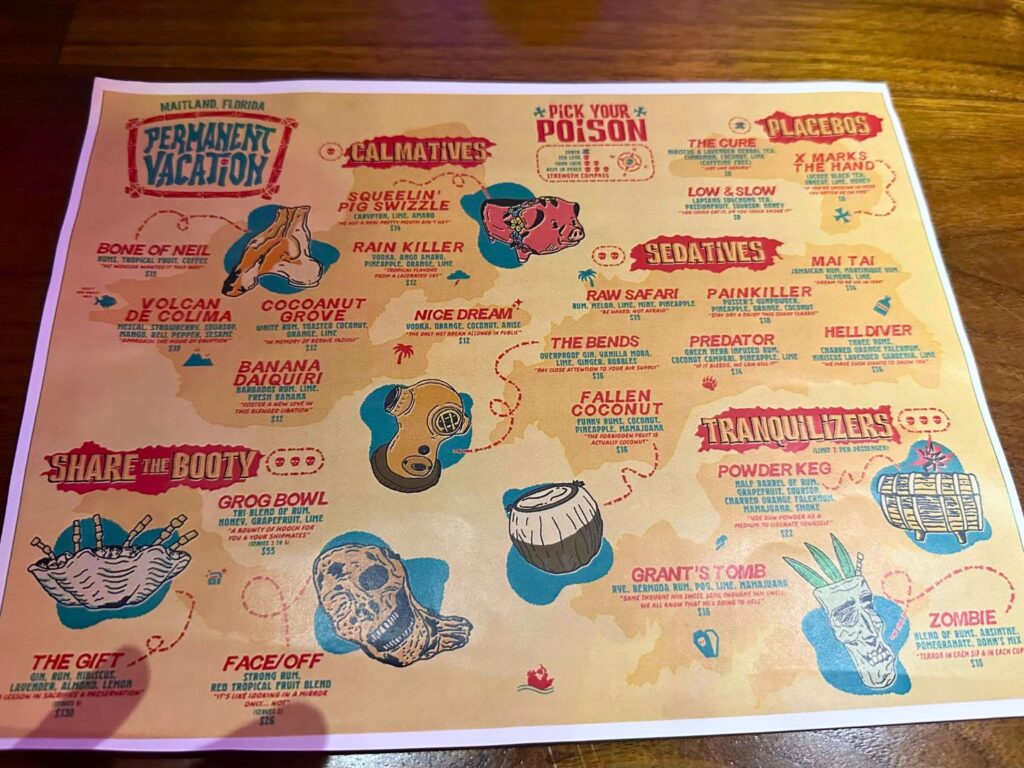 Mocktails
The mocktails each have a tea base, two that are caffeinated, and one that is not. I started with the X Marks the Hand mocktail which has some sweet notes, but is mostly light and refreshing. At the second round I went with the Low and Slow which is akin to a smoked Old Fashioned, but in mocktail form.
Both mocktails are crafted with the same care as their alcoholic brethren. And the garnishes are just as impressive. I did not feel left out by taking the non-alcoholic route in this thematic tiki bar.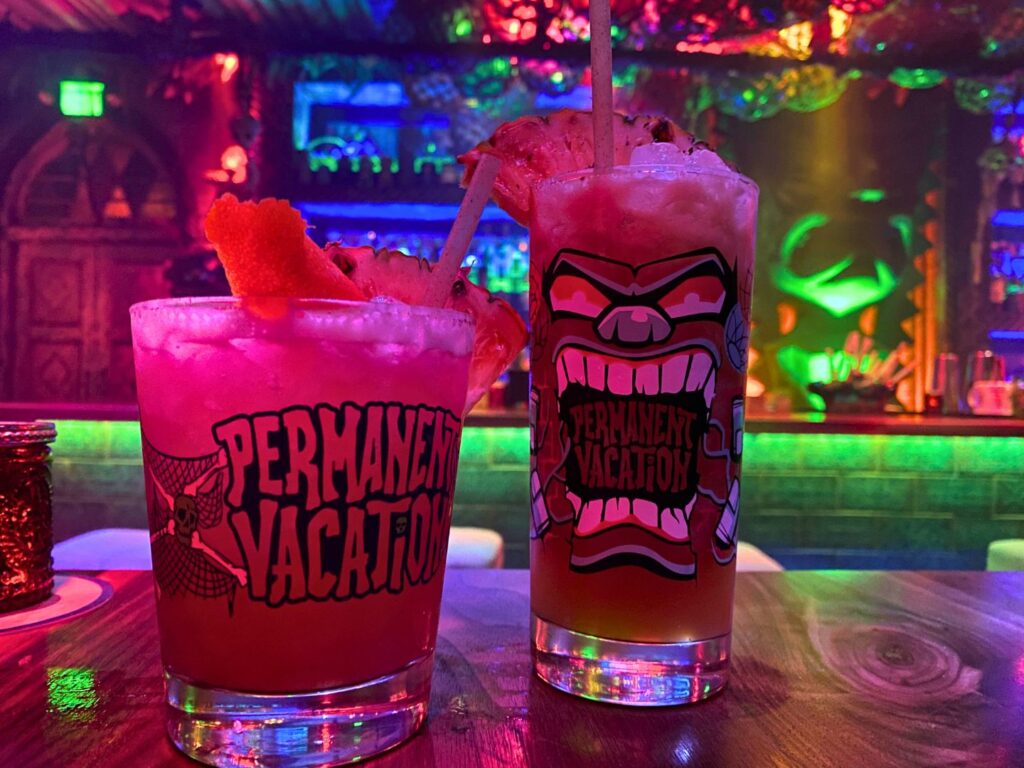 Food
Any night out at a tiki bar requires fuel. Permanent Vacation tiki bar has a great food menu including flatbreads and appetizers. After 11pm the bites portion of the menu is all that is offered. We nibbled on Prawn of the Dead, which is essentially four coconut shrimp. The sweet coating crumbled right off, but overall the flavor was spot on.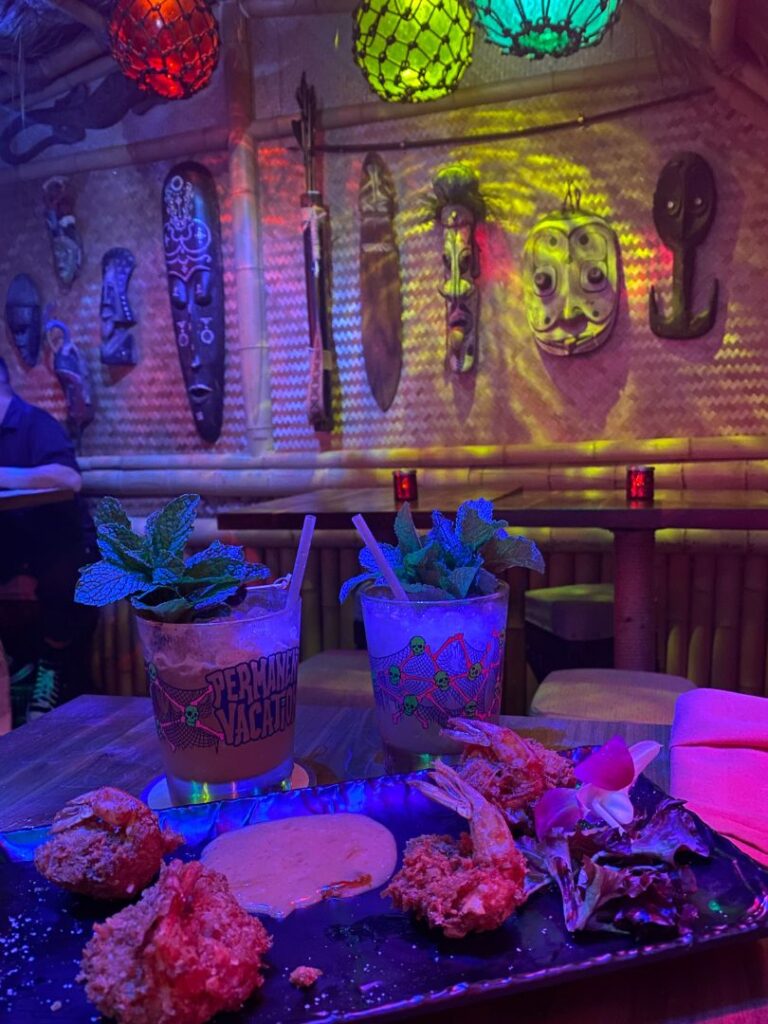 And we kept in mind that Permanent Vacation is currently in soft opening, meaning they are still learning and adjusting. Our initial visit was in May, and now Permanent Vacation has been open a few months and settled into a rhythm.
Atmosphere
To enter Permanent Vacation tiki bar you first enter Copper Rocket Pub. I suggest entering the pub through the entrance on the right because the large wooden door just inside that righthand entrance is what leads you to the host stand of Permanent Vacation.
We provided our name for our reservation and needed to wait a few minutes outside, and finish our drinks from Copper Rocket, for our table to be ready. There are only 40 seats inside.
As soon as the hostess opened the doors to lead us to our table our jaws dropped. I wish someone had been on the other side to record our reactions. I am getting goosebumps as I think back to that moment. We also happened to walk in right as one of the special effects moments spread throughout the bar.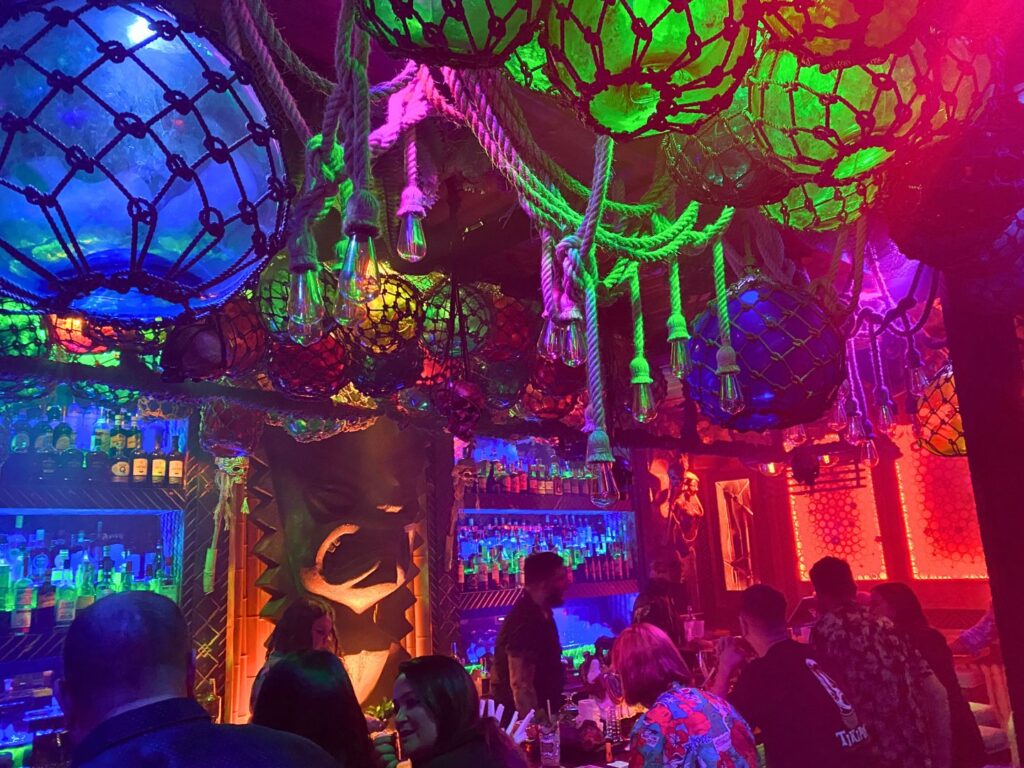 Details and decorations are everywhere. It's a small space so it is hard to see it all. Our late night 11:45pm reservation afforded us the ability to enjoy a quieter night at the second round of drinks as other patrons wrapped up their tiki journey. We are rarely out on the town this late at night, but it was absolutely worth it. We're both fans of tiki bars and tiki culture and fell in love with this atmosphere instantaneously.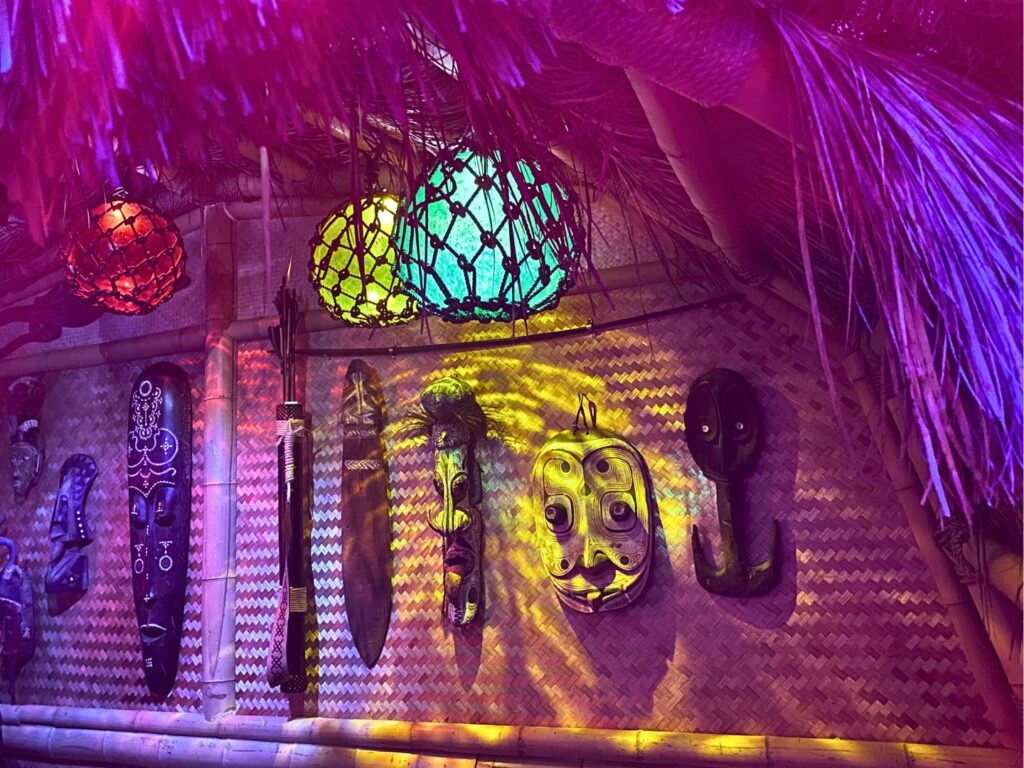 The quirky Orlando treasure map mural on the wall by the restroom is a must-see for anyone with a sense of humor. Be sure to take a moment to check out this mural featuring places and people that are iconic to Orlando. I also love the name of this tiki bar itself, Permanent Vacation. As someone who is born and raised in Orlando, I often feel like we live in a permanent vacation state of mind – and so many people flock here in hopes of such a lifestyle.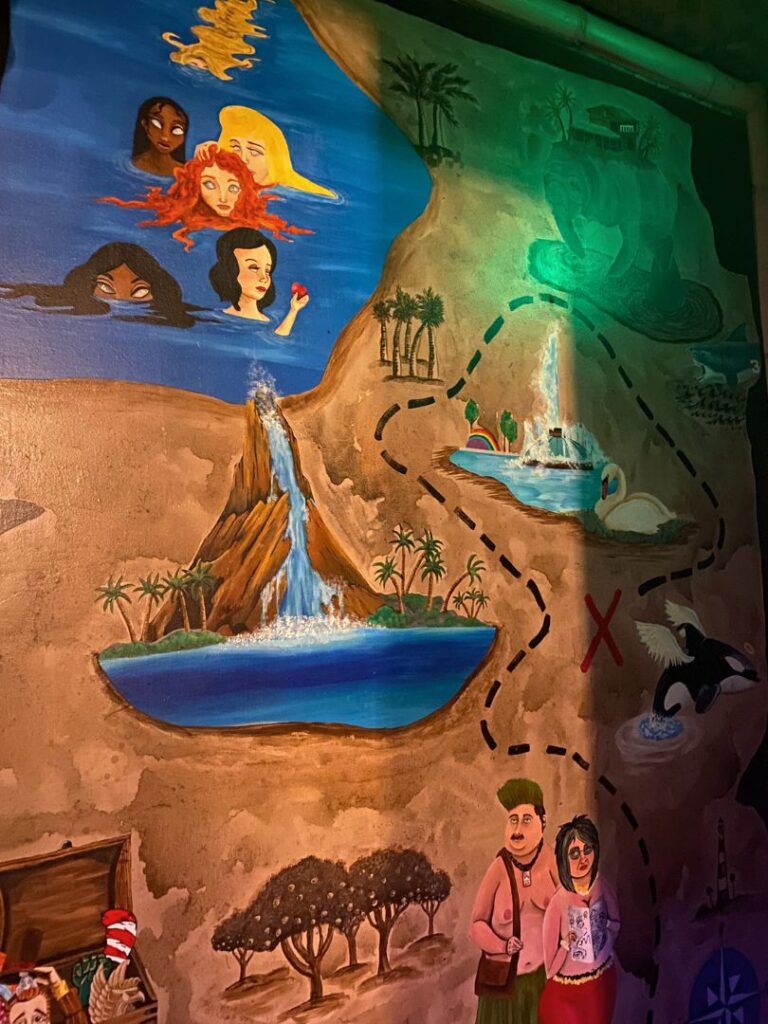 Some of the special effects are quite loud, and there are even a few moments with fog effects – so be aware if loud noises or such effects could be bothersome.
As we wrapped up our evening we chatted with the bartenders. It is evident the amount of dedication and love that went into making Permanent Vacation an Orlando destination. What a treasure!
Explore more hidden bars in Orlando
Permanent Vacation Tiki Bar
106 LAKE AVENUE, MAITLAND, FL 32751
Reservation strongly recommended – book a reservation here
Limited number of walk-up availability, usually a 2+ hour wait
Check-in with the host 5-10 mins prior to your reservation by showing your confirmation email.
Can only hold tables for 15 mins after the scheduled time.
There are a total of 40 seats per wave- max party size is 4 guests (10 total seats for every 15 min interval)
There is (1) 6 top available for larger parties in certain timeslots
Time limit: 2 hrs // 21+ only