Located just 15 minutes from the Walt Disney World Resort, the town of Celebration is a charming and quaint town originally developed by the Walt Disney Company as a master-planned community. The town is actually connected to the Walt Disney World resorts via one of its main streets, World Drive, which begins near Magic Kingdom. Today, this central Florida town is equal parts residential community and tourist destination. It's also the perfect little, small town to explore on your next date night.
The main hub of activity, Celebration Town Center, is a walkable downtown packed with restaurants, coffee shops, and boutique shops located along Market Street and Front Street. Beyond the main thoroughfare, you'll find a weekly farmer's market, quiet paved walking trails, boardwalks and more.
Plan the ideal date night in Celebration with our favorite activities listed below.
Updated March 2023 by Brie Gorecki
1. Hit the trails
Celebration's small size makes it ideal for exploring on foot. Park your car along the street (there's plenty of free parking) and make your way to the intersection of Market Street and Front Street. From here, you can walk along the main paved trail, which leads to several small boardwalks. Eventually, the trail leads to quiet residential streets which are just as fun to explore.
Even though you're within the neighborhood of Kissimmee, Florida, you won't feel like it.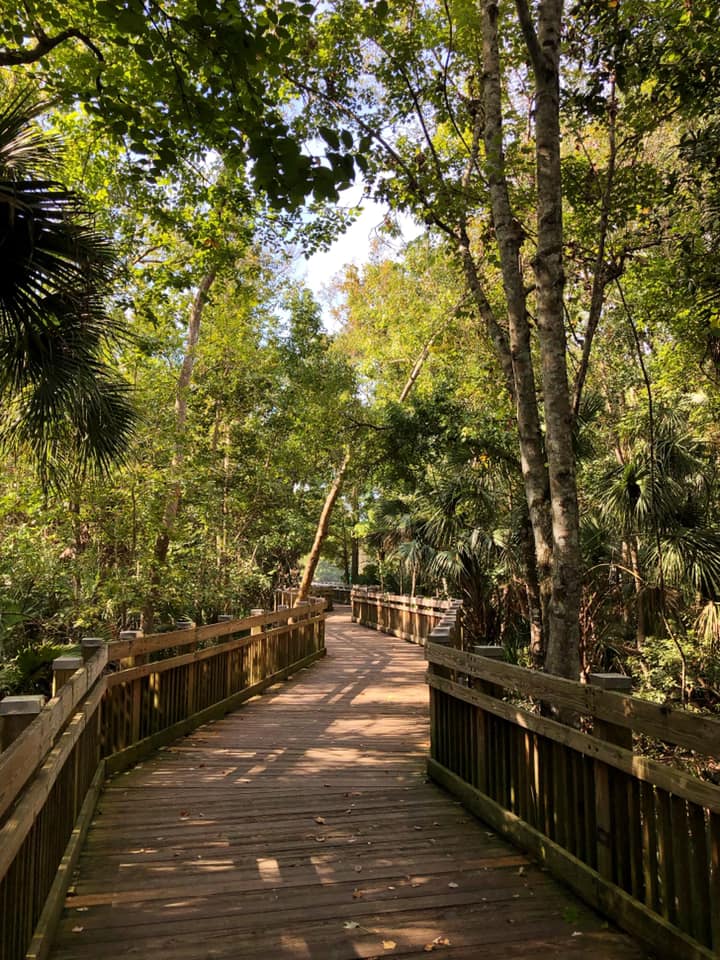 2. Visit the farmers market
Peruse fresh produce, foods and local goods every Sunday from 10am-2pm (Winter Hours) at the Celebration Farmers Market. An assortment of vendors set up shop each week along Market Street and Front Street.
While Celebration's Farmers' Market does not typically have as much fresh produce as other farmers' markets in Orlando, it's still a fun thing to do. Stick around for brunch or lunch after the market for a complete morning date.
3. Savor something sweet
If you've both got a sweet tooth, Kilwin's is a staple of the area. This ice cream shop is always bustling with a healthy mix of locals and tourists. Try a chocolate malt milkshake or a scoop of ice cream in a waffle cone (I love the Kilwin's Mud flavor).
Next door you'll find Le Macaron, a French bakery specializing in macarons. Soak up the Parisian inspired décor, chocolates almost too beautiful to eat, and creative macaron flavors like lavender white chocolate (my personal favorite).
The café playlist adds to the ambiance. They've also got fabulous gelato in an assortment of flavors, although I'm partial to the pistachio.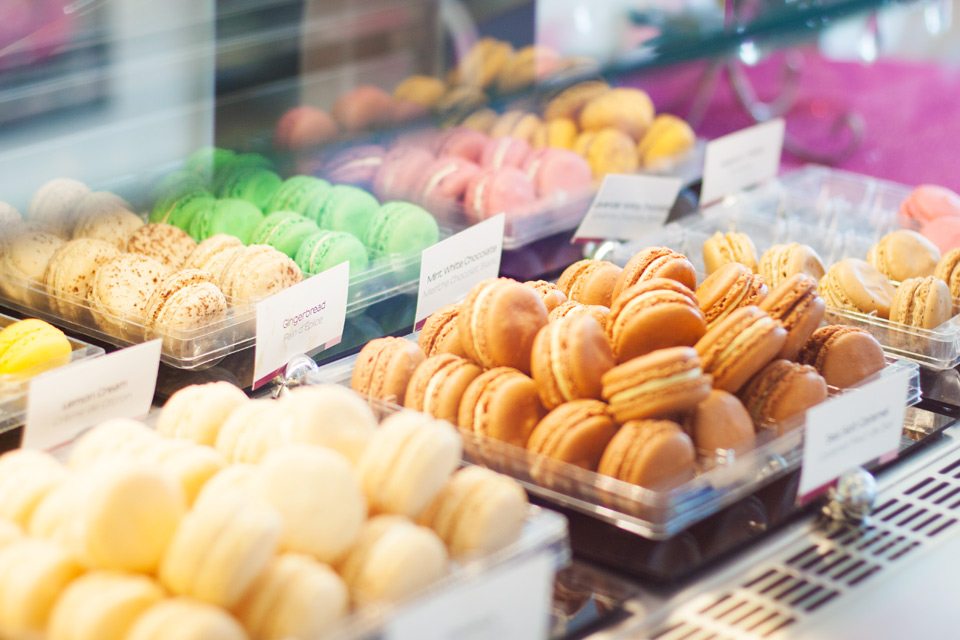 While you stroll the main street with your sweet treat in hand take note of the work of the architects, the style of the buildings, and the nearby public parks. You might even notice inspiration from famous architects, Michael Graves and Philip Johnson. Celebration's master plan is intended to mix relaxing green space with shopping, dining, and office space.
4. Rent bikes
While the main street of Celebration is very walkable, there are other acres of land to explore if you want to see the neighborhoods and squares. Bring along your own bikes to explore on two wheels, or rent bikes on Bloom Street (around the corner from the Bohemian Hotel).
The trails are mixed use although the trail around the lake downtown is the busiest. Cruise around Celebration's quieter streets and paths for a more leisurely ride.
FYI: The bike rental stand is currently self-service. You'll pay online with your phone and will receive a lock combination for your bike.
Celebration Bike Rental also offers guided bike tours and walking tours to learn about the history of the area.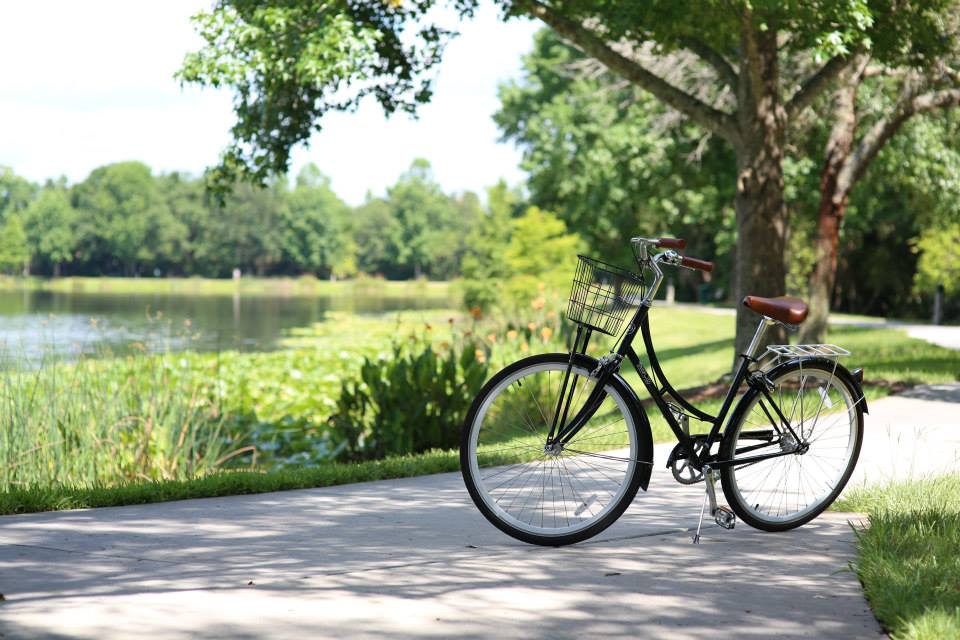 5. Pack a picnic
For a totally free date night, pack your own picnic basket with goodies and set up a waterfront picnic at Celebration Lakeside Park. There's plenty of space to spread out a blanket, and the further you follow the paved walking trails, the more secluded you'll feel. I recommend visiting right before sunset.
If you prefer to grab something to go, stop by Cornerstone Market & Deli, Upper Crust Pizza or Little Greek (5 minutes outside of town).
READ MORE: Everything You Need to Plan a Romantic Picnic in Orlando
6. Spend the night
Soak up all of the idyllic charm and extend your date night in Celebration by spending the night. Bohemian Hotel Celebration is located on the water amidst all of the action downtown. Amenities include an onsite art gallery, a romantic lounge and restaurant, lakeside pool and more.
This charming boutique hotel isn't just for visitors on vacation, it makes a great staycation for Orlando residents too! Pets are welcome for an additional fee.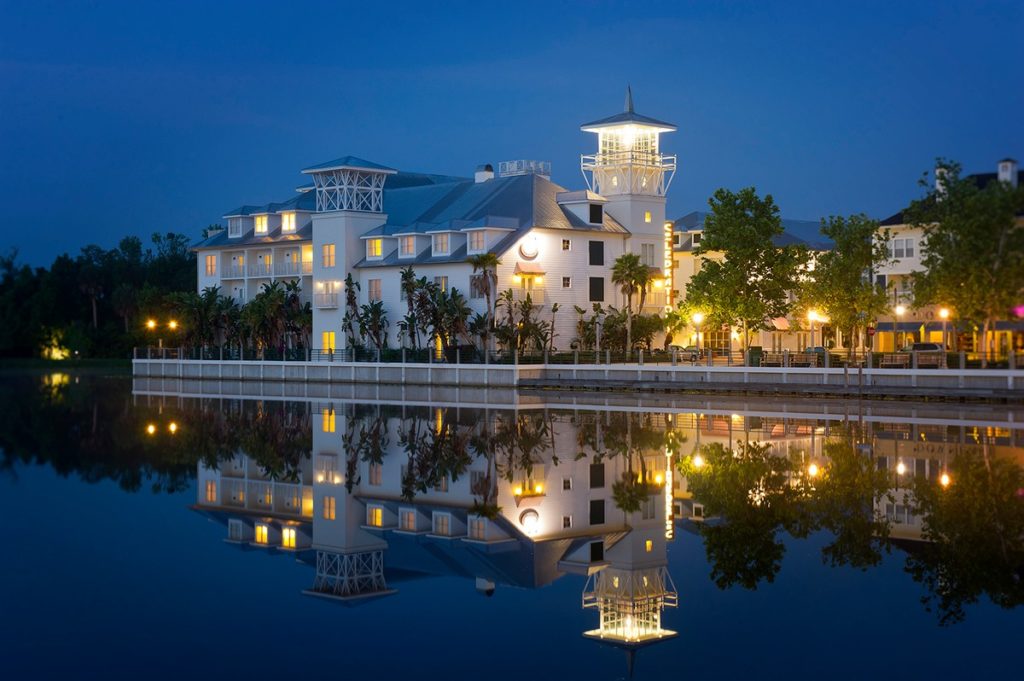 If you're a sporty couple you can make time to enjoy the splendid golf course just down the road. And spend some time along Celebration Avenue which is along Highway 192 with famous chain restaurants.
7. Raise a glass
No visit to Celebration is complete without a stop at Celebration Town Tavern. This local institution is the best place in town to sip on craft beers, feast on pub fare, and relax with friends. There are two spacious bars and plenty of covered outdoor patio seating.
You can even enjoy zero proof cocktails and frozen drinks!
Lakeside Bar + Grill (located inside the Bohemian Hotel Celebration) is fantastic for wine or craft cocktails. The romantic lakeside location provides a lovely view while you wine and dine. If you're exploring Celebration in the morning or afternoon, consider stopping in for brunch which is served daily until 3pm.
8. Make reservations for a romantic dinner
While Celebration has many budget-friendly options and free activities, it's also home to a variety of restaurants worthy of your best date night ensemble.
Imperium Food & Wine is a cozy wine bar with indoor/outdoor seating, a selection of 80+ wines available by the glass or bottle, and a variety of wine cocktails. The menu includes an assortment of light bites, flatbreads and savory entrees.
Another notable spot, Columbia is a local Spanish/Cuban chain located on Front Street. Think old world décor, white table cloths, and authentic Spanish dishes. The "1905" Salad is a must-try signature dish tossed tableside and named after the year Columbia Restaurant's original location in Ybor City was founded.
There's a spacious covered patio if you prefer to dine outdoors.
For something a little more casual, check out Posto Pizza. Their menu is filled with specialty and craft pizzas along with salads, sandwiches and desserts. Try the Posto Pizza (Italian plum tomato sauce, Grande mozzarella, muenster cheese, roasted peppers, caramelized onions, spinach, shaved prime brisket, and chimichurri) with a glass of red wine or a local craft beer.
9. Meet for breakfast
Feel like changing up your date night routine? Make morning reservations for breakfast instead of dinner. Get your fill of biscuits and other morning goodies from Maple Street Biscuit Company located just a few minutes drive from Celebration Town Center.
Or, make brunch reservations at Lakeside Bar + Grill, served daily until 3pm. Nosh on classics like avocado toast, a hearty brunch burger, stuffed French toast, pulled pork benedict and more.
10. Attend an annual festival
Celebration also hosts a lineup of fun annual festivals. Most notable events in Celebration include an annual exotic car show (spring), Oktoberfest (October), plus annual nightly "snow" and a beautiful Christmas display during the holiday season from the end of November through December.
In its early years visitors would often remark that Celebration's pristine appearance and strict homeowners association reminded them of The Truman Show movie. Now that communities with such master planning are more common, residents remain proud, while visitors bask in the charm.
Feature image credit: Bohemian Hotel Celebration, Autograph Collection