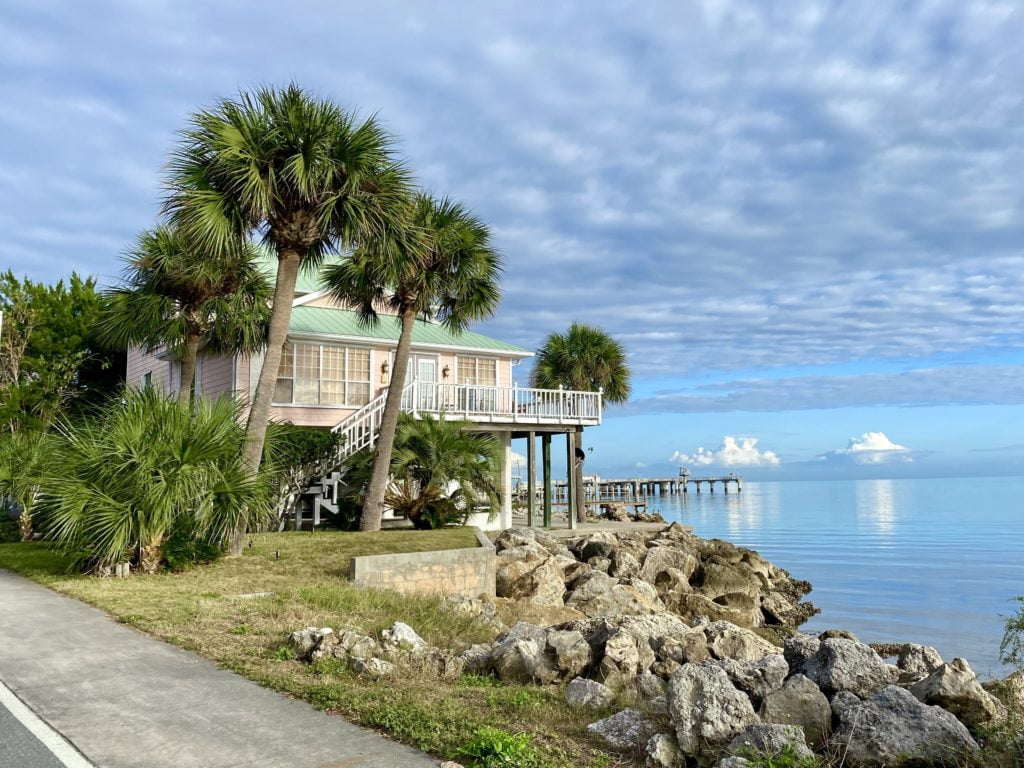 Discovering hidden gems together is such a treat, and a great way to bring you closer together. I've spent 30 years going to Cedar Key, Florida with my family, and now that I have a family of my own, I love bringing them there. For a slower pace of life, there's no place better in Florida. Read on for everything you need to plan a weekend getaway to Cedar Key.
Because life is so much simpler here, it can be easy to overlook all the things to do in Cedar Key. Besides tasty local restaurants, you'll find cultural experiences that are enriching, plus lots of outdoor activities like fishing, kayaking, biking, and time on the beach.
Hungry? Jump over to our full list of the BEST Cedar Key Restaurants.
EDITOR'S NOTE: Cedar Key has experienced extensive damage from Hurricane Idalia and storm surge. This blog post will be updated soon to reflect pertinent changes.
Is Cedar Key worth visiting?
Let me save you some time. If you prefer modern beach destinations with luxury resorts, fine dining, and nonstop action, Cedar Key is not for you. Instead, consider one of these Summer Day Trips from Orlando.
However, if you're looking to slow down with your honey and enjoy a bit of Old Florida, then Cedar Key is for you. This charming island is relatively small and has a small-town feel. Most of the homes on Cedar Key are vacation homes. You'll see plenty of homes on stilts which helps with hurricane measures. The few residents that do actually live on the island full time are mostly local business owners.
You'll often encounter friendly service from smiling locals who are happy to have visitors on the island. The beaches of Cedar Key are quaint and quiet.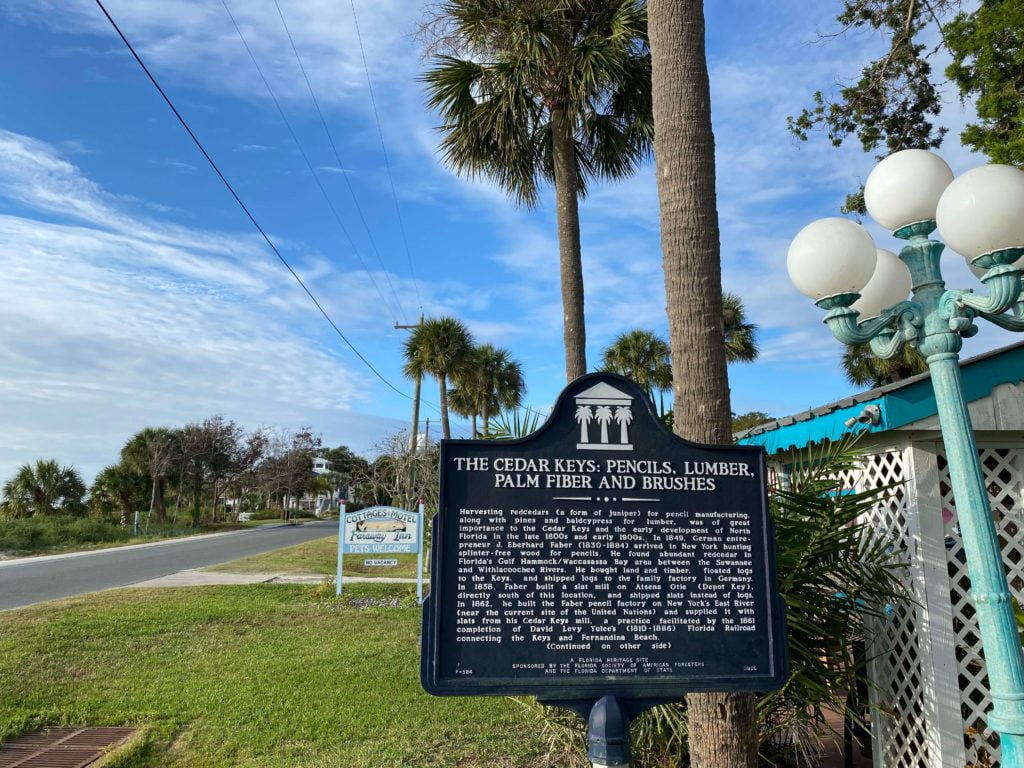 What's more, this island is teeming with incredible Florida wildlife. In the morning your ears will fill with birdsong – including that of ospreys – though the occasional airboat heading out to collect the day's seafood bounty can be heard too. At night a spectacular view of the stars will take your breath away.
Important tip: Since all the businesses are locally run, many of them have limited hours. Some businesses are closed on Mondays and Tuesdays, which make for good days of the week to enjoy some quiet time. Monday and Tuesday also happen to be the days of the week when the UF Nature Coast Discovery Center is open for visitors.
Get those taste buds ready for some down-home cooking. You won't find a single fast-food joint or national brand chain restaurant anywhere on the island. Every Cedar Key restaurant is a small business, run by the locals.
When dining at Cedar Key, keep in mind that things move slower here. And hours are subject to change. Double-check each restaurant's website for hours, and call ahead too if necessary.
With each Cedar Key restaurant being a local small business, there's really no bad choice for dining. However, after years of visits, these are my favorites and the best restaurants in Cedar Key. It is important to note that plant-based dining and those with special dietary needs may have difficulty finding suitable selections at this small town.
83 West
Location: 310 Dock St, Cedar Key, FL 32625 (first floor)
Best for: Incredible views on the water, casual seafood, nightlife
The most iconic building on the island, at the very edge of Dock Street, is home to two restaurants. 83 West is the casual spot, great for lunch or a super relaxed dinner. 83 West takes up the first floor of the building and has open-air windows for you to sit, sip your cold drink, and look out over the water with an unobstructed view.
Sunset is hard to beat as you watch fishing boats come back in from the day's adventures. And if you're lucky enough you may spot some dolphins making their way through the water. Get the Fried Shrimp, Fish Dip, or Redfish – all of which are some of my favorite seafood in the entire state of Florida.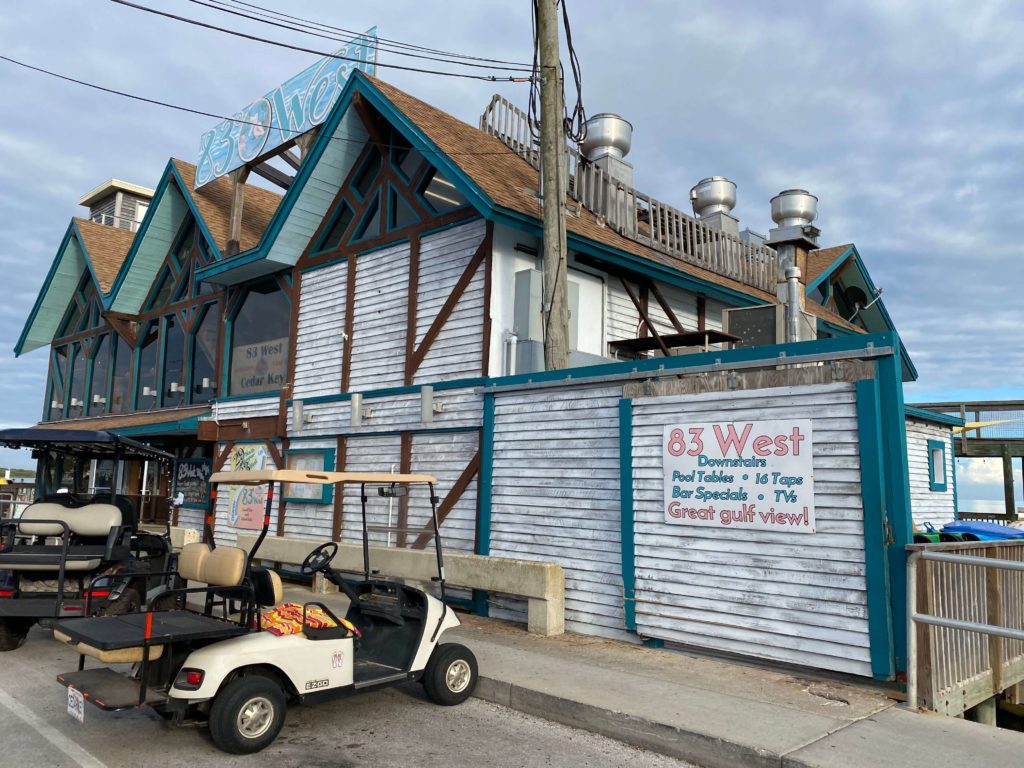 29 North at 83 West
Location: 310 Dock St, Cedar Key, FL 32625 (second floor)
Best for: Panoramic views of the Gulf of Mexico, elevated dining, craft cocktails
For a little added romance, head upstairs to 29 North. Here the menu is elevated and some of the best food in Cedar Key. The dining room has a wooden vaulted ceiling and floor-to-ceiling windows that afford panoramic views of the Gulf of Mexico and neighboring islands. If you love seafood then take a look at the selections from the Raw Bar. My go-to order is the Bacon-Wrapped Scallop Kabobs and a Garden Salad (which is massive and fresh). If you visit when there's a chill in the air then the Seafood Bisque is a must. You must save room for Key Lime Cake.
Steamers
Location: 420 Dock Street, Cedar Key, FL 32625
Best for: Casual food, tropical drinks
The epitome of a beach town restaurant, Steamers is where to go for casual food and tropical drinks. This is a popular spot, day and night, thanks to its approachable food, and prime location in the middle of Dock Street. This is not the place for fine dining, but you'll easily get your fill from a menu that is equal parts full of seafood, but also plenty of choices for landlubbers.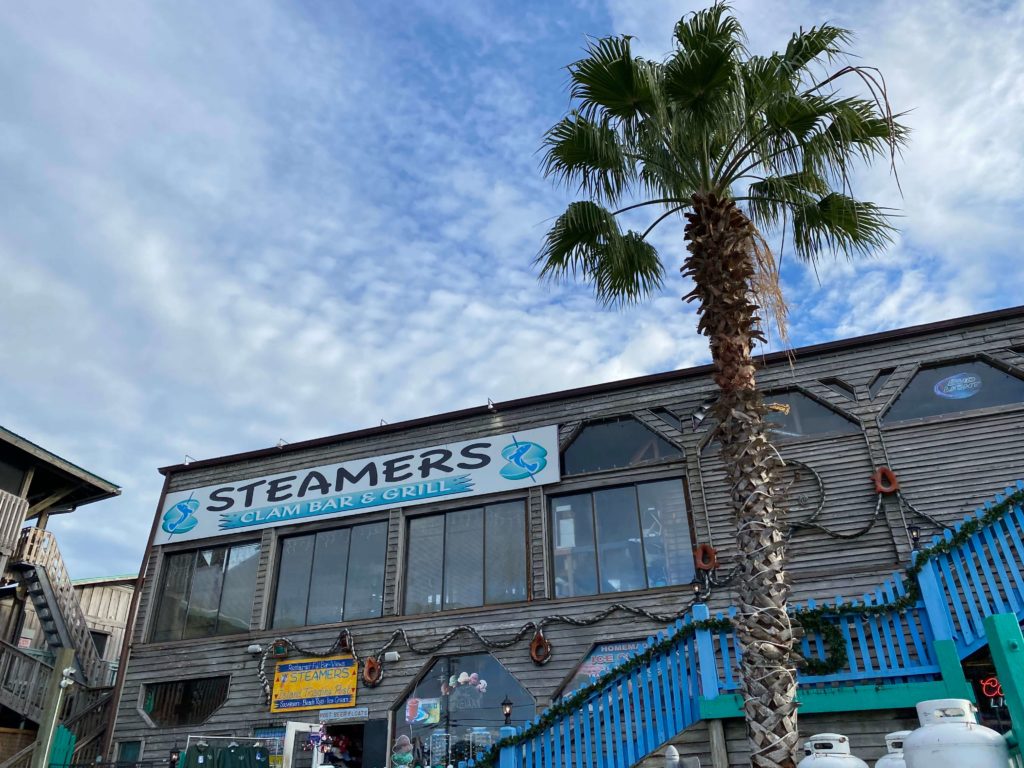 READ MORE: Jump over to our full list of the BEST Cedar Key Restaurants.
Things to do in Cedar Key
The best thing to do at Cedar Key? Relax. Our modern lives move much faster than they should and a visit to Cedar Key is the perfect opportunity to slow down.
It's also easy to have A Day Trip to Devil's Den for Snorkeling and Exploring or a trip to Homosassa Springs State Park to see manatees any time of year.
If you are looking for things to do in Cedar Key, there is no shortage of Old Florida fun.
go kayaking
pier fishing
book a boat tour
view local art
rent a golf cart or bicycle
dine around or pub crawl along Dock Street
Cedar Key State Park Museum
Cedar Key Historical Society and Museum
Cemetery Point Boardwalk and Park
UF Nature Coast Discovery Center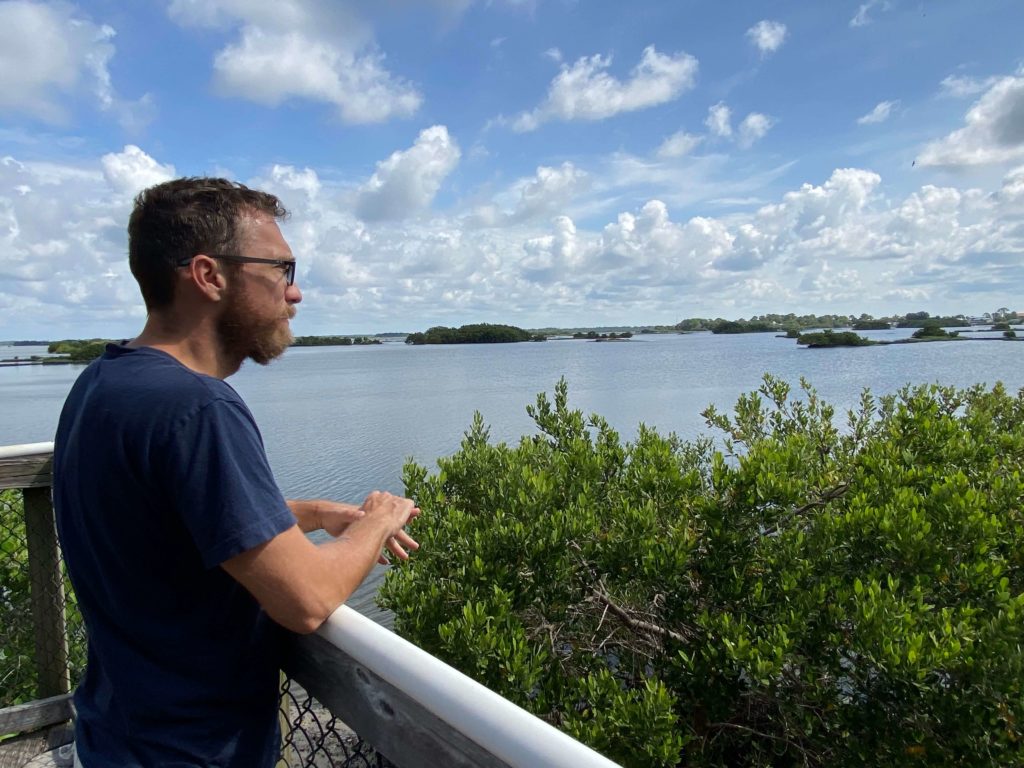 What is Cedar Key known for?
Cedar Key is first and foremost a fishing island. Whether you grab a pole and head for one of the piers, or if you book a charter, you're sure to have a lucky catch. Plus, you'll be in good company as clammers catch their bounty every day. Cedar Key is the largest producer of farm-raised clams in the state of Florida!
Tony's Seafood Restaurant is famous for its award-winning clam chowder. Even though the recipe is New England inspired, many locals and visitors consider it to be a taste of Cedar Key.
There is the main city pier for fishing, located on Dock Street, you can't miss it. This is the most popular spot to go fishing. The second most popular fishing spot is The #4 Bridge Boat Ramp & Fishing Pier which is actually at the entrance to the island. The fish and the views here are much different than from the main pier on Dock Street.
Besides fishing and clams, this region is known for its laidback lifestyle. It is untouched by the typical chain businesses that have homogenized so much of our great state. It has a unique small-town charm that I hope always remains.
Being a small island there are no major hotels here. Instead, you'll find charming cottages, motels, and lots of condos and vacation homes.
Explore our favorite Cedar Key Hotels for Romance and Relaxation. This guide also includes a look at Airbnbs and dog-friendly hotels in Cedar Key.
Does Cedar Key have a beach? Where can you swim?
There is actually only one main beach on Cedar Key. The City Park at the end of 2nd Street serves many purposes. Here you'll find a playground, basketball court, picnic pavilions, restrooms, and the beach. Remember, this is a small island, so the main beach may not be as big as what you have in mind.
Still, there is plenty of sand and plenty of room to set up some chairs and towels for some time at the beach. This is where you can splash around and swim in the Gulf of Mexico.
Jump over to our complete insider's guide to Cedar Key beaches.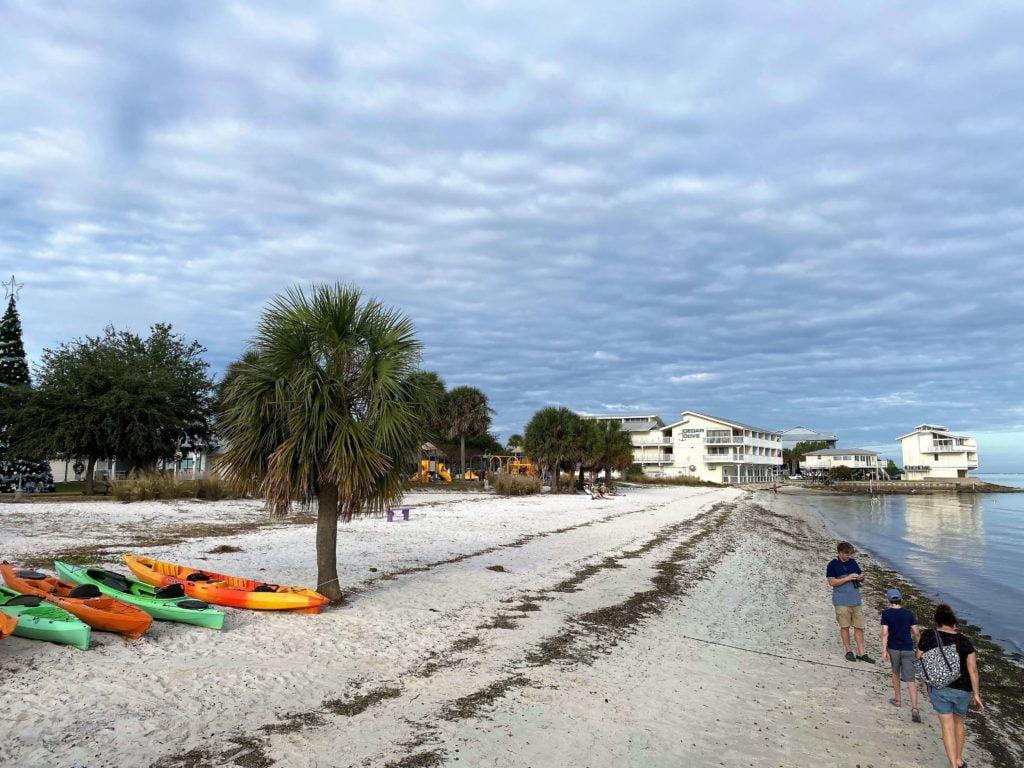 Rent a Golf Cart or Bicycles
Cedar Key is a walkable island, with everything close by. Still, if you want to see the island in its entirety you can do so by renting a bicycle or golf cart. In fact, golf carts are the chosen method for getting around the island – both by visitors and locals.
With a golf cart you can enjoy the breeze in your hair as you drive around the island. I recommend heading out to the airstrip. It may take some time before you see any small planes coming or going, but the drive to this side of the island is worth it. You'll encounter beautiful views and intriguingly colorful homes.
Rental companies include: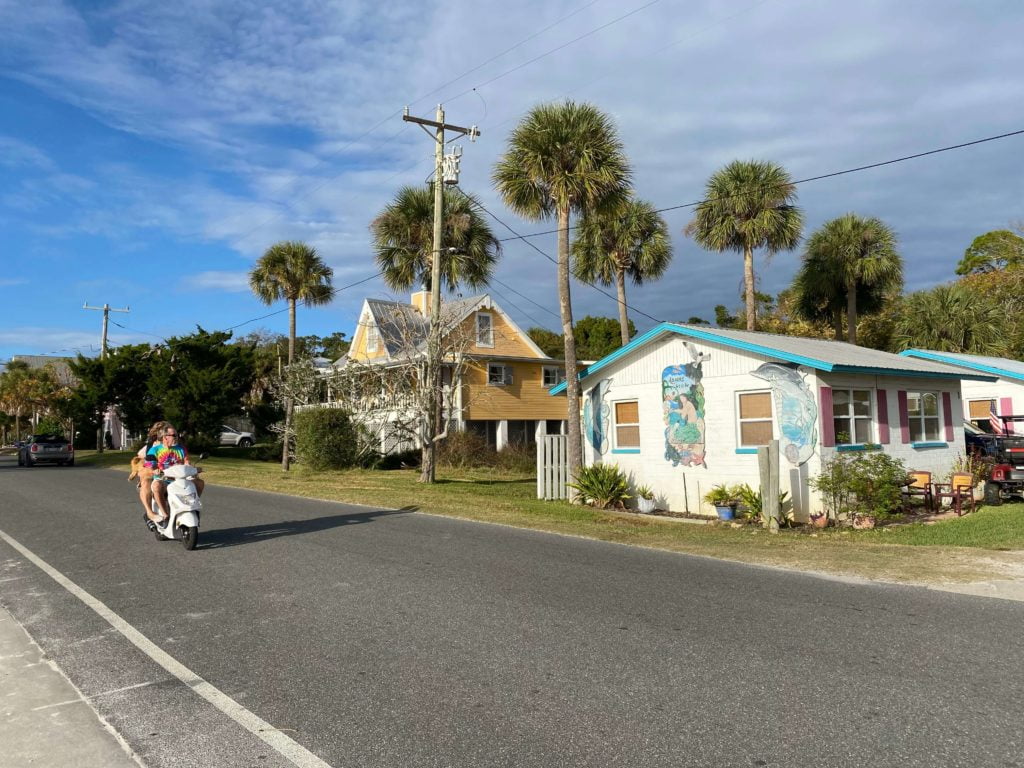 Boat Tours
Exploring the island itself is sure to create lots of romantic memories together. But there are even more memories to be made by getting on a boat and seeing the island from the water, as well as seeing some of the neighboring islands. Getting out on the water is a must. You'll see lots of nature's wonders all around you. You might even see some dolphins!
Can you scallop?
While there is plenty of boating fun to be had, scalloping at Cedar Key is not as abundant as nearby areas. Scallops grow in grassy areas in shallow water. This island is better for fishing, clams, and oysters. The Homosassa and Crystal River areas are where you should head for a scalloping trip.
Explore all there is to know about Scalloping Season from one of our sister publications, TampaBayParenting.com.
Kayaking
Whether you rent a kayak or bring along your own, kayaking at Cedar Key is a very popular activity. Since the island is in the Gulf of Mexico, away from any busy places, it is easy to enjoy a calming kayak journey. There are plenty of barrier islands and shallow waters home to a wide variety of Florida wildlife. First thing in the morning or about an hour before sunset are great times to potentially catch some glimpses of dolphins in the water.
Popular kayak launch spots: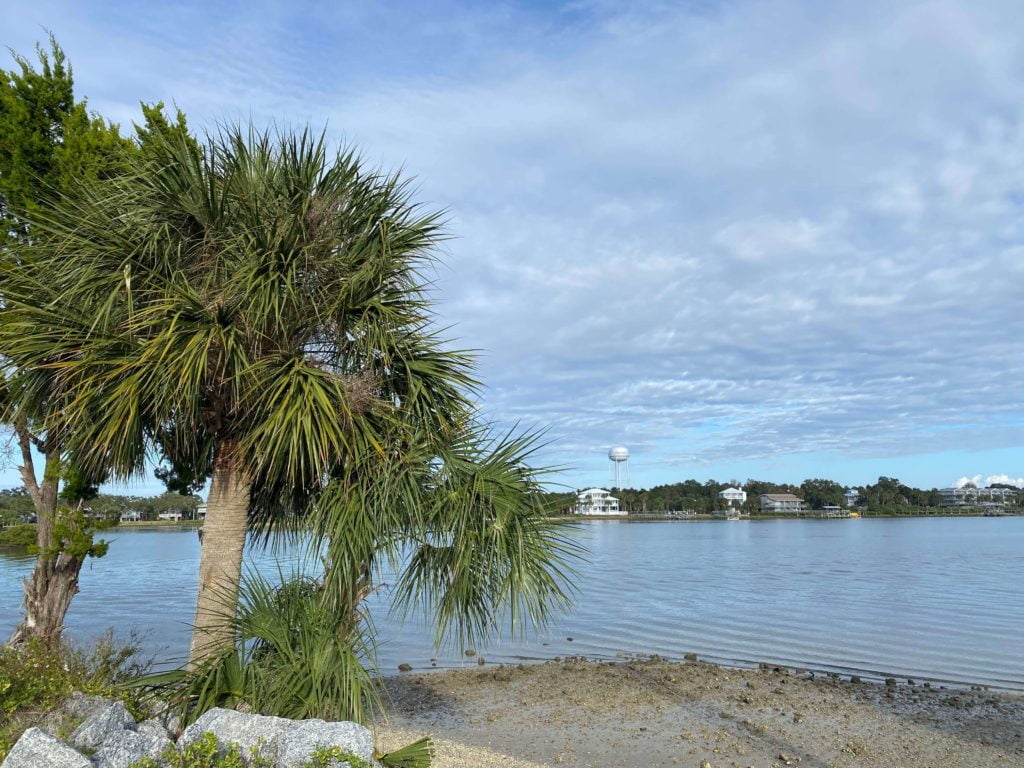 Cedar Key State Park Museum
Head out to the quieter part of the island to explore a quaint state park museum and learn about the history of Cedar Key. The Cedar Key State Park Museum is only open on Fridays, Saturdays, and Sundays, but it is a highlight of things to do in Cedar Key. You can explore exhibits throughout the 18 acre grounds before heading inside for a variety of exhibits. The exhibits are now vintage examples from the 1950s to 1960s by the University of Florida design team, which at the time developed numerous displays for state parks. This offers a unique opportunity not only to learn about the history of the area, but also to appreciate the incredible craftsmanship that went into these museum displays.
If you just can't get enough history then add the Cedar Key Historical Society and Museum to your itinerary. This museum is run by passionate locals wanting to preserve the history and help visitors learn about this special island. It is only open a few hours per day, and closed on Mondays and Tuesdays, so plan ahead.
Make a stop at the nearby Cedar Keyhole Artists Co-op and Gallery too!
Cedar Key National Wildlife Refuge
The Cedar Keys National Wildlife Refuge was established in 1929 by President Herbert Hoover to protect a breeding ground for colonial nesting migratory birds. The Refuge itself encompasses multiple islands that neighbor Cedar Key. The latest addition is Atsena Otie Key which is the closest island to populated Cedar Key. You can see Atsena Otie Key from Dock Street and G Street (my favorite street to watch sunset).
Taking a boat tour or hopping into some kayaks will enable you to see these protected islands as close as possible.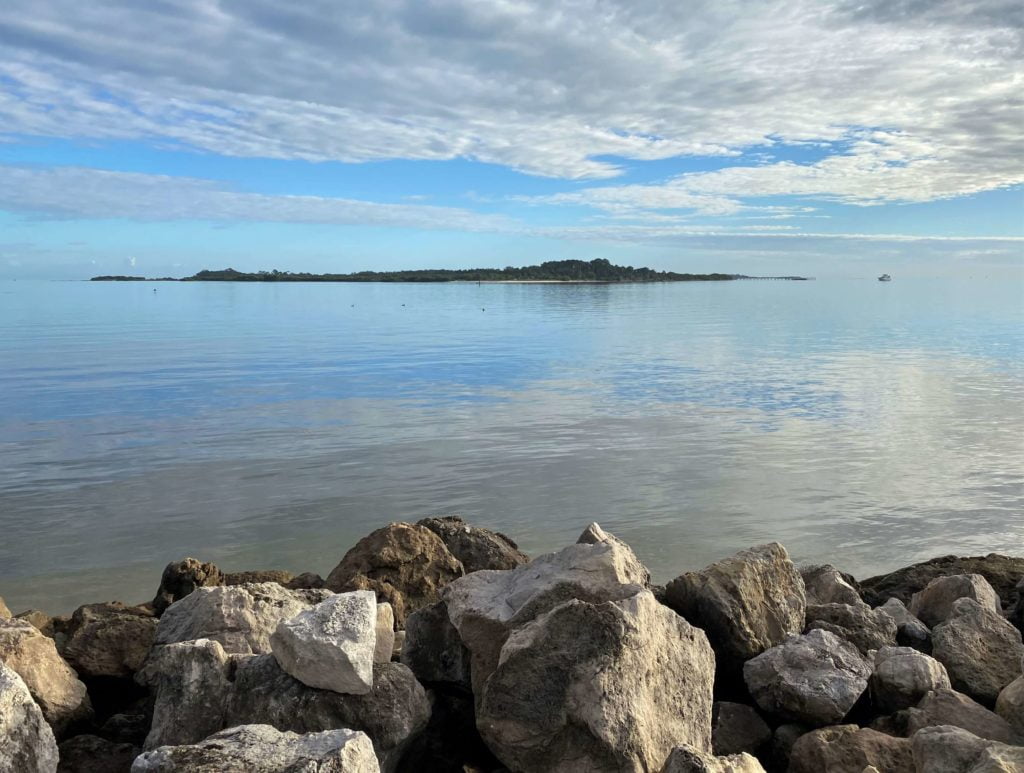 Where is Cedar Key Florida located?
Cedar Key is pretty far from most major cities. Gainesville is the nearest major city, which is about 50 miles, or an hour away. This is a true getaway. It is 135 miles north of Tampa, or about 3 hours' drive away. Orlando is also 135 miles away.
The drive from Orlando takes about 2.5-3 hours, depending on traffic and the chosen route. I prefer to take the scenic route, partly on State Road 40 through Ocala to see the horse farms and other Old Florida beauty. Cedar Key is tucked out of the way, but that's part of its charm, and it's an enjoyable place to visit
The nearest major airports are Tampa and Orlando, there's a regional airport in nearby Gainesville. There is actually an airstrip on the island where many small plane enthusiasts land. This is another fun thing to do on the island, take a quick trip over to the island's "airport" and see the small planes that have made their way to this charming island. The pace of life is much slower here, so don't rush anything, and plan lots of time to just enjoy the simple life.
Want to explore some more? Check out these 7 "Secret" Florida Islands.