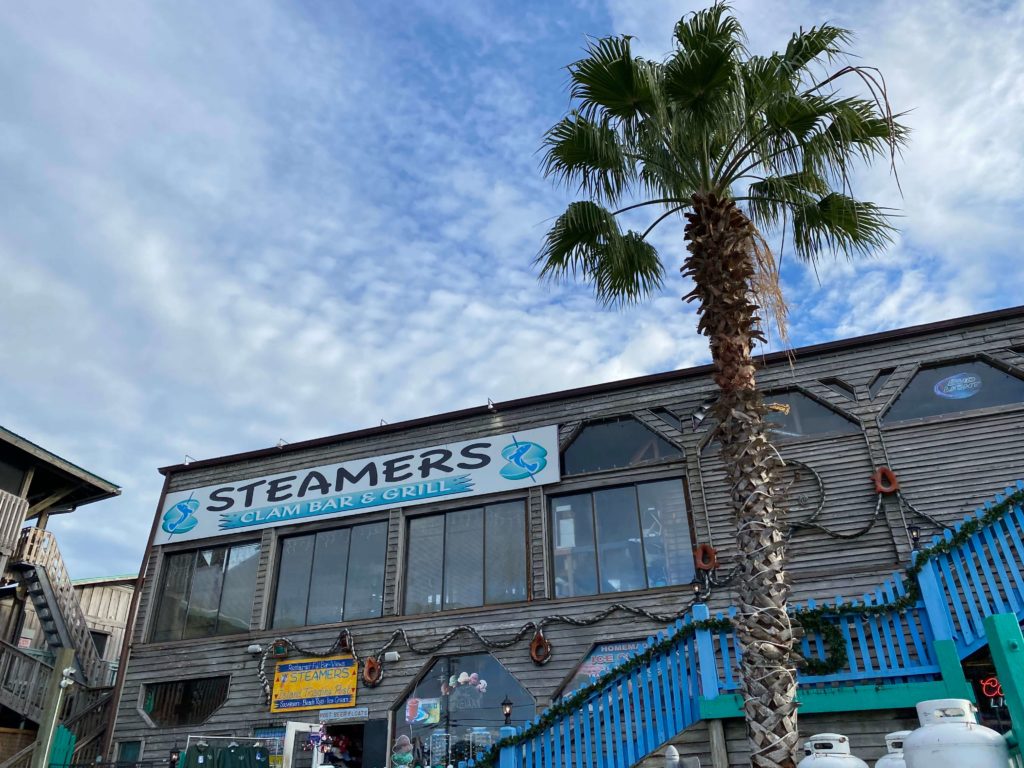 A slower pace of life awaits at Cedar Key, Florida. Just two and a half hours away from Orlando, you can escape to a different lifestyle. Old Florida reigns surpreme on the island of Cedar Key. And many Cedar Key restaurants serve fresh seafood and Southern classics.
We love a romantic weekend getaway at Cedar Key. It's one of our favorite Florida islands. And even if escaping for a few days is not an option, visiting for the day is okay too. Either way, there are plenty of places to eat in Cedar Key. And here you'll find our favorites in this guide to the best Cedar Key restaurants.
If you are indeed looking to stay a few days, check out these romantic Cedar Key hotels. Plus, plan some time at these Cedar Key beaches. And keep reading for the details on all the good eats.
EDITOR'S NOTE: Cedar Key has experienced extensive damage from Hurricane Idalia and storm surge. This blog post will be updated soon to reflect pertinent changes.
CEDAR KEY RESTAURANTS
Get those taste buds ready for some down-home cooking. You won't find a single fast-food joint or national brand chain restaurant anywhere on the island. Every Cedar Key restaurant is a small business, run by the locals.
For a few years, the restaurant scene struggled. Fishing regulations made it very expensive to have fresh, local seafood. Then the staffing and supply chain issues everyone around the country is experiencing certainly impacted small town Cedar Key.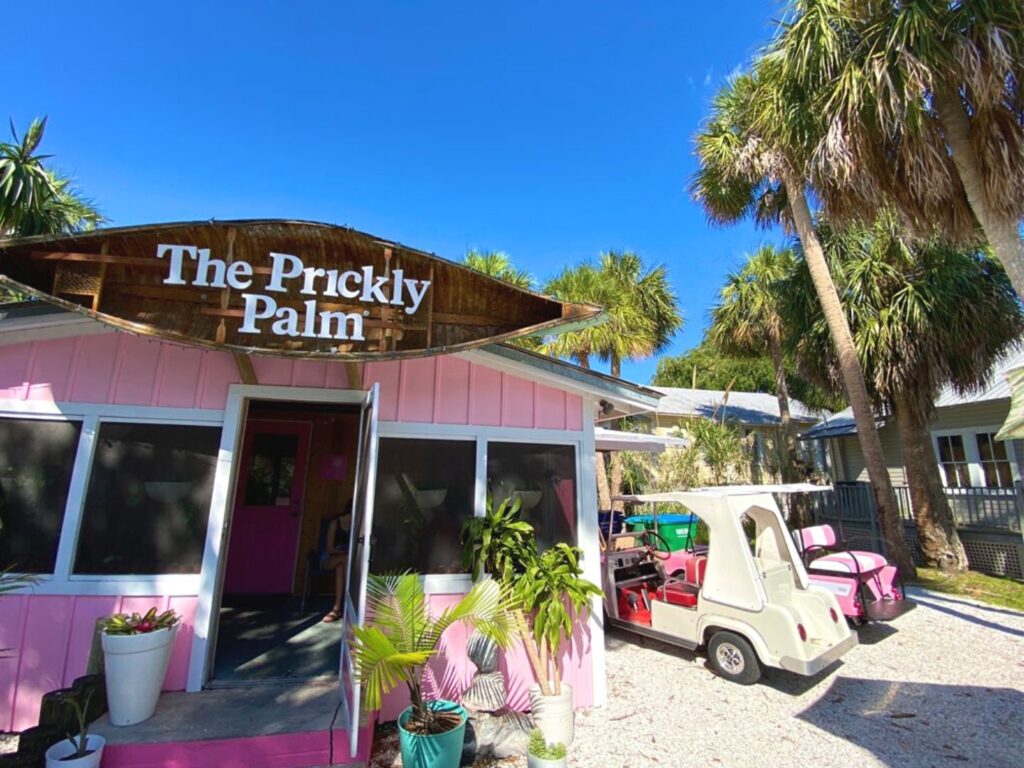 I am happy to report that there are plenty of fantastic restaurants in Cedar Key. The great thing about this Old Florida island is how casual it is. No need to pack anything fancy to wear for your getaway. Casual island wear is where it's at.
When dining in Cedar Key, keep in mind each place is a small, locally owned business. Hours are subject to change, so double-check their social media or website before heading out.
WHICH ARE THE BEST RESTAURANTS IN CEDAR KEY?
With each Cedar Key restaurant being a local small business, there's really no bad choice for dining. However, after years of visits, these are my favorites and the best restaurants in Cedar Key. It is important to note that plant-based dining and those with special dietary needs may have difficulty finding suitable selections at this small town.
Location: 310 Dock St, Cedar Key, FL 32625 (first floor)
Best for: Incredible views on the water, casual seafood, nightlife
The most iconic building on the island, at the very edge of Dock Street, is home to two restaurants. 83 West is the casual spot, great for lunch or a super relaxed dinner. 83 West takes up the first floor of the building and has open-air windows for you to sit, sip your cold drink, and look out over the water with an unobstructed view.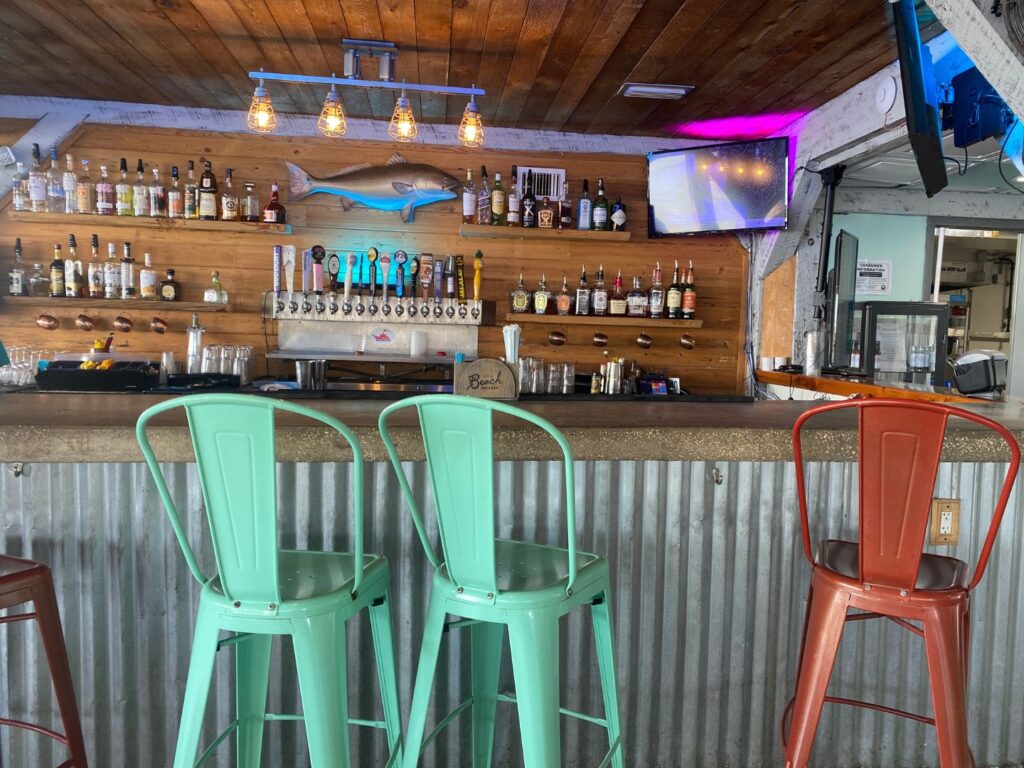 When the weather is right the windows are open wide. Walk up to the bar to order your food and drinks then grab a spot on the water. Next thing you know, you'll be eye-to-eye with a flock of brown pelicans right outside the windows. Just don't feed the feathery friends.
Sunset is hard to beat as you watch fishing boats come back in from the day's adventures. And if you're lucky enough you may spot some dolphins making their way through the water. Get the Fried Shrimp, Fish Dip, or Redfish – all of which are some of my favorite seafood in the entire state of Florida.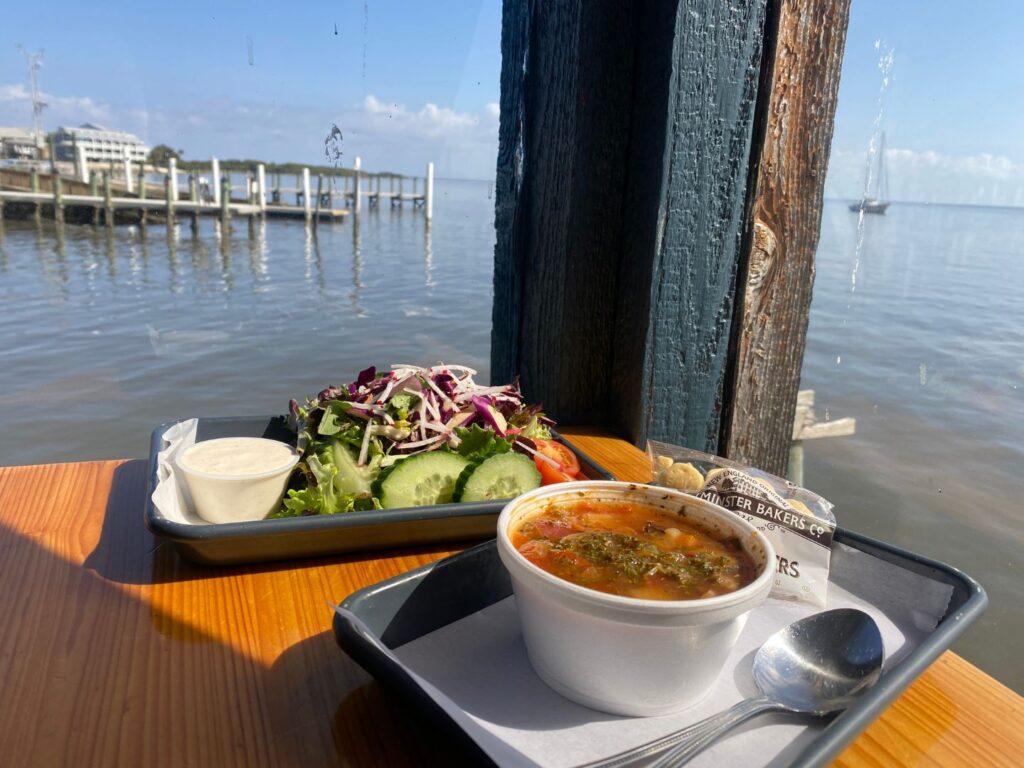 Location: 310 Dock St, Cedar Key, FL 32625 (second floor)
Best for: Panoramic views of the Gulf of Mexico, elevated dining, craft cocktails
For a little added romance, head upstairs to 29 North. The menu recently changed and is now the same upstairs as it is downstairs. It's still some of the best food in Cedar Key. The difference upstairs is the full service dining service and atmoshere. You will be seated at a table with a service, rather than needing to order at the bar like you do downstairs.
The dining room has a wooden vaulted ceiling and floor-to-ceiling windows that afford panoramic views of the Gulf of Mexico and neighboring islands. If you love seafood then take a look at the selections from the Raw Bar.
My go-to order is the Blue Crab Empanada and a Garden Salad (which is fresh and crisp). If you visit when there's a chill in the air then the Seafood Bisque is a must. You must save room for Key Lime Cake.
Location: 420 Dock Street, Cedar Key, FL 32625
Best for: Casual food, tropical drinks
The epitome of a beach town restaurant, Steamers is where to go for casual food and tropical drinks. This is a popular spot, day and night, thanks to its approachable food, and prime location in the middle of Dock Street.
This is not the place for fine dining, but you'll easily get your fill from a menu that is equal parts full of seafood, but also plenty of choices for landlubbers.
Location: 434 2nd Street, Cedar Key, FL 32625
Best for: best breakfast on the island, lunch sandwiches
If you somehow need a break from seafood or you're ready for a delicious and hearty breakfast, head on over to 2nd Street. While Dock Street is the main hub of activity on the island, 2nd Street is right next door with a few great spots for shopping and dining.
2nd Street Cafe is run by the same folks as Steamers. This cafe focuses on simple home-cooked food for breakfast and lunch. Their Three Egg Omelets will fill you up and your sweet tooth will be satisfied with their Stuffed Waffle. For lunch, my go-to is their Shrimp Basket – grilled, with a side salad, and their French Dip is divine.
Location: 8030 D St, Cedar Key, FL 32625
Best for: adorable coffee house vibes, healthful options including plant-based
As someone who's been visiting Cedar Key for 30 years, this newish coffee shop stopped me in my tracks. The bright pink exterior, with an old canoe for a sign and precious plants everywhere, are just made for Instagram.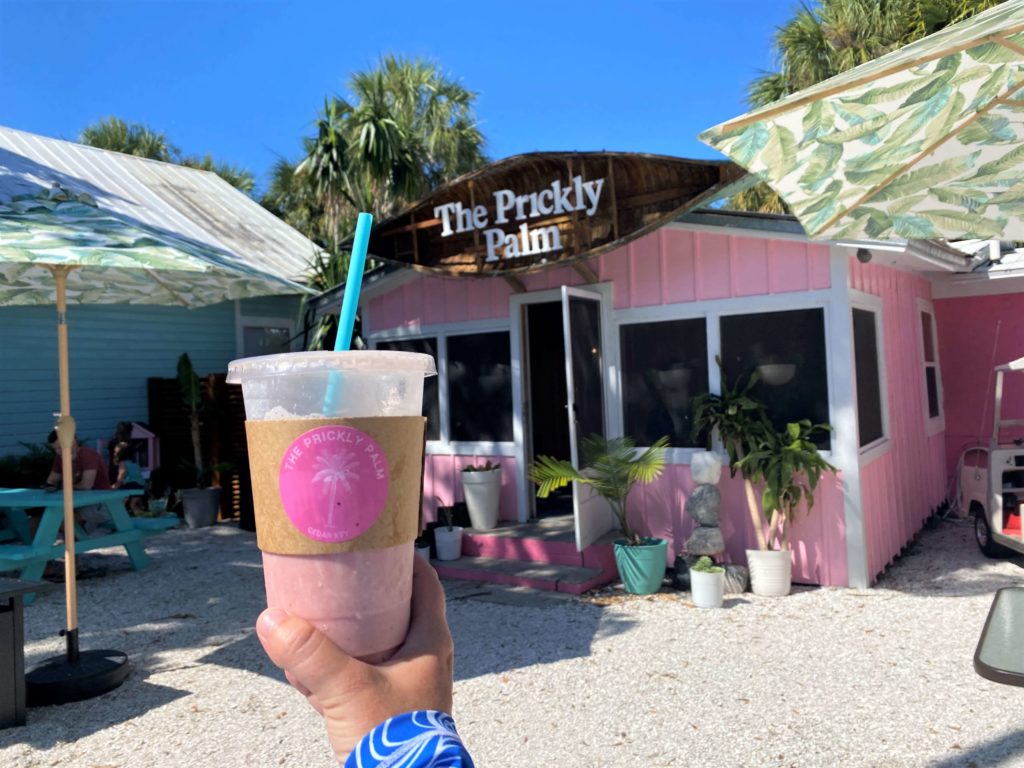 The Prickly Palm is usually only open until 2pm since it focuses on breakfast and lunch favorites ranging from specialty coffee beverages to smoothies and bowls which include plenty of plant-based options. Their breakfast sandwiches are satisfying from morning until the afternoon. Dogs are welcome in the outside area.
Location: 373 2nd Street · Cedar Key, Florida 32625
Best for: Historic ambiance, elegant menu and wine list, neat bar
This historic hotel is a landmark of Cedar Key. For a romantic date night it is a must-do. The menu is small, but mighty, the most elegant on the island. For a true local flavor, order the Clam Island Pasta made with clams caught in the local waters.
The Fish En Papillote is delicious and fresh, with your choice of local fish topped with spinach, sun dried tomatoes, and parmesan cheese then baked in  parchment paper.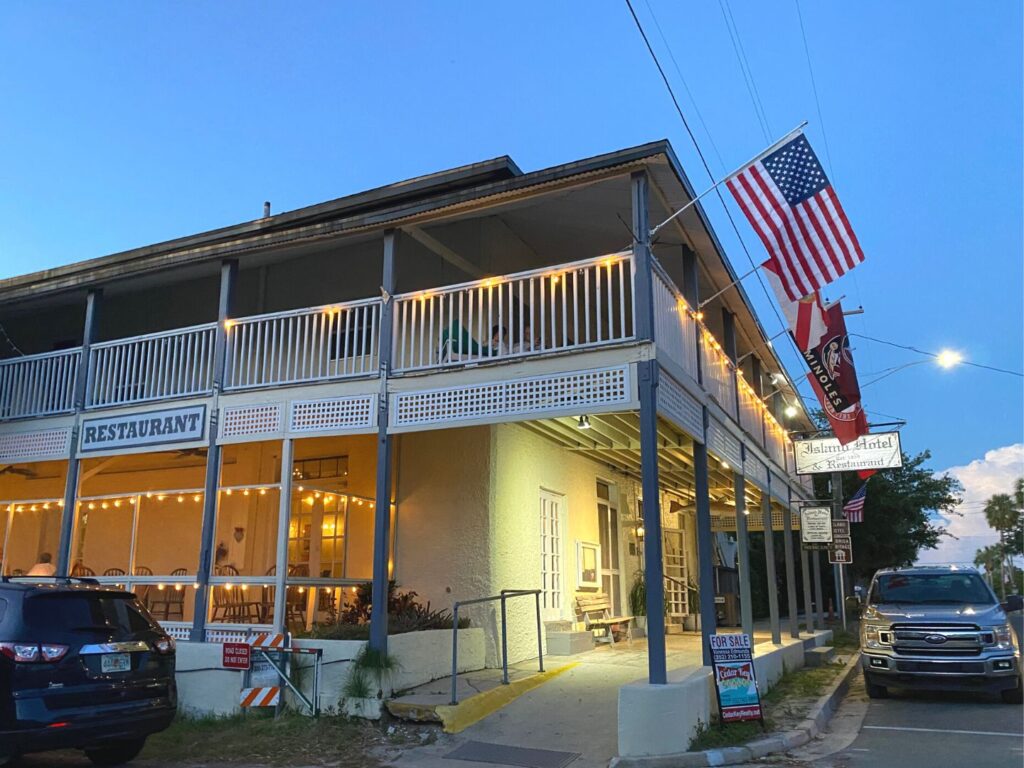 Date Night Ideas: As you might have guessed, the nightlife at Cedar Key is not as amped up as places like Key West and other big-time destinations. Still, there are quite a number of watering holes to satisfy your thirst.
One of my favorite bars is actually a photography studio. Bonish Studio served up drinks and cold beer inside their quirky photography studio on 2nd Street. Also on 2nd Street is the Island Hotel which is not only historic but said to be haunted. The small bar just off the lobby is full of character.
Catch the sunset: My two favorite spots to watch the sunset are along the small beach on G Street, and the Low Key Hideaway on Highway 24. The Low Key Hideaway serves as a motel, an RV camping spot, and home to a tiki bar that draws people from all around.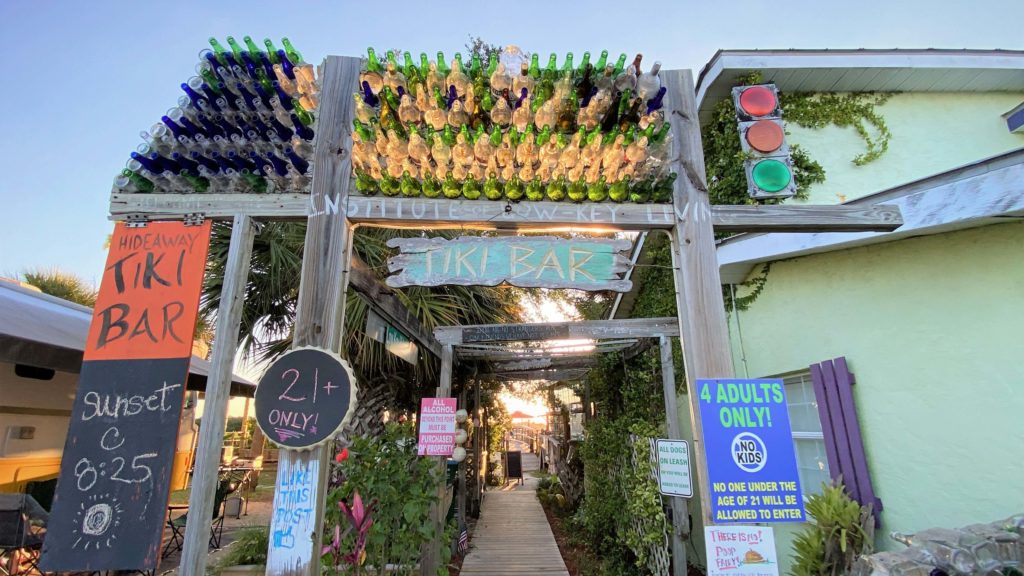 The Low Key Tiki Bar is a must-visit for couples on a romantic getaway. There is live music on the weekends, craft cocktails made to order, and killer sunset views – including from a dock that juts out into the gulf.
This venue is 21 and up, making it a great spot for couples. Just be careful about parking, especially getting back to your car after dark since parking is along busy highway 24.
More Cedar Key Restaurants