Cooler weather in Orlando means packing up our backpacks and hitting the trails for a picnic. Take a look at our go-to secluded spots for hiking in Orlando and Central Florida. These are great ideas for your next picnic or just a walk together to nourish your relationship.
Updated December 2022 by Jodi Caballero and Dani Meyering
If you want to hike in Orlando proper, ideal spots are limited. After all, Orlando is an urban area. So we prefer some of the more secluded spots and nature parks in the surrounding areas.
Here is a quick list of Hiking Spots in Orlando itself, then we will dive deeper into the places nearby that offer more space and more nature.
Hiking in Orlando and Walking Trails
Orlando Urban Trail
Lake Underhill Park
Shingle Creek Trail
Cady Way Trail Park
Laureate Park Nature Trailhead
Looking for more? Check out Nature Parks Near Orlando's Theme Parks
For more wide open spaces and even more nature then keep reading. These nearby hiking spots are a short drive from Orlando itself.
Hiking Spots Near Orlando
Oakland Nature Preserve – Lake Apopka
Wekiwa State Park – Apopka
Lake Kissimmee State Park (North Loop) – Lake Wales
The Flagler Trail – Seminole County
Blackbear Wilderness Area – Seminole County
Orlando Wetlands Park – Christmas, Florida
Keep reading for guides to each spot for hiking in Orlando and nearby. Including what to bring and what you might see during your adventure together.
Have you been to Christmas, Florida? Just a short drive from Orlando, the UCF / Waterford Lakes side of town, is the small town of Christmas. And within the borders of Christmas, Florida is the Orlando Wetlands Park.
The Orlando Wetlands Park has a brand new 2,200 foot long boardwalk. It is just perfect for hiking in Orlando. Since it is a wetlands park this boardwalk takes you over the water for up-close views of the wildlife.
You can also enjoy biking, horseback riding, and guided tours. The Education Center is a visitor center with exhibits that include live animals and displays. The center is located just west of the parking lot and is open to the public from 9 a.m. to 3 p.m. on Fridays and Saturdays (all year) and Sundays (September – March).
All of this is free to enjoy!
This short trail is going to be your absolute new favorite weekend spot. Located off of the West Orange Trail just 10 minutes from downtown Winter Garden, Oakland is a small town with surprising secrets. Among them is Oakland Nature Preserve, a free nature area with short hiking trails and a boardwalk to Lake Apopka.
Park in the free parking lot under a shaded tree and head back towards Oakland Avenue. Follow the short dirt road next to the fence line.
During past hiking trips, we spotted zebra, giraffes, rhinos, ostriches, and wild buffalo. Sadly the wildlife preserve is no longer here and the land is being developed. It is still a nice place for a hike or a stroll in the Orlando area.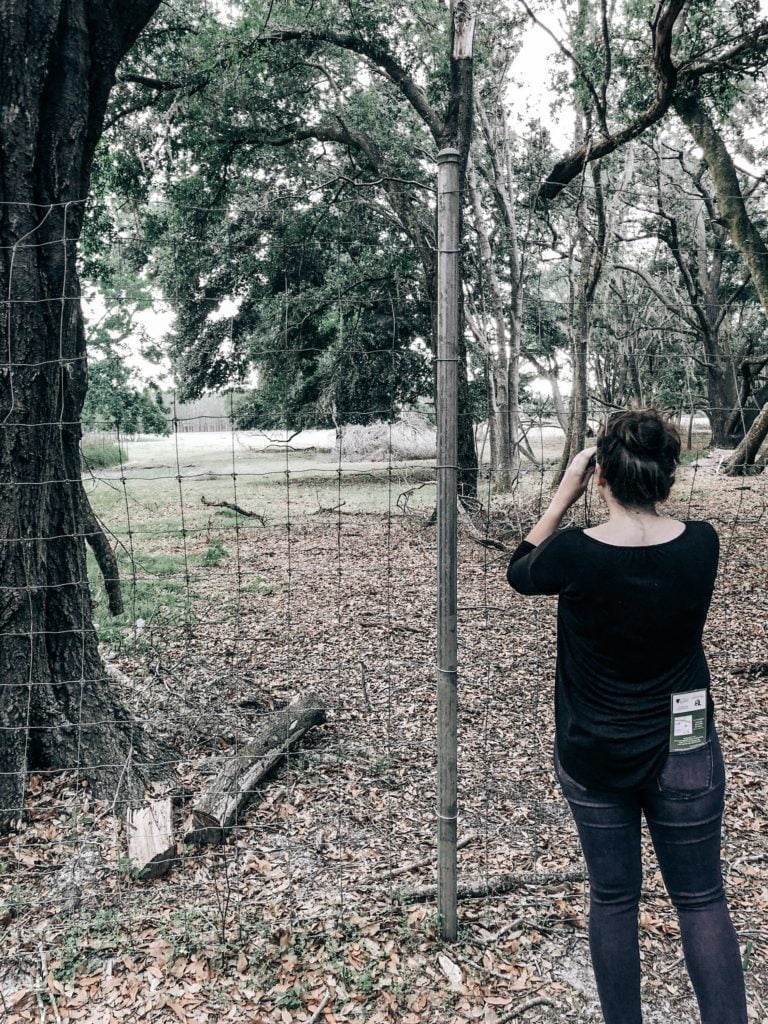 After gawking at the wildlife, follow the road back to Oakland Nature Preserve to the long boardwalk. It runs right over natural Florida swamp and you may see birds, snakes, bugs and alligators. At the end of the boardwalk, there is a small covered pavilion area that overlooks Lake Apopka. It's the perfect spot to enjoy your picnic lunch.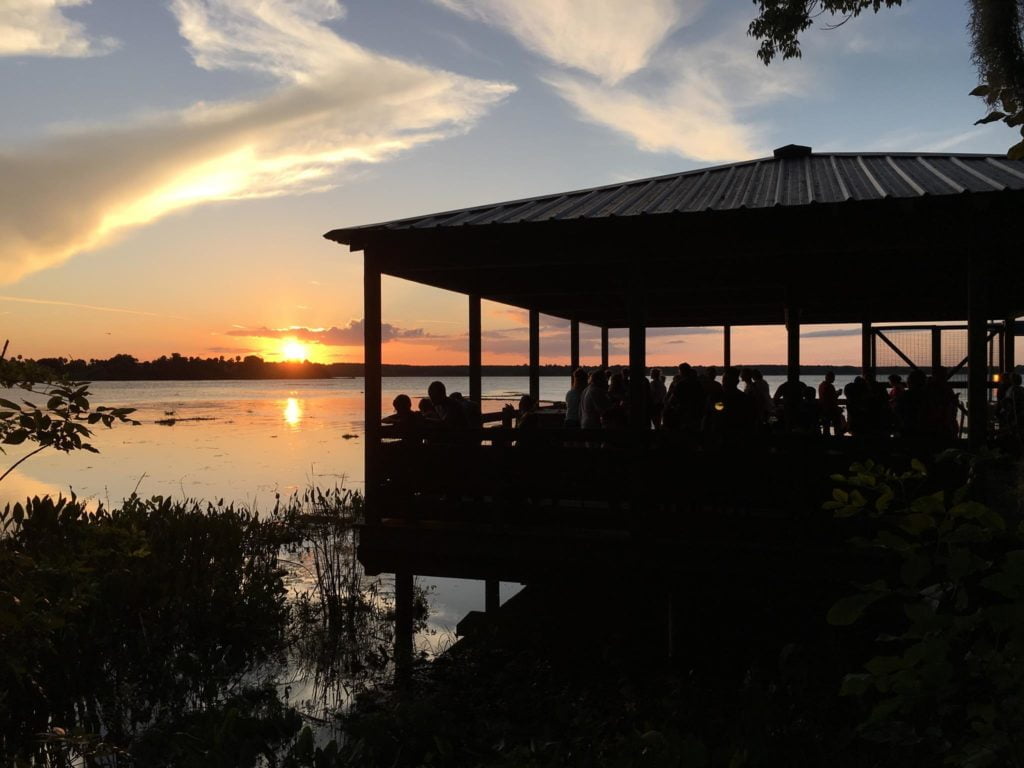 Wekiwa Springs State Park is one of the most well-known and popular parks in Florida. It's most famous for the beautiful winding Wekiva River and the cold spring, but locals have a secret. Wekivia Springs has miles of pristine trails to explore. Although the full hiking loop is quite long, taking the shorter equestrian trail loop (about 3 miles) will circle around to a secluded picnic spot and the trail finishes off right at the parking lot (and restrooms).
Entrance to the park is just $6, even during peak seasons. Pulling up to the Ranger Station at the entrance, the friendly staff will help you pick out the right trail length depending on your time frame, weather and needs. The park does reach capacity and is busy so sometimes it's hard to get in. It's suggested to go very early or wait until late-afternoon.
We love this trail for a few reasons. First, it's dog-friendly (dogs need to be on a leash to protect the wildlife), so you can bring Fido along for the fun. We also appreciate the fact that we can pick and choose the length of our hike depending on if we want to go for a short walk and picnic or a longer day hike.
Despite its name, this park is actually located in Lake Wales. The North Loop is a beautiful, oak-lined trail that's just over a 6-mile walk. Park in the shaded parking lot after grabbing a map from the ranger station and head to the trail marker to start your hike.
There's just one word to describe this trail: Peaceful. Shaded under huge oaks that are draped with Spanish moss, the air is filled with sounds of small woodland birds.
Shaded under giant oaks that are draped with Spanish moss, the air is filled with sounds of small woodland birds.
Although there are many spots to stop for a picnic along the trail, we normally wait until we finish our hike and take our packed lunch out to the lake to eat by the water.
THE FLAGLER TRAIL
If you're looking for something a bit more adventurous, The Flager Trail would be a great option. The Flager Trail is located in Seminole County and is part of The Florida National Scenic Trail, which is a 1,500-mile trail that spans from South Florida to North Florida.
The Flager Trial is a 14 mile portion of the Florida National Scenic Trail in the Geneva, Florida area. It is an old railroad that brings some really neat views and nature to see. Expect it to be a little advanced in some areas so wear good shoes.
The Flager Trail has a couple of trailheads. Once you park, you can choose which direction for your hike. Both of the ones listed below offer free parking.
This is a straight trail that doesn't offer a loop, so make sure you keep track of your miles in as you'll have to turn around and walk those same miles out. The trail does wrap behind some neighborhoods and housing so be aware of your volume as you enjoy some meaningful conversation together.
Flagler Trail Trailheads
BLACK BEAR WILDERNESS AREA 
One of my favorite hikes and recommendations in Central Florida is the Black Bear Wilderness Area trail. It is a perfect 7-mile loop trail located in Sanford. While it is technically not within the boundaries of hiking in Orlando, this trail follows St. Johns River. So, as you can imagine by its name, it brings a lot of wildlife and interesting nature with it.
Sprinkled along the trail are wooden boardwalks that bring you across swamps, marshes are over parts of the trail that have been washed away over the years. This trail is definitely not for the weak, I would say it's one of the more advanced trails around here. There are a lot of narrow walkways, roots to climb over, and dips in the trail from storms.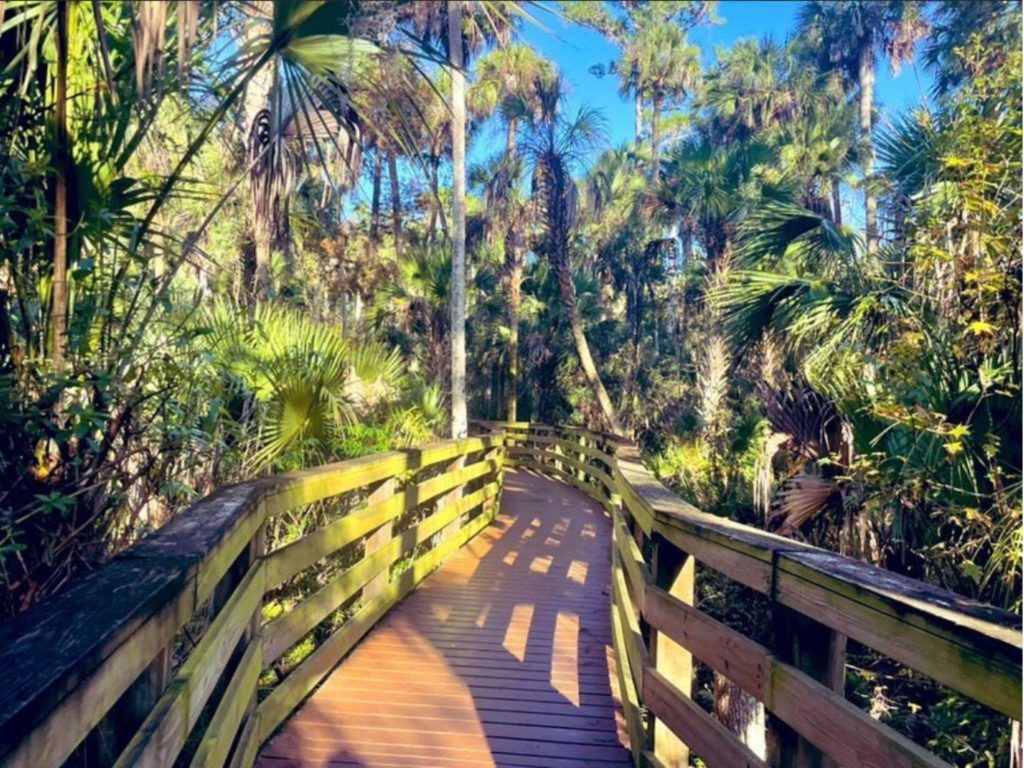 Since this is a 7.1 mile loop trail, you can choose which direction you start. I suggest Counter-Clockwise to see the riverside first. Also, the other side offers more fields and wood hikes and is a bit less interesting.
There is a primitive campsite about halfway through, that is a good spot for lunch or to turn around if you don't want to do the full 7. The trail is mostly shaded which is nice for Florida – it does get humid and muddy with the rain.
Friendly reminder, Florida has some pretty awesome, albeit, slightly scary wildlife. We've seen otters, pygmy rattlers, wild boars, and alligators, oh my! 
Go early as the parking does get full, this is a very popular trail, especially once it is cooler. Parking and access to the trail is free. You can bring your dogs on a leash but watch them closely. This is the perfect hike for the adventurous couple! 
---
Explore More: Central Florida and Orlando Parks for an Outdoorsy Date Day
---
OTHER HIKING SPOTS TO TRY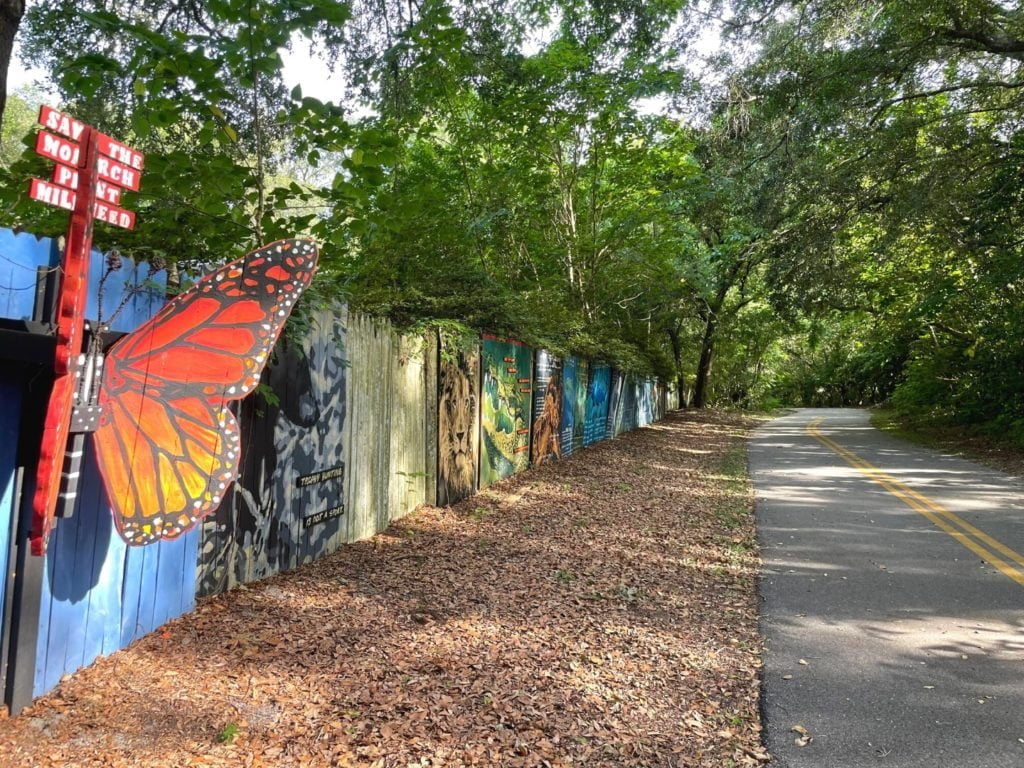 Hiking in Orlando Safety Reminders
Bring water, sunscreen, and bug spray
Dress comfortably including close-toed shoes
Pack a few snacks – do not feed the wildlife
Make sure you're feeling well and up to some physical activity
Before you head out discuss any expectations and concerns, such as how long you wish to stay outside, etc.
Going for a picnic? Here's everything you need for a great picnic in Orlando
Feature image credit: Oakland Nature Preserve