The love of a great road trip is timeless. Whether you and your honey are planning to hit the road for a weekend away, or if you just need a change of scenery, Florida offers a collection of scenic roadways. These designated scenic highways are woven throughout the entire state of Florida. A few are right here in Central Florida, and as a bonus there is the Lake Apopka North Shore Wildlife Drive. This drive is not part of the scenic highways collection, but it is one of our favorite free things to do in Orlando.
In addition to all these scenic Florida roads to explore, you can explore the Citrus Label Tour of Lake County. So let's hit the road and explore!
By the way, check out Guess Where Trips for a pre-planned surprise road trip from Orlando.
Florida Scenic Highways Overview
In the early 2000's the Florida Department of Transportation began designating certain roadways throughout Florida as Scenic Highways. These highways have unique qualities and traits, such as passing through particularly scenic areas, culturally relevant sites, or near noteworthy architectural sites. Florida has 26 designated scenic byways. That means there are plenty of opportunities for a scenic drive or road-trip together.
It is best to research your trip along a Florida Scenic Highway before you hit the road. The official website offers some good information, but it does take some navigating to map out exactly where the scenic highways are accessed, especially in relation to your own location.
I recommend using the downloadable map to first familiarize yourself with where the scenic byways are located throughout the state, from a visual perspective. Then head to the "Our Byways" section located along the top of the official website to see the list of byways grouped by region. From there you'll need to click on the name of a highway to get further information.
Be sure to view the "General Directions" section on each byway's page to get an idea of how to get to the byway. And also check out the "Tours" section for suggested points of interest along the way.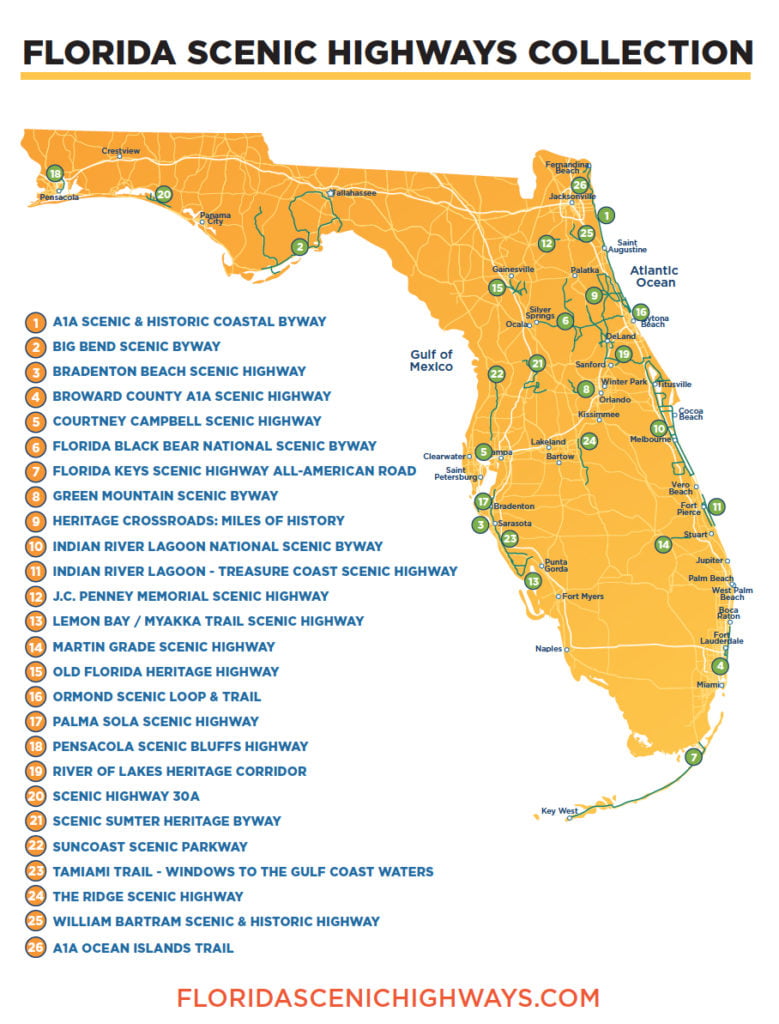 Florida Scenic Highways in Central Florida
Many of Florida's Scenic Highways are near the coast, the most famous being A1A. But, the greatest concentration of scenic byways is woven throughout Central Florida. Here are the best scenic road trips within the Orlando and Central Florida area.
Green Mountain Scenic Byway
First up, I highly recommend a trip along the Green Mountain Scenic Byway. This byway connects Winter Garden to Mt. Dora providing beautiful small town and rural views along the way. You can hop on from Mt. Dora to head to Winter Garden or vice versa. The whole trip will take a little over an hour.
My husband, toddler son and I took a shorter trip on the Green Mountain Scenic Byway by heading to the Mt. Dora area from Seminole County via toll road 429.
We drove through charming downtown Mt. Dora then picked up a small portion of the Green Mountain Scenic Byway that runs along Lake Dora. We got to see the famous "Starry Night" house and enjoyed the brief views of the lake. Rather than following the entire roadway, we took the spoke of the Byway that runs through Zellwood, passing farm land and charming homes.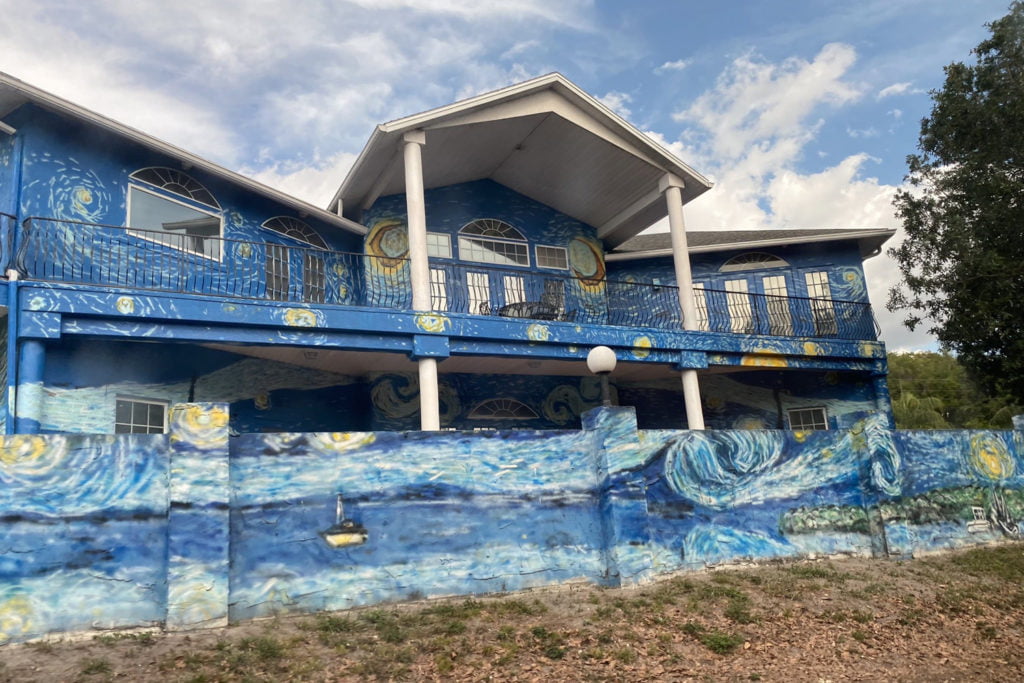 River of Lakes Heritage Corridor
This corridor covers multiple roads. The main road in the River of Lakes Heritage Corridor is 17-92 in the Sanford and DeBary area. Drive along Lake Monroe as you head toward Sanford, or head toward DeBary as you cross over the historic and majestic St. Johns River.
Continue along 17-92 and enjoy the sights of nearby Blue Spring State Park, De Leon Springs, Orange City, and DeLand. You can also break off 17-92 and head toward historic Lake Helen, or to Hontoon Island State Park.
Florida Black Bear National Scenic Byway
Another Florida treasure is the Ocala National Forest and it is in this area that you will find the Florida Black Bear National Scenic Byway. I often travel along this route on my way to visit my parents in Cedar Key, Florida.
On the Florida Black Bear National Scenic Byway you will see breathtaking views of Florida's forests and ecosytem, and enjoy rural settings. If you want to slow down and actually enjoy the outdoors, make a pit stop at Ray Wayside Park. This small, but popular park sits along the Ocklawaha River and has picnic tables, restrooms and a boat launch.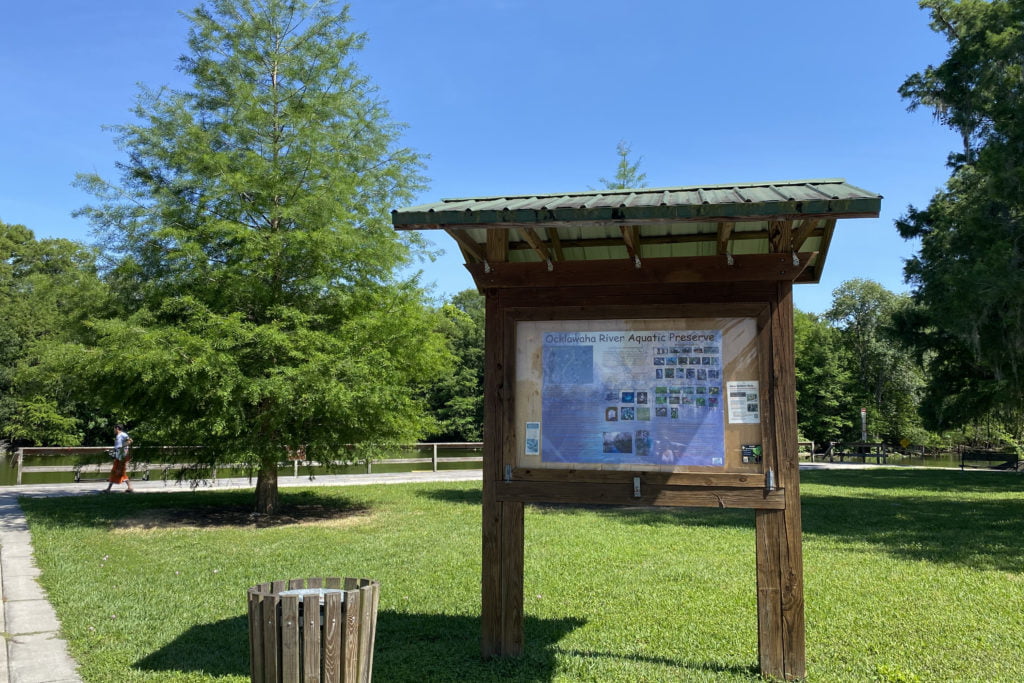 Courtney Campbell Scenic Highway
One last noteworthy Central Florida scenic byway is the Courtney Campbell Scenic Highway. Anyone who has headed to Clearwater Beach has likely traveled along this coastal highway. It is one of my favorite roads in the entire state of Florida. The beginning stretch of Courtney Campbell Scenic Highway is flanked by water, making it a relaxing, scenic drive.
Also try: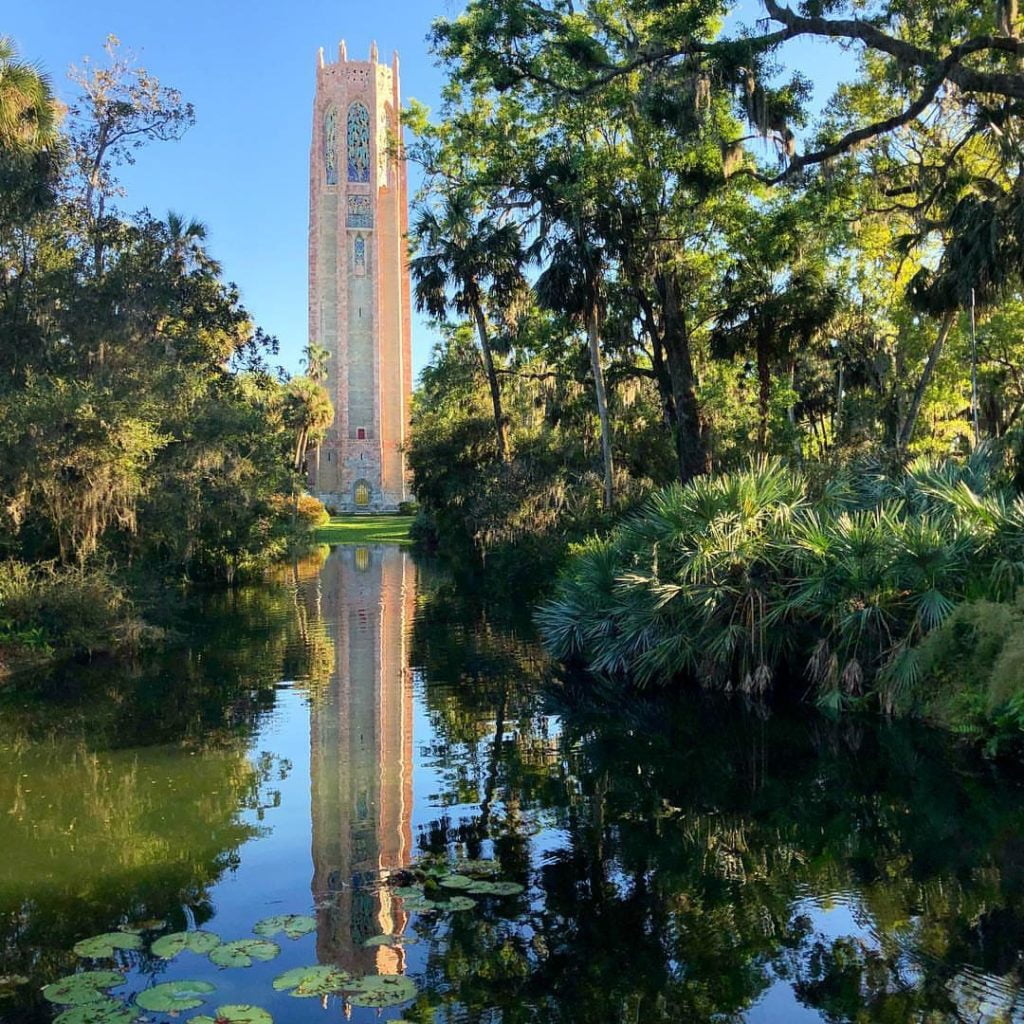 Lake Apopka North Shore Wildlife Drive Overview
Besides the incredible network of Florida Scenic Highways, there is another way to experience Florida's beauty while staying in your car. The Lake Apopka Wildlife Drive is free and only about 30 minutes from Orlando.
It is also near the Green Mountain Scenic Byway. It was established in 2015 and allows visitors to view hundreds of bird species as well as American alligators, bobcats, otters, bears, raccoons, armadillos and coyotes. Viewing opportunities vary by season and by time of day.
Lake Apopka North Shore has an important lesson to teach us. It is a real-life lesson in the harm that comes from over-development and misuse of land. In 1941 Lake Apopka was separated by a large levee. This reduced the size of Lake Apopka by 20,000 acres. The drive takes you through the restoration efforts of the St. Johns Water Management District which is working hard to return important habitats for wildlife.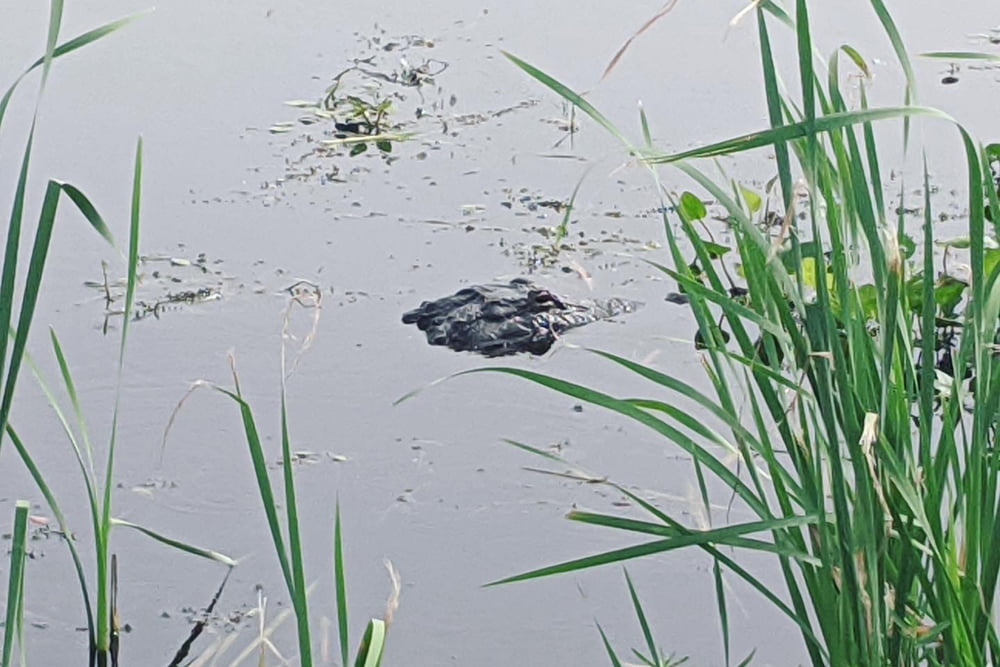 Along our drive, my husband, son, and I spotted a large variety of birds–including some tiny baby birds–turtles, and eighteen alligators. The gators were of course a huge hit with my husband and son.
We listened to music in between the audio tour. On a few occasions, I rolled the windows down and enjoyed the sounds of nature. Morning is definitely best for this.
The whole drive took us an hour and a half, which is about average for most visitors. This drive is sure to inspire you. It showcases the beauty of natural Florida in a way that is accessible and easy. It is a lovely way to connect with nature and each other.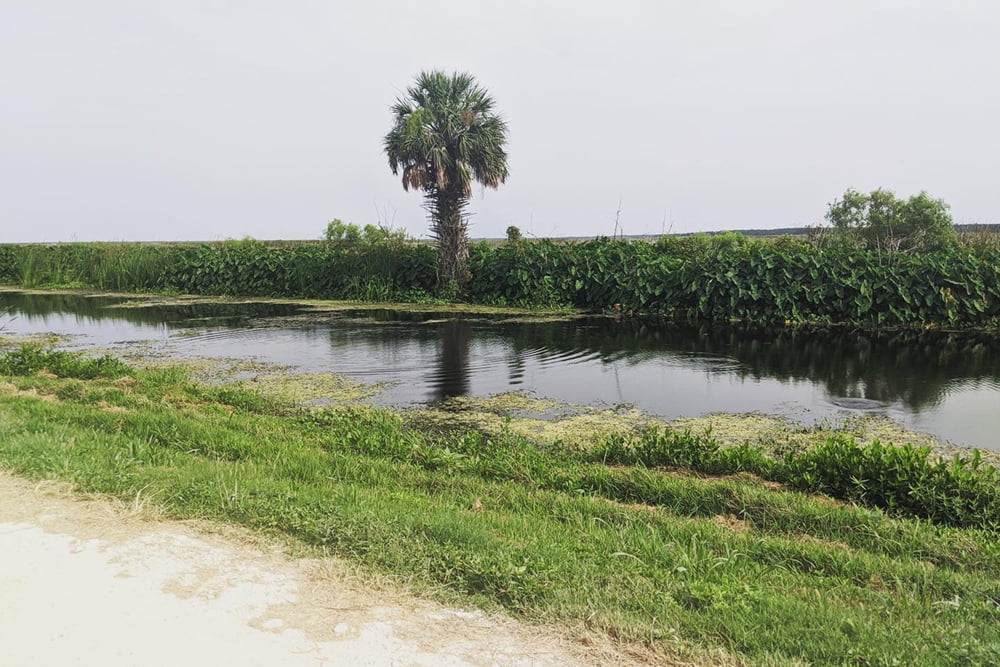 Lake Apopka North Shore Wildlife Drive Tips and Information
The Lake Apopka Wildlife Drive is open from 7am-3pm on Fridays, Saturdays, Sundays and federal holidays. All vehicles must exit the drive by 5pm. There are also access points for cyclists and hikers at the Lake Apopka Loop Trail. Keep an eye out for cyclists during your drive.
The drive is one way and the speed limit is 10mph throughout. Sometimes the drive can reach capacity, so it is best to go early in the day. There are a few spots to pull off along the drive, but there is generally room for only one or two cars at a time. Sometimes the cars ahead of us would stop, so be sure to keep a safe distance, and also be respectful of your fellow drivers and don't stop for too long.
There are no restrooms along the drive, though there is one "fork in the road" where you can continue the drive north, or head west. At this fork, there are two portable restrooms.
There is an audio tour which I highly recommend. Look it up on the website before your drive so it is ready to go once you get there.
Be sure to bring water, especially if you go in the summer. Please respect the wildlife and the habitat by staying on the pathway and do not litter.
Citrus Label Tour of Lake County
The Lake County Historical Society started the Lake County Citrus Label Tour in the summer of 2021. This informative driving trail is steeped in the history of the Lake County citrus industry. Put on some good driving music and find the signs of antique citrus label reproductions placed throughout the county. Here are some of the locations:
Umatilla Museum
Umatilla Cadwell Park
Eustis Historical Museum
Eustis Ferran Park
Mount Dora Simpson Cove
Tavares Museum
Tavares Old Courthouse
Leesburg Town Square
Howey-in-the-Hills Griffin Park
Mascotte Civic Center
Groveland Museum
Clermont Historic Village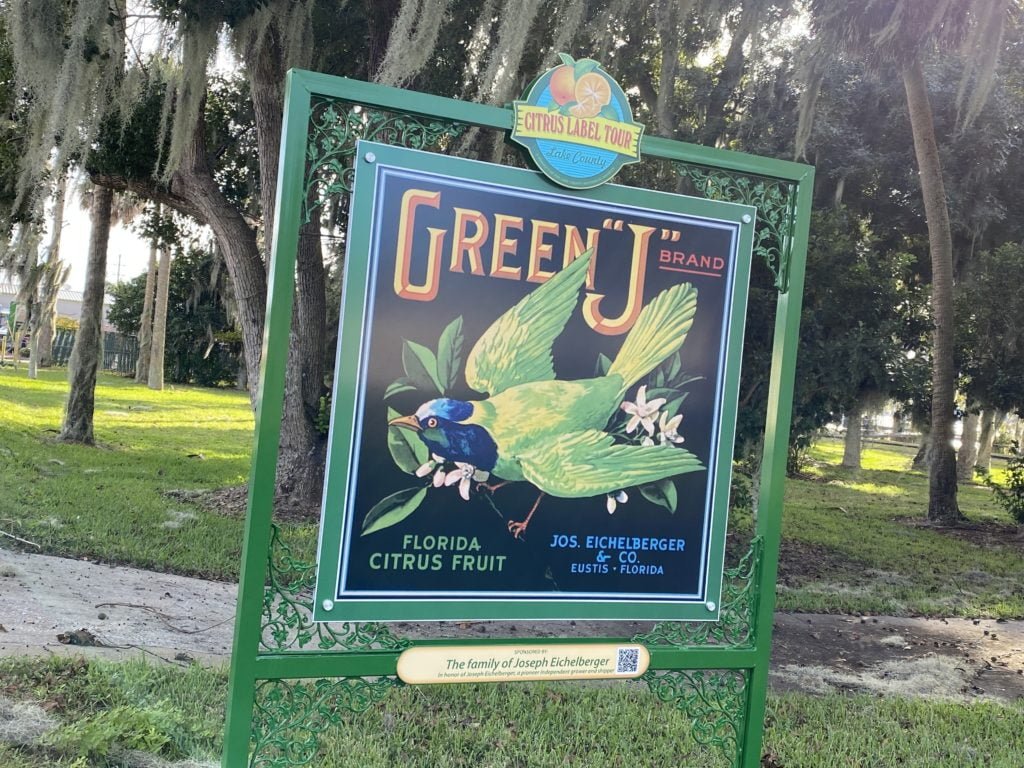 An online map of the tour is on Google Maps, or you can explore the History of Lake County Citrus website for more info.