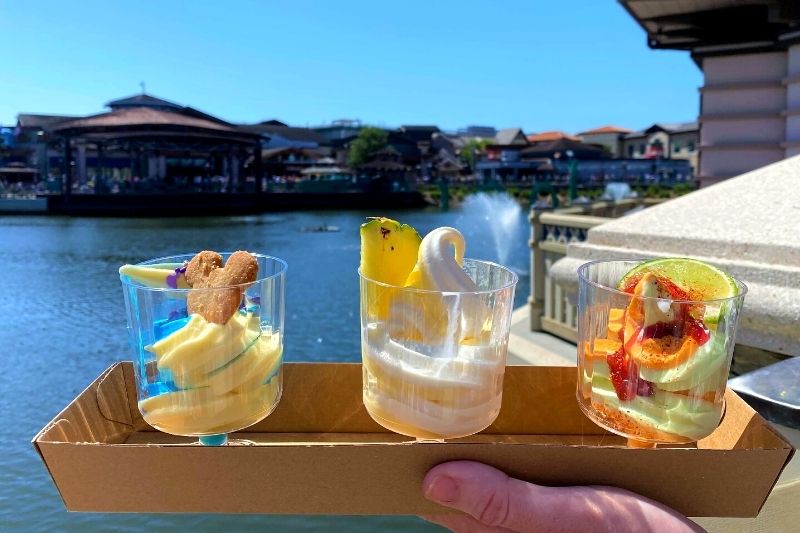 As an Orlando local, you know how it is…family and friends come to town and it's time to visit the touristy classics. And even on your own or on a date, there is plenty of Disney Springs food that make it worth the trip. These quintessential flavors and experiences are unique to Disney Springs and will leave a lasting memory…even if you don't catch local legend Eddie Maserati dancing nearby.
Updated April 2022 by Dani Meyering
Poutine from The Daily Poutine
We've all had fries, but have you had poutine? Fries are served swimming in beef gravy and topped with globs of cheese curds. Sound like just the heart attack you're looking for? Head over to The Daily Poutine, located next to the World of Disney store. Gravy and fries may not sound like a natural choice, but you'll forget all about ketchup when you try this savory cheat day treat. Poutine is a heavy snack though, so share with a few friends.
Aside from the classic poutine bowl, you can get a little crazier (yes, crazier than gravy fries), and try the Latin, French or Italian variations. I suggest the Latin poutine with fried yucca, black beans, pulled pork and queso fresco. And keep an eye out for seasonal creations too.
Cupcake from the Sprinkles Cupcake ATM
Walking away from an ATM usually means getting slapped with a withdrawal fee. So it's refreshing to strut away from the Sprinkles Cupcake ATM with a sweet treat and a smile. This innovation in snacking technology is a unique experience. Once you've selected your cupcake from the menu and swiped your credit card, pay attention to the action onscreen. There's a camera inside the ATM machine that will show you a robotic hand selecting your cupcake! It will appear at the front of the ATM in a small box, perfect for taking home (or, most likely, eating while you stroll).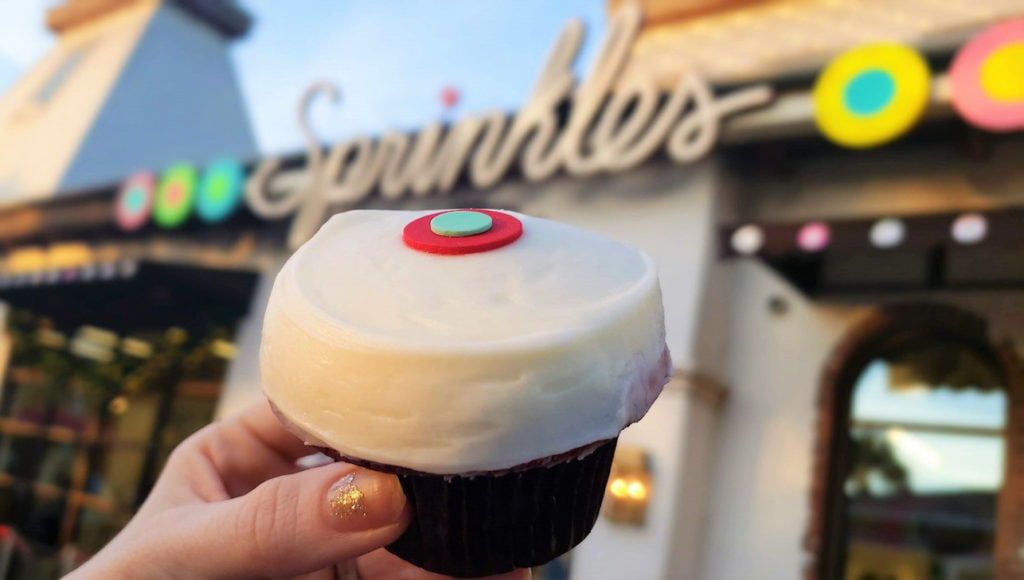 NEW Disney Dole Whip Flight
Even though Dole Whip can be found in plenty of places outside of Walt Disney World, it has become a must-have among Disney fans. And now with a revamped kiosk dedicated just to DOLE Whip® creations, it is a quintessential Disney Springs food. The new Swirls on the Water kiosk is a much-needed improvement over its predecessor "Aristocrepes."
The new Swirls on the Water location is right on the water in the Marketplace section of Disney Springs (near Rainforest Cafe) and supplies sweet treats including a DOLE Whip® Sangria and DOLE Whip® Habanero Lime Nachos.
But the treat that is getting all the attention is the DOLE Whip® Flight which features three different flavored swirls, each with a special garnish. This is perfect Disney date night food because of its sharable nature and creativity. Currently, the fight features classic Pineapple + Vanilla Swirl, Blueberry + Lemon Cookie Dough Swirl, and Habanero Lime Swirl. At just under $7 for the whole thing, it is not a bad deal. This flight is fantastic for spring and summer, offering just enough to try each flavor and leaving your sweet tooth satisfied.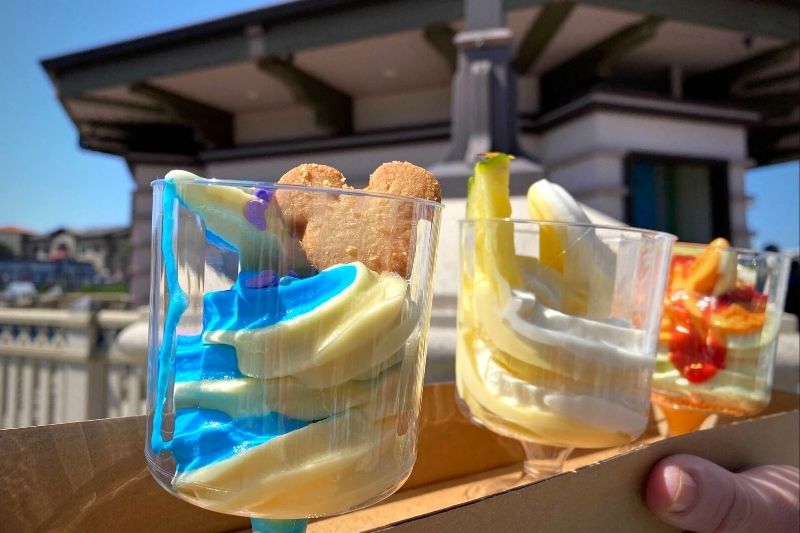 Bonus! If you love creative ice cream flavors then head to Salt & Straw at the West Side section of Disney Springs. You'll find creative ice cream flavors you could never have imagined otherwise. Salt & Straw is a small chain with a few locations around the country including Downtown Disney in Disneyland Resort California. The menu is ever-evolving so it makes a great Disney date idea to try something new.
Charcuterie Board at Wine Bar George
Wine Bar George is all about enjoying and learning more about wine. A big part of that is pairing wine with food, and you can't go wrong with the Charcuterie Board and Artisinal Cheese Board. These shareable selections include artisanal meats, cheeses, grilled bread, chutney, honey, and grain mustard.
Don't know much about wine? Wine Bar George is for wine connoisseurs and novices alike. Owner and Master Sommelier, George Miliotes, is rumored to have been at the restaurant practically every day since opening. There's a good chance that you'll have access to the most expert of advice. Snag a seat at the upstairs patio to enjoy the shade and an afternoon of choice people watching.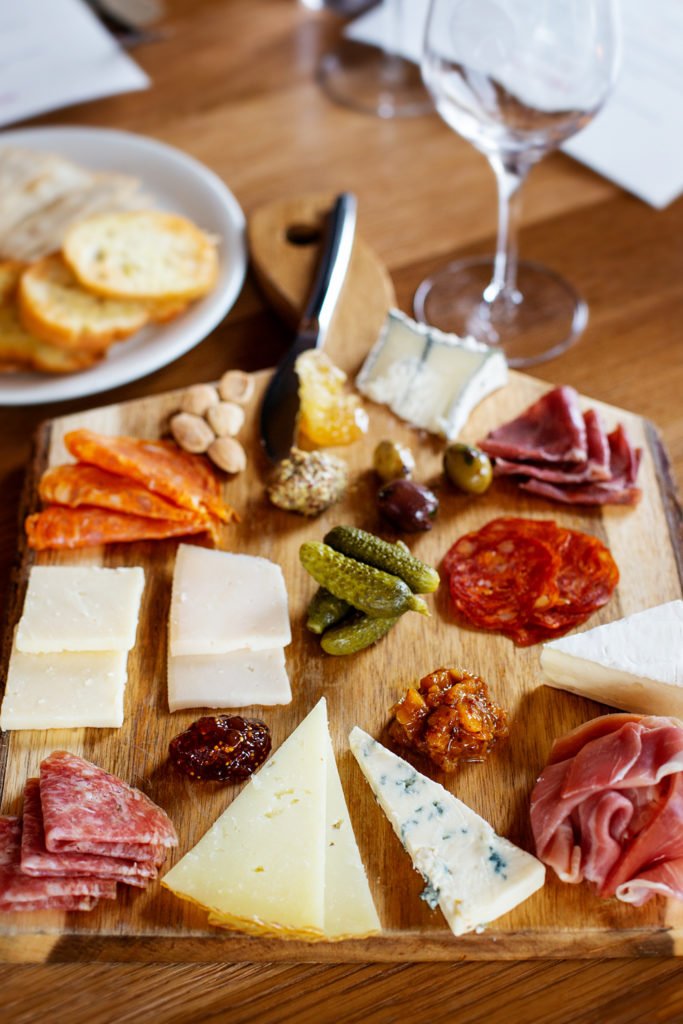 Related: Most Romantic Spots at Walt Disney World
Ger's Bread and Butter Pudding at Raglan Road
The unique bread pudding on the Raglan Road menu is a classic that will satisfy the most hearty of sweet tooths. The serving comes artfully arranged with soft bread, butterscotch flavors, and crème anglaise sauce served on the side. I recommend asking for an extra plate and pouring the crème anglaise on top, as the pudding's cup can't contain all that sweet goodness. Couple that with the experience of live music and traditional Irish step dancing and you've got an authentic Irish experience right here in Orlando.
If you prefer something savory, the OMG Burger is our pick for one of the Best Burgers in Orlando.
Doughnuts and a Florida Crush at Homecomin'
You may roll into Chef Art Smith's Homecomin' with ideas about tasting the famed Hummingbird cake, but I was advised by our server that it tended to be on the extremely sweet side. Instead, try a helping of house-made doughnuts and the signature Florida Crush drink.
These fast friends proved to be the perfect mix of fresh and sweet. The Florida Crush is an ideal afternoon drink: Tito's vodka, orange juice with a splash of agave syrup, and muddled orange and strawberries. Served with an orange slice, it looks like Florida in a glass.
The house-made mini doughnuts are actually quite large for the "mini" title, and they come covered with pecans, bacon and caramel made in house. Oddly, the donuts also come with honeydew, watermelon, cantaloupe and pineapple chunks, which taste subdued when eaten with the sweet dessert, but thanks for the fruit.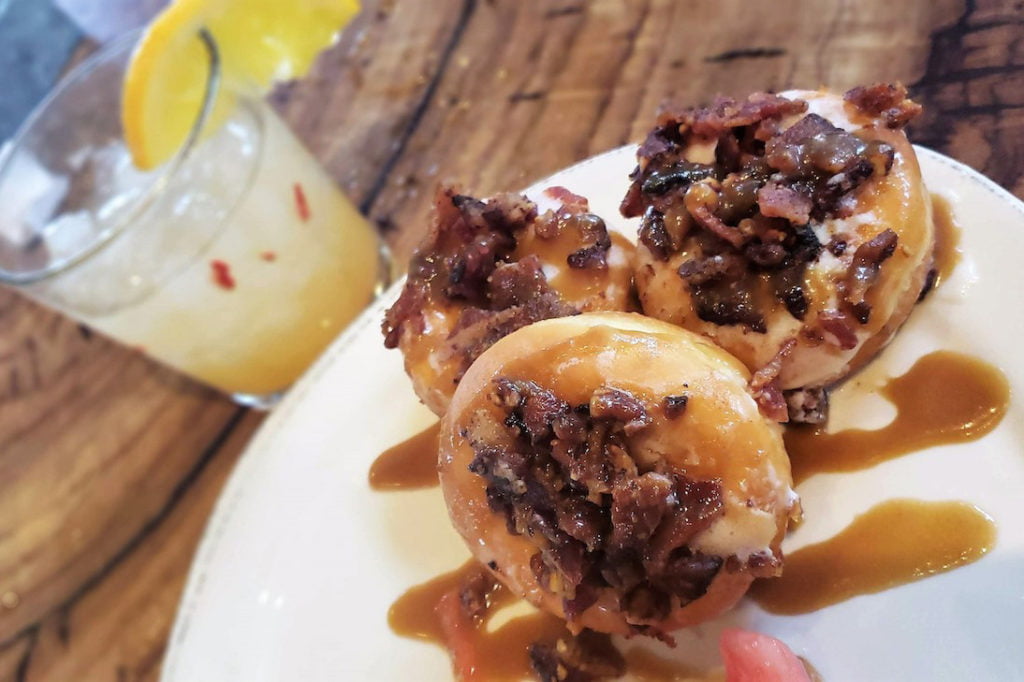 Creme Brulee at Amorette's Patisserie
Right across the way from The Daily Poutine, Amorette's Patisserie has pies, cakes and chocolates that taste as good as they look. The creme brulee (around $6.00) is made-to-order, so you'll pick your dish of custard, then watch as a cast member fires up a blow torch to crisp up the top. Fresh berries and a signature Amorette's chocolate are added to the top. After watching the care in which they are created, it can be a tough decision to crack that caramelized shell, but trust me, you won't feel too bad after the first bite.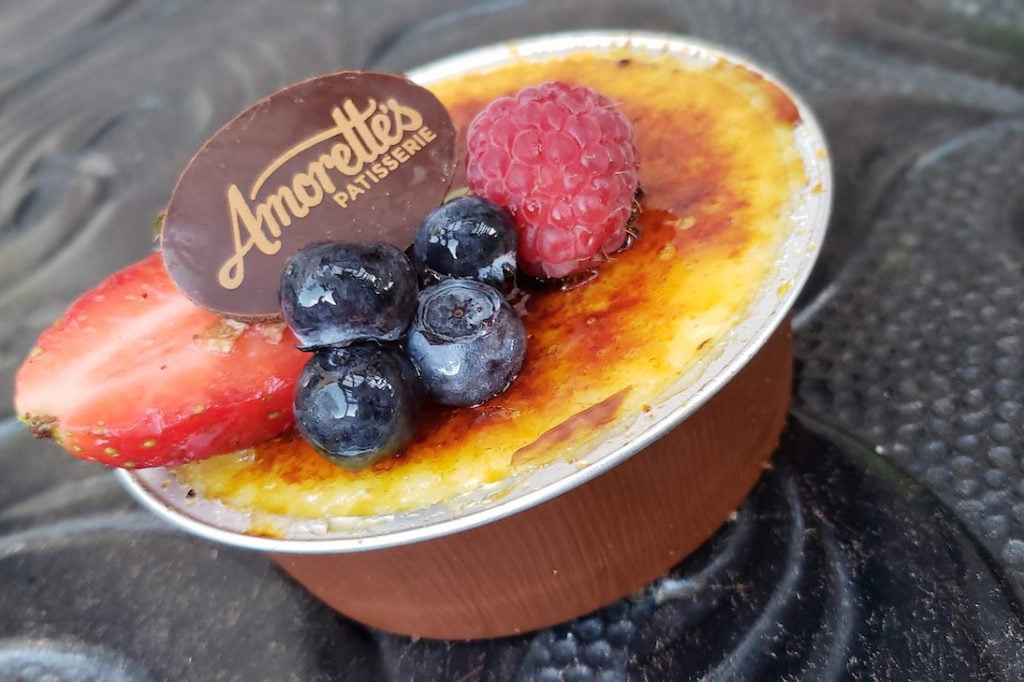 Make-Your-Own Treat at Goofy's Candy Company
Watching the cast members dipping caramel apples at The Candy Cauldron is a favorite pastime of those visiting Disney Springs, but if you want to turn your experience up a notch, skip it for a trip to Goofy's Candy Co. Constructing your own sweet monstrosity is a specialty at Goofy's lab. Instead of just picking out a pre-made treat, you can design your own. Choose a caramel apple, crisped rice treat or marshmallow, then select dark, white or milk chocolate for it to take a bath in. (Price varies depending on what kind of treat you want, with a crisped rice coming in at $4.99 and the apple at $10.99.)
Choose one of 12 toppings (extra topping choices are $1 each) including M&Ms, chopped pecans, and coconut. Then select from 3 types of chocolate drizzle. I opted for a decadent crisped rice treat with dark chocolate, crushed Butterfinger and a white chocolate drizzle. The best part? Since your treat is made to order, the chocolate is still warm for that first bite.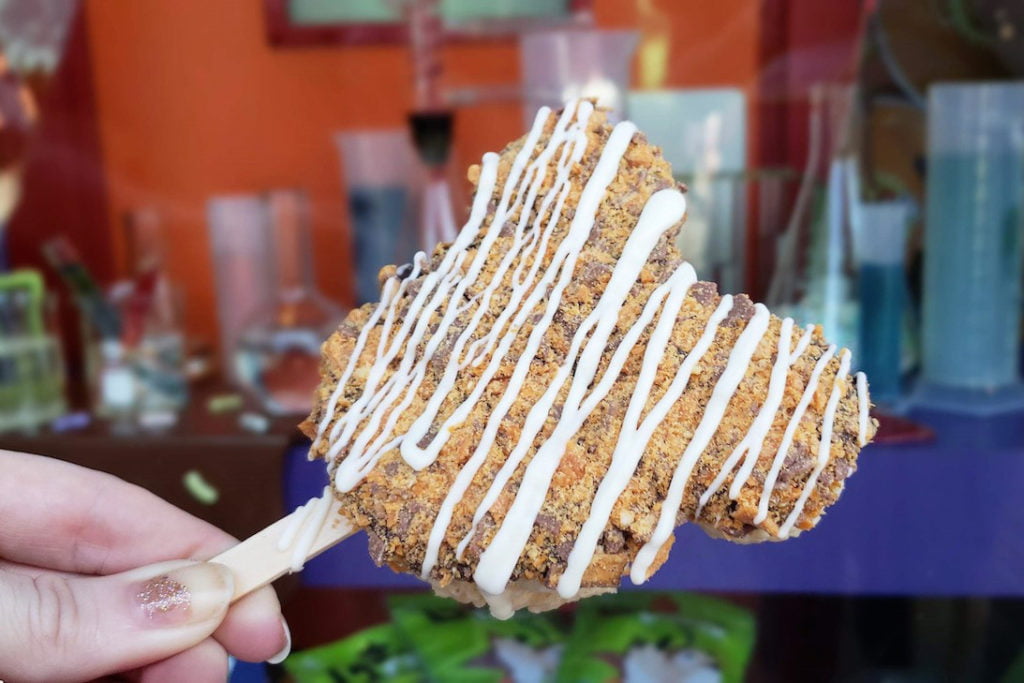 Related: Magical Ways to Celebrate a Birthday or Anniversary at Walt Disney World
Joffrey's Coffee & Tea Company® Custom Latte Art
Although Starbucks is ever-present, the smell of Joffrey's Coffee remains a staple of the Walt Disney World resort experience. But, nowhere else at Walt Disney World can you get custom art on your latte besides the Disney Springs location. For just a little extra, you can customize your favorite beverage with a Disney character or even your own selfie! Better yet, surprise your sweetheart by handing them their latte that's topped with art featuring a photo of you two.
How it Works
Open the "Ripples – Drink Personalization" app on the in-store tablet or download the app on your phone to use.
Select Disney Springs® Joffrey's Coffee & Tea Company® as the location.
Choose an existing image on the app, or take a selfie.
Show your barista your number.
Besides this adorable way to personalize your coffee order, you can enjoy plenty of other coffee and tea beverages as well as pick Disney exclusive flavors of coffee.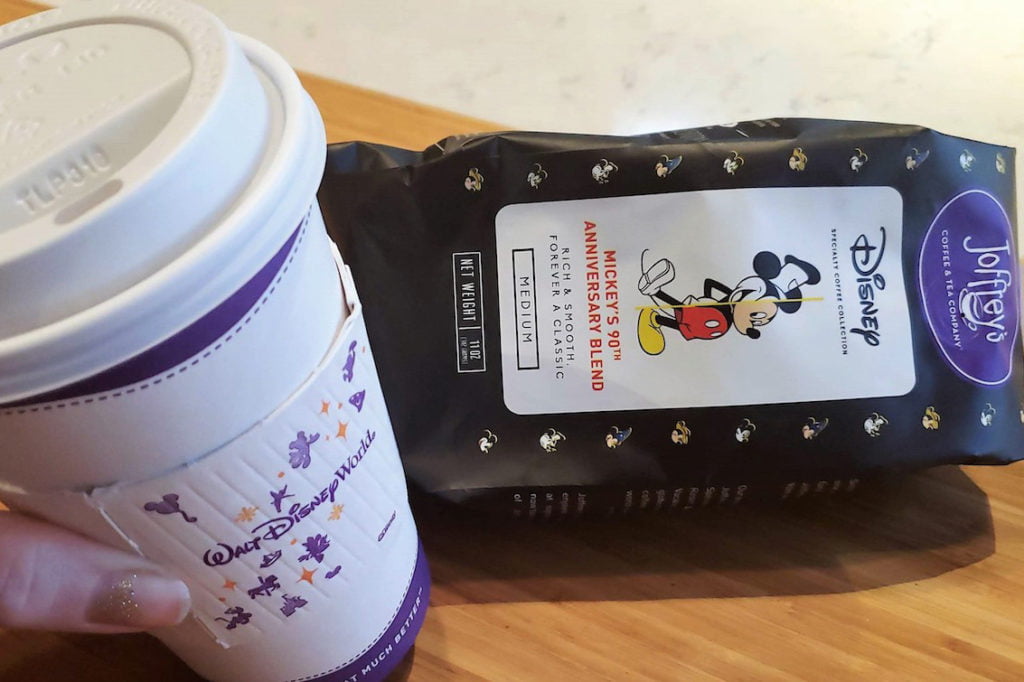 Mickey Mouse treat from the Snack Carts
While there is so much non-Disney shopping and entertainment to enjoy at Disney Springs, you have to eat at least one thing that's Mickey-shaped before the cast members will release your vehicle from the Lime Garage. Or at least, that's how I imagine it.
To show your support for "the leader of the club that's made for you and me", stop by one of the many snack carts around the Disney Springs area. You'll find Mickey Mouse ice cream sandwiches, soft pretzels, and my personal favorite, the Mickey ice cream bar. If you close your eyes at just the right moment during a bite, it feels like you're in the Magic Kingdom.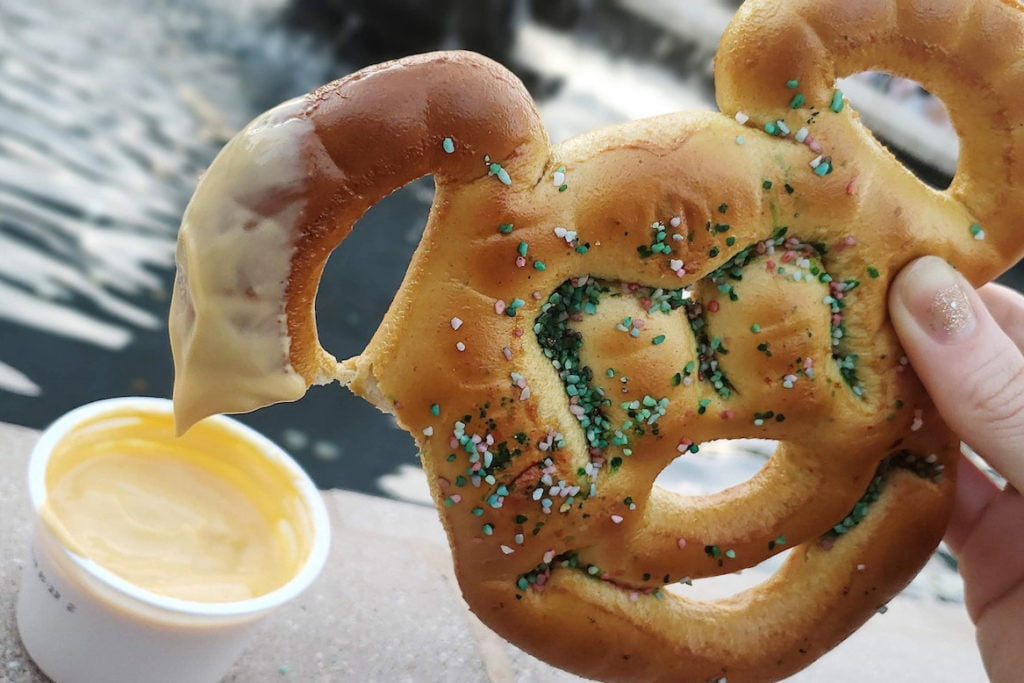 There are a LOT of indulgent treats in our list of Disney Springs food you must try. So if you need a break from the sweet and savory delights, head to Local Green food truck in the West Side section of Disney Springs. This Atlanta-based eatery on wheels is the perfect remedy when you're looking for something delicious, but also health-conscious.
Other favorites to try:
We would also say that a treat from Gideon's Bakehouse is in order. But most Orlando locals agree it is better to head to the original East End Market location. With so many restaurants, lounges and snack spots to eat your way through at Disney Springs, there is plenty to discover.