Pre-pandemic, takeout was a convenient way to get food on the table after a busy day. Now, it's transformed into a way to safely enjoy food from our favorite restaurants while staying at home.
But why eat your local chef-prepared cuisine out of those sad takeout containers when you could recreate the restaurant experience at home? Why not spend a little extra time re-plating that food, lighting a few candles, and treating your date to an extra special meal at home? And better yet, why not invest a little extra time when cooking at home to do this on a more regular basis?
As we all adjust to new schedules and stresses, sitting down to relish a beautiful, shared meal together is a powerful means to connect. To help you make the most of your meal time, we've compiled this list of tips to elevate your takeout game and at-home cooking skills. You'll also find tips for beverage pairing, creating ambiance and a few ideas from local experts to take your at-home dinner dates to the next level. Bon appétit.
Perfect the Menu
Takeout options
There's no shame in outsourcing your meal and it's a great way to stay safe while continuing to support our local restaurants.
For a special date night, skip the pizza and create your own gourmet date night at home instead. Head to East End Market to pick up a decadent cheese & charcuterie box to-go from La Femme du Fromage (and while you're there, how about some Gideon's cookies for dessert?). Pick up quality meats from The Local Butcher & Market (locations in Winter Garden and Winter Park), or grab Italian favorites from Stasio's in The Milk District.
You can also pick up an entire meal for two at select local spots offering fun to-go dinner deals for two. A few of our favorites include Pig Floyd's monthly date night ($39.99; typically the second Saturday or each month – check Facebook for details), and the weekly family meal kits at Canvas Restaurant & Market ($25 – $60; available to feed two or four). Or, go with a local restaurant offering meal kits to-go, like Bulla Winter Park's paella kits or The Capital Grille's steak grille boxes.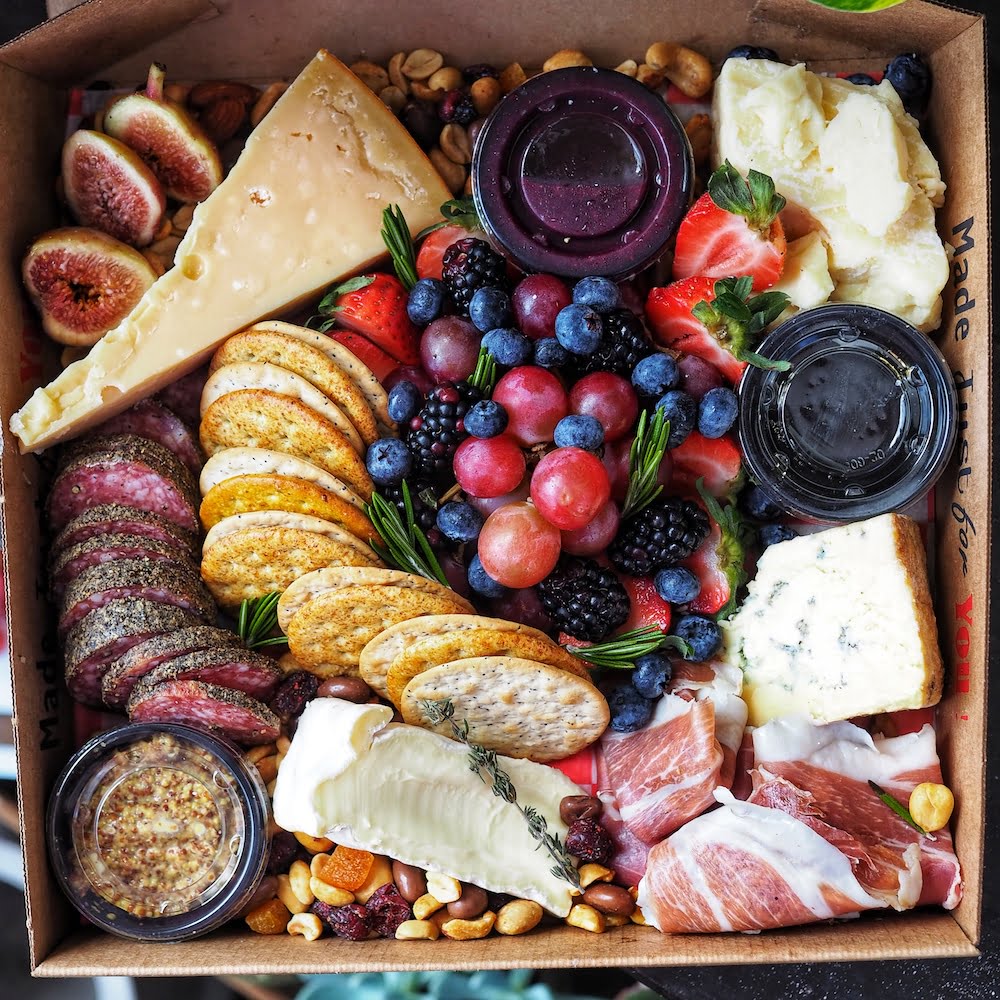 Try something new
Take your takeout to the next level by planning a fun international date night. Grab takeout from a local restaurant that specializes in a type of cuisine you've never tried before. Then, queue up a special playlist and pair it with a corresponding movie. These ideas from regular contributing writer Dani Meyering will get you started.
Cook it yourself
If you're a foodie couple looking to level up your at-home cooking skills (or just want to seriously impress your date with a made from scratch feast), Edible Orlando Publisher Kendra Lott has a few expert tips that will set you on the right track.
"Setting yourself up for success is one of the most important and easiest ways to elevate at-home dining, and nothing can secure your success quite like the right cookbook. When I need inspiration for a memorable menu, I turn to my favorite cookbooks," she says.
A few of Kendra's go-to cookbooks from seasoned pros include:
Mastering the Art of Japanese Home Cooking by Matsuharu Morimoto
Bon Appetit, Y'all by Virginia Willis
Essentials of Classic Italian Cooking by Marcella Hazan
The River Cottage Meat Book by Hugh Fearnley-Whittangsall
If you know what you want to make in advance, there's always Mark Bittman's classic compendium How to Cook Everything
And if you're not ready to dine in but are missing your favorite local spots, she recommends picking up a cookbook authored by a local chef. "Try your hand at recreating dishes by local chefs via 9 Courses by Brandon McGlamery; The Ravenous Pig: Seasons of Florida by James and Julie Petrakis; or The Southern Cowboy Cookbook by John Rivers," she said.
You can also refer to Edible Orlando's recipe and video series What Chefs Actually Cook at Home for a peek at what chefs make outside the restaurant.
Learn new Tricks
If you're new to cooking or just want to add to your existing skillset, enrolling in a local cooking class may be just the boost you need. Earlier this year, I joined a virtual cooking class with local Chef Bruno Fonseca (his Foreigner dinners have now resumed in person) and felt like a proper chef after preparing a delicious multi-course meal at home with my boyfriend.
Some local classes have resumed in-person, like Publix Aprons Cooking School (locations in Dr. Phillips and Winter Park) and Truffles & Trifles cooking school in College Park.
Limited capacity cocktail classes have also resumed at The Courtesy (1st and 3rd Saturday of each month) if you're looking to brush up on your mixology skills.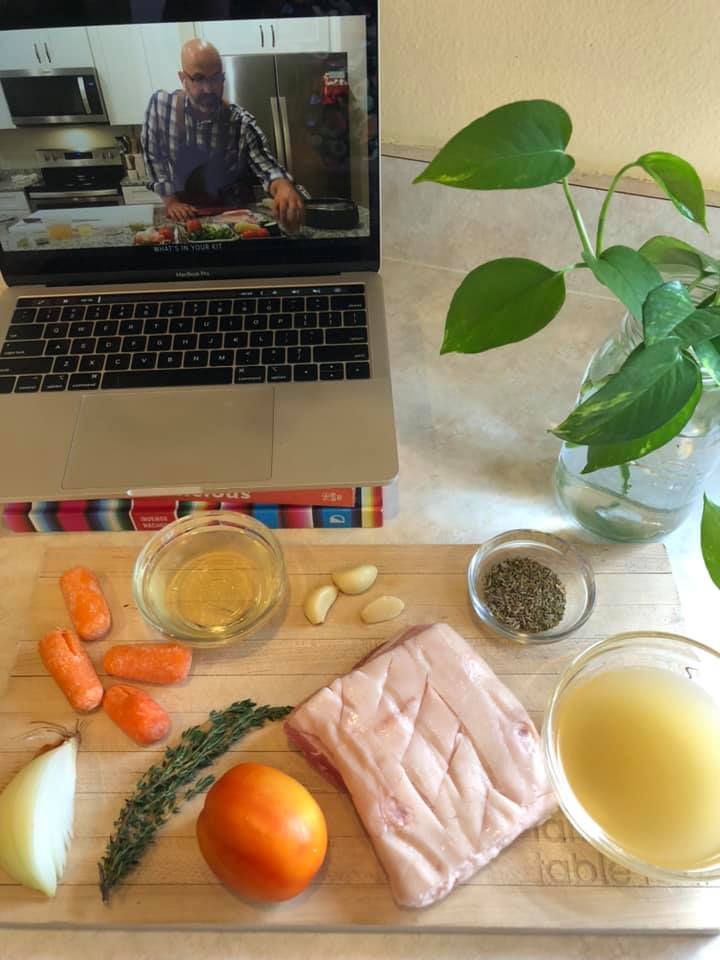 Pair Your Meal Like a Pro
No at-home dinner date is complete without the perfect accompanying cocktail or bottle of wine. Our friends over at ABC Fine Wine & Spirits have compiled a helpful wine Q&A that covers the basics.
If you're a beginner when it comes to wine pairing, ABC Sales Manager Nathan Dale offered up a few tips.
"Think about what you are familiar with and try out a new producer from that region. Smaller producers can be more adventurous. If it looks weird, don't be afraid to take the chance on it. You may be surprised. Buy a nice Tuscan red, vintage Champagne, White Burgundy from the Cote de Beaune, or a nice German Riesling. Easy rules to play by."
And, if you need general wine pairing guidance, try these pairings as recommended by ABC's expert wine team:
PS: ABC just launched same day delivery service in Orlando for a flat fee of $9.99 (within a 5-mile radius of participating stores) for online orders. Choose ABC Delivers as an option when checking out online and you'll see the delivery option if it's offered at your local store.
ABC's in-house chef, Chef Macy, also offered up some of her favorite recipes paired with wines to make your next at-home dinner date super simple. Try her Mushroom Buckwheat Risotto, Roasted Cauliflower and Garbanzo Bean Salad, or Tempura Fish Sliders with Pickled Onions, to start.
Hit the Market
if you're feeling creative and spontaneous, head to the nearest farmer's market. Grab interesting local ingredients you don't recognize to conduct your own cooking challenge at home, or go on the hunt for a meal made with only locally-grown, in-season ingredients. I love visiting the Winter Garden Farmer's Market each Saturday (8am-1pm in Downtown Winter Garden). I pick up fresh pasta for my weekly Sunday pasta dinner and love getting meal inspiration from what's available from local farmers.
Other favorite local markets include the Winter Park Farmer's Market and Orlando Farmer's Market.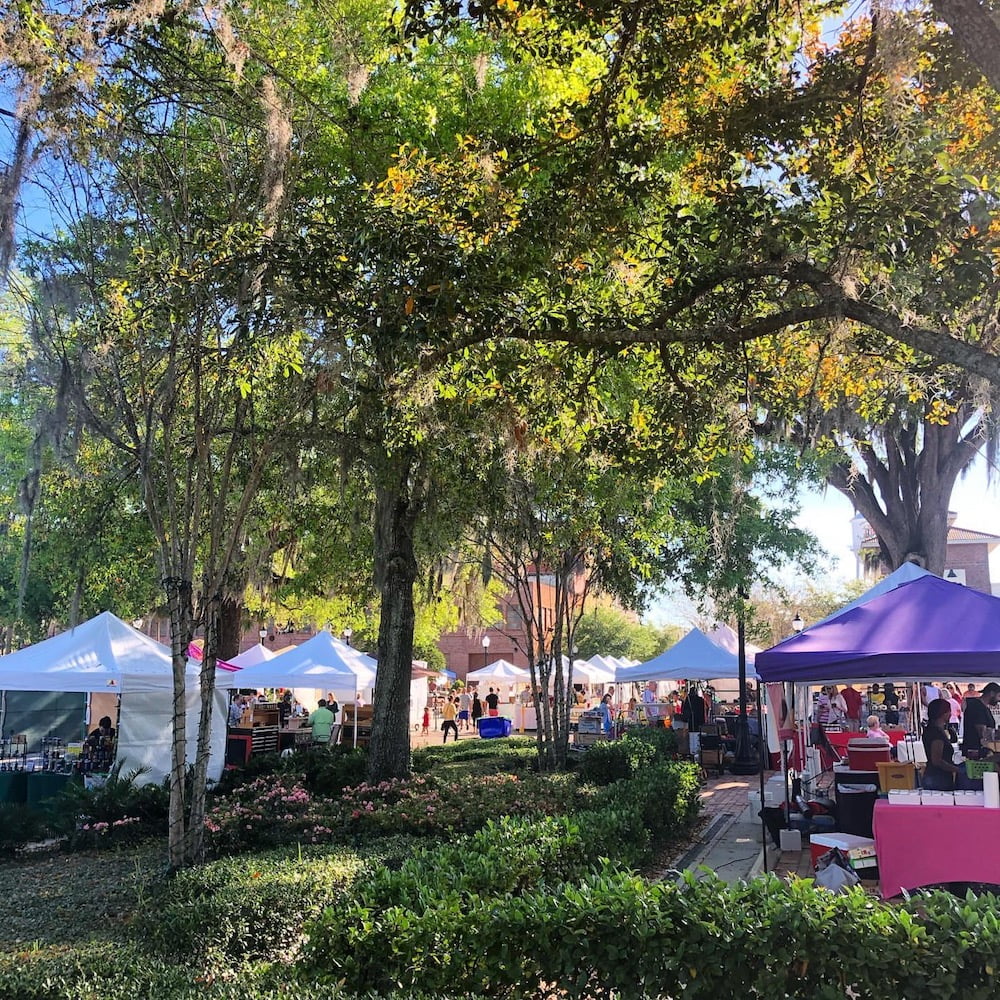 Plate your Dinner Like a Chef
Local food blogger and wine expert Lisa Wilk (follow her @tastecooksip) is a pro at re-plating takeout dishes from local restaurants. Refer to her account for inspiration, or even as a reference as you plate your food in real time.
Of her own at-home dinner dates lately, she says, "During all of this- being stuck at home, it's been fun to pick up a few place settings for two in different styles to use for our own date nights." And I agree! Cooking at home way more than usual inspired me to invest in a new set of fancy dishes, making meals all the more beautiful.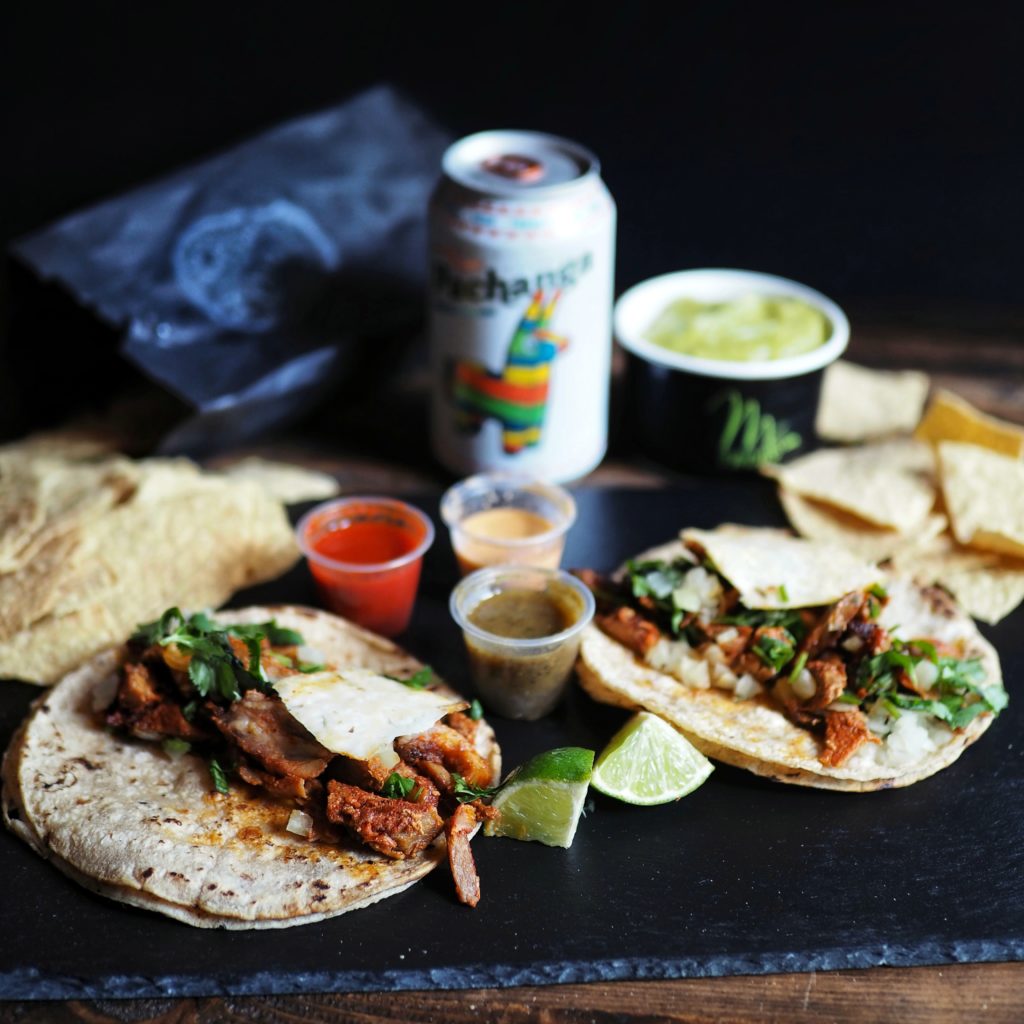 Other tips for plating like a pro:
Use elegant garnishes (I love picking up locally-grown micro greens from Sprout Up Urban Farm)
Drizzle sauces in an artful way to make patterns or smears of sauce on your plate
Incorporate different colors for visual interest (we all know our eyes eat first!)
Think of your plate as your artistic palette; instead of just dumping food onto the plate, arrange things in patterns or designs to make your own edible masterpiece
Lisa also recommends enhancing your meal by carrying the restaurant experience over. After your dish is plated, queue up a playlist of music that corresponds to the restaurant or type of cuisine, and pair it with wine from that region to bring things full circle.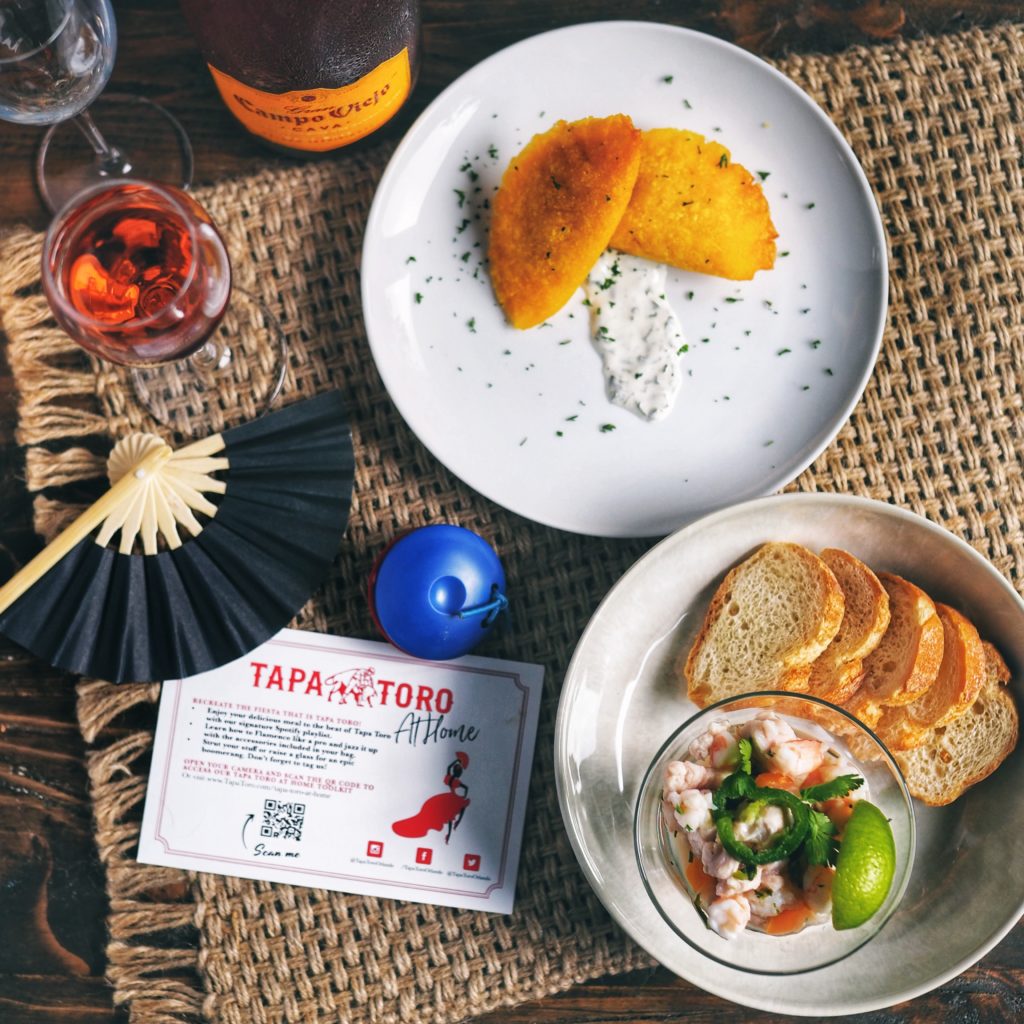 Set the Scene
When planning your at-home dinner dates, the ambiance is just as important as the meal itself! Go the extra mile by using the "good" dishes, trading harsh overheard lights for romantic candlelight, and getting out a nice white tablecloth to give your dining table a fine dining touch. You could also pick up a fresh bouquet from a local florist (we love No. 1 Flowers in Winter Garden and you can also find fresh blooms at local farmers markets).
If you'd rather not do the work, check out Cre8tive Crate, a local business that rents out romantic themed dining setups for the night. They'll even come to your home to set up everything for you. For a daytime date, local picnic company Our Dream Date of Greater Orlando will setup an elaborate themed picnic in your own backyard, or on your porch.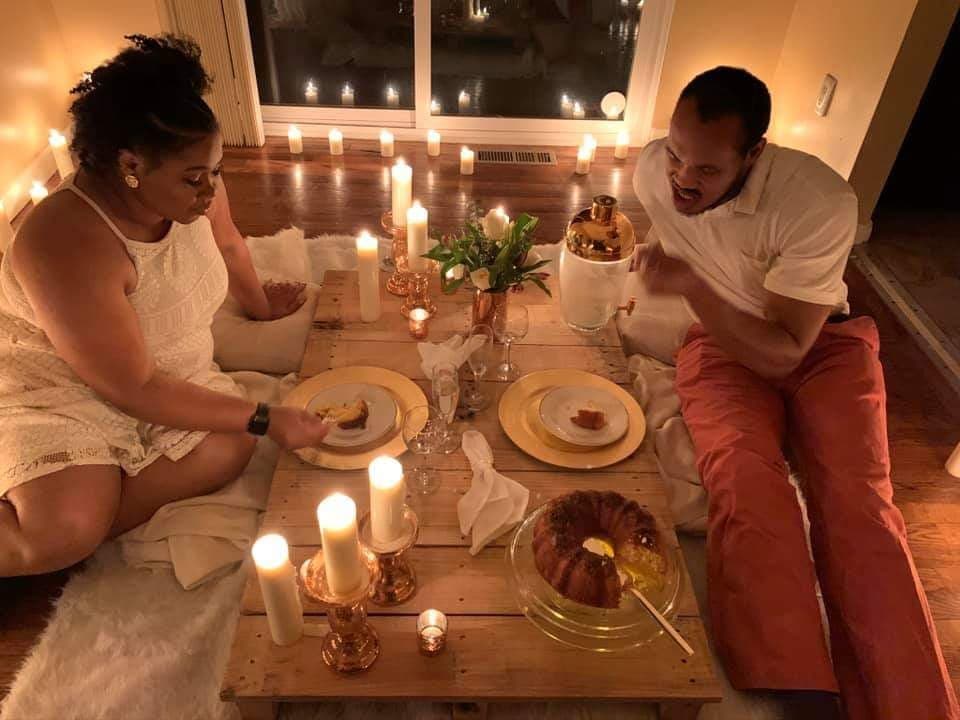 Missing the vibe of your favorite restaurant? Get creative and emulate specific details in your own home. For example, I love Dovecote's bright dining nooks, artful decor and the small vases of flowers that are always placed on each table. Maybe you'd like to recreate the sultry, low lighting and white tablecloths of your favorite steakhouse, or put together a playlist of European music to channel your go-to French cafe.
Feature image credit: Lisa Wilk, @tastecooksip
Disclosure: ABC Fine Wine & Spirits, Tapa Toro and Dovecote are some of our valued advertising partners.