Since mid-March, we've been in awe of the creativity on display from countless businesses in the Orlando community in response to the pandemic.
Local restaurants have gotten creative with outdoor seating, and savvy entrepreneurs have pivoted to offering full service, in-home experiences like private outdoor movie nights and romantic backyard picnics. And now there's another unique at-home option couples will love: The Cre8tive Crate by Amahle is a local company that delivers everything you need for a romantic dinner date hosted in your own living room.
Owner Briana Graham dreamed up this in-home service as an extension of her event business, Amahle Event Planning and Design. She's been in the event business for 10 years and wanted to offer something affordable, contactless and ready-made for couples to enjoy at home.
Here's how it works…
You pick a theme, set up a date for delivery, and the team will drop off the entire kit at your home. It comes with detailed photos and instructions to set up on your own, or you can opt for a $20 setup fee. The crate contains the signature pallet table (which Briana stains and finishes on her own), themed decor, pillows, candles, cutlery and dishes.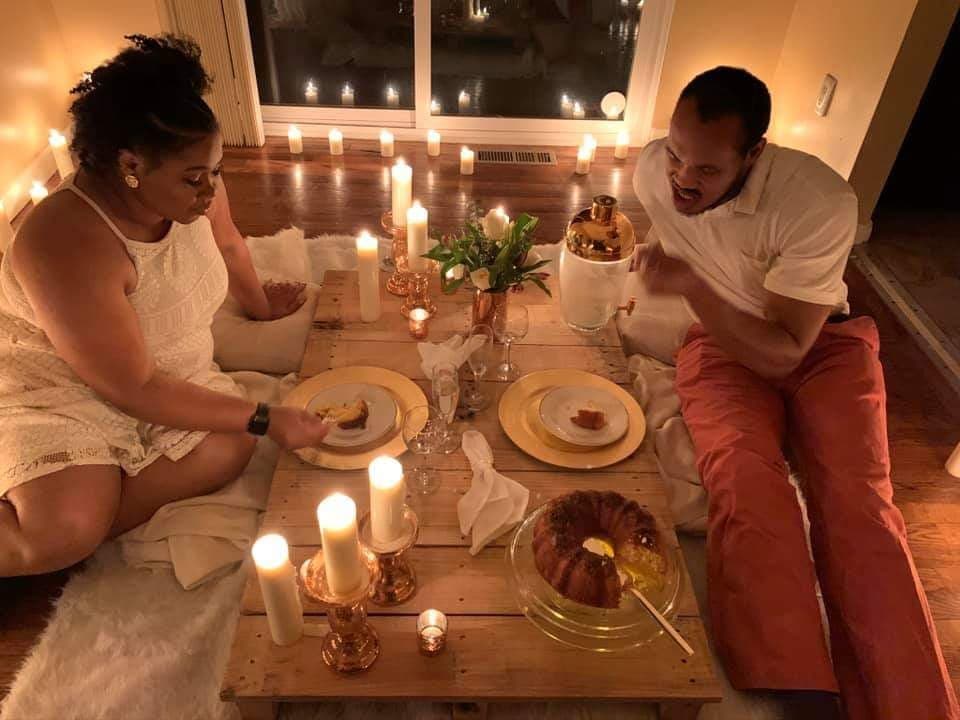 Add-on options include catering (around $45 – $65/person), florals and dessert. There's even a private chef option in the works!
As an added bonus, once your crate is delivered it's a 24-hour rental. The team will pick it up the day after your scheduled date.
The crates are $75 each, with optional add ons available for an additional charge.
CRATE THEMES
The Queen Collection
This date night experience features all things bling and crystal. Enjoy the lighting of an elaborate crystal candelabra, the romance of candlelight and the sprinkle of rhinestones. Silver, black and mirrored accents create a luxurious essence.
Bohemian Amor Collection
Iridescent lighting, cozy blankets, and soft shades of pink, white and coral are here to give the most relaxing vibe. This is not your cookie cutter setup but something fun to make your date night pop. Also great for a girls' night at home.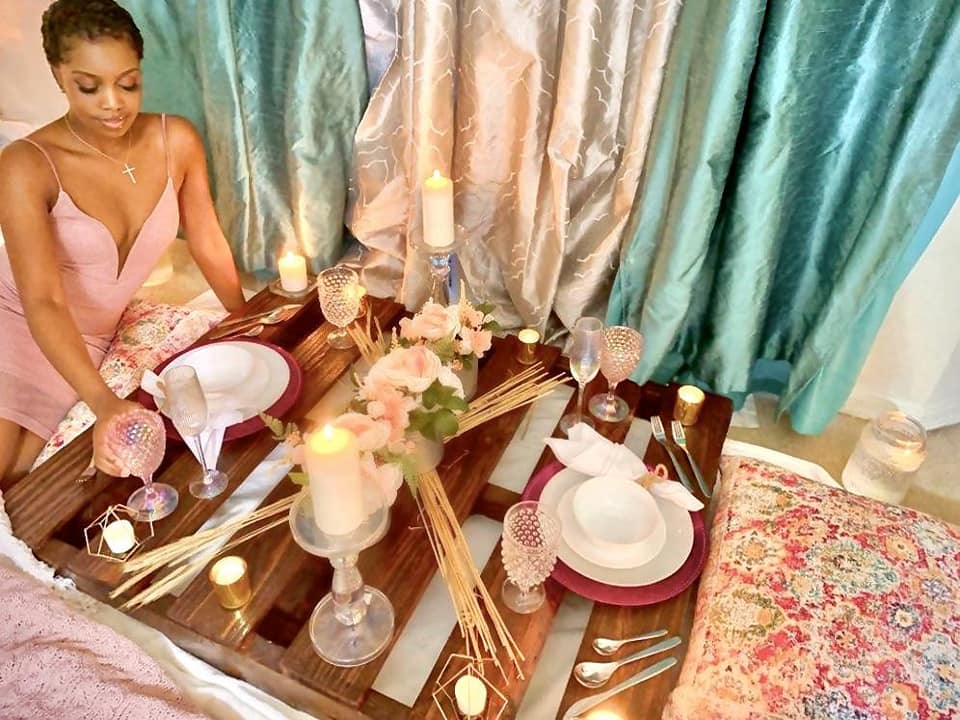 Southern Chic Collection (pictured in feature image)
So sweet, so romantic, so chic. Fill your evening with the soft ambiance of southern comfort. The light wood finished table, white washed accents and vintage lace runner are just a taste of the components that make for an oh so chic Southern evening.
New themes in the works include Garden in Wonderland, Fall in Love, and Chain of Love. Stay tuned on Instagram for details on when new themes and options become available.
DETAILS + BOOK
Delivery is free within Metro Orlando; a $20 delivery fee applies outside of this range.
To reserve your own Cre8tive Crate, email Briana at [email protected].
All images courtesy of The Cre8tive Crate by Amahle