St. Augustine Beach is just over the bridge from Historic Downtown St. Augustine, but once you've crossed over, it feels like you've entered a completely different city. Gone is the Spanish architecture and landmarks, traded for a quiet little beach town that embraces the slower way of life.
Nonetheless, the area boasts its own notable historic stops interspersed with miles of white sands, beachside eats and tropical cocktails for those who want to unwind, and a state park offering a bevy of adventurous activities for those that want to explore the picturesque outdooors.
STAY
Situated in between Anastasia State Park and the St. Augustine Beach Pier, this gorgeous oceanfront resort makes you forget you're only a 10-minute drive from Historic Downtown St. Augustine. If lounging by the pool is on your list, the resort's spacious pool overlooks the beach. The poolside bar, Castaway Cantina, will deliver you drinks poolside, or relax in one of the plush cabanas (additional charge of $50 for half day to utilize the cabana).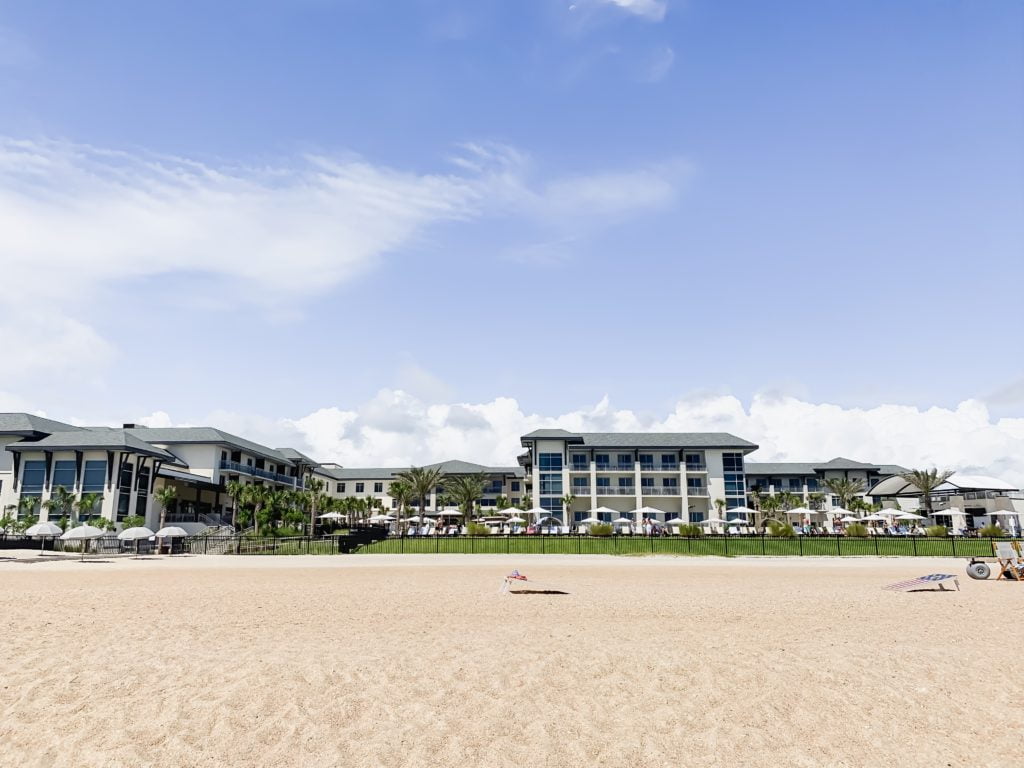 Beachgoers will love the seclusion of having a private stretch of beach to themselves. Each room reservation includes two free beach chairs and towels. You can also rent an umbrella for $15, which will be secured for you at your desired spot on the sand.
There is a complimentary Evening Reception daily from 4:30-6:30pm at the resort's bar, Rhum Bar, offering complimentary apps and several beverage choices. You have the option to either enjoy the drinks at the bar, or enjoy them by the pool in a plastic cup.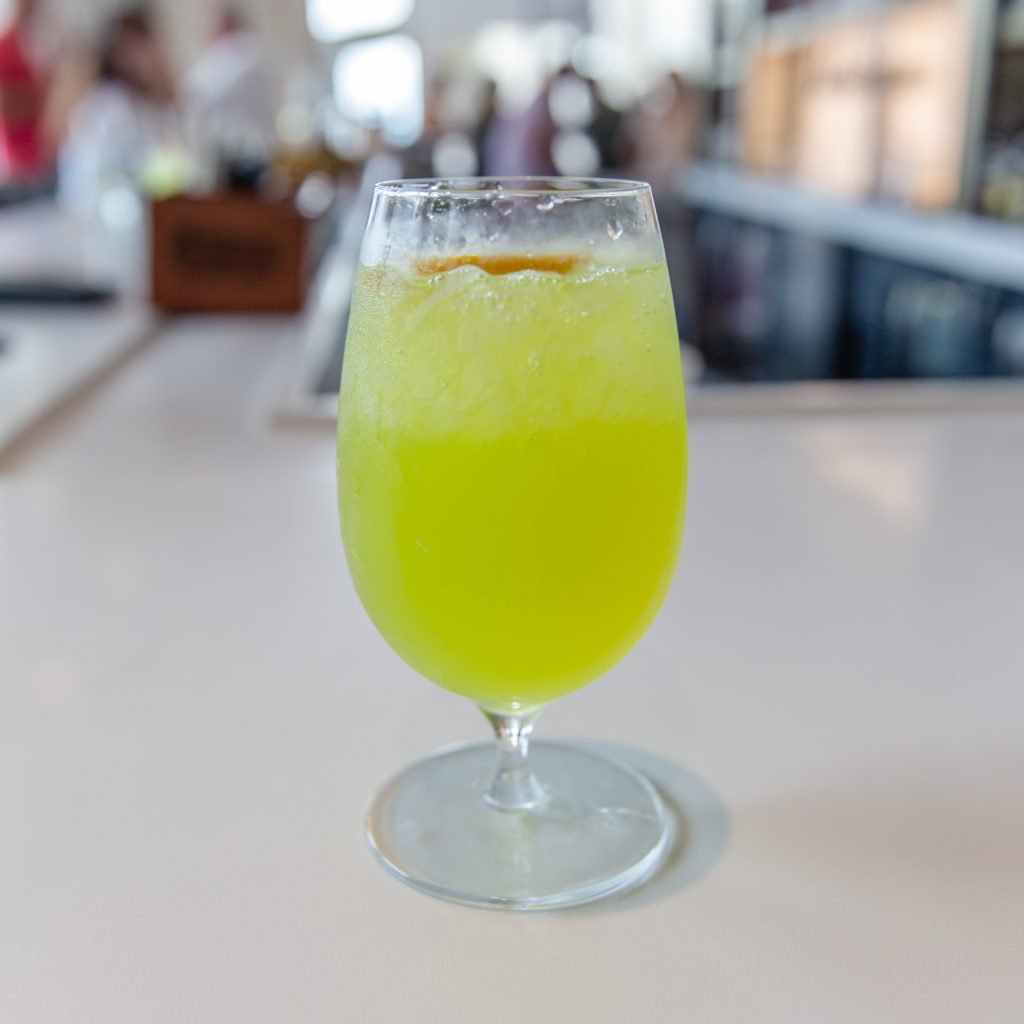 The resort's on-site dining option is Harvest & Reel, a fantastic date night dinner destination. Our dinner began with a charcuterie board, and for the entree, I opted for the Joyce Farms Chicken, served with broccolini. For dessert, the creme brûlée caught my attention immediately, though the salted caramel cheesecake also seemed like a tasty choice.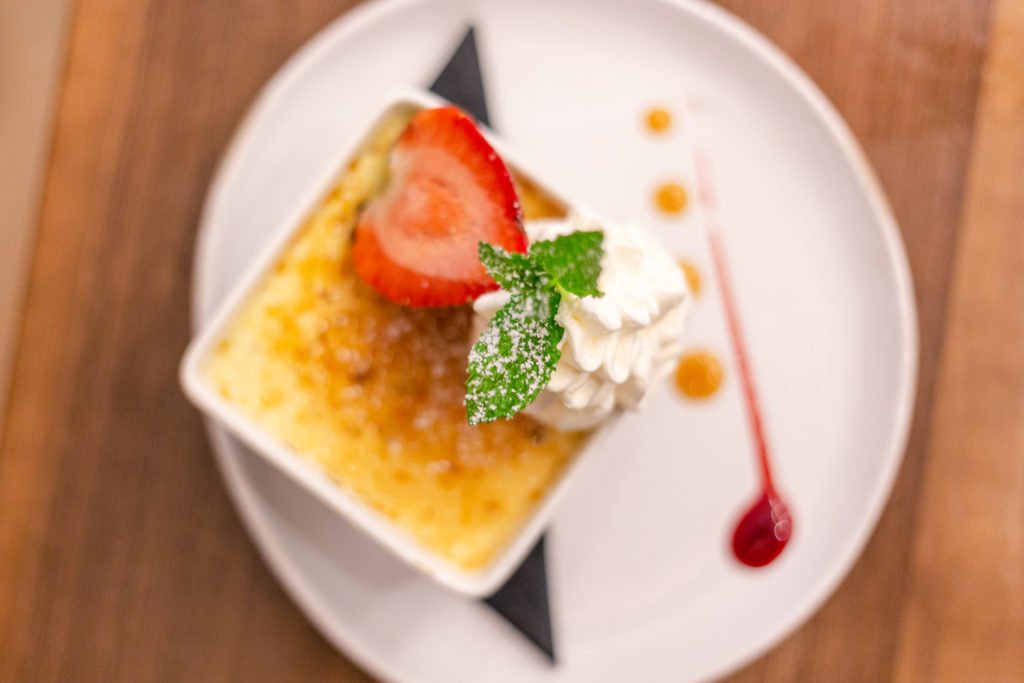 Additionally, if you crave a snack or need toiletries, Provisions of Ponce is open 24/7 and is located in the lobby, along with a Starbucks which is open 6am-6pm daily for your caffeinated pleasure.
TIP: If you plan to purchase Old Town Trolley Tour tickets to explore Historic Downtown St. Augustine, your ticket also grants you access to the St. Augustine Beach Bus. The bus makes stops at the Embassy Suites at 16 after the hour, starting at 9:16am and continuing until 4:16pm. One of the stops is the St. Augustine Lighthouse and Maritime Museum.
PLAY
FOR NATURE LOVERS
Another perk of the resort was a complimentary 2 hour bike rental included with each stay. There are a number of bikeable places you can venture to. Anastasia State Park borders the resort and is about a mile away. The park offers a multitude of activities ranging from paddleboarding to hiking along the Ancient Dunes Nature Trail. Anastasia Watersports is located in the state park and offers rentals of kayaks, canoes, and paddleboards with prices starting at $20. Two paddleboard experiences are available to enjoy with your honey: a 90 minute Full Moon Paddle and a 2 hour Dolphin Paddle on Salt Run. Prices for both (including gear) range between $35-40.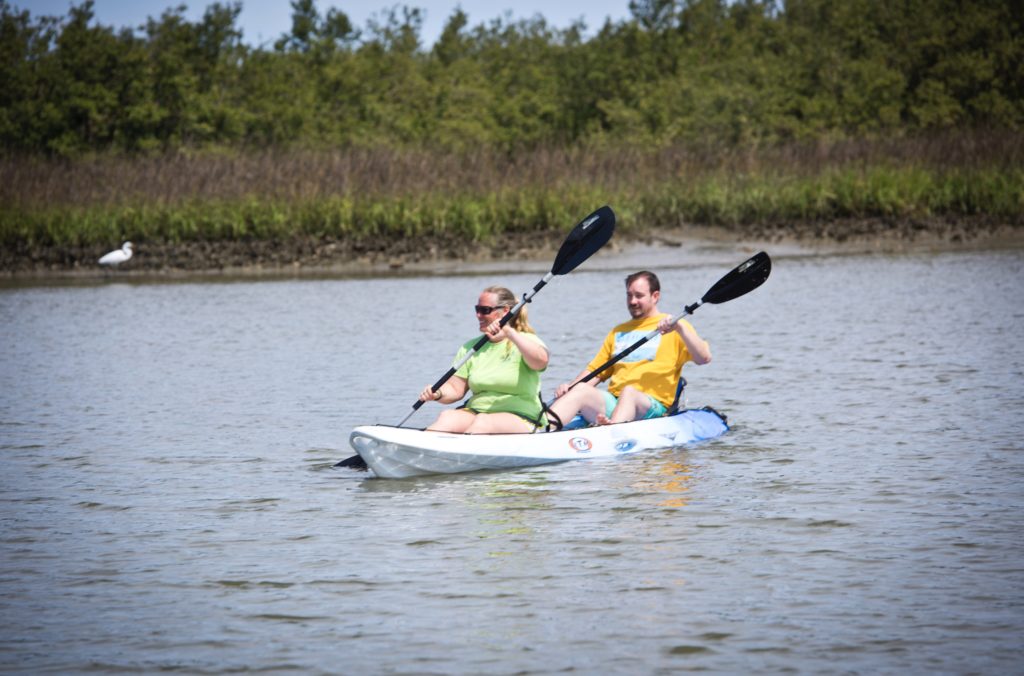 If you've been wanting to try stand up paddleboarding or yoga, The Salty Paddle offers both. You can choose to take Stand Up Paddleboard lessons, take a Stand Up Paddleboard Yoga class, or simply take advantage of their board rentals. Additionally, you can book one of their sightseeing tours, one of which takes you up close to the Castillo de San Marcos National Monument. Or, you can also Paddle around on your own for 2 hours (equipment included) for $50.
Prices start at $40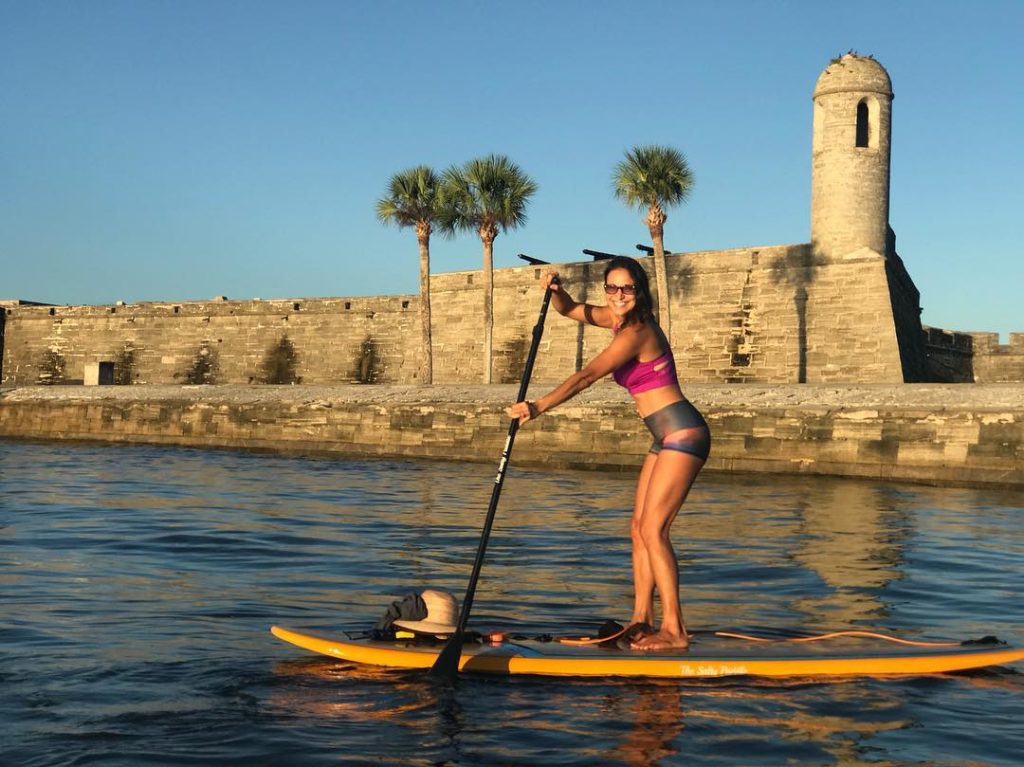 FOR MUSIC LOVERS
Originally built back in 1965, this award-winning music venue was restored in 2002 and now hosts popular concerts, festivals and special events throughout the year. Upcoming notable acts include Elvis Costello & the Imposters and The Doobie Brothers.
Visitors can also stop in on Saturday morning from 9:30am-12:30pm for the weekly Farmers Market to shop for goods from local growers and artisans. In addition, there is a Night Market held every second and fourth Tuesday from 6-9pm, which features art, food options, a full bar and live entertainment in addition to over 90 local vendors. Both markets are free to attend, and updated information can be found on their Facebook page.
FOR HISTORY LOVERS
For an activity that doubles as a workout, climb the 219 steps up the lighthouse tower. Once you're back on the ground, you can enjoy fruity popsicles from local favorite Hyppo Pops before heading in to the maritime museum or hiking the pretty nature trail. A variety of demonstrations take place daily, and you can also tour the keeper's house. The cost is $12.95/person.
TIP: To up the romantic factor, visit during one of the monthly Sunset or Moonrise Tours! These are open to a limited amount of guests, allowing you to enjoy hors d'oeuvres and champagne at the top of the tower. Cost is $30/person.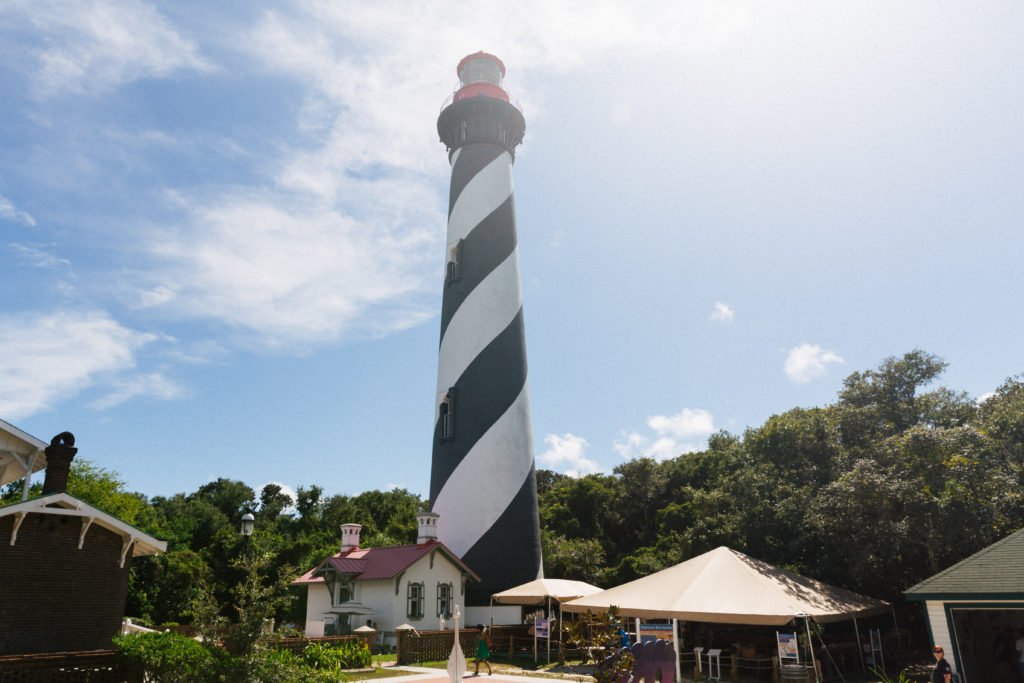 Similar to the Castillo de San Marcos monument in Historic Downtown St. Augustine, Fort Matanzas was built by the Spanish to guard the "back door" to St. Augustine against the British. The fort, constructed out of Coquina, has since been restored but still contains two of the original cannons. Visitors who wander inside can view soldier's quarters and get a beautiful view of the water.
To reach the fort, you'll hop on a 5-minute ferry ride over to the monument. Boarding passes are required to ride the ferry, and are issued for free in the Fort Matanzas Visitor Center. The ferry to the fort carries 35 people at a time on a first come, first served basis and leaves the Visitor Center dock (weather permitting) every half hour from 9:30am to 4:30pm. After you explore the fort, hike the 1/2-mile nature trail or enjoy a day by the water to sunbathe or fish, or bring food and drinks for a romantic picnic. Bonus: admission is free!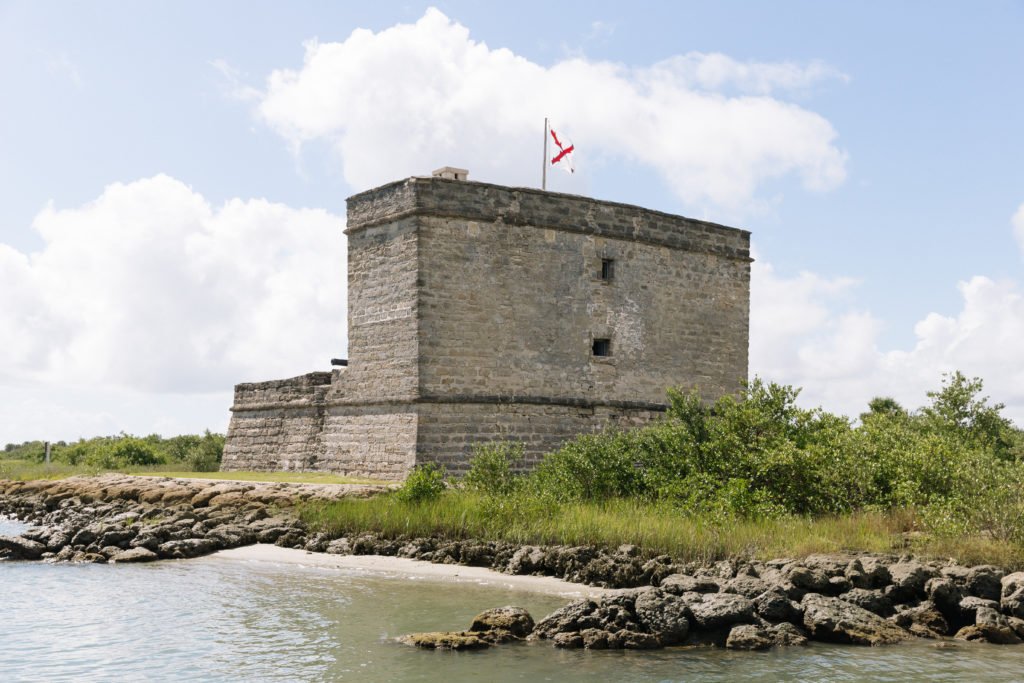 Day trip to Historic Downtown St. Augustine
After exploring the beach, you'll likely want to venture into the city for a dose of history. The Lightner Museum was once the upscale Alcatraz Hotel. Built in 1888 by Henry Flagler, the hotel welcomed over 25,000 guests fleeing the winter cold of the north during its peak in the 1890's. The impressive structure not only provided lodging, but also countless recreational activities for its guests. A bowling alley, gymnasium, tennis courts, steamroom, sulfur baths, and the world's largest indoor swimming pool were all enjoyed by guests staying at the Alcazar. The hotel eventually became the Lightner Museum, containing a collection of 19th century fine and decorative art including furniture. paintings and Tiffany glass. Admission is $15.
Alternatively, take a drink from Ponce de Leon's Spring of Eternal Hope at Ponce de Leon's Fountain of Youth Archeological Park or check out our recommendations for spending 9 Hours in St. Augustine.
Also try:
DINE & DRINK
Tacos are an ideal lunch after hitting the beach, and Osprey Tacos comes through strong with fresh flavors, made to order tacos and house made chips and guac. You can turn any taco into a bowl, and there are vegan and gluten-free options. We tried the Carne Asada and Pollo Asado tacos, and we were delighted at how much meat they had! A trip to a local taco spot isn't complete without trying out the chips and guac, and these did not disappoint. Don't forget to try all their sauces!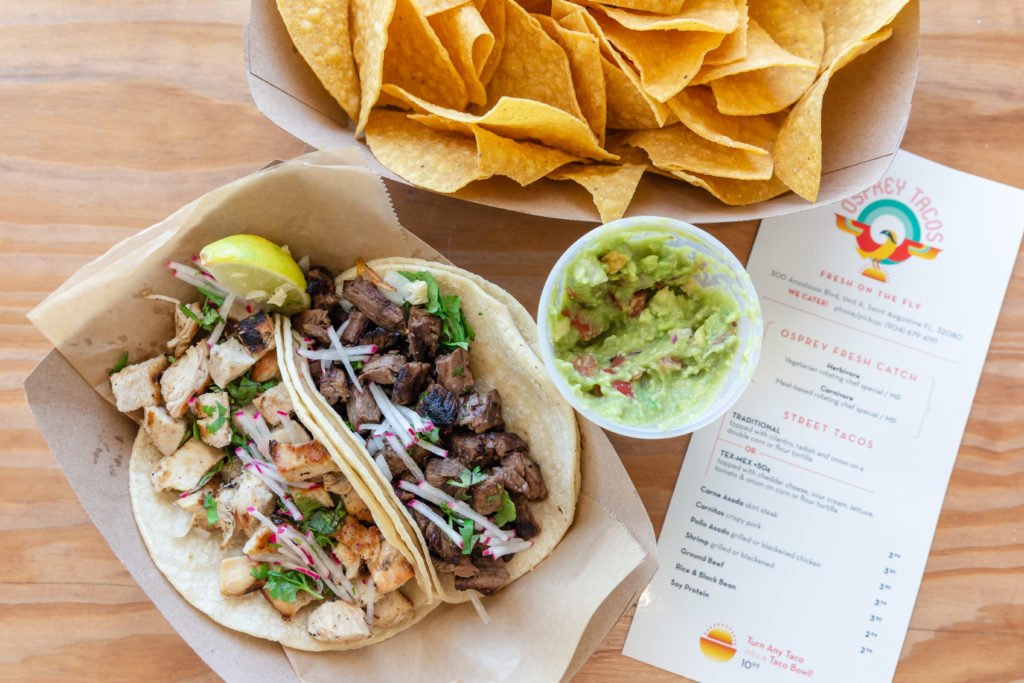 Conveniently located directly accross the street from the hotel (and a short walk from the beach if you're staying elsewhere) is Salt Life Food Shack. The lively eatery boasts a rooftop area, live music, and an atmosphere that is laid back and fun, as beach life should be. The lower level bar is lit up in bright blue neon lights at night, and the menu has a wide variety of options from sushi to poke bowls and fresh fish.
As expected, there was also a large cocktail menu, and if you're in town during the week, take advantage of the weekday happy hour special ($1 off liquor drinks, house wine and drafts) offered from 4-6:30pm. For dinner, we decided on the Pan Seared Chicken Pasta and the Crunchy Chicken Thai Bowl. Both dishes were flavorful and offered a very generous portion. We were too full for dessert, but we will definitely try the Captain's Rum Cake next time we visit.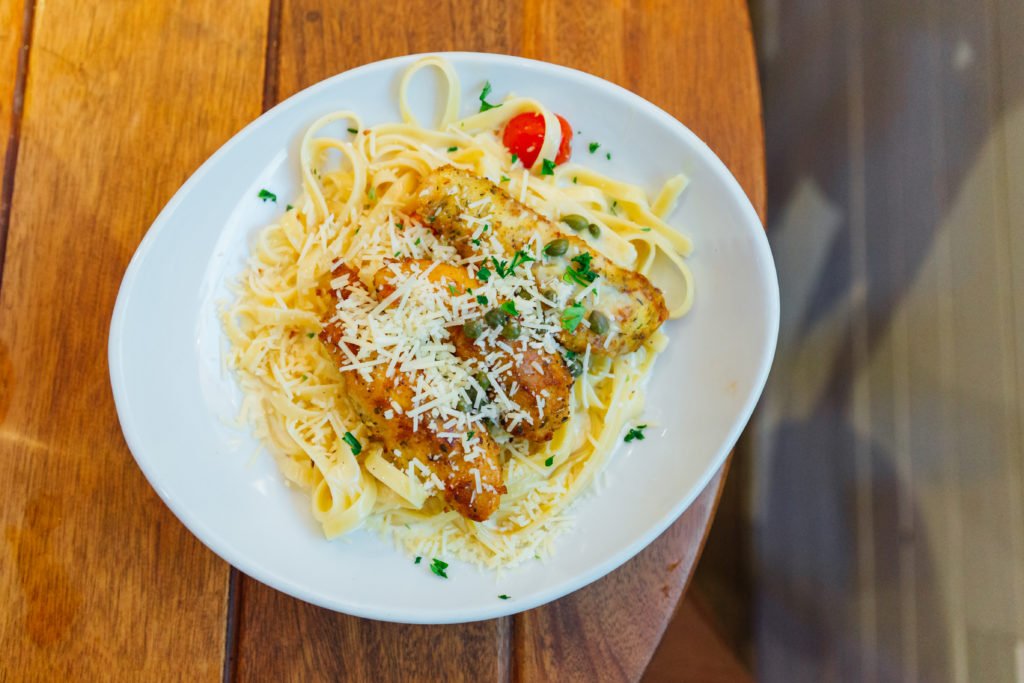 I make it a personal mission to find a great local coffee shop in any city I visit, and in this case it was easy since one of my favorite coffee shops in St. Augustine, The Kookaburra, has a beachside location only about a mile away from the resort. We took advantage of the resort's complimentary bike rental and rode over to the coffee shop on a Saturday morning for a caffeine fix
In addition to espresso drinks such as cappucinos and lattes, there were several specialty lattes that caught our attention. The PC (with Caramel and a hint of Vanilla) was my buddy's favorite, and I couldn't get enough of the Honey Badger (with Honey, Cinnamon and Vanilla). There is a Turbo Window located on the side of the building for those who want to simply grab a coffee and go, as well as some seating inside and on a welcoming side deck.
Located in the former FP&L Ice Plant in Historic Downtown St. Augustine, the building was preserved and now operates as a locally owned and operated craft spirits distillery. Rum, Vodka, Gin and Florida's first bourbon are produced inside using local ingredients, and their quality spirits can be found in countless craft cocktail bar menus.
Free tours of the distillery are offered every half hour and include the opportunity to sample a few different spirits inside the tasting room. Upstairs you'll find the Ice Plant, a bar and farm-to-table eatery serving up brunch, lunch, dinner, and craft cocktails. They place an emphasis on the importance of quality ice and the role ice plays in perfecting a cocktail. Also, they prepare all cocktails using house-pressed juices. The industrial feel of the original warehouse combined with perfectly made cocktails make for a splendid date night.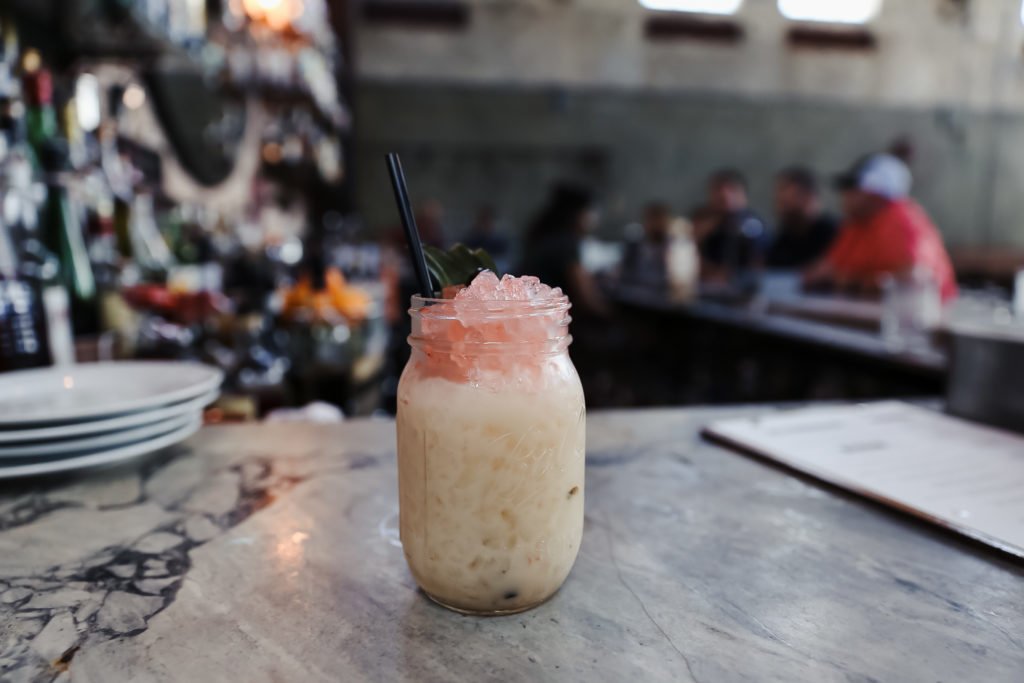 More notable eats:
Disclosure: Embassy Suites by Hilton St. Augustine Beach Oceanfront Resort provided a hosted stay at no cost to the writer.
All photos by Arlene Laboy unless otherwise stated.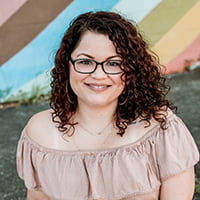 Arlene Laboy is a professional brand photographer based out of Orlando, Florida. A wife and a mother, Arlene shares her love for adventuring around Florida and her professional work through her Instagram account, @arlenemlaboy. Find out more about Arlene here.