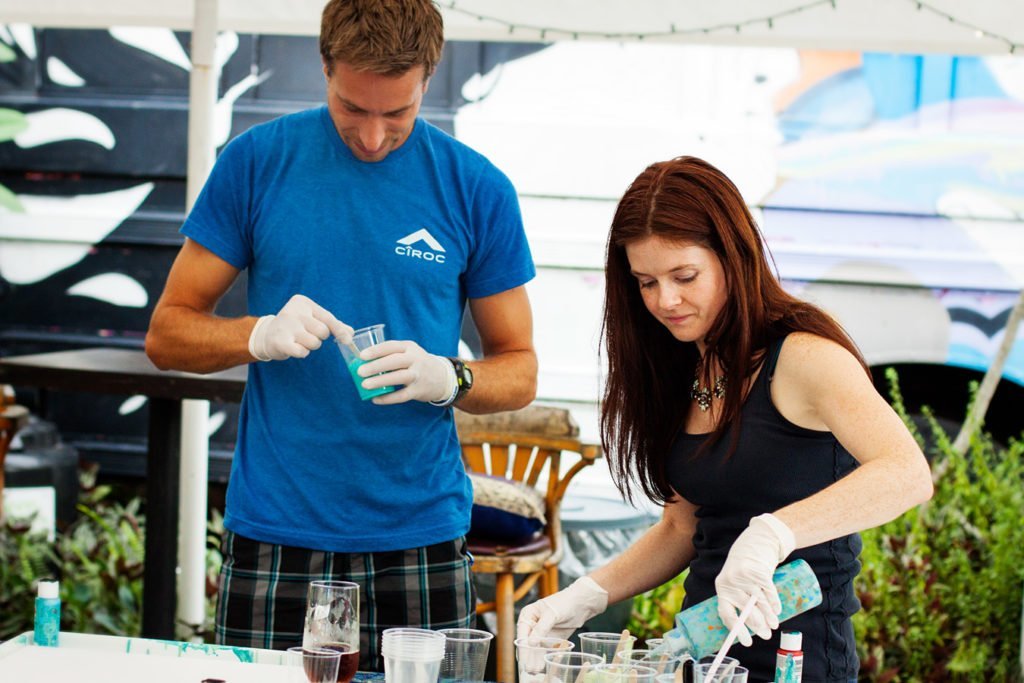 February is all about love, and what better way to celebrate strong bonds than by trying something new together? Step outside of the box this month and experience a fun class right in your own backyard! With awesome yoga experiences, unique art workshops and perfect date night opportunities – a class allows you to try out something exciting together.
Where to take Orlando workshops and classes:
Workshops and Classes for Couples
Salsa Downtown
February 1, 8pm
The Balcony Orlando
Spice up your relationship with a one-hour instructor-led salsa dance class followed by two hours of rooftop dancing to practice what you've learned. Classes are led by Samuel de la Rosa.
$16/couple
Journey To Intimacy: Couples Massage Class
Sunday, February 3
Empower Yoga & Massage
A series targeted to make your relationships happier, healthier and more fun. Mix & match or take all 4 classes: Peace and Bliss, Massage Techniques: Learn Healing Touch, Fun and Stretch, and Thai Yoga Massage: Learn Nurturing Touch.
1 Class $45, All 4 classes $150
Couples Make and Take Wood Sign
February 9. 10am-noon
Driftwood Market – Winter Garden
During this hands-on class, you'll learn to make your own custom, 4-foot sign with the phrase "You will forever be my always" or "Together is our favorite place to be." All materials are provided, and class size is limited to 5 couples.
$70/couple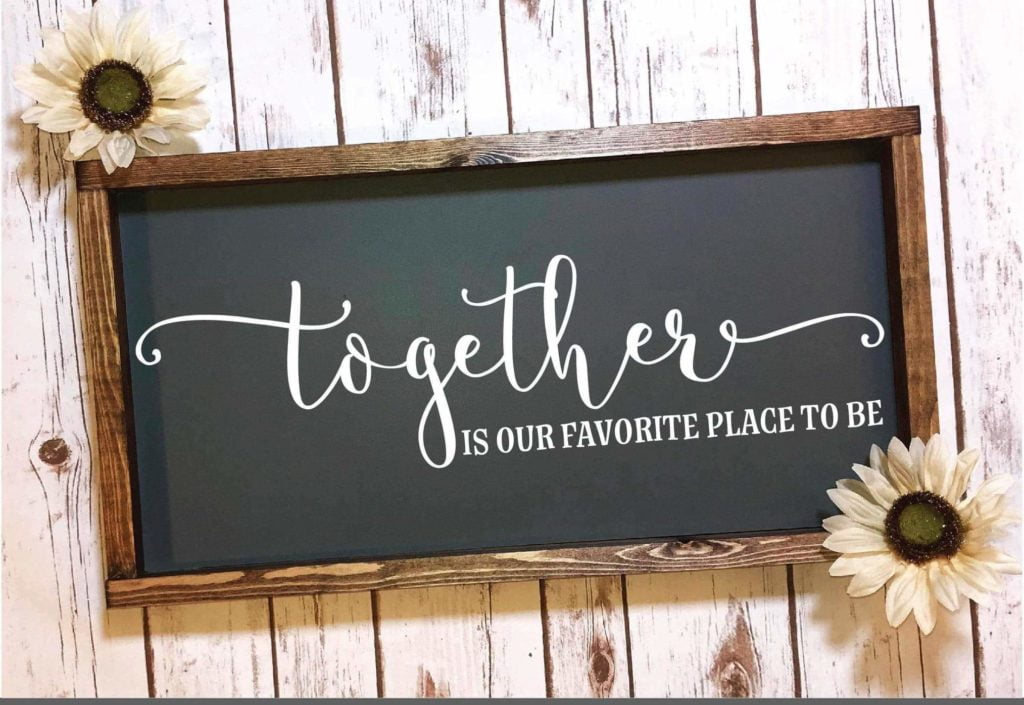 Peace Love Sweat: A Valentine's Day Partner Workout **Orlando Date Night Guide event
February 14, 6pm
House of Sweat Orlando and D1 Orlando – Sports Training & Therapy
Team up with your other half or bestie and get ready for a one-of-a-kind Vday partner workout including stretching and cool down. No matter your fitness level, this is the perfect way to remix your traditional Valentine's Day routine. This exclusive partner workout will be complemented by a fun 'couple's playlist' perfect for this love-filled night.
$20/couple
Valentine's Date Night Workshop
February 14, 6:30pm
Hammer & Stain Clermont
Head to Clermont to make your own custom corresponding wood art! You'll be able to select two pieces so you each have something to work on during class. You're also allowed to bring your own wine or beer to sip while you paint.
$75/couple
Valentine's Corn Hole and Scoreboard Workshop
February 14, 6:30pm
Hammer & Stain Clermont
Make a custom corn hole set with your boo at this fun all-in-one workshop in Clermont. The corn hole set is full size and includes bags. BYO wine and beer are allowed and encouraged.
$179/couple
Date Night at Maitland Art Center
February 15, 6pm
Maitland Art Center
A class that allows you and your other half to be creative and have fun? Sign us up! Maitland Art Center hosts periodic date night workshops that allow you to try new things. Each person leaves with their own art project. Light snacks are served and beer and wine are available for purchase.
$45/couple
Bachata Downtown
February 15, 8pm
The Balcony Orlando
Spice up your relationship with a one-hour instructor-led bachata dance class followed by two hours of rooftop dancing to practice what you've learned. Classes are led by Samuel de la Rosa.
$16/couple
Tapas & Tango **Orlando Date Night Guide event
February 15, 8pm
Arthur Murray Dance Studios – Winter Park
Join us for instructor-led Tango lessons, live performances, tapas and wine. This class is suitable for dancers of all skill levels, including beginners.
$30/couple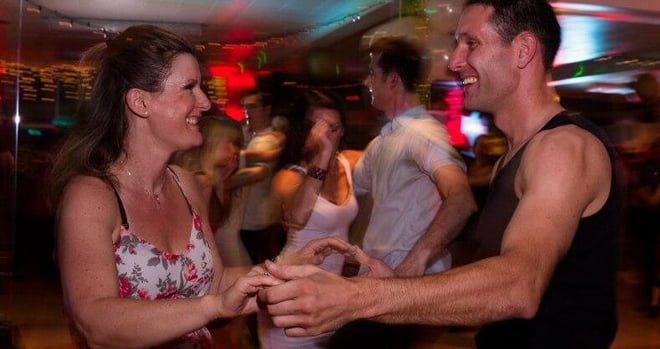 Active Classes
Flower Yoga Series
February 6, 13, 20, 27, March 6 and 13, 10-11:30am
Leu Gardens – Orlando
This is a six class series.
Join us for a nature inspired yoga practice! Moving with patience and breath we'll examine poses from the roots to the branches, finding ways to modify for all levels and bodies.
$72/person
Wednesday WINE: Yoga on the Field
February 13, 6pm
Camping World Stadium
Wednesday W.I.N.E. is designed to socialize, share ideas and make connections with business and community leaders from all over Central Florida. Admission includes a 1-hour yoga session held on the field of Camping World Stadium followed by a post-yoga happy hour including appetizers and wine. Yoga mat rentals will be available for $3 each but you are encouraged to bring your own mat.
$10/person
Rooftop Zumba
February 13, 6:30pm
The Balcony Orlando
Burn some calories and dance your butt off at this fun rooftop Zumba class with stunning Orlando views as the backdrop. This workout is great for all fitness levels and it is recommended to arrive early to grab a good spot!
$8/person
Yoga Under the Stars
Orlando Brewing
February 15, 7pm
How many yoga classes offer beer on the side? Bring your yoga mat to this monthly after-dark yoga class! Work through your poses under twinkling lights with a great playlist. Your ticket includes a pint of beer, as well.
$12/person in advance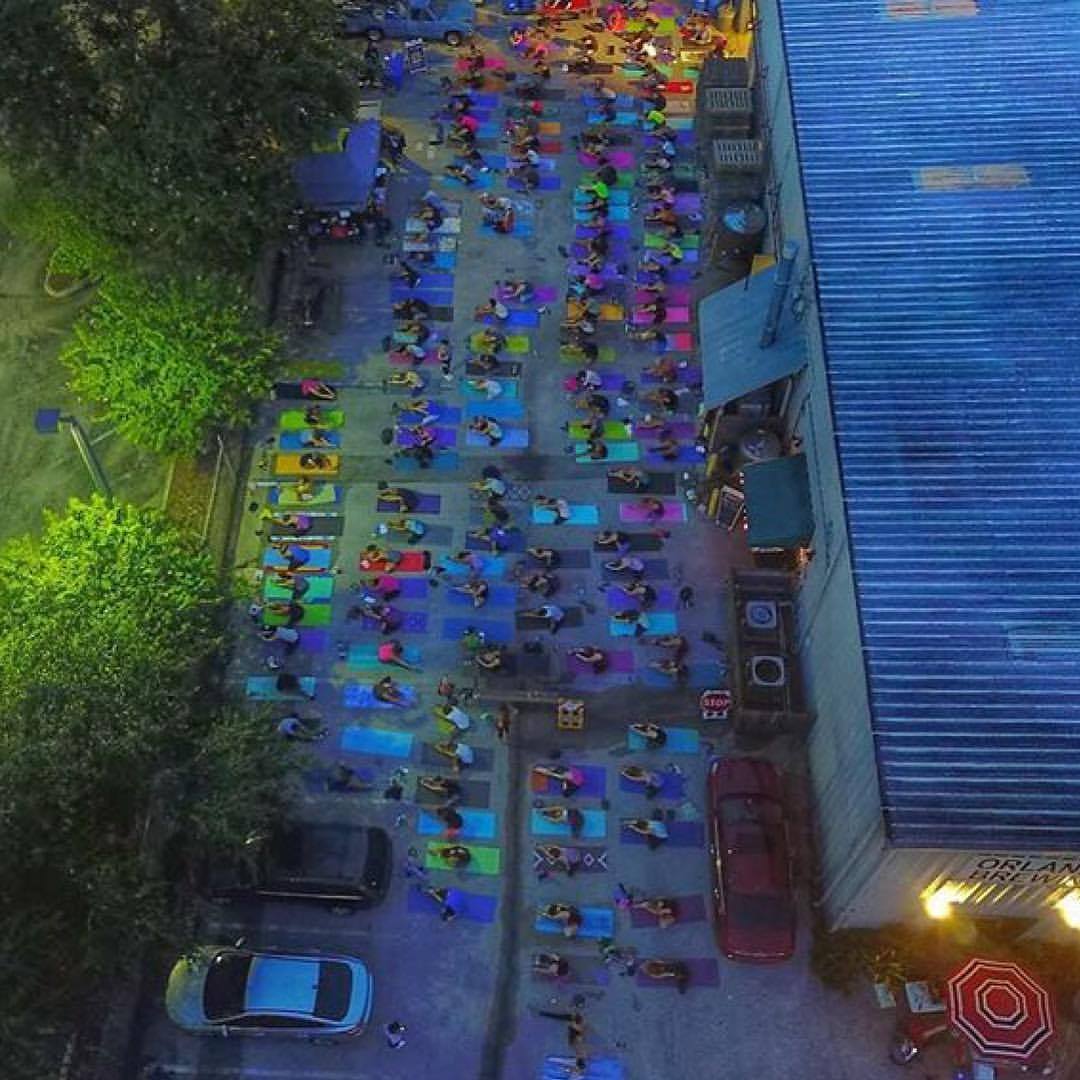 Sweat and Sip
February 23, 10am
À La Cart Orlando
Feel the burn at this bootcamp-style workout class. Your ticket includes one drink to enjoy once you complete the class. Talk about a sweet reward! Stick around after the class to enjoy some delicious eats from the on-site food trucks.
$15/person
Yoga in the Garden
February 24, 9am
Menello Museum of American Art
This yoga practice is held the last Sunday of every month. Start your day in peace with yoga by the relaxing lakeside in the sculpture garden. This class is led by instructors from Full Circle Yoga. Don't forget your yoga mat and water!
$10/person
Rooftop Yoga
February 26, 6:30pm and 8pm
The Balcony Orlando
See Orlando from above during this one-hour yoga class. Two class times will be offered and there's a discount if you stay for both.
$7/person per class, or $10/person for both classes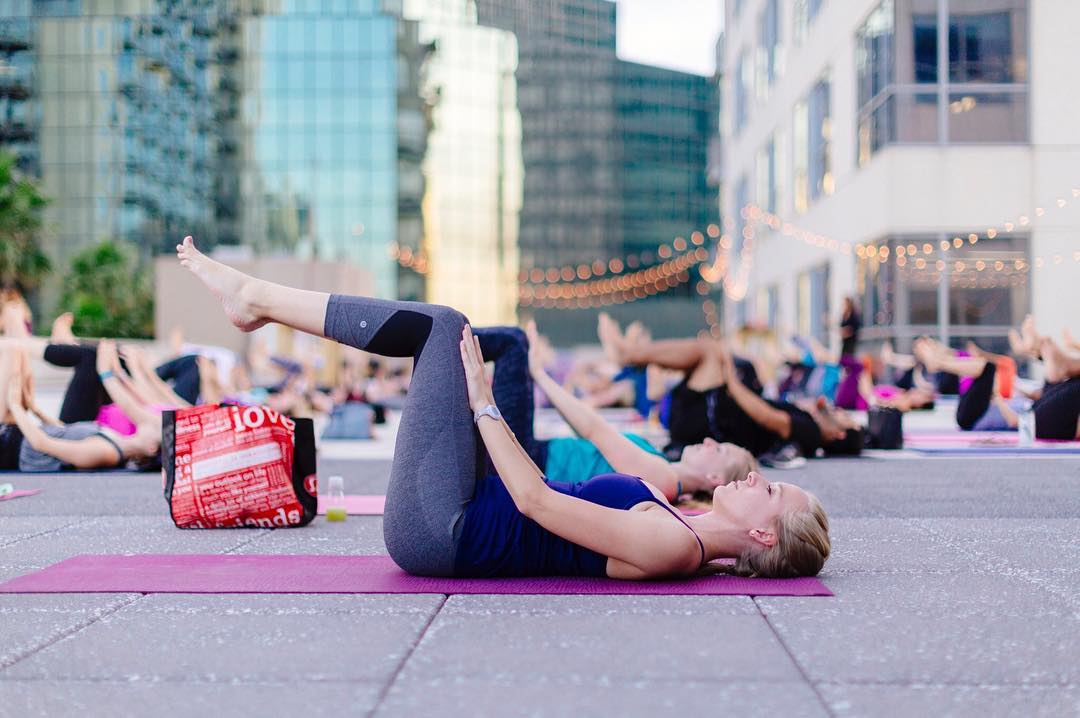 Art Classes
You Are My World String Art
February 4 and 7, 7-9pm
Driftwood Market – Winter Garden
In honor of Valentine's Day, make your own sentimental string art on a piece of hand-stained wood. All materials are provided, and the nails are already placed in the wood for you.
$30/person
Valentine's Decor Workshop
February 5, 6:30pm
Hammer & Stain Clermont
Customize wooden art with your choice of stain and paint colors during this DIY class. Choose from a variety of projects for $39 or less. And psst–you're allowed to bring wine or beer to enjoy!
$34/person
Woodturing Make a Bowl
February 5, 12, 19 and 26, 6-10pm
FACTUR – Orlando
This class will focus on making a bowl using the Easy Wood tools, with a strong emphasis on having fun. Each student will receive one-on-one training and hands on experience from Roger Dale Scott, artist and Instructor.
$95/person
Glass Blowing 101 Workshop
February 6, 7, 8, 9, 16, 17, 21, 22, 23, 24, 27 and 28, 4-5pm
This glass workshop is essentially a guided tour throughout the glass blowing studio. The student will start by choosing the right colors, then shown the basic techniques, and will be helped along the process, so as to be able to complete the desired object.
$45/person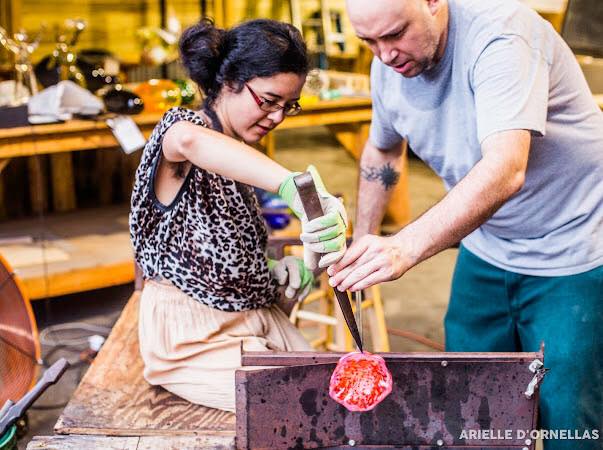 Hand Lettering
February 8, 6-8pm
Driftwood Market – Winter Garden
Learn the art of modern calligraphy using a variety of brush pens. During this workshop, you'll make a hand lettered piece of art to take home plus a full calligraphy alphabet with your own creative flair.
$45/person
Welding Workshop
Crealde School of Art – Winter Park
February 9-10, 10am-4pm
Join this veteran welder in designing small sculptures over a weekend. Practice cutting and basic welding techniques, while creating artwork from found objects.
$305/person
Sunday Jewelry Workshop
February 10, 1-4pm
Maitland Art and History Museum
Learn to tube set stones adding to the design of your jewelry. Materials available for purchase from instructor; bring simple designs to workshop.
$50/person
Watercolor Hand Lettered Valentine
February 12, 7pm
Brew Theory
There is nothing like a hand written card – except a handwritten, hand painted and hand lettered one of course. Check out this class to make your special someone a sweet love note that is personalized and unique.
$30/person
Valentine's Day Floral Workshop
February 12, 6-8pm
Lakehouse – Orlando
In this workshop, you will be supplied with a spray of carnations, roses, baby's breath and greenery to create a beautiful display of a traditional centerpiece or carnation love pup.
$25/person
Galentine's Potty Mouth Workshop
February 13, 6:30pm
Hammer & Stain Clermont
Make your own custom wood art including staining and painting featuring a funny "potty mouth" phrase. BYO wine and beer are allowed. Alternative class: Cupid is Stupid workshop.
$35/person
Valentine Abstract Paint Class
February 13, 7pm
Orlando Brewing
Create a fun canvas together and be ready to paint your hearts on your sleeves. This art class is designed for couples and will take place outside of Orlando Brewing – weather permitting. All draft beers will be $1 off for students and you are welcome to bring outside food or order delivery right to Orlando Brewing.
$35/person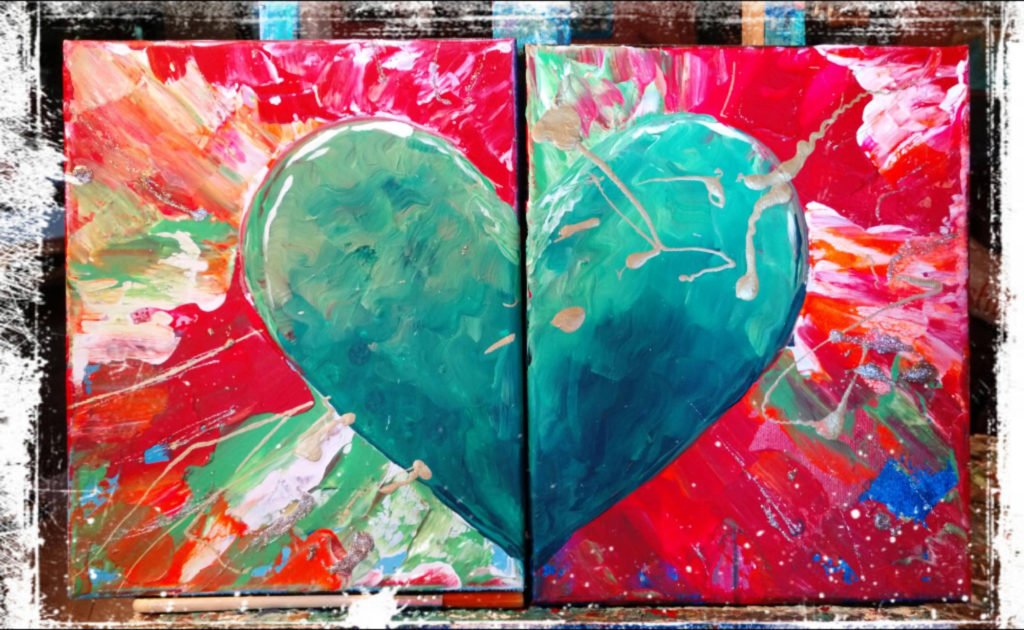 Wildlife in Pastels
February 13, 9am
Sam Flax Orlando
Get your hands on some pastels and prepare to make a life-like painting of a beautiful bird. Follow your guide and learn how to create backlighting and a soft focus background for a realistic and timeless piece of art.
$45/person
Plant Nite – Galentine's Special
February 13, 7pm
33 & Melt – Avalon Park
Create your own succulent arrangement while sipping on some great drinks.
$47/person
P.S. I Love You Make and Take String Art
February 14, 10am-6pm
Driftwood Market – Winter Garden
Stop in anytime between 10am-6pm to make something special for your love! All materials are provided, and the nails are already placed in the wood for you.
$20/person
I Can Fly
February 16, 10am-4pm
Maitland Art and History Museum
This workshop is designed to encourage your abilities to accomplish what you set out to do, and to believe in yourself. It is a playful workshop in which you will paint a large pair of wings…large enough for it to appear as if it's your wings when standing in front of their painting!
$70/person
Art Night Out: The Altered Book with David Matteson
February 19, 6pm
Orlando Museum of Art
Bring a book that you are willing to turn into your own masterpiece as you draw, paint and collage right into it. Breaking all of the book rules you ever knew – this unique class offers an experience to turn a book into art. You will also learn printmaking and transfer techniques that you can easily do at home.
$30/person
Make and Take Wood Signs
February 20, 6-8pm
Driftwood Market – Winter Garden
Up your home decor with a handmade 24×14 wooden sign! Choose from two phrases: "Love grows best in little houses" or "This is Us." All materials provided.
$45/person
Floral Design Workshop
February 21, 6-8pm
In Bloom Florist – Orlando
Create a beautiful arrangement cascading with hues of blush, rose, fuschia and more—perfect for a pink lover!
$75/person
Learn to Make a Wood Pen – Unique Night Out with Pizza and Woodturning
February 22, 6pm
Factur
In this session, you will learn to make a custom pen (or a wine bottle stopper) on the wood lathe. The night includes pizza, soft drinks (BYOB of wine if you like) and all materials. Take home your custom made pen or bottle stopper and great memories of a special evening that will last forever!
$90/person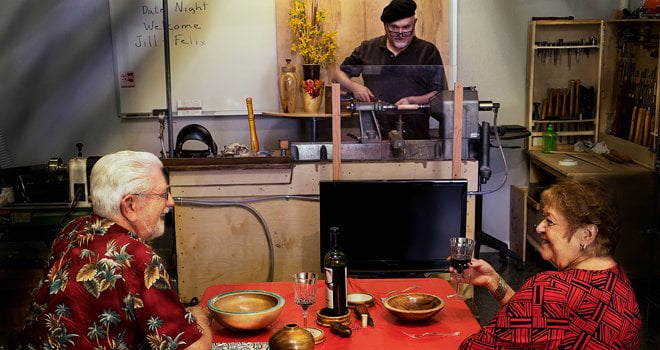 Abstracts in Nature
February 23, 9am-4pm
Crealde School of Art – Winter Park
Spend the day hiking and photographing The Little Big Econ State Forest. Enjoy the outdoors and express your creativity in a setting that allows you countless opportunities to see things that would normally go unnoticed.
$125/person
Make Hypertufa Pots
February 23, 9:30am-12pm
Leu Gardens – Orlando
This class will introduce you to the planters used in English gardens that will add character to your yard and save you money on pots.
$65/person
Plant Nite – Pick Your Planter
February 23, 3pm
King's Orlando
Dig, drink and be merry! Pick your own planter in this plant nite class while you create your own succulent arrangement.
$45/person
$30 Ladies Night Out
February 28, 6:30pm
Hammer & Stain Clermont
Create a custom wood art project with your best gal pals including custom stain and paint colors. Don't forget to pack a bottle of wine to share while you craft!
$30/person
Fluid Abstract Painting
February 28, 7-9pm
Driftwood Market – Winter Garden
Learn two different methods of fluid painting and leave class with two ready-to-hang abstract paintings. Each piece is 11×14 in size.
$45/person
Food + Wine Classes
Inside the Mind of a Winemaker – Laurence Feraud
February 6, 7pm
Tim's Wine Market – Orlando
On this evening, you will taste a selection of her Domaine Pegau wines, as well as some of the wine makers negotiant products under the Chateau Pegau and Selection Laurence Feraud labels.
$25/person
Beer Geek Training
February 7 and 21, 7pm
Dead Lizard Brewing Company
Do you love craft beer? Expand your knowledge at this bi-weekly class led by head brewer, Richie. You'll take a tour of the brewery, partake in a guided tasting of four beers, and learn craft beer basics about the brewing process and tasting beer.
Registration not required; purchase the featured beer flight for the evening to participate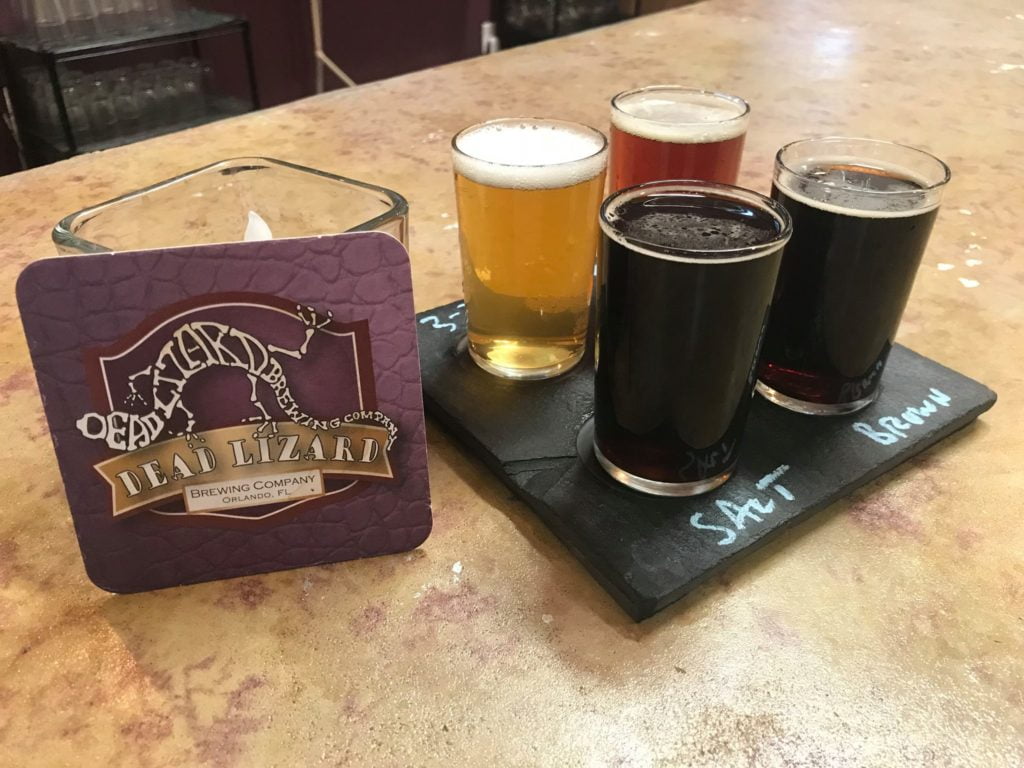 Wine, Cheese & Chocolate!
February 7, 7pm
Quantum Leap Winery
Increase your knowledge about wine, cheese and chocolate and how they interact during this guided pairing. The class features pairings of 5 wines, 4 cheeses, and 4 Peterbrooke Chocolatier of Winter Park chocolate confections.
$45/person
Celebrating Citrus: Cooking with Lemons
February 9, 11am-1:30pm
Leu Gardens – Orlando
In this class, you'll prepare a delicious assortment of recipes from around the globe that make lemons really shine. Plus you'll sip on homemade lemon sodas while we cook.
$60/person
Absinthe Cocktails
February 9, 3:30pm
Bitters & Brass
Unleash your inner mixologist during this cocktail class all about absinthe. You'll work at your own cocktail station and all materials are provided. Learn the history behind the drinks you're making as well as basic techniques.
$50/person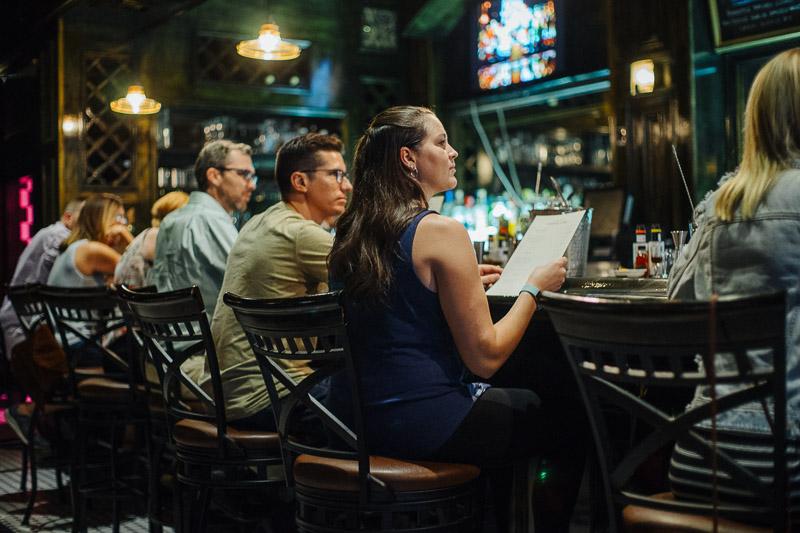 For the Love of Cab
February 14, 6:30-8:30pm
Tim's Wine Market – Windermere
Enjoy a Blind Tasting of 12 Cabernet Sauvignon ranging from $10-$150 per bottle.
$40/person
Valentine's Day Bubbles
February 15, 7-9pm
Tim's Wine Market – Orlando
On this evening you will examine the differences in the method of production of bubbly wines and the importance in the place they are made.
$30/person
Wine Talk 101
February 18, 7pm
Vinia Wine Bar
Sip 2oz samples of four different wines while learning wine basics! Instructor Andre Matta will walk you through Wine 101, from what "legs" are to how to store wine and pair wine and food.
$35/person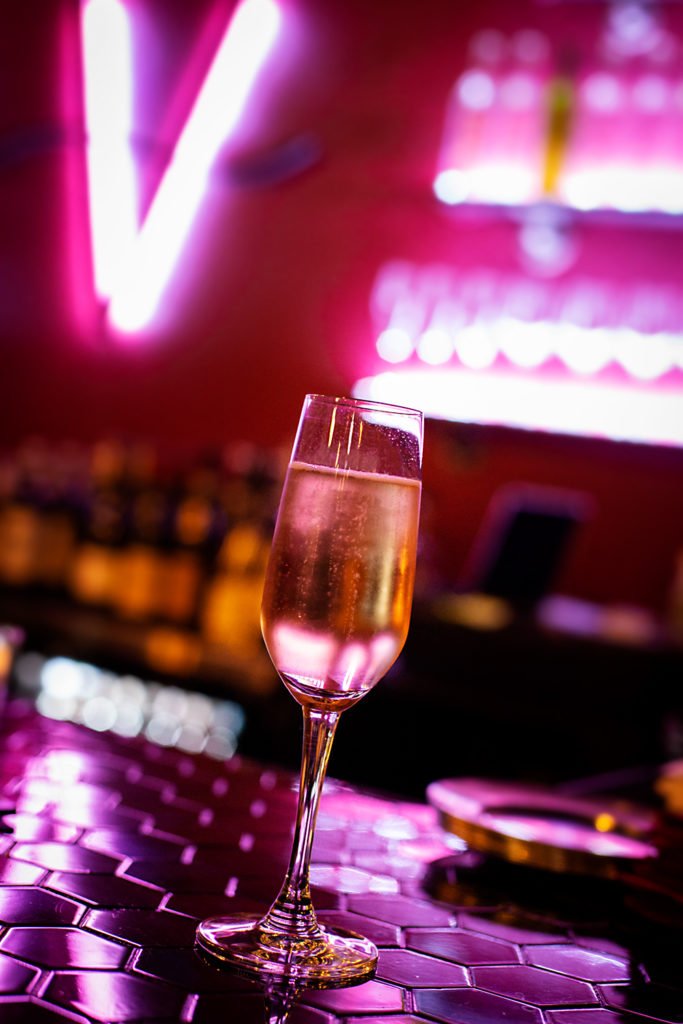 Inside the Mind of the Winemaker: Nick Goldschmidt
February 20, 7-9pm
Tim's Wine Market – Orlando
For the tasting you will be guided primarily through the wine maker's domestic wines but with Nick you never know where we will end up.
$25/person
Looking for cooking classes? Here's our guide to 125+ Orlando Cooking Classes happening this January and February.
Other Classes
Love You: A Self-Love Workshop
February 2, 2pm
YogaMix Orlando
$40/person
Everyday Eyeshadow
February 4, 7pm
World of Beer
$50/person
Make Your Own Fragrance
February 8, 7pm
Brew Theory
$40/person
Self Love Workshop
February 9, 2pm
Alafaya Branch Library – Orlando
This workshop is setup to help women embrace their power, purpose and value in the way that its helping their mind, body and soul.
Free
DIY Essential Oil Roller
February 26, 7pm
Orlando Brewing
$20/person
Know of an awesome class we missed? Share it in the comments!
Disclosure: Some, but not all, of the events featured in this post are hosted by some of our valued advertising partners.