It's been a great year in Orlando, and we've got lots to look forward to in 2024. Several new creative date night concepts are here and there are even more exciting new things in store. From new Orlando restaurants to exciting new attractions and experiences, these are the new Orlando date night ideas to try in 2024.
Updated regularly throughout the year, most recent update December 2023 by Meghan Roth and Dani Meyering
Recap of Key highlights of 2023:
Keep reading for lots more!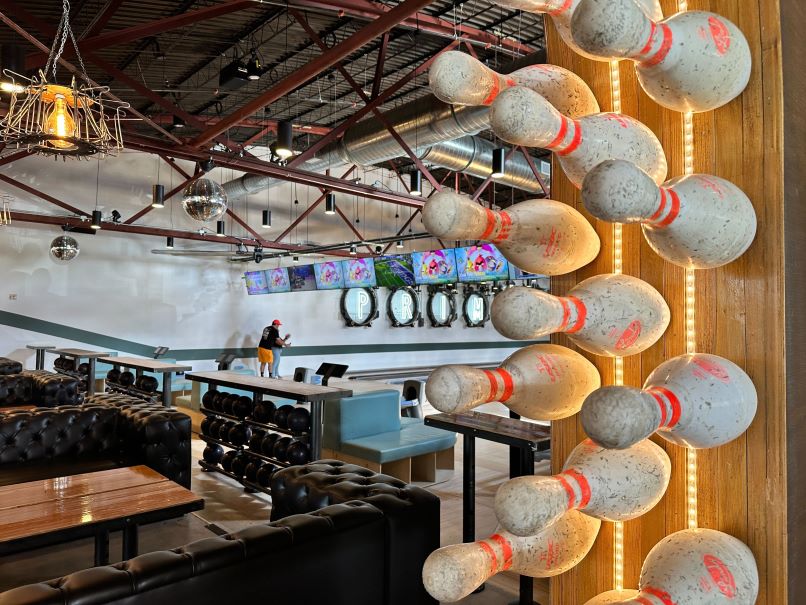 Primrose Lanes. Image Credit Dani Meyering
Orlando restaurateurs got even more creative over the past year. Food halls, breweries, pop up dining, and unique fusion concepts continue to dominate the foodie scene in 2024, so grab your sweetheart and enjoy a date night filled with culinary exploration.
New Date-Worthy Restaurants
54 West Church Street #140
Orlando, Florida 32801
Local family owned food concept, The Bao Spot opened the doors for the first time December 1, 2023 on Church Street in Downtown Orlando. The menu will include a number of appetizers, including Fried Brussel Sprouts and Honey Bacon, plus Fried Pork Dumplings.
415 S. Orlando Ave, STE. 211,Winter Park, FL 32789
Superica, a Georgia-based restaurant with an Austin-style menu, features a colorful dining room where delicious Mexican and American foods are served. You may know this as 'Tex-Mex' cuisine. Superica offers a casual yet whimsical space inspired by the owner's northern Mexican-meets-Texas ranch style of cooking, complete with an additional 900 square-feet of patio seating.
Superica is open every day, plus offers options for brunch on Saturday and Sunday.
2625 Edgewater Drive, Orlando, FL 32804
The Hoynes family have been running pubs for hundreds of years. Their mission is to provide legendary Irish hospitality to each of the guests that come through their doors. Their menu offers a variety of Irish pub selections, along with a robust drink menu, and live music on the weekends.
8466 Palm Pkwy, Orlando, FL 32836
Kung Fu Kitchen will take you on a culinary journey to China right here in Orlando with their authentic steamed buns (xiao long bao) and hand pulled noodles. They have a variety of delicious dishes such as dim sum, chilled plates, breakfast, and desserts from different regions of China.
Chef Peter Song, an actor who immigrated from China, was determined to bring authentic Northern Chinese cuisine to the US and five years ago he opened the first restaurant in New York.
724 Brookhaven Dr, Orlando, FL 32803
It's pretty simple – You love your dog. Like, a lot. You'd bring them everywhere if you could! Believe us when we say "We get it!" That's why the owners of BarkHaven dreamed of creating an urban oasis for dogs and their people. It's a safe place to enrich the special bond you share, surrounded by a tail-wagging community of like-minded pack members. Located conveniently on the Urban Trail between the Mills 50 District and Ivanhoe Village, BarkHaven is Orlando's premiere membership dog park bar! Day passes and memberships are for dogs only, as humans always get in free.
New Food Halls & Markets
Slated to open sometime in 2023 is Maitland Social. This upscale food hall is near the Maitland City Center, which has become a popular gathering spot in recent years. Maitland Social is said to include Foxtail Coffee, Wave Asian Bistro (of Mount Dora fame), and Urban Body Works.
Jacksonville's Norikase, a Japanese restaurant known for its 17 course omakase tasting menu, brings a casual eight-seat concept Norigami to Plant Street Market. The menu is developed by Chef David Tsan of Soupakase, Morimoto Asia, and Kabooki Sushi fame. Norigami is already getting praise as a MICHELIN Restaurant in Orlando.
Brew Theory opened a Brew Theory Marketplace at 2650 Jewett Lane Sanford, FL 32771.
Related: A Beer Lover's Guide to Breweries in Orlando
A New Take on Local Favorites
Throughout Orlando, beloved food concepts and restaurants continue to evolve in interesting ways.

808 E. Washington Street, Orlando, FL
Jack & Honey's is a new upscale diner in the heart of Thornton Park in downtown Orlando and replaces the 808. Jack Lambert of Hammered Lamb is the owner and has partnered with Wendy Connor, who was also an owner of the 808.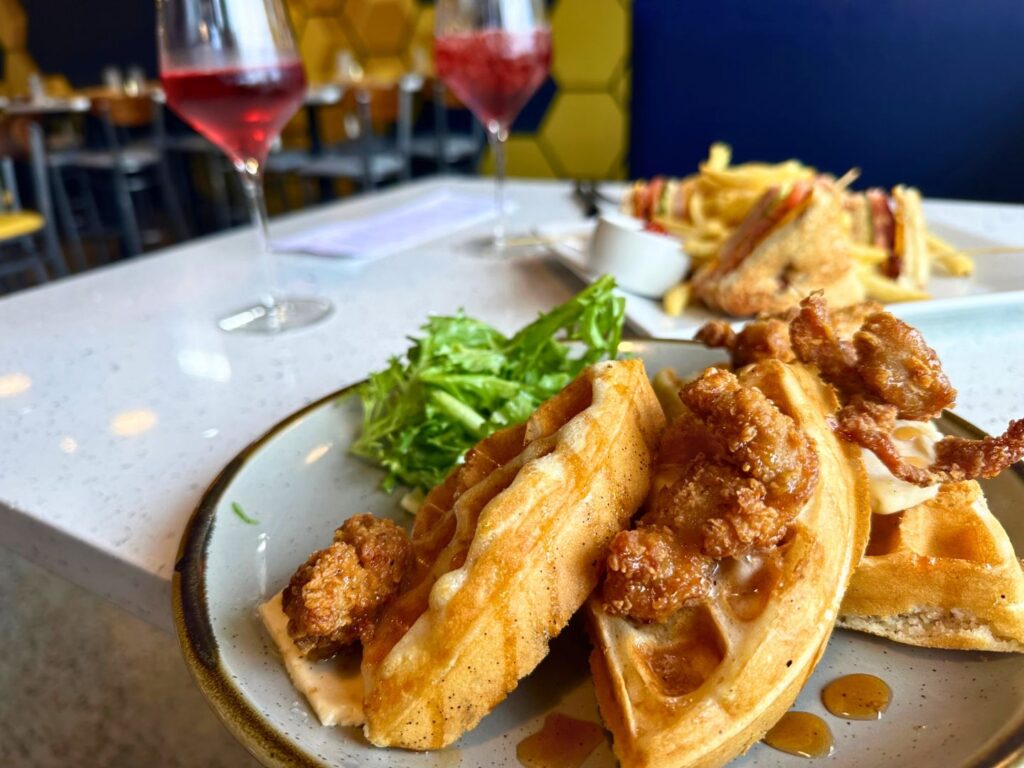 2122 Edgewater Drive, Orlando, FL 32804
Turci Panino is an authentic Italian sandwich shop, from the same people that brought us Turci Pasta. They offer a selection of Italian panini sandwiches served on your choice of three breads. They even have a vegan option that would please even the pickiest meat eater.
More notable new concepts…
Now open in historic downtown Sanford is The Wildflower cocktail bar. This favorite spot in Baldwin Park will now have a second location in Sanford, at Magnolia Square.
And new in downtown Sanford is a new dining concept from Hollerbach's Willow Tree. This new dining concept is serves cocktails, beer, and German tapas.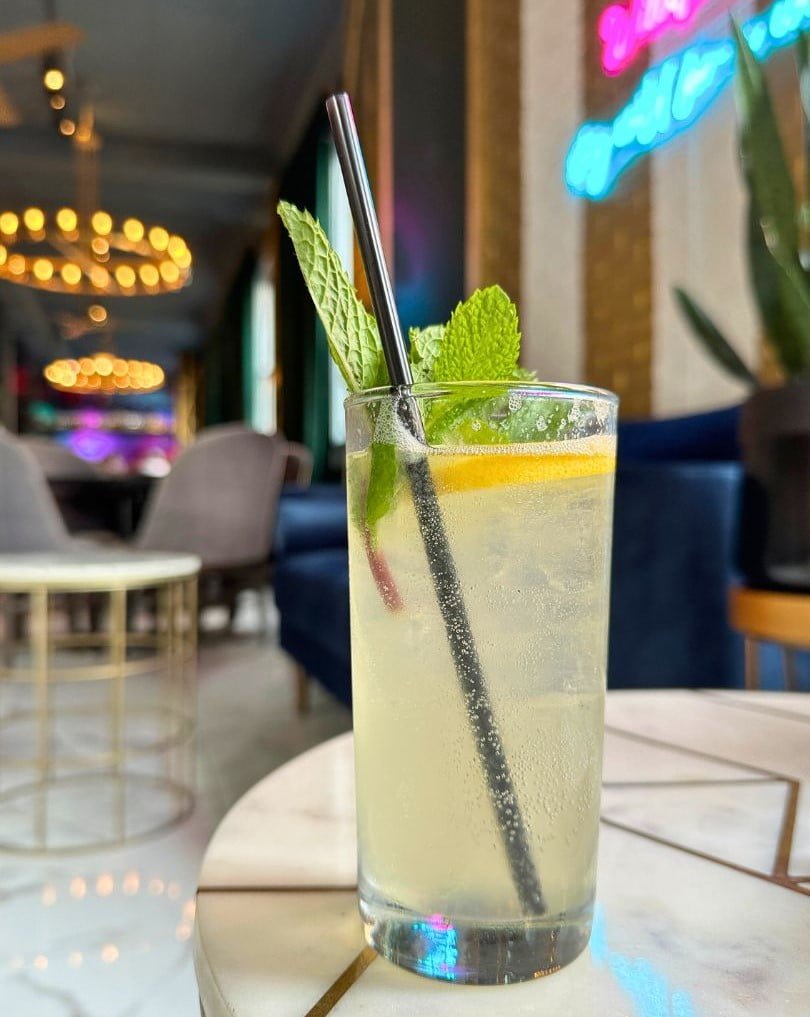 Cocktail at The Wildflower Sanford (Dani Meyering)
1455 State Road 436, Unit 117, Casselberry, FL 32707
Back in 1995, Orlando's Tex-Mex dining scene experienced a culinary fast-casual revolution. Brian Wheeler, affectionately dubbed the "Big Taco," introduced a hometown, fast-casual Tex-Mex concept, named Tijuana Flats. In 2015, Brian sold Tijuana Flats to a private equity firm, which ended up diverging from Brian and Camp's original vision and altering its core essence.
Today, the Wheeler Family, led by oldest son, Jake, has reintroduced Orlando to simplistic, made-to-order Tex-Mex with the opening of Big Taco. Upon entering Big Taco, there's an immediate essence of cool, old Las Vegas with a distinct, strong personality. Big Taco serves Tex-Mex cuisine with a focus on simplicity and robust flavors. The menu includes all the classic dishes like tacos, burritos, quesadillas, enchiladas, and salads. Specialties include items such as a chili smothered burrito – and more.
Fine Dining
6004 Artist Ave, Orlando, FL 32827
Nami's contemporary Japanese concept sparkles with European elements in its approach to the modern dining experience. Discretely positioned in Lake Nona's art-forward Wave Hotel, the world-class team of chefs has collaborated to bring a one-of-a-kind menu served in an imaginative dining room. The cocktail bar offers elevated mixology in its precise and beautiful cocktails.
As the night evolves the cocktail bar and dining room become one to create a retreat with in-house DJ led vibes and special late night menu offerings.

1100 S. Orlando Ave, Winter Park, FL
Moso Nori, a concept by James Beard Award finalist Henry Moso, is coming to City Place in Winter Park in the summer of 2024. The restaurant will feature an island bar with 30+ seats, where Moso and his chefs will serve cylindrical rolls fashioned from premium roasted Japanese nori and filled with everything from dry-aged fish to foie gras to vegetables.
Cocktails + Sweet Treats
1336 N Mills Ave, Orlando, FL
Lamp & Shade is Mills area's newest dining and nightlife concept. Playfully yet eloquently named, Lamp & Shade Craft Kitchen and Cocktails got its inspiration from the idea to 'hangout and throw some shade in conversation' while paying homage to the history of its building, previously The Lamp Shade Fair, well-known by locals for over 50 years.
930 N Mills Ave, Orlando, FL 32803
This recently opened "friendly neighborhood absinthe house" comes from the owners of the Sanford tiki bar Suffering Bastard and former dive bar Bitters & Brass. Like Suffering Bastard, Death in the Afternoon's name comes from the Ernest Hemingway-created drink made with champagne and absinthe. Fans of the Green Fairy will find a tightly curated roster of both Swiss- and French-style offerings from around the world
And there are other new cocktail spots in town to visit.
The newest tiki bar in Orlando is Permanent Vacation in Maitland. We absolutely loved our first visit here and plan to visit again. Check out reservation info and what you need to know to visit Permanent Vacation tiki bar.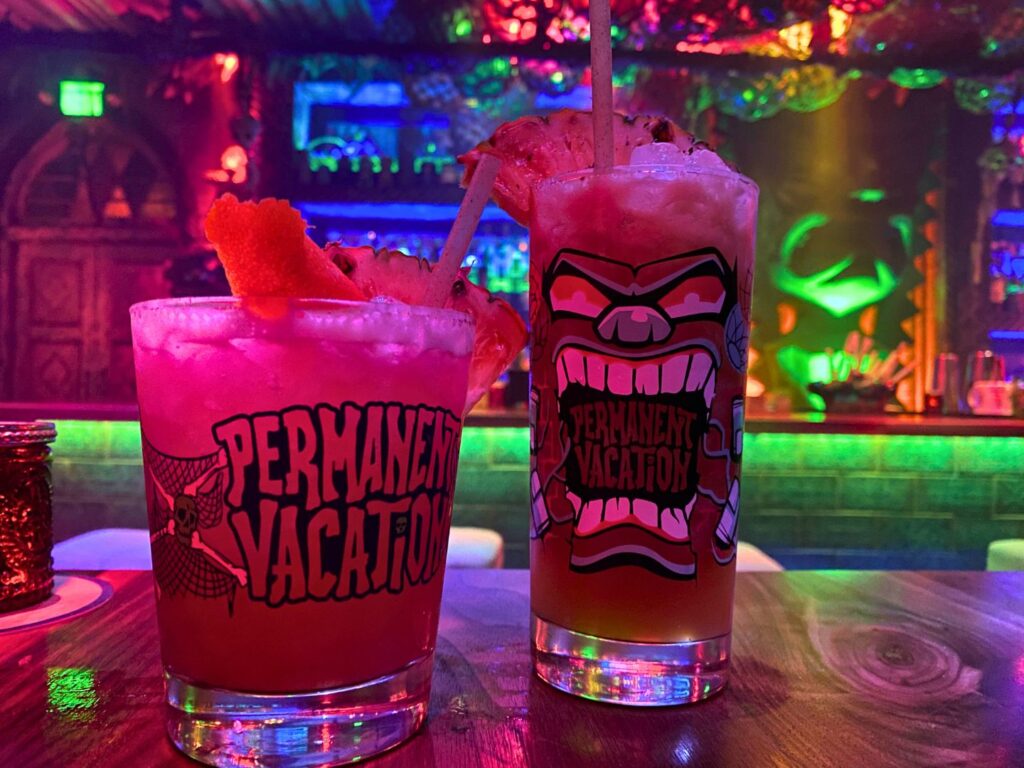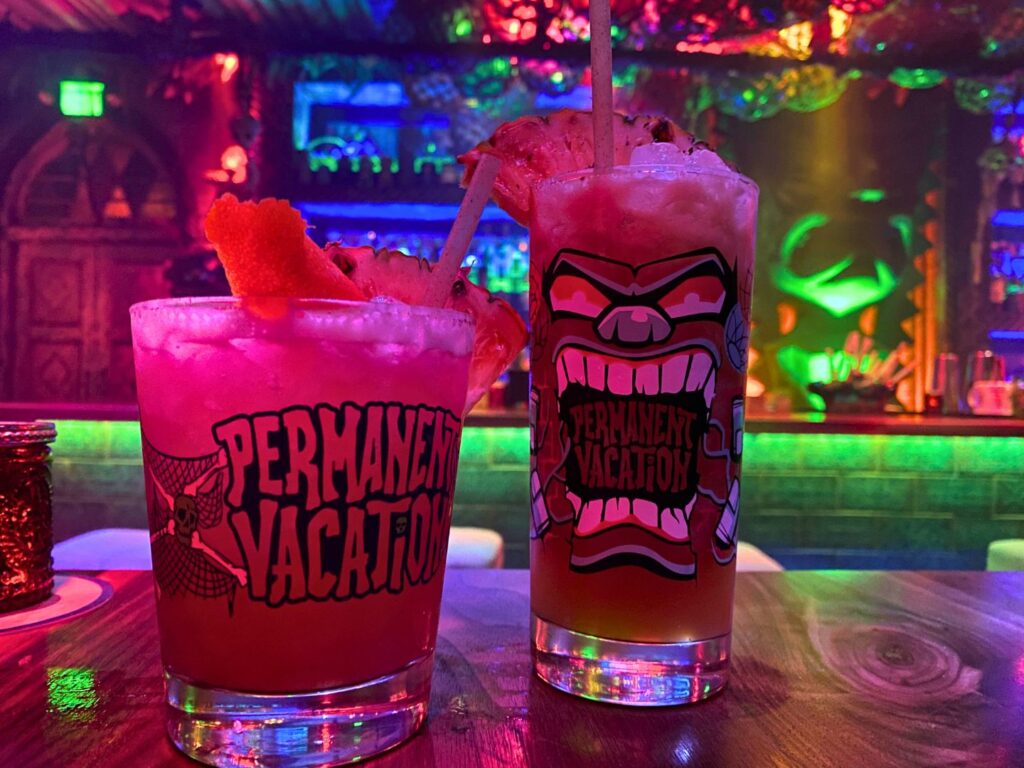 Opened in the Fall of 2023 in Winter Park is Forward/Slash tasting room. Blended for the discerning whiskey lover and the newly converted – FORWARD/SLASH is whiskey meant to be savored, not stashed away.
Orlando's first meadery, Zymarium Meadery on Mills, opened officially on August 19, 2023! This space is really cool and inspired by honey and honeycombs. Mead is a distilled drink made from honey, and it is gluten-free.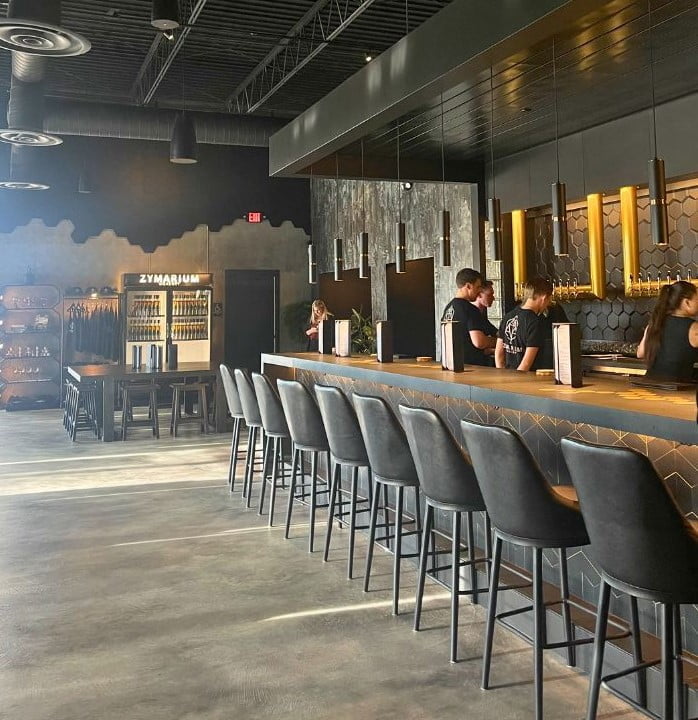 Colonial Lanes is reborn as Primrose Lanes Restaurant and Bowling Club. Drink, dine and bowl with lanes of fun, plus a dining space helmed by some familiar names from Orlando's culinary scene. Chef Nick Grecco (Cask & Larder, Black Bean Deli) developed the menu, and you can get your cocktail fix at the bar overlooking the lanes.
Be sure to notice the timeline of this historic property, displayed along the dining room. There are so many details and decor that repurpose parts of the original bowling alley that originally opened in 1959.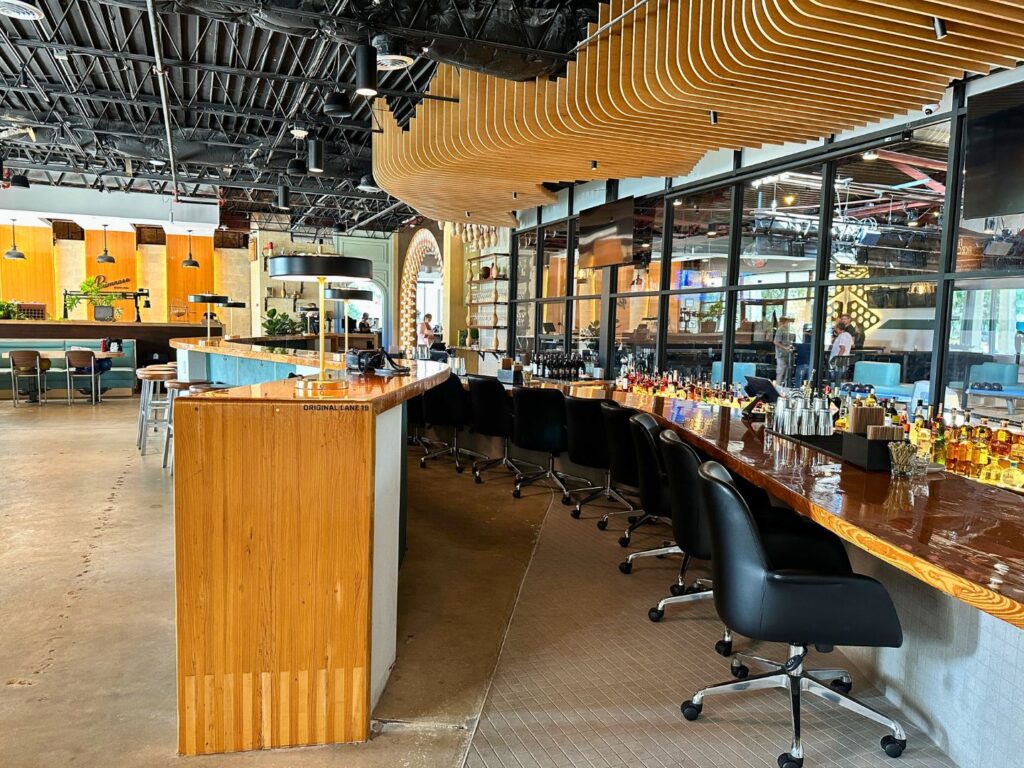 Winter Park Village is undergoing a massive renovation and reimagining. One of the new places to grab dessert in Orlando will be Jeni's Ice Cream. The ice cream you'll find here is decadent and chef-driven. The rich, gourmet flavors are definitely date-worthy. Jeni's Ice Cream is now open.
Also at Winter Park Village, we love the Flutes Champagne Bar concept, it's perfect for date night!The doors opened on December 1, 2023.
The menu focuses on champagne, sparkling wine, as well as distinctive wine, and a few craft beer selections. The atmosphere is very nuveu Winter Park, a modern lounge with multiple homages to the glamourous days of Hollywood past.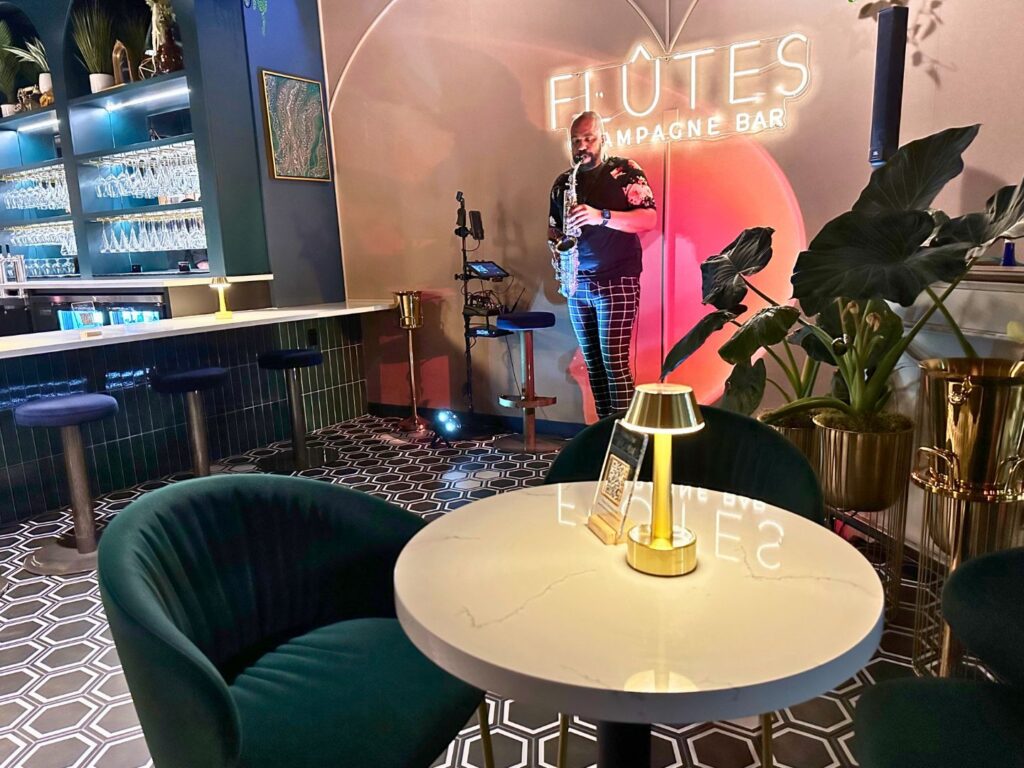 New Additions to Pointe Orlando
Pointe Orlando has new venues in its current playful lineup. With more food to try and more experiences to have, The Pointe continues to be a must-try on International Drive.
JoJo's ShakeBar
Kavas Tacos + Tequila
Will to Escape
Earth Illuminated
Something sweet has arrived at Pointe Orlando. Full of nostalgia and fun, JoJo's Shake BAR is a fun date night spot or Girls' Night Out with decadent shakes, cocktails, mocktails, and sharable food.
Kavas Tacos + Tequila officially opened on May 5, 2023 (Cinco de Mayo) at Pointe Orlando as a third offering from the founders of Taverna Opa and Tapa Toro. The menu features savory comfort food, fresh tableside experiences, and hand-crafted recipes that pay tribute to Mexico's rich culinary history.
READ MORE: 18 Unique Bars in Orlando
New Arts & Culture Experiences
In February 2024 Orlando will have its own version of the legendary listening rooms of the world's most musical cities. Judson's Live is an intimate artistic oasis. The atmosphere is low-key with a stylish slant, anchored by a grand piano once belonging to Judson Green, the late jazz musician, beloved Dr. Phillips Center board member.
Judson's Live is your place to escape the world for 90 minutes. To take-in the surroundings as much as the delicious food and drinks, while discovering new music in the span of a 50-minute performance.
Order from a curated scratch-kitchen menu of small shareable plates, developed by executive chef Jason Klingensmith.
Enjoy a craft cocktail or beverage from our extensive brown spirits menu, or delve into exceptional wine offerings hand-selected by the in-house sommelier.
Related: Tips for a Broadway in Orlando Date Night
Cirque du Soleil – Drawn to Life premiered at Disney Springs in November 2021, replacing La Nouba. And new segments were added in early 2023. This imaginative new adventure transforms the stage into a giant animation table where the art is literally brought to life via dazzling choreography, daring feats, and a timeless soundtrack worthy of the Disney name.
Art² (Art Squared), a new interactive art park, is slated to open in downtown Orlando (E Robinson St. & N. Orange Ave.). Plans for the urban park include a two-story shipping container structure, food trucks, picnic tables and hammocks, a stage, an art gallery, a café and a 19×10 foot LED video wall used for art, events, streaming festivals, and movies.
The installation will host both free and ticketed events throughout the year and welcome everyone to share in Orlando's community vibe.
AREA15, a "Wanderland of Art, Music & Entertainment" based out of Las Vegas, is projected to open an Orlando location in 2024. This multifaceted, immersive art venue is intended to house a variety of creative experiences that are both hands-on and approachable for visitors from all backgrounds.
Consider it a playground for all ages. The Vegas location even includes a Liftoff Lounge and an open-air balloon ride! Stay tuned for more details on what we can expect from the Orlando location.
What's New at Orlando's Theme Parks
New Experiences at Walt Disney World
Guardians of the Galaxy: Cosmic Rewind is now open at EPCOT as one of the longest-enclosed coasters in the world. And TRON Lightcycle Run at Magic Kingdom just debuted, as well as Moana: Journey of Water at EPCOT.
One of our sibling sites, Tampa Bay Parenting has a full rundown of all the New Rides and Shows Coming to Walt Disney World.
What's New at Universal Orlando
2024's Universal's Mardi Gras starts in early February with the beloved parade and unique food. The Holidays at Universal Orlando are in full force. 
Illumination's Villain-Con Minion Blast arrived to Universal Studios in the summer of 2023. Work continues on the resort's upcoming Epic Universe park, which is planned to open by 2025.
New Coaster(s) at SeaWorld Orlando
SeaWorld Orlando's brand-new Ice Breaker coaster debuted one year ago. The ride features multiple forward and backward launches, a 100 degree "beyond vertical" drop from a 93 foot spike, and a top speed of 52 MPH.
The World's First "Surf Coaster" called Pipeline debuted in May 2023 and it is awesome!! This roller coaster is unlike anything in Orlando. You're actually standing up as you twist and turn!
Here's to an exciting year in Orlando!
---