The Sunshine State is bursting with fun-in-the-sun getaway options for couples. Some of the most popular destinations are situated in South Florida – like Miami Beach and the Florida Keys. But 2.5 hours southeast of Orlando awaits 2,300 square miles of tropical paradise including 47 miles of unspoiled Atlantic Ocean beachfront. We're talking about the Palm Beaches! The area includes 39 cities and towns, from Juno Beach to Boca Raton. For a romantic getaway, we've compiled the perfect itinerary for three perfect days in the Palm Beaches spent exploring Jupiter (north end), Palm Beach and West Palm Beach (central area).
About the Palm Beaches
Henry Flagler, a hotelier and oil magnate, is credited with putting the Palm Beaches on the map. He spearheaded a pedestrian-friendly railway that brought visitors to this beach retreat. And, in 1894, he built both the Royal Poinciana, the first luxury hotel, and the Palm Beach Inn, which is now famously known as The Breakers, a mansion-like resort. Thanks to Flagler, the Palm Beaches was deemed "America's First Resort Destination", but the area has much more to offer.
STAY
Hyatt Place West Palm Beach/Downtown
Maybe a chain hotel isn't the first option that comes to mind when booking a couples getaway. But, sometimes, that's all you need ─ especially if you plan to be out and about during a short vacay without time to lounge around in a cozy Airbnb. The Hyatt Place West Palm Beach/Downtown is located downtown within walking distance of area attractions. Plus, it offers complimentary breakfast, a 24-hour fitness center, Jacuzzis, onsite parking ($20/night) and a lobby bar with happy hour specials and live music on Wednesdays and Fridays. And you can hop on the hotel's complimentary shuttle to reach surrounding hotspots.
Grandview Gardens Bed and Breakfast
For a homier vibe, consider the Grandview Gardens Bed and Breakfast in West Palm Beach. This historic property built in 1925 was beautifully restored to enhance its original Spanish-Mediterranean architecture. All guest rooms have a private entrance and French doors that open to terraces overlooking the pool. Breakfast is included, of course. If you're traveling with other couples, Grandview Gardens also has two historic rental homes adjacent to the B&B.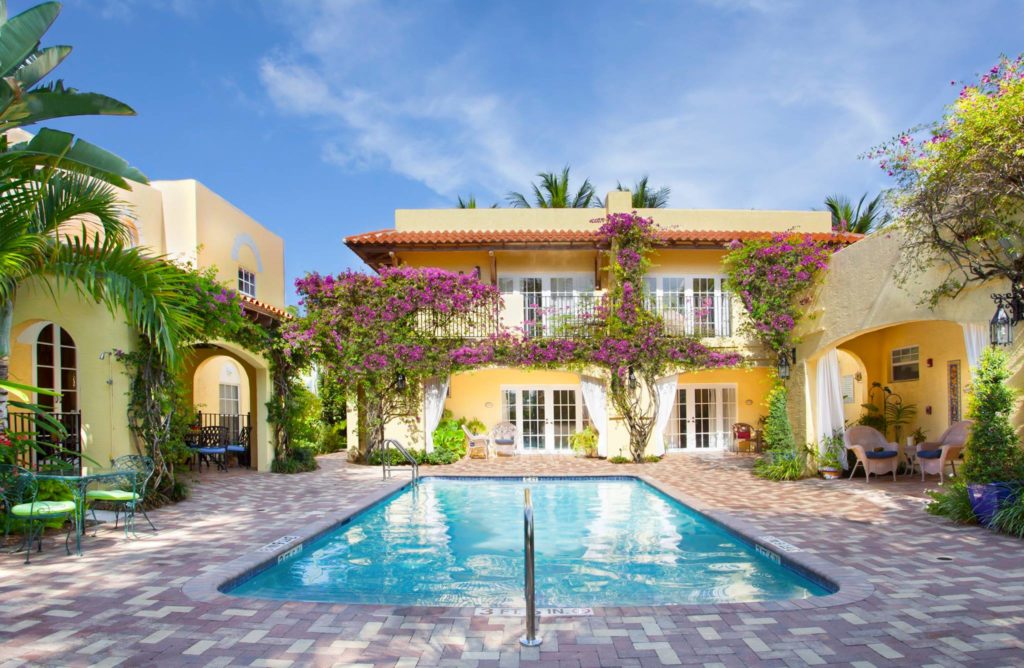 Jupiter Beach Resort and Spa
As the only beachfront hotel in Jupiter, Jupiter Beach Resort and Spa encourages guests to embrace sandy toes. Aside from hitting the shore, lounge in hammocks swinging from dune trees and snuggle up on plush couches surrounding the beachfront fire pit. There are two onsite restaurants, an oceanfront pool (with live entertainment), a waterfall hot tub, basketball/tennis/shuffleboard courts and more.
PS: Many hotels in the Palm Beaches offer free nights so you can extend your stay!
PLAY
Outdoor/Nature Adventures
Beach
A little sand and surf is a given, right? While there are plenty of beach miles, set your GPS to 423 S. Ocean Blvd., Palm Beach (aka the Worth Avenue clock tower). Here you'll find street parking, including 1-2 hour freebie spots and Parkmobile paid spots. Aside from turquoise water and tan sand, rock jetties offer an interesting view. Like its 'Palm Beach' namesake, you'll see plenty of coconut palms near the beach and throughout the area; however, these trees aren't native. The beautiful vegetation sprouted after 20,000 coconuts washed ashore from a shipwreck in 1878! Here's a complete list of beaches.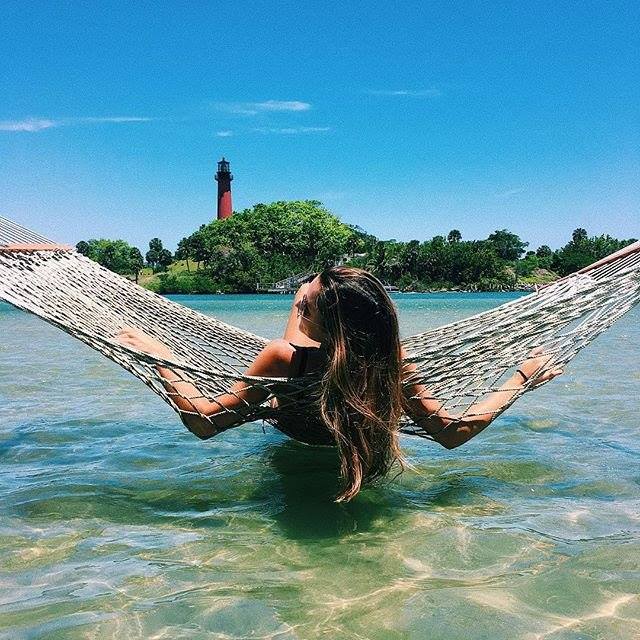 Jupiter Inlet Lighthouse & Museum
The lighthouse is actually the oldest building within the Palm Beaches, dating back to 1860, before Flagler's influence. The nautical structure once housed the city's first residents – the lighthouse keeper and the assistant lighthouse keeper. It may be the oldest attraction, but it remains one of the most prominent and popular today. Use the iPhone app tour to explore at your pace, or take one of two guided tours.
Also Try:
Local Tours
West Palm Beach Food Tour
For a flavorful exploration, eat up everything West Palm Beach has to offer on a food tour! CEO (that's Chief Eating Officer) Kristl Story combines her love for food and travel to serve up a combination of fare, history, culture and fun. The 3-hour tour takes you on a leisurely 1.5-mile walk through downtown, including the mural-clad main drag, Clematis Street, to six restaurants:
The walking tour is $65 with one cocktail or $75 with three cocktails. There's also a driving tour that goes off the touristy path and into historic neighborhoods.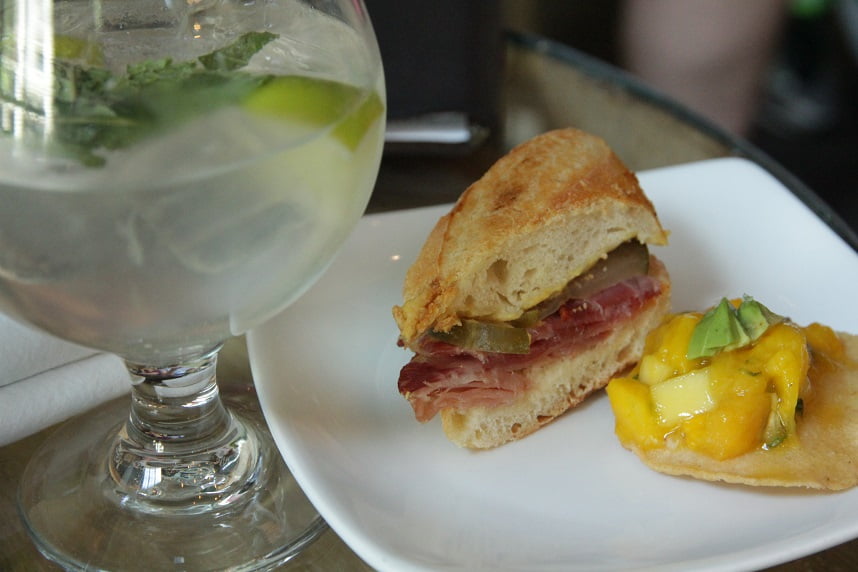 Island Living Tour
Palm Beach is a popular hideaway for the rich and famous. Longtime resident and sassy chatterbug Leslie Diver offers a private sneak peek (via walking, driving or biking tour) into the pristine 13 miles inhabited by 31 billionaires. You'll start at the Flagler Museum, built in 1902 as the winter home of the influential Flagler family. Aside from pointing out the stunning design, Leslie shares interesting (and perhaps provocative) tidbits about the family and more. This inside scoop style continues on the drive down "Billionaire's Row," which includes Mar-a-Lago, the 128-room mansion owned by President Donald Trump. Politics aside, the history of this National Historic Landmark is interesting.
Once a club and spa, Mar-a-Lago was built in 1927 by American socialite and owner of General Foods, Inc. Marjorie Merriweather Post. Following her death in 1973, she bequeathed the property to the National Park Service in hopes it would become the winter season White House. Unable to maintain the property, Mar-a-Lago was returned to the Post Foundation and bought by Trump. Since he's now President, it looks like Post's dying wish came true.
Also Try:
Shopping/Pedestrian Areas
Worth Avenue
Worth Avenue is one of the most beautiful shopping venues in the country. It's basically the Rodeo Drive of the east coast. Here you'll find eateries and beautiful boutiques stocked with designer fashions, gifts, art, antiques and jewelry.
CityPlace
This pedestrian-friendly strip features ancient architecture and fountains and is more casual, but just as beautiful as Worth Avenue. The main street is adorned with the "world's longest road tattoo" art installation. The design is titled Genii Loci (Latin for the protective spirits of a place) and features the names of people who have protected and supported the unique character and well-being of West Palm Beach.
Also Try:
Arts & Culture
Over 200 cultural attractions make the Palm Beaches "Florida's Cultural Capital" with theaters, museums, art centers, indoor and outdoor auditoriums, gardens and other cultural venues. Be sure to check out the Warehouse District.
Brewhouse Gallery
The Brewhouse Gallery describes itself as part art gallery and part craft beer oasis. It presents some of the most limited craft beers, a full wine list, homemade sangria and catered food nightly… all in a creative space.
Outdoor Amphitheaters
If you're a sucker for outdoor concert venues, check the calendar listings for Canyon District Park Amphitheater in Boynton Beach, Burt Aaronson South County Regional Park Amphitheater in Boca Raton and Seabreeze Amphitheater in Jupiter. Doesn't music just sound better with the breeze?
Events
If you want to plan your visit around a seasonal event, check out the Palm Beaches calendar of festivals and more.
Also Try: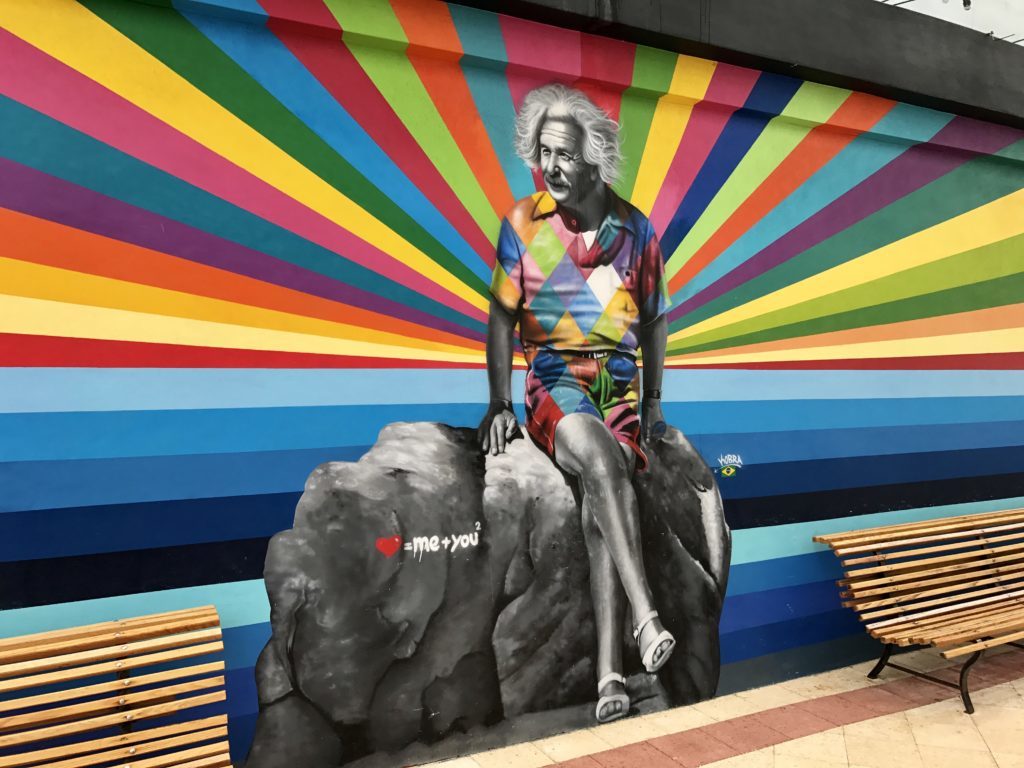 Sports
Florida's Golf Capital
Take your pick of 160 public and private golf courses, including the famed fairways at PGA National Resort & Spa, The Breakers Palm Beach, The Seagate Hotel & Spa's Seagate Country Club and the Boca Raton Resort & Club.
Ballpark
The 2017 World Series Champion Houston Astros and NL East Champion Washington Nationals entertain baseball fans at this 7,700 capacity stadium. It has a 360-degree concourse, the Banana Boat Lawn, suites and party decks.
Paddle & Surf
Dive into watersport fun with Blueline Surf & Paddle Company. You can take stand-up paddleboard lessons, embark on an eco-tour or even brave yoga on the water. They also rent kayaks, paddleboards and surfboards.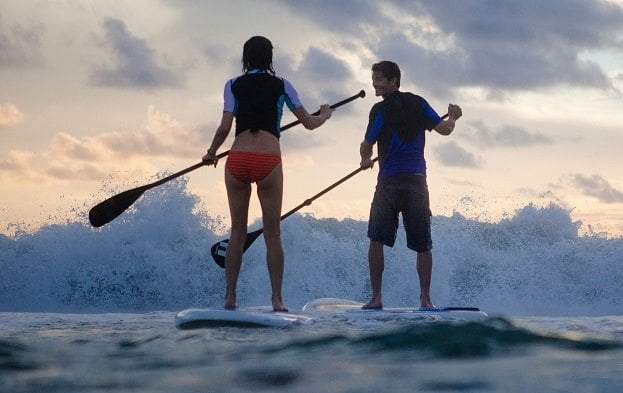 The surfing icon Kelly Slater is set to open a state-of-the-art wave park, Kelly Slater Wave Park. It will incorporate a 2,000-foot-long artificial lake in Jupiter Farms, which will generate man-made waves perfect for hanging 10.
On land, the Surfing Florida Museum features photographs and antique surfboard collections from master-shapers Bill "Holmesy" Holmes and the late Dick Catri, known as "the godfather of East Coast surfing." The museum is considered the most comprehensive surfing museum on the U.S. East Coast
Revolutions Bowl
If the rain keeps you away from the beach, head to this hip bowling alley. Score some strikes and spares, and also check out the restaurant, bar, live entertainment and dance floor.
DINE & DRINK
The area boasts about 2,000 dining establishments, including some led by renowned chefs. Here are recommendations for each meal:
BREAKFAST: Johan Joe's Swedish Coffee House
I enjoyed this contemporary breakfast and lunch cafe so much during my food tour visit (as noted above) that I went back the following morning to feast on Swedish pancakes (similar to crepes), smoked salmon, pickled herring and an assortment of pastries!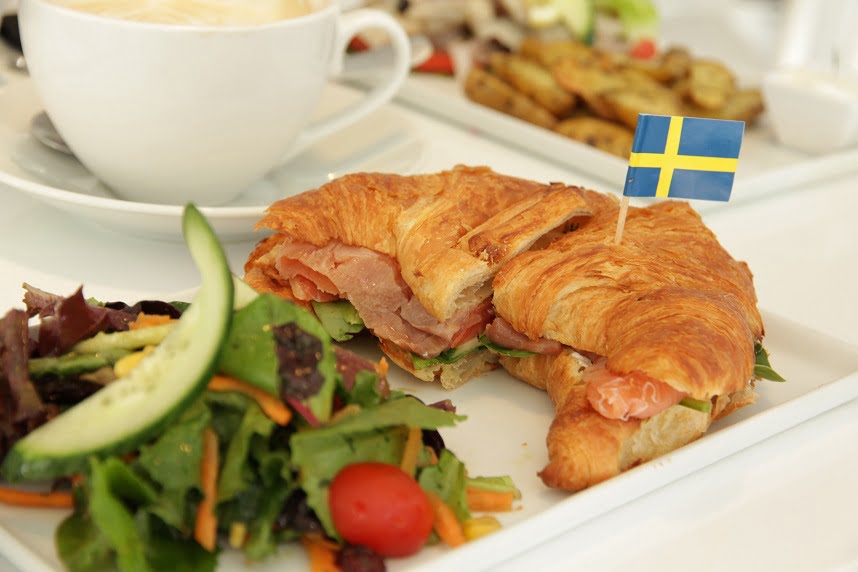 BRUNCH/LUNCH: Guanabanas Island Resturant and Bar
This waterfront restaurant and bar is a quintessential beach bash place! For brunch, enjoy the Bloody Mary bar, donut and waffle bar, paella bar and more. The lunch/dinner menu is full of land and sea selections but, since the chef uses wild-caught Florida Atlantic shrimp and Florida blue crab, opt for the seafood. To start, try the smoked fish dip served with sliced jalapenos, lemon and crackers. For the main course, try macadamia-coconut fresh catch with mango-pineapple salsa and two yummy sides. Feel free to pop in just for drinks and dancing along with the live band, or watch boats cruise by as you relax in Adirondack chairs on the dock.
DRINKS & APPS: RH Rooftop Café
Garden in the sky? Sort of! Perched on top of the new, four-story Restoration Hardware in Downtown West Palm Beach, the interior of this restaurant is a gorgeous garden with a fountain, greenery and chandelier. If you're in the mood for fresh air, the exterior wrap-around patio is lined with plush couches. All seats guarantee views of the sunset which is why this spot is perfect for pre-dinner drinks and appetizers. The menu offers excellent shareables, like the Delice de Bourgogne Cheese Board served with homemade glazed pecans, strawberry preserves and a warm baguette. I nibbled every morsel of this dish and then went straight to the sweet stuff… the RH Banana Split! The wines and cocktails are lovely but don't forget about the coffee bar, tea service and cold-pressed juices. If you want to shop and sip simultaneously, it's A-OK.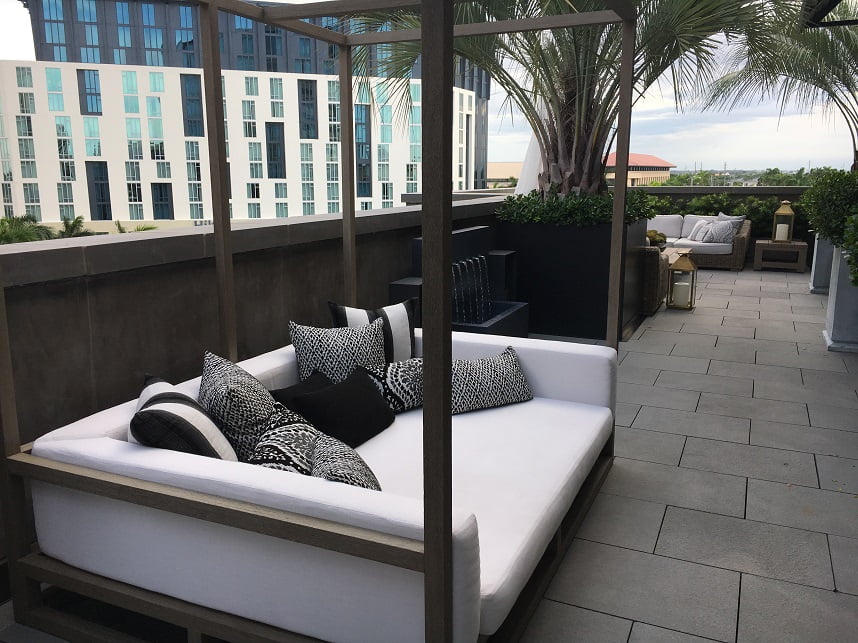 DINNER: Ta-boo
Located on the prestigious Worth Avenue, Ta-boo calls itself "Palm Beach's legendary American bistro and bar." Why legendary? Opened in 1941, the restaurant has always been a go-to place for celebrities such as President Kennedy and Frank Sinatra and, as of late, Rod Stewart, James Patterson and Hoda and Kathy Lee. And Ta-boo claims to have invented the Bloody Mary when socialite Barbara Hutton requested a soothing drink after a night of partying. Lastly, on occasion, models representing Worth Avenue boutiques stroll the dining room with products so you can dine and shop at the same time!
Breweries:
Also Try: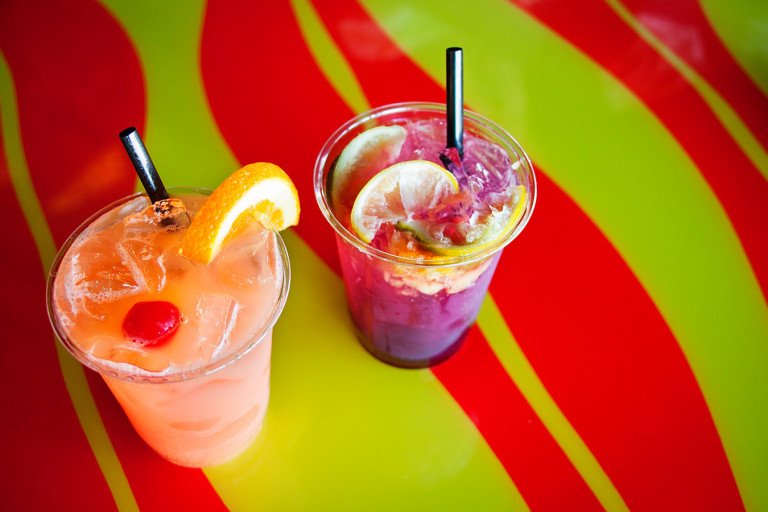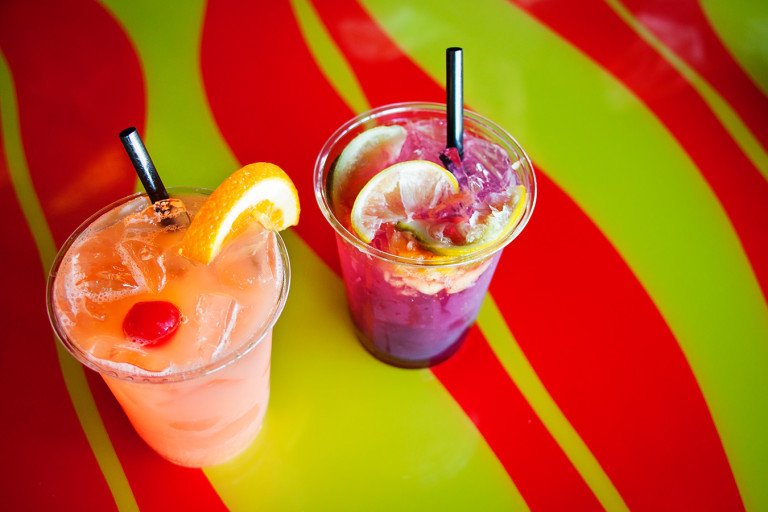 Know Before You Go
Getting Around
Hop on the Brightline for express inter-city passenger rail service to day-trip to Fort Lauderdale or Miami. When exploring Downtown West Palm, hop on and off the free trolley.
Cruises
The Port of Palm Beach invites couples to set sail with various cruises.
Feature image credit: Jupiter Beach Resort & Spa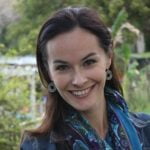 Nancy DeVault is the managing editor of Date Night Guide. She also contributes to publications such as Babble, AmeriDisability Services Magazine and Orlando Magazine. She enjoys outdoor adventures with her husband and toddler.