This contest is now closed. Winner: Melissa Becker  (entered on Thursday, Jun 11 @ 08:51 am)
It's time to kick off another Couple at Large giveaway, which will give one lucky couple the chance to experience an unbelievable, unforgettable, all-expense-paid date night…. or in this case, getaway!
The winner will have just one favor to return: the pair become the Couple at Large and are tasked with reporting back with a short, first-person blog about their experience.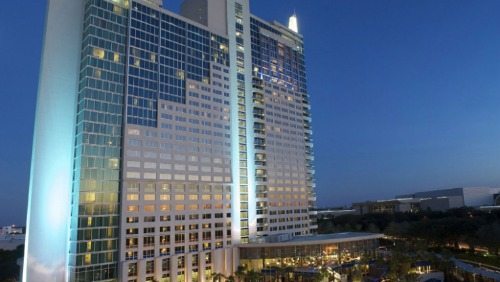 This month, the Couple at Large will experience the Hyatt Regency Orlando with a package that includes overnight accommodations plus a romantic dinner for two.
The winner will receive a one-night stay in a Metropolitan Suite inside the towering 31-floor Hyatt Regency Orlando. Located on International Drive, this massive property is just a stone's throw from some of the area's best nightlife offerings including Orlando Improv, Howl at the Moon and the new Orlando Eye at I-Drive 360.
The lucky winner will also receive a private cabana at the Hyatt's lovely outdoor grotto pool.
Finally, this spectacular package also includes dinner for two at Fiorenzo Italian Steakhouse, a classic meets contemporary Italian restaurant where Chef de Cuisine Will Walters is wowing guests with innovative yet highly approachable cuisine. Read our earlier review.
TO ENTER: Enter using the Rafflecopter widget below and cross your fingers. You and your sweetie can each enter… double your chances. **Be sure you are viewing this page in a browser (not a reader) in order to see the entry widget.**
The winner will be chosen—completely at random—on Friday, June 19, 2015 using the Rafflecopter's random winner generator. Watch your email that morning; that's how we'll be contacting the winner. We'll also be announcing the winner on Twitter and Facebook.
RULES & RESTRICTIONS: No purchase necessary. Must be 21+ to enter. This prize must be redeemed between June 22 and July 13, 2015. Advance reservations required. Read the entire Official Rules and Terms.