Wow! 2014 was quite a year for Orlando Date Night Guide. For starters, we changed our name from Great Dates Orlando to Orlando Date Night Guide, made some snazzy design changes to the site (thank you, Ghost Pepper Creative!) and launched an Instragram account that now has more than 1,200 followers. Oh, and the Orlando Date Night Guide Facebook page is just a stone's throw away from reaching 10,000 fans!
We also posted 275 stories and received nearly a million pageviews! So, we sifted through our analytics to see which blogs you loved (and visited) the most and pulled them together in this one 'end-of-the-year' round-up.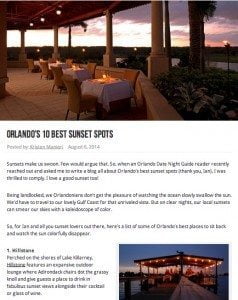 100 Ideas
This post is, and probably always will be, one of our most popular posts because, let's face it, it houses so many ideas, all organized neatly together in one convenient place. We updated this page several times during 2014!
$30 Date Nights
We Orlandonians love our frugal finds, and date night is no different. This blog, also updated throughout the year, houses six date night ideas that will cost $30 and not a penny more!
15 Must-See Shows and Concerts at Dr. Phillips Center in 2015
The Dr. Phillips Center for the Performing Arts has a slew of big name artists and productions set to hit the stage inside the new state-of-the-art urban cultural hub. In 2015, Downtown Orlando will host a non-stop line-up of fantastic shows, and this blog post gave our recommendations for the best ones to check out on date night.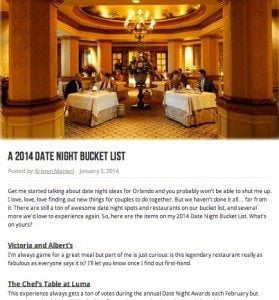 A Date Night Bucket List
You loved this blog post highlighting our picks for the date nights we most wanted to experience in 2014. In fact, emails and social media comments we received told us that many of you followed suit with your own 2014 bucket list!
9 Tips for a Perfect Enzian Date Night
Maybe you've never been there or perhaps it's been a really long time, but this blog reminded couples of how wonderful Enzian is for date night. Filled with tips for taking your Enzian date night over the top, this post was one of the year's most shared posts.
Thank you, sincerely, for making Orlando Date Night Guide your go-to site for all things date night in Orlando. It's truly been a pleasure to serve and inspire you.
Looking forward to more great things in 2015!
Happy New Year
With love,
Kristen Manieri & the Orlando Date Night Guide team