$30 is all you need for a fabulous date night out. Don't believe me? Check out these four itineraries sure to make your next date night a fun AND affordable venture: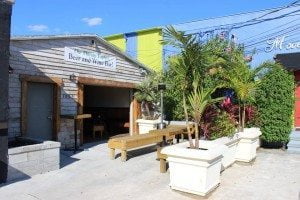 Audubon Park
Sandwiches at Bikes, Beans and Bordeaux ($14 + tax/tip = $16 )
Sweet treat to share at P is for Pie ($3)
2 beers at Redlight Redlight ($11 with tax and tip)
Total Cost: $30.00
Duration: 2.5 hours
*** Bikes, Beans and Bordeaux hosts Curtis Earth Trivia on Monday nights starting at 6:30pm. You might even win a $15 gift card!
Ivanhoe Village
Friday Night Wine Down at Tim's Wine Market – Every Friday from 4-6pm (free)
Share a 14" pizza at Wolfies Pizzamia ($15 + tax/tip = $18)
Shared dessert at Twisted Bliss ($3)
Beers at Thirsty Topher Beer & Wine Bar ($9 with tax and tip)
Total Cost: $30.00
Duration: 3 hours +
Winter Park: Self-Guided Sugar Crawl
Stop 1: Peterbrooke Chocolatier (2 truffles = $3)
Stop 2: Croissant Gourmet – closes at 6pm (2 chocolate croissants = $7)
Stop 3: Kilwins Winter Park (2 truffles or chocolates = $4)
Stop 4: Le Macaron (2 macarons = $4)
Stop 5: Park Station (2 glasses of wine = $5 each during Happy Hour Monday – Saturday 4pm-7pm)
Total Cost: $30.00 (+ a couple bucks for gratuity)
Duration: 2.5 hours
Downtown **Tuesdays Only**
$4 apps and drinks at Kasa Restaurant during Tasting Tuesday, 5-10pm (2 apps and 2 drinks = $19 including tax and tip)
Tickets to Lab Rats at SAK Comedy Lab, Tuesdays at 7:30pm (2 x $5 tickets)
Total Cost: $29
Duration: 2.5 hours
Trade Joe's Pig Out
You can binge on junk food like nobody's business at Trader Joe's with just $30 and a commitment to judgment-free indulgence. Read all about it in this $30 Trade Joe's Date Night post.
$30 Mini Putt Date Night
Check out this list of give different places to have a wallet-friendly mini-putt date night.
WAIT!!! Here are 3 MORE UNDER $30 IDEAS