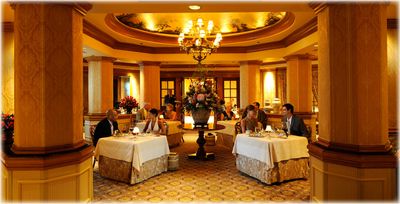 Get me started talking about date night ideas for Orlando and you probably won't be able to shut me up. I love, love, love finding out new things for couples to do together. But we haven't done it all… far from it. There are still a ton of awesome date night spots and restaurants on our bucket list, and several more we'd love to experience again. So, here are the items on my 2014 Date Night Bucket List. What's on yours?
Victoria and Albert's
I'm always game for a great meal but part of me is just curious: is this legendary restaurant really as fabulous as everyone says it is? I'll let you know once I find out first-hand.
The Chef's Table at Luma
This experience always gets a ton of votes during the annual Date Night Awards each February but we've yet to check it out. We're looking forward to experiencing why people love this epicurean escapade so much.
Date night cooking class at Truffles and Trifles
These couple-focused classes, usually scheduled one Saturday each month, always sell out, which tells me they must be pretty great. For the $130-$140 per couple price tag, I should hope so.
Orlando Improv
I've yet to be disappointed by a comic at this cozy comedy club at Pointe Orlando. It's time to head back again, maybe after dinner at one of our favorite restaurants: Cuba Libre.
Culinary Classes at East End Market
Since East End opened this past fall, I have been dutifully checking their calendar every few weeks to see when they would launch their culinary education programming. Alas, it has begun and we're super psyched to try at least a few this year.
The Rusty Spoon
Lots of restaurants are touting farm-to-fork fare but this is one of the few downtown eateries that's truly sourcing from local farms. I can't wait to try the house made pickles!
Cress Restaurant
James Beard nominee and recent guest in Emeril's traveling culinary show, Cress is definitely worthy of the drive to DeLand.
The Goblin Market
Same goes for this tucked away Mount Dora eatery, which I hear is one of Lake County's very best restaurants.
K Restaurant
It's shocking, seriously unbelievable that we still haven't dined at this Orlando favorite. I can't wait to wander into the backyard kitchen garden to sip a cocktail after dinner.
Sushi Pop
I am constantly seeing people post their foodie pics on Facebook after visiting this Oviedo gem. Even today I overheard someone talking about how great the food is at Sushi Pop. She suggested I order the "Dirty South" dessert, advice I can't wait to follow.
"Once" by Broadway Across America
A lot of fabulous stage productions will make their way through Orlando in 2014, including Evita and Jersey Boys, but the one I am most excited about is Once, an atypical love story/musical. Marc and I loved the movie and eagerly anticipate it being brought to life on stage.
Hamilton's Kitchen
Have you seen the Alfond Inn? WOW! If the food is as good as the setting, this dinner promises to be fabulous.
The Courtesy Bar's Cocktail Class
I definitely will NOT be the DD the night we try this cocktail class, but even though I am such a lightweight when it comes to liquor, I'm really excited to learn more about the art of mixology and how to incorporate things like bitters in classic cocktails.
I'd love to hear what's on your 2014 date night bucket list! Leave a comment below.