The best EPCOT festival of the year has arrived. There are multiple festivals at EPCOT throughout the year, the most famous of which is the International Food and Wine Festival. But for many Disney fans, myself included, EPCOT's best festival is the Festival of the Holidays.
November 24, 2023 through December 30, 2023, you can enjoy enthralling live entertainment, traditional decorations everywhere, storytellers sharing holiday traditions, and delicious holiday food and drink. If you and your sweetheart love the holiday season, this festival absolutely needs to be on your list.
The Best Live Entertainment at the EPCOT Festival of the Holidays
Each World Showcase pavilion has a Holiday Storyteller, sharing the history and origin of international holiday traditions, in many entertaining ways.
This is perhaps my favorite part of the festival. Not only is each Holiday Storyteller entertaining, but they also share their traditions in such a way that can't help but inspire a feeling of joy. Each performance lasts about fifteen minutes, and the storytellers perform on a small stage not far from the main promenade. This makes it easy to grab something to eat or drink from a nearby Holiday Kitchen while you watch the storyteller.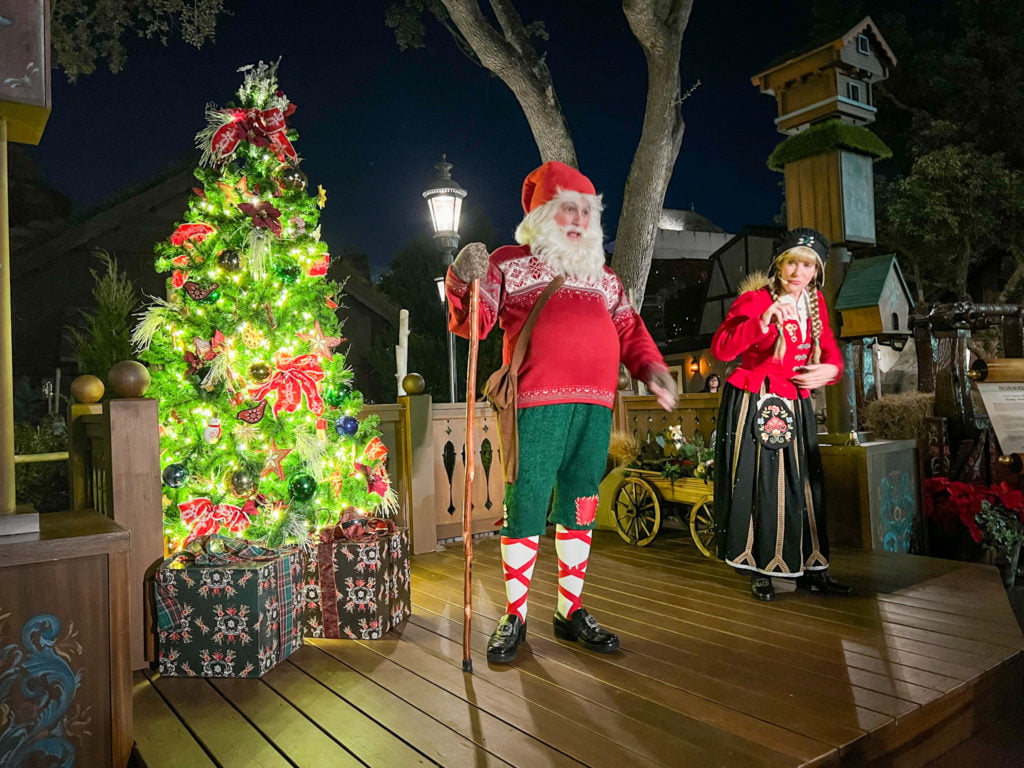 There is also an incredible vocal group singing holiday favorites and carols, with a Gospel spin. Joyful! A Celebration of the Season is an energetic and heartfelt performance. It's hard to resist putting your hands in the air or dancing along.
Showtimes are usually at 1:15pm, 2:20pm, 3:25pm, and 4:30pm. The stage is at the World Showcase Plaza, essentially the entrance to World Showcase. There isn't much shade in this area so plan accordingly.
Be sure to download the MyDisneyExperience app to look up showtimes for all of the entertainment in EPCOT, including the Holiday Storytellers. Generally, you can time it out to catch 2-3 storytellers one after another at neighboring World Showcase pavilions.
Is the Candlelight Processional Dining Package Worth It?
The Candlelight Processional, the hallmark of entertainment at EPCOT during the holidays, is back to its full spectacle. For many Disney fans, the Candlelight Processional is a time-honored tradition. It features a live orchestra, the incredible vocal choir Voices of Liberty, and a larger choir comprised of Disney Cast Members. Each night a celebrity narrator shares the biblical story of Christmas. It's a beautiful show.
Some guests wait an hour or more in line to get their seats. Others book a Candlelight Processional Dining Package. Depending on the restaurant, packages are generally $59 – $69 per person, and include a three-course meal along with guaranteed seating at the Processional.
This package may be worth it if you both really want to see the Candlelight Processional or want to see a particular celebrity narrator. The downside of the package is that while the participating restaurants are good, they're not necessarily EPCOT's best. I would recommend selecting the Biergarten buffet in the Germany Pavilion, or the Rose and Crown Dining Room in the United Kingdom Pavilion.
The 2023 lineup of celebrity narrators:
11/24 – 11/25: Chrissy Metz (NEW)
11/26 – 11/27: Luis Fonsi (NEW)
11/28 – 11/29: Ann-Margaret (NEW)
11/30 – 12/2: Simu Liu
12/3 – 12/5: John Stamos
12/6 – 12/8:

Neil Patrick Harris

12/9 – 12/11: Marlee Matlin
12/12 – 12/14:

Brendan Fraser

(NEW)
12/15 – 12/16: Eva Longoria (NEW)
12/17 – 12/18: Joey McIntyre (NEW)
12/19 – 12/20: Sterling K. Brown (NEW)
12/21 – 12/23: Jordan Fisher (NEW)
12/24 – 12/26:

Steven Curtis Chapman

12/27 – 12/28: Audra McDonald (NEW)
12/29 – 12/30: Lisa Ling
---
The Best Eats of EPCOT's Festival of the Holidays
I love the food that is available during the EPCOT Festival of the Holidays. The weather is usually brisk enough to enjoy the hearty holiday favorites. And I love tasting traditional holiday foods from around the world.
The 2023 menu has just been released. While we haven't had a chance to check it out yet, here are some of our favorites from 2022 to give you an idea of what to expect at the EPCOT's Festival of the Holidays:
American Holiday Table
Blackened Catfish with Hoppin' John and Comeback Sauce
L'Chaim Holiday Kitchen
Pastrami on Rye with House-made Pickles and Deli Mustard
Smoked Salmon Potato Latke (Gluten/Wheat Friendly)
Potato Latkes (Gluten/Wheat Friendly; Plant-based)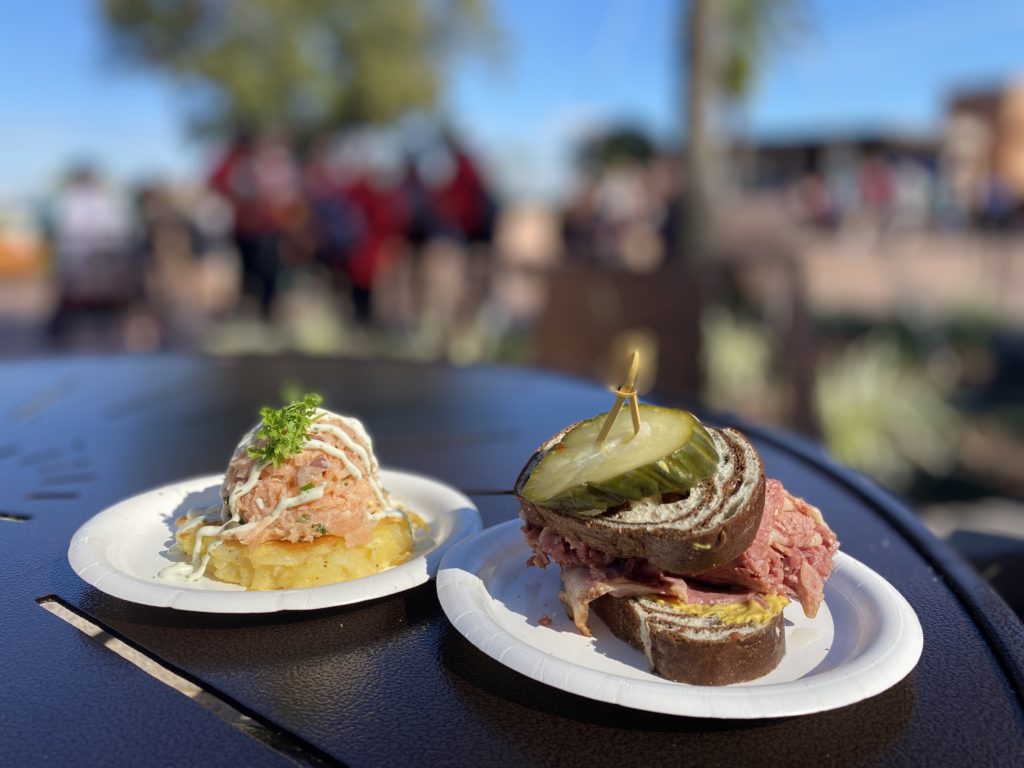 Le Marche De Noel Holiday Kitchen
Crème de Saumon Fume en Brioche à l'Aneth, Concombre: Cream of Smoked Salmon in House-Made Dill Brioche Bread with Cucumber
Shi Wasu Holiday Kitchen
New Year Celebration Soba: Buckwheat soba noodle in a hot dashi soup with shrimp tempura, fish cake, shiitake mushrooms, and chopped green onion
Yukon Holiday Kitchen
Beef Bourguignon with Crushed Potatoes
The Donut Shop
Eggnog Donut
Chocolate Peppermint Donut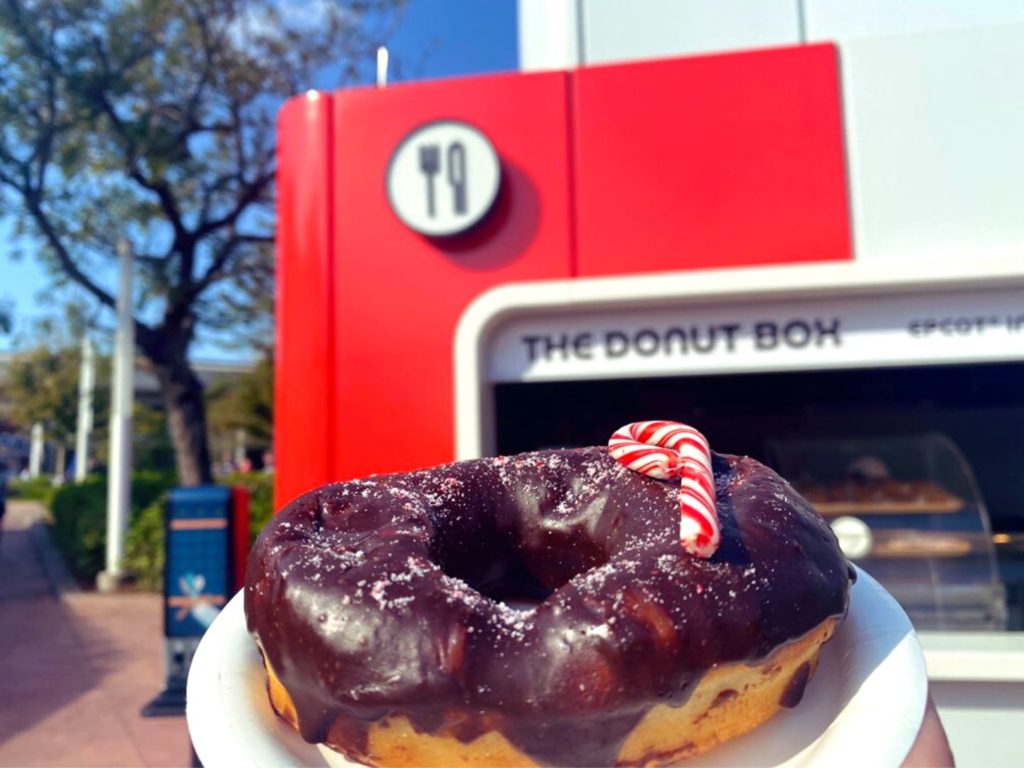 ---
The Best Drinks at the EPCOT Festival of the Holidays
If you're going to EPCOT to celebrate the holidays, you'll certainly want some holiday cheer in a glass. Here are some of the best beers and cocktails:
Yukon Holiday Kitchen
Tangierine Cafe: Flavors of the Medina
Fig Cocktail with Sparkling Wine, Fig Vodka, and Cranberry Juice
Cider Flight with Lavender Apple Hard Cider, Ginger Tumeric Hard Cider, Spicy Nutmeg Hard Cider
Mele Kalikimaka
Melon Breeze with Spiced Rum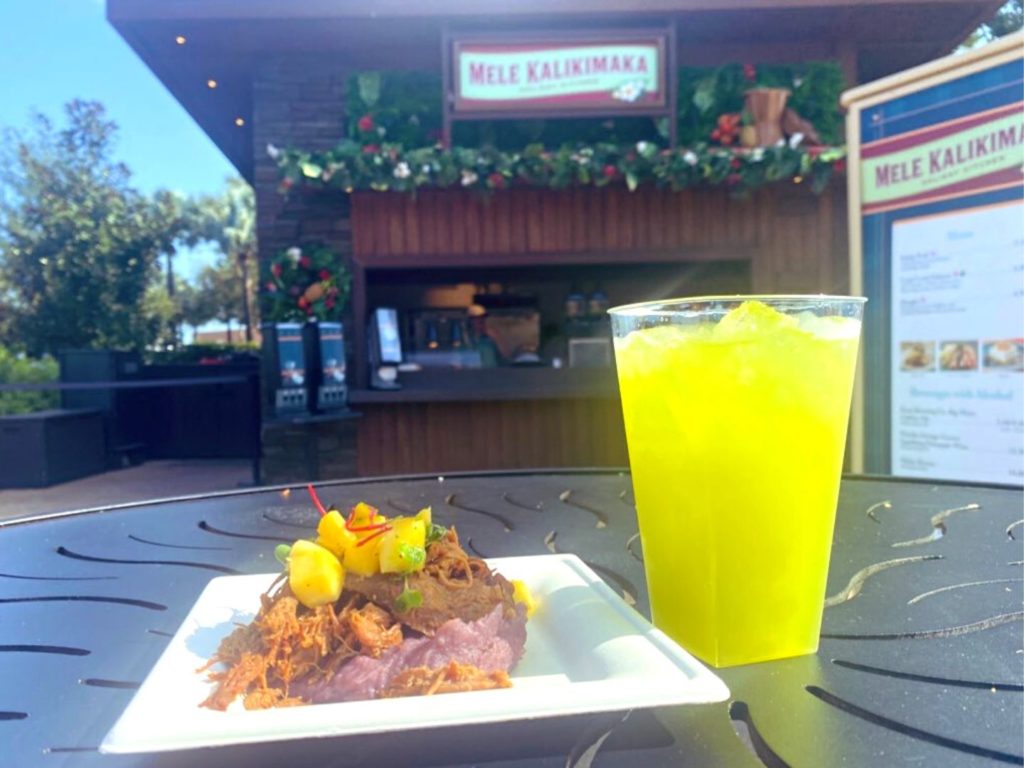 Le Marche De Noel Holiday Kitchen
Blood Orange Mimosa: Sparkling wine with orange juice and blood orange syrup
L'Chaim Holiday Kitchen
Brooklyn Brewing Winter IPA
The Donut Shop
---
Date Ideas for EPCOT's Festival of the Holidays
Treat your sweetie to the Holiday Cookie Stroll. There are five participating Holiday Kitchens around World Showcase, each with a different specialty cookie for you to purchase. When you order your cookie, present your festival passport to receive a stamp. Once you've enjoyed all five cookies, head to the Holiday Sweets & Treats booth to receive a specialty Walt Disney World 50th Anniversary cookie.
Discuss your family's heritage, like your ancestry or traditions, and enjoy the Holiday Storyteller that most closely represents your heritage. Watch together and discuss anything you learned or anything that you remember from your childhood.
Browse the menus in the Festival Passport. Are there any food items you remember from the holidays of your youth? Try it together and discuss any memories.
Hop aboard the Living with the Land Boat Ride for some festive decorations and narration in the last half of the ride, and a relaxing way to rest your feet.
Grab a cocktail or festive beer at one of the Holiday Booths before claiming your spot for the EPCOT Forever fireworks show.This limited-time fireworks and special-effects spectacular can be viewed from the World Showcase Plaza.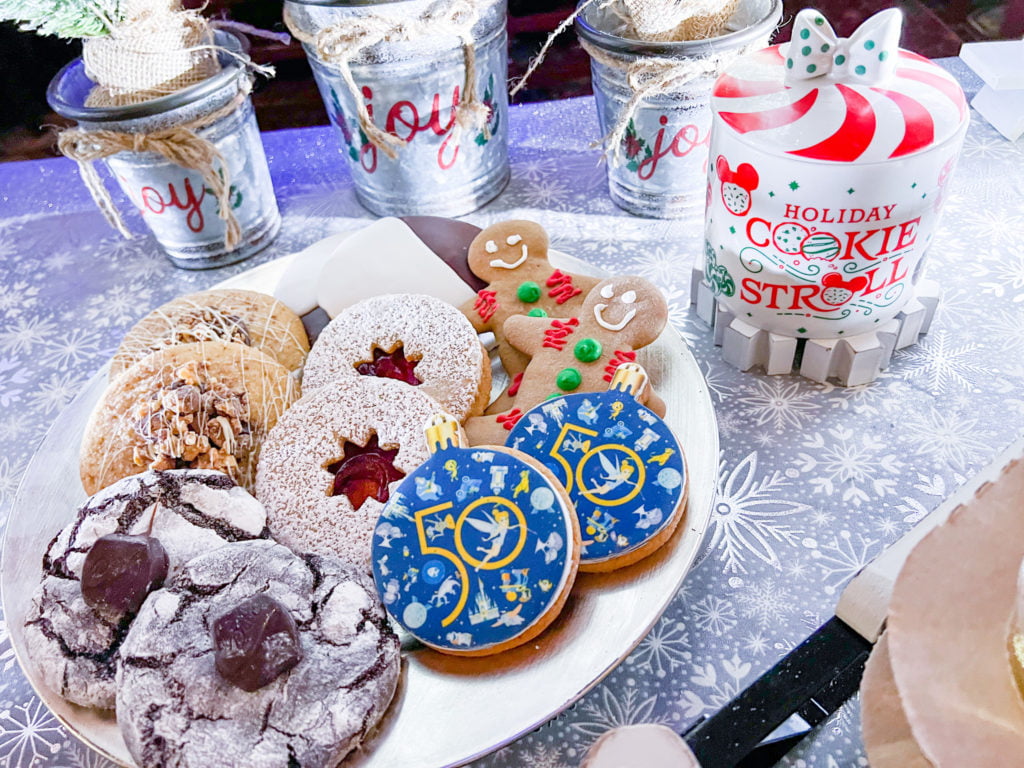 ---
Tips and Information for the EPCOT Festival of the Holidays
Be sure to make your park pass reservation as soon as possible.
The closer it gets to Christmas Day the busier the theme parks get.
If you want to watch the EPCOT Forever fireworks show, pay attention to the wind. Notice any flags around World Showcase, like the American flag atop the American Adventure pavilion. Whatever direction the flag is blowing will show you the direction of the wind, so find a spot on the lagoon with the wind at your back so any firework smoke is blowing away from you.