Strolling the colorful stalls of a farmers' market is one of the joys of the weekend. Practically every Orlando area neighborhood has its own
weekly farmers' market
, and it can be hard to decide which one is the best. As someone who grew up just 10 minutes away, I can say the Winter Park Farmers' Market is hard to beat.
Winter Park Farmers' Market Hours and Location
Every Saturday morning, from 8:00am – 1:00pm, the Winter Park Farmers' Market delights locals and visitors alike.  Its new outdoor location is in Central Park West Meadow, located at the corner of New York Avenue & Morse Boulevard. Browse fine produce, plants, baked goods and so much more as the community gathers together each Saturday.
The Saturday Farmers' Market is closed each year on the third Saturday in March due to the Winter Park Sidewalk Art Festival, and it was previously held at the old train depot, a historical landmark, located at 200 W. New England Ave.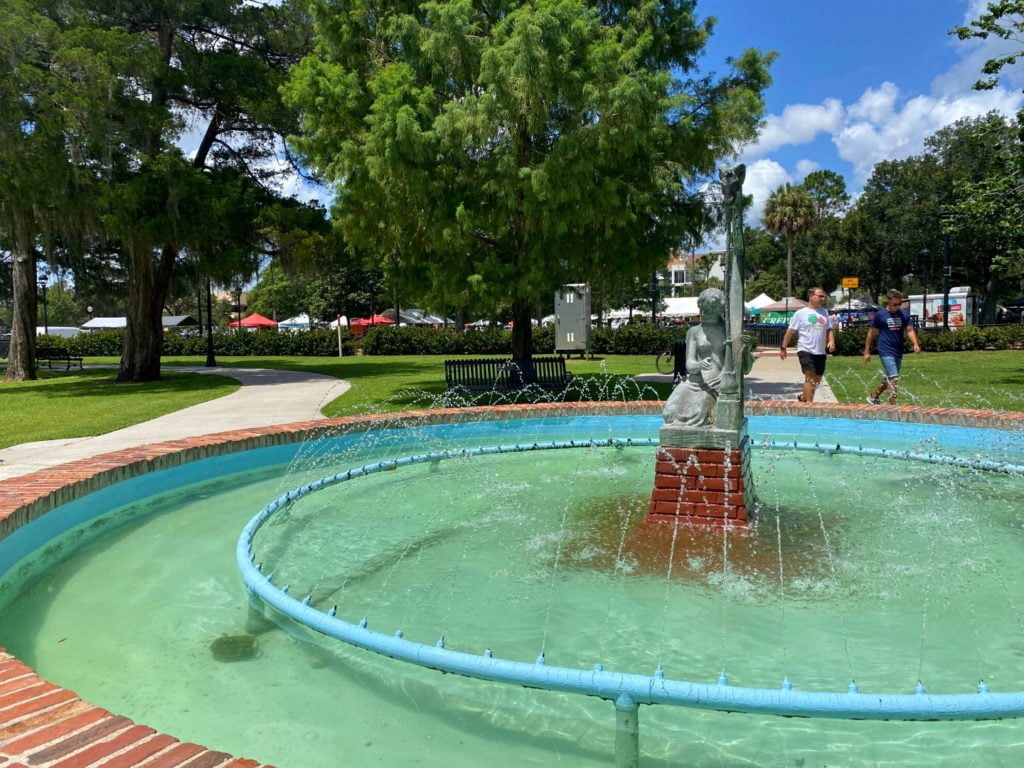 Parking options:
Note – there are no permanent restrooms at the Central Park West Meadow where the market is held. There are portable restrooms near the Winter Park Post Office.
Dog-friendly
The Winter Park Farmers' Market is dog-friendly! Bring along your doggo for some Saturday morning fun. You'll see all kinds of pups out and about at this popular community event. Just make sure your dog is on a leash and able to interact with other dogs properly.
Pet owners are asked to refrain from bringing their dogs into any crowded areas or crowded pathways.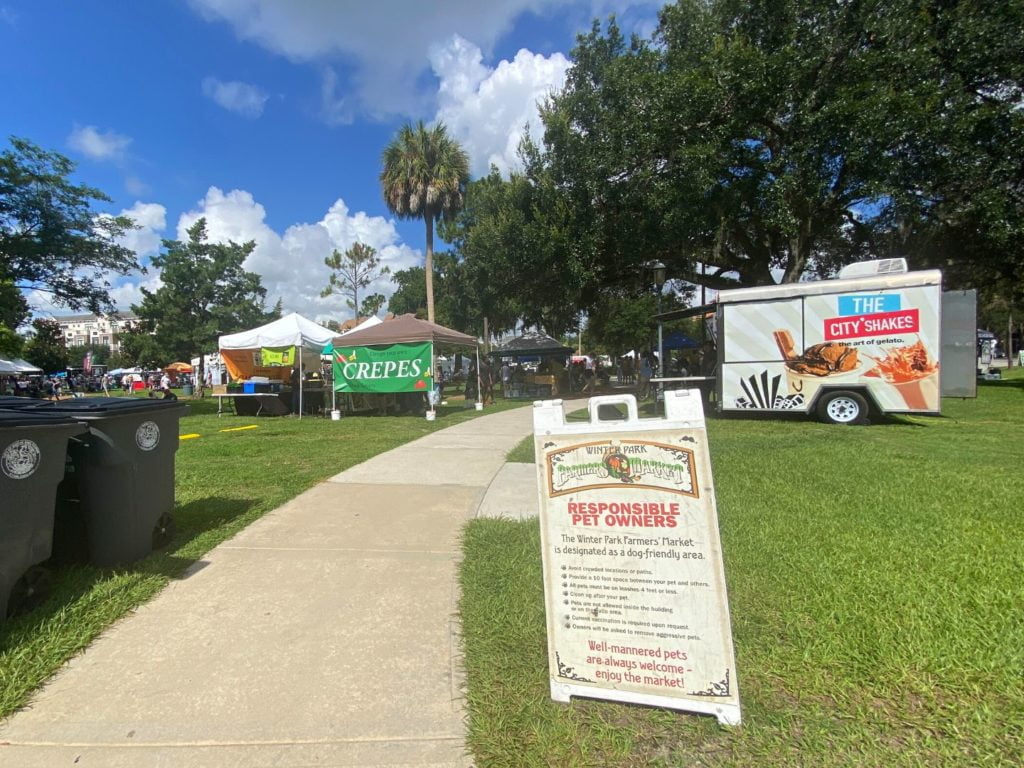 Vendors and Stalls
There are over 50 vendors at the Winter Park Farmers' Market. Ranging from plants and fresh produce to gourmet foods and household items, there is a lot of browsing to do.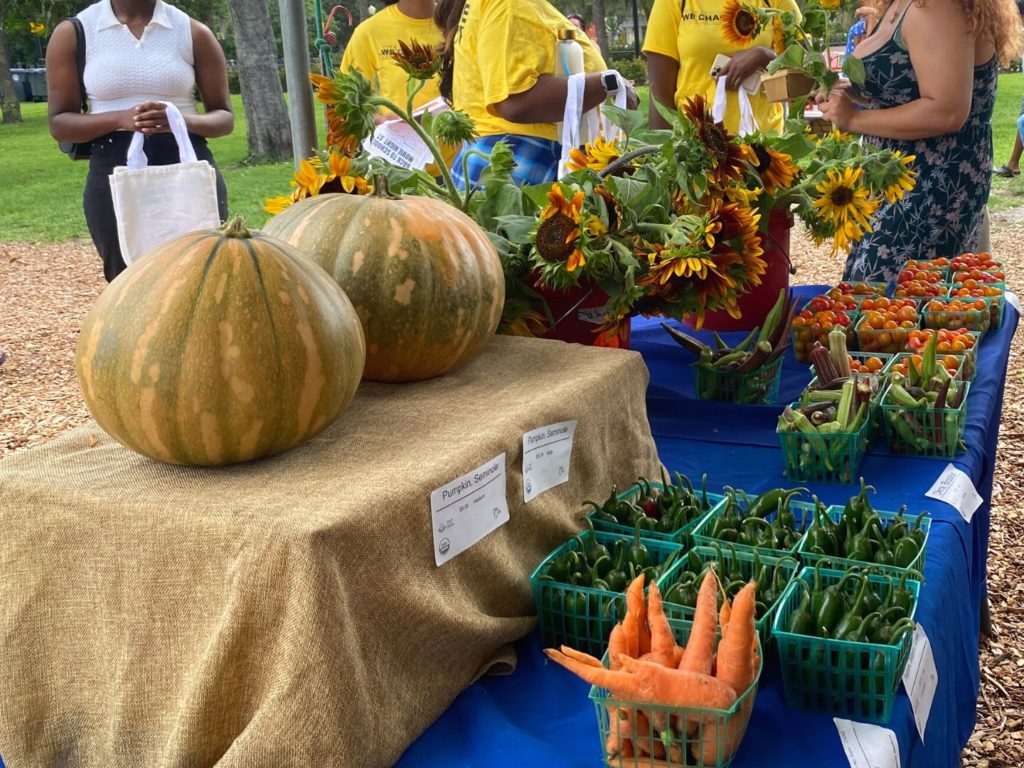 Here are some of the highlights:
7 Rivers Food
Brascomb Meats
Brownie Dose
Captain Jo's Fish Dip
Chez Vincent, Inc.
DOGgone Gourmet Treats
Doug's Nutty Crunch
Ginger's Jams & Jellies
Ginny's Orchids
Heartsong Cookies
House of Jerks
Joneses BBQ
Mad Hombre Hot Sauce
Mountain Kettle Korn & Catering
Nature's Way Butterfly Gardens
Olde Hearth Bread
Orlando City Pasta
Prairie Farms Organics
Rascals Rockin Beignets
Raw Juicing and Detox
Scheidel's Produce
Simply Savory Gourmet
Sugar Top Farms
Sunny K Candles
Tastebuds of Florida
The Lemonade Stand
The Shrimp Guy
Winter Park Honey
And you can relax knowing that informational and/or promotional items, resale or flea market-type merchandise, and packaged, nationally-distributed foods or products, and overly-processed foods are not permitted at the Winter Park Farmers' Market.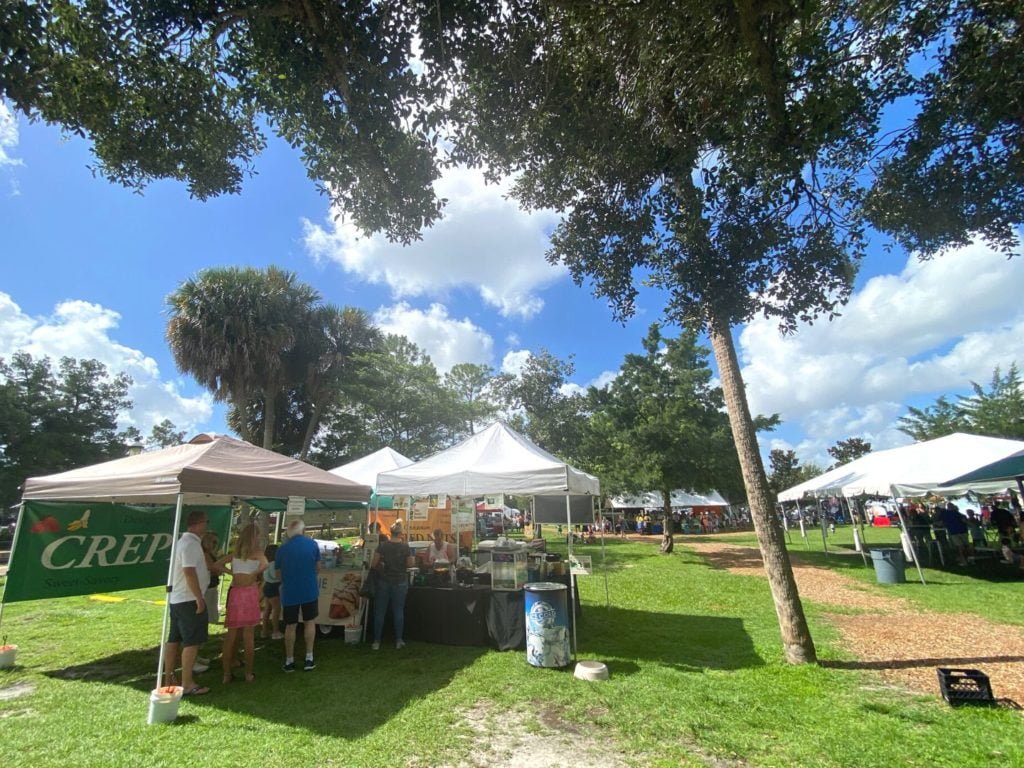 During our visit we grabbed a fresh shaken lemonade from The Lemonade Stand, stationed near Morse Boulevard. The variety of flavored lemonades is akin to a candy shop. I selected the Pineapple Lemonade and it tasted like a drinkable lemon-pineapple lollypop. Definitely start here so you can stay cool as you stroll.
No need to fuel up before you arrive to the market. There are multiple food trucks and food vendors. Multiple coffee vendors are around if you need an extra pick me up on a Saturday morning – you're covered.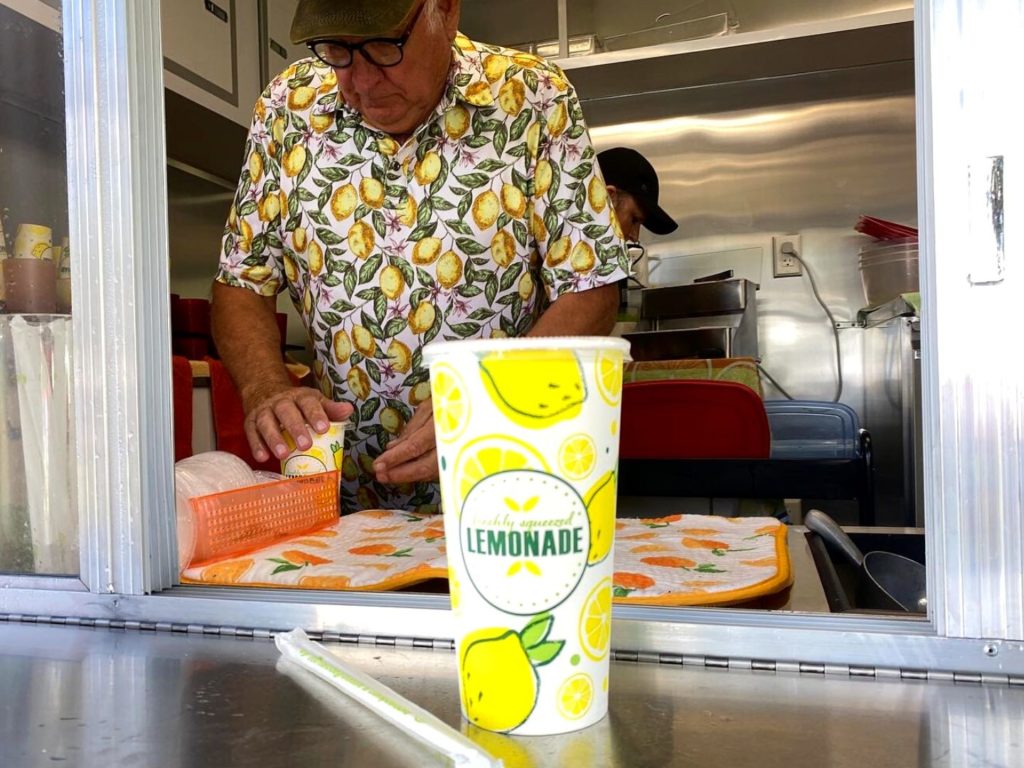 Kettle corn is a staple at any Orlando farmers' market and you'll find it near The Lemonade Stand. Stroll around with popcorn in hand! There is a small tent with a few high-top tables that make it easy to enjoy some fresh local food as you enjoy the market.
What to Bring
Dress comfortably so you can enjoy the fresh air. The market is entirely outside. The meadow is shaded in many places, still, this is Florida we're talking about here.
Bring bags! One canvas tote and one cooler bag should do the trick. The Shrimp Guy sells freshly caught seafood direct from Florida's waters. They have ice if you need it, but a cooler bag will be a big help and it is hard to resist such fresh seafood.
If you're going to make the most of the farmers' market experience then consider bringing a wagon. It will make carrying your local goods and unique items a lot easier.
Explore the rest of the markets around town with our Guide to Orlando Farmers Markets.
Or plan a date night at home with a Visit to These Gourmet Markets in Orlando.
And of course, being located in the heart of Winter Park, you can enjoy a lovely afternoon on Park Avenue after a morning of browsing.