The food scene in Downtown Orlando is saturated with variety. There are so many tasty and vibrant restaurants in Downtown Orlando to choose from, whether you're searching for a Taco Tuesday spot, upscale steakhouse dinner, or cozy Sunday morning brunch. Spruce up your next date night with one of these must-try restaurants in the city.
Here are 10 restaurants in Downtown Orlando for either a casual dinner date or a special night out.
Updated October 2023 by Meghan Roth
Casual Downtown Orlando Restaurants
The Monroe
The Monroe is a chic and cozy dining lounge located at Creative Village in Downtown Orlando. They serve dinner and cocktails in their main dining room, but they also offer a bar and coffee lounge for studying. Front Porch, the newest addition to The Monroe, overlooks the heart of Creative Village and Luminary Green Park. It has a full bar, delicious snacks, and a chair for everyone. This spot is so eclectic and decked out in mid-century modern decor. The atmosphere is lively and unlike any other Orlando restaurant vibe.
The executive chef, Nikk Burton, has worked as a chef at Walt Disney World Resort and is known for elevating familiar food flavors into fun dishes. The dinner menu includes a fried chicken plate, the Monroe burger, Faroe Island salmon, pork schnitzel, and much more. You can also enhance your main dish with sides, salads, and unique shareables like a pastrami corn dog and pimento cheese.
Don't forget–Happy Hour with small bites and drinks is Tuesday through Friday from 5:00 P.M. to 7:00 P.M.
Discover more Happy Hours in Orlando.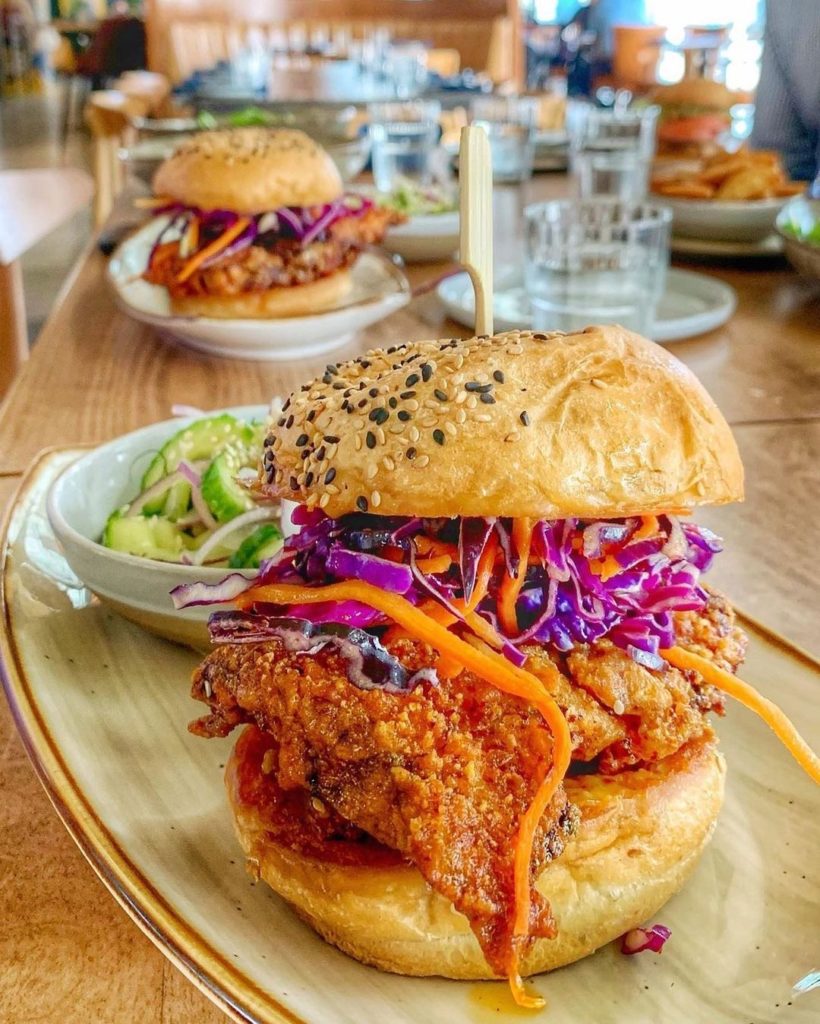 Sushi Saint
Another spot near Creative Village brings a sense of casual elegance to a very interesting venue. Sushi Saint is opening its doors inside the Brew Theory facility. This working brewery distributes gallons upon gallons of beer around Orlando and other places nearby. You can smell the hops as you walk up the steps that lead into Sushi Saint.
Once inside, you'll be enveloped in a modern lounge that oozes date night vibes. Grab some craft cocktails while you wait for a spot at the sushi bar. And once it is time to secure a seat you'll witness fresh hand rolls expertly crafted right in front of your eyes. Tamaki sushi (hand rolls) are easy to eat and bring a casual approach to sushi without losing the quality.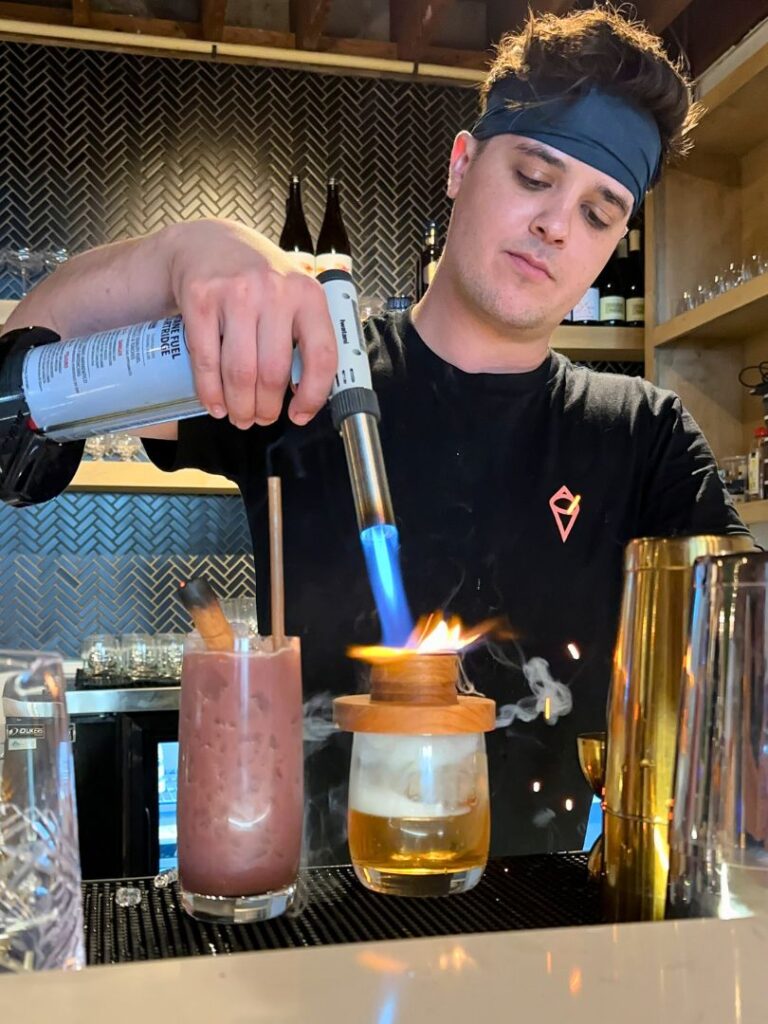 You can rest assured you'll enjoy quality food and drink here because Sushi Saint is the latest concept from Chef Michael Collantes, whose omakase dining restaurant Soseki in Winter Park earned a coveted one-star Michelin rating.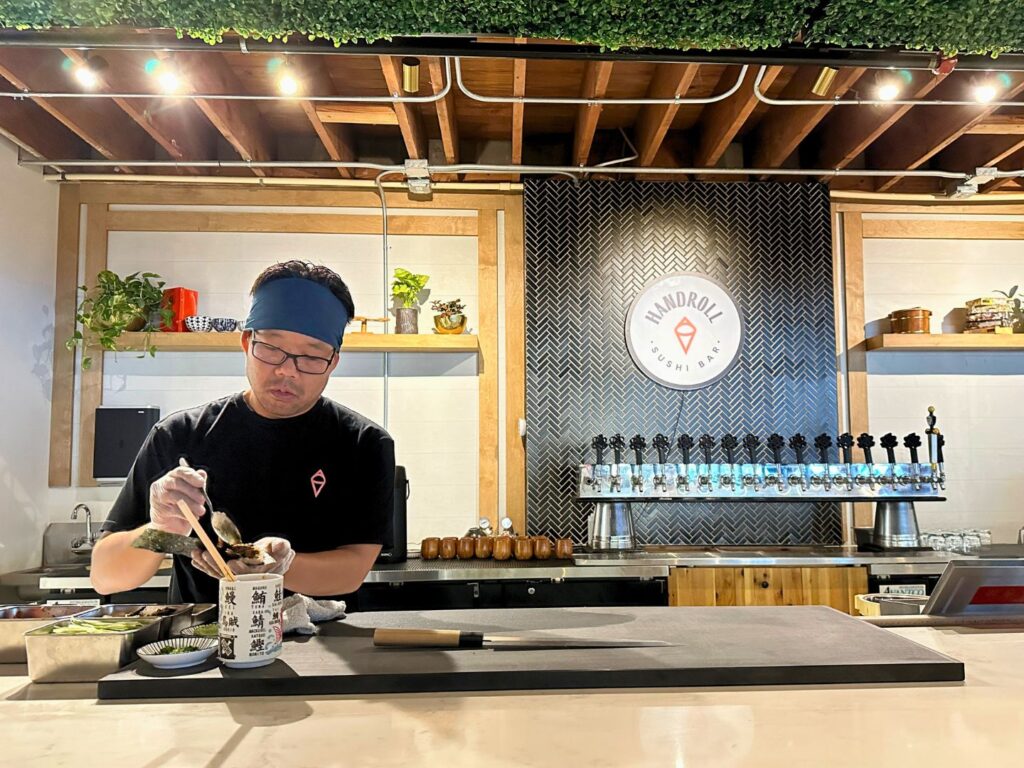 Tin & Taco
If you and your significant other are craving Mexican food on your next date night, you need to stop by Tin & Taco. This local chain is a casual, quick-service restaurant with a build-your-own-meal menu. They offer a variety of proteins, greens, and other toppings to put together your own taco, bowl, wrap, salad, or In-The-Bag. In-The-Bag is your choice of toppings served over a bag of Nacho Cheese Doritos–so mouthwatering and unique. They offer Happy Hour specials weekdays from 3 – 6pm at all locations, except for Downtown.
Tin & Taco is known for its creative spin on Mexican food. You can top your tacos with some pretty interesting ingredients like buffalo wing sauce, homemade ranch, potato sticks, applewood smoked bacon, craft beer queso, and more.
Related: Orlando Taco Spots To Impress Your Date
Cavo's Bar & Kitchen
Cavo's Bar & Kitchen is perfect for a laid-back and lowkey night out. If you and your date want to watch a sports game or grab a drink at the bar, Cavo's is the best restaurant in Downtown Orlando for you. This cozy and dimly-lit spot is located in the heart of Thornton Park.
Their menu items include cheesesteak sandwiches, Italian sandwiches, chicken wings, fried risotto balls, soups, salads, and lots more. They also serve draft beers and tons of yummy cocktails.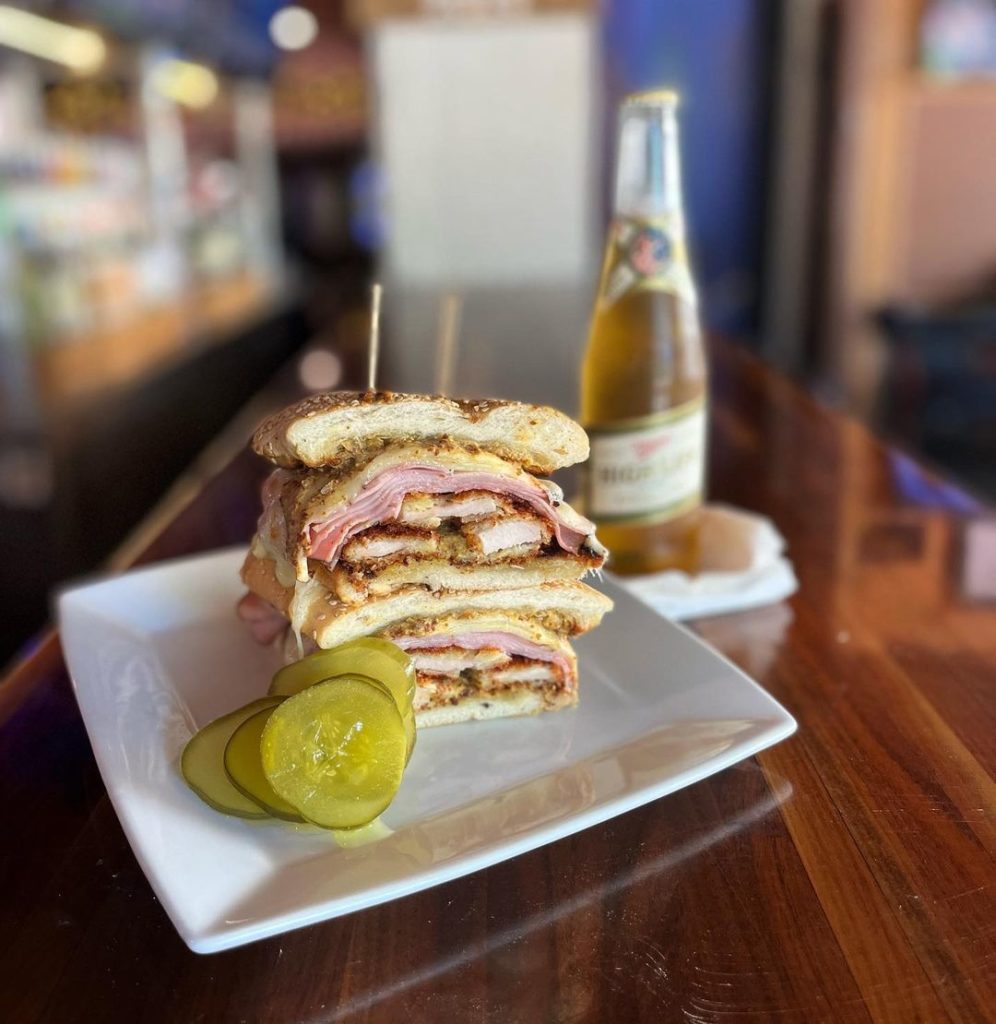 Related: Thursday Night Date Night at Thornton Park
Thrive Lounge & Eatery
Thrive Lounge & Eatery is a bit more upscale but still fit for a casual date night. This Downtown Orlando restaurant serves tapas, cocktails, sushi, and brunch. The atmosphere is electric and vibrant, likely due to their super cool neon wall sign.
The menu has a wide variety of creative tapas and small plates such as loaded fire fries, fried Brussels, and sliders. For sushi lovers, they offer many unique rolls, sashimi, and nigiri. They even have whiskey vanilla bean ice cream and dragon fruit sorbet to satisfy your sweet tooth after dinner. If you want to switch it up for date night, this contemporary cuisine is a must-try.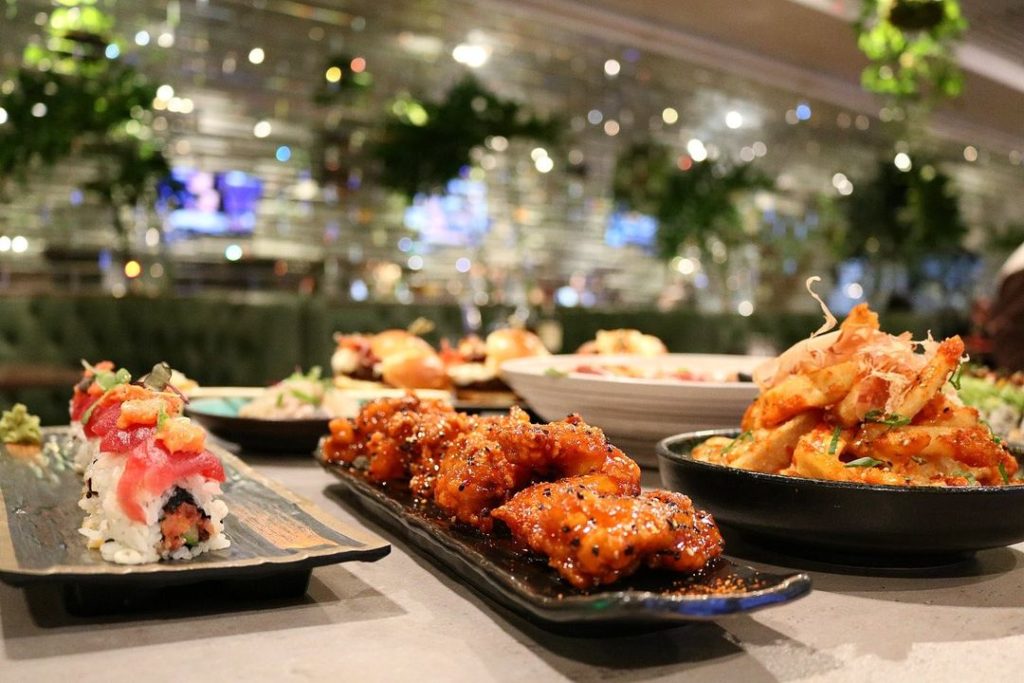 The Stubborn Mule
The Stubborn Mule is just south of Lake Eola. They are well-known for their mule cocktails, of course, and contemporary twist on American food. The restaurant has an industrial feel and fun energy. The menu has tons of variety, ranging from sandwiches to burgers to seafood entrees. The restauranteurs, two graduates of the Culinary Institute of America, describe this spot as their most playful restaurant concept.
Happy Hour is every single day from 3:00 P.M. to 6:00 P.M. and includes 25% off appetizers, signature mules, signature cocktails, and wines by the glass. On Friday and Saturday, there's also a late-night Happy Hour with the same specials, from 10:00 P.M. to 11:00 P.M. Their outdoor seating provides a great view of the surrounding city.
Other Casual Downtown Orlando Restaurants
Impressive Date Night Restaurants
These downtown Orlando restaurants are destinations onto themselves. These remarkable restaurants are great for celebrating birthdays, anniversaries, or just a special date night.
Artisan's Table
If you want high-quality food but aren't in the mood for a super fancy environment, Artisan's Table has a perfect balance. This is one of the pricier places to eat in Downtown Orlando, but still has an airy and light atmosphere. You don't have to show up in a suit and tie, but you're guaranteed to get fresh cuisine and upscale flavors.
Their entrees have a diverse range of culinary influences, from pan-seared salmon to quinoa bowls to fried shrimp tacos. You can even split some short rib poutine and wash it down with a signature cocktail. With the location of this restaurant, you will truly feel the heart and pulse of Downtown Orlando.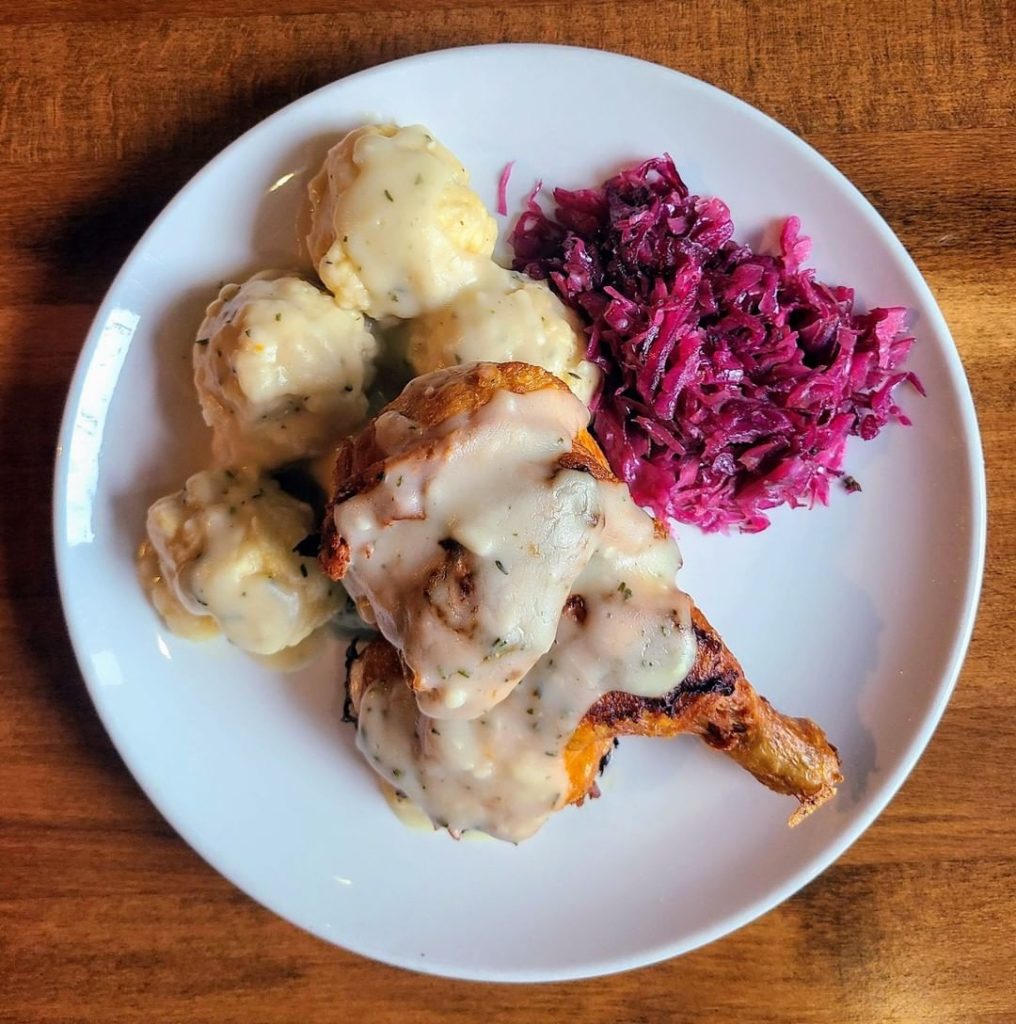 The Boheme
The Boheme is a romantic, suave restaurant nestled in Orlando's Grand Bohemian Hotel. If you really want to set the mood for date night, take your significant other to this intimate getaway. The restaurant interior is recently refreshed.
The Boheme is definitely one of the most polished places to eat in Downtown Orlando. If lobster or oysters happen to be on the menu during your visit, your taste buds will thank you.
This spot is best known for its steaks and endless wine menu. If you want to splurge, you can get the Tableside Tomahawk for $225. They will flambee and carve your steak right at your table and provide two of their signature sides. They also offer Chilean sea bass, braised lamb rigatoni, and other entrees.
Experience a new weekend tradition at their Sunday Jazz Brunch featuring hand-selected ingredients, a remarkable wine selection, and live jazz entertainment. Immerse yourself in a sensory-filled adventure, complete with bottomless mimosas, food stations, and family-style serving options.
Related: Dog friendly hotels in Orlando
Kres Chophouse
This bustling Downtown Orlando steakhouse has won a slew of awards, including Best Steakhouse in Orlando from USA Today. Kres Chophouse is ideal for an anniversary dinner or if you just want to get a little fancy. They are known for their historic dining experience because the building is literally a piece of Orlando history. The restaurant is located at 17 Church Street in a former department store that was built in 1935 and called S.H. Kress & Company.
They offer a wide variety of aged steak cuts and other classic entrees. Also, if you are a vegan or vegetarian, you can actually still enjoy an upscale dinner at a steakhouse. They have an extensive vegan menu that includes vegan beef wellington, beef steak, chicken, and other starters that are totally meat-free. Don't forget to pair your steak with some bubbly or a glass of wine.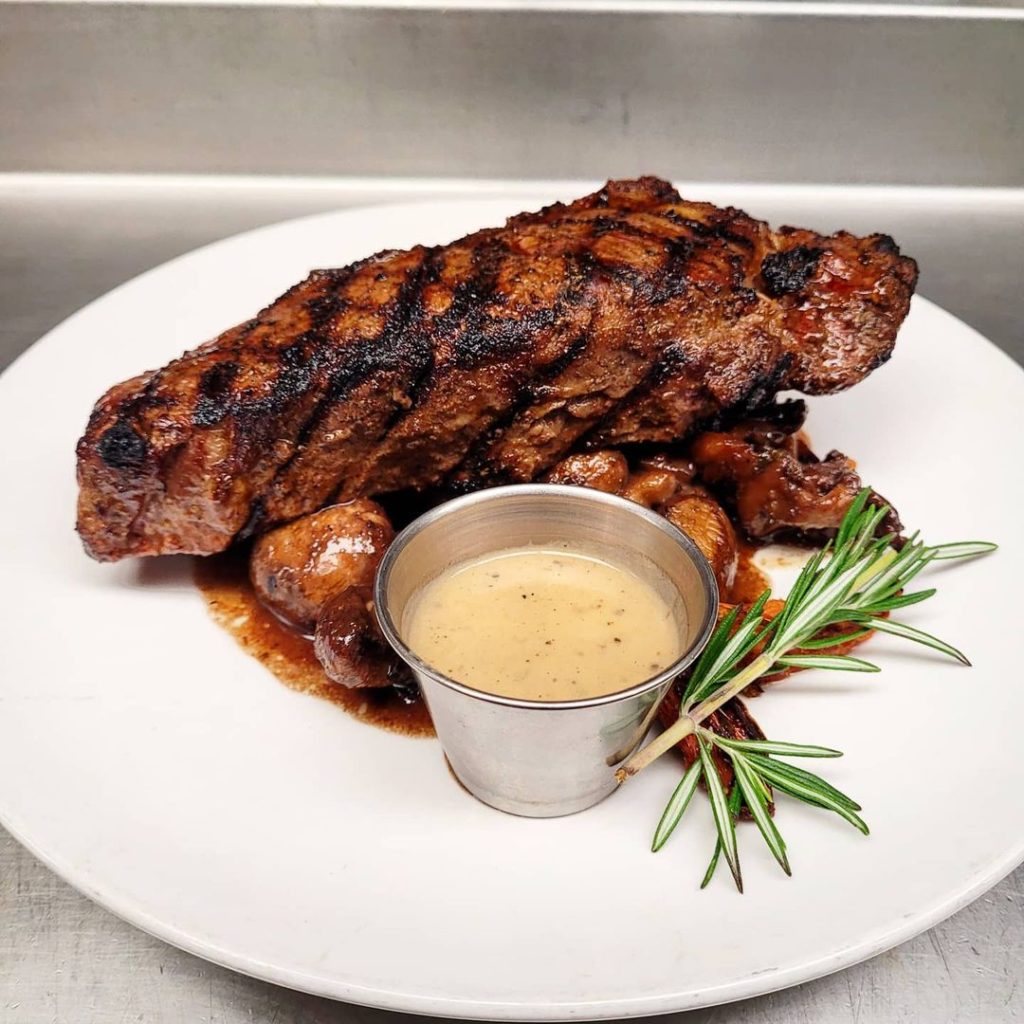 310 Lakeside
If you want to dine with a stunning view of Lake Eola, you have to check out 310 Lakeside. This restaurant fully embodies the Downtown Orlando lifestyle. Even if you go with their indoor seating, the towering wall-length windows bring in amazing natural light and great scenery. Their menu offers both affordable and high-end options, but will definitely impress your date either way
The cuisine is described as New American and includes flatbreads, sandwiches, burgers, pasta dishes, and classic entrees like Pork Porterhouse and Filet Mignon. My favorite part is the dessert, of course. Triple chocolate cake, Oreo delight, key lime pie, Toll House cookie pie–my mouth is watering just thinking about it.
Happy Hour is Monday through Friday from 4:00 P.M. to 7:00 P.M., Saturday and Sunday from 11:00 A.M. to 4:00 P.M., and every night after 11:00 P.M.
Related: Orlando Happy Hours
Soco Restaurant
Soco is short for Southern Contemporary, and it definitely lives up to that promise. This progressive restaurant concept was imagined by executive chef Greg Richie. Chef Richie wanted to connect with his traditional Southern roots while simultaneously incorporating new, contemporary culinary ideas.
The menu is full of classic Southern dishes that have a small, creative spin on them. My absolute favorite is the side of buttermilk biscuits, served with housemade butter and preserves. Soco also offers fun specialty items on different days of the week. The restaurant also hosts frequent plated wine dinners, which it shares details about on its social media accounts. There's always something new to look forward to at this to-die-for Downtown Orlando restaurant.
Downtown Orlando Parking and Tips
Let's be honest–parking in the Downtown Orlando area can be a total pain. However, the City of Orlando does offer a Diner's Rate in most of their parking garages. If you park in one of the applicable garages between 6:00 P.M. and 10:00 P.M., it's only a $6 flat fee. This is not valid in the GEICO garage or the 1st floor of the Jefferson St. garage.
Downtown Orlando parking garages and public parking lots include:
Amelia St. Garage: 355 Alexander Place, Orlando, FL, 32801
Bank of America Center Garage: 390 North Orange Avenue, Orlando, FL, 32801
Livingston Lot: 388 West Livingston Street, Orlando, FL, 32801
Wells Fargo Garage: 20 North Orange Avenue, Orlando, FL, 32802
Church Lot: 100 East Washington Street, Orlando, FL, 32812
Central Boulevard Garage: 53 West Central Boulevard, Orlando, FL 32801
Don't forget to ask your restaurant to validate your parking ticket if needed.
LIMITED TIME OFFER: Downtown Orlando is making it easier than ever to drive, park, and explore the tastes, sights, and experiences found only in downtown. For a limited time, you can enjoy FREE parking at on-street metered and non-metered spaces, via the ParkMobile app, and complimentary valet at participating restaurants, while dining and shopping downtown thanks to the ParkDTO Program. Click here to learn more.
Featured image from The Monroe