Beyond the world-renowned beaches, year round sunshine, and pleasant weather, countless Florida adventures await that can only be enjoyed in the Sunshine State. From getting face to face with a manatee to watching a rocket launch from the beach, and dining with an alligator to discovering the state's weird side, here are our top picks for only in Florida experiences to add to your bucket list.
Written by Laura Byrne and Stephanie Patterson
Swim with Manatees
Crystal River and Homosassa Springs are the only areas in North America where you can legally swim with the manatees. The best times of year to experience this 'Only in Florida' activity is December through March. As the temperatures drop manatees swim toward the warm spring waters by the hundreds, with as many as 600+ gathering in the Crystal River and Homosassa Springs area. This also means it's prime time to take a dip in the water to view them as a passive observer in their natural environment. This means hands off…in fact, there are a lot of rules and laws that protect the manatee which is why we highly recommend booking an experience with a reputable tour company like the Adventure Center at Plantation on Crystal River.
They provide you with a wet suit that will keep you warm and more buoyant along with the snorkel gear. While the outside temps are cold, the spring water is roughly around 72 degrees which is why the manatees love it so much! The boats offer some warmth and you can sip on complimentary coffee or hot chocolate when you get out of the water.
If you're wondering what it's like to swim with manatees, we've been and….it is magical.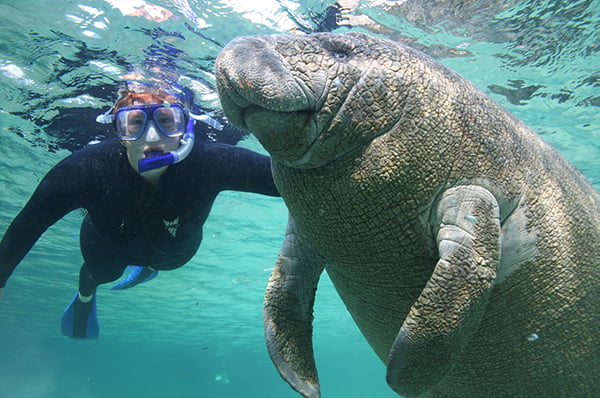 Go on a Sunrise to Sunset road trip
Where else can you soak up the sunrise on one coast and then drive to another to drink up the sunset, all in the span of one day? Thank's to Florida's peninsular shape and relatively narrow width, you can experience a truly unique sunrise to sunset road trip from coast to coast. For maximum enjoyment, consider making this a two-night venture by booking a hotel on the east coast and another on the west coast. Follow our itinerary for a road trip from Cocoa Beach to Clearwater.
Try Bioluminescent kayaking
Florida isn't the only place where bioluminescence occurs, but embarking on this adventure in Florida means you also have the chance of spotting dolphins and manatees on your tour. Kayaking will never be the same after you've experienced this nighttime kayaking adventure under the stars on Florida's Space Coast. Even the tiniest disturbances in the water activate the bioluminescence, making the water around you come alive with blue light.
When you're not admiring the bioluminescent organisms, known as dinoflagellates, drift with the current while looking up at the night sky. While multiple kayaking tour companies offer bioluminescent tours, one of our favorites is A Day Away Kayak Tours. June-early October is the best time to visit.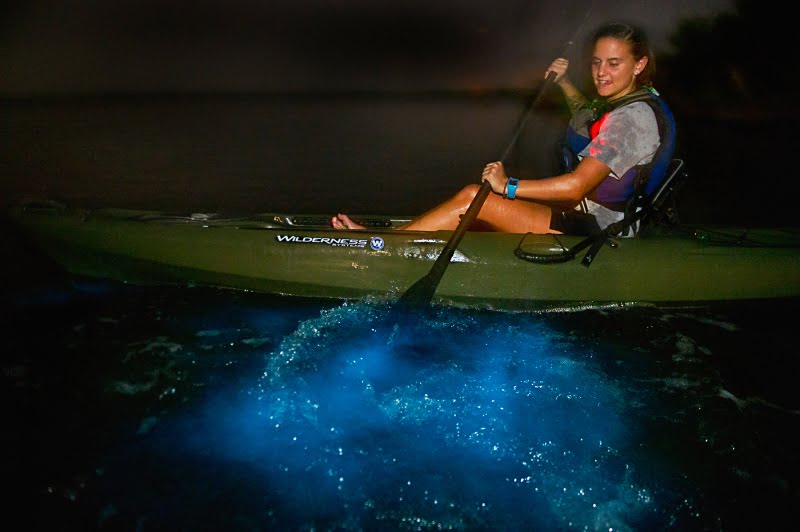 Bonus idea: Only in Florida can you experience this! Head out to the Brevard Zoo on the Space Coast for a kayaking experience you cannot find anywhere else. The Brevard Zoo is the only zoo in the country to offer guided kayaking tours around an animal exhibit.
Watch a Rocket Launch from the Beach
Rocket launches are now a monthly occurrence thanks to United Launch Alliance (ULA) and Space X missions launching regularly from Kennedy Space Center. A little preplanning is worth the reward of a prime viewing spot. While the Kennedy Space Center typically hosts ticketed events with access to some of the best viewing locations, you can also check out a local spot nearby that won't cost a dime. Jetty Park and the Cocoa Beach Pier are two excellent options.
PS: You can find a comprehensive list of upcoming launches and more rocket launch viewing locations at spacecoastlaunches.com.
Float down a Florida Spring in a tube
From relaxing on the beach to snorkeling with manatees and learning to surf, there's no shortage of aquatic adventures in the Sunshine State. But for something a bit more unique, head to one of Florida's many crystal-clear cold springs with your favorite inner tube.
Florida actually has one of the highest concentrations of natural springs in the entire world! So, make sure to visit as many of them as you can. If it's a day spent relaxing in a tube you're after, then head to tubing hotspots like Ichetucknee Springs State Park, Rainbow River State Park, Rock Springs Run at Kelly Park and more.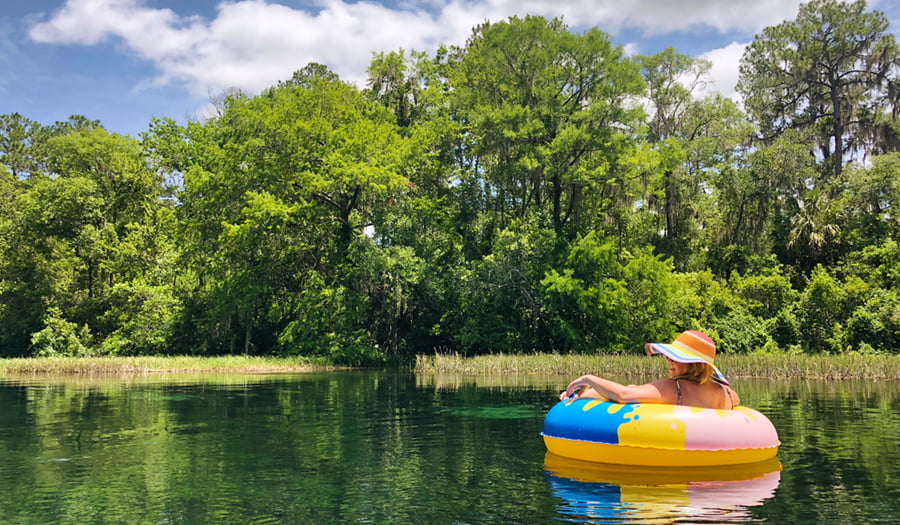 Visit the Nation's Oldest City
Here in Florida we've got a unique piece of history right in our own backyard…the Nation's Oldest City aka St. Augustine! This historic city is full of interesting adventures, from tours of historical sites like Castillo de San Marcos (a National Monument and the nation's oldest masonry fort) and Flagler College (one of our favorites!) to ghost tours after dark and more. For something a bit more out of the ordinary, seek out one of St. Augustine's "Love Trees" (aka two trees growing intertwined) and share a smooch to seal your love forever.
For more tips, check out our day trip itinerary and guide for Three Perfect Days in St. Augustine.
Pick your own produce
While most of the country shivers under layers of sweaters and coats, we here in the Sunshine State can soak in all of the Vitamin D from our star as we load up on nature's bounty at a local u-pick. See local u-pick opportunities here.
Springtime is when things really start to pick up as more farms open their fields to the public. Strawberries may reign supreme since Plant City is the so-called Winter Strawberry Capital of the World, but there are so many other delicious fruits and veggies to pick. If you really want to indulge in an 'Only in Florida' type of experience, head to a citrus grove like Dooley Groves in Ruskin! They offer a variety of citrus fruits at different times of the year. The grove is neatly kept and the u-pick tours are very well run. We highly recommend this experience. Showcase of Citrus in Lake County also offers u-pick citrus opportunities.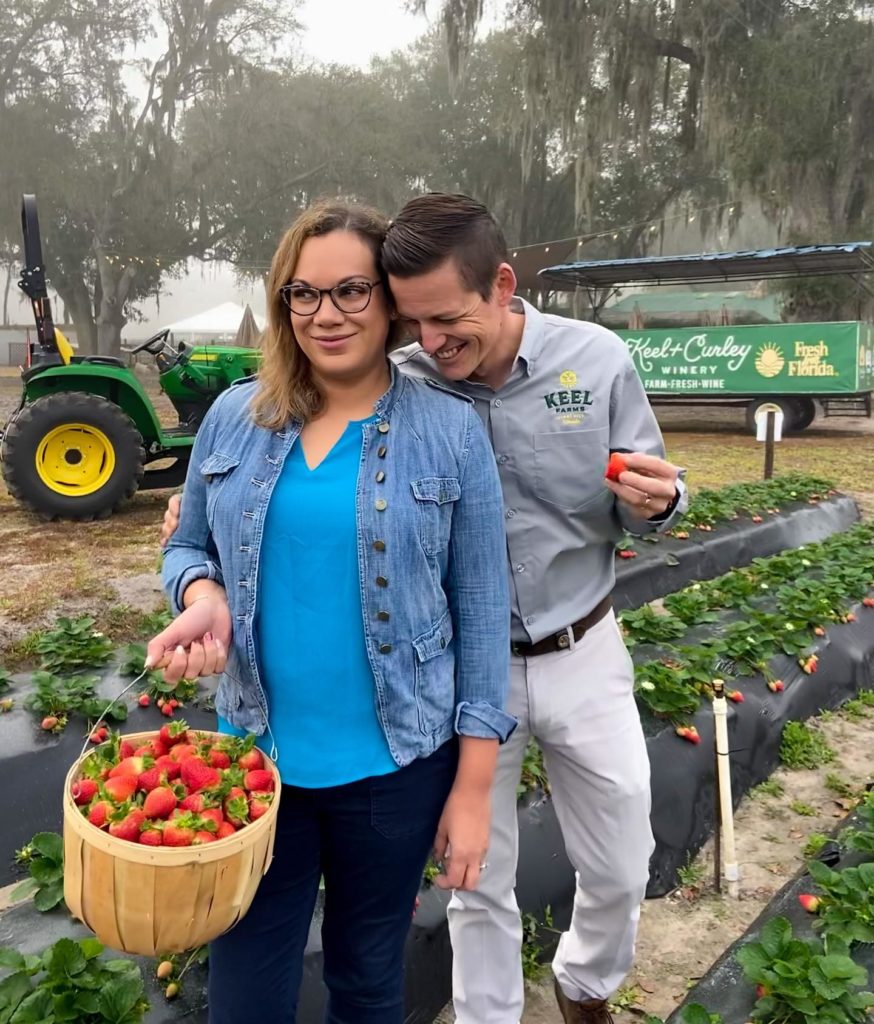 Search for treasures at the Shark Tooth Capital of the World
Did you know Venice is the Shark Tooth Capital of the World?? Pretty cool, right?? If you're wondering why that is, according to the FossilGuy.com, it was millions of years in the making but in a nutshell, you can thank rising and falling sea levels, the earth's movement, erosion and the Peace River Formation flowing right into the area with fossilized treasures. You can read more about it here. 
It's not one beach in particular. The beaches range from north at Casey Key south to Manasota. For the best luck, try Caspersen Beach, the Venice Pier and Manasota Beach. In addition to a keen eye, you'll also need some tools of the trade like a Shark Tooth Sifter— you can rent or buy. Just make sure the opening of the sifter is no more than ¼ of an inch.
If you really want to take a deeper dive into Florida fossil exploration there are some really cool tours more inland along the Peace River you can book, including Paleo Discoveries and Fossil Recovery Exploration.
Dine with an Alligator
It doesn't get more Florida than seeking out gators, whether in the wild or in one of the state's quintessential gator parks. But Wild Florida in Kenansville takes it one step further with its unique Dine With Crusher experience. During this encounter, you'll be able to dine alongside Crusher, Wild Florida's 1,000 lb. alligator, while learning fun facts from his trainer over lunch.
While you're there, stick around for other unique animal encounters like becoming an albino alligator trainer, a giraffe painting experience, the drive-through safari park, sloth encounter and so much more.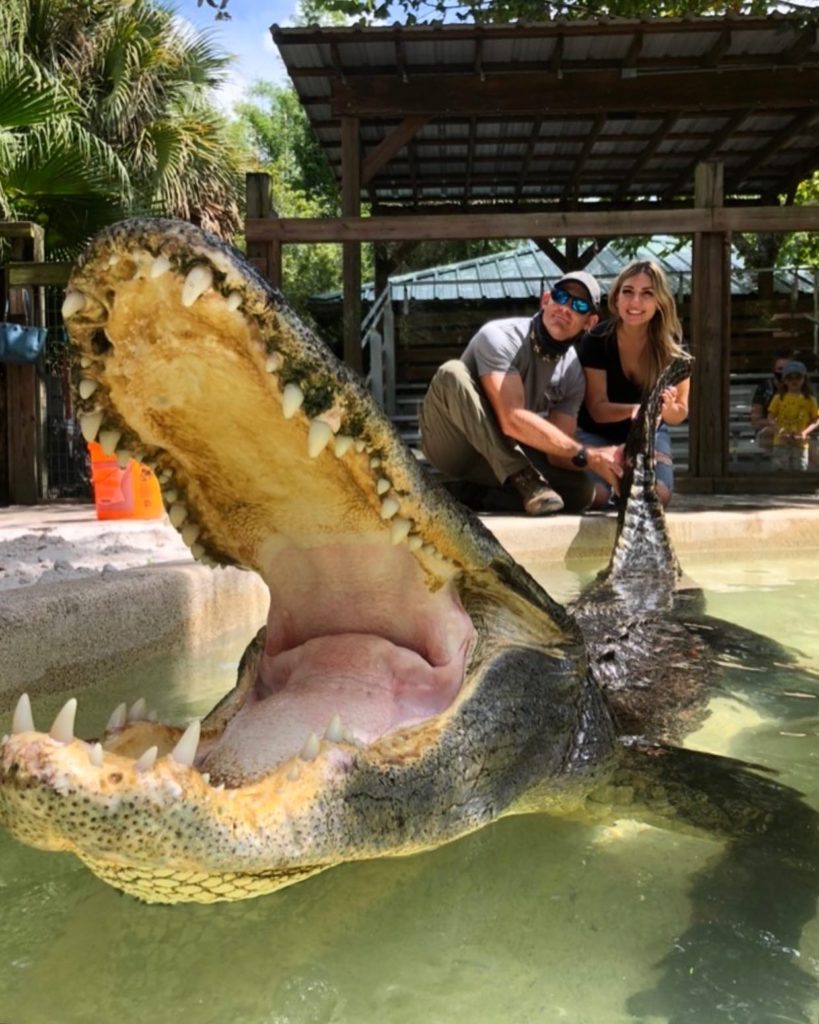 Check out a quirky museum
The Dali Museum – St. Pete
Maybe not quirky, but definitely one of a kind, we always sing the praises of The Dali Museum in St Pete. The VR experiences are a pretty cool way to view the artist's work and all you need is your smartphone to do it! Many of his masterpieces are on display year-round along with really cool visiting tours like Dali Alive 360 and Where Ideas Come From: Dali's Drawings. Advanced reservations are required for Dali Alive. Check out our tips for visiting this one of a kind museum.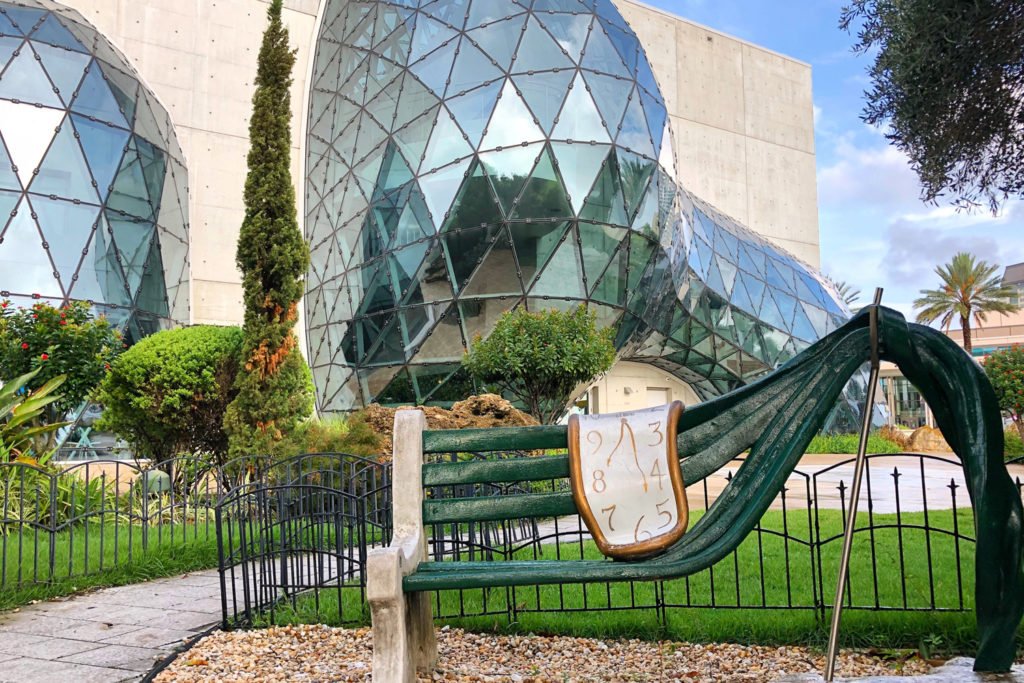 Over in Sarasota, you might need a day or two to really soak in all of the wonder of this unique property. The Ringling Museum of Art boasts a world-famous collection of art, the Ca'd'Zan mansion and gardens are truly one of America's architecture treasures and of course there is the Circus Museum which takes on a journey through the history of "The Greatest Show on Earth"—it even features the world's largest miniature circus.
This is one of those "OF COURSE THERE IS" type museums. The Bailey-Matthews National Shell Museum is a bucket list visit the next time you head to Southwest Florida. And here's something pretty cool—it's the only museum in the country dedicated to shells and mollusks. It's also very family-friendly with touch pools, scavenger hunts and even an outdoor story walk. The museum has 30+ permanent exhibits along with some of the largest shells in the world.  They also have a new addition—an aquarium gallery with live mollusks and other sea creatures.
As of September 2023, the museum is still undergoing repairs due to the effects of Hurricane Ian in 2022. A re-opening date is TBD.
The name says it all…before you even step inside, you know this place is going to be, well, different. The building itself looks like it's being swallowed by a sinkhole (well played, Ripley's). There are 16 galleries filled with oddities and illusions that covers 10,000 square feet. There's even a Weird Florida gallery…go figure!
With more than 50 exhibits, there's no doubt you'll get your fill of more than meets the eye…and plenty of Insta-worthy photos to share with your friends and family! There's a Clone Table, Beuchet Chair Illusion, Infinity Room, Ames Room-where you can appear larger than life next to your family! It's pretty cool and worth the visit if you're heading to ICON Park. Advanced reservations are required right now.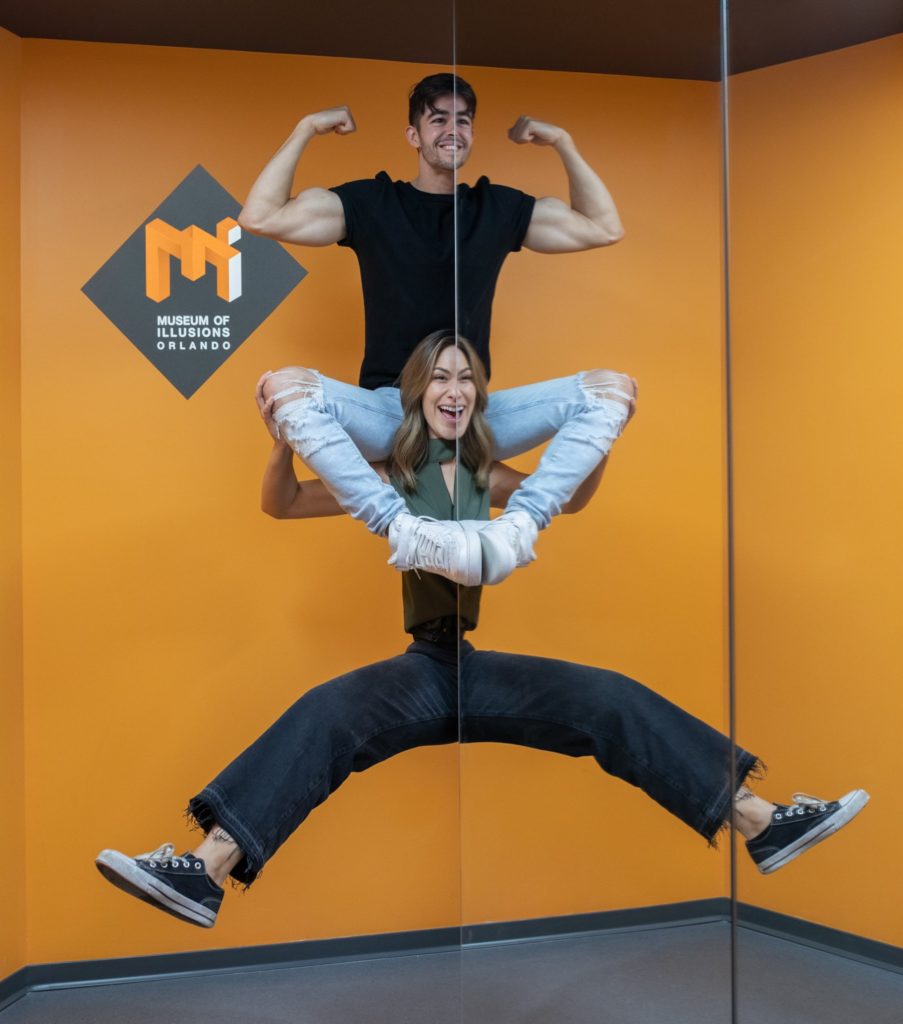 Discover Unique Gardens + State Parks
One major perk of Florida living…we can explore an abundance of outdoor spaces nearly all year long! Plus, many of our Florida State Parks boast interesting experiences and ecosystems all their own.
In Central Florida, head to Paynes Prairie Preserve where you can traverse diverse ecosystems and encounter an assortment of wildlife (alligators and wild bison, just to name a few!) all within one park. For a breakfast date with a nature twist, visit DeLeon Springs State Park where you can make your own DIY pancakes at an outdoor eatery before hitting the hiking trails. You'll also want to make time to day trip to Bok Tower Gardens to visit the iconic Singing Tower, which comes alive with the sound of carillon bells daily. This gorgeous park serves up serious secret garden vibes. Lastly, Kissimmee Prairie Preserve State Park offers the chance for primitive camping inside of a certified Dark Sky park, so come prepared to enjoy a serious show from the night sky.
On the coast, a visit to St. Pete's Sunken Gardens will get you up close and personal with the resident flamingos. Or, hop on a ferry to visit Caladesi Island State Park and Egmont Key State Park, both only accessible by boat.
If you're headed to Florida's Panhandle, make time to stop at two notable Florida State Parks. Marianna is home to Florida Caverns State Park, where you can go underground to explore a limestone cave system. An oddity in Florida for sure! You can also see Florida's tallest waterfall at Falling Waters State Park.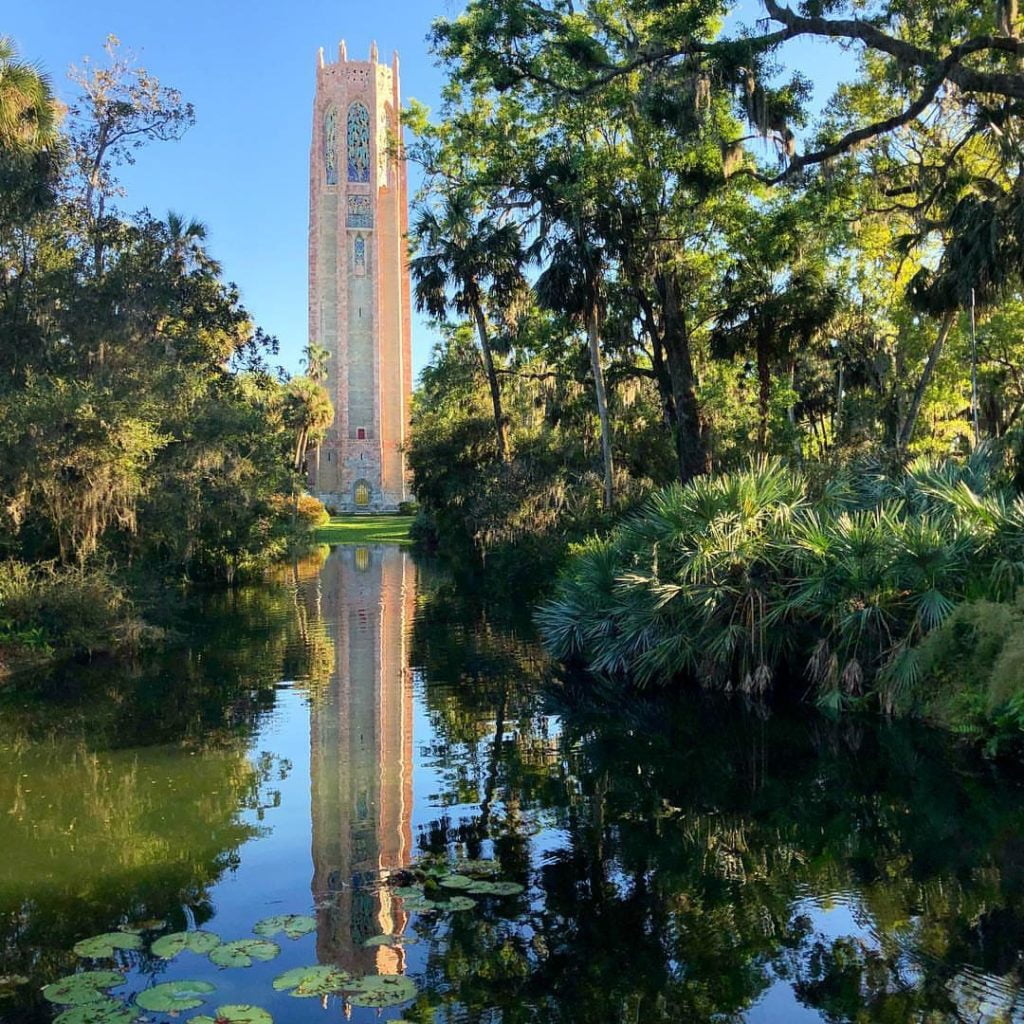 Visit the Tarpon Springs Sponge Docks
Tarpon Springs is the Sponge Capital of the World, built up by the Greek community which also means there are a ton of amazing places to eat! Visit Spongeorama Sponge Factory for unique gifts and of course, pick up a natural sea sponge from the largest selection of sea sponges in the world.
Swim with Dolphins
An all-inclusive day with dolphins? Sign us up! In Orlando, Discovery Cove invites you to unplug for the day while immersing yourself in a tropical getaway complete with unique animal experiences. An optional experience for day guests, you can choose to participate in a 30-minute meet-and-greet in the Dolphin Lagoon with one of the 40+ dolphins that were born at Discovery Cove. The experience includes learning some training techniques and the chance to swim one-on-one with a dolphin.
The all-inclusive price includes meals, beverages (including beer and wine), masks and a take-home snorkel, sunscreen, day-use towels and wet suits. You'll also get access to the lazy river, Grand Reef, dolphin encounter, beach and Serenity Bay and more. Read about our experience here.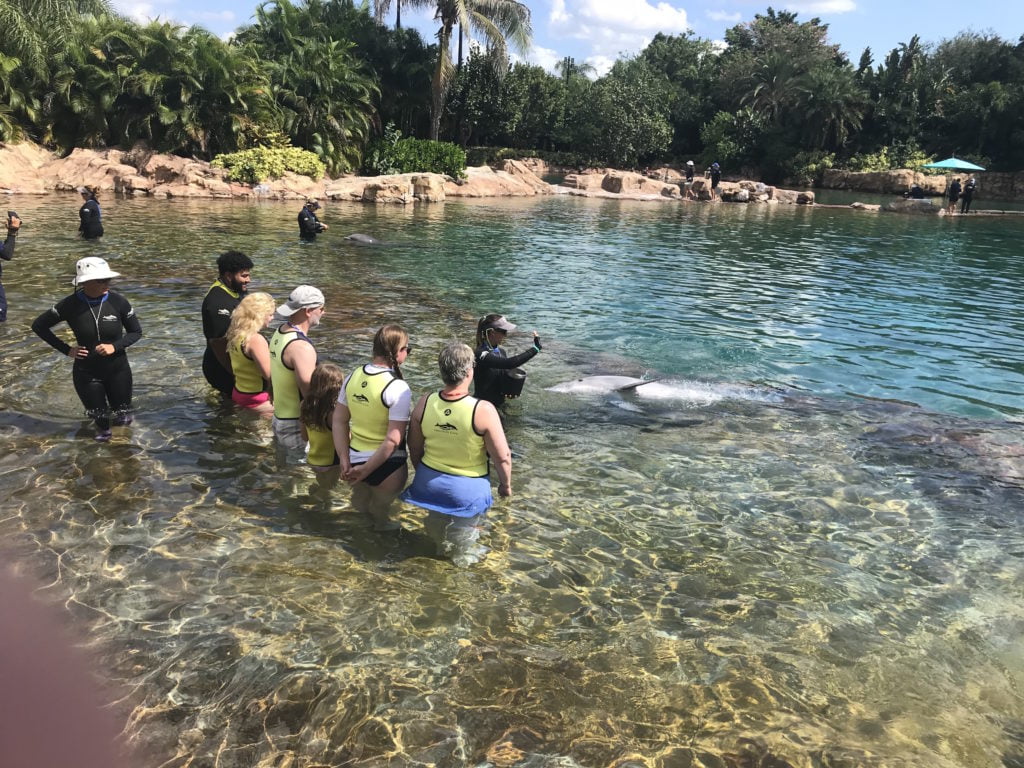 Partake in Scalloping + lobster season
Scalloping Season:  The 2022 scalloping season takes place between July and September in Pasco and Hernando counties. This underwater treasure hunt for the quick moving mollusks is an activity even kids can participate in as you mostly focus in the shallow water. It's best to book with a tour company like the Adventure Center on Plantation on Crystal River since they have all of the equipment you'll need for a hassle-free day…and they know all of the best spots to find the most scallops.
Lobster Season: The mini season lasts for 2 days—the last Wednesday and Thursday in July and then the regular season is from early August through late March. While we hear there's pretty good lobstering for novice hunters along Florida's Gold Coast of Dade, Broward and Palm Beach counties, the Florida Keys seems to reign supreme among lobster hunters. There are limits and rules—you'll need a Florida Saltwater Fishing License AND a Lobster Stamp. You can also look at hiring a charter through companies like Hawks Cay Marina.
Explore Florida's Weird Side
Also known as the "Bowling Ball House," this brightly colored ornate home is something you've never seen before! It's no wonder it's become a beloved local landmark. The owners and creators of the home, Todd Ramquist and Kiaralinda, are the "Whimzey Twins" also create Whimzey Wire Aluminum Art you can purchase. Keop in mind that it is their home, so it might be best to take advantage of one of their tours.
Ulele Fairyland Figurines
Tampa's Fairyland vignettes were rescued and restored by restauranteur Richard Gonzmart and are now on display at his restaurant Ulele along the Riverwalk. You'll spot Humpty Dumpty on top of the building and the Three Little Pigs off to the side. There are 11 vignettes on display at Ulele.
You'll be in awe of the real-life mermaids (actually, they're incredibly strong athletes who use the same air tubes as the original mermaids in 1947!) as you watch them perform in the crystal clear spring water from the comfort of your seat in the theater. You'll never see a experience like this built ever again—it was built many decades ago and today's regulations would make it next to impossible, so it truly is a one of a kind experience. Mermaids began performing in 1947 but didn't get their tails until the mid-1960s. You'll want to arrive at the park early as it often reaches capacity by the afternoon on busy days like weekends.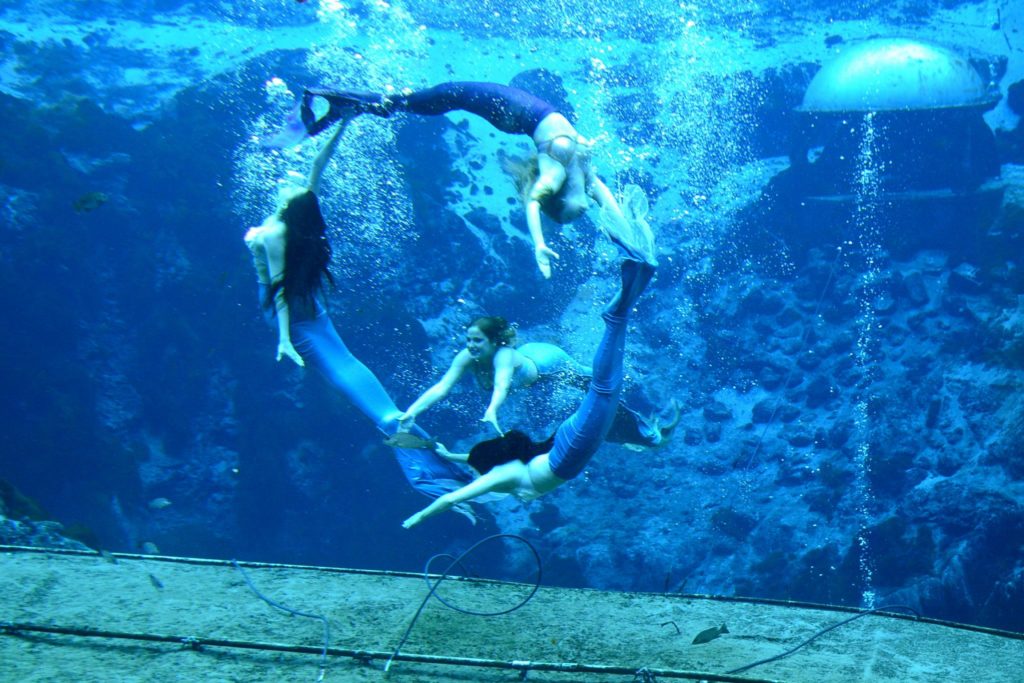 This county park makes our list because you really do feel like you're in a different world as you walk among the exposed tree roots–a result of erosion of an old phosphate mine where the oak trees were planted a few decades ago. The park itself is huge as one of Hillsborough County's largest regional parks. There are so many hills and steep climbs from the old mine hills, you just might forget you're in Florida! The tree roots are the coolest/strangest part of the park. Look out for the playground—that's the landmark we suggest looking out for and park there. Just beyond the play structure is where you will find Sacred Hills—the collection of gigantic trees on top of hill after hill where the exposed roots transport you into an entirely different world. It's realllly cool.
Spook Hill in Lake Wales
While it's more of an optical illusion, it's a may as well check it out destination if you're already planning to visit Bok Tower Gardens, which is only few minutes away.  It'll only take a few minutes of your time, but you'll spot the road sign and pull up to the white line and put your car in park. While it may seem like a small dip in the road before you head up hill, it's actually up so your car will roll backwards. As we said—don't make it your only destination, just add it to the list of you plan to visit Bok Tower Gardens which is a MUST DO!
If you're making the drive from Tampa Bay to Miami and you're taking Tamiami Trail, plan for a pit stop at the Skunk Ape Research Headquarters located at 40904 Tamiami Trail East. It's a roadside oddity for sure that tracks the legend of the Skunk Ape that dates back hundreds of years. There's a lot to experience here including tours of the Everglades. You can also see some of the animals that call the HQ home like a giant alligator and one of the largest snakes in captivity.
Gatorland Orlando
Mingle with the reptiles in Orlando at Gatorland, the 'Alligator Capital of the World'. You read that right, but are you really surprised? And get this…you can even zipline over 130+ gators. No big deal, right?? Gatorland is so much more than a gator park. Sure, you'll get to see alligators and crocodiles, but it's also home to birds, wild cats, tortoises, snakes and other critters. There's even a petting zoo. But don't worry, the animals aren't scaly, but rather furry goats and more.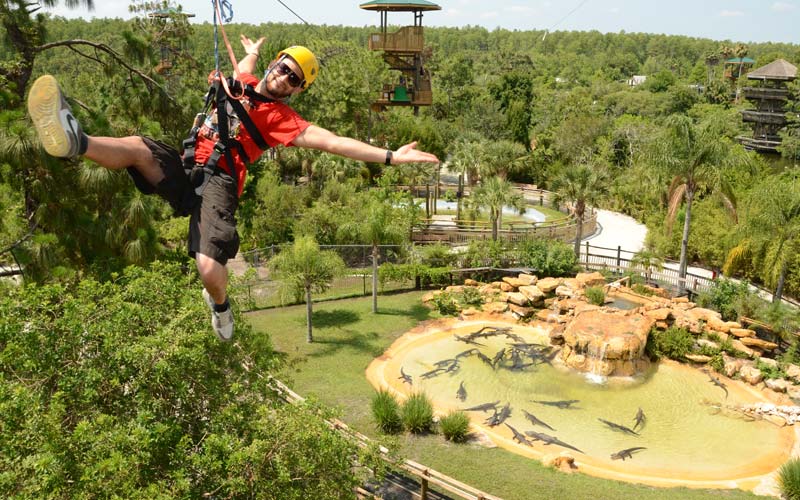 Explore Florida's National Parks
Florida has 11 National Parks to explore, each with a unique landscape and history to explore. Some top ones include the Dry Tortugas in the Keys which is a bit challenging to get to. You can go by ferry or splurge and fly in on a sea plane. It's worth the trouble to experience the pristine waters and visitt the Civil War era Fort Jefferson. You can camp overnight, but there are limited spots and you'll need to bring everything with you since it's a primitive campground.
Related: 5 National Parks within a Day's Drive from Tampa Bay
If history is your jam, you'll love exploring Castillo de San Marcos National Monument in St. Augustine. The old Spanish fort is the oldest masonry fortification in the county and not far from the site is the location of the very Thanksgiving celebration, held 56 years before the Puritan Pilgrims in Plymouth. Yup, true story. But, since the English ended up conquering the continent, it's the British observances we celebrate today.
And of course, there's Everglades National Park—the largest subtropical wilderness in the United States and a World Heritage site. This is a park you'll want to explore by foot and by boat! Airboat, that is.
Keep in mind that the kids can earn their Junior Ranger badges at each National Park.
Aim for the Stars at Kennedy Space Center
While Houston may boast the Houston Space Complex, Kennedy Space Center here in the Sunshine State is pretty darn cool and absolutely a must-visit. I mean, where else are you going to find a rocket garden made up of real rockets that have been to space and back? You'll be taken back to the very beginning of space exploration all the way through the missions of today—and if you're lucky, your visit will coincide with a launch. Be prepared to gawk and awe as you take a stroll around the American icon, the Space Shuttle Atlantis. It's an incredible thing to stand so close to this shuttle that rocketed astronauts to and from space for thirty years.
Channel Hemingway in Key West
Nowhere else will you find dozens of six toed Hemingway cats lazily going about their day at the home named for celebrated author Ernest Hemingway. You can tour the home and even see the pool, which was at the time it was built in the 1930s the only in-ground pool within 100 miles. It's said to have been built at an extraordinary expense. You'll find a penny inlaid at the north end of the pool in honor of Hemingway allegedly tossing a penny to the ground as he told his wife who oversaw the construction, "Pauline, you've spent all but my last penny, so you might as well have that." We don't know if he actually said this to his wife, but it makes for a good story either way!
Feature image credit: Wild Florida
Disclosure: Some, but not all, of the businesses mentioned in this post are our valued advertising partners. Learn more about advertising with us.