It's a classic. A little campy, a little country, and totally Florida. Gatorland is a popular wildlife park and attraction located in Orlando, Florida. Although known for alligators you can get up close to various other reptiles and wildlife species. For a fun date day, consider experiencing some of Gatorland's wild exhibits, up-close encounters, and animal attractions.
It's also one of our favorite places to get an annual pass in Orlando.
Thrilling Fun At Gatorland
Alligator and Crocodile Exhibits
Additional Animal Areas
Swamp Walk and Observation Tower
Screamin' Gator Zip Line
Stompin' Gator Off-Road Adventure
Shows and Demonstrations
Alligator and Crocodile Exhibits
Think you've seen plenty of gators out on the lake? Think again. Gatorland's title of "Alligator Capital of the World" doesn't boast or brag – this is the real deal. Every corner of this park is crawling with over 2000 prehistoric creatures as small as baby gator "grunts" to massive 14 foot beasts in these wild exhibits.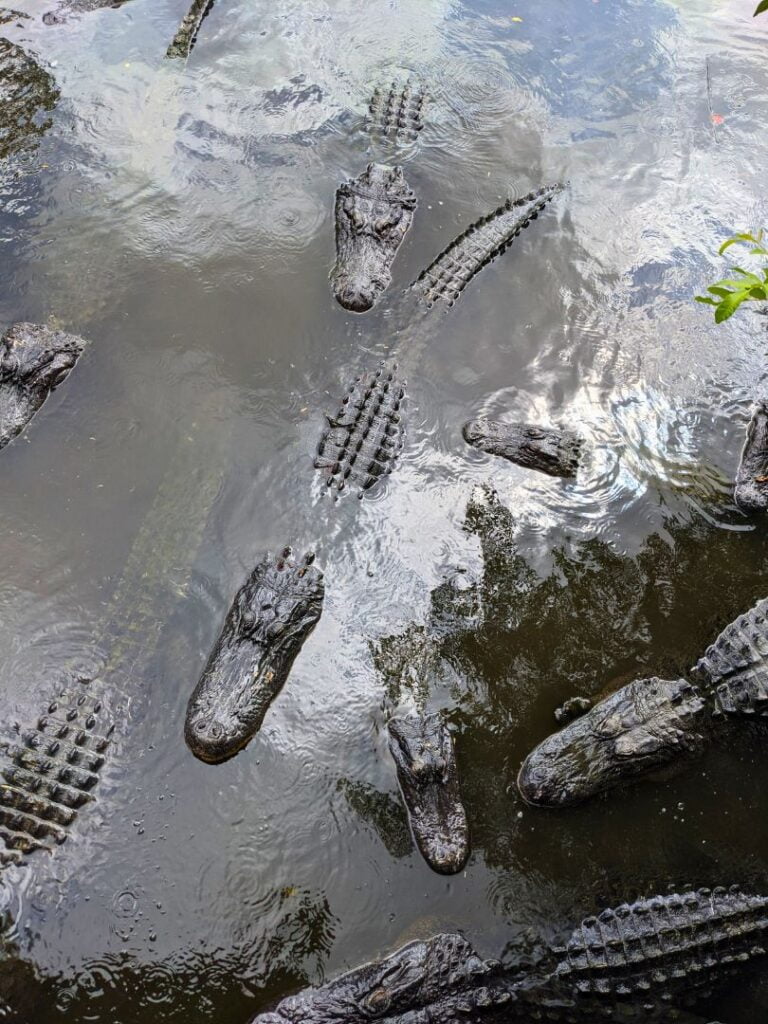 Baby Gator Marsh
Sure to start your date with plenty of "awws" and cooing, the Baby Gator marsh is the cutest photo worthy habitat in the park. With over 60 crawling cuties, the baby hatchlings wait in their pen for when, at around 18 months of age, they get to go to the larger alligator pools.
Alligator Pools
It's possible to feed the larger gators some "Gator Chow" at the alligator pools, which can be found all over the park. The Breeding Marsh and Jumparoo show areas by the entrance are one such place to purchase gator food before moving on to other great exhibits.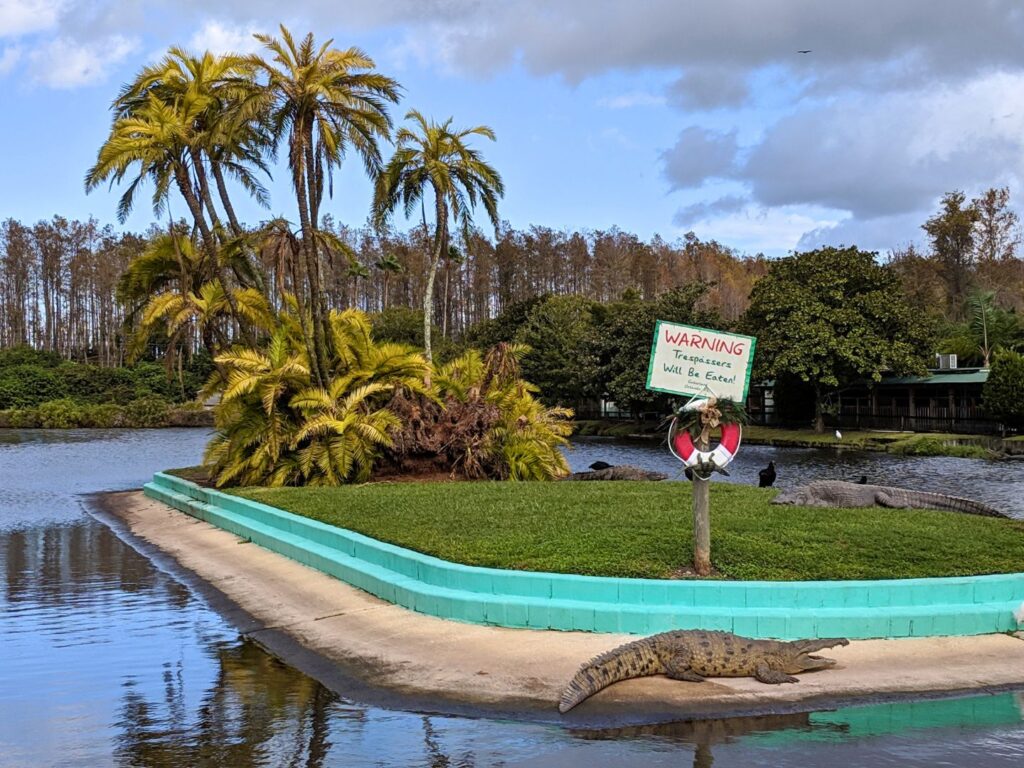 In the evenings the park offers an event called "Gator Night Shine". Armed with flashlights, experience the croaks, grunts and calls of the very active alligators for a small additional fee.
White Gator Swamp
Gatorland is home to many species of reptile, but the rarest are the white gators. With two of twelve leucistic gators known to exist, the blue-eyed white gators share an exhibit with three red or pink-eyed albino gators. Although similar, both are extremely rare to see. According to Animal World & Snake Farm Zoo, there are only about 100-200 albino alligators in the world! 
Jungle Crocs of The World
Visit the Jungle Croc exhibit to explore the visible differences between gators and crocodiles from the shape of their snouts to the protrusion of their teeth.
Bonescrusher 2
Your date may think they're brave when they take to the zipline or partake in the park's $12 "Adventure Hour" to get up close and personal with the gators, but then again, they've never seen Bonescrusher 2 before. The offspring of legendary mid-century big daddy gator Bonescrusher, this bad boy may look docile through a glass wall, but make no mistake – he's the largest alligator you'll ever feast your eyes on. You don't want to tango with him in the wild!
Additional Animal Areas
In addition to alligators and crocodiles, Gatorland features other animals like snakes, turtles, birds, and lizards. Visitors can explore exhibits such as the "Snake House" and the "Breeding Marsh," which provide insights into different reptile species.
Snuggle up or rest your feet for a small added fee on the Gatorland Express Train through the backlot of the park, which delivers riders to two possible stops along the park map route, including opportunities to see owls and emus before snacking on hot dogs and more at Pearl's Good Eats.
Gatorland visitors can also find bobcats, giant tortoises, and a very quaint aviary literally chirping with joy. For a good laugh, enjoy the dozens of tiny birds who are more than delighted to land on your shoulders, head, and hands for photo ops. Be sure to feed birdseed to them for extra attention!
Slither up to the snake exhibits or get some pet therapy at the barnyard petting and feeding area before taking one of the next big adventures the park has to offer.
Swamp Walk and Observation Tower
Much like the nature trails found in Florida's State Parks, the Swamp Walk and boardwalk to the Observation Tower are enjoyable and relaxing strolls through the park.
Although a very safe and fun part of the park's exhibit list, the Swamp Walk can quickly become a swamp run, for fear of what slithers in the marshy areas below the boardwalk. The brave will ogle at the serenity, but the rest may want to speed up their pace a little bit!
Climb the observation tower for incredible views of the Breeding Marsh and the hundreds of gators below it.
Imagine soaring nearly 30 mph across over 1200 feet of cable. Now imagine doing that Indiana Jones style with hundreds of Cuban and Nile crocodiles just feet below.
This amazing adventure starts with included admission to the park, and ends with you and your date soaring 7 stories high across gator pits.
Sounds like a scream!
Related: 7 Places to Go Ziplining in Orlando
Stompin' Gator Off-Road Adventure
This off-road monster truck adventure takes passengers mud-running 12 feet above the ground through gator graveyards, swamp puddles and rough terrain. With quirky guides and adrenaline pumping fun, this 15-minute adventure is one worth adding to the list for date day.
Shows and Demonstrations
Gatorland hosts three must-see shows for every visitor.
Gator Jumparoo
This classic show exhibits the little known ability of gators to jump four feet or more into the air. They're jumping after their dinner, of course, which is a whole raw (store-bought) chicken! It's such a Florida thrill to see a grown gator jump out of the water.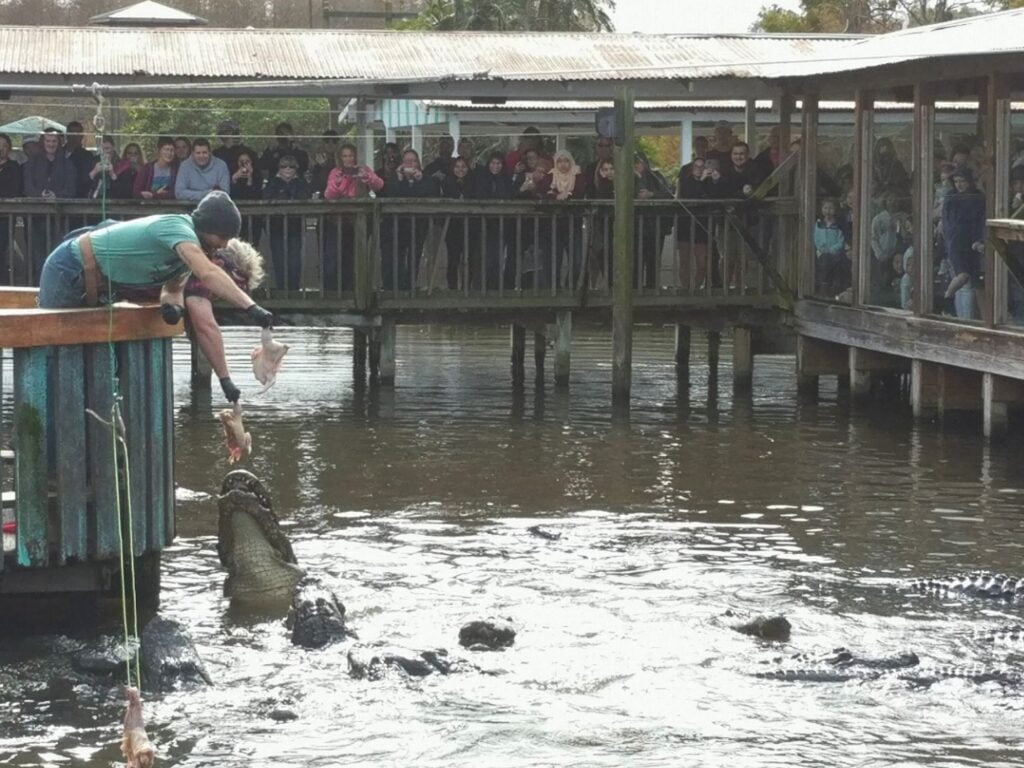 Alligators: Legends of the Swamp
If you know someone who admires Bear Grylls, or perhaps wonders what it is like to wrestle an alligator, this show is for you.
During this fun and educational show, one of Gatorland's bravest will do just that. Man versus beast, witness Gatorland staff wrangle 6-8 foot alligators, all the while teaching the audience some very valuable safety tips about how to evade a charging alligator, and more.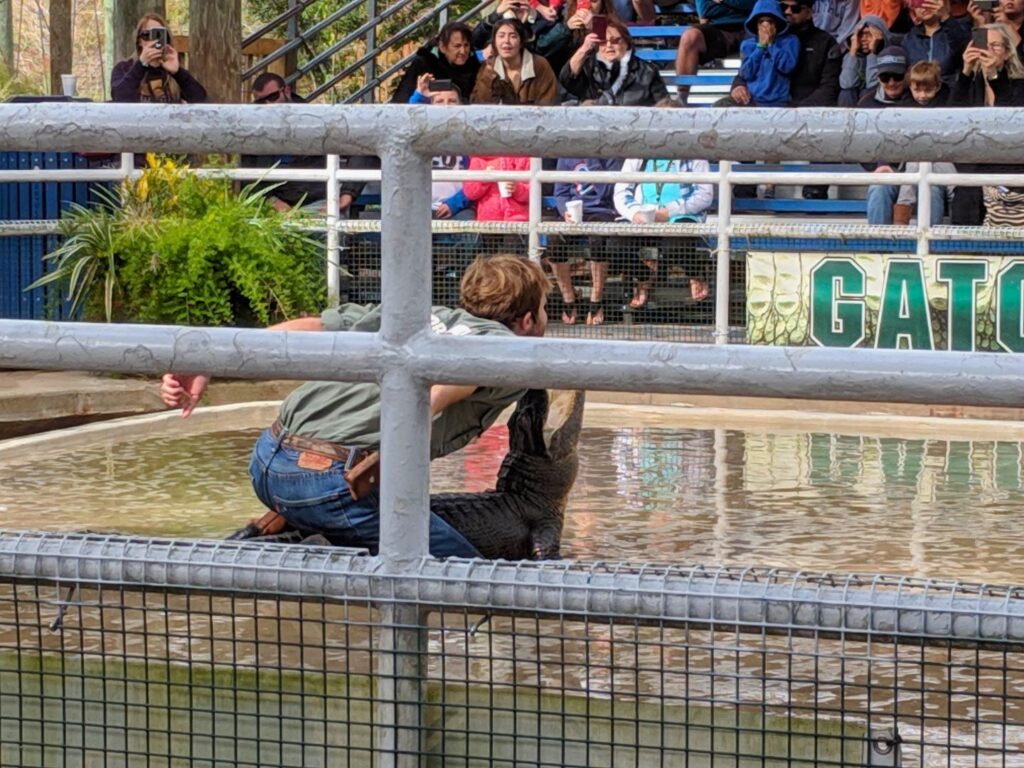 Stick around after the show to meet the gators up close!
Up Close Encounters
This charming and very funny show interacts heavily with the audience, so expect to do some volunteering! Boxes full of the world's deadliest slithering creatures await for a show packed with humor and fun.
Plan Your Visit
14501 S. Orange Blossom Trail Orlando, Florida 32837
407.855.5496
customerservice@gatorland.com
HOURS
Open Daily 10am-6pm rain or shine, including holidays
ADMISSION
Single day tickets are $32.99 per adult
Get coupons, Florida Resident discounts and Annual passes at their website and $3 off single day admission if you purchase online.
We hope you enjoy visiting this fantastic date destination for a walk on the wild side. You can connect with us and other Orlando enthusiasts on Facebook and Instagram.