Something new is coming to Orlando, and it promises a brighter Orlando dating scene! The highly-anticipated Brightline Train is practically ready to ride at Terminal C at the Orlando International Airport. And, it's going to change everything for the better. Let's get down to the details.
Brightline Orlando service is slated to open on September 22, 2023.
Brightline Orlando – What You Need to Know
What Is The Brightline Train?
Currently serving locations in South Florida, the Brightline Train is a fast, eco-friendly, intercity rail option, designed to connect destinations and make travel more convenient. All the trains in the Brightline fleet have diesel-electric engines, powered by FPL clean biodiesel, which leads to lower emissions and reduced noise.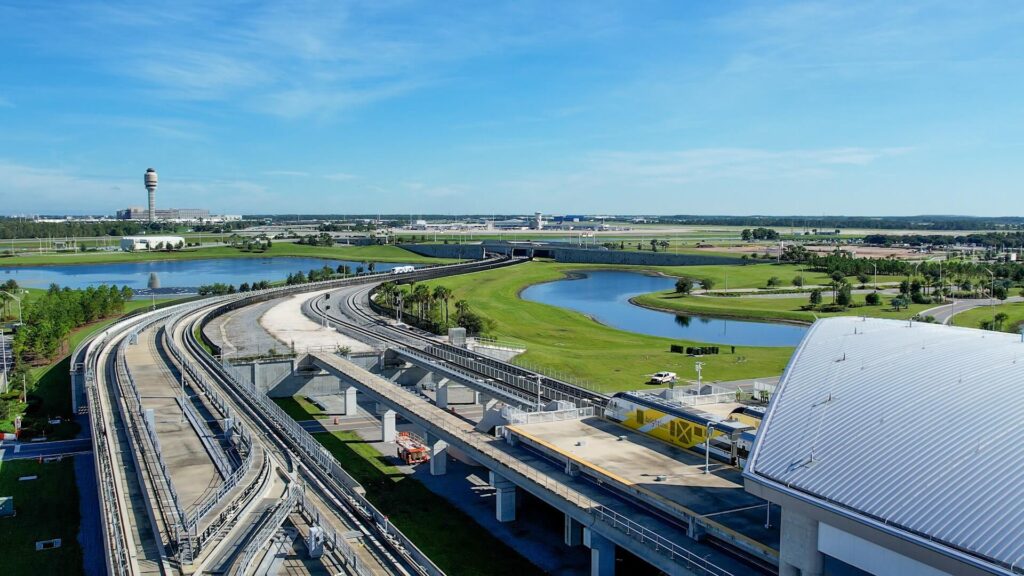 Once Brightline Florida service in Orlando begins at the end of September 2023 the train will travel at 125 mph. It is estimated that it will take just about 2 hours to travel West Palm Beach from Orlando.
As expansions continue, Brightline promises to connect Tampa to its rail system for even more interstate accessibility.
What To Expect From The Brightline Orlando Station
The newest Brightline Station measures 37,350 square feet, and is located in the new Terminal C at MCO. Designed by Bigtime Design Studios of Miami, the station is bright and spacious, with the comfort of guests in mind. It's easy to book tickets and reserve parking spaces using the Brightline app, and travelers can use that same app to enter the area via touch-free turnstiles.
Complimentary Wi-Fi in the station and onboard provides guests the ability to telecommute, research their destination, or complete any online tasks. While waiting for their departure, passengers can enjoy refreshments at the Mary Mary bar, or purchase snacks and drinks at the >>MRKT convenience store.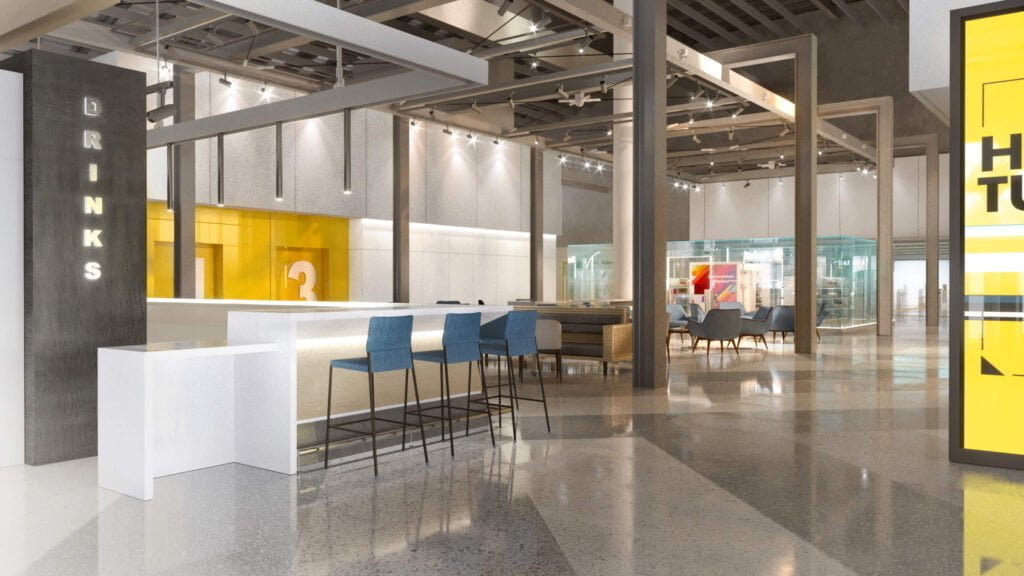 PREMIUM ticket holders have the opportunity to take advantage of the exclusive PREMIUM lounges while they wait.
Brightline Florida Destinations
Once onboard the Brightline, passengers find themselves treated to a smooth, quiet ride to one of several destinations.
At the moment, these bold, yellow trains travel between the following South Florida cities, with about 20 minutes in between each.
West Palm Beach
Boca Raton
Fort Lauderdale
Aventura
Miami
What is it like on the Brightline Train?
Guests have their choice of SMART or PREMIUM tickets, and while both offer plenty of amenities, PREMIUM definitely takes things to the next level. All riders can take advantage of free high-powered Wi-Fi, power and USB outlets, and hand-stitched leather seats.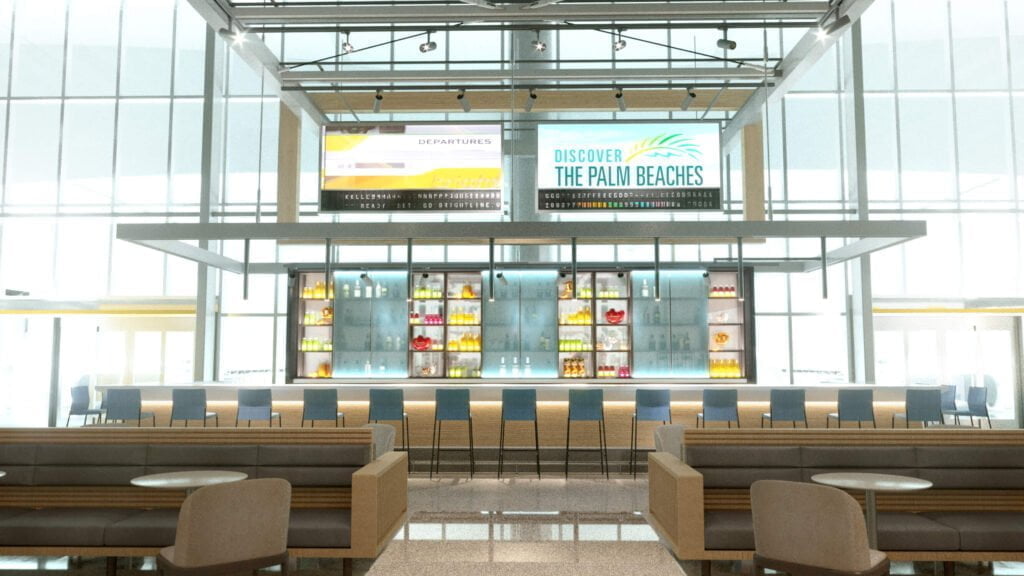 SMART riders can purchase snacks and drinks on board, but PREMIUM guests get complimentary refreshments, as well as access to the exclusive lounge in the station, and a signature pre-boarding experience.
All the trains in the Brightline fleet are ADA-accessible, and easy to board for wheelchairs and strollers alike. While you can check bags, there is also plenty of room to stow carry-on luggage, and even bikes. Want your pet to join you on your journey? Perfect!
These trains are pet-friendly, and welcome your furry companion, too! All passengers have access to clean, innovative restrooms, which is perfect for freshening up after travel.
What Does This Mean For Orlando Couples?
The new Brightline station promises a brighter Orlando dating scene. While Orlando is full of incredible date nights, now it's easy (and economical) to branch out and explore without driving or expensive flights.
Orlando couples can head out for spontaneous weekends shopping, exploring, cheering at sporting events, attending the theater, or even enjoying dining experiences that were once too far away.
Service from Orlando will connect to West Palm Beach. Your travel will take about 2 hours from Orlando to West Palm Beach. From there you can connect to additional South Florida destinations.
Date night ideas now include impromptu photo shoots at the Wynwood Walls or shopping in the Miami Design District. Aventura Mall promises luxury retail, or you can hit up the races at Gulfstream Park. In Ft. Lauderdale, check out the dining on Las Olas, the beach, or visit one of the many museums near the Brightline station.
Stop in Boca Raton for shopping or a concert in Mizner Park. And West Palm Beach offers plenty of delicious restaurants, more museums, and a theater for Broadway shows. There's so much to do, and now it's all so much more accessible!
Travel time also becomes part of the date experience, as Brightline passengers can sit back and relax rather than drive or navigate transportation. Train travel gives a nod to old-time romance, and brings a greater sense of adventure to the night or weekend out.
No more traffic or worrying about lost luggage and missed connections: instead, hop on board this full-service railway and enjoy the journey as much as the destination.
The Brightline makes it possible for Orlando couples to add so many more experiences to their dating bucket list, all in three hours or less!
Get Ready To Ride That Train!
The Orlando expansion of Brightline opens on September 1, 2023, and you don't want to miss it!
For more information on the new Orlando service, other existing services in South Florida, and the future Tampa expansion, visit GoBrightline.com. We will update our Brightline Florida guide and more infomation becomes available.
All images and rendering from Brightline