Orlando may get all of the attention, but the neighboring county of Seminole County offers equally charming and adventurous date night opportunities. Make it a perfect pair date night by combining two fun activities that are near each other. We've put together a list of our favorite things to do in Seminole County that are perfectly paired for date night.
Date-Worthy Things to Do in Seminole County
One of our favorite things to do in Seminole County is just within the borders of the county line, Wekiva Island. Plan the perfect date day with these 7 Things to Do at Wekiva Island. Keep reading for more date ideas and things to do in Seminole County.
Oviedo
Black Hammock Airboat Ride + Sushi Pop
Get ready for an adventurous mix of Old Florida and delicious cuisine. Before you even set foot on your Black Hammock airboat ride, your exploration of Florida's natural side begins the moment you arrive to Black Hammock. Old Florida roads lead to old Florida dining and enclosures with tropical birds and alligators.
Enjoy a thrilling airboat ride along Lake Jessup and become fascinated with Florida's natural, wild beauty. Black Hammock also has a restaurant and the Lazy Gator bar.
Sushi Pop isn't right next door to Black Hammock, but at a mere four miles away it is the perfect way to continue your adventurous date. Sushi Pop offers some of the freshest, most creative ways to enjoy sushi. Inspired by Japanese pop culture, the atmosphere is fun, upbeat, and there's eye candy practically everywhere.
Lukas Nursery Butterfly Encounter + Oviedo Brewing
Immerse yourself in one of the largest butterfly conservatories in the state of Florida at Lukas Nursery Butterfly Encounter. Feel the flutter of a butterfly's wings alongside the one that makes your heart flutter. You and your sweetheart can feed butterflies from your fingertips. Get that camera ready for some picture perfect moments.
Admission is $7 for ages 3 and older. Why not explore the beautiful selection of plants and flowers at Lukas Nursery while you're there?
One of Seminole County's popular craft breweries, Oviedo Brewing is a local favorite. They're one of the few breweries around that offers a substantial food menu. Located at the Oviedo Marketplace mall, it is only a short drive away from Lukas Nursery.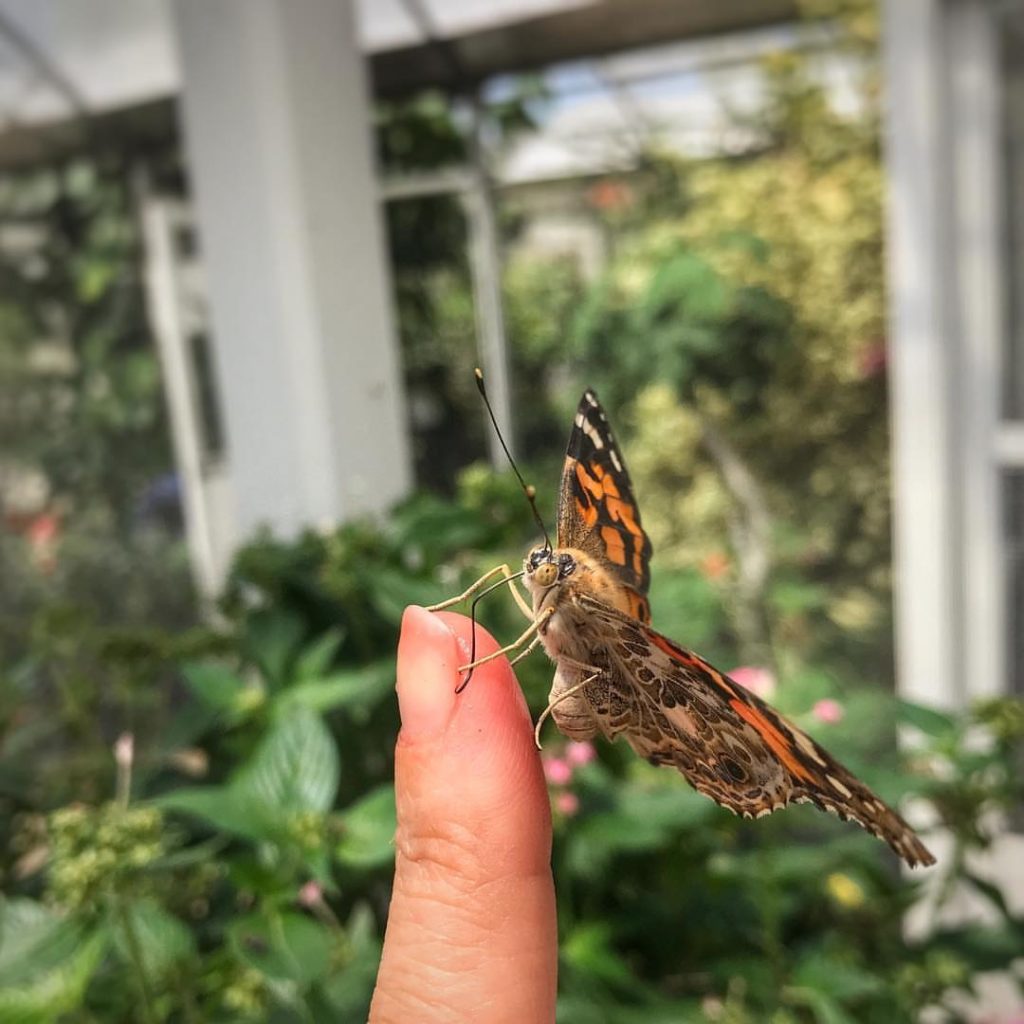 Center Lake Park + Happy Hour
One of the best developments in Seminole County, Oviedo on the Park is a vibrant town center full of recreation. Center Lake Park is at the heart of it all. Enjoy a lakeside stroll and rent a swan paddle boat to get out on the water. There are also occasional outdoor movie nights, concerts, and other special events.
After enjoying Center Lake Park in Oviedo, head to one of the nearby restaurants. Tabla Indian Cuisine is a great choice, whether you're an avid Indian food fan or curious. And Ford's Garage is also nearby for casual eats and craft beer.
Tabla Indian Restaurant in Oviedo Happy Hour is Monday – Friday. When last we checked, Happy Hour is offered 5pm – 7pm Monday – Friday with beer and wine specials, plus selected cocktails for $7. There are also special bar bites.
And Ford's Garage in Oviedo has Happy Hour Monday – Friday, 2pm – 6pm . The Happy Hour specials are $4 Premium Well, $2 Off Drinks and Drafts.
Casselberry
Casselberry Blueway Trail + Wa Sushi
Casselberry is home to a small but beautiful chain of lakes ideal for kayaking and canoeing. You can rent a kayak or launch your own at Secret Lake Park. From there enjoy the views of one of the area's most popular parks before paddling to four other lakes that are connected by canals.
The launch point is on North Triplet Lake. There is a canal right next to the launch ramp which leads to Triplet Lake, a lovely, quiet neighborhood lake. From Triplet Lake, one canal connects to Lost Lake and the other to South Triplet Lake, which has views of the Casselberry Golf Course. From South Triplet Lake there is one final canal to Queen's Mirror Lake, with some of the nicest homes in the neighborhood. These five interconnected lakes comprise the Casselberry Blueway Trail.
Rentals needs to be made in person at the Recreation Center at Secret Lake Park (advance reservation required for weekends). Be sure to stay hydrated and take your time to enjoy the views.
Just down the road from Secret Lake Park is Wa Sushi. Many claim, myself included, that Wa Sushi has the freshest, most authentic sushi in the area.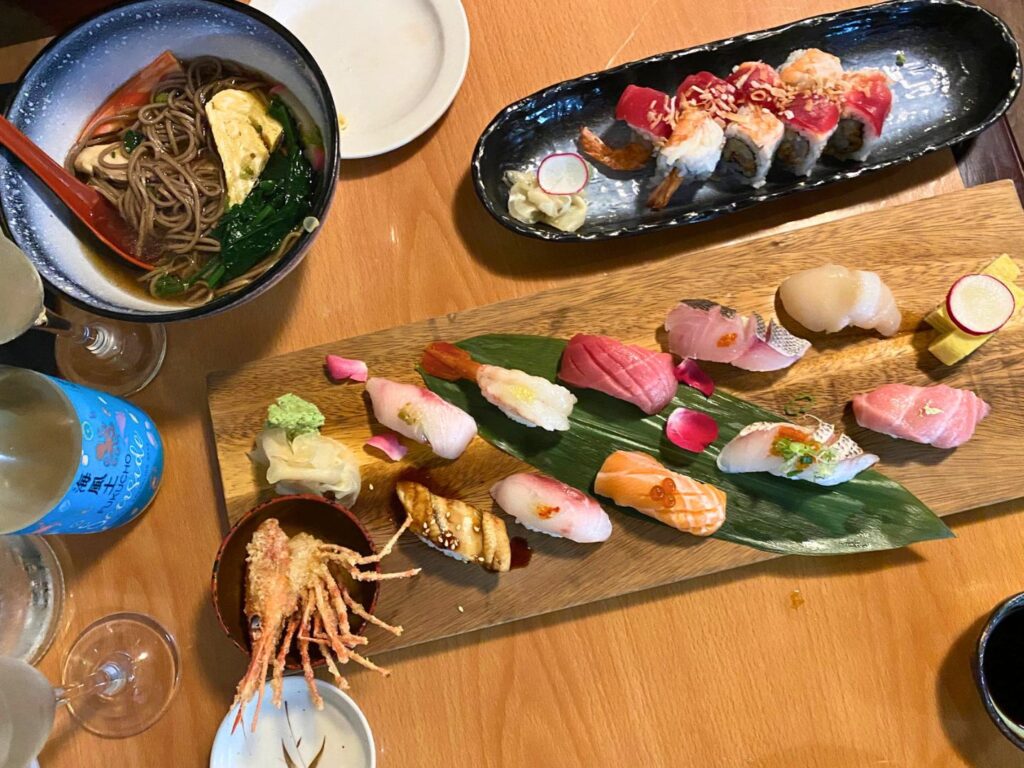 The dining room and sushi bar are welcoming, and the staff is always willing to help you navigate new items you haven't tried before. A selection of Japanese craft beer and sake are available, including house-infused pineapple sake. Their ramen is rich and satisfying, too.
Colorado Fondue Company + Bowigens Beer Company
For over 25 years, Colorado Fondue Company has been delighting guests with their special twist on the fondue dining experience. Naturally, you can enjoy cheese fondue to start, and chocolate fondue to finish – both of which are offered in a variety of flavors and combinations.
The main course is where it gets really fun. Your proteins are cooked on a hot rock placed in the center of your table. Veggies, pasta, and potatoes are cooked in your own pot of broth. Finish everything off with fresh, made-in-house sauces. The decor inside could give Disney's Wilderness Lodge a run for its money. Consider visiting during Halloween or Christmastime; the decorations are delightful. Reservations are recommended.
Right next door to Colorado Fondue Company is Bowigens, a cozy neighborhood brewery. The staff is always welcoming and there is always something new to try. The team at Bowigens loves to experiment with new flavors and collaborate with other breweries in the area.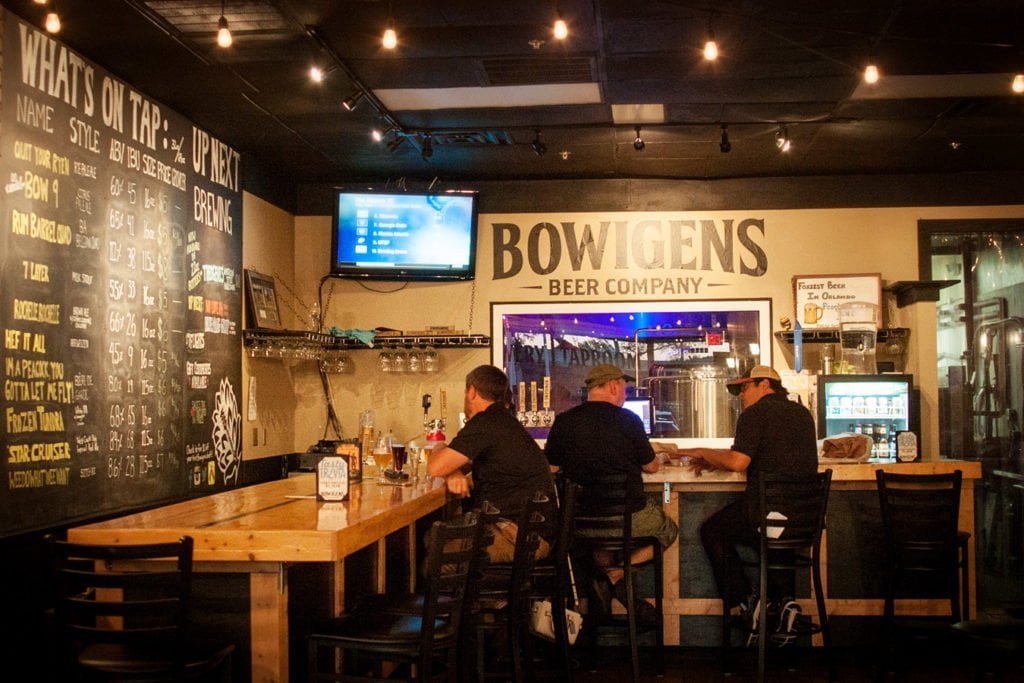 Sanford
The Suffering Bastard + The District
You would never suspect that there is an enchanting, authentic tiki bar contained within a back hallway of Tuffy's Bottle Shop and Lounge. Once inside, The Suffering Bastard transports you to a world of enchanting music, exotic decor, and luscious, handcrafted tiki rum drinks. Named after a tiki drink that originated during World War II, The Suffering Bastard is intimate and a truly authentic tiki bar experience. It is best to arrive early or make a reservation.
Explore more hidden bars in Orlando.
The next block over, you will find The District. This local restaurant is a great representative of the charm of Historic Downtown Sanford. Made from scratch dishes are inspired by classic American recipes with a contemporary twist and locally-sourced ingredients.
The beef and pork dishes tend to be the heroes of the menu, but don't overlook any specials that might be available. Be sure to start your District dining experience with a handcrafted cocktail and end with a delectable dessert, especially if the bread pudding is available.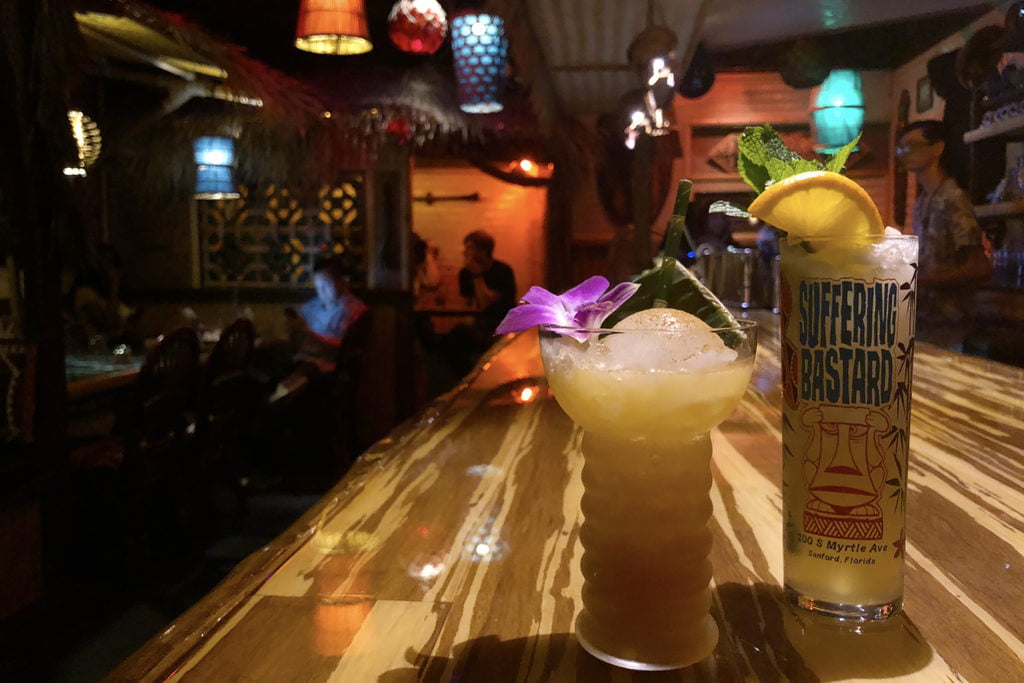 Wayne Densch Performing Arts Center + The Wildflower
Step into the hallowed halls of the Wayne Densch Performing Arts Center, a theater that has been around since 1923. Before heading inside be sure to take notice of the Ritz marquee sign, from the theater's days as the Ritz theater in 1936-1978. A variety of entertainment delights audiences here including concerts, plays, musicals and classic movies.
The Wildflower beckons nearly right next door. Also located in a historic building, The Wildflower is a fitting accompaniment to a night at the theater. The menu emphasizes and highlights local ingredients and flavors. Their cocktails are some of the most creative in the area and a perfect way to toast a great date in Historic Downtown Sanford.
ALSO TRY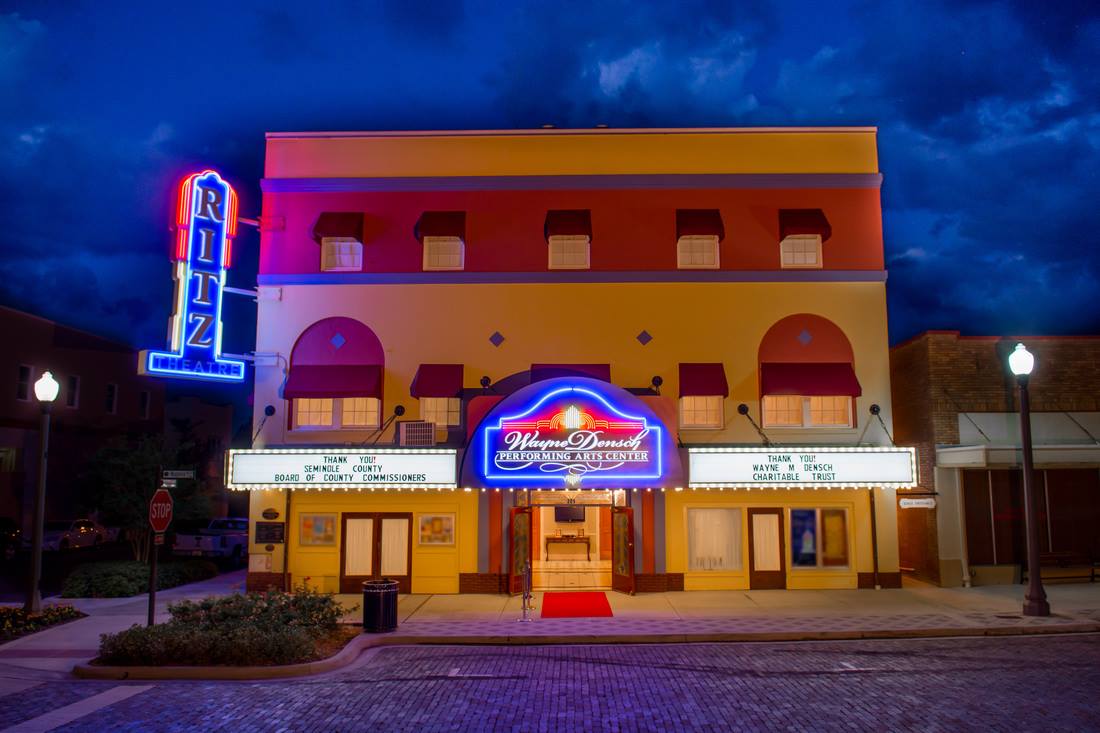 LONGWOOD
Acme Superstore + Nic & Luc
There is so much to see at Acme Superstore. You can find an incredible amount of comic books and collectibles here. You might even find a few toys from your childhood. You and your honey can reminiscence about the toys, comics, and movies you grew up with. Throughout the year Acme hosts a variety of special sales and events. They even have a private room to rent for special events.
Nic & Luc is a charming little breakfast spot that is welcoming and totally local.Sit, relax and linger, the minimalist vibe is soothing. You can also get the goods to go. Keep in mind, Nic & Luc is only open in the mornings, Tuesday – Saturday.
Hourglass Brewery + Wako Taco
These two are truly a perfect pair. When Hourglass Brewing first became established in 2012, in a small former home, Wako Taco was a food truck that would often park itself at the original Hourglass tap room. Once Hourglass moved into a much bigger space, Wako Taco became a brick and mortar spot, not only right next door, but connected to Hourglass.
Hourglass Brewing is more than just another great craft brewery. There are mini-art shows throughout the year, board games and gaming systems, and a selection of comic and movie collectables available to browse and purchase.
Wako Taco is right next door, and also has its own connecting doorway. You can place your order at Wako Taco and they'll bring it over to you inside Hourglass once your food is ready. Both spots are popular with families and couples alike.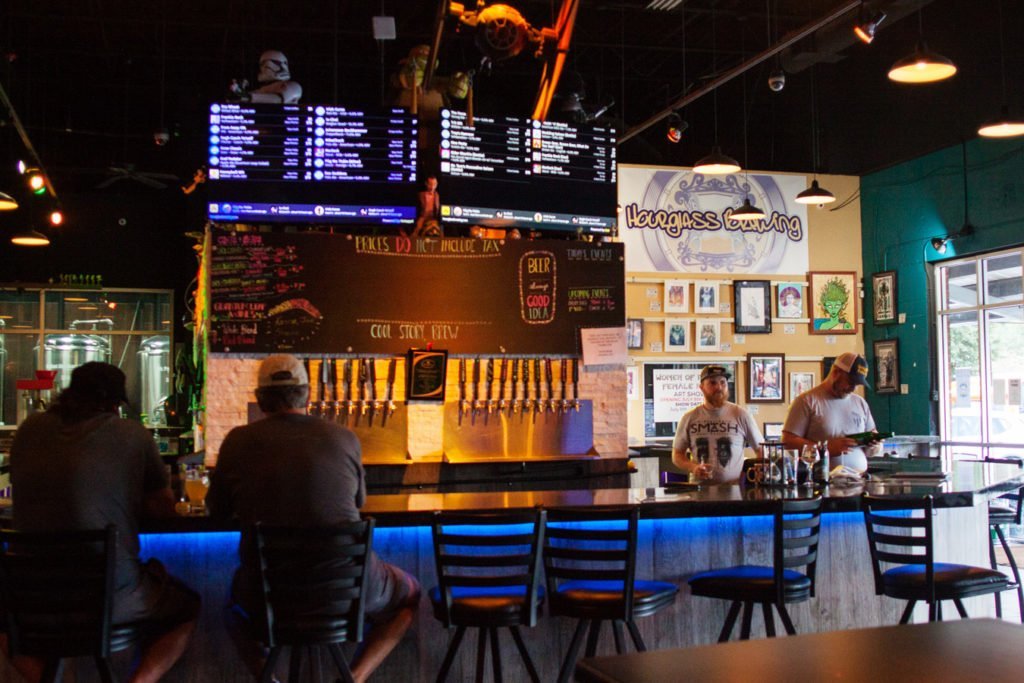 Reiter Park + Alestone Brewing
Longwood is often overlooked, but there is a charming downtown area full of historic homes. Reiter Park is a great place to visit for free, with a wonderful weekly farmers' market and other events each month.
If the weather is right you can walk through the downtown area, passing historic homes and businesses along the way. After about a 10 minute walk, use the crosswalk to safely get across CR 427 to arrive at Alestone Brewing. Of course, you can easily drive there if you prefer.
Alestone Brewing has a casual, covered outdoor area plus a relaxing indoor area. The craft beers are local and wonderful, plus the pizza is incredible!
Lake Mary
Pierre's Wine Cellar + The Olive Pantry
Downtown Lake Mary is home to a variety of great shops and restaurants. The town center is a great place to explore with sidewalk cafes and shops. When you're in the mood for some gourmet treats then pair up Pierre's Wine Cellar with The Olive Pantry. Pierre's Wine Cellar is filled with unique wines. Food and wine tasting events are offered multiple times each month, as well as an art night once a month.
The Olive Pantry is a little shop that beckons you to try new flavors. Taste your way through a variety of gourmet olive oils and balsamic vinegars. You're sure to find new ways to enhance your favorite meals and snacks.
Bike the Cross Seminole Trail at Trailhead Park + Pangaea GastroPub
The Cross Seminole Trail is 23 miles long, which might be a bit much to tackle for a date night or date afternoon. Trailhead Park is indeed the trailhead of the Cross Seminole Trail and provides access to an easy 3-mile portion of the trail.
To refuel after your ride, drive down the street to Downtown Lake Mary. We love the vibes at Downtown Lake Mary with multiple cafes, shops, and restaurants, plus a lovely park to stroll through.
One of the newest restaurants in this area is Pangaea GastroPub. This restaurant took over for one of my local favorites that I was sad to see go, but Pangaea GastroPub has a fresh menu plus special cocktails and flights. It is the sibling concept to NewCity Cafe just a few doors down.
ALSO TRY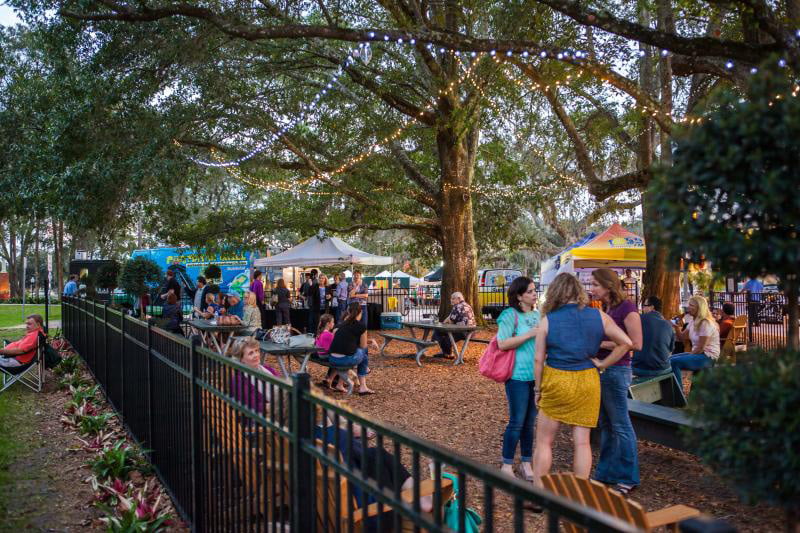 ALTAMONTE SPRINGS
Cafe Murano + Cranes Roost Park
With beautiful views of Cranes Roost Park and the water, Cafe Murano is a great gathering spot with live music Friday and Saturday nights. Rustic Italian cuisine is the star of the menu. Save a few dollars and visit during happy hour, Monday-Friday from 4-7pm and even on Saturdays from 11am-5pm. On Sundays enjoy a jazz brunch with unlimited mimosas.
The heart of the Altamonte Springs community is Cranes Roost Park. Monthly events include outdoor movies and concerts. Throughout the year the park is home to 5k walks and runs, food truck events, food and wine festivals, and the famous Red, Hot, and Boom 4th of July celebration.
Even if you don't visit during an event you can enjoy a stroll on the boardwalk around the lake, a special treat during sunset.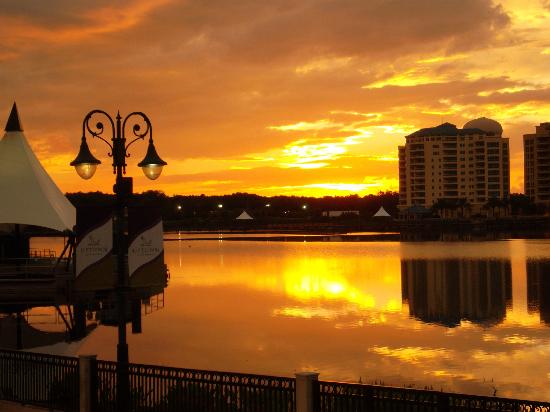 Altamonte Picture Show + Altamonte AMC Theater
Rainy day? Too hot to be outside? Do a DIY double feature at two movie theaters across the street from each other. Altamonte Picture Show features second-run movies for a very budget-friendly price.
If you missed a movie while it was originally in theaters, but it's not streaming or on Blu-ray yet, or if you just have to see it again, that's where Altamonte Picture Show comes in handy. After you've snuggled up and enjoyed a movie at the Picture Show, head across the street to AMC Theaters. Grab a drink at McGuffin's bar inside the theater lobby before you settle in for part two of your double feature.
Congo River Golf + Tibby's New Orleans Kitchen
Challenge your sweetheart to a fun round of mini golf at Congo River, exploring caves, waterfalls, and a few hilly peaks. Besides having a blast on the mini golf course you can feed live baby gators, mine for gems, play in the arcade, and even chase after an artifact while avoiding laser obstacles in a lazer maze game.
Afterward, tantalize your taste buds with authentic N'awlins cuisine at Tibby's New Orleans Kitchen. Located practically across the stress from Congo River Golf, it's super easy to enjoy the flavors of the Big Easy. Tibby's decor pays homage to the one of a kind city of New Orleans and their food is so flavorful you'd swear you were sitting smack dab in the French Quarter itself.
Feature image by Stephanie Patterson