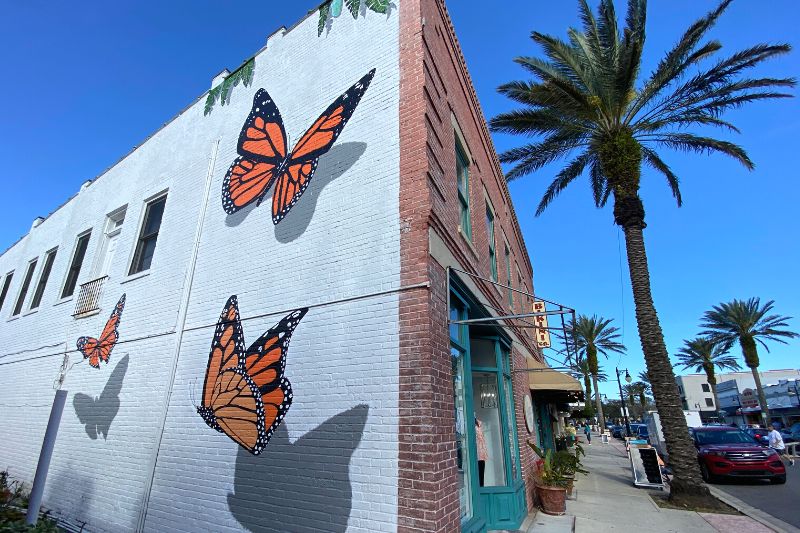 Ready to get away from the fast-pace of the city for a bit? While most people are heading to Daytona Beach or Cocoa Beach, why don't you check out New Smyrna Beach instead? Just an hour northeast of Orlando along the Atlantic Ocean is New Smyrna Beach; the delightful beachside town that Travel and Leisure magazine labeled "Florida's most underrated seaside city." Consider this your local guide to the best things to do in New Smyrna Beach – besides the beach itself.
Avoid the crowds that fill the beaches and streets in Daytona Beach and Cocoa Beach. For a low-key day together or relaxing vacation, New Smyrna Beach is much more enjoyable. Enjoy outdoor activities, locally-owned dining options, attractions, and a wealth of drinking establishments. 
15 things to do in New Smyrna Beach, Florida
Whether you choose to soak up the sun at the beach or not, there are plenty of things to do in New Smyrna Beach, any time of year.
1. The Marine Discovery Center 
The Marine Discovery Center sounds like a place for kids so you may be surprised to learn that the Marine Discovery Center is actually the place to start your ecotourism experience. With the expertise of a local guide, you can enjoy kayaking in New Smyrna Beach or relaxing on a pontoon boat tour through the most diverse estuary in North America.
The Indian River Lagoon is one of the most well-known estuaries in the United States. It is often referenced along with Chesapeake Bay in Maryland and Virginia, and Puget Sound in Washington state. Because the estuary has both salt and freshwater, there are more than 4,000 species of plants and animals.
You can actually enjoy some small marine animal exhibits for free inside The Marine Discovery Center . There is also a scientific classroom available for free, a great way to occupy kids.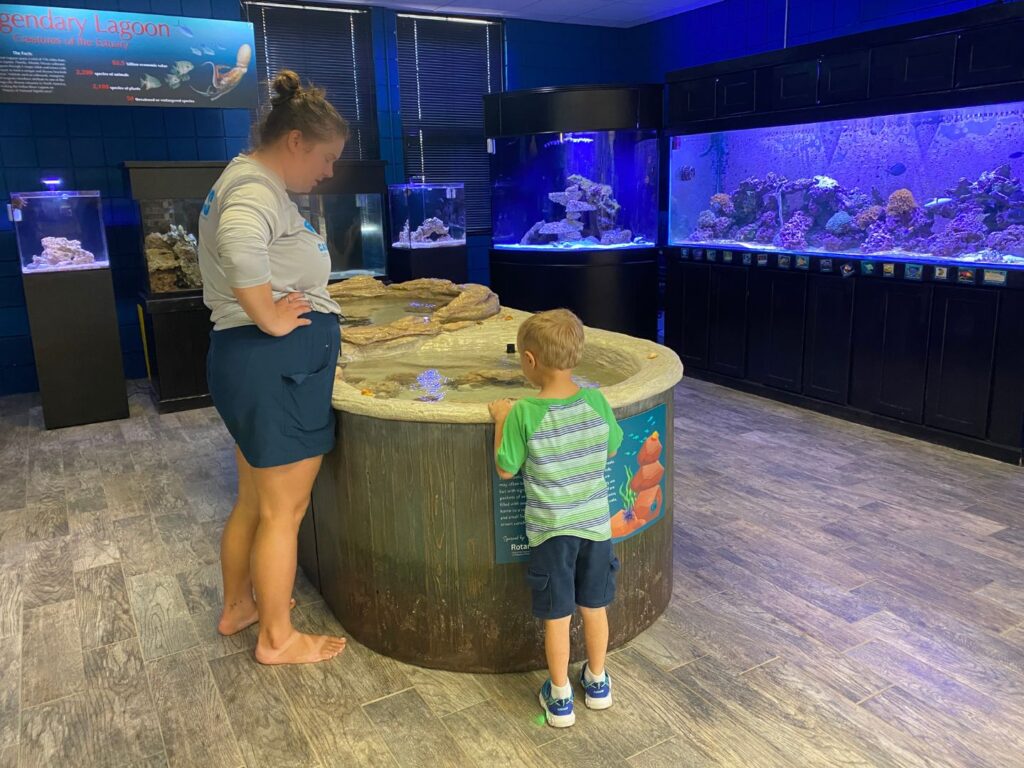 On the Marine Discovery Center pontoon tour, you'll enjoy mangrove-lined shorelines, birds such as osprey, pelicans, or even bald eagles and bottlenose dolphins chasing baitfish and manatees gently lumbering along.

Pro-tip: Book a sunset or Full Moon Boat Tour!
2. Flagler Avenue 
There are two main hubs of entertainment in New Smyrna Beach.  Flagler Avenue is the most well known with its prime location leading onto the beach. And Canal Street Historic District is perfect for those that want a hidden gem vibe. 
This ½ mile stretch is the heartbeat of the beach vibe in New Smyrna Beach. Surfer-chill and small town-friendly, the five blocks that end at the ocean are lined with craft breweries, restaurants and bars among the surf shops, gift shops and boutiques.
Two iconic local establishments are The Breakers, an oceanfront burger joint that's been here for 30+ years and the Flagler Tavern which opened in 1928. Enjoy the outdoor decks at the tavern and soak in the salt air and the local vibe. 
3. Canal Street Historic District
Historic buildings and majestic palm trees shade Downtown New Smyrna Beach. The first Saturday of each month is a great day to be here for "Sip & Stroll" where you're invited to sip on craft beers and local wines as you stroll through pedestrian-friendly Canal Street and its unique shops, galleries and artists' studios.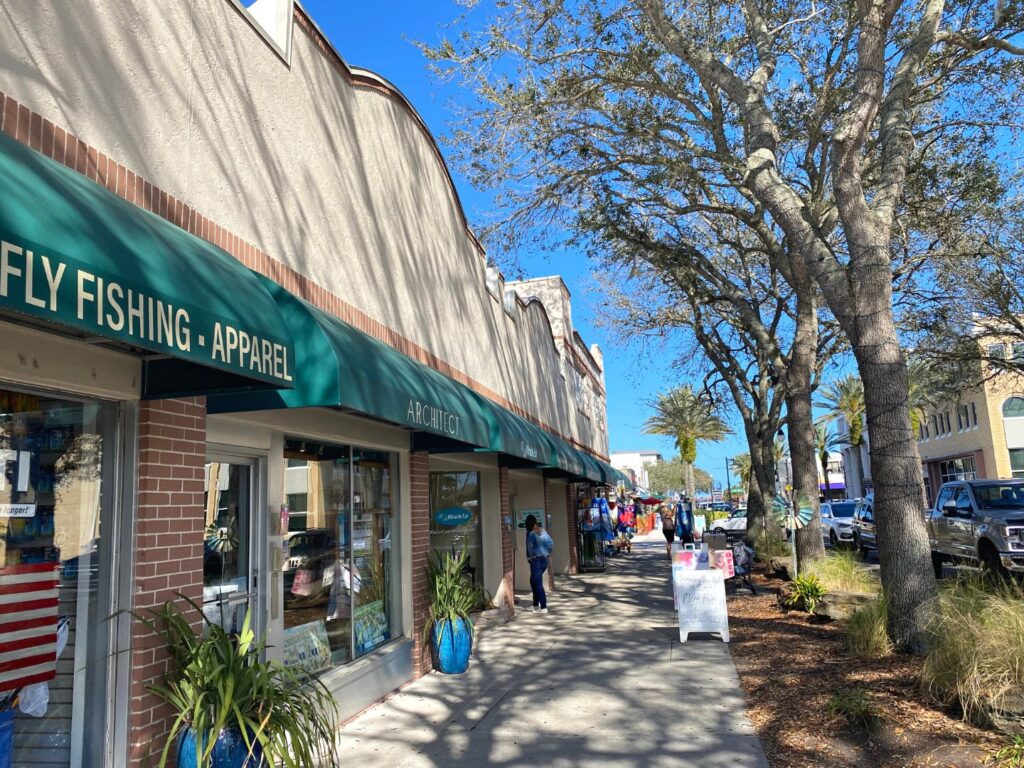 Canal Street Historic District is also where you'll find Sugar Works Distillery – keep reading for more about this cool place.
4. Sugar Works Distillery
Sugar plays a role in the history of New Smyrna Beach. A short drive from the beach itself, the ruins of a coquina sugar factory can be visited. And one block off of Canal Street Sugar Works Distillery is a family-owned craft distiller of Rum (Silver, Spiced or Vanilla), Moonshine and Whiskey.
Stop by and enjoy a free tour where you'll see the entire spirits-making process, from dry ingredients to the finished product. Bring your I.D. and you'll get to test the spirits (also free) at the end of the tour. Or order up some fresh made cocktails.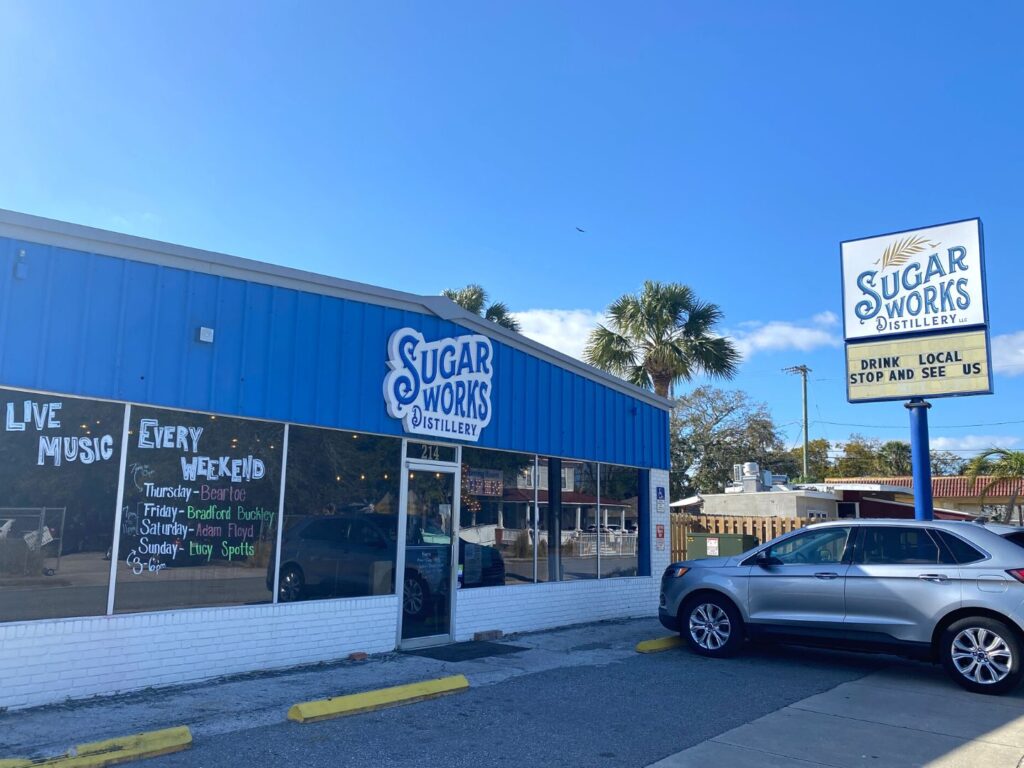 The exterior of the Distillery is very basic, but once inside you're sure to love the local atmosphere. The small outdoor patio is nice to enjoy the sea breeze coming off the river and the beach.
5. NSB Museum of History
The Historic District is also where you'll find the New Smyrna Museum of History which shares the story of how the town was founded. The short version is: Scottish physician Dr. Andrew Turnbull brought 1500 indentured colonists of Greek and Italian heritage to settle the region in 1768 with the intention of growing indigo, sugarcane, and hemp to make rum. He chose Greeks and Italians because he believed the hot and humid climate of their native lands was similar to that of Florida.
The plan failed. The indentured colonists revolted. Many migrated to St. Augustine. And this is why there's such a rich Greek and Italian heritage in this part of Florida. Stop by the museum for a full account of the settling of New Smyrna Beach. 
Also, the museum is a nod to the surfing culture of the East Coast. There's an exhibit featuring dozens of world-class surfers from New Smyrna Beach, historic photographs, surfboards, artifacts, memorabilia, and more.
6. Surfboard rentals
Speaking of surfing, New Smyrna Beach is known to have the most consistent surf break in all of Florida. Some argue it's the most consistent surf break on the entire East Coast of the United States. If you're a surfer, bring your board or rent one to enjoy some of the best waves in all of Florida.
Shark Bite Capital of the World
If you've been avoiding New Smyrna Beach because you've heard it's the "shark bite capital of the world" you've been missing out. Yes, that is its nickname but in reality, shark bites are very rare anywhere in the world, including New Smyrna Beach.
"You're far more likely to get involved in a fender bender driving to New Smyrna Beach," said Capt. A.J. Miller, a watch commander for Volusia County Beach Safety in a recent TV interview. 
If you are truly afraid of the possibility of a shark bite, avoid Ponce Inlet. That's where the majority of shark bites occur because that's where baitfish congregate.
7. Boat Tour or Sailboat Ride
Still not convinced? Enjoy the water on top of it instead of in it with a boat tour or a sailboat ride. During the day, sightings of dolphins and manatees delight. Or wait until the evening and take a sunset cruise for some of the best sunsets on the east coast.
Plus you can choose a boat tour or a sailboat ride as well as whether you want a private tour or to join others on a public tour. 
8. Sugar Mill Ruins Park
Though Dr. Turnbull's 1768 attempt to plant and harvest sugarcane failed, a sugar mill was built 62 years later. In 1830, Henry Cruger and William dePeyster bought 600 acres of land. They planned to start a large commercial sugar industry in Florida. The original plantation consisted of a crushing house and sugar cane factory. Unfortunately, it burned down during the Second Seminole War in December of 1835.
Remnants of the sugar mill stand to this day. The walls of the sugar mill, a forty-foot limestone chimney, iron gears, and a cane press still bear the black marks from the fire that destroyed it. The collapsed arches and crumbled stone are reminiscent of an old castle along some European coastline. 
Bonus idea – Just a few miles inland from the beach itself you can visit Sugar Mill Ruins park, for free. This public park is open daily sunrise to sunset.
9. Ponce de Leon Inlet Lighthouse
The Ponce Inlet Lighthouse towers above the Florida coastline, a stark and beautiful contrast to the blue-green waters below. Completed in 1892, this lighthouse is the tallest lighthouse in the state. It's also considered one of the most iconic structures in Florida.
The views are stunning for those visitors who climb the 203 steps to the top of the tower. You can see the north bank of the Ponce Inlet where the Halifax and Indian rivers meet, neighboring Daytona Beach and beyond.  
10. Old Fort Park
Reminiscent of an 18th century Spanish fort, the coquina stone ruins of Old Fort are all that is left after the Union navy bombarded the area in 1863 and exploded the gunpowder that had been stored in the cellar of the hotel that sat on this site.  
11. Canaveral National Seashore
Just south of New Smyrna Beach, Canaveral National Seashore is worth a visit. This 57,000 acre national park is tucked between the Atlantic Ocean and Indian River and is one of the country's largest expanses of unspoiled coastline. Take a walk down their hiking paths, stay on one of their campgrounds, check out their museum or watch a rocket launch with your feet planted in the sand.
Other parks in New Smyrna Beach
12. DC-7 Aircraft
In the 1950s American Airlines needed a plane that could fly coast-to-coast nonstop in eight hours or less. (Flight crews were restricted to working only eight hours in a 24-hour period.) They turned to Douglas Aircraft Company (DC) to build it. The challenge resulted in the DC-7 aircraft. 
Though the DC-7s are no longer in service, one of the few remaining DC-7 aircraft is on display at Epic Flight Academy here in New Smyrna Beach. 
13. New Smyrna Speedway
If picnics on the beach and kayaking are too chill for you, check out the New Smyrna Speedway. New Smyrna Speedway may not be as well known as the Daytona International Speedway just 12 miles north in Daytona Beach, but its 50 year storied history has seen some of racing's best young Nascar talent come through its gates.
This half-mile, high-banked raceway offers short track asphalt oval events. it's a great place to watch tomorrow's race stars in the making.
Saturday night is race night and the flag drops at 7:30pm – Mid-March through Mid-November.
14. Marine Science Center New Smyrna Beach
Not to be confused with the Marine Discovery Center, the Marine Science Center New Smyrna Beach invites you to observe their patients in the sea turtle hospital and bird hospital/rehab facility as well as the resident birds, turtles and marine life that cannot be returned to the wild due to their injuries.
Among the resident birds are bald eagles, brown pelican, owls, and hawks. There's also gopher tortoise, box turtles, snakes, and a stingray touch pool. 
15. New Smyrna Beach Restaurants
Whether you're looking for a menu that boasts seafood, sandwiches, or burgers, there are plenty of amazing places to grab a bite.
New Smyrna Beach is home to two local craft breweries. At New Smyrna Brewery on Canal Street, each beer is hand crafted and brewed in a small batch on site by their brew master.
Yellow Dog Eats is an Orlando favorite eatery with a New Smyrna Beach location on Canal Sreet, right next to the brewery in fact. The outdoor patio out back is casual and relaxing. And it's dog-friendly too!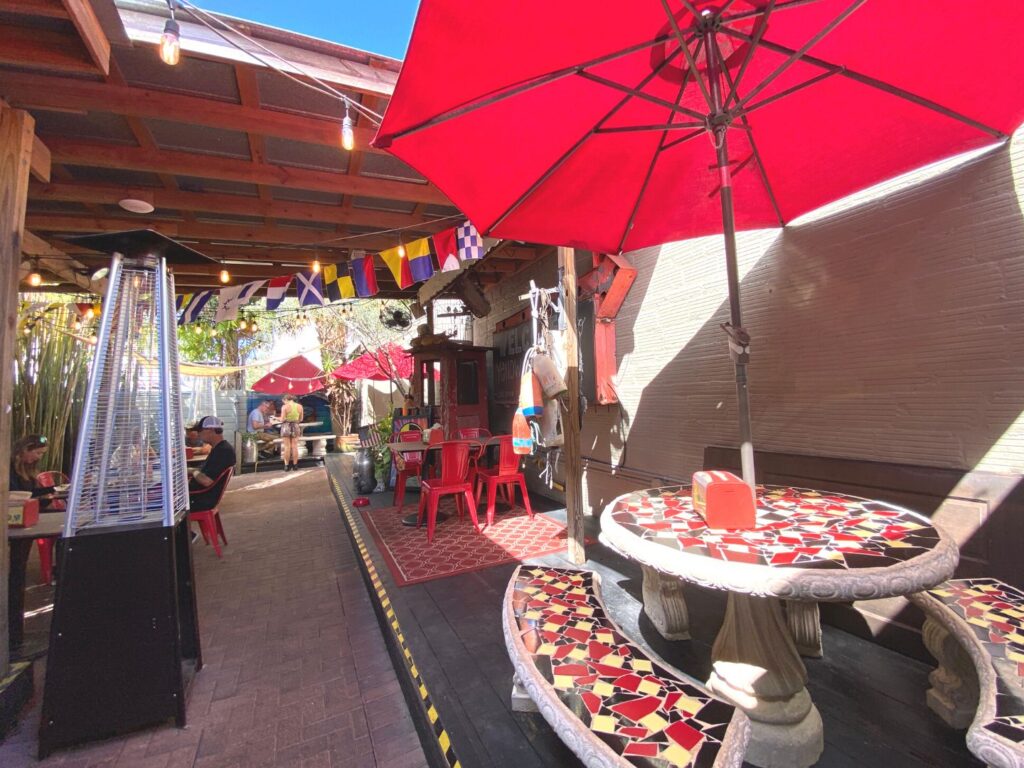 On the way to the beach and a  bit larger, The Half Wall Brewery on SR 44 was a restaurant first. Then they added the brewery.  Now it's all one – the restaurant, an outdoor beer garden overlooking the water as well as indoor and outdoor bars. 
More New Smyrna Beach Restaurants
If you're on your way back to Orlando…
About halfway between New Smyrna Beach and Orlando sits DeBary Hall Historic Site, one-and-a-half miles off I-4. It's an impressive 19th century estate that is listed on the National Registry of Historic Places. 
The estate was originally the hunting retreat of European-born champagne merchant, Frederick DeBary. DeBary entertained some of the wealthiest and most prominent people of the times including Presidents Ulysses S. Grant and Grover Cleveland; the Prince of Wales, who went on to become King Edward VII and socialites the Astors, Goulds and Vanderbilts.
The parts of the estate that are still standing today, renovated and open for touring are the 8,000-square-foot hunting lodge, the stables and the tenant house.