In 2022, MICHELIN released the first-annual MICHELIN Guide Florida, primarily featuring establishments in Miami, Tampa restaurants, and, yes, our hometown of Greater Orlando. We're sharing the Orlando restaurants featured in the latest MICHELIN guide.
From fresh seafood to Key Lime pie, the Sunshine State absolutely shines with a diverse, flavorful culinary scene. The Florida-specific ranking was a pretty big deal considering that only a select few other locations boast their own guide, including California, New York, Illinois (Chicago) and Washington, D.C.
Keep reading to see what makes the MICHELIN Guide special, and which Orlando restaurants earned which distinctions.
Understanding the MICHELIN Guide
As defined on its website, "a MICHELIN Star is awarded to restaurants offering outstanding cooking. We take into account five universal criteria: the quality of the ingredients, the harmony of flavors, the mastery of techniques, the personality of the chef as expressed through their cuisine and, just as importantly, consistency both across the entire menu and over time."
Here's some food for thought… The MICHELIN Guide was created as a business strategy for the tire making company. MICHELIN wanted to steer consumers toward more hotels and restaurants in hopes that customers would drive more miles. Consequently, tires would wear out faster and, thus, increase tire sales. Restaurants were first honored back in 1926 and, of course, the MICHELIN Guide has shifted gears quite a bit to the delight of foodies. Now, nearly a century later, the annual MICHELIN Guide is revered as the legit authority of identifying superior restaurants, including romantic spots that are worth the drive.
Here's the MICHELIN star distinctions:
One MICHELIN Star: Awarded to eateries using top quality ingredients, where dishes with distinct flavors are prepared to a consistently high standard.
Two MICHELIN Stars: Bestowed when the personality and talent of the chef are evident in their expertly crafted dishes; their food is refined and inspired.
Three MICHELIN Stars: Presented for the superlative cooking of chefs at the peak of their profession; their cooking is elevated to an art form and some of their dishes are destined to become classics.
MICHELIN's Other (Less Prestigious) Mentions:
Bib Gourmand (aka the MICHELIN Man): The proper name of MICHELIN's mascot is Bibendum, or Bib for short. "Bibs" are given to establishments that offer "good quality and good value."
MICHELIN Recommended: This means that the restaurant cuisine is above average, exemplified by quality ingredients that are well-cooked.
Orlando's MICHELIN Star Restaurants
In May 2023, the MICHELIN Guide Florida was deliciously updated to include 46 Orlando restaurants. The following four restaurants each earned a One MICHELIN Star.
955 W. Fairbanks Ave., Winter Park
A modern omakase, Soseki is a hidden gem for special occasions. Chef Mike Collante hosts intimate 10-seat multi-course tastings, with each bar seat overlooking the stellar culinary magic. And while Soseki is a Japanese fusion restaurant, Chef Collante prioritizes local, seasonal produce.
MICHELIN praised the "Scandinavian style" sashimi, an interesting combination of cured salon and smoked mozzarella. Plus, beyond the food, Soseki earned a MICHELIN Sommelier Award for Beverage Director Benjamin Coutts.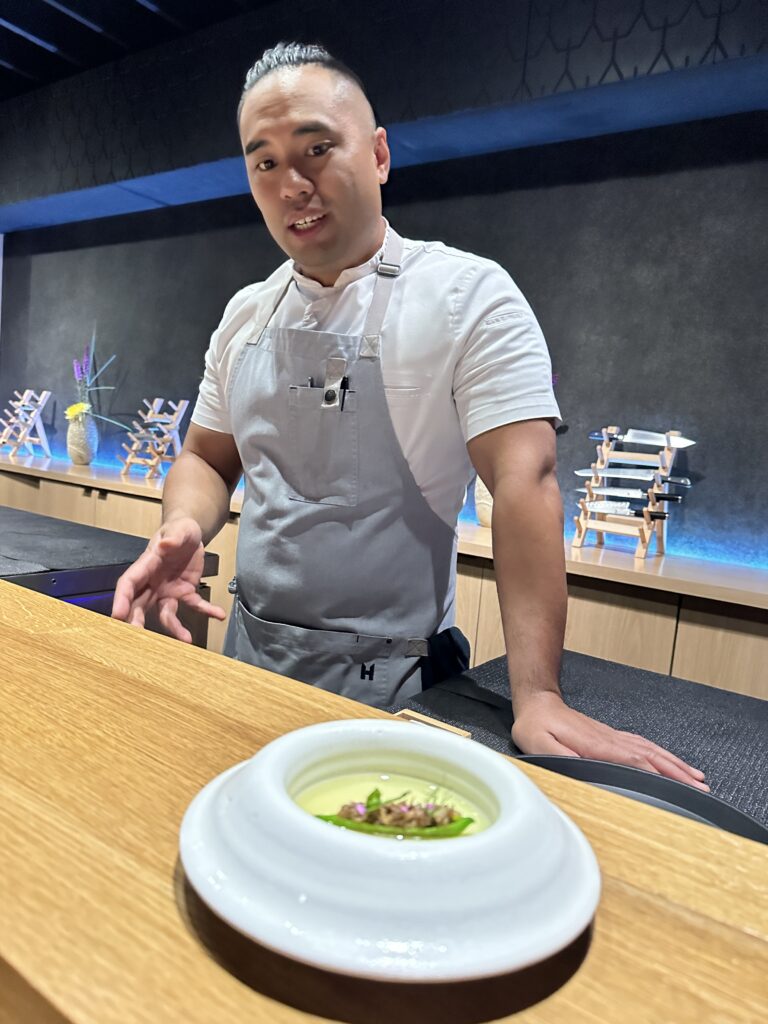 10100 Dream Tree Blvd., Lake Buena Vista
Situated on the 17th floor of the luxurious Four Seasons Resort Orlando at Walt Disney World Resort, this romantic rooftop restaurant plates Spanish-influenced cuisine. Whether you want to nibble on small plates or feast on a hearty dish, just one bite and your taste buds will understand MICHELIN's decision about this outstanding place. Capa's features a wood-burning grill to achieve the perfect char-flavor, live Spanish guitar entertainment on select night and an outdoor patio to take in magical views of the nearby park's nightly fireworks display.
The MICHELIN Guide affirms, "Calling Capa a steakhouse is like saying flamenco is just a dance." It's sooo much more!
Capa's kitchen is spearheaded by Chef Malyna Si, the only female restaurant chef to earn a Michelin star restaurant in Orlando. Diners can start the meal from selections from the raw bar, tapas, small plate, charcuterie or salad menus. Those craving authentic flavors may opt for ham croquettes (small breaded, fried patty of meat and potato puree), pan con tomate (toasted bread smothered in a tomato spread) and patatas bravas (chopped potatoes coated in a spicy dressing).
For the main course, Chef Si's signature dish is the Porterhouse Steak, a generous 32-oz. cut of prime, farm-raised beef. But plenty of other yummies are available for those who prefer vegetarian fare, chicken and seafood. Featuring sweet and savory options, the dessert menu offers classic churros, a cheese plate and other goodies.
And thanks to Capa's tasting flights, after-dinner drinks keep this date night flying high.
Capa's is open for dinner only, 5-10 pm daily.
1809 Winter Park Rd., Orlando
Sushi lovers may have first tried the delicate creations of Jennifer Bañagale and Mark Berdin when they opened their first local eatery, Kappo, in 2014 at East End Market. Thanks to customer demand, the restaurant owners/chefs fished out a larger, permanent place (Kadence) in the Audubon District.
Earning a nod from MICHELIN two years in a row, Kadence's popularity hasn't changed its speakeasy vibe. You see, the exterior of the restaurant kind of looks like a plain, black box with no signature markings or logos. [Note that it's the building between ABC Liquor and Flower No. 5.] As for the menu… well that sort of remains secret too. Kadence run an omakase-style operation which means it's chef's choice.
(Discover more Omakase dinners in Orlando)
But the chef-curated, multi-course tasting won't disappoint. Since we eat with our eyes first, know that the Japanese fare is beautifully plated – bright, fresh and whimsical. Each bite is unique in flavor. The MICHELIN Guide praised the rudderfish dressed with tosazu gel, poached monkfish liver with dashi gelée and the shirako served in a gently warm broth with Burgundian truffle.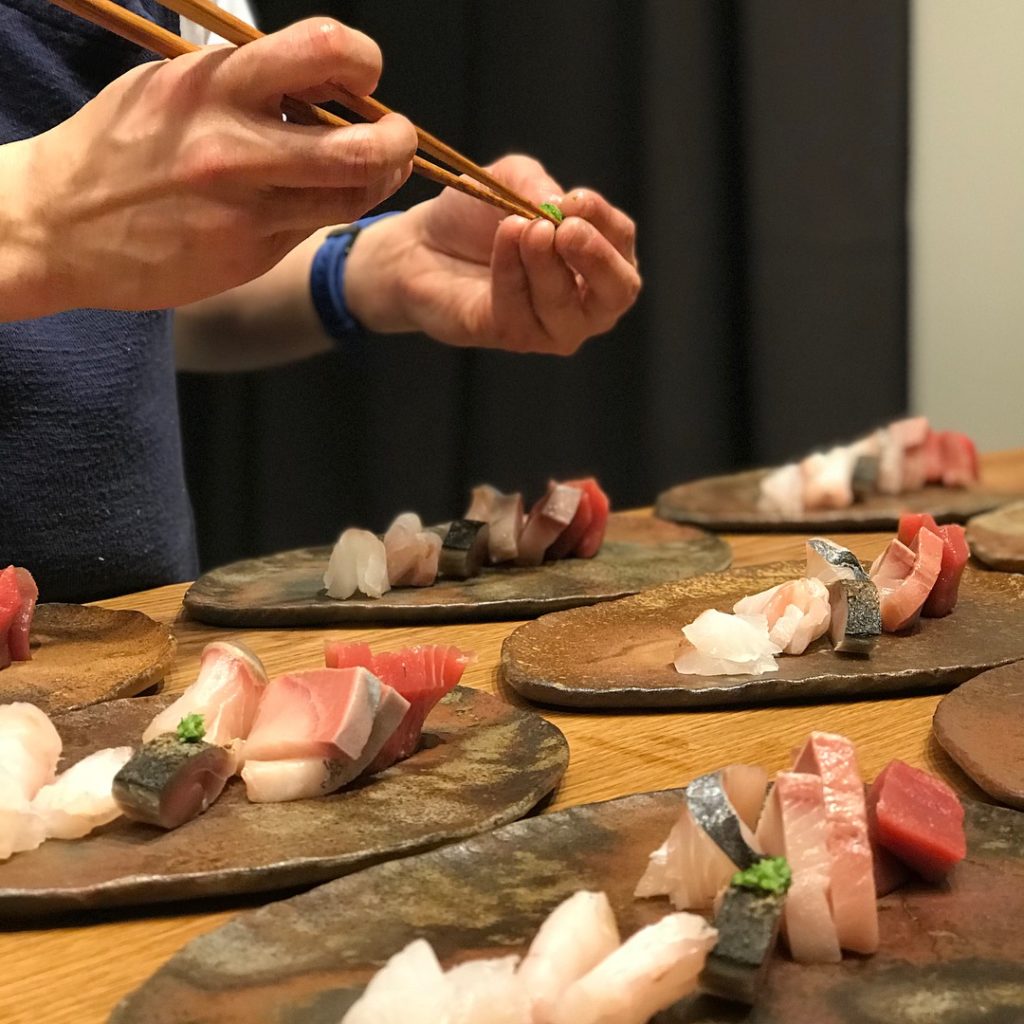 Each an Advanced Sake Professional certified by The Sake Education Council, Jennifer and Mark can help you choose the best beverage to compliment your meal. Oh, FYI, Kadence now sells sake so you can enjoy a night cap at home. In addition to its MICHELAN star, Kadence was also named 'Restaurant of the Year (2023)' by the Orlando Sentinel and previously listed in Orlando Magazine's Dining Awards issue.
4012 Central Florida Pkwy., Orlando
Whether you're dining out for just the night or as part of a staycation at the Ritz-Carlton Grande Lakes, Knife & Spoon forks out modern American deliciousness like none other. Categorized as a steakhouse, Knife & Spoon dry-ages their steaks to achieve a melt-in-your-mouth meal. Diners can choose from 45, 60, 90, 120, 150 or 240-day dry-aged cuts nightly! These steaks pair well with several of the restaurant's signature cocktails, like the Seared Citrus Old Fashioned. The seafood and pasta dishes will equally have your fork (and knife and spoon) pleasing your palate.
Even before earning a MICHELIN star, Knife & Spoon was accustomed to star power. Executive Chef John Tesar is a four-time James Beard "Best of Southwest Chef" semifinalist, a two-time contestant on Bravo's "Top Chef" and winner of the inaugural season of Food Network's "Extreme Chef." Chef Tesar is now joined by Chef Tyler Kineman, who shines as the Chef De Cuisine.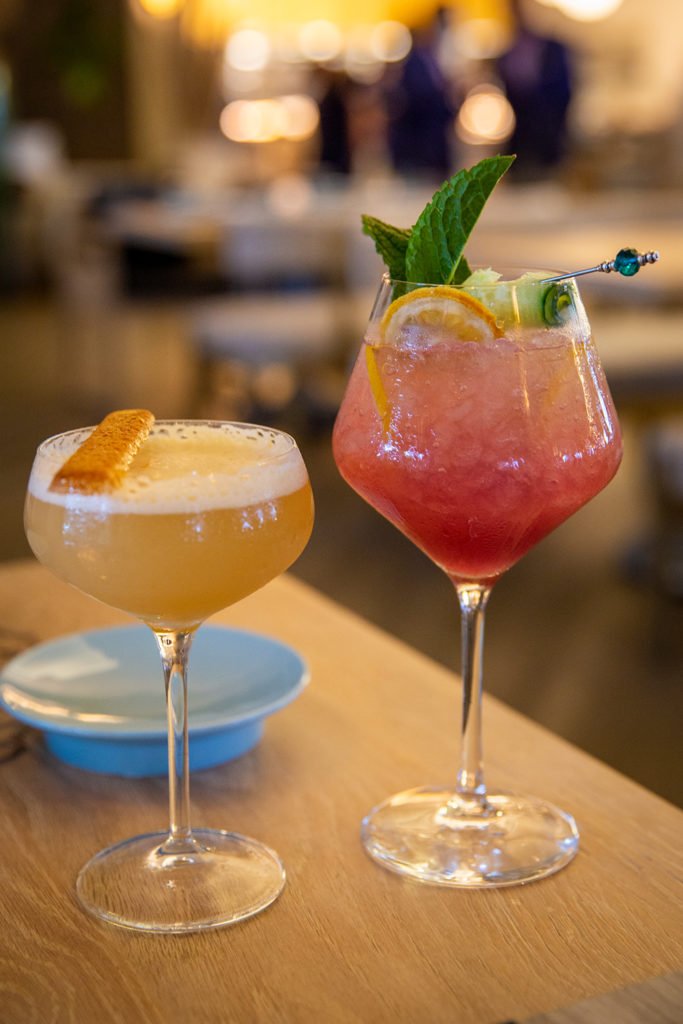 The dining room is open nightly from 5:30-10 pm, with the bar and lounge remaining open for an additional hour. A resort-casual dress code is required.
More Orlando Restaurants with a MICHELIN Nod
In 2023, MICHELIN Guide recognized the following Orlando restaurants with the Bib Gourmand designation:
Bombay Street Kitchen (South Orlando)
Domu (Audubon Park Garden District)
Isan Zaap (Millenia)
Norigami (Winter Garden)
Otto's High Dive (Milk District)
Papa Llama (Curry Ford West)
The Ravenous Pig (Winter Park)
The Strand Food & Drink (Mills 50)
Swine & Sons (Winter Park)
Taste of Chengdu (Baldwin Park)
Z Asian (Mills 50)
You can find Domu at East End Market – one of our favorite date spots. And Norigami is part of Plant Street Market, another date idea favorite.
In 2023, MICHELIN noted a recommendation for the following Orlando restaurants:
AVA MediterrAegean (Winter Park)
BACÁN (Lake Nona Wave Hotel)
Black Rooster Taqueria (Mills 50)
California Grill (Disney's Contemporary Resort)
Citricos (Disney's Grand Floridian Resort & Spa)
Doshi (Winter Park)
EDOBOY (Mills 50)
Four Flamingos (Hyatt Regency Grand Cypress)
Hawkers (Mills 50)
Juju (Milk District)
Kai Asian Street Fare (Winter Park)
Kaya (Mills 50)
Kabooki Sushi (Milk District + Restaurant Row)
Maxine's on Shine (Colonialtown)
Morimoto Asia (Disney Springs)
The Pinery (Ivanhoe Village)
Pizza Bruno (Curry Ford West)
The Polite Pig (Disney Springs)
Prato (Winter Park)
Primo (The Ritz-Carlton Orlando, Grande Lakes)
Ravello (Four Seasons Resort Orlando at Walt Disney World Resort)
Sear + Sea (JW Marriott Orlando Bonnet Creek Resort & Spa)
Se7en Bites (Milk District)
Selam Ethiopian & Eritrean Cuisine (SeaWorld Orlando Area)
Shin Jung (Mills 50)
Sticky Rice (Mills 50)
Toledo (Disney's Coronado Springs Resort)
Tori Tori (Mills 50)
Twenty Pho Hour (International Drive)
Victoria & Albert's (Disney's Grand Floridian Resort & Spa)
YH Seafood Clubhouse (International Drive)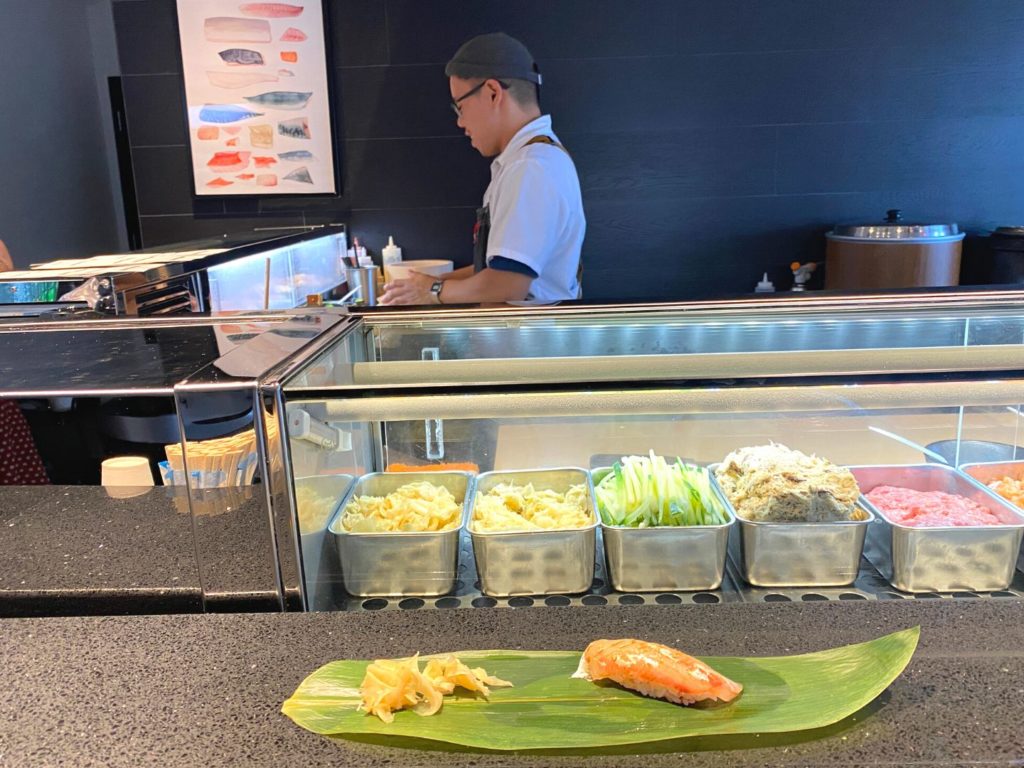 More date ideas featuring MICHELIN Guide Orlando Restaurants:
Tampa MICHELIN Guide
Our I-4 neighbors in Tampa Bay have some bragging rights too. Check out MICHELIN Star Restaurants in Tampa Bay.
Click here to peruse the complete MICHELIN Guide Florida. Bon Appetite!
Featured image: CAPA at Four Seasons Orlando