A magical date night at Disney doesn't have to involve the parks. Although the Walt Disney World theme parks do have some terrific dining options, Walt Disney World is home to more than 25 resort hotels containing plenty of restaurants that are perfect for a Disney date night. And, these enchanting eateries don't require a theme park ticket for entry. Put these 10 romantic restaurants at Disney Resort Hotels on your date night list.
An advanced dining reservation is recommended to ensure the restaurant is able to seat you. Our recommendations for the best restaurants at the Walt Disney Resort hotels perfect for a Disney date night will help you discover some hidden gems. 
Updated April 2023 by Dani Meyering
10 Romantic Restaurants at Disney Hotels
These romantic restaurants at Disney hotels are listed in no particular order. We've also included what each one is known for so you can determine which one suits your date night tastes. And, there are alternative options for each.
Please note, the prices listed below are subject to change.
1. Ale & Compass
Location: Disney's Yacht Club Resort
Known for: Casual sophistication 
Many guests overlook the Ale & Compass restaurant at Disney's Yacht Club Resort, but it is a quality table-service option for a relatively fair price according to Disney standards. There are multiple dining rooms and the ambiance is dim and perfect for a romantic date night.
Although this restaurant does not have a dress code, some guests opt to dress fancier due to the restaurant being located at one of Disney's deluxe resort hotels. The food is delicious with appetizer options including Roasted 'Buffalo-style' Cauliflower ($9) and Parker House Rolls and Spreads ($13).
Entree options are plenty and include the Bacon and Vermont Cheddar Burger ($20) and the New England Seafood Pot Pie ($28).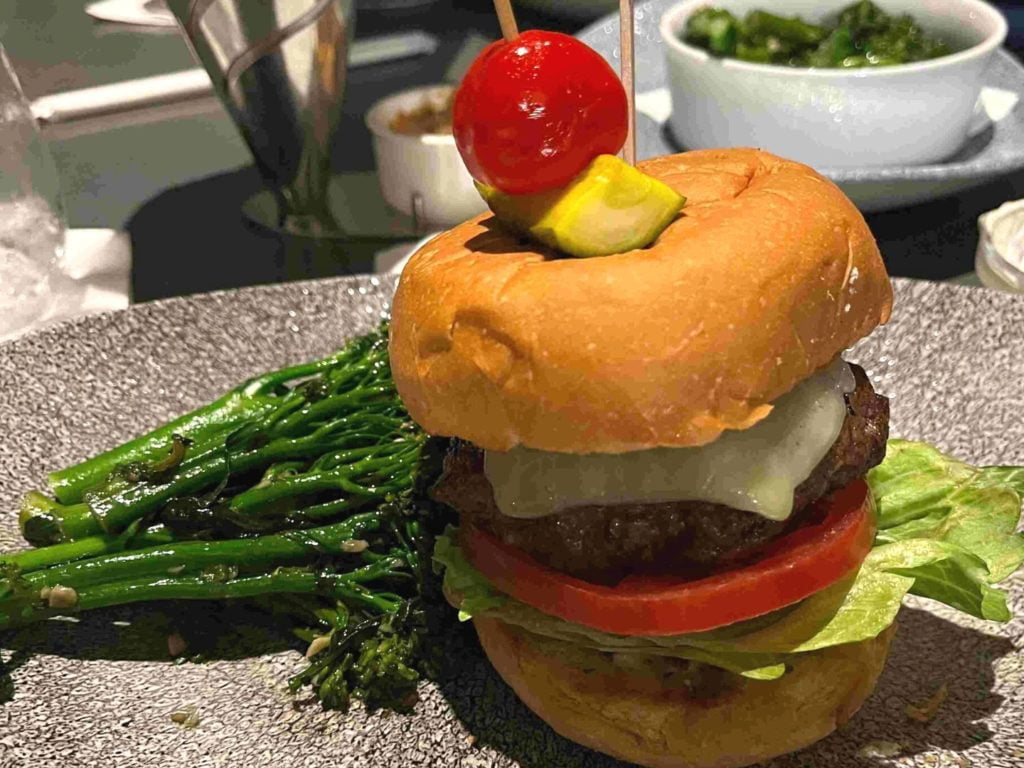 Alternatives: Yachtsman Steakhouse for high-end, Mobile order from Ale & Compass To Go for your own Disney takeout night
2. Narcoossee's
Location: Disney's Grand Floridian Resort and Spa
Known for: Lakeside dining with incredible fireworks views
Most tables at Narcoossee's have a view of the fireworks, and the seafood focused menu does not disappoint. If you are your date want a great steak, you can find it here too. Even plant-based dishes shine at Narcoossee's. The entire restaurant is romantic, and a stroll through Disney's Grand Floridian will add to the magic of this Disney date night too.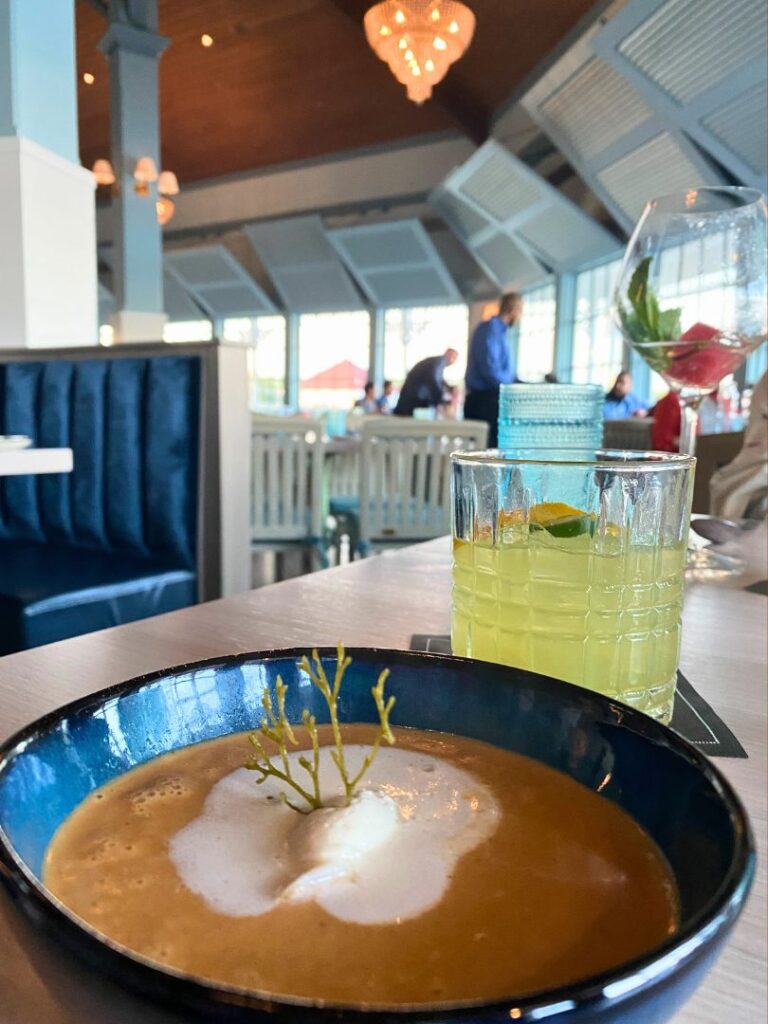 There is a wrap-around deck to watch the fireworks as they sparkle on the water. This lakeside restaurant recently reopened with a gorgeous new look and a refreshed menu. The Lobster Bisque and Almond Cheesecake are staples of this classic Disney restaurant.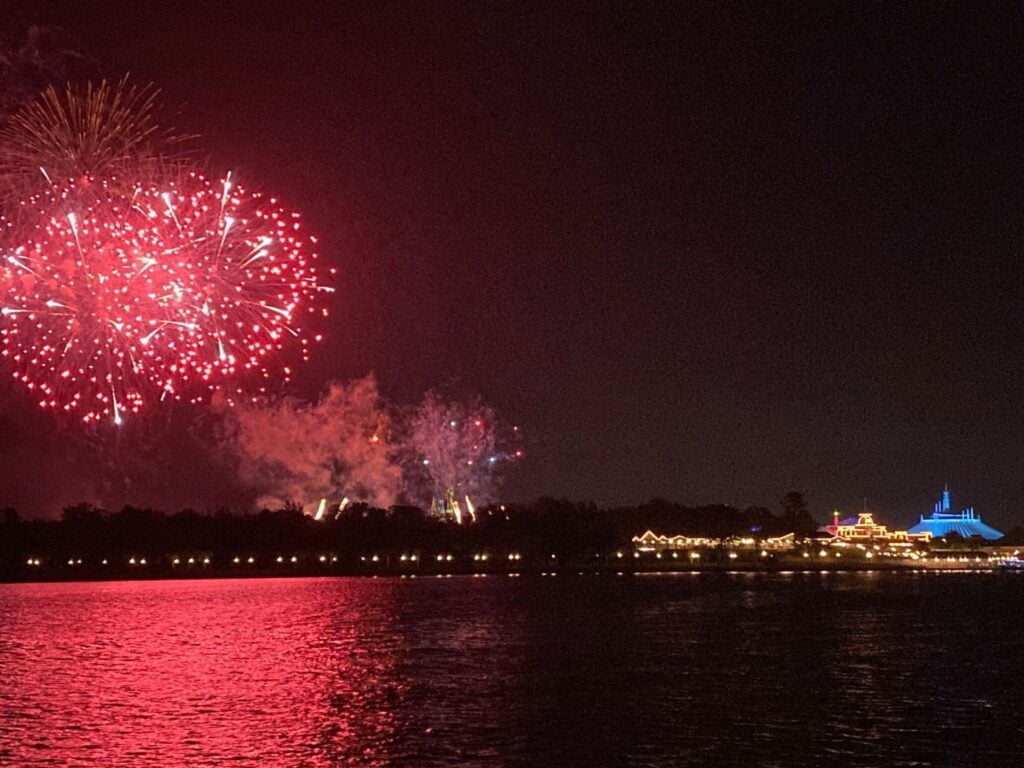 3. Kona Cafe
Location: Disney's Polynesian Resort
Known for: Approachable atmosphere, Asian-inspired menu
For a hidden gem in plain sight head to Kona Cafe. This is a laid-back casual restaurant serving delicious food with an Asian twist. If you are a fan of sushi, Kona Cafe is great because they offer a variety of sushi rolls and poke bowls.
If you're considering a brunch date, book a breakfast reservation here for famous Tonga Toast or Macadamia Nut Pancakes.
Alternative: Order Kona Cafe To Go through the My Disney Experience app, then enjoy your meal on the beach overlooking the Seven Seas Lagoon.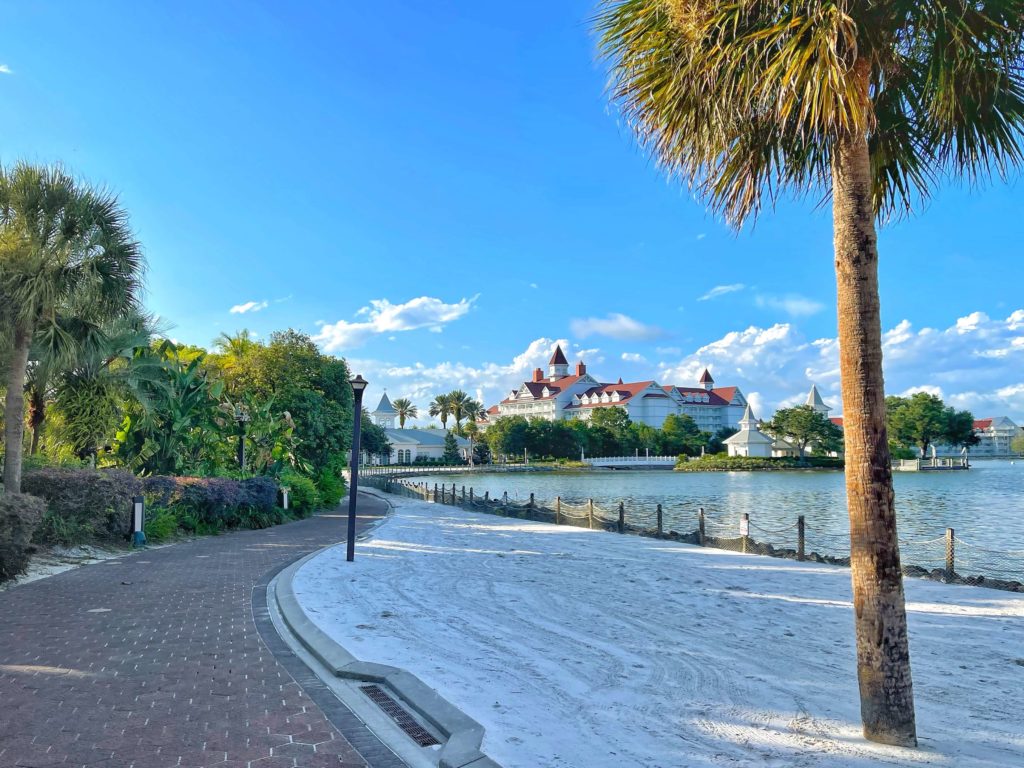 4. California Grill
Location: Disney's Contemporary Resort
Known for: Sophisticated, delicious food and breathtaking Magic Kingdom views
If you're looking for a Walt Disney World restaurant to celebrate a special occasion, California Grill at Disney's Contemporary Resort tops the list. California Grill now offers a fine/signature dining experience with a three-course prix fixe menu. 
For $89 per adult, your meal starts off with some fresh sourdough bread that is made in-house daily.
Then, you can select one option from the "Market Inspirations" section. Delicious options include Black Truffle Pizza and Sonoma Goat Cheese Ravioli.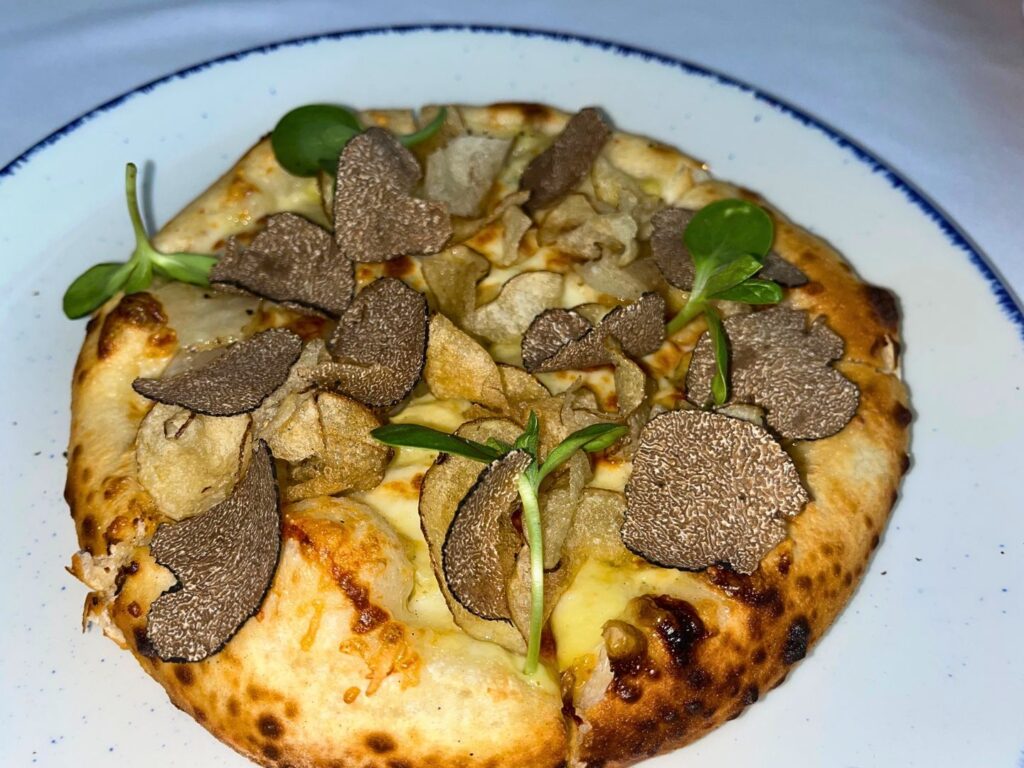 For your main dish as part of the "Chef's Journey" course, you can select one option. Some offerings include Saffron Risotto and Fire-Roasted Venison. 
Then you and your partner can end your meal on a sweet note by selecting one of the "Sweet Creations" for dessert. We recommend the Valrhona Ganache Torte and the Citrus Crème Brûlée. 
If you want to enhance your experience, you can add on the Signature Wine Pairing ($39 per person) or the Deluxe Wine Pairing ($69 per person).
This restaurant is another spot that provides a wonderful view of Magic Kingdom's fireworks as well as a picturesque view of the theme park depending on where you're seated. As you take the elevator up to the venue, you're sure to feel the exclusivity of this legendary locale.
Read our next recommendation for a casual alternative also found at Disney's Contemporary
5. Steakhouse 71 
Location: Disney's Contemporary Resort
Known for: A must-do for any Disney history buff
If you're wanting to try one of Walt Disney World's newer restaurants, you should head over to Steakhouse 71 at Disney's Contemporary Resort. Disney fans will absolutely love the photos of Walt Disney World being built that welcome you as you arrive. 
As for the food, you cannot visit Steakhouse 71 without trying the Stack Burger ($20 and served during lunch) or the 12-oz Roasted Prime Rib & Classic Yorkshire Pudding ($38).
If you make a reservation a couple of hours before the Disney fireworks, you can head up to the 4th floor observation deck to watch them after you eat which makes for a magical evening. 
The featured image at the top of our list is from Steakhouse 71 (by Dani Meyering)
6. Flying Fish
Location: Disney's Boardwalk Resort
Known for: Amazing seafood, romantic ambiance
Few foods are as romantic as seafood. And one of the most romantic Disney restaurants is Flying Fish at Disney's Boardwalk Resort which specializes in sustainable seafood.
The cocktails and impressive wine list add to the romance of this sophisticated restaurant. Cap off your evening with a stroll around the Boardwalk resort as the stars sparkle on the lake.
Read our next recommendation for a casual alternative also found at the Boardwalk area.
7. Beaches & Cream Soda Shop
Location: Disney's Beach Club Resort
Known for: Casual food and ice cream
If you're looking to have a sweet Disney date night at a Walt Disney World Resort, Beaches & Cream Soda Shop at Disney's Beach Club Resort is the place for you.  Although this restaurant has food, it is known for fantastic ice cream creations. Visiting on a warm evening and only ordering ice cream makes for a casual and fun date night. 
If you're wanting to add some adventure to the date, try and defeat the "Kitchen Sink" ($35) which consists of "Scoops of Vanilla, Chocolate, Strawberry, Cookies 'n Cream, and Mint Chocolate Chip topped with, Hot Fudge, Peanut Butter, SNICKERS® pieces, Fresh-baked Brownie, and smothered in every additional topping we have."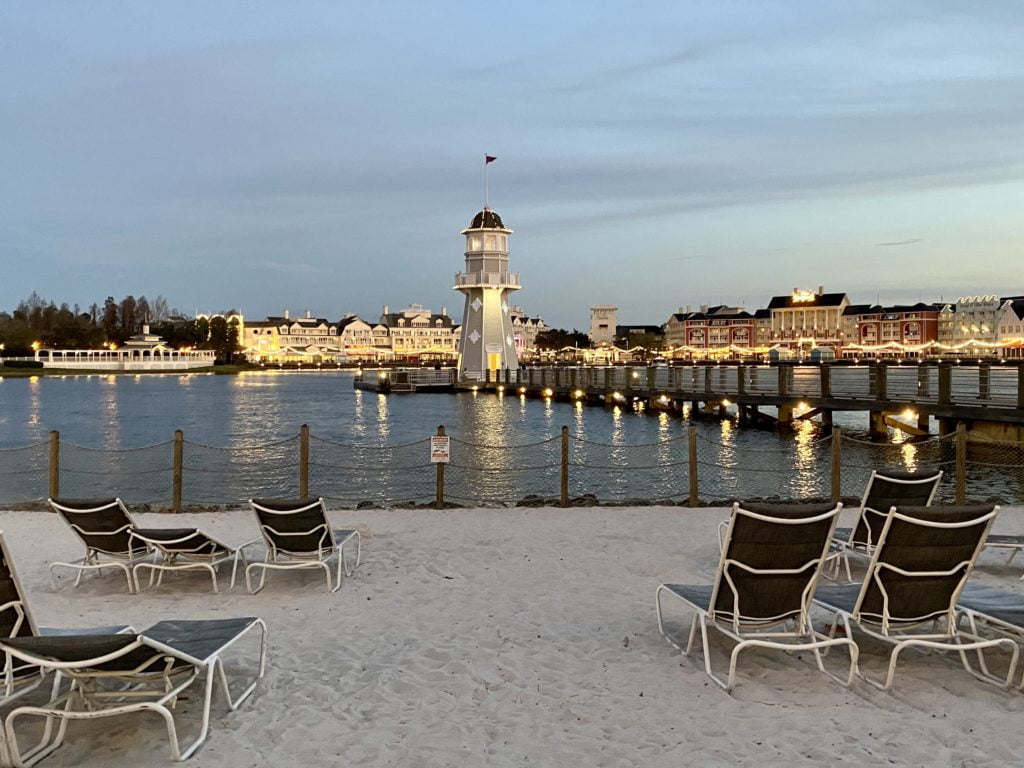 Bonus date idea – Hop Around and Dine Around Disney's BoardWalk
8. Sanaa
Location: Disney's Animal Kingdom Villas – Kidani Village
Known for: Exotic fare and views of animals on the savanna
If you are a fan of animals and enjoy wonderful food, you should head over to Sanaa at Disney's Animal Kingdom Villas for the Indian-Style Bread Service ($21)
This bread service comes with a "Choice of Five Breads and with all Nine Accompaniments – Traditional Naan, Garlic-Ginger Naan, Spiced Naan, Onion Kulcha, or Paneer Paratha. Accompaniments – Cucumber Raita, Roasted Red Pepper Hummus, Mango Chutney, Tomato-Date Jam, Tamarind Chutney, Coriander Chutney, Garlic Pickle, Red Chile Sambal, or Spicy Jalapeño-Lime Pickle."
The bread service is huge and there is definitely enough food to share between two people. If you're not looking to spend too much money, you could order the bread service and some drinks. You can even do this at the Sanaa Lounge without dining reservations.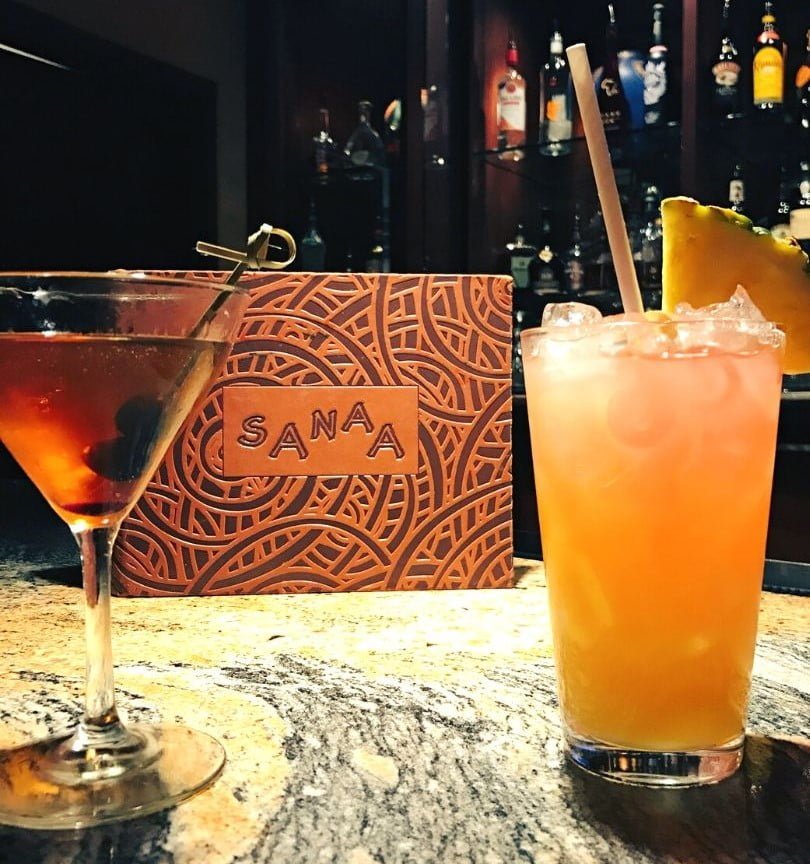 This restaurant is very scenic offering views of the animals from the savannah on the other side of the window which makes for a memorable dining experience. 
Alternatives: Use the My Disney Experience app to order Sanaa To Go and find a spot on one of the observation decks near the hotel's lobby. 
9. Toledo
Location: Disney's Coronado Springs Resort
Known for: Vibrant atmosphere with rooftop views
Toledo is a tapas, steak, and seafood restaurant located at the Gran Destino Tower inside Disney's Coronado Springs Resort. This Disney rooftop restaurant is often overlooked, but you'll impress your date here.
Toledo is described as a "Spanish haven inspired by surrealist art and the 1930s avant-garde."  Ordering tapas is great for date night as you can share several different offerings with your significant other which can be a very memorable experience. 
RELATED: Underrated Restaurants at Disney for Romance
10. Olivia's Cafe
Location: Disney's Old Key West Resort
Known for: Approachable island atmosphere and elevated home-cooked fare
If you're looking to have a more casual date night, Olivia's Cafe at Disney's Old Key West is a hidden gem serving home-cooked favorites in a setting reminiscent of the Florida Keys. Open for brunch and dinner, you'll be able to relax and take it slow here.
Somewhere in the Disney rule book, it says you cannot go to Olivia's Cafe without trying the Shrimp Fritters ($13) or the Cayo Hueso Shrimp Pasta ($26). The Key Lime Tart ($7) is sure to fire up a debate as to if you prefer traditional Key Lime Pie, or whimsical, creative versions.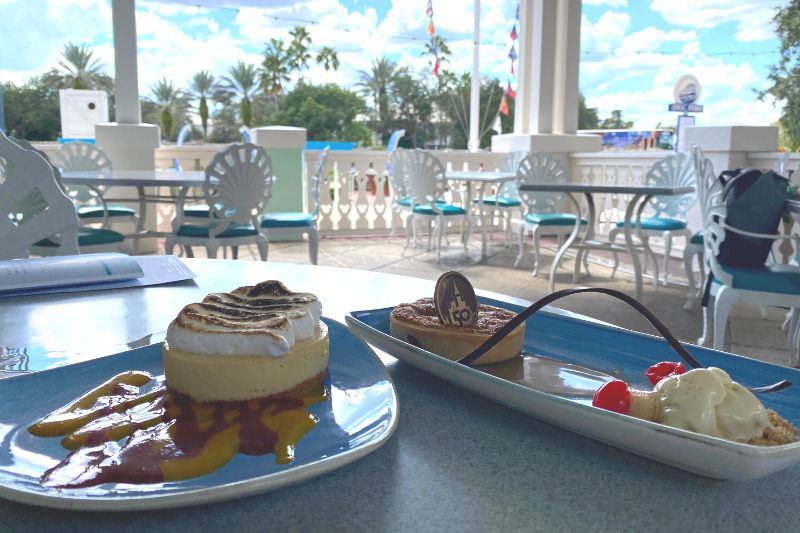 Bonus idea – Whispering Canyon Cafe
Location: Disney's Wilderness Lodge Resort
Known for: Tasty food and fun atmosphere
Disney's Whispering Canyon Cafe is anything, but quiet yet makes for a memorable evening. The Cast Members are known for making guests laugh throughout the entirety of their meal with their corny jokes, exaggerated attire, and loud voices. Fun-loving Disney adults put this experience on their list of favorites.
The accompanying food is great with options including all-you-care-to-enjoy skillets with brisket, smashed potatoes, sausage, and other comforting favorites. 
Pro-tip: Book breakfast here, fill up on hearty fare, then hop the boat directly to Magic Kingdom.
Alternatives: It's hard to beat the craft cocktails and lakeside views at Geyser Point (no reservations needed). 
---
More Disney Date Ideas
We just love Disney date nights, and we've got plenty of ideas to share. From theme park days to Happy Hour at Disney Springs, there are lots of ways to enjoy a magical date together.