We're so fortunate to have access to the magic of Walt Disney World right in our own backyard. If you're not quite ready to return to the theme parks, there's still so much to enjoy without a ticket. My husband and I visit Walt Disney World multiple times a month, and together we've created these three ideas for a socially distant Disney dinner date, without needing a theme park ticket.
Dine at Disney Springs Picnic Style
The amount of dining options at Disney Springs is astounding. And, if you and your honey feel more comfortable ordering takeout there are loads of options. As an added bonus, many of these options offer to-go cocktails, wine and beer. I've also included suggestions for where you can take your food and enjoy a picnic. This way you can enjoy the Disney Springs atmosphere while in your own physically distant space.
Below is a list of my favorite places for takeout at Disney Springs: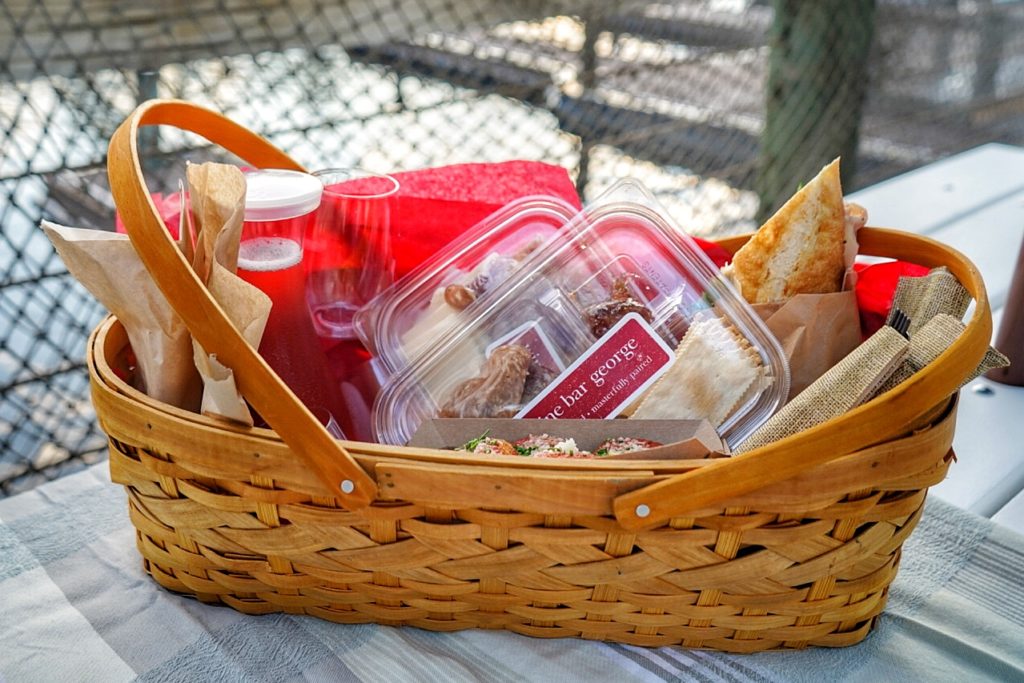 Pro tip: The Basket at Wine Bar George offers a picnic basket for two. You'll receive a packaged picnic basket with your goodies with a minimum spend of $60.
Every single restaurant listed above is located either in the Town Center or The Landing, both central areas of Disney Springs.
On the Disney Springs map below, I've highlighted some of my favorite spots for sitting and relaxing, most of which have tables and chairs.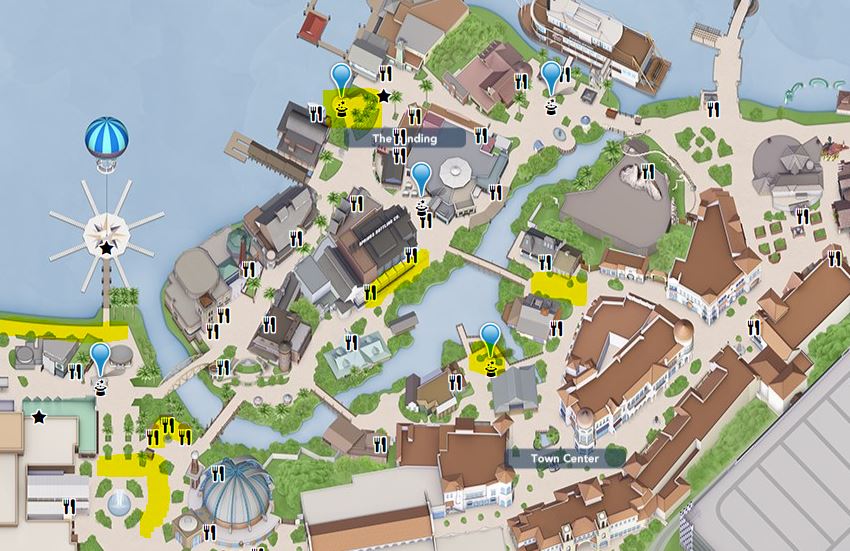 If you really want to get creative, bring a picnic blanket with you to set up a proper picnic. I highly recommend sitting along the water near the Aerophile Balloon, near the West Side.
Dinner Date with Takeout from a Disney Resort Table Service Restaurant
In mid-2020, Disney started offering takeout from table service restaurants at select Disney resort hotels. Now you can enjoy the signature tastes of some of Disney's most-loved resort hotel restaurants, to-go. Best of all it's done through mobile ordering on the MyDisneyExperience app, and you do not need to be a hotel guest to indulge.
When you open the MyDisneyExperience app, touch the plus (+) sign at the bottom of the home screen, then "Order Food." Here you can order food from any of the listed dining locations. These are listed by location, with the theme parks first, then the hotels. The app includes quick service options and table service restaurants.
Participating Disney Resort Restaurants
It's not obvious which locations are table service, but only the resort hotels have takeout available from select table service locations. Each table service restaurant that is available for takeout includes "To Go" in the restaurant name displayed in the app. I've detailed the current participating table service locations below, and some tips on how to maximize your date at each resort.
Disney's Yacht Club Resort
My husband and I recently ordered takeout from Ale & Compass Restaurant at Disney's Yacht Club Resort. This resort is located between EPCOT and Disney's Hollywood Studios, along the Boardwalk area. We secured some tables and chairs just outside of the lobby entrance near Ale and Compass.
Our toddler son was with us, and we all enjoyed our meal of beef short rib and buffalo style cauliflower. We also snuck some nibbles of our son's fresh fish dinner. Being able to enjoy a bottle of wine with our meal was delightful.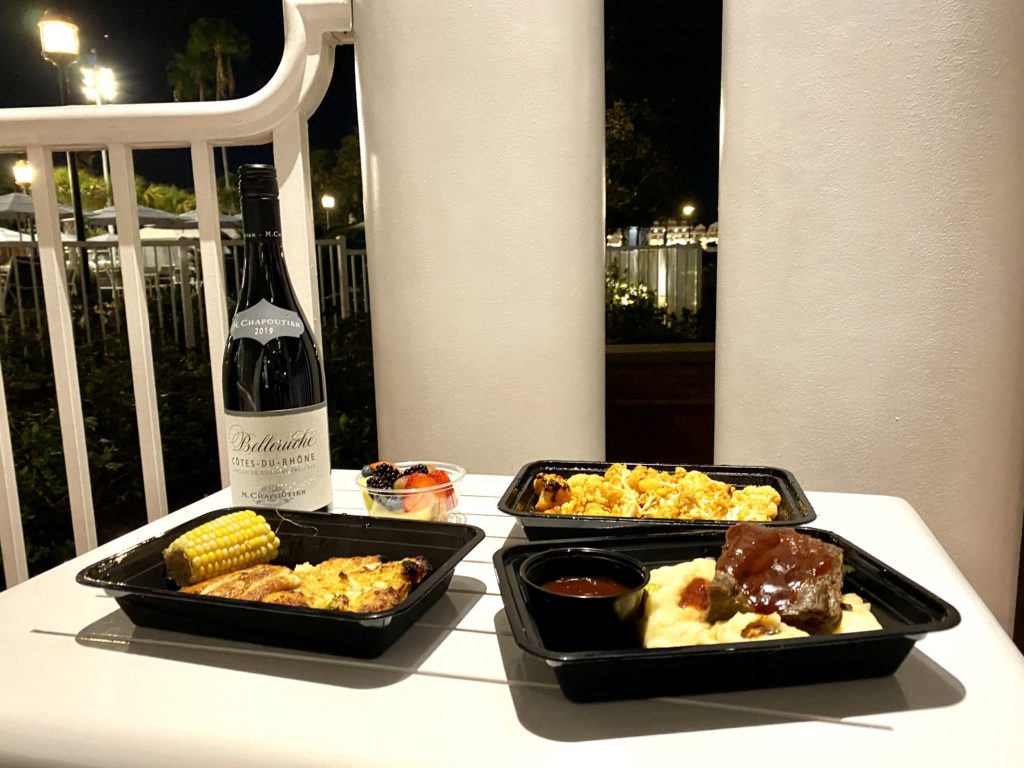 Our bottle even came with two plastic wine glasses. The bottle we selected was a screwcap, but I was told that the bartender at the lounge next to the restaurant would open the bottle if we needed, as long as we showed the order on our phone.
Disney's Animal Kingdom Lodge
Sanaa is an East African-themed restaurant beloved by many Disney fans for its authentic atmosphere, view of the animals in the savanna, and delicious food. The Bread Service, complete with a variety of Indian style breads and delectable dips, is perhaps the most famous offering.
Once you've picked up your order, which will be properly packaged and bagged for you, there are multiple places to enjoy your food with a view. Just outside of Sanaa is a savanna outlook. Chairs are limited and there are usually no tables, but there is a lovely firepit. This spot is very popular. Back upstairs into the lobby is a library style room with a fireplace. You'll find it across from the front desk. Next to this room is a small balcony with rocking chairs overlooking the animal savanna, and a second balcony on the opposite side of the lobby.
Disney's Contemporary Resort + Disney's Polynesian Village Resort
At both The Wave at Disney's Contemporary Resort as well as Kona Café at the Polynesian you may want to consider a date later in the evening. Both resorts sit on the shores of the Seven Seas Lagoon. Each night the Electrical Water Pageant floats by. This delightful little lighted parade has been performed at Walt Disney World since 1971. The pageant floats by Disney's Polynesian Village Resort beginning at 8:45pm and Disney's Contemporary Resort beginning at 10pm.
Grab dinner or some appetizers, dessert, and wine from either Kona Café or The Wave and head out toward the marina at either resort. This general area will afford a good view of the procession and there are usually a few benches or tables nearby.
Important note: at the time of publishing this post, Disney's Polynesian Village Resort is under major construction. It is still accessible, just something to be aware of.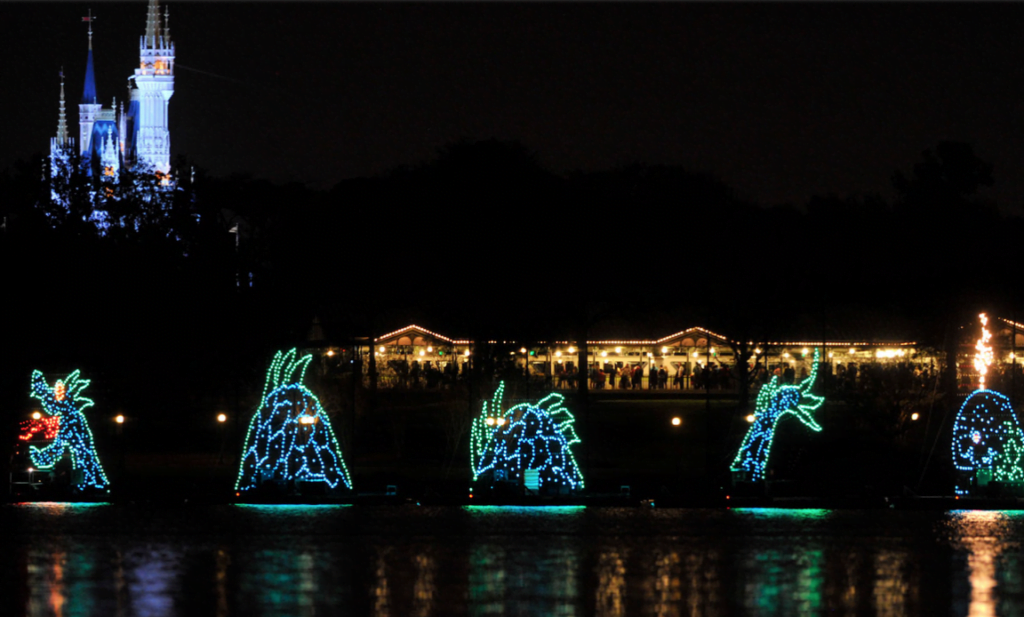 Disney's Coronado Springs Resort + Disney's Old Key West Resort
Three Bridges Bar & Grill at Disney's Coronado Springs Resort and Olivia's Café at Disney's Old Key West Resort are more laid back than the resorts I've already mentioned. While there are no major attractions like the animals at Animal Kingdom Lodge or the pageant on the Seven Seas Lagoon, both resorts have wonderfully relaxing atmospheres. There are plenty of physically distant tables nearby. Both resorts offer plenty of space and lovely views of the water.
Tips + Tricks
If you really want to make your dining experience special, consider ordering a bottle of wine. Yes, you can order a bottle of wine through the MyDisneyExperience app at the participating restaurants listed above. Some can be a bit pricey, but there are some good values too.
Parking at Disney Resort hotels is officially limited to guests with hotel reservations and confirmed dining reservations. However, my husband and I have not had any trouble showing our picture ID and our phone screen to show we have ordered and paid for meals at the participating table service restaurant. The key is to show your paid for order on the app and your photo ID.
If you're going to do your Disney dinner date night on a weekend you may want to order in advance. When you go to place your order, the app will show you available pick up times. When we ordered from Ale and Compass it was a Saturday night around 5:45pm, and the next available pick up was not until 7pm.
Food and Drink Crawl Around Disney's Boardwalk Area
Disney's Boardwalk area consists of five resort hotels all located around a central lagoon. These resorts are also in between EPCOT and Disney's Hollywood Studios so there's a fun and exciting energy. Boats travel back and forth from the resorts and theme parks, while the Disney Skyliner travels overhead. This collection of hotels, all within walking distance of each other, makes for a prime set up to do a food and drink crawl.
The hotels in this area are Disney's Boardwalk, Disney's Yacht Club, Disney's Beach Club and the Walt Disney World Swan and Dolphin Resorts.
A note about parking: Self-parking at the Walt Disney World Swan and Dolphin is $29, and valet is $39. However, parking is validated when you dine at any of the resort's signature restaurants (bluezoo, Shula's, Il Mulino and Kimonos). If you're parking at one of the Disney-owned hotels mentioned above, you'll either need a dining reservation or a confirmed and paid for mobile order.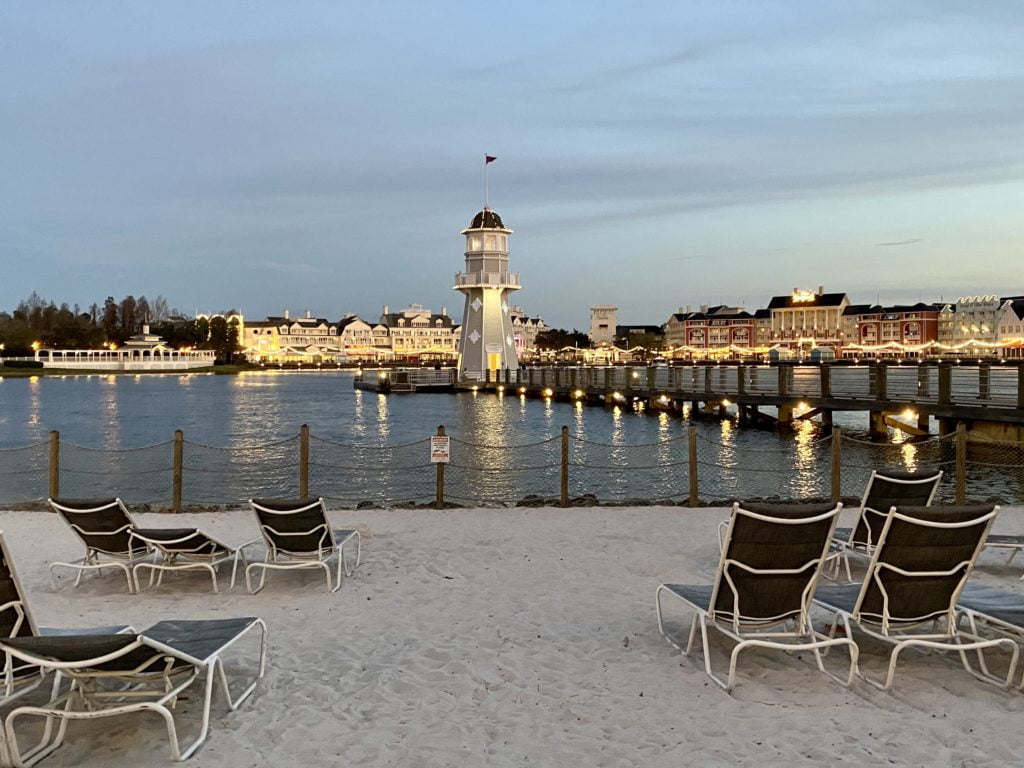 Itinerary
Start by scoping out the menus of the quick service options at Disney's Boardwalk, Disney's Yacht Club, and Disney's Beach Club to decide where you would like to order from. Start your crawl at one of these locations and work your way around the lagoon. Not all dining locations are open at this time.
I recommend beginning at Ale and Compass. You can order takeout from the restaurant, or check out the casual Ale and Compass Market which has yummy sandwiches and snacks available for mobile ordering. Then head to Hurricane Hanna's which is located near the Yacht and Beach Club's shared pool, but can be accessed by anyone along the Boardwalk. Here you can enjoy a round of drinks along the water. Finally, you can place a mobile order for dessert from the Boardwalk Bakery. Then enjoy a stroll around the Boardwalk taking in all of the sights.
Feel like dining in? The Walt Disney World Swan & Dolphin's multiple restaurants are also ideal for a resort food crawl. We've got a full itinerary here.
For another Disney date idea that does not require a park ticket, consider a Disney Skyliner Crawl. I put together multiple itineraries, some that involve the theme parks on the Skyliner route, and other itineraries that just focus on the resorts on the line.
All images by Dani Meyering unless otherwise noted