Get ready for the biggest party at Universal Studios! The 2024 Universal Orlando Mardi Gras celebration features epic weekend concerts, full parade, and delicious food. This annual festival at Universal takes place Feb. 3 through April 7, 2024 and is perfect for date night.
In this post, we take a look at what to expect at Universal Orlando's Mardi Gras including the food, parade, and concerts — and most importantly, include tips on how to make it an epic date night.
Let's start off with the FULL MENU of Universal Mardi Gras 2023. And keep reading for the parade schedule and concert schedule (details for 2024 will be announced soon)
Besides the parade and concerts, delicious flavors abound. Each year Universal Orlando improves the Mardi Gras food and beverage. It certainly has expanded from the days of being just a few booths in the New York area.
For 2023 there were OVER 20 booths for Mardi Gras food and beverages.
If food and drinks are the most important part for you, then jump over to see our 8 MUST TRY Food and Drinks at Universal Orlando Mardi Gras.
2023 Mardi Gras Menu (updates for 2024 coming soon)
Belgium Menu
Liège Waffle Berries and Cream(V)
pearled sugar waffle, topped with strawberries, whipped topping, and strawberry and cream crumbs
Liège Waffle S'mores
pearled sugar chocolate chip waffle, topped with marshmallow cream, chocolate sauce, and graham cracker crumbs
Brussels Frites(GS, VG)
crispy seasoned fries served with Andalouse and Joppiesaus sauces
Orval Trappist
complex malt flavor combined with prominent fruitiness and an earthy herbal, peppery bitterness
Rochefort Trappist
full bodied with strong notes of plum, raisin, and black currant
Bloody Mary Bar Menu
Bloody Mary Wild
a spicy (Louisiana hot sauce and Sriracha hot chili sauce) version of a traditional Bloody Mary spiked with New Amsterdam vodka, garnished with a variety of Cajun toppings
Bloody Mary Mild
mild version of a traditional Bloody Mary spiked with New Amsterdam vodka, garnished with a variety of Cajun toppings
Brazil Menu
Picanha Skewers(GS)
beef sirloin cap, with chimichurri, smoked salt, and pão de queijo
Linguiça Skewers
grilled Brazilian sausage with pão de queijo
Chicken Coxinha
tear drop chicken fritters
Brigadeiros Trio(GS, V)
Brazilian classic with condensed milk, cocoa powder, chocolate sprinkles, and hazelnuts
Mango Caipirinha
Pirassununga Cachaça, Bols orange curaçao with lime juice, mango nectar, syrup, and simple syrup
Guava Caipirinha
Pirassununga Cachaça combined with guava nectar, lime juice, simple syrup, mint extract, and a pinch of salt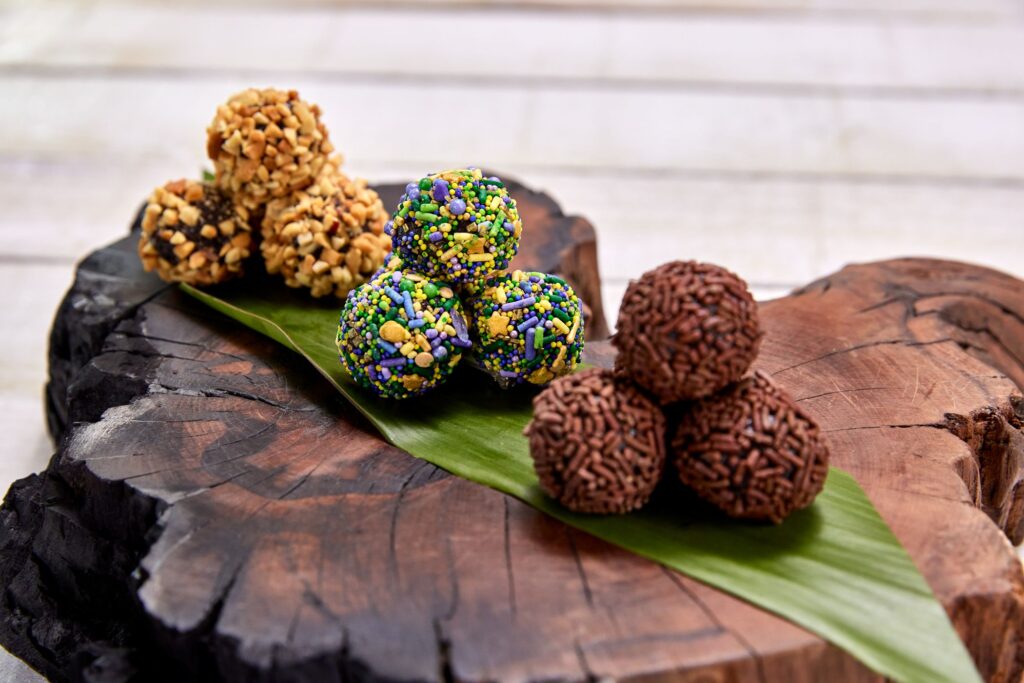 Canada Menu
Canadian Snowshoe Maple(VG)
fried sweetened dough, cinnamon sugar, and maple syrup
Poutine with Short Rib Gravy
crispy fries with short rib, cheese curds, and brown gravy
Candied Maple Bacon(GS)
chewy Maple taffy covered pork belly with chopped peanuts and chocolate
Canadian Snowshoe Nutella®(V)
fried sweetened dough, Nutella®, sugar, and chopped toasted hazelnuts
Slocum Maple Smash
sweet and refreshing combination of New Amsterdam vodka, lemon juice, maple syrup, and cardamom bitters
Collective Arts(VG)
New England style IPA, Simcoe and Mosaic hops
Maple Lemonade
simple yet refreshing mix of maple syrup and lemon juice
Central City Menu
Crawfish & Shrimp Boil(GS)
mixed bag of crawfish, shrimp, andouille sausage, potatoes, and corn on the cob
Crawfish Boil (GS)
mixed bag of crawfish, andouille sausage, potatoes, and corn on the cob
Shrimp Boil (GS)
mixed bag of shrimp, andouille sausage, potatoes, and corn on the cob
Beignets(V)
sweet fried pastry dusted with powdered sugar
Category 5 Punch
Myers's Dark rum, Cruzan Aged Dark rum, passionfruit purée, mixed with grenadine, orange and lime juice
Abita Purple Haze(VG)
a lager brewed with real raspberries, wheat malts, and Wanguard hops
Oh Baby
this custom brew is bursting with vanilla and cinnamon flavors on a base of sweet yet roasty malt
Colombia Menu
Colombian Empanadas(GS)
crispy corn masa beef and chicken empanadas, served with aji picante
Arepas de Queso(GS, V)
white corn masa cake with queso blanco
Refajo
refreshing and authentic mix of light beer and Colombiana soda
Coco Loco
Limonada de Coco spiked with rum and tequila
Limonada de Coco
Limeade sweetened with coconut cream
Choladas(V)
shaved ice with sweetened condensed milk, mango, strawberry sauce, wafers, and Lulo syrup
Denmark Menu
Rød Pølse
Danish red hot dog, with curry remoulade, pickled cucumber, and crispy onions
Frikadeller Meatballs with Danish Gravy
beef and pork meatballs in a creamy gravy, topped with apple butter and dill
Mead Flight
Viking Blod, Odin's Skull, and GI. Dansk Mjod
Odin's Skull
composed of honey, sour apple juice, hops, and cinnamon
GI. Dansk Mjod
sweet and semi-dry notes of ginger and the sweetness of honey
Viking Blod
sweet honey flavors evolving into cinnamon, clove, and citrus
Carlsberg(VG)
full bodied Danish pilsner with a hoppy aroma and flavor
France Menu
Muffaletta Crepe
savory crepe filled with olive relish, mortadella, salami, ham, mozzarella, Cajun mayo, arugula, and sesame seeds
Domaine Paul Buisse Chinon
highly aromatic robust, intense with silky tannins that produce a lovely finish
Dopff & Irion Crustaces Blanc
crisp medium bodied, with notes of peach, wet stone, and minerality
Bertrand Cote Des Roses Rosé
dry rosé with notes of grapefruit, stone fruit, and crisp apple
Wine Flight
Domaine Paul Buisse Chinon, Dopff & Irion Crustaces Blanc, and Bertrand Cote Des Roses Rosé
French Quarter 
King Cake(V)
traditional cake with cinnamon swirl icing and colored sanding sugar
Beignets(V)
sweet fried pastry dusted with powdered sugar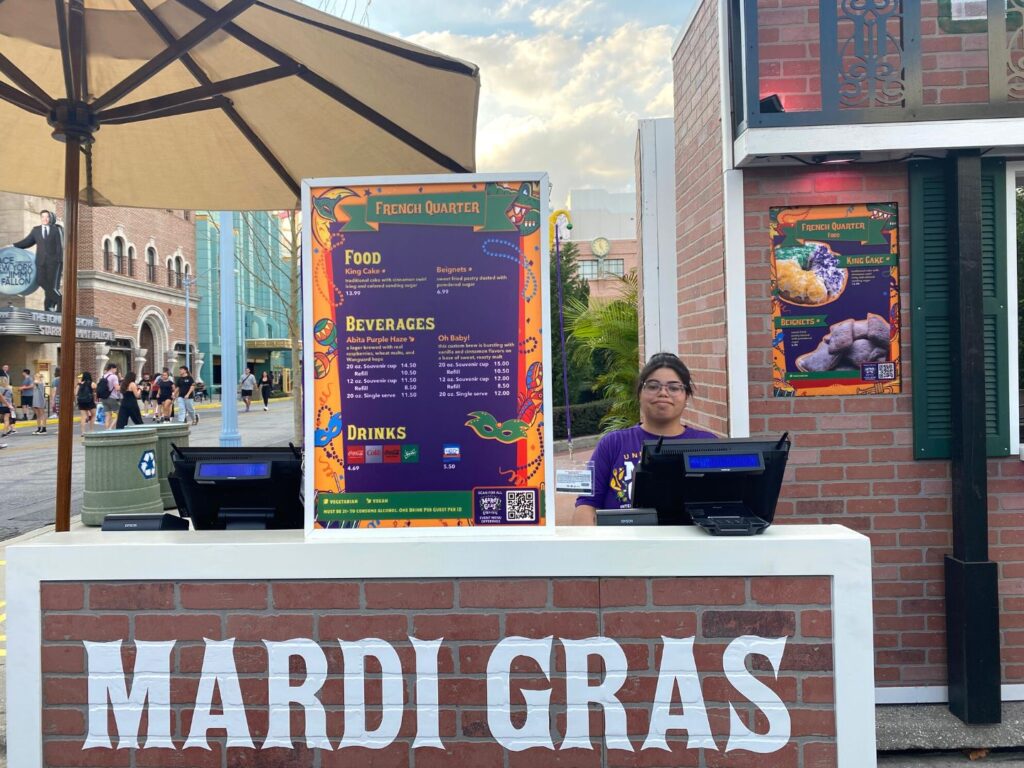 Germany Menu
Chicken Schnitzel with Käsespätzle
fried chicken thigh cutlet served with baked spätzle and beer cheese sauce
Potato Pancakes (V)
crispy potato and parsnip pancake with apple butter and sour cream
Reissdorf
light brew with minty, hop aromas; sweet vanilla malt flavors and a crisp, dry, cedary finish
Warsteiner Pilsener (VG)
pale golden pilsner with a clean refreshing taste balanced with hints of barley malt, yeast tones, and mild hoppy bitterness
India Menu
Pav Bhaji(V)
spiced vegetable stew served with a toasted King's Hawaiian roll
Onion Bhaji(V)
curry spiced crispy onion fritter with green chutney dipping sauce
Gulab Jamun with Rose Water Syrup(V)
fried dough balls soaked in saffron and rose water syrup, with chopped pistachios
Nimbu Pani
lime juice, mint extract, a pinch of salt and pepper, and house made garam masala syrup
Aam Panna
lemon juice, mint extract, a pinch of salt and pepper, and house made amchur syrup
Indonesia Menu
Indonesian Style Chili Crab with Fried Mantou
fried soft shell crab tossed in a sweet & spicy crab stew, served with fried sweet buns
Nasi Goreng
Indonesian style fried rice with egg, Thai fried shallots, cucumber, and a prawn cracker
Bubur Ketan Hitam(GS, VG)
Indonesian purple sticky rice pudding with coconut condensed milk, mango, and shaved toasted coconut
Japan Menu
Ube Ice Cream Sesame Bubble Waffle Cone(V)
ube soft serve ice cream served in a toasted black sesame bubble waffle with cookie crumbs, pocky, and a Meiji panda cookie
Nikuman Bun Sampler
trio of soft fluffy steamed buns filled with char sui park, teriyaki chicken, and a sweet coconut matcha custard
Okonomiyaki
savory cabbage and bacon pancake topped with Kewpie mayonnaise, hoisin, cilantro, sesame, and katsuobushi
Italy Menu
Tour of Italy Arancini Flight
tomato basil with marinara, mushroom with garlic cream sauce, and seafood served with basil pesto
Gelato Stuffed Pressed Brioche, Ice cream sandwich pressed to order: OREO® & mint (V, *contains tree nuts), Nutella® & vanilla (V, *contains tree nuts), strawberry (V)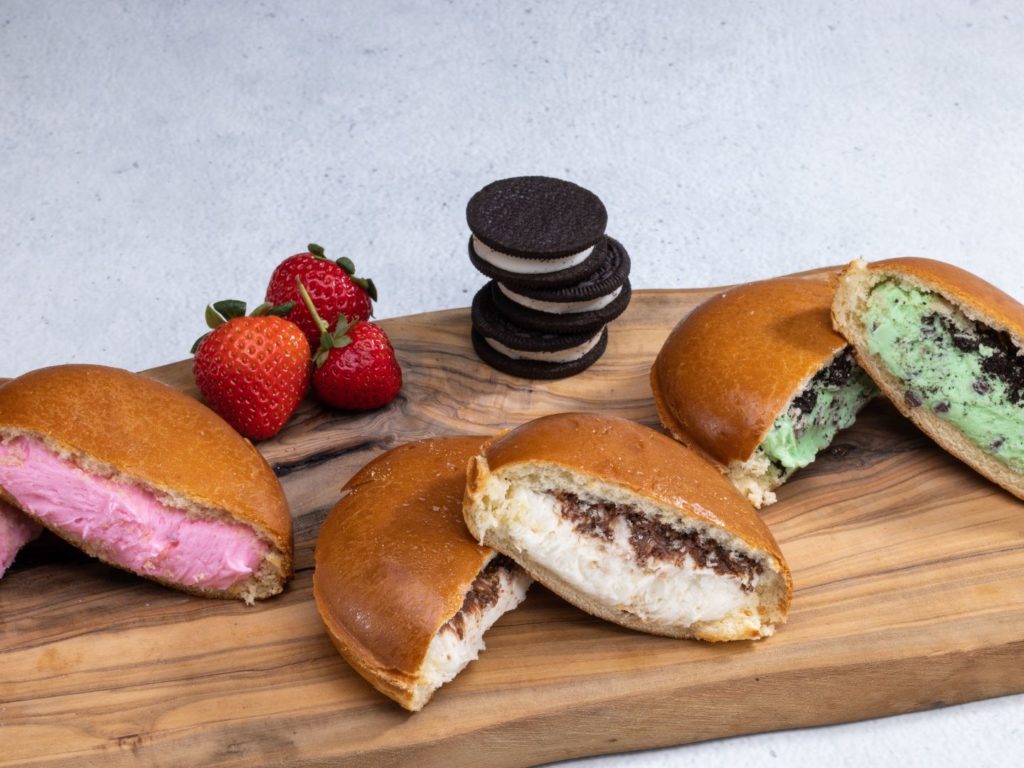 Mexico Menu
Tacos Al Pastor
pork al pastor off the spit with pineapple, pickled red onion, and habanero mango sauce
Baja Shrimp Ceviche Tostada
marinated shrimp with avocado crema and a crispy blue corn tortilla
Vegan Churros
crispy cinnamon sugar vegan churros with coconut nectar and chocolate sauce
Elotes(V)
char-grilled corn, jalapeño mayo, ancho chili powder, cotija cheese, cilantro
Puerto Rico Menu
Mofongo Trio(GS)
a mix of smashed plantains, bacon, chicharrónes with shrimp criolla, crispy chicken thigh, and mayo ketchup
Alcapurrias(GS)
crispy green banana and yautia masa, filled with picadillo beef, served with mayo ketchup
Vegan Alcapurrias(GS, VG)
crispy green banana and yautia masa served with mayo ketchup
Classic Piña Colada
Cruzan light rum, Coco Real cream of coconut, with lime and pineapple juice
Piragua
shaved ice with your choice of flavorings: crema, coco (*contains tree nuts), frambuesa, tamarindo
Ponche(V)
non-alcoholic Welch's® grape juice mixed with sweetened condensed milk and blackberry extract
Spain Menu
Paella Mixto
saffron yellow rice, chorizo, squid, mussels, and shrimp
Spanish Bocadillo
serrano ham and drunken goat cheese with parsley sauce, on a gently pressed baguette
Leche Frita(V)
crispy fried condensed milk, vanilla, and cinnamon
Sangria Flight
sangria tinto, sangria blanco, and sangria rosado
Trinidad and Tobago Menu
Crab & Dumplings
curried chickpeas, spicy bara flatbread, micro cilantro, and mango chutney
Chickpea Doubles(VG)|
curried chickpeas, spicy bara flatbread, micro cilantro, and mango chutney
Pholourie(VG)
deep fried spicy split pea dough with turmeric, curry powder, and a side of tamarind chutney
Plus, for the first time ever, Universal Orlando's other theme parks are joining the fun by featuring a limited selection of Mardi Gras items, including Gumbo, Jambalaya, King Cake, and more at Universal's Islands of Adventure, and the Muffuletta Long Board Pizza at Universal's Volcano Bay.
Food and Beverage – Expert Tips
Each food both opens around 11:00 or 11:30am daily. A friendly reminder, there is only one drink per person per ID.
Be sure to use your annual pass for a discount on the food. There is also a helpful Mardi Gras Food and Beverage Card which offers savings regardless of whether you're an annual passholder.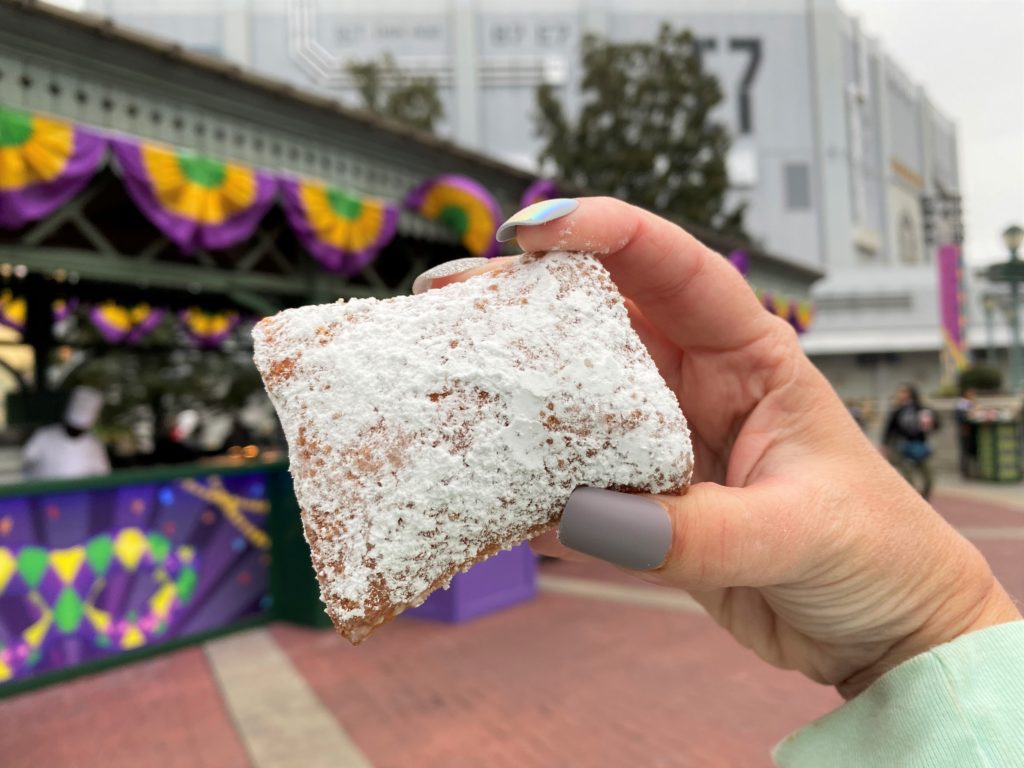 With the 20 oz souvenir cup, we got our Bloody Mary at the $15 refill price – and will all the toppings.
It comes topped with what amounts to a small snack platter. The 2023 Bloody Mary had a shrimp, bacon, pickle spear, cheese cubes, olive, and more!
Note, the smaller drink sizes just come with a celery stick and lime wedge garnish.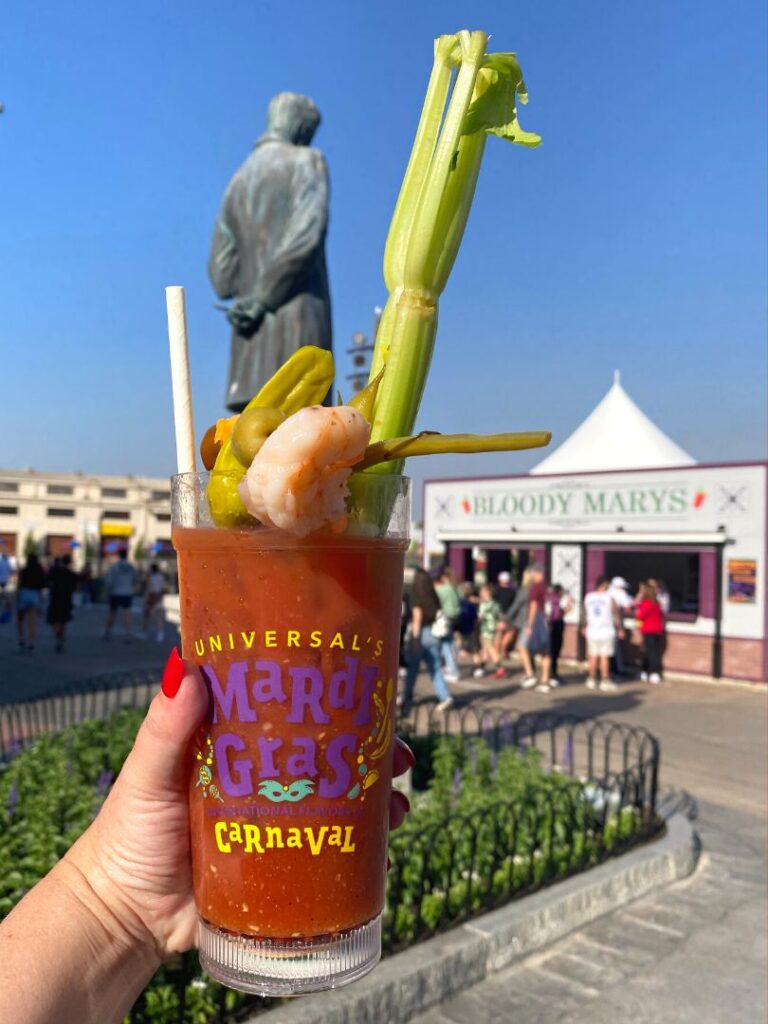 Pro-tip: If you want to take advantage of the Mardi Gras souvenir refill cup, make your first purchase a beer with the cup. It will be a lower initial cost than getting a cocktail, and you can use the same cup to get the refill price on beer and mixed drinks.
Beignets are available at both the New Orleans booth and the French Quarter Market. These are good if you're looking to satisfy a craving, but the desserts inside the Mardi Gras Tribute Store are better and more memorable. More on that later.
What is the Mardi Gras Food and Beverage Card?
A Universal Orlando Mardi Gras Food & Beverage Card can be purchased at any Mardi Gras food booth. It does not have an expiration date and gives you some savings on your food and beverage purchases.
Here's how it works (2024 info coming soon):
Pay $65 to get $75 in value on a Universal Orlando Resort Food & Beverage Card
Pay $120 to get $150 in value on a Universal Orlando Resort Food & Beverage Card (exclusive to Annual Passholders).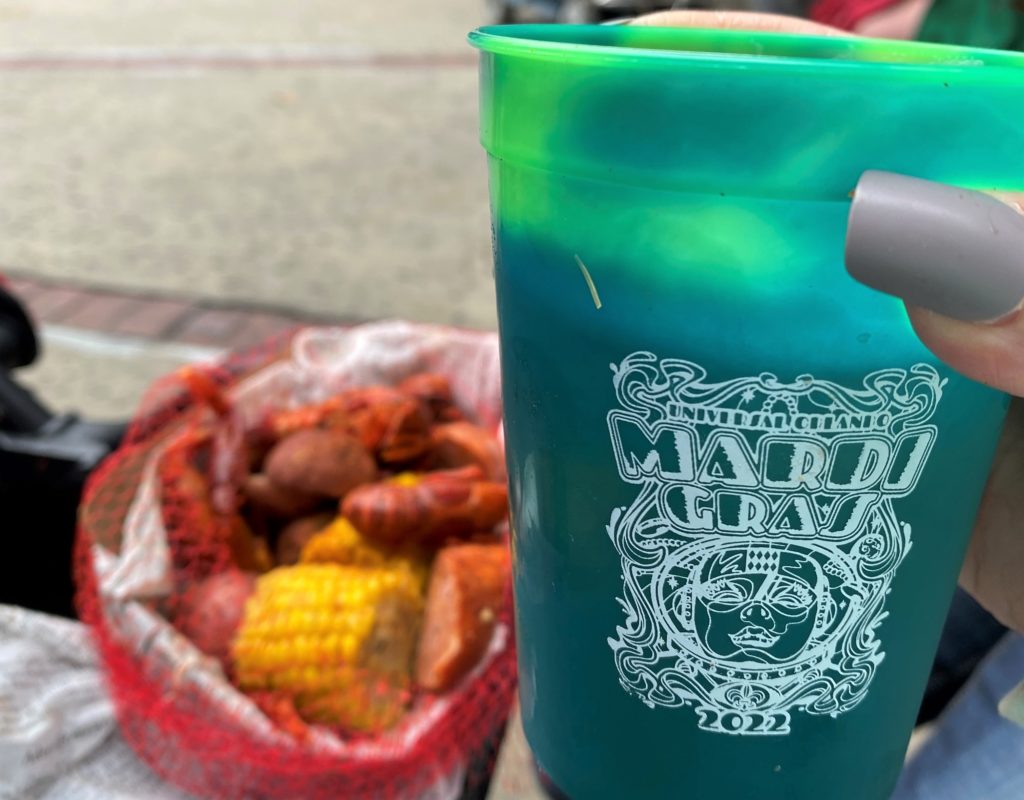 Related: Best Restaurants at Universal Orlando for Date Night
---
2024 Mardi Gras Parade at Universal Studios
Stretch out your hands and get ready to catch a ton of beads. Make your date night enchanting and grab a spot along the parade route about 30 – 45 minutes before parade time.
The parade starts at the Pantages Theater and Mel's Drive-In, then marches up the Hollywood Area and into the New York area. If you want to see the parade right when it starts, then get your spot in the Hollywood area. Otherwise, if your goal is to catch both the parade and the concert (on select nights) then get a parade viewing spot near the Music Plaza Stage near Monsters Cafe and Rip Ride Rockit Roller Coaster.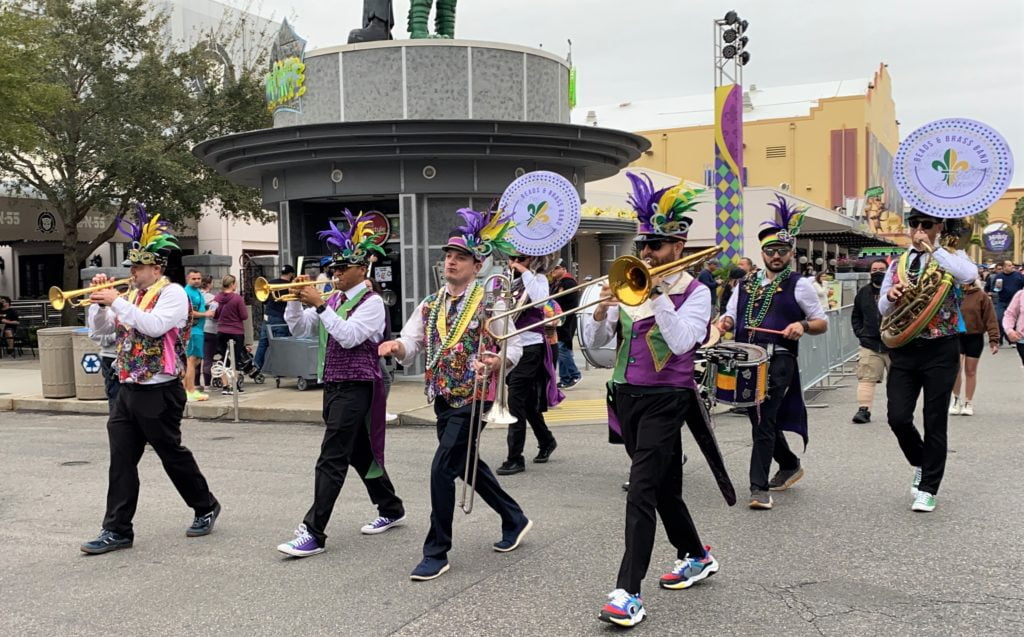 Important Tip: An unofficial party usually kicks off about three hours before parade time. For example, we visited on opening night. The parade kicked off at 7:45pm, but at 4:30pm parade performers came out of the backstage gate near the exit of the Tribute Store. The performers spread out throughout the New York area and French Quarter market, creating a party atmosphere.
Have some fun together striking a pose for some great photo opportunities. If you're feeling bold ask the parade performers how you can earn some beads.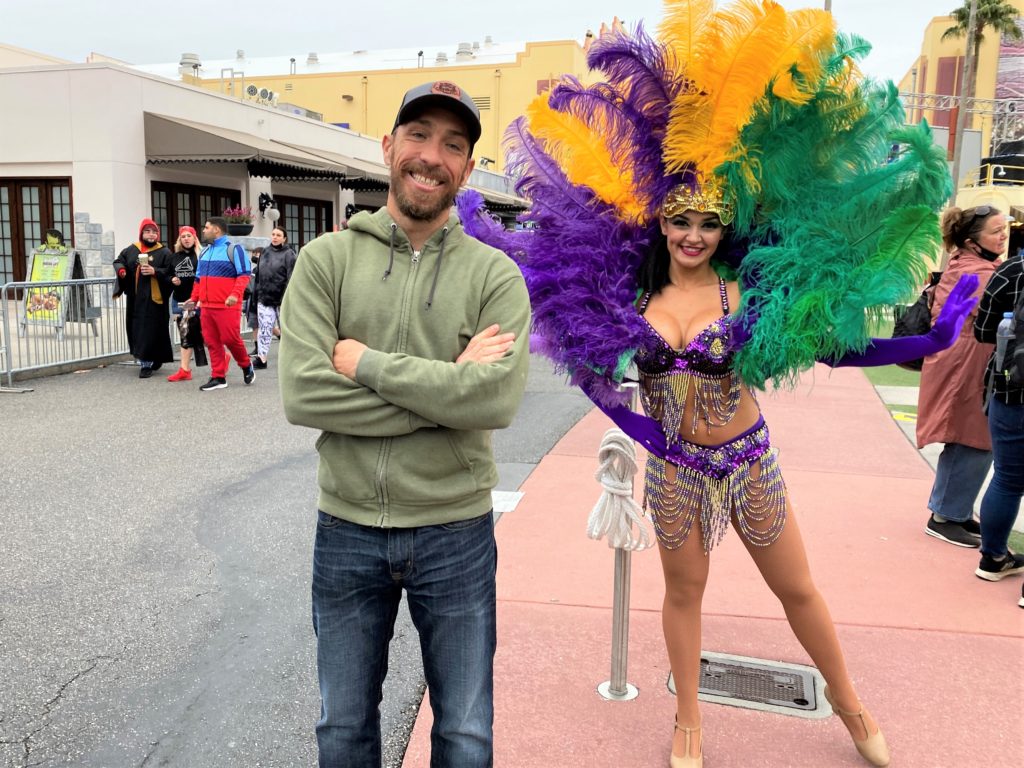 2024 Mardi Gras Parade Schedule
The 2024 Mardi Gras parade schedule will be announced soon. In the meantime, you can get an idea of what to expect by looking at last year's schedule.
2023 parade schedule: 
Parade starts at 6:15 pm on the following dates:
Feb 5-9, 12-16
Feb. 26-Mar. 2
Parade starts at 7:30 pm on the following dates:
Feb. 17, 20–24
Mar. 3, Mar. 6 – Apr. 16
Parade starts at 7:45 pm on the following dates:
(Concert Nights) Feb. 4, 10-11, 18-19
Mar. 4-5
How to Ride a Mardi Gras Parade Float
Make epic date night memories from atop one of the spectacular floats. Toss beads to the crowd while you make your way through the entire parade route – it's unforgettable.
New for 2023 was the Mardi Gras Float Ride and Dine Experience. This new offering is available on select dates and includes the exclusive opportunity to be a part of the festivities by reserving a spot to toss beads from a Mardi Gras float.
You'll enjoy a 3-course meal with selections from the full menu at one of four participating restaurants – The Cowfish Sushi Burger Bar, NBC Sports Grill and Brew, Finnegan's Bar and Grill or Lombard's Seafood Grille.
The Mardi Gras Float Ride and Dine Experience includes one appetizer, one entrée, one dessert, and one non-alcoholic beverage for $64.99 plus tax, per person, as well as one Mardi Gras parade float rider reservation on the same day. Guests can purchase this experience and reserve their spot by calling 407-224-7554 or visiting www.universalorlando.com/mardigras.
Annual and Seasonal Passholders receive a 15% discount off the ticketed price with a valid Annual or Seasonal Pass when purchasing in person at the Front Gate or a Guest Services location, or by calling 407-224-7554.
Virtual Queue
You can also enter a Virtual Line using the Official Universal Orlando App to attempt to secure a spot on a parade float without purchasing the Ride and Dine Experience.
Be sure to hydate beforehand — throwing these beads during the entire parade route can wear you out!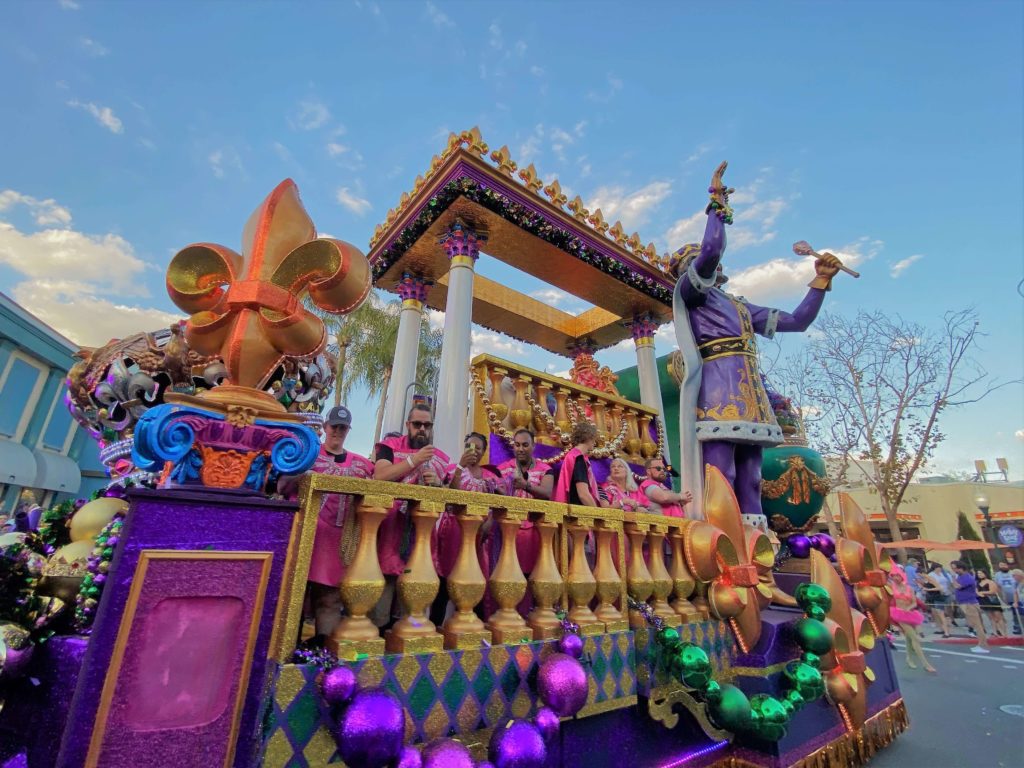 ---
2024 Mardi Gras Concert Lineup and Tips
Universal Orlando always attracts a dynamic lineup for their Mardi Gras concerts. The performances take place on Saturday nights and other select Friday and Sunday evenings. Each concert kicks off at 8:30pm.
I suggest getting a spot on the Music Plaza Stage lawn by 7:30pm. Arrive with a drink and food in hand from one of the nearby booths. You'll be able to catch the parade while you wait for the concert. Bring a picnic blanket or towel to sit comfortably on the plaza lawn.
The 2024 Mardi Gras Concert Lineup is not yet announced, but you can get an idea of the type of talent usually offered by reviewing the lineup from 2023 below.
Here is the Universal Mardi Gras 2023 concert lineup, as of January 17, 2023:
Patti LaBelle – February 4
JVKE – February 10
Goo Goo Dolls – February 11
Maren Morris – February 18
WILLOW – February 19
3 Doors Down – February 25
Sean Paul – March 4
Lauren Daigle – March 5
More 2023 Universal's Mardi Gras concerts may be announced soon, though it seems this may be it for this year's lineup, leaving Universal's Mardi Gras to roll through most of March and to April 16, 2023 without any additional live concerts.
---
Mardi Gras Tribute Store
During your Mardi Gras date night, take a stroll through the Mardi Gras Tribute Store. Located in the Hollywood area of the park, this 2023 location is new. You should see this place during the holidays.
For 2023, the theme of the Tribute Store was perfect for music lovers and a great tribute to New Orleans itself. An international jazz celebration leads to the traditional alleyways of New Orleans and ultimately into a speakeasy where the Mardi Gras celebration continues. It's smaller than in past years but still wonderfully done.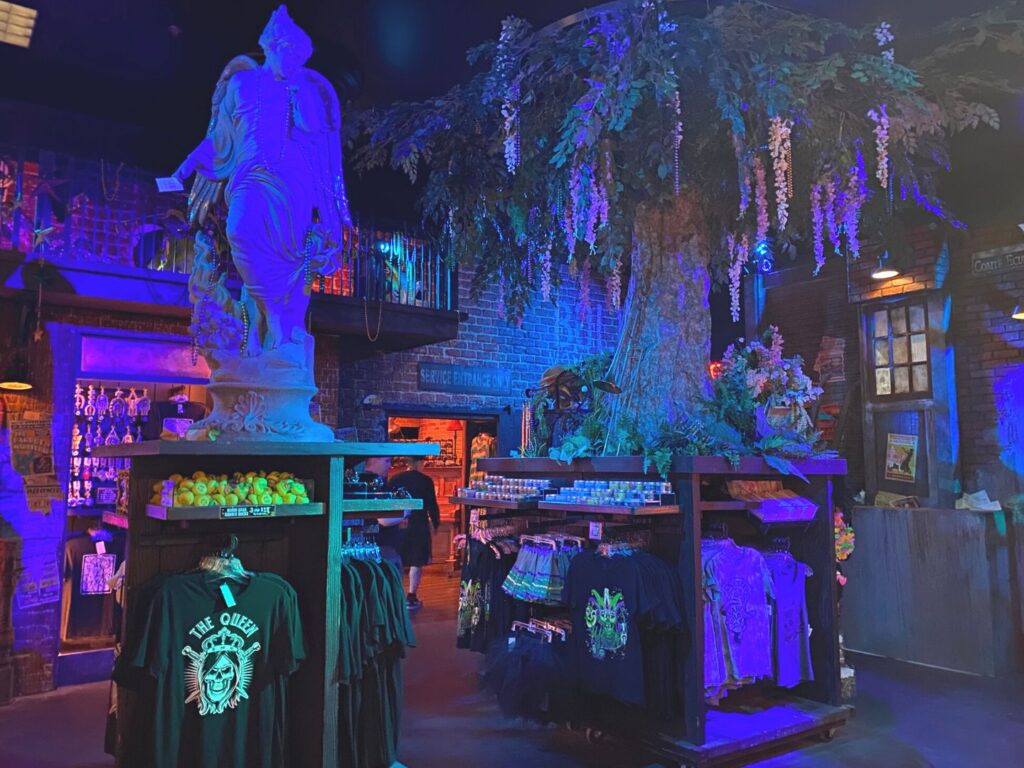 Don't miss the back section of this store and save room for dessert! There are a ton of delicious sweet treats in the back room including chocolate-dipped bacon, layered cake, and so much more.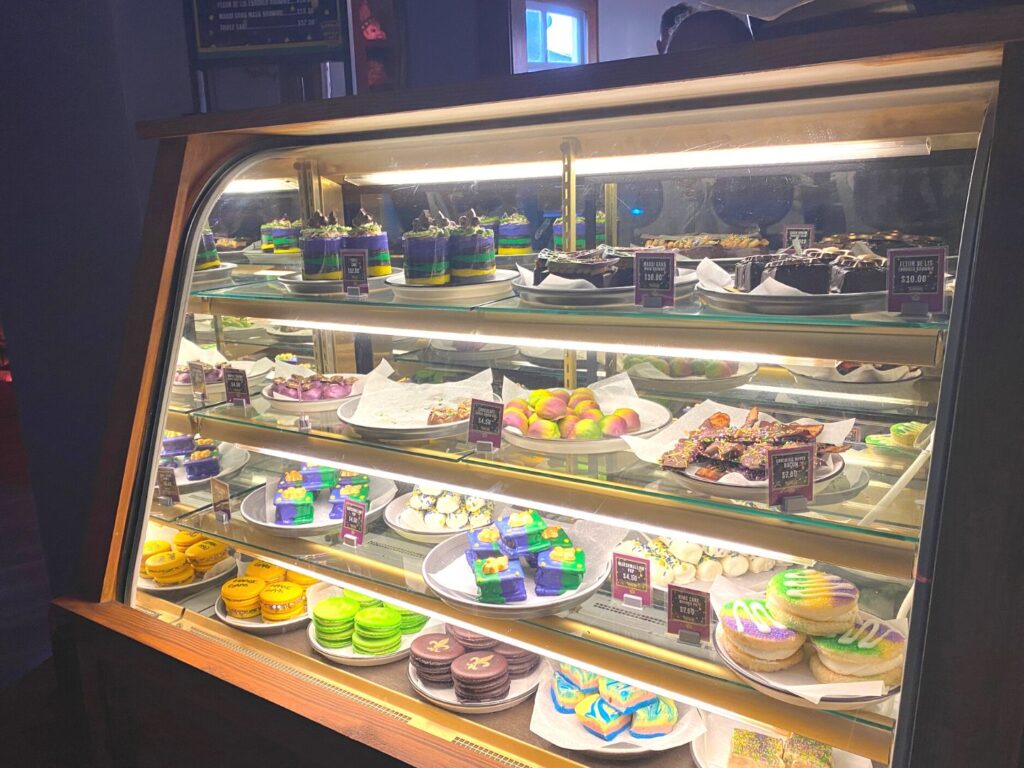 ---
Whether you want to keep the party going at CityWalk or just prefer not to spend the money on tickets to get into the park, there are some festivities to enjoy outside the park gates.
NEW for 2023: The Red Coconut Club transformed for the Mardi Gras season into the Cursed Coconut Club – more details and dates of operation will be shared soon.
For something sweet head over to Toothsome Chocolate Emporium for a special Mardi Gras milkshake. The main event for Mardi Gras at CityWalk is at Pat O'Brien's. Recreating the original dueling pianos bar in the heart of New Orleans, Pat O'Brien's brings a Mardi Gras flavor all year that is kicked up a notch this time of year. Special food and beverage items plus Mardi Gras decor make this an epic addition to your date night.
READ MORE: How to Enjoy Universal's Mardi Gras Without a Theme Park Ticket
---
The Ultimate Universal Mardi Gras Date Night Itinerary
This itinerary is based on visiting on a Saturday night with the concert at 8:30pm and the parade at 7:45pm.
Arrive to Universal Orlando to park around 2:30pm
After entering Universal Studios, grab some food and drink from the New York area booths
Hang around the New York area and French Quarter market for the pre-parade party which usually starts at 4:30pm
After enjoying the pre-parade party, stroll through the rest of the park for more Mardi Gras food and beverage
Enjoy a ride or two depending on wait times
Head back towards the New York area or the Hollywood Area for a stroll through the Tribute Store
Settle into a parade viewing spot by 7:30pm near the concert plaza
Rock out to the concert at 8:30pm
Party it up afterward at Pat O'Brien's and the rest of CityWalk
Another fun thing to do just before the parade is head to the Pantages Theater, where to Horror Makeup Show is, and catch the band perform. This awesome New Orleans style band warms up the crowds all along the parade route, but makes a stop about 15 minutes before parade time and performs 2-3 songs in front of the theater.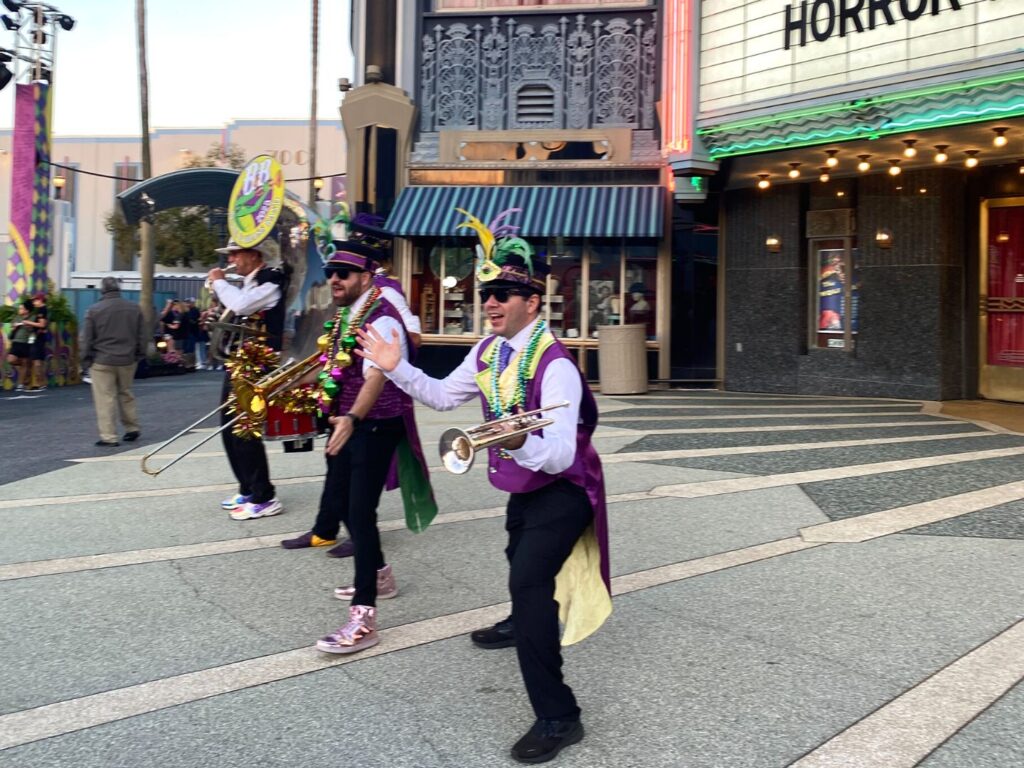 Be sure to hydrate and take breaks, I try to have one full cup of water in between each alcoholic beverage. If your epic night takes place on a Saturday night you'll need to be prepared for crowds, so just relax together and let the good times roll!
All images by Dani Meyering