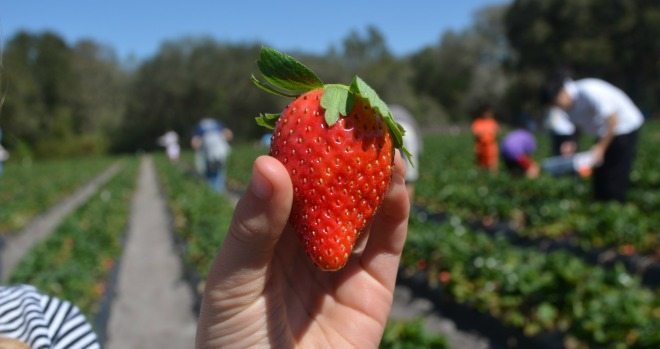 Strawberry season is in full swing, and you don't have to travel far from Orlando (or travel at all) in order to celebrate the sweet red berry.
Taste your way through our ultimate guide to strawberries in Orlando, which spans from the beloved annual Strawberry Festival to where to pick your own, and where to find the City Beautiful's best strawberry dessert concoctions. Next stop: berry bliss.
Originally written by Stephanie Patterson, Updated November 2022
Where to pick strawberries near Orlando
Oak Haven Farms & Winery
32418 Avington Rd, Sorrento, FL 32776
40 minutes outside of Orlando lies a strawberry lover's dream. Oak Haven Farms & Winery in Sorrento invites berry fanatics out to their farm for u-pick fun during strawberry season.
There's also a general store and restaurant, the latter of which serves lunch and strawberry desserts. Wine made from local fruit and grapes is also available for purchase.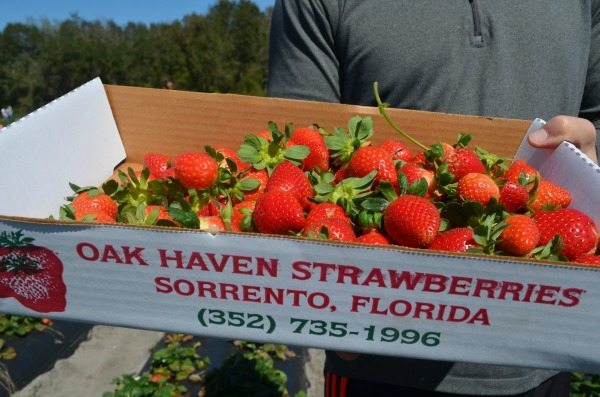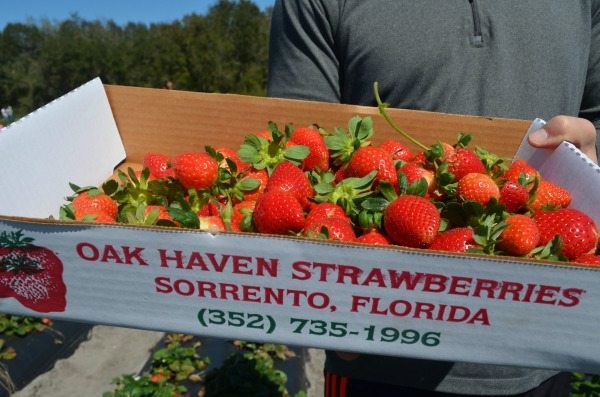 36111 County Rd 44A, Eustis, FL 32736
A charming farm awaits in Eustis, just under an hour's drive from Orlando. Amber Brooke Farms recently refreshed their family farm to include fun activities. Throughout the year you can enjoy seasonal events.
During the fall their Fall Festival and Pumpkin Patch are lots of fun. And during the strawberry season in Florida you can pick your own strawberries, and enjoy other outdoor activities too.
Amber Brooke Farms in Eustis tops our list of places to pick your own strawberries because of the great farm setting with included activities. Plus there is a small playground for young kids and a stand selling craft beer and wine, and soft drinks.
Important note – Please check Amber Brooke's Facebook or Instagram page before making your trip out to the farm. They will notify everyone via social media if the farm has been picked out for the day.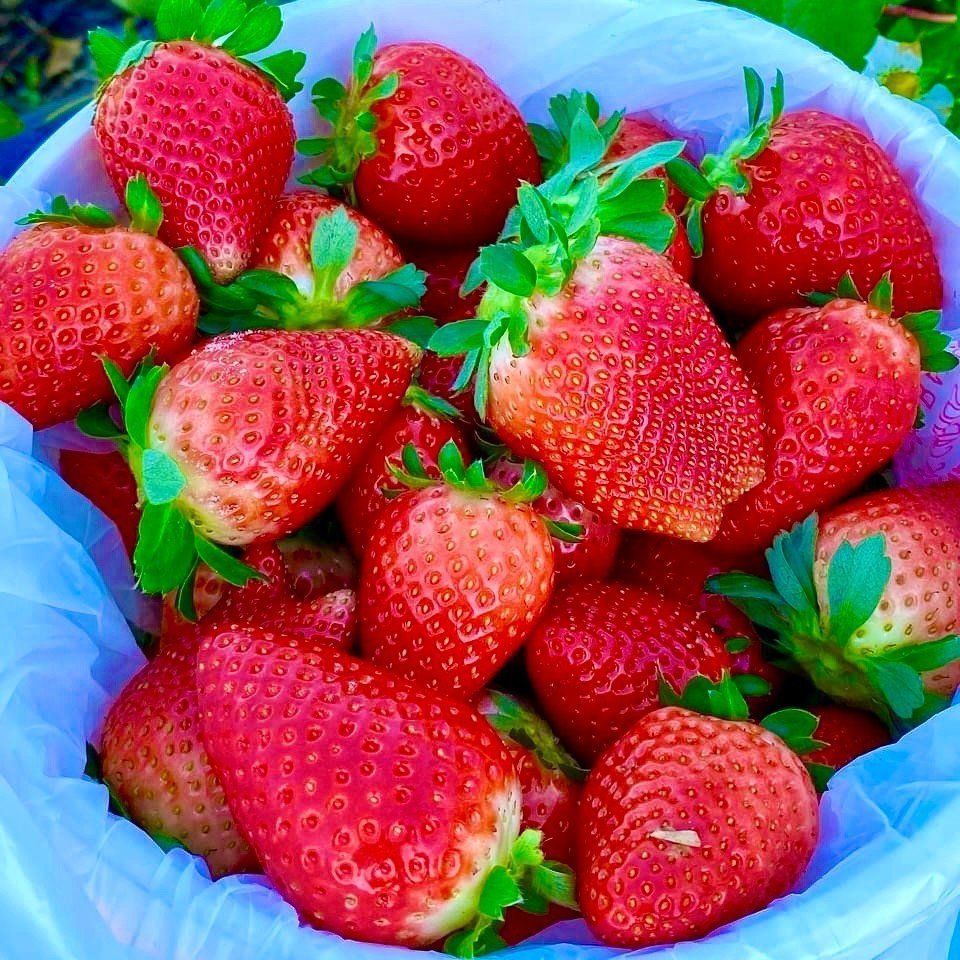 READ MORE: Strawberry Picking at Amber Brooke Farms Eustis – What to Expect
SOUTHERN HILL FARMS U-PICK
16651 Schofield Rd, Clermont, FL 34714
Strawberries: December – March
Sunflowers: Spring, Fall, Winter
Blueberries: March or April-May
Peaches: April
You'll hardly know you're in Florida while picking strawberries and sunflowers atop rolling hills at this family-owned and operated farm in Clermont.
This local farm is a favorite date destination in the fall, and you'll impress your date by visiting Southern Hill Farms for strawberry picking.
Strawberries are $4 per pound. You can also pick your own sunflowers for a fresh bouquet! Check the farm's Facebook page for current hours and updates. This is a popular farm; we recommend visiting on a weekday or getting to the farm right at opening on weekends for the best experience.
Mick Farms U-Pick Strawberries
4261 Canoe Creek Road, Saint Cloud, Florida 34772
Strawberries: December – April
Come for the strawberry picking, stay for the well-stocked farm stand! This farm in St. Cloud offers u-pick strawberries each season for $3.50 per pound.
Make sure to stock up on fresh fruits and veggies while you're there. Check Facebook for the latest updates on u-pick availability.
Other farms offering u-pick in Central Florida include:
If you'd like to try u-pick in the Winter Strawberry Capital, then trek to Plant City to Spivey Farms. While quart cups are supplied for picking, you'll need to bring along your own containers for taking home your berries.
Make a strawberry day of it with a visit to Parkesdale Market for strawberry desserts, and Two Henry's Brewing Company/Keel & Curley Winery for a glass of strawberry hard cider.
The Florida Strawberry Festival – March 2 -March 10, 2023
For a true celebration of strawberries, there's no better event than the annual Florida Strawberry Festival. Held in Plant City, the "Winter Strawberry Capital of the World", this annual fair combines every strawberry treat imaginable with everything you love about county fairs. The next festival kicks off Thursday, March 2, 2023 and continues through March 10, 2023.
After an hour's drive down I-4, you'll arrive at the festival, which takes over the quaint Central Florida town each year. Stroll the festival grounds as you savor the flavors of the season – strawberry shortcake, milkshakes, donuts, strawberry pizza, jam, crepes, lemonade, popcorn and more.
Because of the high volume of strawberry treats, the festival has dedicated an entire section of its website to all of the foods made with strawberries.
A note about the strawberry shortcake; there are several booths for shortcake (and biscuits) throughout the festival, but they aren't all the same. I recommend trying all three shortcake booths and deciding on your favorite. The St. Clements Catholic Church shortcake is my personal favorite.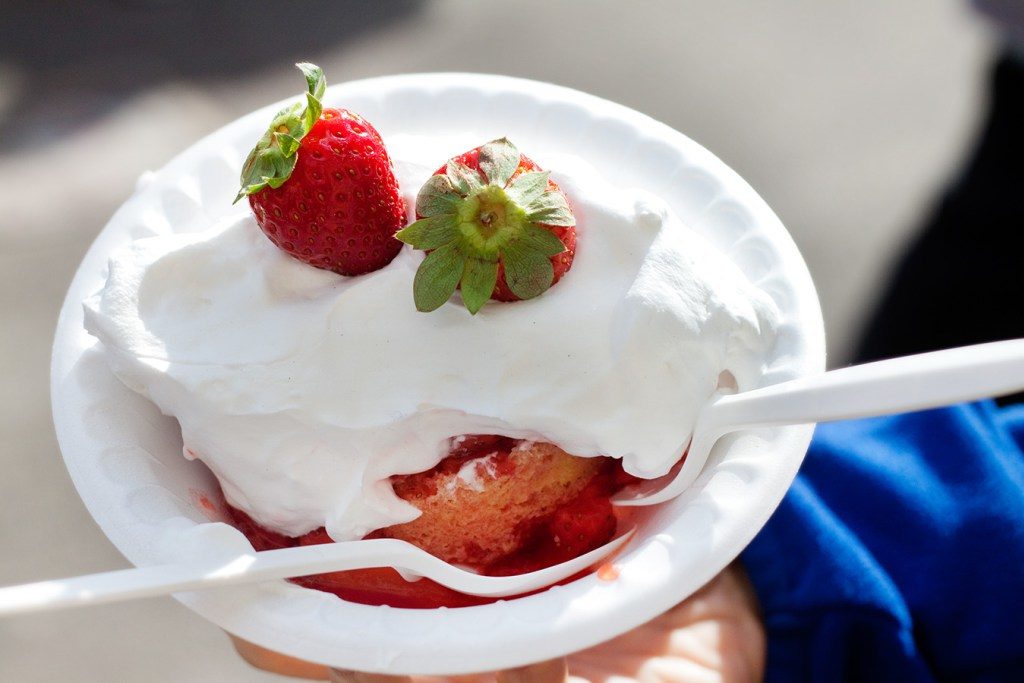 Some tips if you plan to attend:
It can be a pain to find a decent and affordable parking spot on the weekends. If possible, attend on a weekday, or arrive early. You can get off at any of the Plant City exits in order to navigate to the festival.
Use the info booths! The volunteers are helpful, their knowledge base spanning everything from who has the best corndog (I wasn't disappointed) to locating a specific booth.
Tickets go on sale on December 8, 2022. More information can be found online at flstrawberryfestival.com.
Local strawberry desserts
Sleeping Beauty Brick Toast – KrungThep Tea Time
Besides being instagrammable, this indulgent dessert available at KrungThep Tea Time is also delicious. Crispy squares of toast are stacked pyramid style, topped with a scoop of ice cream, drizzled with Nutella and organic honey, then dressed with fresh strawberries and whipped cream. Pro tip: ask for chocolate ice cream instead of vanilla.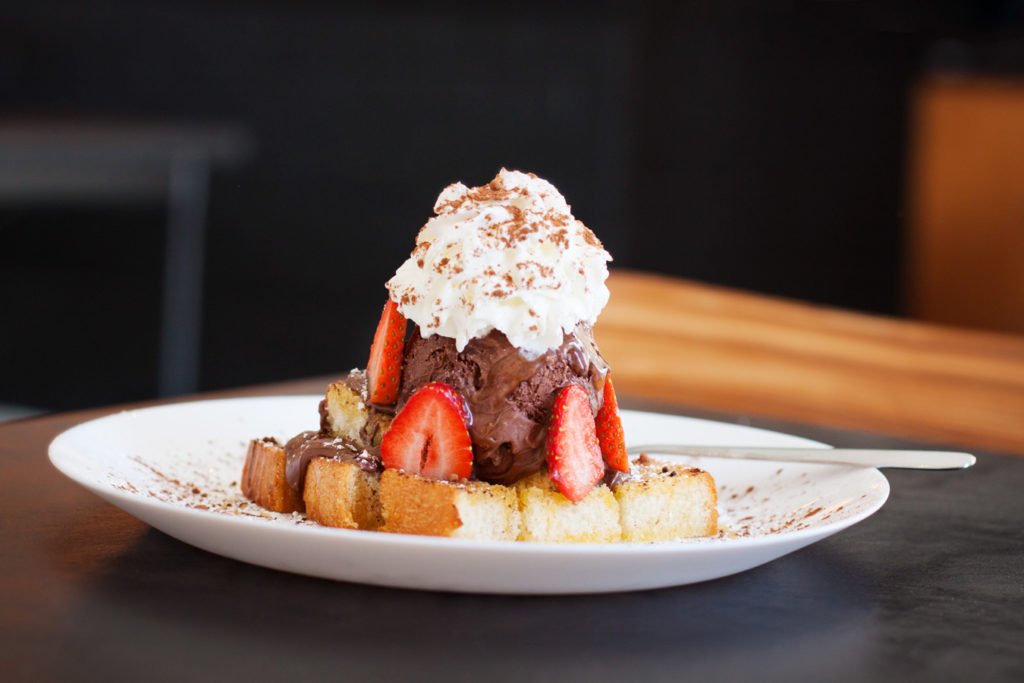 Strawberry Fields Forever – Soco Thornton Park
Fancy a cocktail? Soco Thornton Park has crafted a special drink called "Strawberry Fields Forever" that's perfect to sip in season. The cocktail is crafted with house-infused strawberry vodka, vanilla simple syrup, and fresh lemon.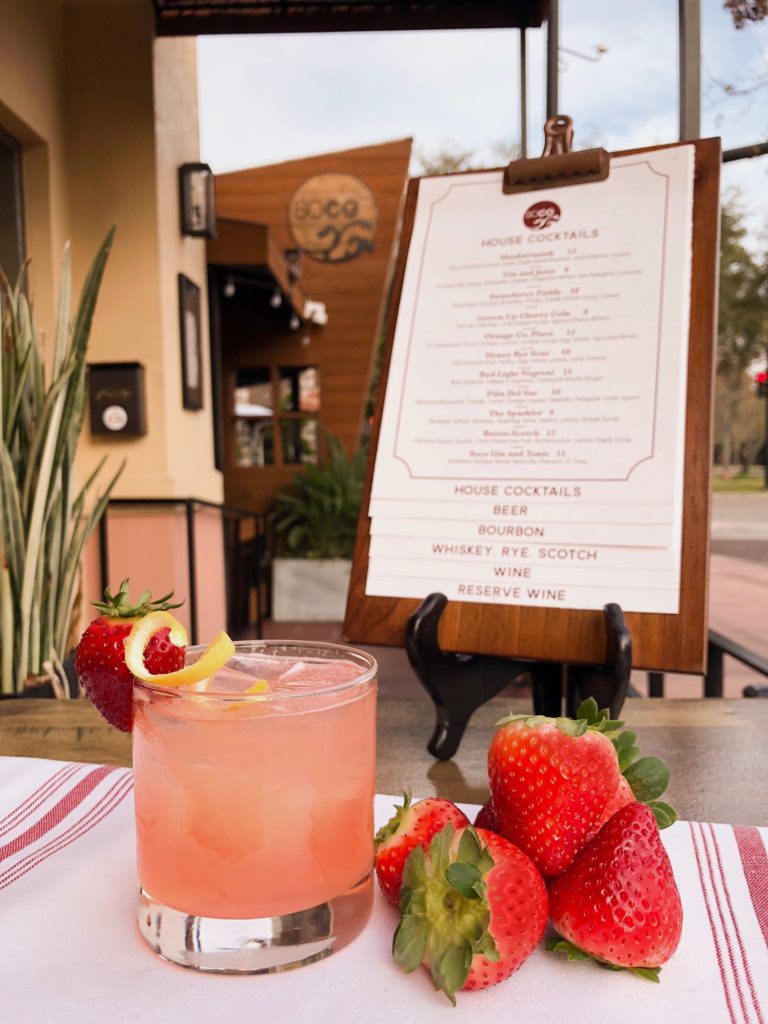 Strawberry milkshake – Parkesdale Market
I'm going to let you in on a little secret – you don't have to wait until March of every year in order to feast on your favorite Strawberry Festival treats. Parkesdale Market, located off of I-4 in Plant City, serves strawberry milkshakes year round. Sip a strawberry milkshake, sweet and loaded with fresh strawberry bits, while you lounge in the cheery greenhouse seating area adorned with over the top strawberry décor. This milkshake is so good it was named the "best drinkable dessert" by Food Network.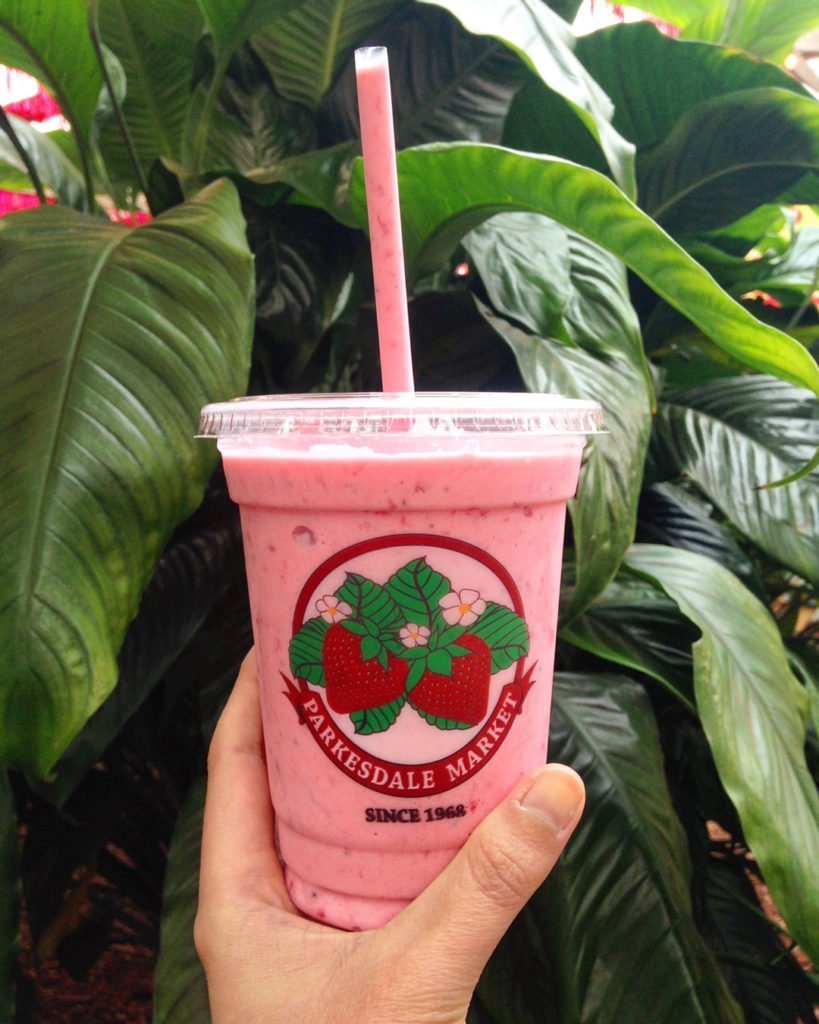 All images by Stephanie Patterson unless otherwise noted