Located off the shores of Sarasota in the warm waters of the Gulf, Lido Key is a narrow island lined with powder white beaches, packed with luxury homes and hotels, and filled with some of the best ambience for a romantic dinner or a slow-travel retreat. Our quick guide to Lido Key highlights the places to stay, places to eat, and places to see.
What is Lido Key known for?
About a 3-hour drive from Orlando, Lido Key is a great weekend getaway. The high season kicks off in the fall and winter months when the warm beach waters and sunny days make this a great place to thaw out if you're feeling chilled.
Cross over the John Ringling causeway from Sarasota and you've landed on Lido Key. Blink and you'll miss Lido. This Florida island is very small and has mostly fine homes and hotels. Head north and you'll quickly find yourself in Longboat Key.
Lido is famous for St. Armands circle – a large roundabout and park that boasts European-style sidewalk dining and lots of shopping and boutiques.
A Romantic Weekend in Lido Key
Where to Stay in Lido Key
There are public accesses to the shores of Lido Key, like Lido Beach which great for those who are just visiting for the day.
But, it's worth it to indulge and book a few nights' stay at one of the hotels or resorts on the island. You'll have access to the beach at any time, as well as lounge chairs and umbrellas.
Available to rent on a weekly basis, this timeshare and condominium is on the beach and close to St. Armand's Circle
This isn't actually a hotel on Lido Beach. You'll have to stay at the Ritz Carlton Sarasota downtown to gain access to this luxurious beachfront property. Their beach club offers amazing amenities for guests like casual dining, private heated pools, and hot tubs, kids' activities, and lovely grounds.
Sandcastle Resort at Lido Beach
This pink hotel is reminiscent of classic midcentury Florida beach design. Located right on the coast, rooms look out onto the courtyard, pool, or overlooking the shore.
An Opal Collection Hotel, this tall, luxurious beachfront resort has views of the Gulf sunsets that go up 14 stories. Rooms are coastal modern and bedecked with every amenity. Enjoy the large family pool area, or relax in the adult-only pool. Enjoy cocktails and food at the pool bar.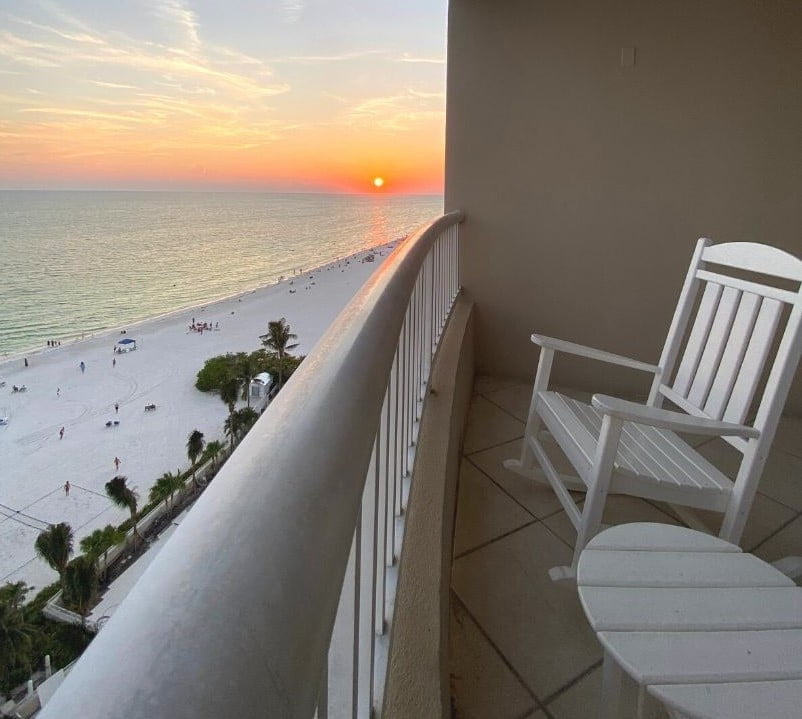 Though not directly on the beach, this affordable and artsy renovated motel is only a 5 minute walk from the shore. The vibes here are casual and clean with a lot more character than most high rise hotels.
There are also a variety of privately owned condos available for rent through Airbnb.
How to Get Around Lido Key
Lido Key is small and wonderfully bikable, even walkable if you're not in a hurry. Thanks to Sarasota's city bike program, Veo Bikes, it's easy to get around by bike without bringing one along or needing a full day rental. The bikes, e-bikes, and scooters are available in designated parking spots. Download the Veo App and you're on your way.
Follow normal road rules when using this transportation as sidewalks are reserved for pedestrian traffic. You can even take your bike across the causeway into downtown Sarasota if you don't want to find car parking in the city center. I recommend an e-bike or scooter in this case so you aren't sweating cycling over the causeway incline.
Lido Key Restaurants
St. Armand's circle will be your destination for food, drink, and shopping outside of onsite hotel or resort restaurants.
Cuisines in St. Armand's reflect the Old World European influence that enriches the Sarasota area, thanks to the art predilections of the Ringlings.
Slow down with escargo and white wine at Cafe L'Europe and watch sidewalk shoppers stroll by.
Enjoy white wine mussels and a negroni at Venezia Italian Restaurant.
Feast on fresh catch at Crab & Find, like charred octopus and oysters on the half shell.
Dine oceanside at Shore where elevated Florida inspired American fare is on the menu.
The new St. Armand's Oyster Bar is your go-to for all things bivalve.
Stay in your beach causal attire and enjoy a raw bar at the Daquiri Deck St. Armand's Circle.
Things to Do in Lido Key
Bury your toes in the fluffy white sand. Fall asleep with a good book under a cabana. Enjoy a cocktail on the beach. There are plenty of typical beach vacation things to do in Lido.
Enjoy a leisurely cycle around Lido Key oggling the ornate and historic homes. The roads are named after presidents and are easy to remember. Don't miss the Casa Del Carnavale, a circus inspired historic private home and gardens that deserves a slow pass.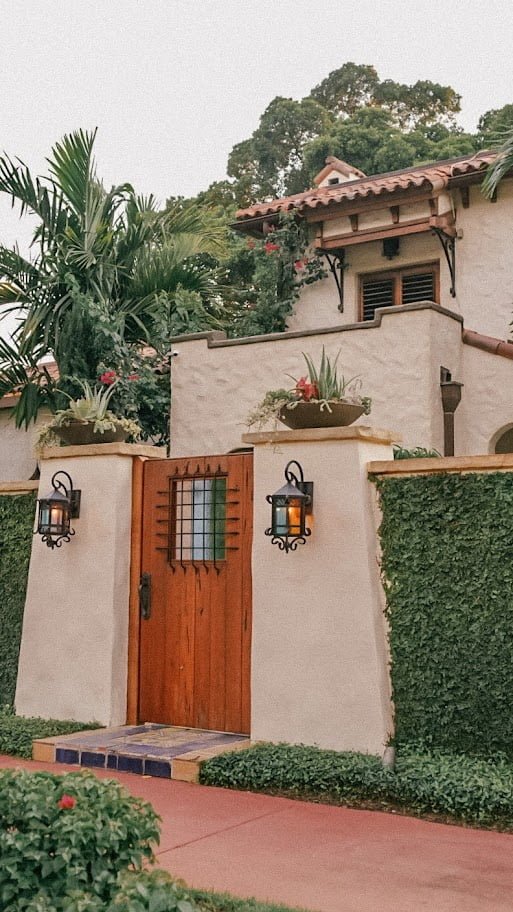 Or rent a kayak or paddleboard and explore the mangrove tunnels with SurfIt USA.
South Lido County park has volleyball courts and grills that are great for an afternoon cookout.
If you can't decide on where to eat, take a culinary tour of St. Armand's and try a little of everything with Key Culinary Tours.
Of course, downtown Sarasota is just over the bridge. And, without getting too deep into all the things to do in Sarasota, don't hesitate to spend the hot hours of the day enjoying top attractions like the Ringling Museum of Art and Ca' d'Zan historic home.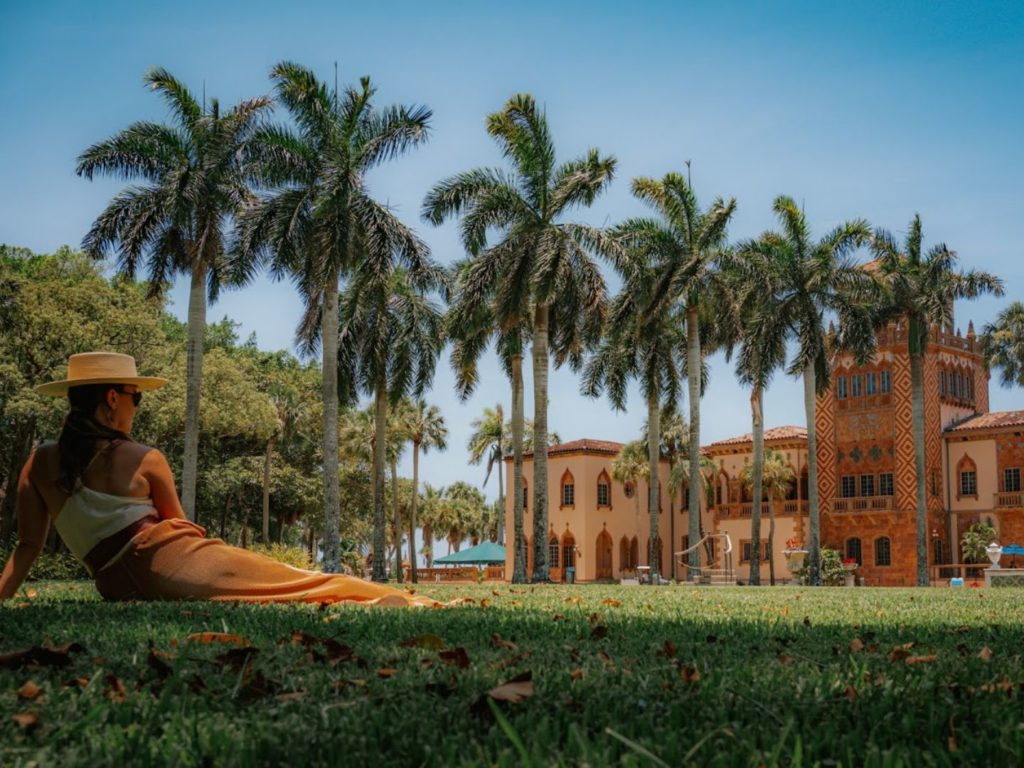 What Are Lido Key Beaches Like?
Heralded as some of the best in the country, beaches here are long, wide, and blinding with bright and powdery soft sand. Gulf waters stay warm into winter longer than the Atlantic coast, and depending on the tide you might find some shells.
Want more beachy getaways?